What if.. you could record your whole band at once, anywhere.. with just one single microphone and then mix your songs afterwards - with the flexibility of a multi-track recording setup!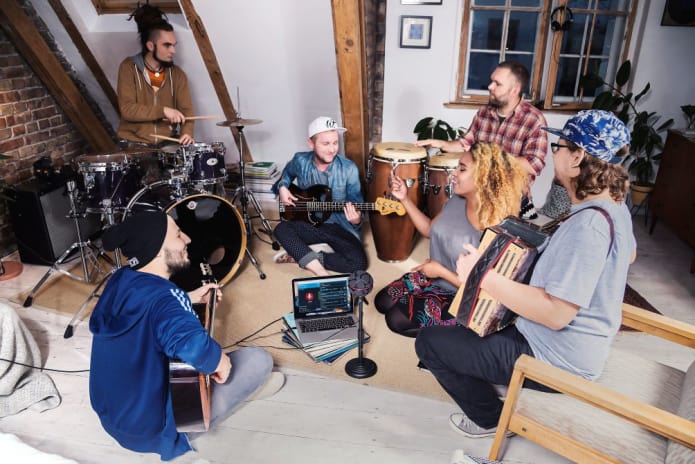 INTRODUCING
'ZYLIA PORTABLE RECORDING STUDIO'
ZYLIA is the world's first Portable Recording Studio that allows you to record entire sound scenes with only one microphone and then separate the individual sound sources from the recording. 
By combining advanced digital signal processing algorithms and microphone array technology we have created a truly unique and innovative product.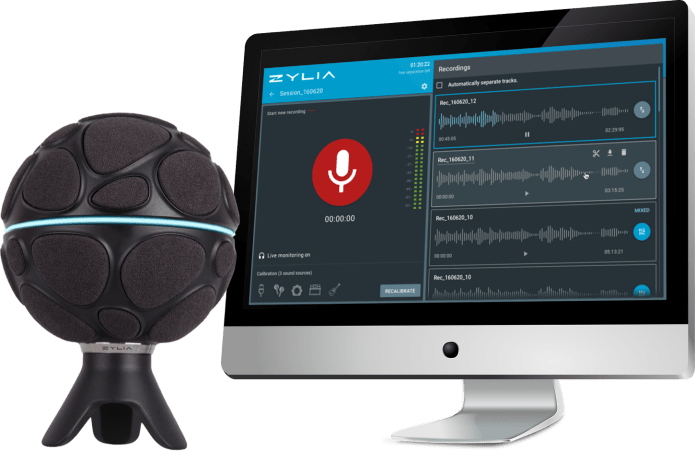 KEY FEATURES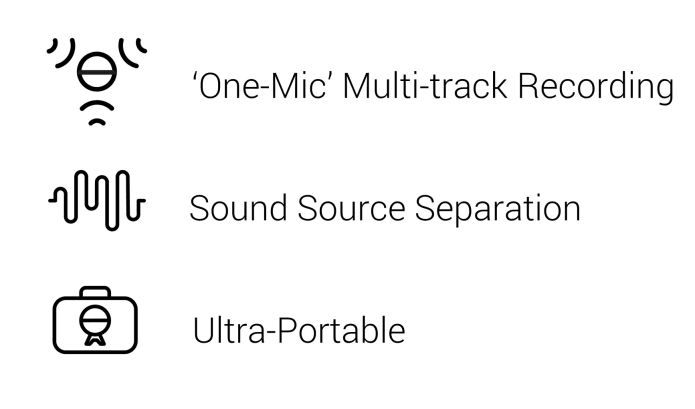 WHO'S TALKING ABOUT ZYLIA
      
Amazing, absolutely amazing! 
- Rhonda Denet, vocalist & songwriter, New York, USA
This technology will change the way people record rehearsals!
- Gene Torres, jazz musician, New York, USA
ZYLIA is a turnkey, easy to use recording solution that makes capturing inspiration in the moment a breeze, and with phenomenal results.
- The Outer Vibe, USA
The ZYLIA mic was very fun and easy to use. The fact that it is small, portable, and powered by USB makes it great for recording anywhere. 
- Andy Acosta, Love & Laughter Music Group, USA
It's a great tool for music producers and songwriters! 
- Uwe Bossert, Reamonn, Achtung Music Studios, Germany
ZYLIA is a very interesting 3D audio option for 360 video production
- Felix Andriessens & Moritz Hoffmeister,  sound editors, sound designers, Germany

NAMM Show about ZYLIA:
ZYLIA was awarded with ʻBest In Show' at Summer NAMM 2017 in the category 'Companies To Watch' — Exhibitors with trend-setting products and/or services.


ZYLIA in the Press!
 
James Ivey, Pro Tools Expert reviewing ZYLIA Portable Recording Studio. 
Part I
BENEFITS OF ZYLIA
ZYLIA FOR MUSIC BANDS
Multi-track record your whole band with one-mic-only!
Separate individual instrument tracks from your recordings
Easily mix your tracks in ZYLIA Studio or export to DAW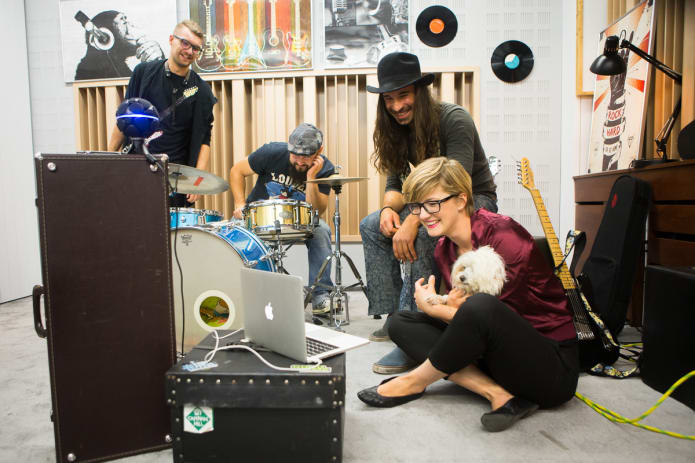 Casual rehearsal recording.
ZYLIA FOR MUSIC EDUCATION
Record your music classes
Separate individual instrument tracks from your recordings
Provide a valuable feedback to students and track their progress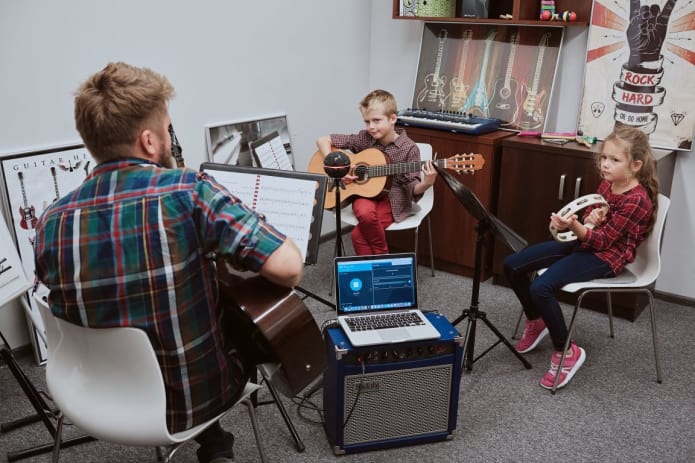 Music classes recorded with ZYLIA.
ZYLIA FOR PODCASTERS
Record multiple guests/speakers with one-mic-only!
Separate individual dialogue tracks from your recordings
Easily mix your tracks in ZYLIA Studio or export to DAW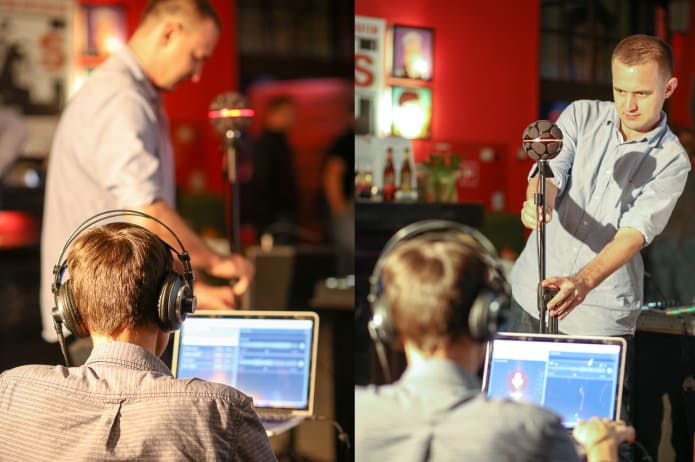 Podcasts recording.
ZYLIA PRO - FOR AUDIO CREATORS
Capture immersive 3D audio (360/VR/AR) with high definition quality (3rd order Ambisonics)
Use 'Virtual Microphones' to get ultimate control over the recorded sound-field
Use ready presets for surround or ambient recordings, such as 5.1, 7.1, 5.1.4 up to 22.2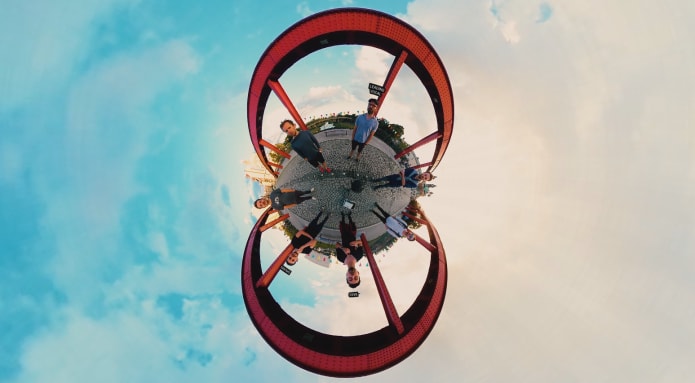 Click image to watch the video.
EXPERIENCING ZYLIA
See and hear what the people around the world say about ZYLIA.
THE BACKGROUND
Music recording and production is an art that involves a lot of skills

In order to create a perfect mix of your song you have to involve different skills such as setting up a whole band, putting microphones in the right positions and distances, adjusting gains, adding effects and mixing all the tracks.
Traditional music recording setup does not allow to capture your creativity
With traditional microphone and recording systems musicians have to spend a lot of time setting up microphones and repeating every take in order to get good quality and balanced final mix. This leads to:
Focusing on microphone setup rather than music performing
Losing a good take
Moving a recording session to time consuming recording studios
ZYLIA SOLUTION
The ZYLIA Portable Recording Studio is a combination of a physical microphone 'ZM-1' and advanced software processing tools included in 'ZYLIA Studio', 'ZYLIA Studio PRO' and 'ZYLIA Ambisonics Converter'.
ZYLIA RECORDING WORKFLOW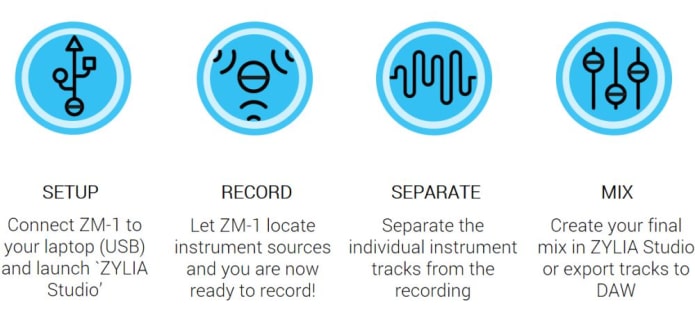 HOW IT WORKS
 
ZYLIA Portable Recording Studio is very straightforward to use. Please, check the videos below.     
How does it work.
ZYLIA Studio flow.
Flexibility of recordings made with ZYLIA.
Sound source separation effect.
THE TECHNOLOGY BEHIND ZYLIA
Years of expertise in audio processing, music recording and hardware design have been combined into the ZYLIA 'Portable Recording Studio' and throughout the development process we've paid the utmost attention to every single detail product. Our goal was always to unify cutting-edge technology with simplicity and elegant product design.
Read more in our Technology White Paper ...
ZYLIA VIRTUAL MICROPHONE TECHNOLOGY
'Virtual Microphones' is a spatial audio filtering technique based on advanced 'beamforming' and sound source separation algorithms.
A virtual microphone can have different spatial characteristics, width or shape depending on recording use case and user needs and is defined in software taking into account both phase and amplitude differences between signals captured by the 19 capsules in the ZM-1.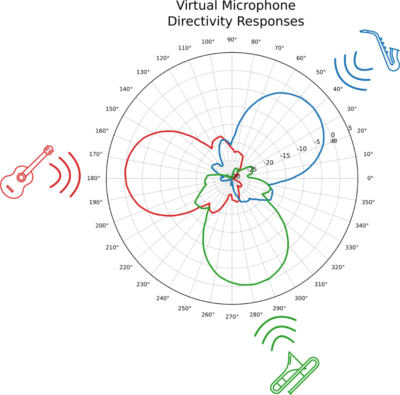 Virtual Microphone Adaptability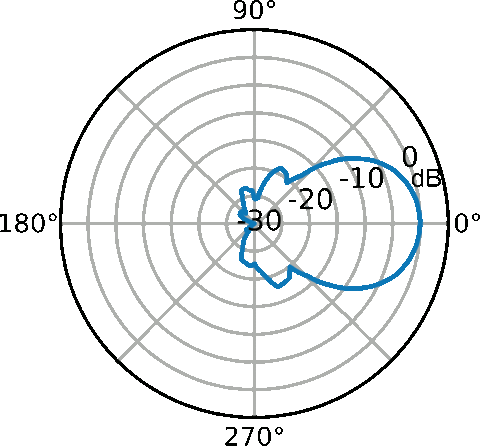 ZYLIA ZM-1 MICROPHONE CAPSULES
ZM-1 is built using omnidirectional condenser microphone capsules based on MEMS technology. All capsules have very tight and constant in time tolerances, so that the sound is consistent from mic to mic.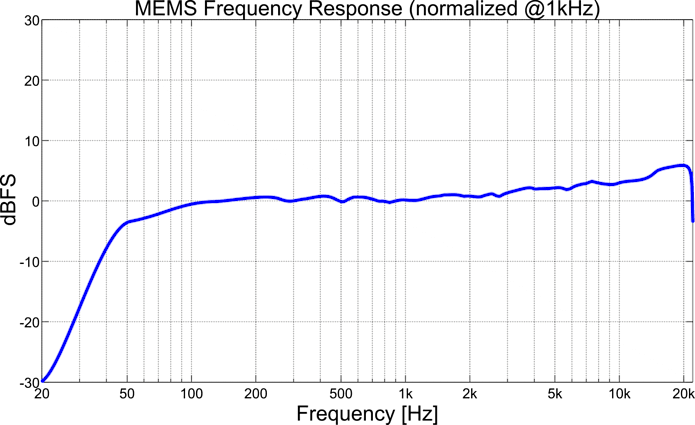 MEMS Frequency Response (normalized @1kHz)
 
ZYLIA PORTABLE RECORDING STUDIO
PRODUCT OVERVIEW

ZYLIA ZM-1 MICROPHONE
ZYLIA ZM-1 is a special type of microphone array that was designed for high quality multi-track recording. In order to capture selected sound sources on specified directions and distances the ZM-1 microphone uses 19 omnidirectional capsules (based on state-of-the-art MEMS technology).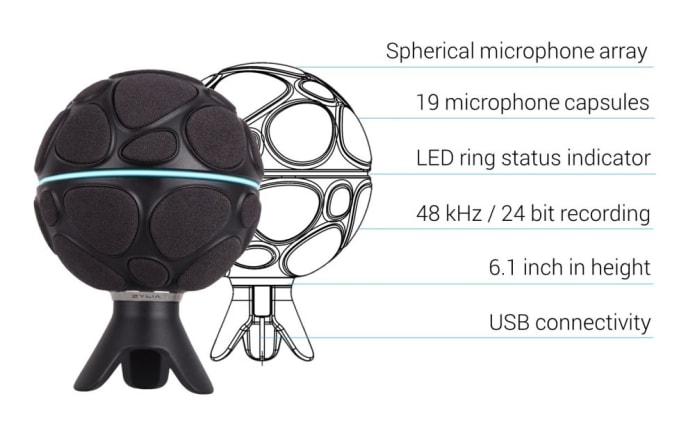 Physical Specifications:
Size: height 155 mm (6.1 inches), length 103 mm (4 inches)
Weight: 470 g (16.6 oz.)
Stand threads: 1/4 inch and 5/8 inch
Material of housing: ABS or anodized aluminum (limited edition only)

ZYLIA STUDIO SOFTWARE
ZYLIA Studio is a dedicated application acting as the "Control Center" for the ZYLIA ZM-1 hardware and enables musicians/bands to record songs and extract recorded instruments to individual tracks, allowing for fine-tuning of the mix with gain level and pan controls or exporting of tracks to an external DAW.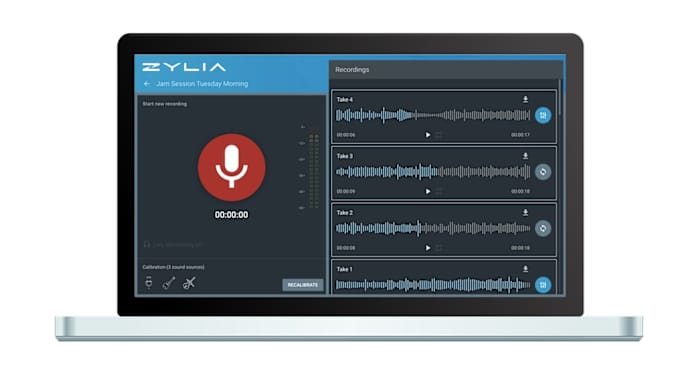 Main features:
Desktop application for Mac OS, Linux and Windows
Record, mix and store your recordings
Extract individual instruments into separate tracks
Produce and export tracks in WAVE (24 bits PCM, 48 kHz)
Presets for surround or ambient recordings (5.1, 7.1 and more)
ZYLIA STUDIO PRO
ZYLIA Studio PRO is a VST/AU plugin which gives you access to spatial filtering and signal separation directly within a DAW. ZYLIA Studio PRO transforms a single 19 capsule microphone ZYLIA ZM-1 into an unlimited number of virtual microphones.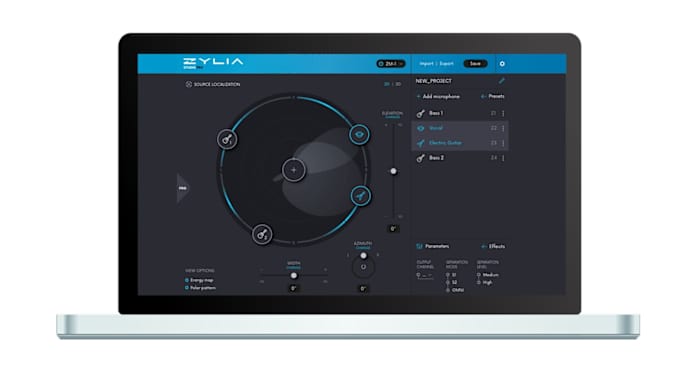 Main features:
Possibility to set and monitor virtual microphones of multiple polar patterns or characteristics -  live or during post production!
Presets for surround or ambient recordings (5.1, 7.1, 5.4.1, 22.2 and more)
Sound sources separation in real-time
Automatically detects the positions of sound sources


ZYLIA AMBISONICS CONVERTER
ZYLIA Ambisonics Converter (ZAC) converts the ZM-1 multi-channel recordings to Higher Order Ambisonics (HOA) and enables you to prepare 3D audio recordings for playback on the 'Facebook 360' and 'Youtube 360' platforms.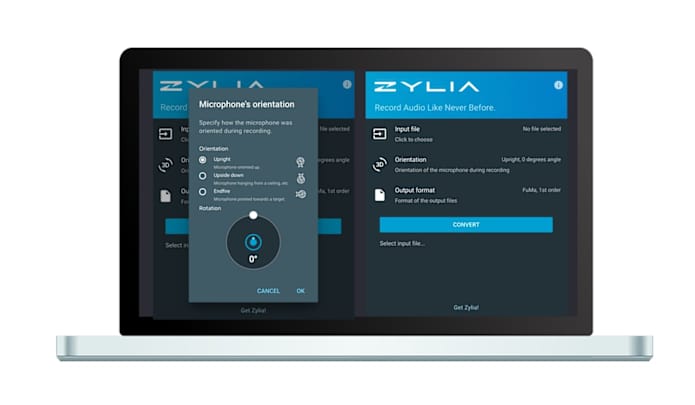 Main features:
B-format (1st, 2nd and 3rd order of HOA),
FuMa or ACN channel ordering & SN3D or N3D normalization
Compatible with ambiX and TBE
Correction of microphone position in the post-production stage
ZYLIA VS TRADIONAL RECORDING EQUIPMENT
Comparison of rehearsal recordings made with ZYLIA ZM-1, ZOOM H2n and Apple iPhone6.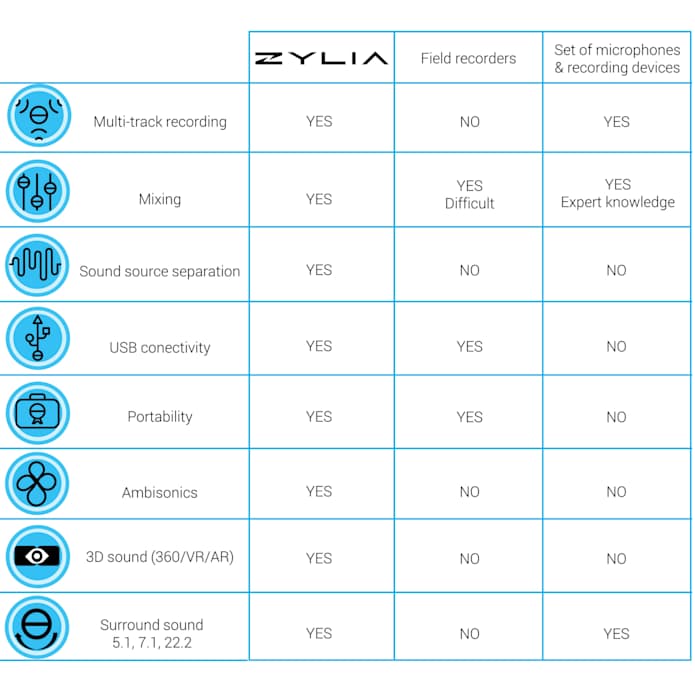 CONNECTIVITY AND INTEGRATION

WHAT'S IN THE BOX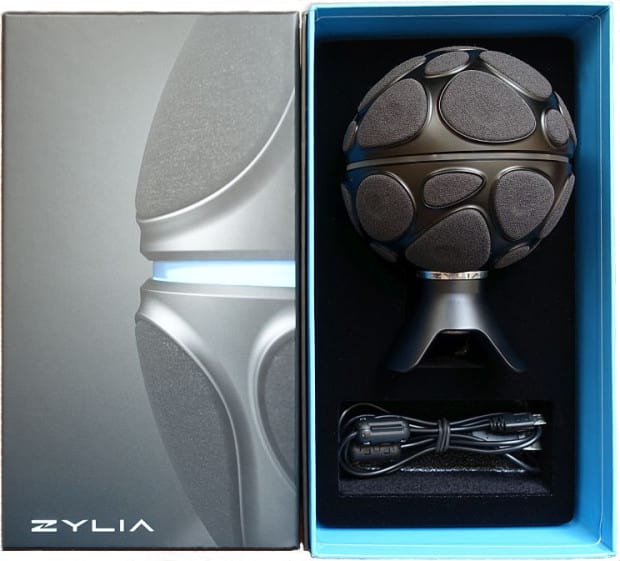 ZYLIA ZM-1 microphone
Microphone adapter
USB cable - 3 meters
Quick setup guide
User manual
License key (ZYLIA Studio or ZYLIA Studio PRO)
THE DESIGN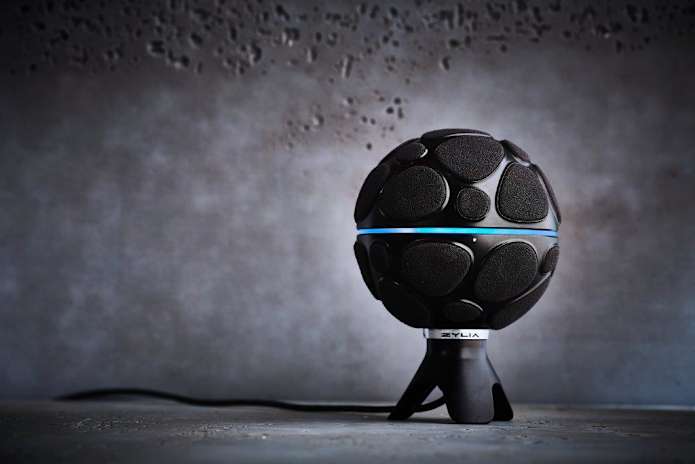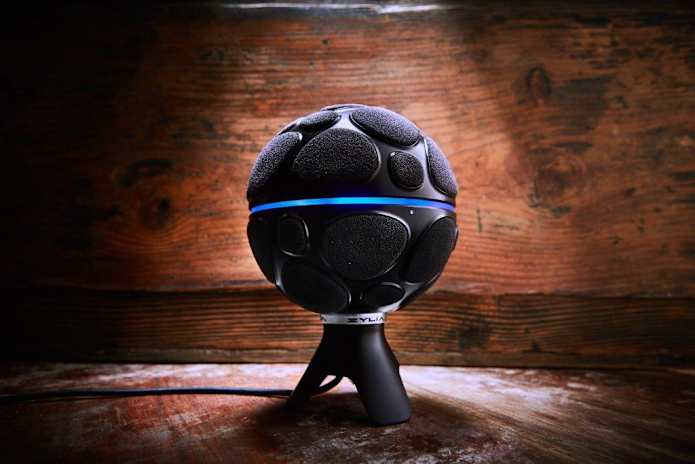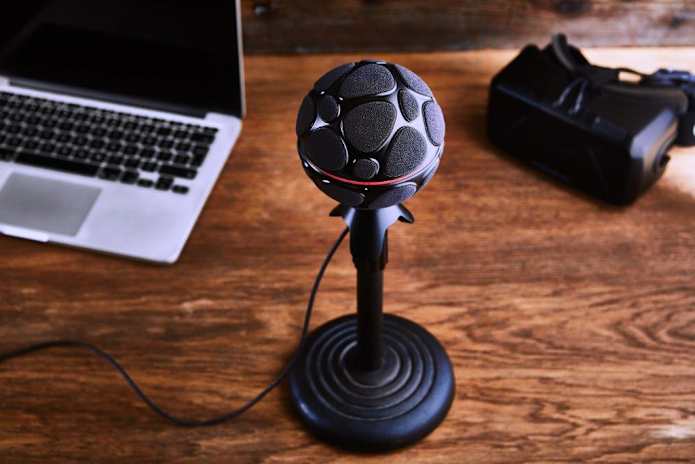 ​
OUR PARTNERS
We're excited to be working with many highly respected industry partners leading the development within the field of 3D audio technology:
MPEG, Barcelona Media, Studio G Brooklyn, Eventide, G'Audio. 
 
And our other partners, supporters and friends:
Thank you so much everyone who helped us make this Indiegogo campaign possible.
Especially, a huge thanks to all our beta testers:
Abbey Road Studios, Mikolai Stroinski, Love & Laughter Music Group, Uwe Bossert, Gene Torres, Rhonda, James Ivey, Paul White, Christof Fersch, The Outer Vibe, Grzegorz Walczak, Czaqu band, FairyTaleShow, Hot Lips, Dawid Tokłowicz, Patryk Piłasiewicz, Mitochondrium, The Barefoot Movement, Felix Andriessens, ZALUSKI Recording Studio, Antoni Sojka, John Merchant, Jakob Morelli, Audiofeels, PWS, PPNOU, Poznan Music Academy, Republika Rytmu, Sweet Beat, Piwnica8, EnsembleMidtVest, TheDjangoes, Donia Jourabchi, Grzegorz Kisielewski, Sledziuha, Mariusz Pawłowski, Friction Quartet, Thomas Bärtschi, Sari Dajani, Szopix, Phil Stoker, Justin Bennett, Lan Freedman, Kacper Habisiak, Andrew Stirling, Triola Band, Jean-Francois Bau, Anomalia and Germano Studios.
INCUBATOR PROGRAMS
ZYLIA is proud to have been part of the Next Step Challenge Incubator in Denmark and EuropeanPioneers in Berlin.

            Peter Torstensen, CEO of Accelerace talks about ZYLIA and company participation 
            the 'Next Step Challenge' acceleration program.
PARTNERS
ZYLIA is happy to establish a partnership with well known brands, such as Eurecat - Centre Tecnològic de Catalunya.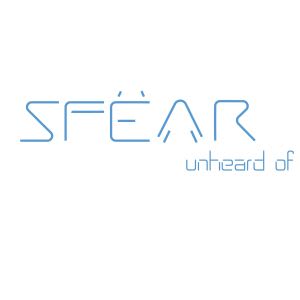 THE DEVELOPMENT
ZYLIA started out as a research project in Poland in 2012 and soon thereafter a product roadmap was defined with the ambition to innovate a design a 'next generation product' for musicians and audio creators. Since the beginning, more than 6 generations of hardware prototypes, hundreds of software iterations and endless acoustic tests have been performed.
PROTOTYPE DEVELOPMENT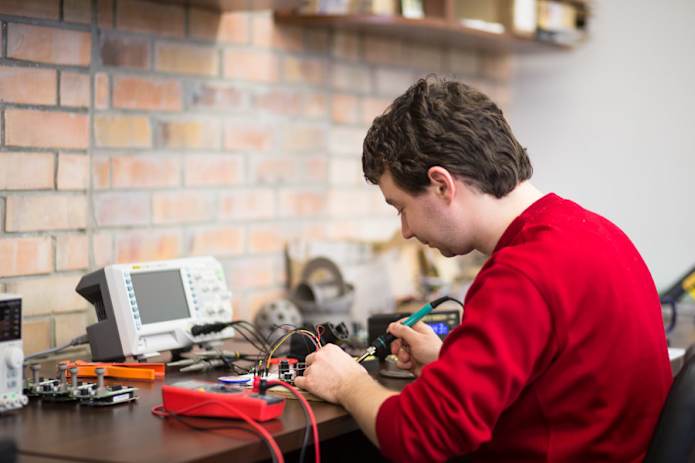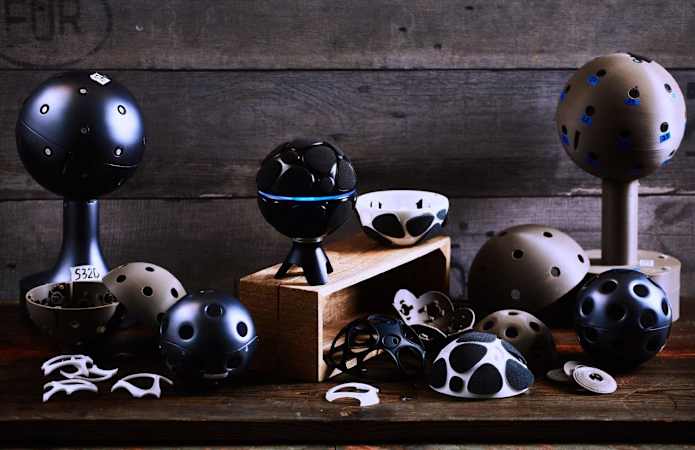 Many versions of prototypes were tested.
PROTOTYPE TESTING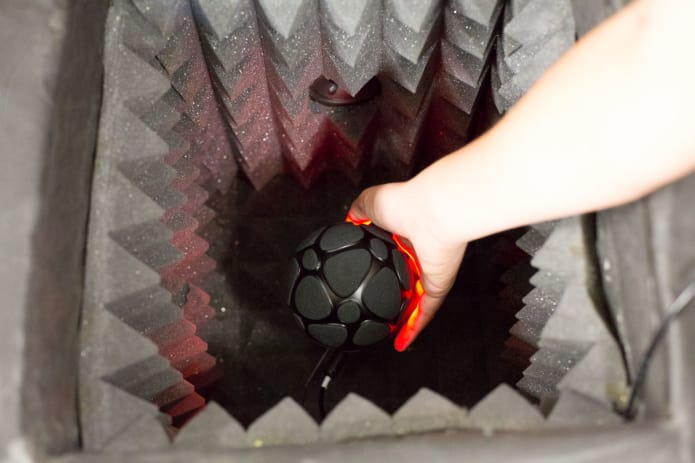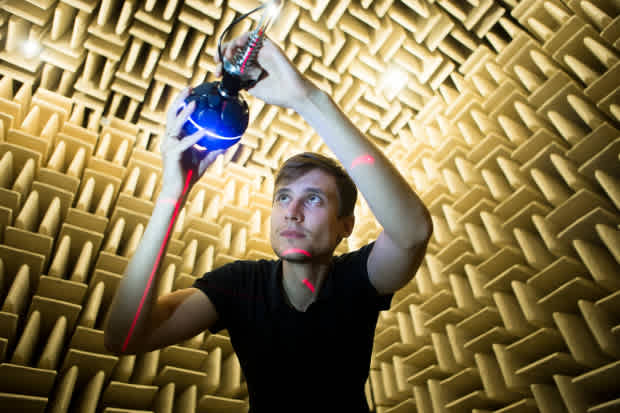 Advanced audio tests in an anechoic chamber.
BETA TESTS WITH MUSICIANS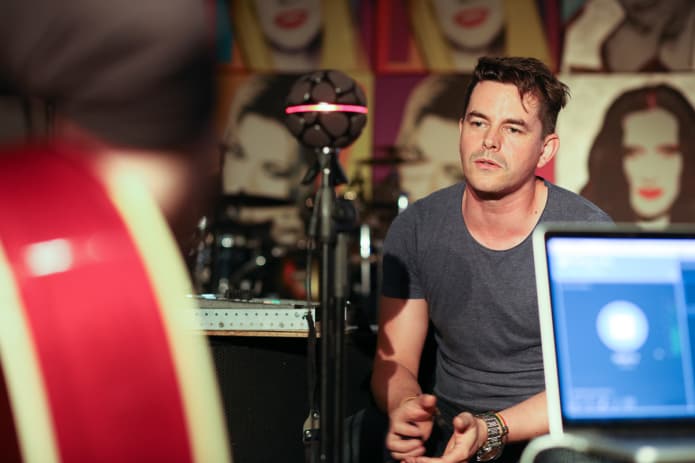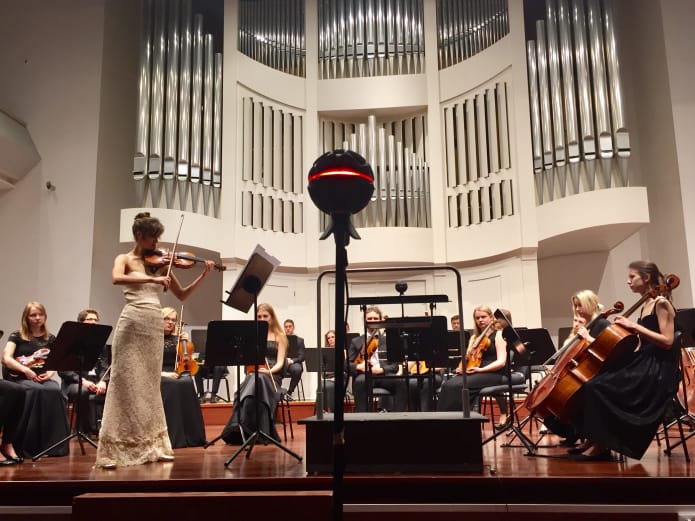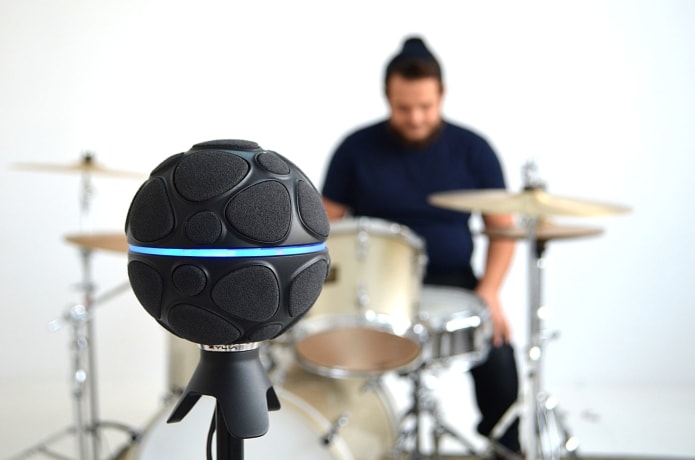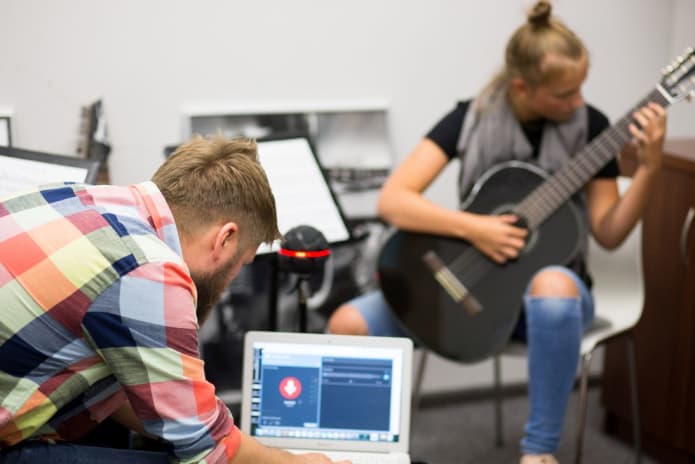 We collaborated with more than 100 music bands (worldwide) for beta-testing.
Their feedback was invaluable during the entire development process.

 
PRODUCTION OF PILOT BATCH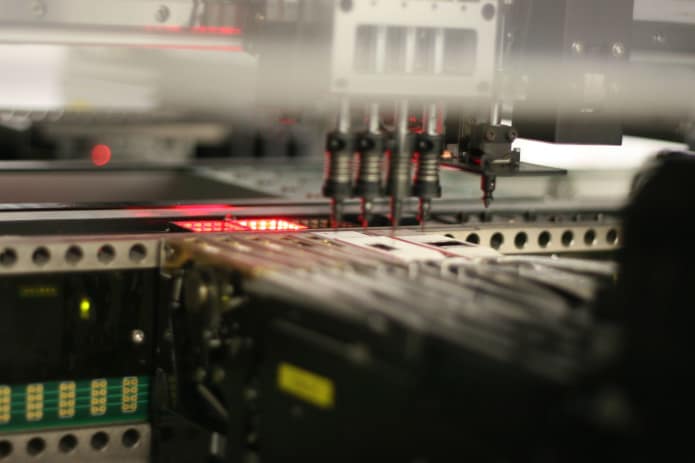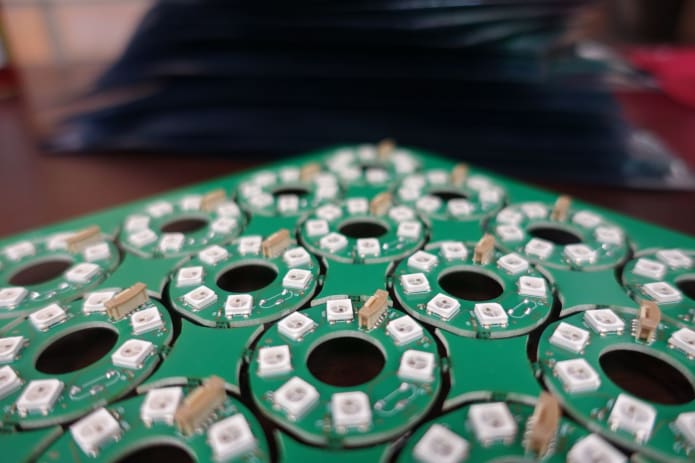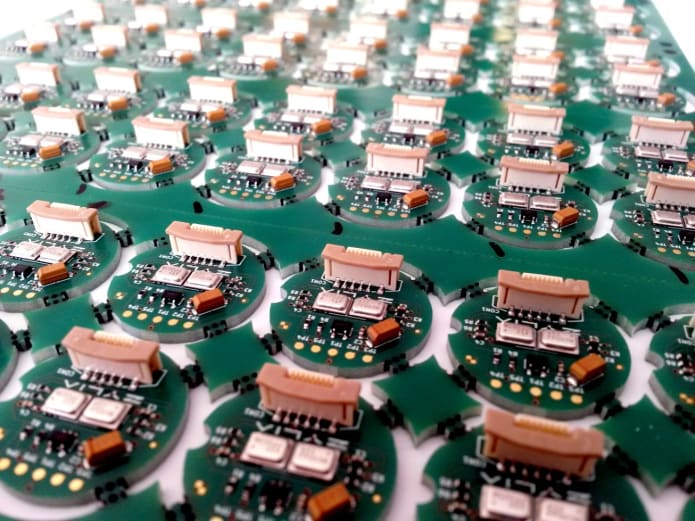 Electronic components production.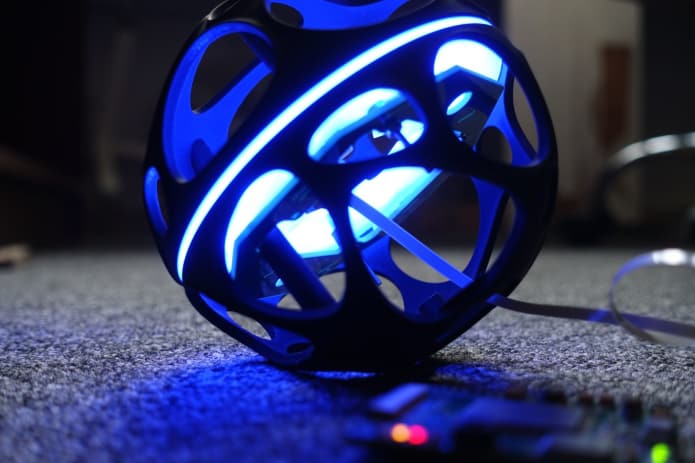 Casing.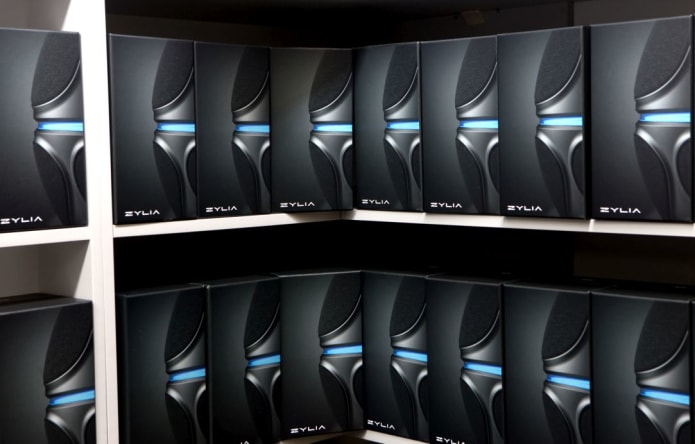 Pilot batch.
Production of limited version of ZYLIA ZM-1.
WE ARE ZYLIA!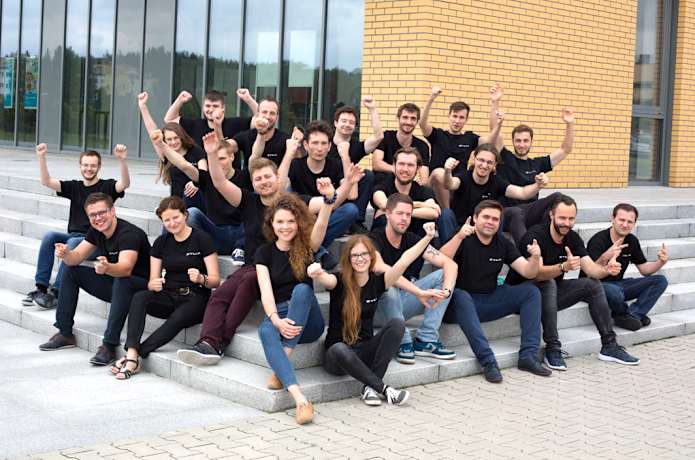 HELP US REVOLUTIONIZE THE FUTURE OF RECORDING
We have come a long way since 2012 when we started this journey and today we are extremely proud to have reached the final stage of the hardware production cycle. 'ZYLIA Portable Recording Studio' has so much potential and there are so many ways to use it creatively but without the support and interest from all the music and audio-related communities around the world it would not have been possible for us to reach this milestone. Now, we ask for your continued support so we can revolutionize the future of recording together.
Company Background
ZYLIA was founded in 2012 by Piotr Szczechowiak (COO) and Tomasz Zernicki (CTO) - both remarkable PhDs with extensive experience from academia and the industry. ZYLIA is determined to develop innovative world-class technologies and turn these into products capable of improving the lives of musicians and audio creatives. Today, the ZYLIA team consists of more than 20+ dedicated and passionate team players with a great combination of expertise in audio research, software, business and product development.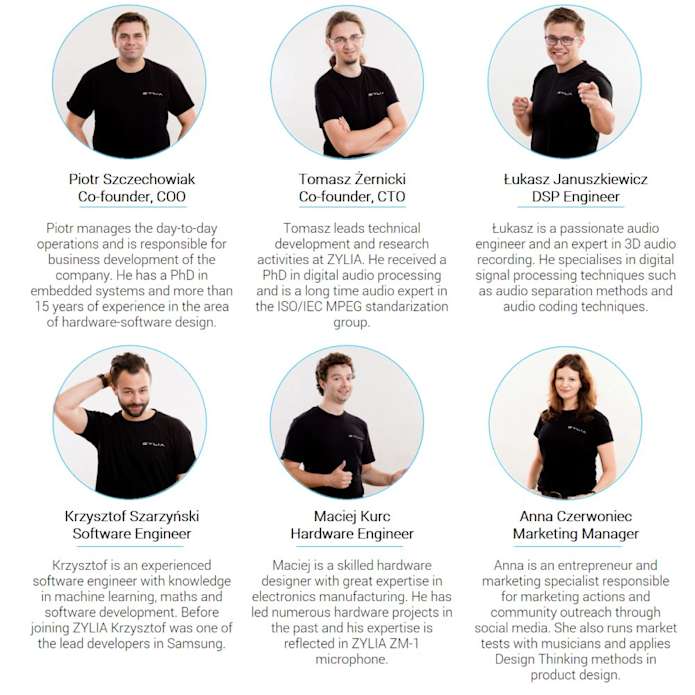 Read more about ZYLIA Team ...
Timeline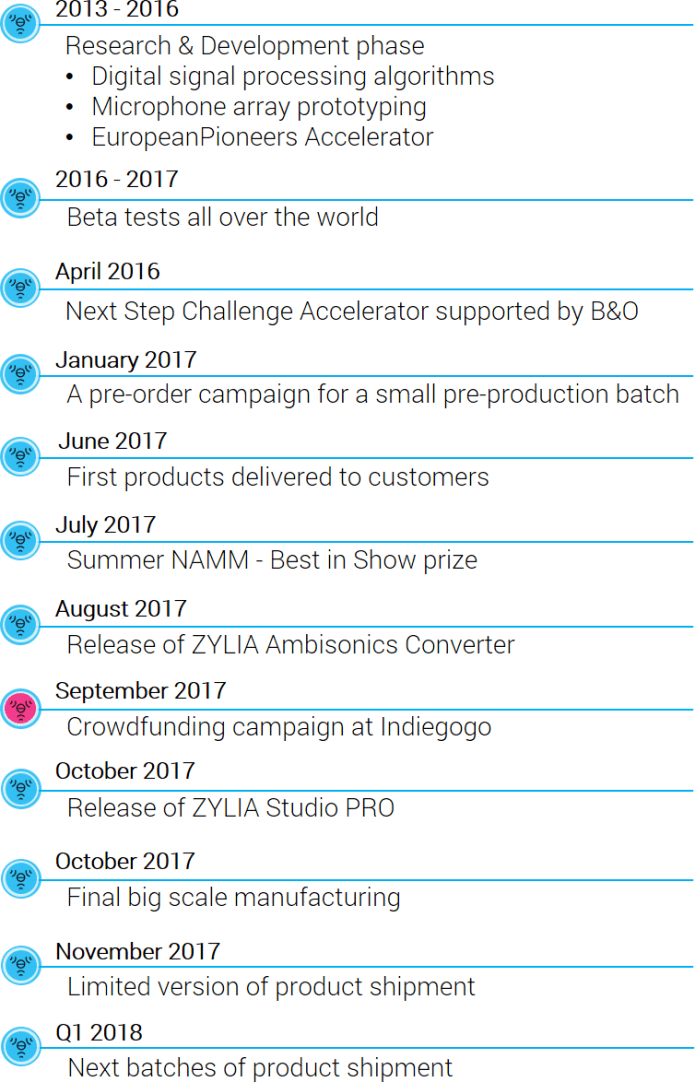 Stretch Goals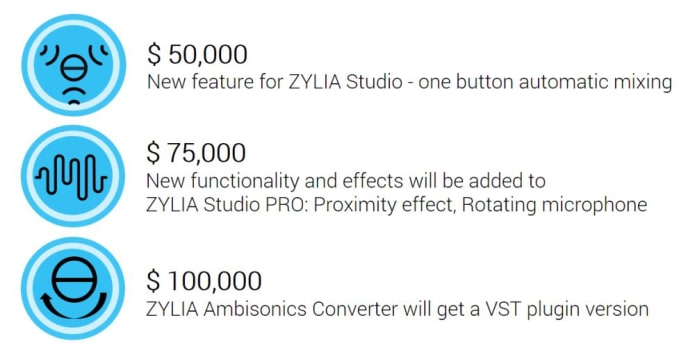 Cost of Manufacturing
We've managed to come a long way on a bootstrapped budget and were able to produce and deliver the first batch of products to a few selected friends and influencers. However, the full-scale manufacturing process is the most capital intensive part which include manufacturing of dedicated tooling such as injection molds. Therefore, we need your help and support to reach this next goal.
 
Risks & Challenges
Our team has more than 15 years of experience in audio product development and has successfully contributed to numerous audio projects, helping other companies bring their innovative products to market. 
One of the main challenges during the entire product development process was to continually ensure proper testing of both our hardware and software. Lab tests are important but nothing beats true 'market testing'. All the feedback we have received from our beta-testers (worldwide) has been invaluable to us and we are extremely grateful for their passionate and dedicated contributions.
Just recently, we have finalized the hardware design and manufactured a production prototype successfully. Now, we are ready to start high volume production and make our product available for everyone.
As with any hardware and software project, there are always scheduled risks associated with manufacturing and supply chain logistics. Therefore, a lot of attention has been put into the process of selecting the best manufacturing partners in both Europe and Asia - partners that we already have a strong collaboration with. 
FAQ

- GENERAL -
 
WHAT IS THE TYPICAL USE CASE?
ZYLIA ZM-1 was designed first and foremost for recording music artists and bands. It drastically simplifies the multitrack recording process and with just a single microphone you can record a performance and afterwards extract/separate the individual instruments/vocals/audio sources from the stereo mix. In addition you can use it for 3D audio production.
ZYLIA ZM-1 is an excellent companion for:
Musicians & Bands
Composers and songwriters
Teachers & students in music schools
Jam session lovers
Fans of old fashion one-mic-recording
Sound designers/recordists fascinated with ambient & ambisonics recording
3D / Virtual Reality / Augmented Reality and Mixed Reality creators
360˚ movie production companies
 
CAN I USE ZYLIA PORTABLE RECORDING STUDIO TOGETHER WITH MY DAW?
Yes, ZYLIA ZM-1 is compatible with all DAWs currently on the market. The microphone is visible as a 19 channel source input device. In addition, separated tracks of audio sources and instruments can be exported directly into any DAW of your choice.
DO I GET A WARRANTY?
ZYLIA's hardware products are covered with warranty against defects in materials and workmanship - under normal use - for a period of ONE (1) YEAR from the date of purchase by the original end-user / purchaser.
- USE CASES -
 
WOULD THE ZYLIA ZM-1 WORK WITHIN LARGE VENUES?
ZYLIA ZM-1 was designed to work in a huge variety of environments - from living rooms and home studios to rehearsal rooms and larger venues.

COULD IT BE USED FOR RECORDING MULTIPLE VOICES IN VIDEO PRODUCTION?Absolutely! the ZM-1 can be used for recording many speakers/voice actors simultaneously. At the output you would get a stereo, binaural or 19 channels recording and after processing, a separate audio track of each speaker/voice actor.
CAN I USE ZYLIA AS A REGULAR MICROPHONE WITHOUT ZYLIA STUDIO SOFTWARE?
Yes, you can. From operating system point of view, ZYLIA ZM-1 is visible as a 19 track audio interface. Therefore. you can treat it as a typical USB microphone with additional benefit of high quality microphone capsules.
MAY I USE ZYLIA FOR AS A LIVE SOUND MICROPHONE?
Yes, you can. During the live performance you have several options. First, use ZYLIA as a USB microphone. Second, you can record a 3D audio in a binaural way. Third, by using a ZYLIA Studio PRO you can use a virtual microphone technology and pass only selected sounds to PA system.
CAN I USE ZYLIA FOR LIVE RECORDING?
Yes, you can output from virtual microphones to create a surround sound, binaural or just a stereo recording. The beuty of ZYLIA is that you can make this decision AFTER the recording due to 360 format that we use - you can separate or filter sounds using ZYLIA Studio or ZYLIA Studio PRO software.
- TECHNICAL -
HOW DOES ZYLIA STUDIO EXTRACT MULTIPLE INSTRUMENTS FROM A SINGLE MIC REC?
The technology behind 'extraction of sound sources' is a technique developed by our internal R&D department. We use a combination of spatial filtering (beamforming) and blind sound source separation.
CAN I CONTROL THE LEVEL OF SEPARATION?
Yes, you have two options included in 'ZYLIA Studio' related to virtual microphones.
Preset no.1 : filters and cut a specific section of the 3D sound preserving the ambience and room acoustic.
Preset no.2 : takes into account the localization of interfered sources which leads to removing unwanted noises and ambience.
CAN YOU DO LIVE MONITORING OF THE RECORDING?
Sure, we found this a must-have in order to achieve an optimal work-flow. 
WHAT ARE THE RECORDING SPECIFICATIONS?
The current version of ZYLIA ZM-1 has 19 built-in microphones - or microphone capsules to be exact. The system records 19 tracks from these physical microphone capsules + an arbitrary number of 'virtual microphones' defined in the ZYLIA Studio software by the user. Each virtual microphone is recorded as a separate track. Audio is recorded in 48 kHz/24 bit quality.
WHAT ARE VIRTUAL MICROPHONES?
These are software defined microphone beams that can be directed in any position in the 3D space. ZYLIA ZM-1 can detect audio sources within 3D space and steer appropriate virtual microphone beams towards them.
HOW MANY TRACKS OF SEPARATED AUDIO CAN BE EXTRACTED FROM A RECORDING?
To obtain a decent separation of sound sources there should be 6-8 of them located around a microphone.
CAN YOU DO 5.1/7.1/22.2 AUDIO RECORDINGS WITH ZYLIA?
Thanks to our 'virtual microphone technology' it is possible to set microphone beams in many directions simultaneously! In this way you can record in mono, stereo, 5.1, 7.1 or any other arrangement you might need. You can also define your own setups. Moreover, it is possible to do a binaural recording.
CAN I USE ZYLIA WITHOUT INTERNET CONNECTION?
Yes, it does its magic perfectly without being online.
ADDITIONAL INFO

ZYLIA product page at zylia.co
ZYLIA Hardware and Software User Guide