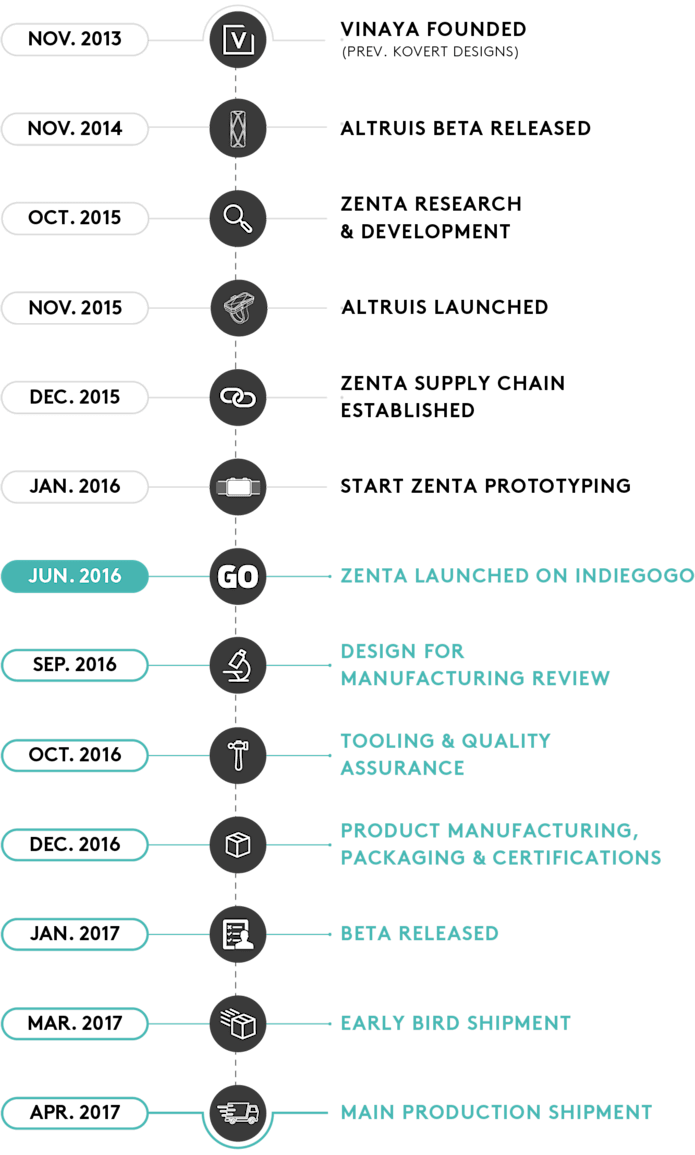 OUR COMMITMENT TO PRIVACY

We are obsessively protective over your privacy and transparency of your data. ZENTA only processes what it needs in order to improve the accuracy of its algorithms. We also employ sophisticated encryption algorithms across all communication layers to ensure the highest standard of data privacy. If you would like further details of our robust data policy, please email indiegogo@vinaya.com and we'll be happy to explain in detail. 




How does ZENTA work?

ZENTA has built in biometric sensors that can detect variations in heart rate, respiration and perspiration rates. These are all prime markers for someone's emotional state. 

Different emotions are matched to biometric signal patterns detected over time, which are then correlated with other types of data such as activity levels, calendar events, location and amount of smartphone notifications. This information is all synthesized using machine learning algorithms and clever user experience design to give you personalized and actionable insights via the app. 
How does ZENTA connect to my smartphone?
ZENTA syncs with your smartphone via Bluetooth SMART (low energy). The wearable works in conjunction with the ZENTA mobile app, which is compatible with both iOS and Android. ZENTA requires you to download the free app from the Apple App Store or Google Play Store (to be released early 2017).

ZENTA is compatible with iOS and Android. It requires:
Phone 4S or newer




iPod Touch 5th generation or newer




iPad 3 or newer




iPad Mini 1st generation or newer




iPad Air 1st generation or newer




Android devices equipped with Bluetooth 4.0 and running Android 4.3 (Jelly Bean) or later.
What's the difference between ZENTA and other wearable tech products?
Most wearable products focus on physical wellbeing only (e.g. counting your steps or measuring heart rate) or tend to serve only one specific purpose (eg. analyse your breathing patterns). ZENTA utilizes the most advanced sensing technology to achieve a holistic view of your wellbeing (both emotional and physical) and give your data added 'life context'. Emotions are known to be a key factor influencing your physical health and pretty much all other aspects of life.
How does ZENTA send me alerts about my smartphone notifications?
When you receive a notification via your ZENTA app, your wristband will vibrate to alert you.
Unlike the Apple Watch, ZENTA lets you filter your smartphone notifications based on contacts and notification types. This means you can be alerted for the things you find most important, while you minimize distraction by muting excessive digital noise.  
You can customize which vibration patterns are allocated for specific contacts or notification types– three vibrations to notify you when your boss emails, one vibration to notify you about your next meeting, for example. The vibration patterns have been designed to be discrete, but distinctive enough so that you don't miss anything important, while you keep your smartphone out of sight.
We have already brought a wearable technology product called ALTRUIS to market that features this capability - learn more about it at vinaya.com.
Which apps and devices does ZENTA integrate with?
ZENTA will be integrated with all of your favorite apps (as many as 70 apps), following the path of our ALTRUIS designer wearables collection.  Current integrations are based on smartphone notifications, but deeper integrations with productivity and mindfulness apps are planned.
What are the dimensions of ZENTA?
The dimensions of the stone are 33.8mm x 16mm x 9.8mm. Below is a visual representation of dimensions of the wearable:

How long does the battery last?
ZENTA can last up to 5 days without charging. It takes about 2 hours to charge fully. Since it uses a Bluetooth Smart (low energy) connection, this will not drain your smartphone battery.
How is ZENTA charged?
ZENTA comes with a USB charger which locks in the stone magnetically.
What is the ZENTA stone made of?
The ZENTA stone is where most of the magic happens. The stone's shell is made of a special type of ceramics called Zirconium, which is extremely durable and scratch-proof. The bottom of the stone is made of polycarbonate. It houses a processor, a haptics motor, battery, 3-Axis accelerometer, gesture capacitive touch controller + sensors, and bio-sensing engine and sensors (bio-impedance, optical and temperature).
Is ZENTA water resistant?
ZENTA has an IP67 rating and it's officially 'splashproof', which means it can resist to usual scenarios like temporarily being under the rain or washing your hands. However, we're quite pleased with its resistance to water, so it's practically waterproof. Just don't wear it while swimming or scuba diving!
What colors are available?
ZENTA will come with two stone colours, white and black. The white stone has a high gloss finish and the black stone has a matte finish. Different strap options are available: black leather, gray leather and black silicon. The metal colours are Black, Dark or Rose Gold.
Are ZENTA wristbands interchangeable?
The bands are currently not interchangeable, as the biometric sensors are built into the band and designed to keep working with you as you move throughout the day. 
Is my personal information kept private?
We're obsessively concerned about the privacy of your data. As a user, you are in full control over which data you want to share. ZENTA only processes what it needs to improve the accuracy of its algorithms, so that you can receive personalised and actionable information about yourself and give you the best insights. We also employ sophisticated encryption algorithms across all communication layers to ensure the highest standard of data privacy. If you would like further details, please email indiegogo@vinaya.com to learn more. 
How much will ZENTA cost?
The consumer price for ZENTA Sport and ZENTA at launch in 2017 will be at $249 and $299. During this Indiegogo campaign you can buy ZENTA at discounted prices as a thank you for your early support.
Why is ZENTA Sport priced lower than the other two ZENTA models?
All three ZENTA models work exactly the same. ZENTA Sport is priced slightly lower because the strap is made out of silicone, which is more suitable for an active lifestyle. The other version of ZENTA is made with a genuine leather strap, responsibly sourced and luxurious. It really depends on your preference and lifestyle!
What will my pledge be used for?
Your financial contribution will go directly towards tooling and manufacturing the first batch of ZENTA. It will also be used toward the the research and development involved in bringing this product to market, including implementing  a sustainable product lifecycle. Please see our timeline above to get a more detailed picture of our product roadmap.
How long will it take to ship the product?
Estimated arrival of your ZENTA is between March and April 2017 (see timeline above). We're working around the clock to get your ZENTA shipped as soon as possible.
How do I pay for shipping and where do you ship?
We collect a small fee in order to support our costs for shipping ZENTA nationally and internationally. The fee will be added on check out depending on your location.
Who is responsible for any additional taxes or duties?
Delivery duties and taxes will be included for purchases in the following countries: Andorra, Austria, Belgium, Canada, Cyprus, Czech Republic, Denmark, Estonia, Finland, France, Germany, Greece, Greenland, Hungary, Iceland, Ireland, Italy, Japan, Latvia, Liechtenstein, Lithuania, Luxembourg, Malta, Monaco, Netherlands, Norway, Poland, Portugal, Puerto Rico, San Marino, Singapore, Slovakia, Slovenia, Spain, Sweden, Switzerland, United Kingdom, United States.
For all other countries the backer is responsible for duties and taxes, please check your country's import duties before purchasing.
Can I get a refund?
Please refer to Indiegogo's refund policy here. 
How do I upgrade my perk?
It is possible to upgrade to a higher perk after you have pledged. For example, if you pledged for 1 (one) ZENTA but would like to upgrade the Dynamic Duo package, you can select "Upgrade to Higher Priced Perk". Please read further instructions here.
Does VINAYA provide a warranty?
We offer a limited warranty for a period of 12 (twelve) months from delivery, the Products shall be free from material defects. See our Terms & Conditions for more details. 
Are you hiring at VINAYA?
Yes, we currently have several open positions. Check them out and apply here. 
I still have questions - how can I reach your team?
Please also see the Terms & Conditions and FAQ on our website. If you have further questions about the wearable technology product or our Indiegogo campaign, we would be happy to hear from you at indiegogo@vinaya.com or contact us via Twitter @vinayahouse.