Xchime continuously accepts funding. Back us by taking advantage of the Indigogo early special price. Thank you!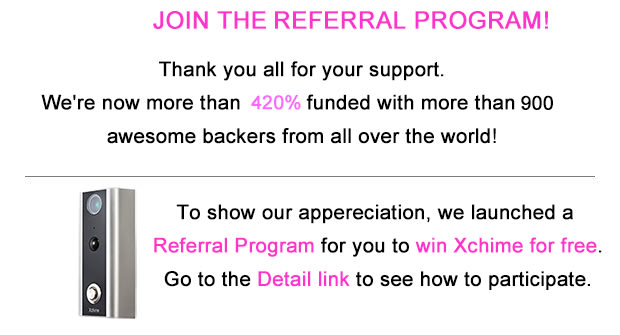 Xchime, the world's first no-lag video doorbell, brings you the true live video streaming experience to greet your visitors from your smartphone or tablet once they push the doorbell. You can see them instantly on your smart devices without lag. For other brands on the market, it takes the phone 7 to 10 seconds to bring up the camera when someone rings the doorbell.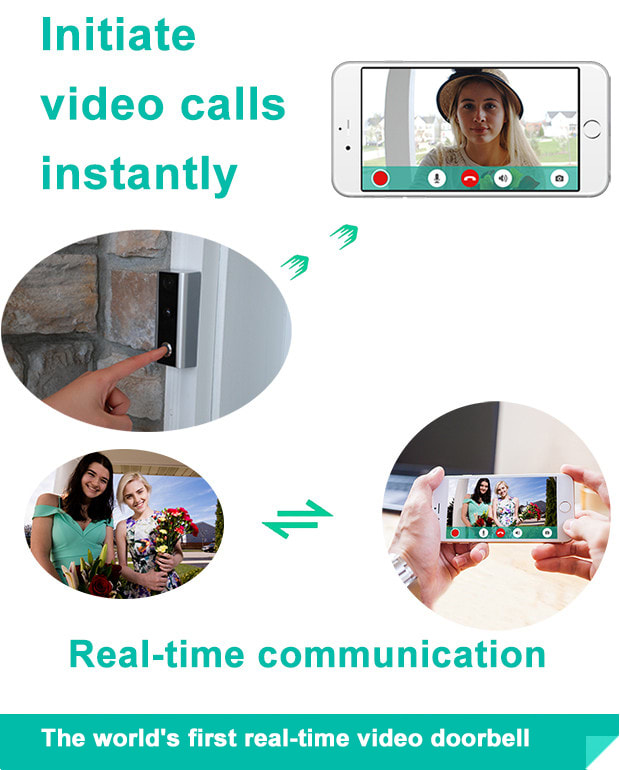 Xchime is the world's first video doorbell that works in extreme temperatures.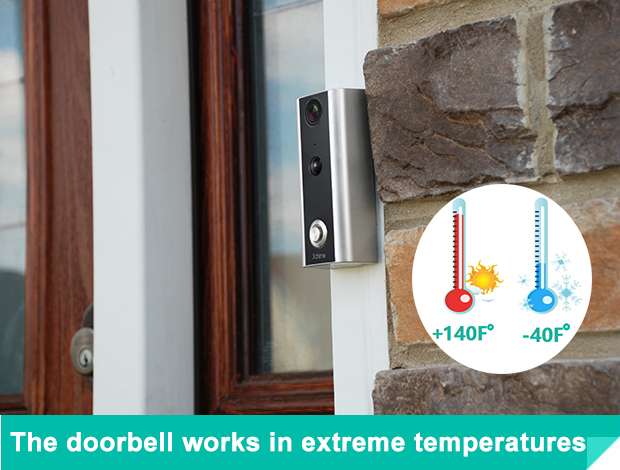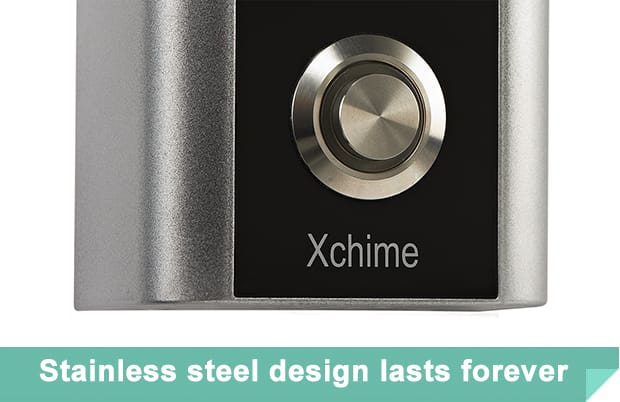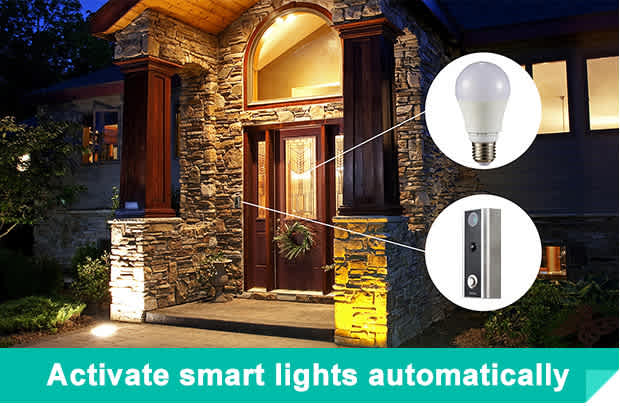 Xchime's smart light integration deters unwanted visitors by automatically turning on when motion is sensed or doorbell button is pressed.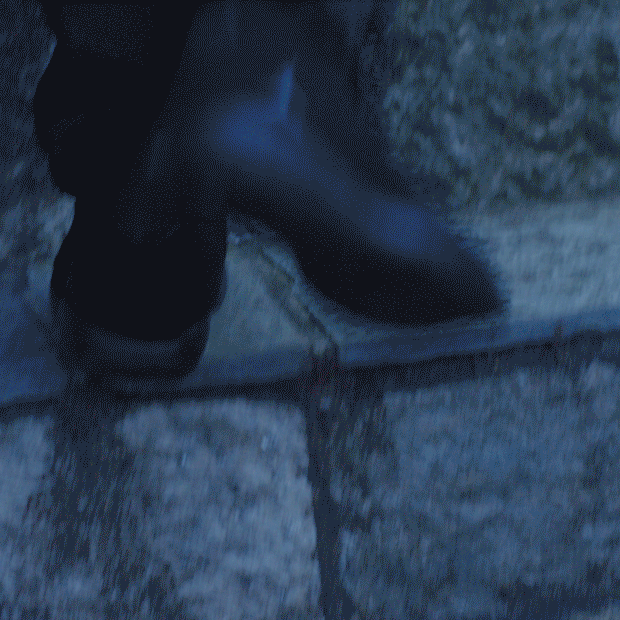 *Xchime's smart light turns on either inside or outside when any visitor appears, warding off unwanted visitors.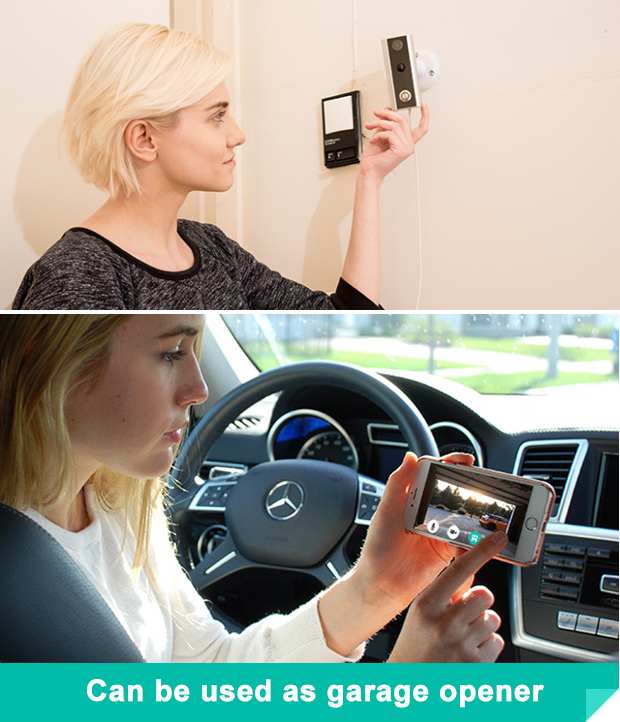 Xchime can be installed in the garage as a garage door opener. Open and close your garage door easily with just one tap.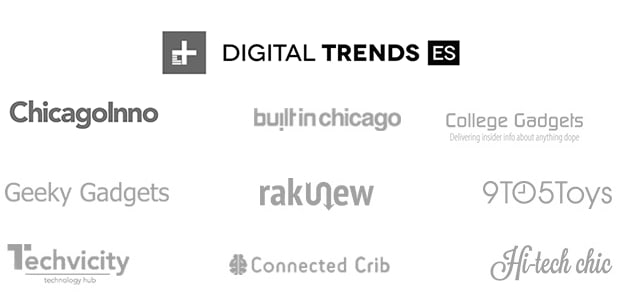 Answer your door with ease, receive notifications, and live chat with visitors instantly.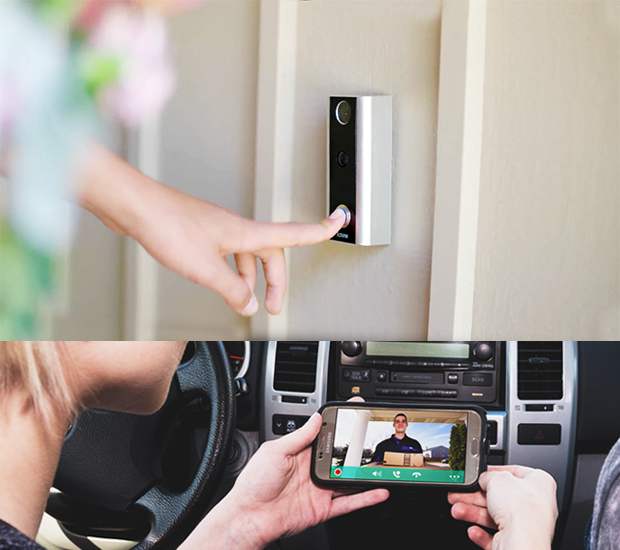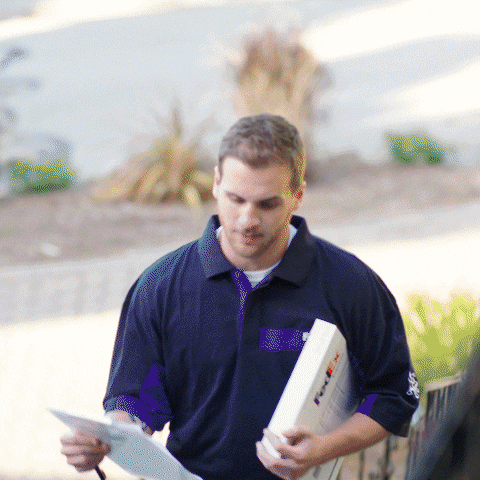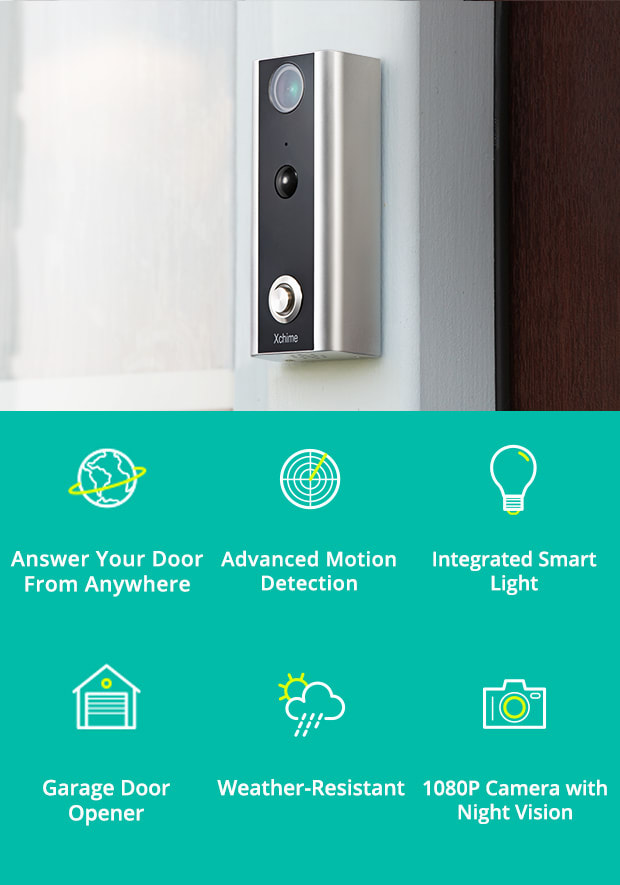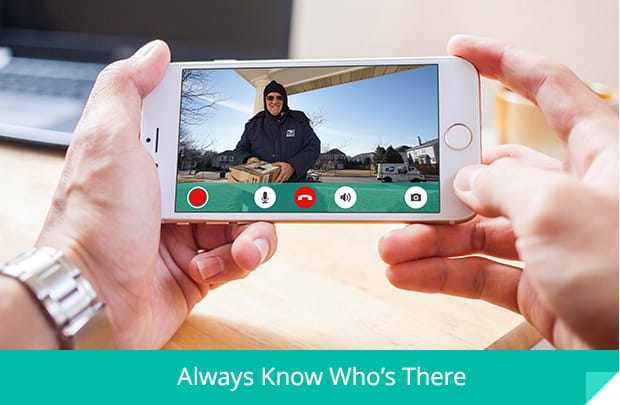 Use Xchime's 1080p HD live video to speak to visitors from your smartphone, tablet, or PC. Let the mailman know where to place your package.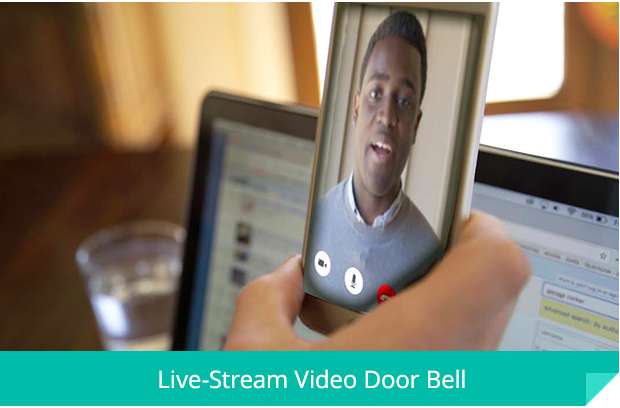 Review all live and recorded footage directly from the app.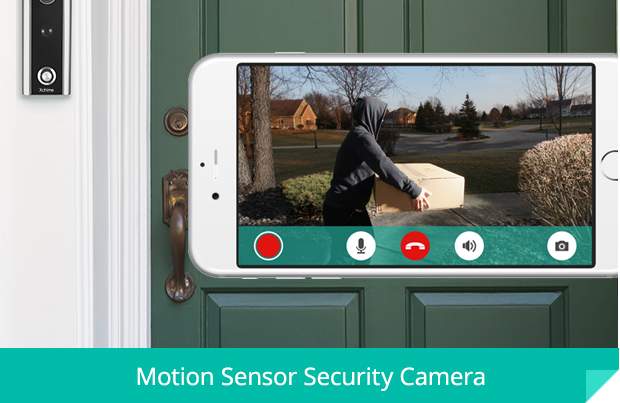 Xchime keeps you notified when motion is detected.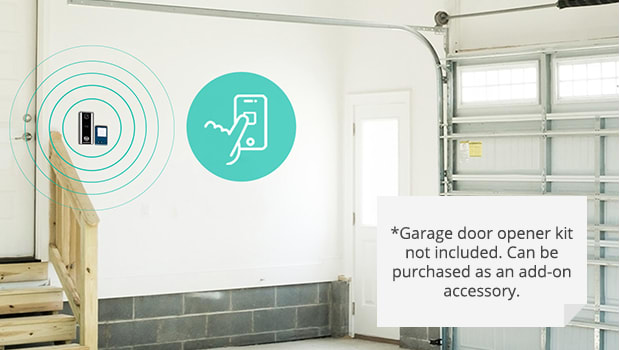 Open and close your garage door easily with just one tap.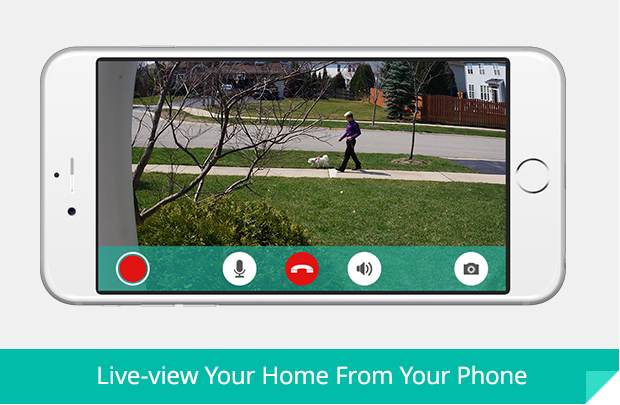 Check your door anytime, anywhere. Directly through your phone.

Go ahead and try. We couldn't find the doorbell we wanted on the market, so we decided to make it ourselves.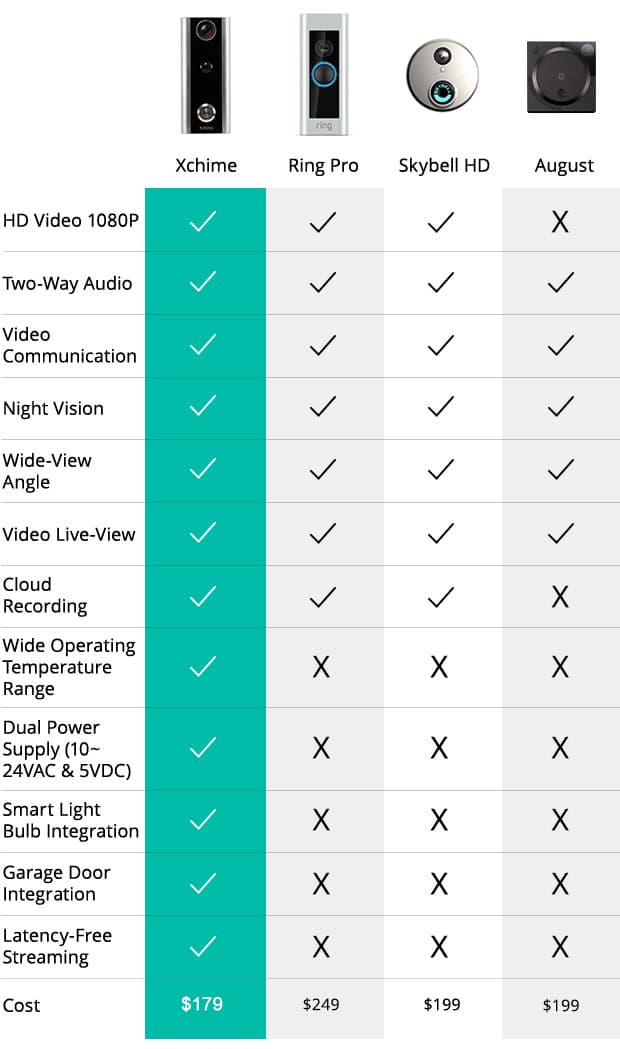 Xchime campaign hits $100,000, all backers will be able to upgrade their current Xchime order to Black color version. We will send a form for color selection after the campaign.
Second stretch goal
When Xchime campaign hits $150,000, all backers will get one free mounting bracket.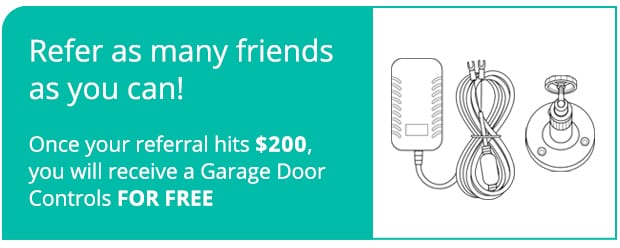 Click here to find out how to make sure your referrals earn you rewards. If you don't follow those instructions, we'll be unable to provide you with your well-deserved prizes!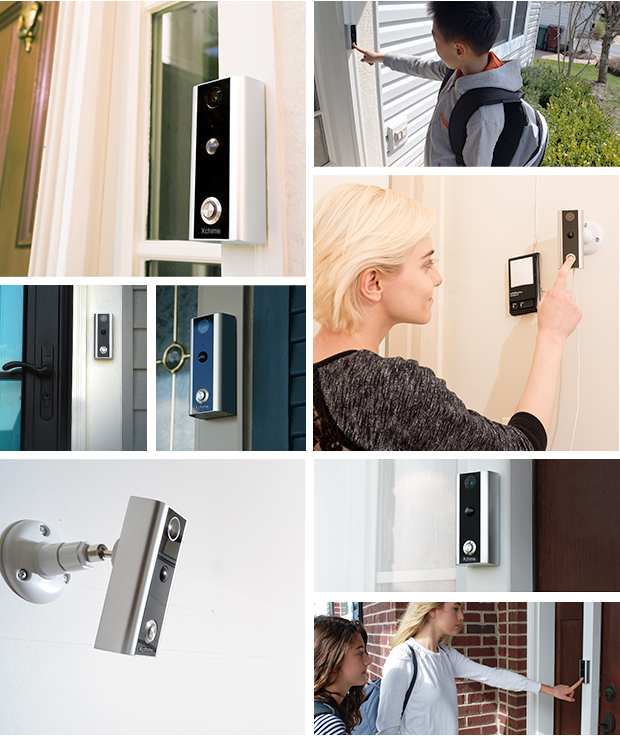 The free iOS and Android apps let you easily set up and manage your security footage.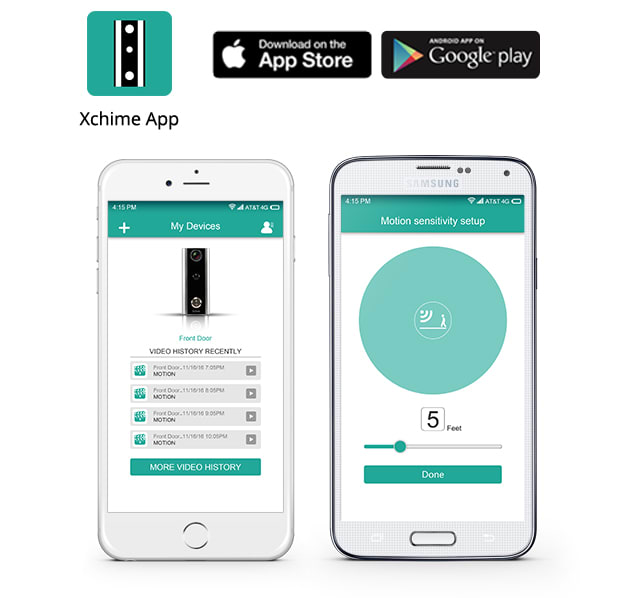 Control your Xchime and review footage in one simple dashboard.
Get instant alert when any motion is detected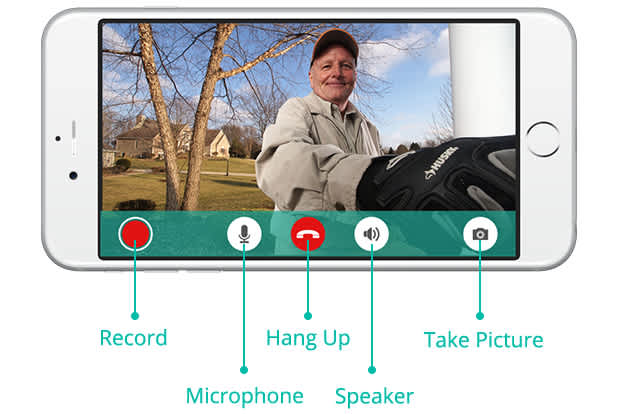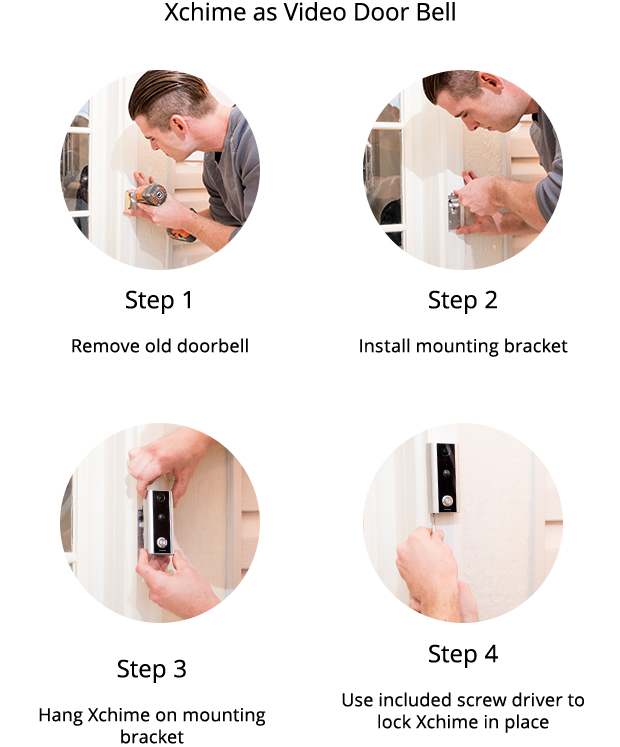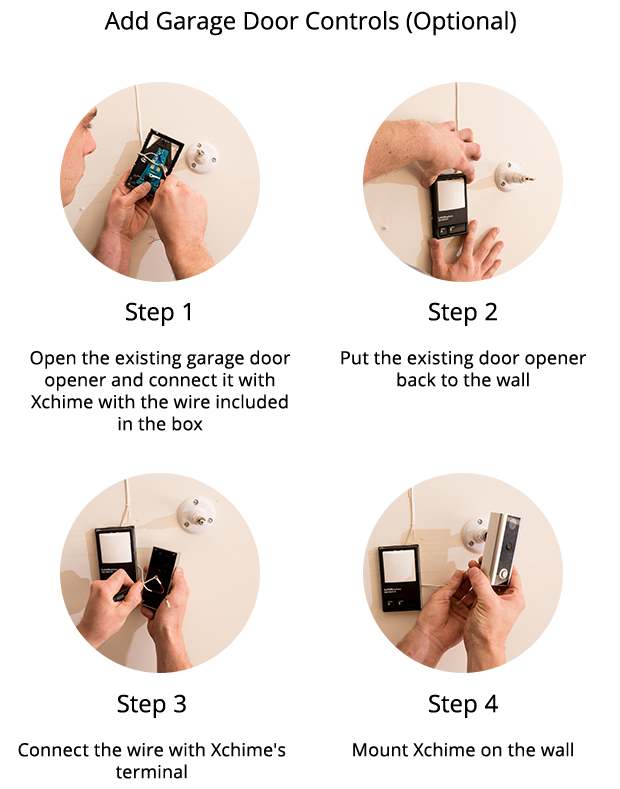 Our mighty small device packs a big punch. This striking design makes a sophisticated statement in any home.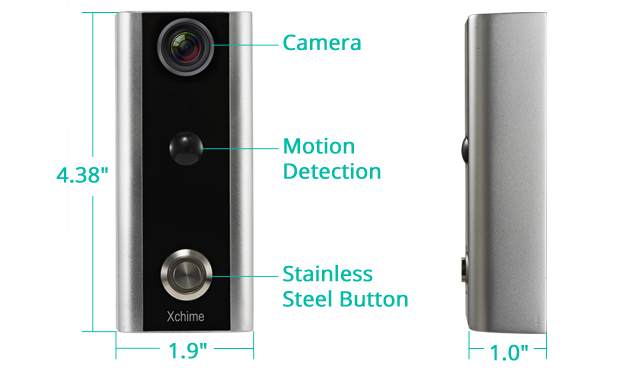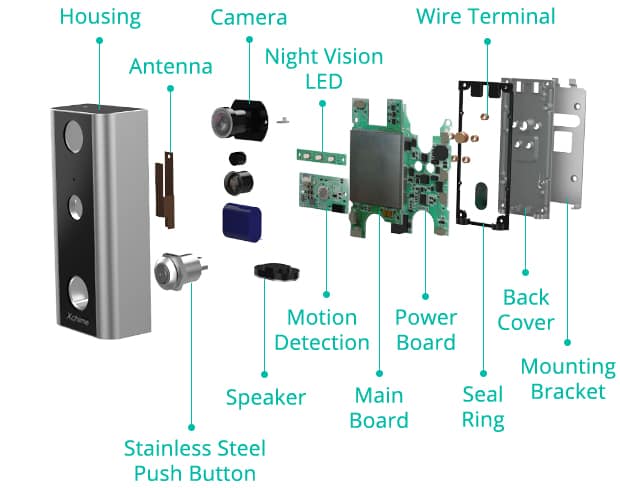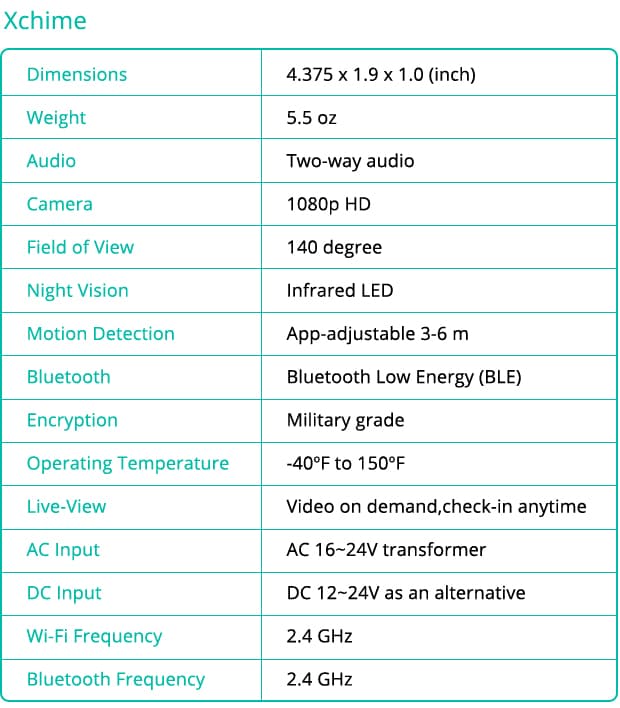 We've been perfecting Xchime's technology. Now we're ready to manufacture it and deliver it to your doorstep.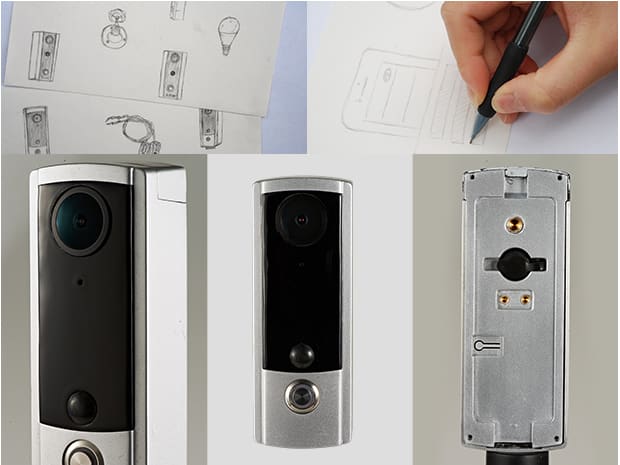 We are an energetic, and fast growing team founded by Ex-Motorola engineers in Chicago. Our dream is to create the extraordinary, most affordable video doorbell in the world and bring these outstanding home security products to every family. We love crowfunding our latest technology on Indiegogo and want to build up an engaged community. We can't wait for backers such as yourselves to share your great ideas and feedback. With your help, we will be able to create the world's best video doorbell for everyone.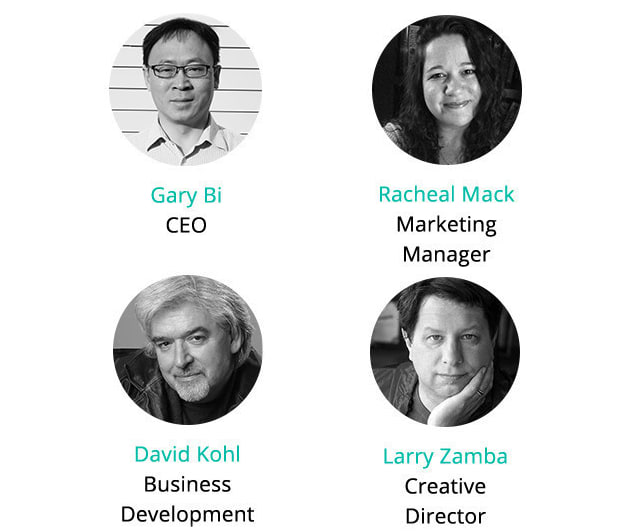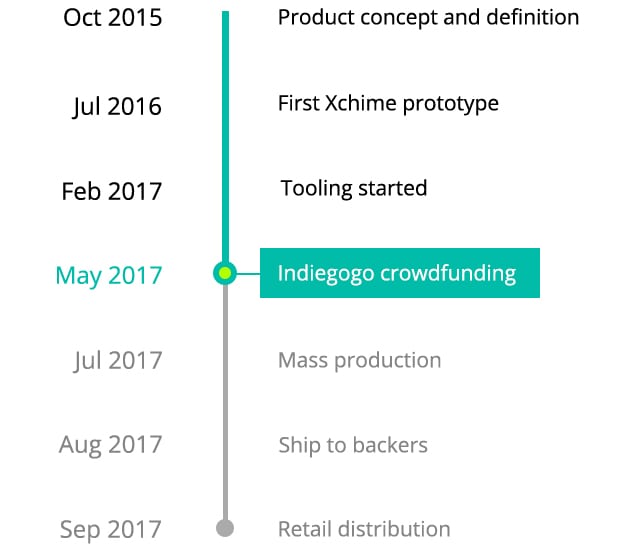 We are able to ship worldwide. VAT and GST not included. Please see reward details for the shipping cost that applies to you.

We plan to ship Xchime in August 2017*. Additional batch shipments dates will be announced. We will keep you up to date on our progress and the expected delivery date of your order.    

By backing now, you'll get to own one of the very first Xchime ever. Plus, get exclusive access to provide valuable feedback that will shape future generations of the product.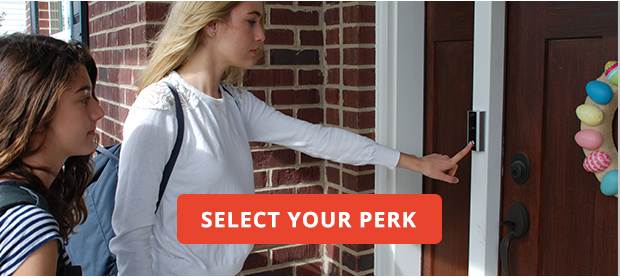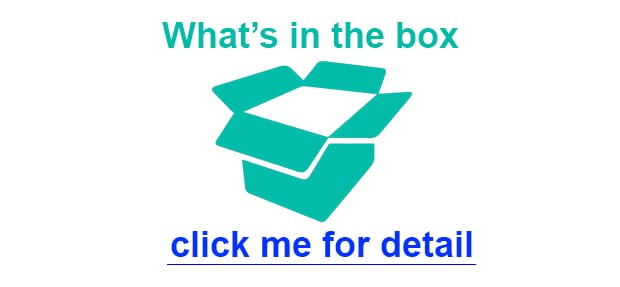 | | |
| --- | --- |
| What is it? | Xchime is a next generation video doorbell. Not only can it be used as a WiFi-enabled HD (1080p) video doorbell, it can also be used as a remote-controlled garage door opener, an indoor video camera and more. |
| What does the X mean in Xchime | The X represents 'extraordinary'. Xchime's mission is to build an extraordinary doorbell to make people's lives easier. |
| Who created it? | Xchime was created by ex-Motorola engineers who have extensive experience in bringing technologically-advanced devices to life. |
| Why should we use it? | You'll be able to use Xchime to simplify your life by keeping tabs on your front door anytime, from anywhere. You can use Xchime to help you manage deliveries, turn down unwanted solicitors, and feel safer and more secure in your home when you're alone. |
| How much does it cost? | Our Indiegogo backers will be receiving our very best deals, saving up to 48% on Xchime's $249 MSRP. |
| Where can we buy it? | Following our pre-order launch on Indiegogo, you'll be able to purchase it on Xchime.com or Amazon.com. |
| Do I need to pay monthly? | There is no monthly charge for basic usage. However, if you choose to upgrade to cloud recording, there's a minimal charge of $2.49/month to cover the costs of cloud storage and playback bandwidth. |
| What do we get when we order? | All backers will receive the Xchime video doorbell, and you'll be able to choose whether you'd like to purchase an add-on garage door controls accessory and/or a smart light bulb. |
| Why are you crowdfunding? | We've already finished the development of this product and need your help to lower the cost for mass production. We also want to provide our earliest supporters with the best pricing, which is why the earlier you purchase, the better the deal! |

What features are available?
1. Two-way audio/one-way video: When someone rings the doorbell, it will send a notification to your phone. Then, using the Xchime app, you'll be able to converse with (and see) whoever is at your door.
2. Motion detection: An intelligent motion sensor is built into the doorbell. The doorbell can detect people, even if the doorbell is not rung. Cloud recording begins immediately when this happens.
3. Live-view: If you want to monitor the front door in real-time, simply open the app to access Xchime's continuous live stream.
4. Add-on smart light bulb: You can automatically link a smart light bulb to your Xchime. In the evening, the smart light bulb will automatically turn on if the doorbell is rung. This makes the home appear occupied and can dissuade potential thieves from attempting to break in.
5. Weather resistance: Thanks to its patent pending technology, Xchime can be used at a wide temperature range of -40˚F to 150˚F, enabling it to be used effectively in rain, snow or intense humidity.
6. Cloud recording: Video is continously recorded into the cloud, providing helpful evidence should a robbery or other incident occur.
7. No latency: When the doorbell rings, a video connection to your smartphone is established immediately, without a delay. Additionally, when Xchime's motion-sensing technology detects action, video recording begins instantaneously.
8. Garage-door backup: Think you forgot to close your garage door? Seeing is believing. With the add-on garage accessory, simply open the Xchime app (no matter how far away you are from home). If the garage door is still open, you'll receive an option to tap your phone and close it.
9. Indoor video camera: Xchime doubles as a regular indoor video camera to view or record any suspicious activity.
What colors do you offer?
Silver Xchime
What sizes do you offer?
L: 4.375 in. x W: 1.9 in. x H: 1 in.
Which option is best for me?
We recommend all backers purchase the Xchime video door bell and the smart light bulb add-on. 
What's in the Box? 
Please see what's in the box page for more information on your pre-orders.

| | |
| --- | --- |
| What is the uniqueness of the technology? | Xchime's real-time communication technology quickly establishes peer-to-peer video connections, minimizing latency. Additionally, its patent-pending technology enables it to run without wasteful batteries. Xchime deploys an indoor chime sound immediately after the doorbell is rung. These features allow for adjusted sensitivity in motion sensors. |
| What is the battery life? Hours of continuous use? How to charge? | No battery required. Xchime is powered by existing doorbell wire with AC voltage of 16~24V. |
| What are the dimensions and weight? | L: 4.375 in. x W: 1.9 in. x H: 1 in. Weight is 5.5 oz. |
| How does it work? | When the doorbell button is pressed, a notification will be sent to the owner's smartphone. One-way video and two-way audio communication will be immediately established. |
| What kind of sensors are you using? | Precision motion and photosensitive sensors. |
| Will there be updates to it in the future? | Yes, we look forward to updating it in months and years to come, including an update that will allow you to view Xchime activity in your browser, instead of only via the Xchime app. |
| How does it integrate with other connected devices? | Via WiFi and/or Bluetooth. |
| Is it waterproof? | Yes. It's Water-Resistant |
| Where is it manufactured? | China. |

| | |
| --- | --- |
| Does it have an app? Which phones does it work with? | Yes, the Xchime app is available for iOS and Android devices. |
| Can we also access app functions on a web browser? | Web browser support will be added as an update in the future. |
| How does the device connect to the app? | The device always connects to our cloud, and the app connects to the device through the cloud. |
| What can we expect from the app? | One-way video and two-way audio communication are accomplished via the Xchime app. Use the app for viewing recorded video and for adjusting the sensitivity of the motion sensors, as well as for device setup and VIP user support. |
| Will there be updates available through the app? | Yes, both versions of the app can be downloaded from their corresponding app stores (the App Store [iOS] and the Google Play Store). |
| How much will be the cloud storage subscription? | All Xchime backers will receive 3 months of free cloud storage. Afterward, the price for cloud storage will be $2.49/month. |

How do I set it up?
1. Download the Xchime app.
2. Connect to your WiFi network
3. Launch Xchime app and when prompted, enter your WiFi password.
3. Go to your phone's settings and switch your WiFi connection from your home network to the new WiFi network called "Xchime hotspot."
4. When prompted, complete the registration process in the Xchime app.
How do I turn it on and off?
Xchime will automatically turn on when mounted, and will automatically disconnect when unmounted.
How do I control it?
When someone presses the button, the device will send a notification to your smartphone. You'll be able to control the device directly through the Xchime app.
What is the care and cleaning of it?
No special care or cleaning required.

What are the recommend ages?
18 and up.
Where can I use it?
Xchime can be used as a:
1) Front door video bell
2) Back door video bell
3) Garage door controls
4) Regular indoor video camera
5) Baby monitor
Is it safe and secure?
Your security and safety is our #1 priority. That's why we've implemented military-grade encryption and OpenSSL support into every Xchime.
What certifications do you have?
We will have a FCC certification.
How durable is it?
Very durable. It can last for decades.
How is my privacy protected?
High-level encryption ensures that recorded video can only be accessed by the authorized owner and family members.
Can someone watch or listen to me?
Visitors can hear you when two-way audio is established, but they cannot see you. Only you can see and hear them.
| | |
| --- | --- |
| When does shipping begin? | August 30th, 2017 |
| When can we expect it to reach our doorsteps? | By September 30th, 2017 |
| Where does it ship? | We're proud to ship Xchime worldwide. Shipping rates vary depending on your country. |
| How much is shipping? | Shipping is free for US, Canada, and China. $29 each Xchime for international shipment. |
| I'm interested in a distribution partnership. | Please contact sales@wirelessinput.com. |
| Do I have to pay VAT / GST? | Yes, customers are responsible for assuring the product can be lawfully imported to the destination country. The recipient is the importer of record and must comply with all laws and regulations of the destination country. Orders shipped outside of the China may be subject to import taxes, customs duties, and fees levied by the destination country. The recipient of an international shipment may be subject to such import taxes, customs duties, and fees, which are levied once a shipment reaches the recipient's country. Additional charges for customs clearance must be fulfilled by the recipient; Xchime has no control over these charges. |
| What are the risks & challenges of getting the device today? | The risks and challenges have all been minimized. |

Is there a warranty?
Yes, every Xchime comes with a one-year limited warranty.
What is your refund policy?
Refunds are processed on a case-by-case basis. At some point, we will need to lock refunds in order to go into production and shipment. We will not be able to refund orders once they've been shipped.
What is your return / exchange policy?
If you receive your product and aren't satisfied, you may exchange it for a new one within 30 days, less shipping and handling fees.
What is your refund policy during the Indiegogo campaign?
See these steps on How to Request a Refund. During the Indiegogo campaign, you can process the refund at any time by contacting support@indiegogo.com or searching their help center. Refunds are processed on a case-by-case basis; at some point we will need to lock refunds in order to go into production & shipment. We will not be able to refund orders once they've shipped.
How do I choose more than one reward?
To get more than one perk, please make a new contribution for each perk.
How can I check the status of my pre-order?
Login to your Indiegogo account (every backer automatically has one made for them) to check the status of your pre-order in the Indiegogo dashboard.
I'm interested in becoming a Beta Tester.
Please email your detailed contact information (email, telephone number and model number) to support@wirelessinput.com. We will contact you if we still have openings.
Why do I have to wait longer than usual?
This is not just a pre-order: You're helping to build the device. We need to know how many to make before we can start production. This is the first of its kind, and you'll be glad you waited. We will send you updates while we work on producing the first batch.
If I have other questions, who should I contact?
Press: marketing@wirelessinput.com
Investment Inquiries: Gary.Bi@wirelessinput.com
Support: support@wirelessinput.com