Easiest Aquarium and Window Garden.
Taking care of a garden or an aquarium can be a lot of work. Now! Window Aquatica technology employs nature to do the work for you. Enjoy your aquarium and garden, without all the stress/labor. No need to clean your aquarium or fertilize your pots; this self-contained system makes growing herbs at home easier than ever before. The fish waste provides plants with the necessary nutrients to grow, and the plants clean the tank by absorbing the fish waste.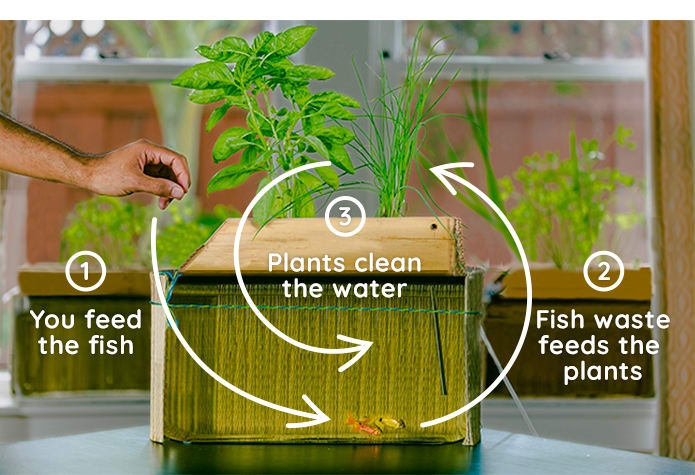 Grow fresh, organic herbs in any space!
Window Aquatica is holistic system designed to fit in any home and forever change the way we think about food production. Enjoy fresh, organic herbs any time of year,  grown right in your own home! Window Aquatica is a mini-ecosystem, where the fish waste feeds the plants and the plants clean the water. This is simply the easiest and most economical way to have fresh organic herbs all year round.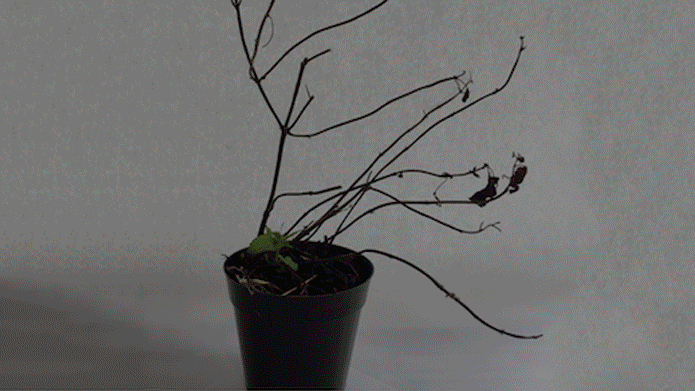 Natural Materials
Add this naturally beautiful piece to any room, and watch nature work wonders! Most aquaponic systems are built with a heap of plastic, pumps and lights. The plastics leach into food, the lights waste energy, and eventually all of it ends up in a landfill. We are changing that. Only natural materials and natural light come in contact with your plants and fish. Enjoy the calming atmosphere of an aquarium paired with an urban garden. Cultivate great tasting herbs without the hassle. Easy-to-use and all natural, sustainable and recyclable.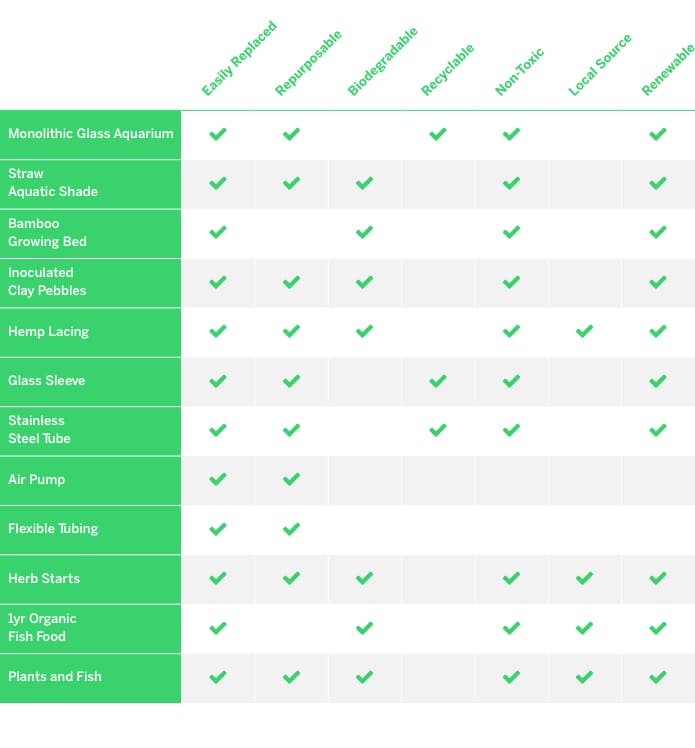 What's in the box?

Made for Your Window
Window Aquatica is the only aquaponic system that fits on your window sill. Your integrated aquarium and urban garden will add living vibrancy to any space.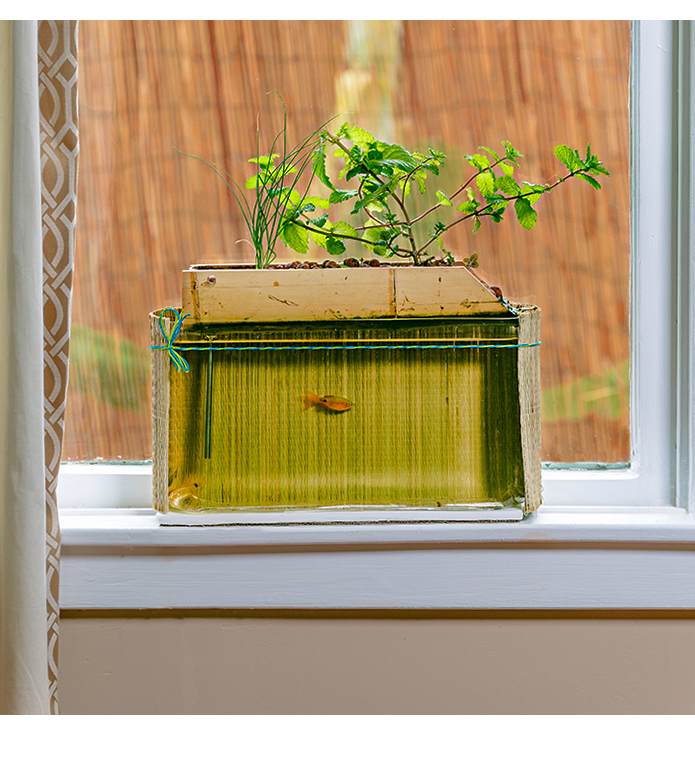 Easy to Set Up, Just 5 minutes!
Attach Water-Lift to Bamboo Growing Bed.
Place Bamboo Growing Bed on top of Aquarium.  Add Plant Starts, then Clay Pebbles.
Fill Aquarium half way with room temperature drinking water. Cannot be chlorinated water. When Aquarium water and fish water are both at room temperature, add fish to Aquarium.
Move Aquarium to windowsill.  Fill Aquarium to top with room temperature drinking water.
Plug Air pump in.  Done!
Features
Grow Your Own Herbs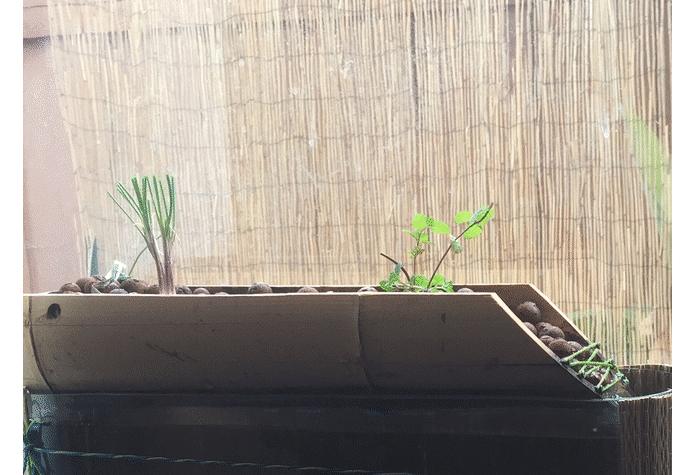 No need to wait for Spring!  Enjoy fresh, organic homegrown herbs and small plants all year-round.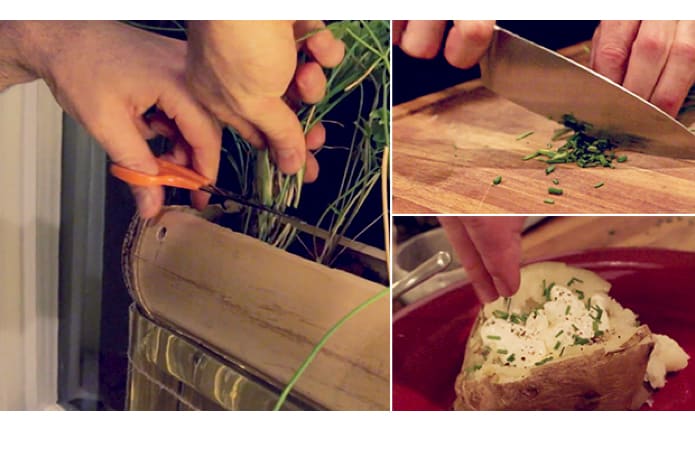 Easy to Use
Window Aquatica is designed for people with no experience with aquariums or gardening.  In fact 1st graders and up will have no problem maintaining it.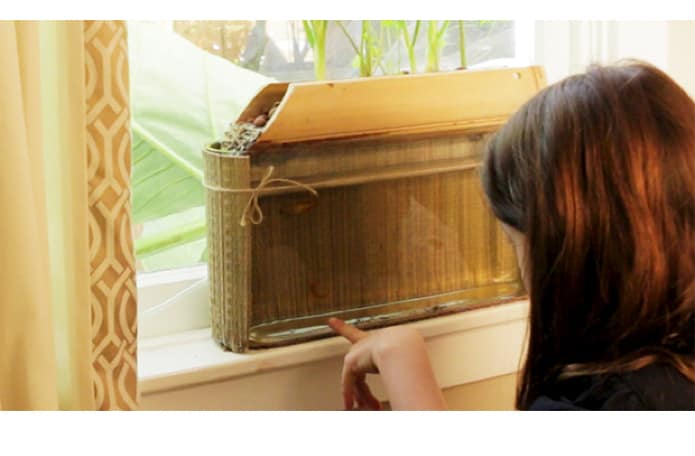 Eco-Friendly
This is the most eco-friendly aquaponics system on the market. All materials of the aquaponic ecosystem are natural and either recyclable or biodegradable.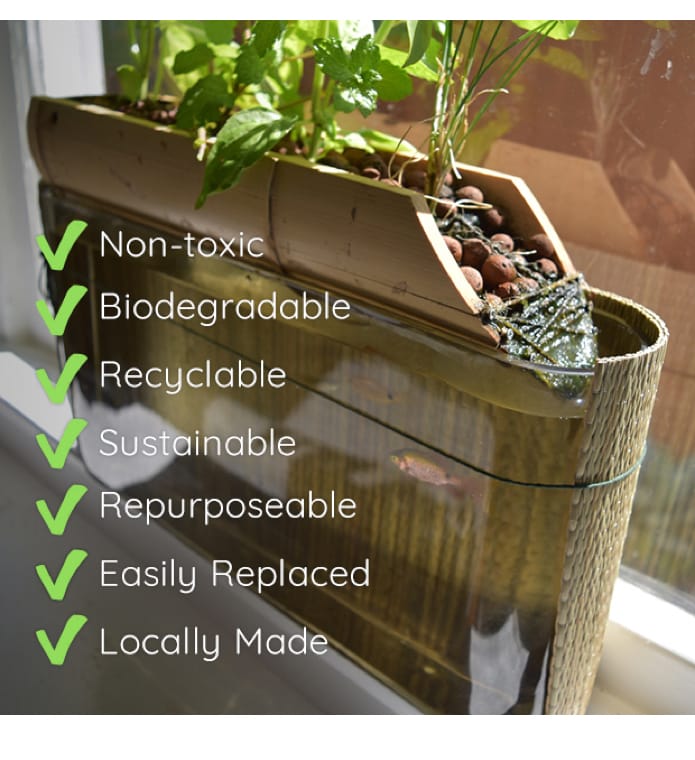 Toxin Free
Most aquaponic systems are built with a heap of plastic, pumps and lights. The plastics leach into food, the lights waste energy, and eventually all of it ends up in a landfill. We are changing that. Non-toxic Natural Materials. Natural Light.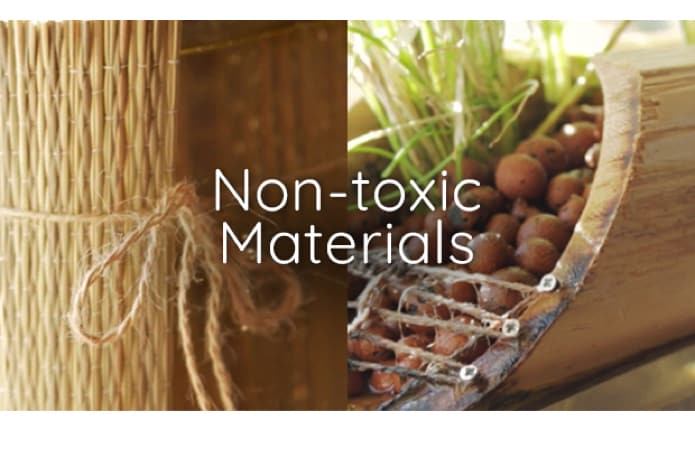 Organic Food
Grow your own organic herbs and small plants, free of toxins and chemicals. Yes, you can taste the difference!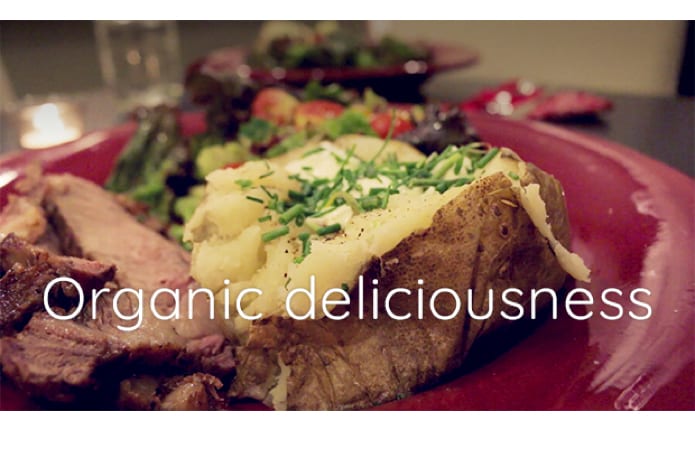 Complete Ecosystem
The mini ecosystem means no mess! This aquarium is part of a self-cleaning system, aided directly by the plants.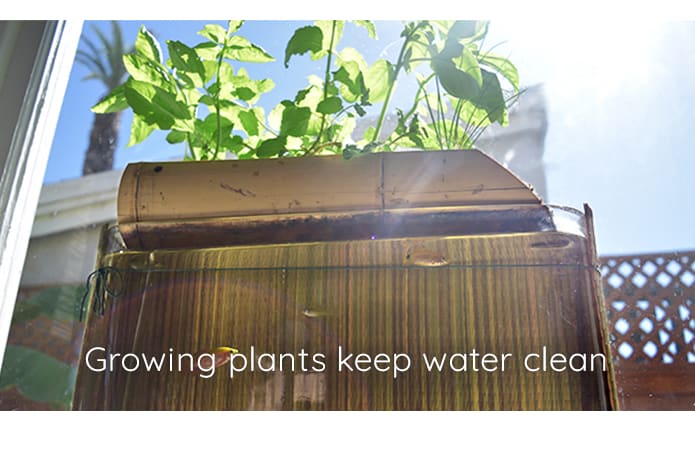 Monolithic Glass 
The aquarium is designed as one continuous glass piece, eliminating joints and adhesives. It is non-toxic and recyclable.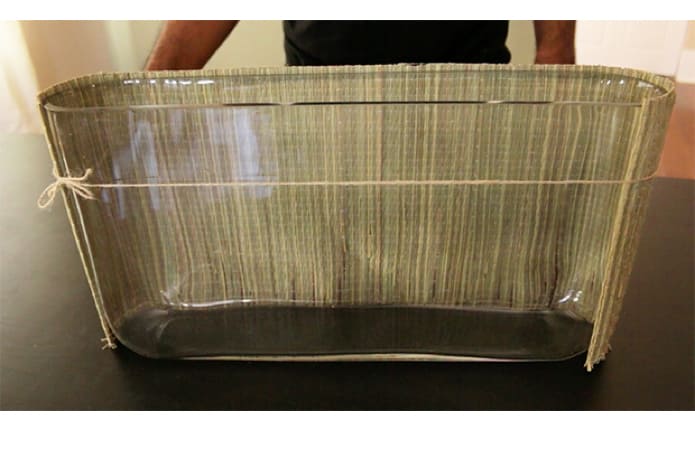 Water Circulation System 
Our unique system pumps air to the bottom of the tank.  When the air bubbles rise, they bring the water with them, propelling water into the bamboo growing bed.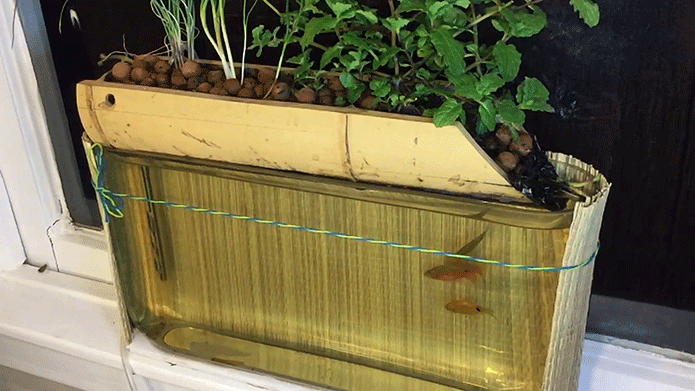 The Bigger Picture
Nourish2Thrive Co-op is working hard to play our part in the revolution to make food production accessible to everyone. By growing your own food, you are becoming part of a major cultural shift toward healthier living and harmony with nature. We're determined to help young people get away from their screens and learn the fundamentals of the circle of life on earth by connecting them directly with their food.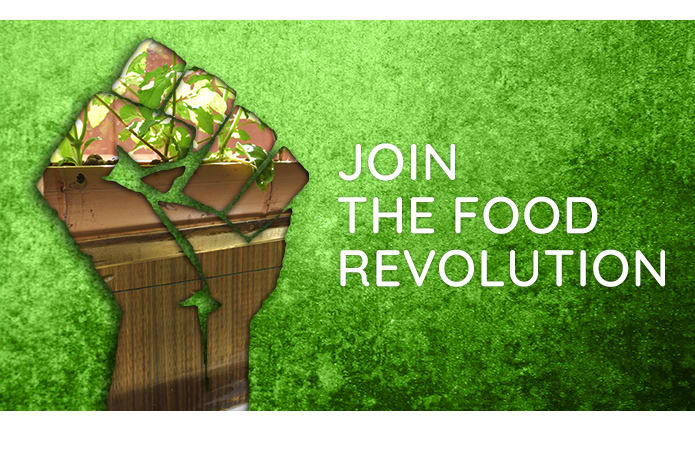 Team
Benjamin Thompson, Co-Founder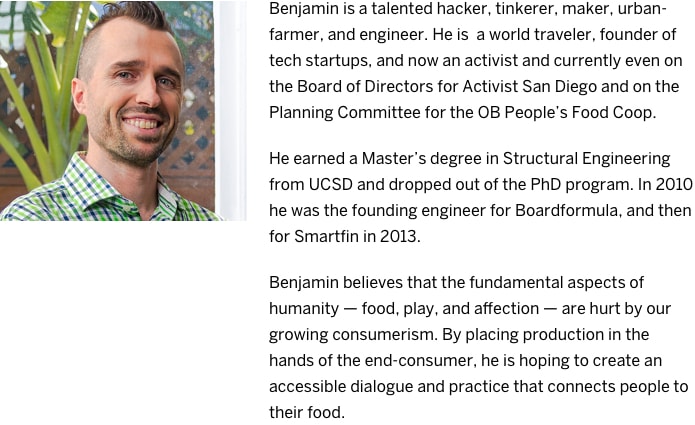 Orion Rodriguez

John Vallas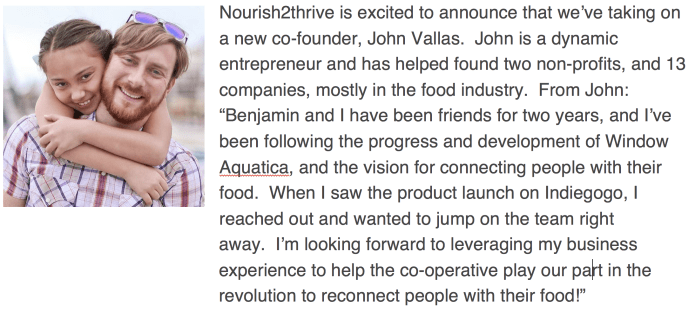 Timeline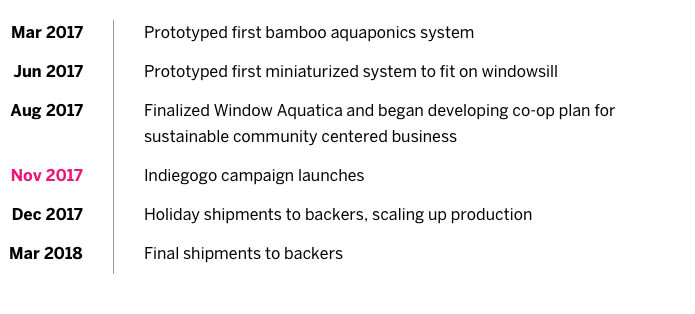 Perks
***ALL campaign backers will be named as a "Founder" of Nourish2Thrive Cooperative on our website, forever!
Risks and Challenges
Currently, about 10% of the monolithic glass aquariums have been breaking during shipping. Benjamin, who has an MS in Structural Engineering, is in the process of engineering a more robust packaging setup and we plan to achieve less than 1% breaking rate by the time Window Aquatica ships to our backers.
Not many varieties of fish can live in a window where temperatures are more variable than the rest of the house. So far we've only verified two species that do really well in the window: Rosy Barbs and Mosquito Fish. We plan on expanding the list of viable fish, but we are worried that newbie aquarists will try to put other types of fish and the fish will die. To mitigate this problem, we will be developing a simple and obvious user guide to be shipped with the kit.