New! Video Interviews & Testimonials Gallery 
Videos are being added daily so check back often!
Julia Sarah Stone (WFF17) - Award Winning Actress, 2017 WFF Star to Watch
Jump to the bottom of this page to hear more Canadian filmmakers, industry leaders, talent & media share why this campaign and WFF's development programs are so important to our Canadian industry and creative economy. Here's how you can help by Dec. 22:
Donate Now - If every WFF17 Industry Summit Participant gave $75, we'd hit our goal. 
Send the campaign URL to 5 contacts by email.
Share the campaign URL on your social networks.
Campaign URL: www.whistlerfilmfestival.com/GoGo
Thanks for your support! 

The Whistler Film Festival Society (WFFS) is a non-profit that was born 17 years ago from love of film. We're inspired by the creative courage of filmmakers. By stories that open our hearts and minds to new ways of seeing and being.  And by being leaders in fostering the next generation of talent.
When the first winter snow blows in to Whistler BC, 14,000+ cinephiles gather in our intimate little mountain Village to be the first to discover films fresh out of the director's hands.  
The Heart of our Campaign: Growing WFF's Canadian Filmmaker Development & Industry Immersion Programs
WFF's  mission is to discover, develop and launch Canadian filmmakers, women in film and new cinematic voices.
In addition to screening films, WFF plays a national leadership role in offering script-to-screen development and industry programs for Canadian filmmakers, women in film and emerging talent. We mentor writers, directors, producers, actors and musicians.
WFF Canadian alumni have progressed to make critically acclaimed films and some enjoy international careers. Thanks to these programs and their growing track record, WFF is now recognized as one of North America's preeminent festivals and industry summits. That's because our Village of directors, producers, writers, actors and film fans raise rising star filmmakers.
And it's all happening right here in our little Canadian mountain town!
Our goal is to amplify the impact of Canadian filmmakers on the world.

Our dream is to build on what makes us unique and meaningful in the world.
We want to enrich and expand our filmmaker development and industry immersion programs.
Here's our plan: 
Open the programs up to more Canadian creators.
Deepen and diversify the curriculum and its industry connections, which means..
Bringing in more industry mentors and leaders, and....
Extending program duration beyond our 4 festival days to eventually include year round training.
Challenge:  We require external funding to begin developing and expanding these proven programs. This will also cultivate new collaborations and partnerships to assist and synergize with us in their development and growth.
Solution: So, we're turning to you to join our Village and help take our Canadian filmmakers to the next level.

"How can I change the world?" It's a question that we're all asking ourselves in the current age.
We view filmmakers as unsung heroes of catalyzing change.
All change starts in our hearts and minds. Filmmakers shift our hearts and minds in minutes by walking us in the shoes of another. They open our eyes to new perspectives. Through the powerful, ancient art of storytelling, they reveal our world and humanity through a new lens. We're inspired to feel, think and act differently.  That leads to change that makes a difference. Einstein once advised us that we can't solve current problems using the same thinking that created them.
The world needs new ideas, now more than ever.
We think that it needs more Canadian ideas.
We're inviting you to help send them out far and wide through the big screen!

Thanks to the WFF, Whistler is now an exciting creative crib for nurturing Canada's filmmakers. We cultivate their ideas and their projects. During our 4-day festival, they learn, create and collaborate with each other. They also connect with industry mentors and deal makers who can take them to the next level. It's all supported by our small town Canadian hospitality, combined with our intimate, relaxed and inquiringly beautiful natural environment.  The personal connections born at WFF make a career difference. Sometimes "the" difference that creates film legacies.
Our Canadian filmmaker programs have 3 core pillars:  
We discover and develop Canadian filmmakers through talent labs & industry learning sessions. We help writers, actors, directors, and producers create their projects & hone their craft.
 
We mentor and connect filmmakers with industry leaders and with each other through industry summits and networking sessions. These help their creative projects be financed, made, and seen around the world.
 
We promote and celebrate their work through festival screenings, artist tributes, and awards. These showcase their their work so you and industry decision makers can discover and love them too.
Big Results for Canadian Filmmakers, Women in Film & Emerging Talent!
This year alone, WFF will elevate and celebrate Canadian filmmakers in the following ways: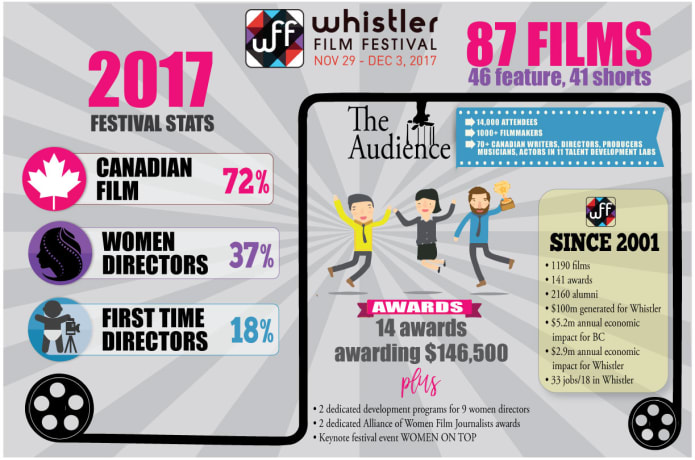 87 films being screened ( 46 features, 41 shorts)
 
72% are Canadian (67% of the features, 78% of the short films) - more than any other international Canadian film festival.
 
37% (30% of the features) are directed by women.
 
18% are directed by first-time feature filmmakers.
 
50%+ of  talent and project development program participants are from BC.
 
1000+ filmmakers (mostly Canadian) connecting with industry mentors & deal makers through 27+ industry master classes, meetings, panels & networking sessions to help them create, finance, film and distribute their projects.
 
82 Canadian writers, directors, producers, musicians and actors in 11 multidisciplinary talent development labs to hone their craft and projects.
 
14 awards and 8 juries awarding $146,500 filmmakers ( mostly Canadian).
 
1 Canada-dedicated Signature Series Tribute recognizing 4 Canadian artists.
 
14,000 attendees who will discover & love our Canadian filmmakers too.
 
Developing, Mentoring & Promoting Women in Film:
 

Development :  2 dedicated development programs for 9 female directors.
Representation: 49% of talent program participants are women, including 14 directors, 5 producers, 4 screenwriters, 9 filmmakers, 3 actors & 5 musicians
Screenings: 37% of the films are directed by women
Recognition: 2 dedicated awards & 1 keynote festival event (Women on Top)
What's at Stake?
Right now, our country is full of great Canadian stories, scripts and filmmakers. They either have the potential or are on the cusp of making a powerful impact on a global scale. 
We know this because we know them!
All they need is that one crack in the door that helps translates their idea into reality. An outstretched hand that guides them to the next step. Or, that links them to the key mentor, industry leader or deal maker who believes in their project and who will help make it happen.
Our development  and industry immersion programs are those guiding hands. But we need yours too.
We're inviting you to join with us in the incredible journey of discovering, developing and launching our Canadian filmmakers and their ideas into the world.
Your help will lift our development programs to the next level. It will open up new opportunities for our Canadian filmmakers, funding and industry partnerships.
How you Can Help in Less than 10 Minutes!
Here are the 3 easy ways that you can be a big Canadian film hero:
Donate.
 
Spread the word by sharing this campaign page on social media to encourage donations and expand our donor reach.  Just click on the Facebook or Twitter icons at the top of this page. This is  huge and counts big!  
          
Send personal, direct emails to at least 5 people to let them know how they can help. This has the biggest impact. Click on the link icon on the top of this page and share the love!

When you give, you're joining our film industry Village.
We want you to experience the magic of what you're helping to create. 
Our perks bring you into our community and film world. Every donor gets a screen recognition either online or at the festival itself!
Whether you want to visit Whistler in 2017 or 2018, you'll experience the festival through digital connections, festival passes and meeting our talent in person.
Who Tracks the Money?
The WFFS is a registered non-profit society. That means that we're subject to governance regulations that ensure oversight. And for extra measure, we also have an awesome Board of Directors!
All funds raised will be dedicated to financing these programs.
Will it Work? Our Track Record Says YES!
We've done so much already! 
And we'll do everything that we've said here and more, when you say YES! too!
"Imagination is everything. It is the preview of life's coming attractions."
Albert Einstein
Thanks for loving the Whistler Film Festival and our Canadian filmmakers.
Action Canada!

Video Testimonials from Canada's Industry: Why the Whistler Film Festival & this Campaign are so Important
Paul Gratton (WFF2017) - Director of Programming, Master Programmer
Paul shares why WFF is so important, his unstoppable big dream for a Canadian film at WFF and his WFF programming vision.
George Stroumboupolous (WFF17) 
Steven Gaydos (WFF17) - Executive Editor of Variety, Presenter of Variety's 10 Screenwriters to Watch
Carolle Brabant (WFF16) - Executive Director of Telefilm, Pioneer of the Micro Budget Production Program & Just Doubled that Program to Launch more Emerging Canadian Talent. She's a Canadian Film Heroine Too. Thanks Carolle!
Julia Sarah Stone (WFF17) - Award Winning Canadian Actress, 2014 TIFF Rising Star, 2015 Leo Award Winner, 2017 Star-to-Watch, Lead in the 2017 Borsos Canadian Film Winner "Allure" 
Bob Mackowycz Jr (WFF17) - Canadian Writer, Broadcaster, Musician & Champion of Canadian Arts
Peter Harvey (WFF17) - Award Winning Producer, Canadian Film Hero, WFF Alumni, Whistler Local & Awesomely Nice Guy
Picture Day- won the Borsos Prize in 2012.
Mobile Homes- Went to Cannes in 2017, Screened at WFF17
Scott Capestany  (WFF17) - Editor in Chief of Media Inc Magazine
Sharon McGowan (WFF17) - Award Winning Producer & Professor at UBC Film Production, Nurturer & Launcher of Canadian Talent, Champion of Women in Film
Sharon McGowan- Part 2 - Even more Awesome!
Avi Federgreen (WFF16) - Award Winning Producer
Ann Marie Flemming ( WFF16) - Award Winning Director, Writer & Producer
Jackson Davies (WFF17) - Producer, Director, Actor, Faculty at Capilano University, Vice President of the Union of BC Performers
Mary Galloway (WFF17) - TIFF 2017 Rising Star, Award Winning Screenwriter, WFF Talent Program Alumni
Walter Daroshin (WFF17) - President of the Leo Awards, Champion of BC Talent
Feet Banks (WFF17)- Emerging Filmmaker, Whistler Legend
Mike Douglas - Adventure Filmmaker
Our Whistler Film Festival Wonder Team!
The Whistler Film Festival Society's executive team has a combined 100 of years of experience in the entertainment, event production and tourism businesses. Our Board of Directors is comprised of some of BC's most respected professionals in business, entertainment and tourism.
Shauna Hardy Mishaw
Executive Director
Since 2001
Shauna Hardy Mishaw is the Executive Director and Founder of the Whistler Film Festival Society. Since its inception in 2001, Shauna has been instrumental in the Whistler Film Festival becoming one of Canada's leading film festivals, and establishing its leadership role in facilitating talent and project development programs and opportunities for filmmakers. She is also the Executive Producer of 22 short films commissioned as part of WFF's Whistler Stories legacy project from 2005 to 2010.
Shauna has over 25 years experience in sales, marketing communications and event production, and has worked on some of BC's highest profile events. She was named the 2008 Whistler Chamber of Commerce Business Person of the Year, and received the 2014 Women of the Year Award and 2009 Wayne Black Service Award both from Women in Film & Video Vancouver for her role in supporting BC's entertainment industry.
Paul Gratton
Director of Programming
Since 2012
Based on Toronto, Paul Gratton has been the Director of Programming for the Whistler Film Festival since 2012, overseeing all of the feature film and industry programming. Paul is the former Vice-President of Entertainment Specialty Channels for CHUM, where he oversaw the development of such successful specialty channels as Bravo!, Space and Drive-In Classics. Previously, he was a Vice-President of Programming for both Superchannel and First Choice during Canadian Pay television's first decade on air, and served as CEO of the Ontario Film Development Corporation.
Paul has served as Chair of the Canadian Television Fund and the Academy of Canadian Cinema and Television, and on the boards of the Independent Production Fund, the National Screen Institute, BravoFact and MAXfact. Paul currently sits as Chair of the First Weekend Club. His consulting activities include work done for Telefilm Canada, the Canadian Film and Television Producers Association, Bell Media, the Directors' Guild of Canada and Television Quatre Saisons. An avid film buff, he has detailed notes on over 19,000 feature films that he has screened, and closely tracks the ever evolving North American distribution and film production sectors.
Leah Primeau
Senior Sponsorship & Events Manager
Since 2008
Leah Primeau started with the Whistler Film Festival in 2008 as the Events Manager and since then, has taken on the lead role of Development and Sponsorship Manager. Leah is responsible for over 100 sponsorship portfolios, and also oversees the event operations of the festival, including execution of all special events and Canadian Music Showcase.
With over 25 years experience in event marketing and production, Leah has worked on several of BC's highest profile events including FIS World Cup, World Championship, Crankworx, 2010 Olympics and the Rockin' River Music Festival. Prior to joining to WFF, she worked as the Marketing and Event Manager for IMG Canada, assisting in the execution of several large scale sporting events including Wakefest, West 49 Skateboard Challenge and the World Ski and Snowboard Festival.
Angie Nolan
Director of Industry Programming
Since 2004
Angie Nolan has been involved with the Whistler Film Festival since its inception, and has worked in Industry Programming since 2004. She was recently promoted to Director of Industry Programming, overseeing all of WFF's industry, project development and talent programs associated with the Whistler Film Festival and Summit. Angie began her career as a production assistant on the long running CBC hit The Beachcombers and after university, continued to work in the industry in-front and behind the camera in a variety of roles with her longest stint being over 10 years as an assistant director on various feature films, television series and commercials.
Angie has also written, directed, produced (and even acted in)  numerous film and theatre projects of her own. This includes a number of award-winning short films. Successes include a short film she co-wrote and directed called THE TWISTED SLIPPER, a finalist in the 2015 Crazy 8's Film Competition and is currently on CBC Reflections. Angie continues to work occasionally on film and television projects and was recently a story producer on the BRAVO TV reality show TIMBER CREEK LODGE. She is a member of both DGC and UBCP/ACTRA, a regular jury member for the AMPIA Rosie Awards and serves on the board for the Point Artist Run Centre in Whistler.
Nikki Segovia
Programming & Alumni Relations Coordinator
Since 2016
Kristyn Stilling
Senior Shorts Programmer
Since 2011
Kristyn Stilling started with the Whistler Film Festival in 2011 as a Programming Administrator and moved onto become the Shorts Programmer in 2012 and this year, was promoted to Senior Shorts Programmer. Since graduating from Capilano University's film program, Kristyn has immersed herself into the Canadian film community. She currently also works as a Production Coordinator at the National Film Board Vancouver office. She is also the Chair of the Vancouver Short Film Festival and for the past two years, she has been a Co-Producer with the Crazy8s Film Society, producing 12 short films all made within 8 days. To further foster and support local filmmakers in Vancouver, she co-founded the monthly webisode festival VanChan in 2015.
Ellie Irwin
Shorts Programmer
Since 2011-2015, 2017
Lucy Harris
Industry Programming Coordinator
Since 2016
Emily Weldon
Programming Administration Intern
Since 2016
Lindsay Nahmiache
Publicity Manager
Since 2010
Lindsay Nahmiache has been WFF's PR Manager since 2010. Lindsay is the co-founder of Jive PR + Digital, an award-winning public relations agency with offices in Los Angeles, Vancouver and Toronto.
With over 13 years of integrated communications experience, Lindsay returned to Canada to start Jive after six years working abroad for E! Entertainment in London, UK and Contiloe Films in Mumbai, India (a.k.a. Bollywood).
Lindsay  has been recognized as one of Canada's 100 Most Powerful Women (2013) in the Financial Post, a 2016 Enterprising Women of the Year and PROFIT and Canadian Business W100: Canada's Top Female Entrepreneurs (2016). She is an adviser for UBC (University of British Columbia) on course curriculum for Digital Communications, a mentor for FWE (Forum for Women Entrepreneurs), and co-founder of the not-for-profit Projecting Change Film Festival.
Mallory Hewlko
Marketing & Communications Coordinator
Since 2016
Sara Burke
Development Manager
Since 2017
Kathleen Mullen
Guest Services Manager
Since 2017
Donna Dwyer
Venue Manager
Since 2015
Gouri Bose
Box Office Manager
Since 2008-2012 & 2016
Paul White
Volunteer Manager
Since 2016
Our Screen Super Teams!
Screening Committee: Sarah Muff, Paul Armstrong, Leah Mallen, Jason Whyte, Anita Adams, Jason Gorber, Laura Adkin
Talent Program Faculty: Peter Wetherell, Tim Brown, Patricia Gruben, Ruth Atkinson, Dennis Foon, Jason Bourque, Jan Miller, Roger Larry, Kyle Irving, Kryssta Mills Alex Grigg, Lindsay MacPherson
Talent Hosts: Carrie Wolfe, Barry Patterson
Stars to Watch Host: Kelly Gilard
Aboriginal Filmmaker Fellowship Host: Linda Epp
Borsos Jury Host: Karen Bruce
Doc Jury Host: Jess Pitcher
Mountain Culture Jury Host: Brit Janyck  
Filmmaker & Industry Hosts: Leith Gaines, Tim Gambey, Raquel Christensen, Kathleen Murphy, Leah Powell, Lois Turner