Above :

A 2mn teaser of my Short Music Video in preparation. Just the music with the script. (I prepared all my short movie with this technic to be able to communicate with my crew about timing, script and music).
Enjoy ! (preferably with headphones !!)
https://www.facebook.com/pages/Umba-A-Short-Mus...
What is UMBA about?
A young, much loved, beautiful girl suffers from a hit and run on the streets of New York  City. Her lifeless body is brought to the morgue.
She wakes up among the dead dregs of society. Surrounded by the corpses of junkies, prostitutes, homeless, and gangsters, she is terrified and attempts to escape. She refuses to accept the fact that she is dead. 
First perceived as a threat to her, the dead people, the freaks, will prove to be full of humanity. Through the dancing of the dead around her and the understanding from those who have faced the darkest elements of the city that took their lives, she will finally admit the irrevocable truth of her death and will be given the gift to rest in peace.
What is UMBA?
UMBA is short film combining a dark story and a poetic vision with French modern experimental music as the key character.
UMBA will create a visually stunning world, essentially interwoven with music; A story inspired by the entanglement of the dark and beautiful sides of New York City.
We will shoot for two days in and around New York City with an international team, all who are coming together for the love of music, dance, and filmmaking. We hope that UMBA not only inspires people to create film, but is also a chance to showcase French music in a new setting.
Why IndieGoGo though?
Very soon, Fabien realised that his budget was not corresponding to his artistic ambition. That is why he decided to turn to Indiegogo and raise the missing money without having to sell his left kidney.
A project like UMBA is ultimately a labor of love. We're lucky enough to have passionate people giving us their time for next to nothing (and in some cases very much nothing). While we are grateful to them, in production there are some things that just can't be given to us. This is where you come in.  
We promise we are working hard and doing our best to beg, borrow and steal to reduce costs and keep our budget small, but some things we will ultimately have to pay for. These include, but not limited to, insurance, permits, equipment rental, costumes, zombie makeup and lots of coffee.
UMBA will be very choreography and dance-centric so we are planning for no less than 7 dancers to work with the talented Katherine. We would love to be able to compensate them, as they will be creating so much of the energy of our film. We are also budgeting for a little VFX/Post Production time to be able match our final vision of a poetic, dark world.
We tried to create special gifts for each level of contribution. Our apologies if you cannot attend the parties in either Paris or New York City. We will have some extra fun, just for you.
Who is Part of UMBA?

Script Writing & Director -  Fabien Coupez
Fabien lives in Brooklyn, has a heart in Paris and draws inspiration from Greek Mythology to Nietzsche and especially from Music. He has been in production as a Flame artist and VFX supervisor for over fourteen years and has an incredible record collection.
Original Idea & Music Producer  - Guillaume Berroyer a.k.a Ark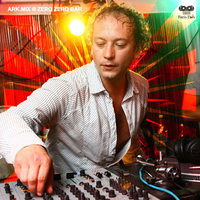 Guillaume is a prolific music producer hailing from Paris and is behind the music of EMBA. From his origins as guitarist in a number of 80's funk bands, most notably Trankilou, where he hooked up with the legend that is Pepe Bradock and onto the great Matthew Herbert & LoSoul with their first collaboration, 'Belle Lurette' in '99.
He produced with Umba 
https://soundcloud.com/ark-guillaume_berroyer
Script Writing - Scott Lefebvre
Scott Lefebvre has probably read everything you've read and can write about whatever you want him to write about. Mostly because when he was grounded for his outlandish behavior as a hyperactive school child, the only place he was allowed to go was the public library. Fabien came to him with his script and Scott helped him out by bringing a new life into it.
Choreographer - Katherine Helen Fisher
Katherine has been touring with Einstein on the Beach / Philip Glass and is not only an accomplished choreographer but is also a producer. She draws on the elegant strength of muscle and form to portray an effortless grace and translation of music to movement.
http://katherinehelenfisher.com/
Director of Photography -  Derek McKane
Derek has over ten years experience as a DOP, has an extensive resume of commercials, independent features, shorts and documentaries. His recent work includes Alan Brown's Private Romeo and Superheroes, and Harvey Wang's The Last New Yorker.. He's represented by The Skouras Agency and will bring a keen eye and his vast experience in cinematography to our team.
http://www.skouras.com/cinematographers/60?view=director
Adam Bailey - Special FX Makeup Artist

Production Company - Paradoxal 
Paradoxal INC, formed in 2000, has been essential in the formation of many audiovisual dreams. They have worked with many notable artists and production companies as well as working on long-format feature films. As soon as they met Fabien and heard about his short film, they didn't hesitate to offer their help and expertise in order to accomplish his project
Post-Production Company -  MassMarket
MassMarket is an award winning VFX and Post-Production collaborator. WIth offices in both Los Angeles and New York City, they strive to be a nimble and creative partner in the creative process, from inception to layoff.