A revolution can come in a small package. 
Zip Cup is a travel mug that fits YOUR life.
Make this project happen: pre-order today!    --->
People like us! Recent press includes Grist, Smart Planet, Earth Techling, Vitamin W, EcoPreneurist, Daily Shot of Coffee, The GearCaster & Guy Kawasaki
Inspired by the low-tech collapsible cup you had as a kid, Zip Cup (patent pending) is turbocharged for adults...and hot beverages. A twist-lock mechanism and sealing technology used on space shuttles and submarines means that Zip Cup can collapse to easily fit in your purse, backpack or briefase.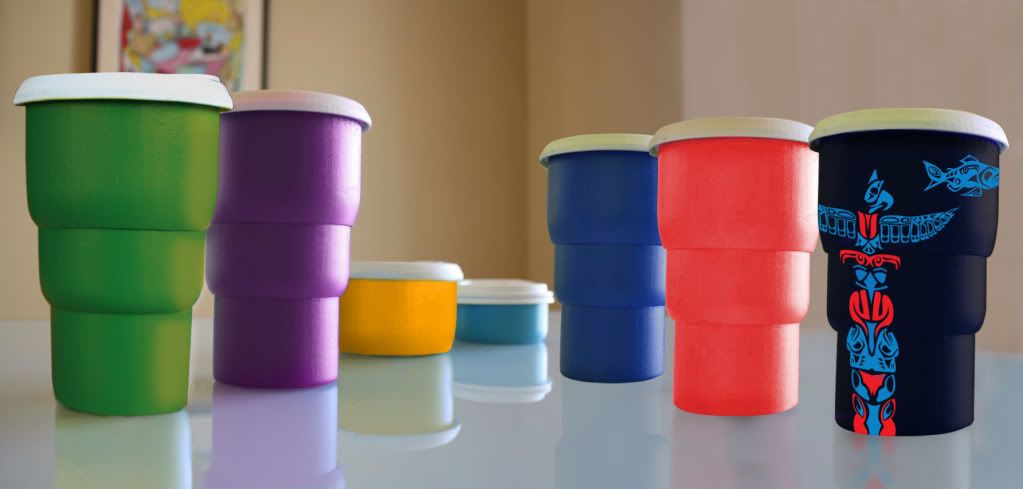 Stylish, dishwasher safe and free from harmful additives like BPA, Zip Cup has a drinking spout that can be sealed to prevent sloshing while you walk. It's perfect for any hot or cold beverage -- at the beach, picnics, camping, sporting events, cycling, travel...and makes a fantastic gift.
What's the purpose of the campaign?
If you pre-order, you get your own Zip Cup(s) AND you're bringing the project to life. Factory tools cost tens of thousands of dollars, and Zip Cup manufacturing is even more costly because it's made of 3 separate sections plus a lid. 
Your support is crucial, and highly appreciated -- we've personally invested heavily in engineering, design and prototyping for Zip Cup, and now we need your help.
Please sign up today: see options on right hand side of this page.
Why did you make Zip Cup?
Travel mugs are too bulky and paper cups are flimsy and wasteful. The US tosses 58 billion paper cups each year. This image, representing just 15 minutes worth of paper cup waste in the US disgusted us and inspired us to create a reusable cup that would actually get used. Read more about Zip Cup founder's background here and the engineering team behind Zip Cup here. 
What else do I need to know about Zip Cup?
Ultra-convenient: collapses to fit in your pocket or bag
Versatile: holds 16 oz. (coffee shop size medium) hot or cold beverages on the go
Safe: Reinforced locking system means no leakage in your bag--uses the same technology used on spaceships and submarines
Stylish: eye-catching design available in a range of cool colors and customizable designs (coming soon)
Eco-friendly: BPA-free and recyclable
Dishwasher-safe
Pays for itself: save 10-25 cents on every cup of coffee you buy
Zip Cup could pay for itself? Tell me more!
Zip Cup may cost a bit more than some travel mugs, but it actually DOES a lot more than those cups, plus you'll actually use it on a daily basis. How many travel mugs are gathering dust in your cupboard because they're bulky and crappy?
In addition, if you start using Zip Cup every day you can take advantage of "Bring Your Own Cup" discounts from coffee shops. Almost every coffee shop will give you 10-25 cents off the price of your drink, amounting to $35+ in savings if you get coffee every day. Read more here.
We can't do this without you. Please sign up for a perk on the right hand side of this page today.
And just as important: tell anyone you know who might be interested in owning their own Zip Cup. 
Share Zip Cup with your friends:
You can learn more at zipcup.com, and stay in touch via email updates, Facebook and Twitter. You can also drop us a note at karla[AT]zipcup[DOT]com.
Thanks in advance--you're part of Zip Cup's success.