Imagine arriving at an airport and trying to explain to a taxi driver where to go to in a language you don't speak, or even trying to communicate to a doctor after an accident in a language you don't even know. Imagine a refugee arriving in a foreign country and wanting to start their life again without speaking the language at all. We want to give everyone the right to be understood!
Travis is a handy device we believe will inspire change, encourage travel and create connections that weren't previously possible. We can empower the 7 billion people in this planet who speak over 6,500 languages to come together and have a casual chat, order a drink, do business or maybe even fall in love.
In a globalising world, language differences can lead to social exclusion, dangerous misunderstandings and missed friendships & business opportunities. So call us crazy or naive, but here at Travis, we think we can bring the world together, by making sure we can all have a chat.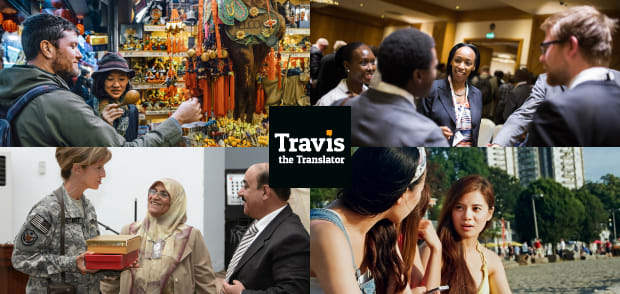 Travis is a portable device that uses artificial intelligence to translate speech to speech in 80 languages, all in less than two seconds. Travis has some unique features that include: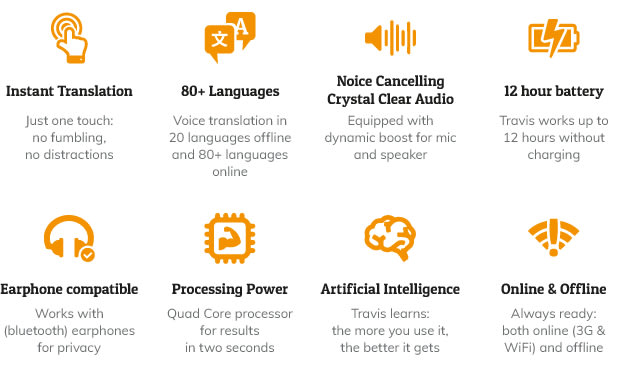 By becoming an early adopter and providing feedback, we'll be to provide over the air updates to make Travis even better.

We've partnered with Movement on the Ground, an organisation operating on the frontline of the biggest refugee crisis in history. Volunteers in Lesbos, Greece, are faced with language barriers every day and Travis has recognised an opportunity to bridge these barriers and support their positive work. We have previously supported them in a local Dutch campaign, contributing 20 devices. While these will be very helpful for the non-profit organisation, we're ready to have even more impact to help bridge language barriers!

How can you help MotG?
In supporting this campaign $10 from every order will be donated towards MotG until the end of December. These funds will go towards devices for volunteers and refugees in Greece.
 
Earlier in our campaign, we partnered with Open Learning Exchange (OLE) to help refugees starting new lives and learning new languages in foreign places. Over 200 devices have been donated to grassroots programs that assist refugees in education.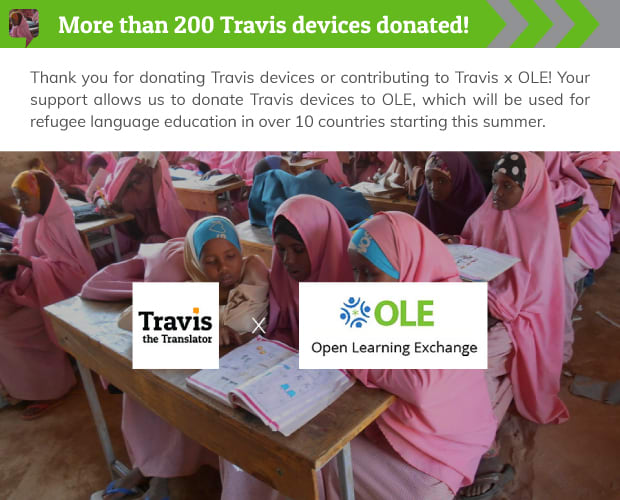 Apps are great, but things like battery life, speed and most of all, eye contact can become a struggle. Travis is a purpose-built device for face-to-face communication. We've integrated the best apps for each language into the device so it seamlessly navigates and selects the best translation for your chosen languages.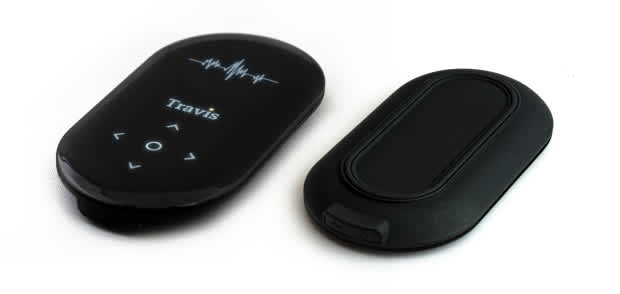 With just one Travis you can:
Use built-in microphone & built-in speakers
This is the most common use for Travis, hearing via its dual noise cancelling microphones, and clearly repeating what is said in another language via its speakers.
Use built-in microphones + earphones (wired/wireless)
Travis hears what is said via its built-in dual noise cancelling microphones, and repeats what is said in your ear via the wired/wireless earphones.

For travel - Whether in Shanghai or Paris, Travis helps you to speak to locals, get a cab, order food and drinks or simply ask, "How are you? Where are you from? What are your ambitions?" 
As expats & international students - Moving to a new country can be stressful -  getting the kids into school, arranging health care and figuring out food options at the grocery store or market. Travis can't solve all your challenges, but we can make it easier for you to connect with the locals and feel at home. 
For cross-cultural families - Have a girlfriend, wife or husband whose family speaks a whole other language? Many of our backers do, and will be using Travis to communicate with the in-laws. 
Contact with refugees - Some of our backers are getting a Travis to communicate with refugees. Not only for social work, but  to speak to new neighbours, colleagues and classmates as well. We partner with organisations who help with refugees and aid work and Travis helps bridging language barriers with volunteers and the people they help. 
How will you use Travis? Join the movement with a pledge for Travis or donate to Travis x OLE, and let us know on the comments page. Thanks!

During 2016, Nick, Lennart and Brend decided they wanted to work together by launching meaningful products. With over 20 nationalities in their direct environment in the Rotterdam innovation ecosystem, they experienced a many language barriers to really make impact with innovation. This was the starting point of their new adventure. Bridging Language Barriers!
Nowadays Travis is a three continent team working from New York, Rotterdam (The Netherlands) and Shenzhen (China) with decades of management and product development experience, and a history of selling over 10 million devices.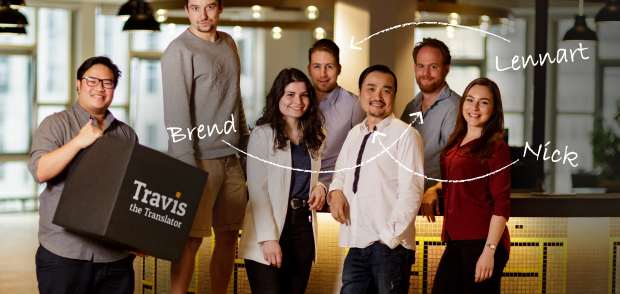 Lennart van der Ziel, CEO - From law school to start-up scene, led multiple international teams in IT consulting, successfully launched various software products, a community builder, loves making road trips.
Nick NM Yap, CPO - Product geek with over 20 years of experience in creating products in three continents, countless trips made, believes travel is all about human connection.
Brend Kouwenhoven, COO - Combining innovation, entrepreneurship, and finance to improve the world, over 20 years of experience with corporates, governments and ventures and now using it to remove language barriers with Travis.







Customer-ready device
Production and shipping have started. Software has continuous updates for increased speed, additional languages and more offline benefits. These improvements come free of charge by Over the air Updates. 
What goals has Travis reached?
The funding goal of $80,000 was reached just three days after the campaign was launched, on March 25th. On the same day, we also reached $100k! Our first stretch goal was $250k, which was reached at the end of March. The movement kept getting bigger and now we have over 5,000 backers and over $1M raised to help Travis bridge language barriers. 
What features have we added to Travis?
We promised that when we reach $400k, we would introduce three new offline languages. We took on your suggestions and will introduce the languages you requested; Cantonese, Vietnamese and Brazilian Portuguese. Another addition is an optional protective pouch to prevent dust and scratches.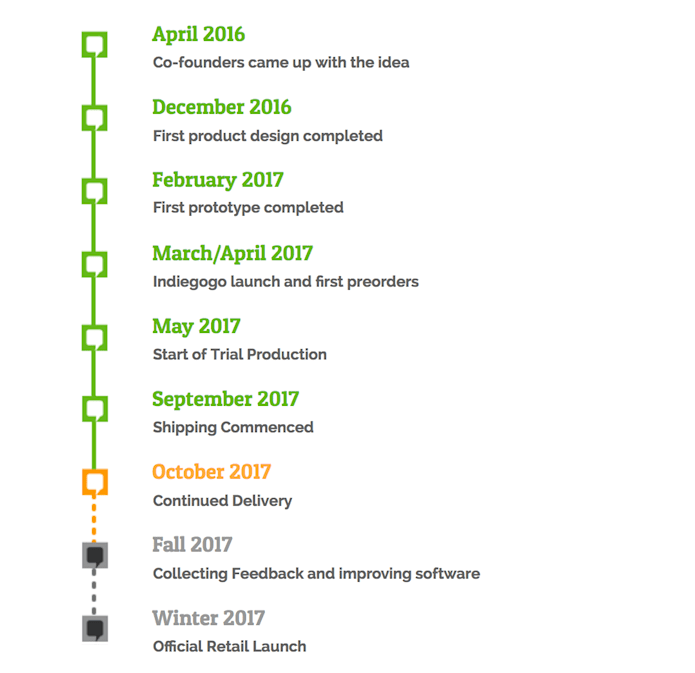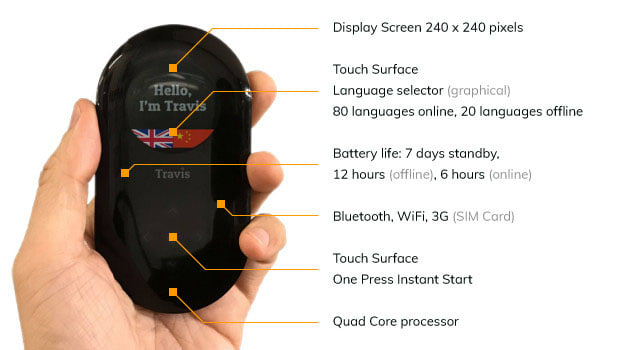 The Go Business Edition includes the ability to have Travis make a  transcript of your conversations in their original and translated language. You can sync your conversations from Travis in a matter of minutes! In future this will only be available under a premium subscription service ($99 per year). For InDemand we are offering 1 year free as a reward for your support.
Here's how it works: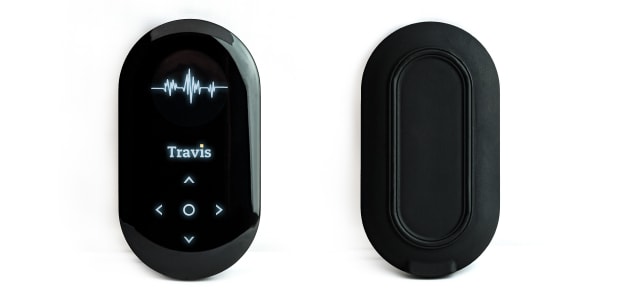 20 Offline : Spanish, German, Chinese (Mandarin), French, Portuguese, Arabic, Italian, Japanese, English, Russian, Dutch, Polish, Greek, Swedish, Korean, Hindi, Hebrew, Thai, Turkish, Indonesian
*Please be aware that not all 20 languages are currently available however we are working to include them as soon as possible.

80 Online : Afrikaans, Albanian, Arabic, Armenian, Basque, Belarusian, Bosnian, Bulgarian, Catalan, Chinese (Mandarin), Chinese (Taiwanese), Chinese (Cantonese), Croatian, Czech, Danish, Dutch, English (UK), English (USA), English (Australia), Esperanto, Estonian, Farsi, Filipino, Finnish, French, French (Canada), Frisian, German, Greek, Haitian Creole, Hawaiian, Hebrew, Hindi, Hungarian, Icelandic, Indonesian, Irish, Italian, Japanese, Javanese, Kazakh, Khmer, Korean, Kurdish, Lao, Latin, Latvian, Lithuanian, Luxembourgish, Macedonian, Malay, Maltese, Mongolian, Myanmar, Nepali, Norwegian, Pashto, Persian, Polish, Portuguese (Portugal), Portuguese (Brazil), Punjabi, Romanian, Russian, Scots Gaelic, Serbian, Sindhi, Slovak, Slovenian, Spanish (Spain), Spanish (USA), Spanish (Mexico), Swedish, Tamil, Telugu, Thai, Turkish, Ukrainian, Vietnamese, Welsh

We are constantly listening to how we can enable you to boldly go global and speak local and spread the movement in the coming months. Let us know in the comments page about languages that you want to see in the 80 online or 20 offline languages.

How are you able to translate in so many languages?
Travis make use of translation engines from several companies with advanced translation technology. Because of that we are able to offer far more languages than any single engine, even more than 80. We chose 80 languages out of caution and plan to expand with (free) future updates.

Is your translation better than others and how?
It's as good as the best, because Travis chooses the best translation engines for each language. Since we integrated the best options in one product, you don't have to fuss about which translation software to use.

Does the translation improve over time?
Yes, translation engines use artificial intelligence and machine learning to learn translation patterns which improve over time. We are also building our own neural network to better detect slang and accents. That's why we are starting this movement for early adopters, so you can support us in moving towards a world without language barriers!

Do you ship to my country?
Yes, we ship worldwide.

What are the delivery costs?
After pledging and and selecting your country of delivery, your shipping costs will be shown. We cannot take responsibility for specific country customs costs and if incurred, these will be at the customers expense. 

Can I pre-order but indicate a delivery date other than in October?
Yes, please state that in comments section of your pre-order.

Can I pre-order if I'm not sure of my delivery address yet?
Sure, we will always ask you for your address before delivery.

Will there be software updates? Are they free?
Yes, Travis will be frequently updated by over the air updates and all updates are free for Indiegogo backers.

Does Travis come with earphones (wireless/wired) so I can listen privately during meetings or conferences?
Earphones are not included with the product, but Travis supports most wired and wireless earphones, incl. Apple Airpods,  so you're free to use whichever brand and type is your favourite.

Does Travis come with a SIM card?
A SIM card is not provided included with your device. Travis can however take a Nano SIM, use wifi or hotspot from a phone. 

When will Travis be available in physical shops?
We expect to start some sales trials in the summer. Official launch to retail stores is planned for Winter 2017.
Any other questions? Feel free to ask and we'll get back to you!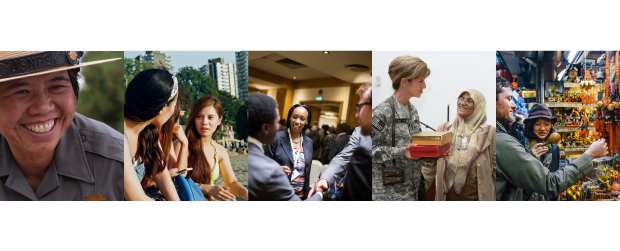 Travis en español!



Imagina llegar a un aeropuerto y tratar de explicar a un taxista a dónde ir en un idioma que no hablas, o incluso tratar de comunicarte con un médico después de un accidente en un idioma que ni siquiera sabes. Imagínate un refugiado que llega a un país extranjero y que quiere comenzar de nuevo su vida sin hablar el idioma en absoluto. ¡Queremos dar a todos el derecho a ser entendidos!
Travis es un dispositivo práctico que creemos que inspirará el cambio, estimulará los viajes y creará conexiones que antes no eran posibles. Podemos hacer que los 7 mil millones de personas en este planeta que hablan más de 6.500 idiomas puedan reunirse y tener una charla informal, pedir una bebida, hacer negocios o, tal vez, incluso enamorarse.
En un mundo globalizado, las diferencias lingüísticas pueden conducir a la exclusión social, malentendidos peligrosos y amistades y oportunidades de negocio perdidas. Así que llámanos locos o ingenuos, pero aquí en Travis, pensamos que podemos unir al mundo, asegurándonos de que todos podamos hablar.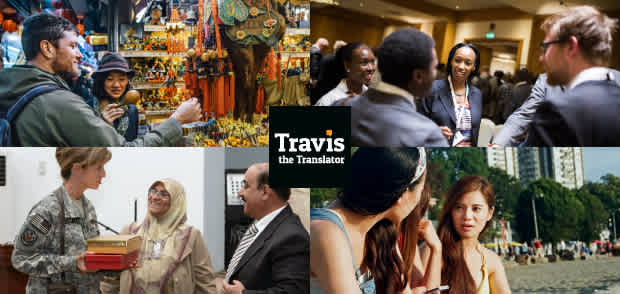 Travis es un dispositivo portátil que utiliza la inteligencia artificial para traducir conversaciones en 80 idiomas, todo en menos de dos segundos. Travis tiene algunas características que lo hacen único como: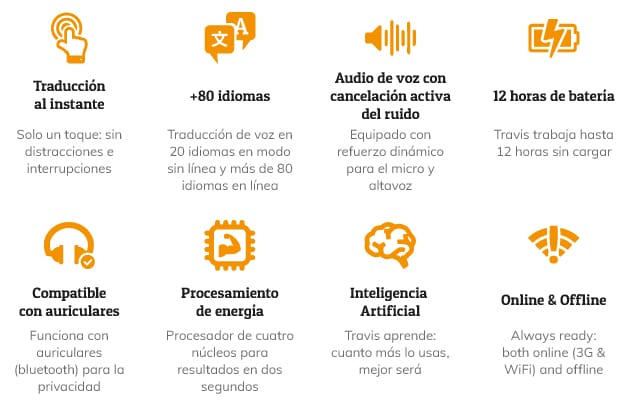 Al convertirte en uno los primeros en pedirlo y en proporcionar "feedback", estaremos ofreciendo actualizaciones vía Internet para que Travis sea aún mejor.

Únete al Movimiento y Haz la Diferencia
Nos hemos asociado con "Movement on the Ground", una organización que opera en primera línea de la crisis de refugiados más grande de la historia. Los voluntarios en Lesbos, Grecia, se enfrentan cada día a un problema lingüístico y Travis ha querido aprovechar esta oportunidad para superar las barreras idiomáticas y apoyar su trabajo. Anteriormente, apoyamos en una campaña holandesa local, contribuyendo con 20 dispositivos. Si bien estos serán muy útiles para la organización sin fines de lucro, ¡estamos listos para tener aún más impacto y ayudar a superar las barreras del idioma!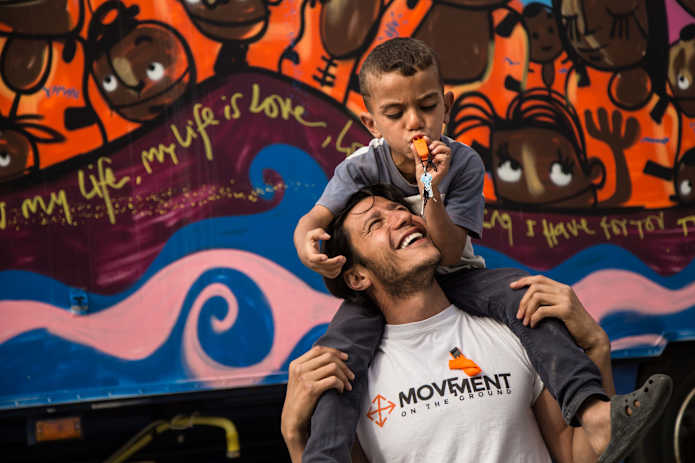 ¿Cómo puedo ayudar a MotG?
Al apoyar esta campaña, 10$ de cada dispositivos serán donados a MotG hasta finales de diciembre. Estos fondos se destinarán a dispositivos para ayudar a los voluntarios y refugiados en Grecia.
Anteriormente en nuestra campaña, nos asociamos con Open Learning Exchange (OLE) para ayudar a los refugiados a iniciar una nueva vida y aprender nuevos idiomas en lugares extranjeros. Más de 200 dispositivos fueron donados a programas de base que ayudan a los refugiados en la educación.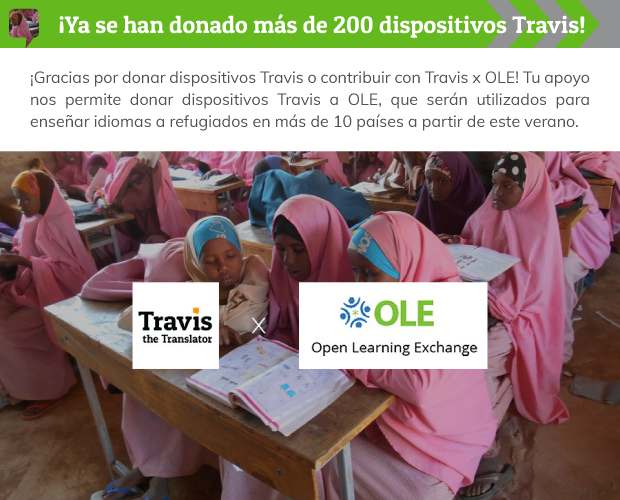 Las aplicaciones son geniales y algunas hacen un trabajo muy bueno, pero cuando estás usando una aplicación en tu móvil tienes que pelearte con cosas como la duración de la batería, la velocidad y, sobretodo, el contacto visual. Travis es un aparato específicamente diseñado para establecer una comunicación cara a cara. Travis sabe cuales son las mejores aplicaciones para cada lenguaje y así no tienes que perder tiempo en eso.


Durante 2016, Nick, Lennart y Brend decidieron que querían trabajar juntos lanzando productos innovadores y significativos. Con más de 20 nacionalidades diferentes en el entorno de innovación de Rotterdam, experimentaron muchas barreras lingüísticas para realmente hacer impacto mediante la innovación. Este fue el punto de partida de su nueva aventura. ¡Poder superar las barreras idiomáticas!
Travis actualmente está formado por un equipo de tres continentes que trabaja desde Nueva York, Rotterdam (Países Bajos) y Shenzhen (China), con décadas de experiencia en gestión y desarrollo de productos y una historia de venta de más de 10 millones de dispositivos.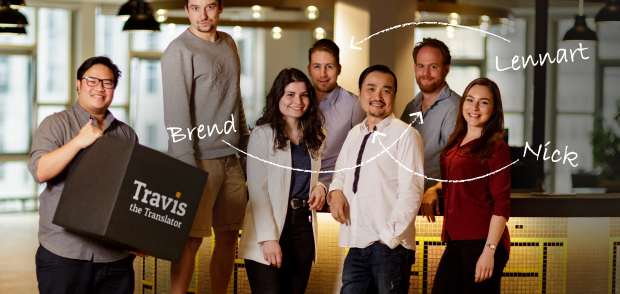 Lennart van der Ziel, CEO - De la facultad de derecho al mundo de las start-ups, ha liderado múltiples equipos internacionales en consultoría tecnológica, ha lanzado satisfactoriamente varios productos de software, community builder, le encanta viajar.
Nick NM Yap, CPO - Apasionado de los productos, más de 20 años de experiencia en la creación de productos en 3 continentes, innumerables viajes realizados, encontrar la esencia de viajar – ya sea por placer o por negocio – está en la conexión humana.
Brend Kouwenhoven, COO - Combinando innovación, espíritu empresarial y finanzas para mejorar el mundo, más de 20 años de experiencia en corporaciones, gobierno y empresas, ahora utilizándolo para eliminar las barreras idiomáticas con Travis.


Dispositivo acabado para los clientes
La producción y el envío han comenzado. El software tiene actualizaciones continuas para una mayor velocidad, idiomas adicionales y más beneficios en modo sin línea. Estas mejoras vienen de forma gratuita vía Internet.
¿Qué metas ha alcanzado Travis?
La meta de financiación de 80,000$ fue alcanzada apenas tres días después de lanzar la campaña, el 25 de marzo. ¡El mismo día también logramos 100k$! Nuestro primer stretch goal fue de 250.000$, que se consiguió a finales de marzo. El movimiento se fue haciendo cada vez más grande por lo que anunciamos un nuevo stretch goal de 400.000 dólares, que luego se convirtió en medio millón gracias a más de 3.000 patrocinadores increíbles.
¿Qué características hemos añadido a Travis?
Prometimos que cuando alcanzáramos los $ 400k, introduciríamos tres nuevos idiomas en modo fuera de línea. Seguimos vuestras sugerencias e introducimos los idiomas que solicitaron: Cantonés, Vietnamita y Portugués brasileño. Otra adición fue la bolsa de protección para evitar el polvo y arañazos.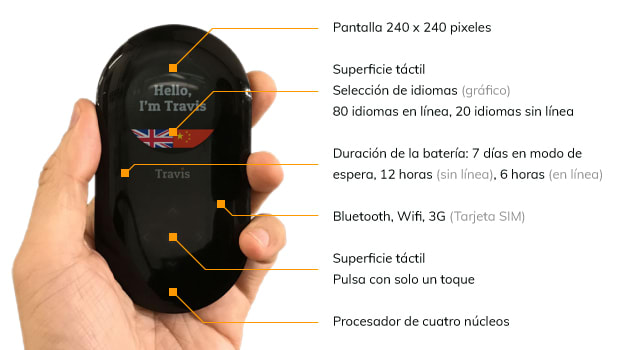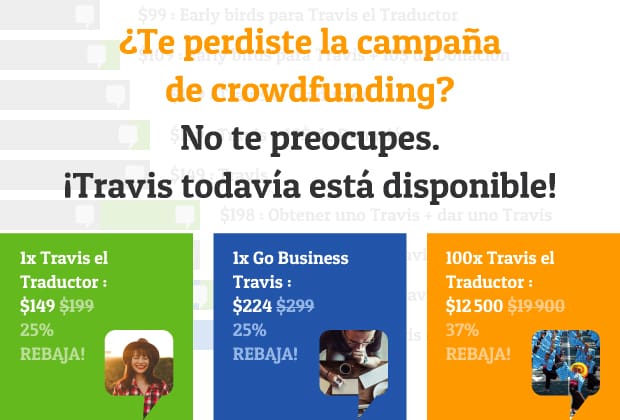 El Go Business Travis incluye la posibilidad de que Travis haga una transcripción de tus conversaciones en el idioma original y el traducido. Se puede enviar al correo electrónico o guardarlo en la nube. En el futuro esto sólo estará disponible bajo un servicio de suscripción premium ($ 99 por año). Para los partidarios de InDemand ofrecemos 1 año gratis como recompensa por vuestro apoyo.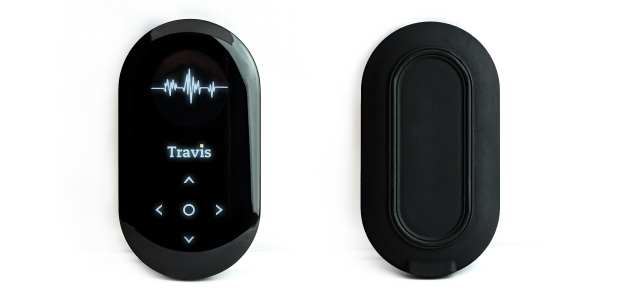 20 idiomas : español, alemán, chino (mandarín), francés, portugués, árabe, italiano, japonés, inglés, ruso, holandés, polaco, griego, sueco, coreano, hindi, hebreo, tailandés, turco, indonesio. *Por favor, ten presente que no todos los 20 idiomas están actualmente disponibles. Sin embargo, estamos trabajando para incluirlos lo antes posible.
80 idiomas (en línea) : afrikaans, albanés, árabe, armenio, euskera, bielorruso, bosnio, búlgaro, catalán, chino (mandarín), chino (taiwanés), chino (cantonés), croata, checo, danés, holandés, inglés (Reino Unido) , Inglés (Australia), esperanto, estonio, farsi, filipino,fiinlandés, francés, francés (Canadá), frisón, alemán, griego, haití, creole, hawaiano, hebreo, hindú, húngaro, islandés, indonesio, Javanés, kazmán, khmer, coreano, kurdo, laosiano, latín, letón, lituano, luxemburgués, macedonio, malayo, maltés, mongol, mianmar, nepalí, noruego, pashto, persa, polaco, portugués, portugués, punjabí, rumano, ruso, gaélico escocés, serbio, sindhi, eslovaco, esloveno, español (España), español (Estados Unidos), español (México), sueco, tamil, telugu, tailandés, turco, ucraniano, vietnamita, galés
Estamos constantemente escuchando cómo podemos ayudarles a ir viajar globalmente y hablar localmente y difundir el movimiento global del lenguaje en los próximos meses. Avísanos en la página de comentarios acerca de los idiomas que deses ver entre los 80 idiomas en línea o 20 sin línea.

¿Cómo es posible traducir en tantos idiomas?

Travis utiliza motores de traducción de varias empresas con avanzada tecnología de traducción. Debido a eso somos capaces de ofrecer muchos más idiomas que cualquier otro motor, incluso más de 80. Elegimos 80 idiomas por precaución y planeamos expandirnos con actualizaciones futuras (gratuitas).

¿Es la traducción mejor que otras y cómo?

Es tan bueno como el mejor porque Travis elige los mejores motores de traducción para cada idioma. Dado que hemos integrado las mejores opciones en un producto, no tienes que preocuparte acerca de qué software de traducción utilizar.

¿Mejora la traducción con el tiempo?

Sí, los motores de traducción utilizan la inteligencia artificial y el aprendizaje automático para aprender patrones de traducción que mejoran con el tiempo. También estamos construyendo nuestra propia red neuronal para detectar el argot y los diferentes acentos. Es por eso que estamos comenzando este movimiento para los primeros adoptantes, ¡para que puedas ayudarnos a crear un mundo sin barreras de idiomas!

¿Hacen envíos a mi país?

Sí, hacemos envíos internacionales a cualquier localización.

¿Cuáles son los costos de entrega?

Después en el proceso del pre-pedido y después de seleccionar tu país de entrega, te informaremos sobre los gastos de envío.

¿Puedo pre-pedir pero elegir una fecha de entrega que no sea en noviembre?

Sí, por favor adiciona eso en la sección de comentarios de tu pre-pedido.

¿Puedo hacer el pre-pedido si aún no estoy seguro de mi dirección de entrega?

Claro, siempre le pediremos su dirección antes de la entrega.

¿Habrán actualizaciones de software? ¿Son gratuitos?

Sí, Travis se actualizará frecuentemente y todas las actualizaciones serán gratuitas para los partidarios de Indiegogo.

Travis viene con auriculares (inalámbricos / cableados) para que pueda escuchar en privado durante las reuniones o conferencias?

Los auriculares no son incluidos con el producto, pero Travis es compatible con la mayoría de los auriculares con cable e inalámbricos, incluyendo Apple Airpods, por eso puedes usar cualquier marca o tipo.

¿Travis viene con una tarjeta SIM?

No se incluye una tarjeta SIM con el dispositivo. Travis, sin embargo, acepta una tarjeta  Nano SIM o bien permite conectarse a redes Wifi incluyendo la creada por un teléfono.

¿Cuándo Travis estará disponible en tiendas físicas?

Esperamos comenzar algunos ensayos de venta en tiendas físicas en el verano. El lanzamiento oficial está previsto para el invierno de 2017.
¿Alguna otra pregunta? ¡Pregúntanos y nos pondremos en contacto contigo!