A story of breakdown and recovery, a pack of practices – and a bold new way of talking about mental illness
Torchlight is a beautiful print publication candidly documenting one man's journey from breakdown to recovery. It comes with a pack of "Practice Cards", which show 55 daily ideas and actions for dealing with anxiety and depression or living in recovery. Shuffle the pack, pick two cards, and build positive habits every day – Practice Cards are a way to make a game out of getting better.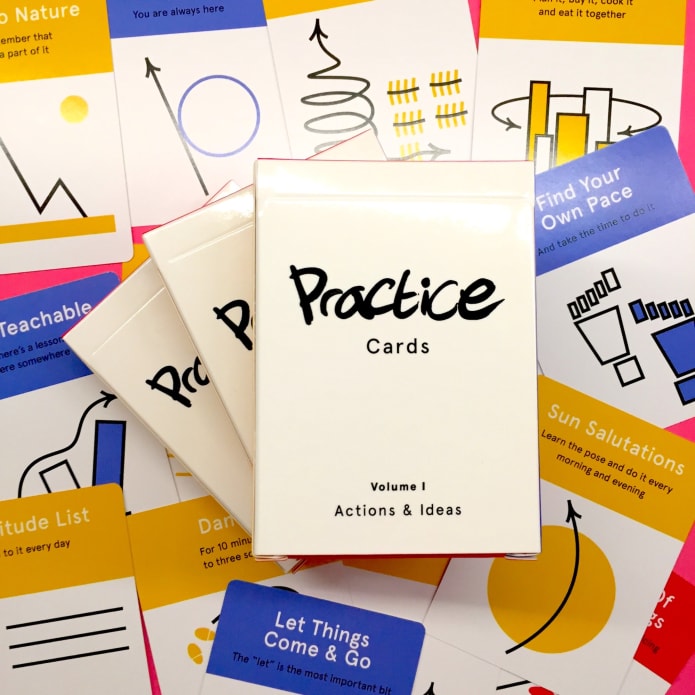 More and more people are opening up about their struggles and searching for new ways to live with and talk about issues such as depression and anxiety. Torchlight & Practice Cards offer exactly that – and this campaign aims to bring them back into print and to reach a much broader audience.
About Torchlight and the Practice Cards
An experienced writer and editor, Kevin Braddock made Torchlight and the Practice Cards after suffering a major depressive episode in 2014. At the brink of suicide one day he asked for help, help came and he began slowly to recover. Guessing that speaking openly about breakdown, recovery, depression, and anxiety might help others deal with these problems, he decided to publish about his experiences and share the practices he learned.
After Kevin's story was picked up by Observer magazine, the first edition of Torchlight & the Practice Cards (designed by Enver Hadzijaj) sold out within a week. Most recently Laura Davis joined the team as business strategist, and along with our network of collaborators we share a vision of using these products as new ways of people to ask for help, tell stories and share their recovery practices.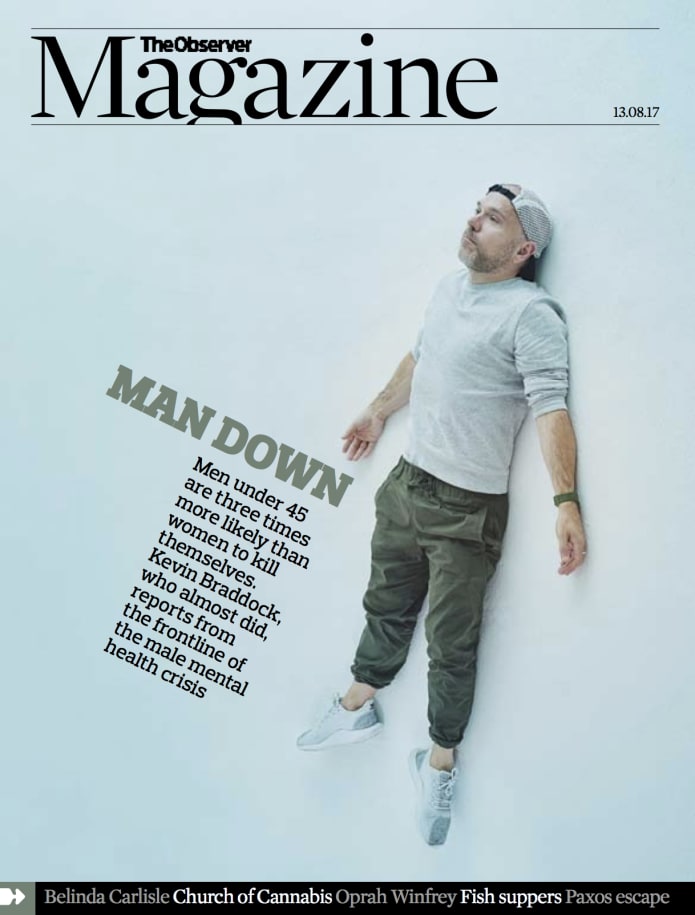 The response to the Torchlight project so far has been phenomenally positive. Kevin's story for the Observer was shared 10,000 times, and further testimonials to the project include:
"I cannot recommend Practice Cards more highly. Their simplicity is deceptive – they perfectly encapsulate how small daily steps, self compassion and connecting with others are absolutely invaluable in getting well and staying well. They're more accessible than an app, they look nice, feel nice, they're imaginative and what's more, they will add some joy to your day" – Dr Jane McNeill, psychologist specialising in anxiety disorders and trauma  
"I've been using the Practice Cards now for six months and they have made a huge difference to my life. It's so straightforward: shuffle the pack, deal yourself a couple of cards and you have two wonderfully engaging prompts to take you through the day" – David Baker, writer & broadcaster
"I just wanted to email to say how amazing Torchlight is. I've read every word. So bold and candid and honest and raw AND compelling. It's about so much more than depression. There's so much everyone can relate to whatever their state of mind right now"  – Andrew Diprose, Creative Director, Wired UK
"Anyone interested in magazines, storytelling and mental health should have a look at this. It's really, really good, and completely original"– Richard Benson, former Editor, The Face magazine, author of The Farm and The Valley
"Practice Cards are a readily accessible tool for anyone who wants to carve out a bit of the day to look after their mental health. They don't demand continued devotion as a meditation app might – pick them up and use them as and when you really need to" – Charlotte Hillenbrand, Director of People, Made by Many
"Torchlight System offers fantastically useful tools. Students find it difficult to be open about their mental health and sensitive issues, especially with the pressures they are under today, but Kevin's project has the ability to give students a cool and fun forum where they can speak freely, and break down barriers and stigma" – Derek Moir, Head of Humanities, The Brit School, London
Coverage
Read about Torchlight on AIGA, telegraph.co.uk, Magculture, Positive.News and Hole & Corner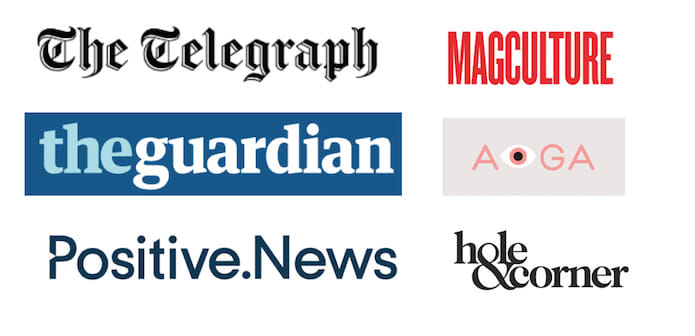 People are talking openly about mental illness today. These products stimulate the conversation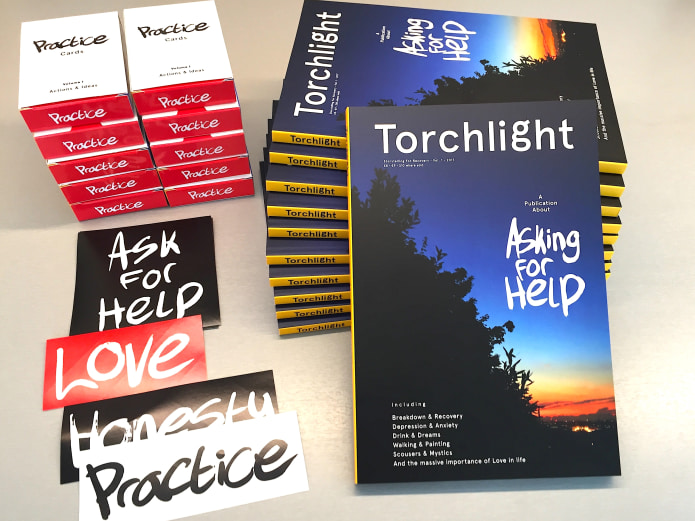 But there's more to do: mental illness is on the rise in the United Kingdom, and suicide is now the leading killer of men under 45 in the UK today. Young people in particular are suffering in greater numbers than ever: the Guardian reports that number of students who disclosed a mental health problem in their first year rose fivefold to reach 15,395 in a decade. We believe more can be done to assist people asking for help, addressing their challenges, and living with these conditions.
Storytelling alone cannot solve problems or guarantee recovery, but we believe tools such as Torchlight and the Practice Card can help anyone talk about, recover from, and understand problems such as anxiety and depression. We also believe that one day these should be available in every school, business, recovery centre, clinic, and community group. We would love the Torchlight System to inspire more people to #AskForHelp and encourage a new, collaborative and enriching way to recover.
We have a big vision, but we also know that what's currently achievable by our small team is limited. Your backing will help us reach a second stage of distribution and awareness – at least double what has already been achieved – with perks offering the chance to nominate copies for people who might need it, and multiple-order packages suited to organisations and groups.
In their own right Torchlight and the Practice Cards are beautiful, original and innovative objects with genuine purpose and utility. These attractive items would look great on any collector's shelf.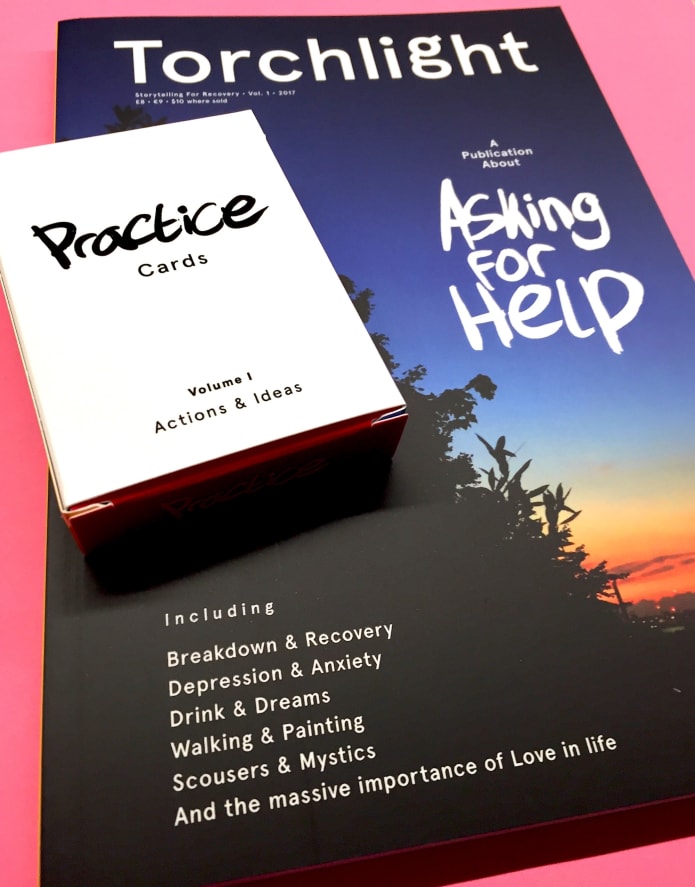 How you can help
We are aiming to raise £7,500 to produce:
• 1,000 copies of Torchlight
• 1,000 copies of the Practice Cards
• 1,000 "Ask For Help" pin badges
• 1,000 sticker packs, including the original "Love", "Practice", "Honesty" and "Ask For Help" design, plus three new designs.
Print is an expensive medium, but we know these objects have a tactility and pass-on-ability that cannot be matched by digital tools alone.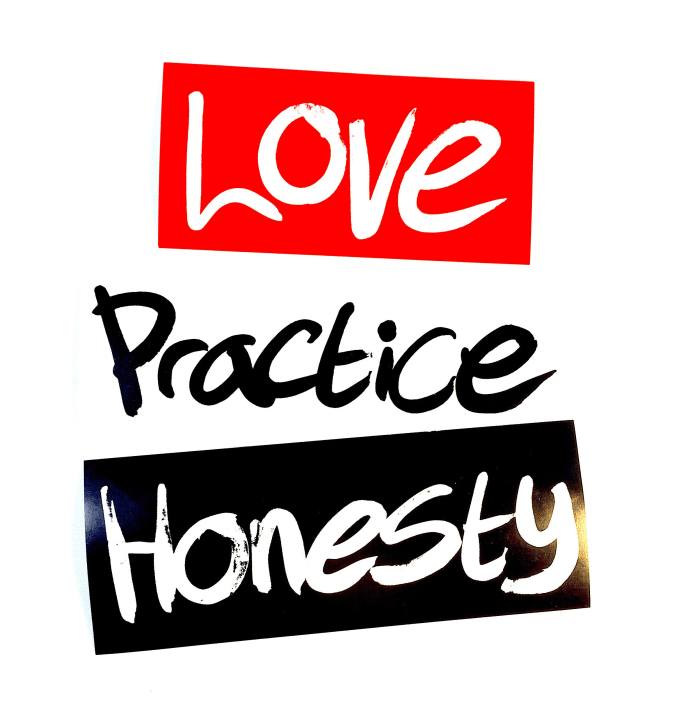 Perks
We're offering publications, Practice Cards, sticker packs and pin badges that carry the #AskFor Help message. These are available in single units as well as combinations, and we are offering special "Firegazing" packages offers for organisations in which Kevin will facilitate a storytelling meeting to share practices and stories, and invite others to share theirs.
You can also nominate these items: Torchlight and Practice Cards are popular products for people to give to loved ones who may need help. That's why we are offering three-for-two "Nomination Packs" to enable buyers to get two bundles and gift a third free of charge to a person or institution who may benefit from it.
We also have special perks for organisations who may wish to support mental health awareness  and become official patrons of the Torchlight project.
Our £7,500 target is the minimum we would need to print 1,000 of each of the products. However, if we don't reach that target, we will still be able to produce a smaller print run and deliver perks to our backers.
The impact: assisting people in asking for help and telling their stories
The response to the Torchlight project from friends, buyers, professionals, clinicians and educators so far has been overwhelmingly positive: as Kevin's own story suggests, being able to ask for help and talk about issues such as depression and anxiety honestly is crucial in recovery. But there is only so far we can take this on our own. With your help we can reach many more people who are suffering with anxiety and depression.
We aim to spread the message that it's okay to #AskForHelp and that there are ways to talk about and recover from mental illness. We also strongly believe that creative uses of storytelling and publishing in this project will offer more people the chance to ask for help, and inspire others to tell their stories.
In the future, we are aiming to produce further collaborative volumes of stories and Practice Cards and take them into digital media to reach an even broader audience.
We also believe in giving back and reaching people from disadvantaged backgrounds. So we have made the commitment that for every 10 products that we sell, we will donate 1 to a person or organisation in need.
Risks & Challenges
We are a committed and experienced team combining skills in editing, writing, publishing, design, business strategy, running campaigns, building communities, public relations and more, and between us we had brought many print and digital products successfully to life. We are confident that we can deliver these products, and while printing and publishing aren't without risks and the possibility of delays, we will be as transparent as possible with backers in the event of any delays or problems.
Other Ways You Can Help
Please help us to  get the word out and make some noise about our campaign with your friends, family and colleagues.
Use the Indiegogo share tools to easily spread the word!
Our Team
Kevin Braddock, Founder
Kevin Braddock is founder of Torchlight System. He has over 20 years experience in print media as writer and editor, and has worked for GQ, Esquire, The Face and The Guardian in addition to editing, founding and publishing print magazines, including Winter (with Kati Krause and Ana Lessing) and the widely acclaimed Manzine. Most recently he was Embedded Storyteller at  digital product consultancy Made By Many. Find out more about Kevin at www.permitfullexpression.com
Enver Hadzijaj, Designer
Enver is a Berlin-based designer, artist and educator, and is design director for the Torchlight project. Collaborating over two years, he and Kevin conceived the Torchlight project and brought it to life between Berlin and London. www.enverhadzijaj.de
Laura Davis, Business Strategy
Laura Davis is a business strategist with over 10 years experience planning, designing and implementing changes in large corporations and small businesses. She has worked in a range of disciplines including management consultancy, retail banking, international development and digital innovation. She has successfully launched new products and services, built online and offline communities and run marketing campaigns. She now runs her own business mentoring company: www.laurahmdavis.com