My name is Aleksandr Brusentsev and I tell abstract stories with sound.
This statement is not a description. It is a manifesto, the driving force behind everything I do. You see, I believe in stories; they unite, heal, and inspire us. I also believe in sound - in music; I know of no better way to bypass borders and make connections. These beliefs are at the core of the project that Imogen, Toby and I are asking you to support.
What is the project?
In short, it is the creation, performance, and recording of a new concerto for flugelhorn and string orchestra called Threads.
In reality, it is much more. Inspired by the events following a friend's tragic death, the music is an in-depth exploration of the power of the stories we tell, the threads - the connections - with which we mend. Even in its incomplete state, it is already the best music I have ever written. I cannot wait to finish it for you. 
Moreover, the project is part of an educational series called CONNECT . THE . DOTS. Undertaken with my brilliant collaborators, London-based soloist Imogen Hancock and Sydney-based conductor Toby Thatcher, this iteration of the series is an unprecedented look at the three-continent-spanning(!) collaboration that is making this happen. Curious? Just click here.
What We Need & What You Get
We are raising funds to cover the costs of the culmination of this project: performing and recording this work in London to share it with the world. 
While everyone on this project is dutifully volunteering immeasurable time and effort to make this happen, the cost of covering musicians' fees, venue rental, and audio/video recording and editing is just out of reach.
With your help, we can close that gap and complete a project which meaningfully adds to the repertoire of a beautiful but lesser-known instrument, creates an unforgettable live experience for the audience in London, and allows us to document that experience to freely share it with the world.
Moreover, by becoming part of this project you are joining a long-standing tradition of arts patronage which ensures young artists can continue to create unique works that tell the story of our time through music.
As a show of our appreciation, we have a variety of perks - most of which stack on top of one another! - to help you connect with and remember the project you made happen. There is something for donors at all levels.
We hope you will join us in making this uniquely-21st-century story happen.
Risks and Challenges
No risk, no reward, right? Lucky for you, the risks are on us: no matter the outcome we will - somehow - make this happen. With the flexible funding campaign, all money raised will go to the project no matter what. Whether we meet our goal or not, we will make this happen and you will get your perk.

(But, seriously, please help us make this happen; life as a musician is difficult enough without going into further debt.)
Other Ways You Can Help
Thank you to everyone who read this far.
And an extra special thank you to everyone who has decided to contribute. Though we can never thank you enough, thank you, thank you, and thank you once again.
Want to help but are not in a position to contribute money? Worry not - simply share this campaign with your network of friends, family, and followers. It's as easy as clicking on the Indiegogo share tools at the top of the page. Thank you in advance for your help!
A Bit About Us
Aleksandr Brusentsev is a composer of contemporary classical music. His pieces have been performed internationally by renowned artists such as the London Philharmonic Orchestra, the CHROMA Ensemble, and Alexandra Wood and Huw Watkins.
Project Bio | Project Interview | Official Website
Imogen Hancock is an award-winning trumpet soloist with a number of world premieres and commissions to her credit. She has studied with renowned soloists Håkan Hardenberger and Tine Thing Helseth and has been both a Park Lane Group Artist and a Britten-Pears Young Artist. Imogen also works as a freelance orchestral musician with orchestras such as the Academy of St Martin in the Fields and Rambert, and she is an alumna of Southbank Sinfonia.
Project Bio | Project Interview | Official Website
From 2015-17 Toby Thatcher was Assistant Conductor to the Sydney Symphony Orchestra.  He has worked with orchestras internationally including HR-Sinfonieorchester Frankfurt, Ensemble Modern, Frankfurter Opern und Museumsorchester, Adelaide Symphony Orchestra and the Queensland Symphony Orchestra. As an oboist, he has performed with the Philharmonia, Royal Philharmonic Orchestra and London Sinfonietta. In 2015 Toby was a finalist at the prestigious Solti Competition.
Project Bio | Project Interview | Official Website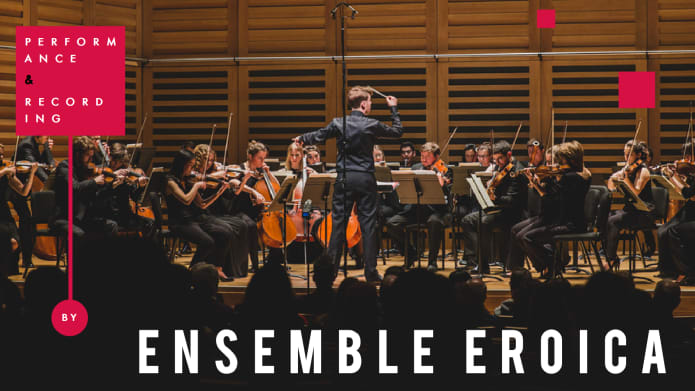 Ensemble Eroica (the orchestra premiering the concerto) is a leading voice amongst the UK's young ensemble & talent-development initiatives. It promotes talented young artists & brings an energetic new perspective to music making.
Official Website