We know what you pumped last summer!
And we're here to change that with a revolution in SUPing: self-inflating boards for the best paddling experience on earth. While everyone else is busy pumping, SipaBoards Air models have already entered production. We have the hottest entry-level board on the water in the SipaBoards NEO for the unbeatable price of price 640 USD. For more experienced paddlers there are also 3 other awesome models. Early shipping will be in spring 2017. Spread the word around the world: pumping is so last year!!!
But don't just take our word for it, look for yourself at what others have said: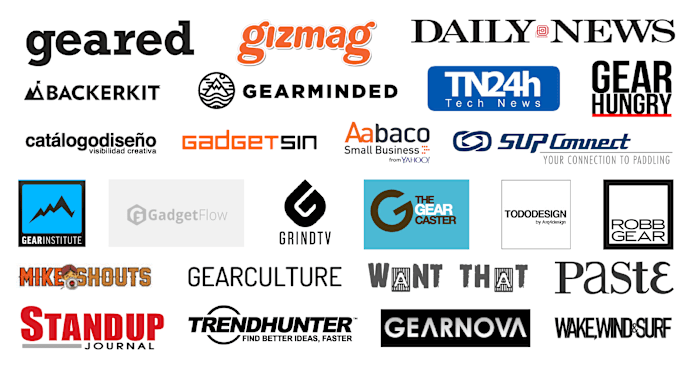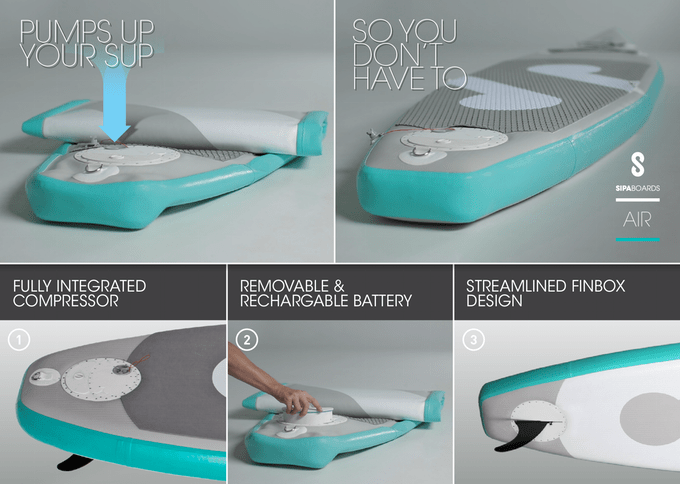 Scroll down to learn more about:

The Innovation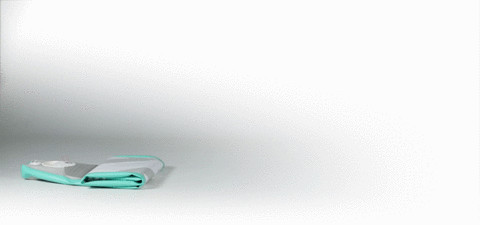 The SipaBoards Air is a world-class SUP with a revolutionary innovation: self-inflation right before your eyes. The compressor unit, which doubles as a standard fin box, is built in right where the inflation valve on a normal SUP would be. The rechargeable battery slides in and out, and then with a wave of your hand your board pumps up to the perfect pressure every time. Let us do the hard work for you - while you get ready for your session, stretch out, or simply enjoy the view.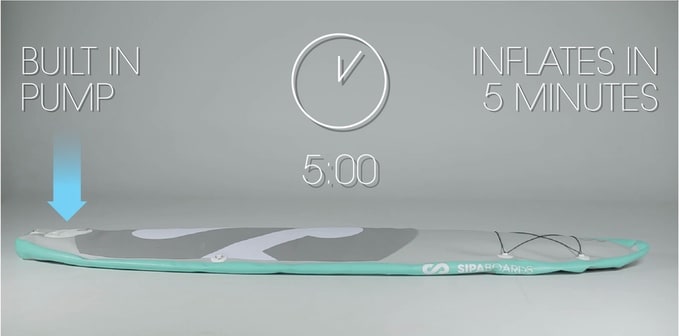 So toss your clunky old hand-pump away and hit the water in style: with your SipaBoards Air.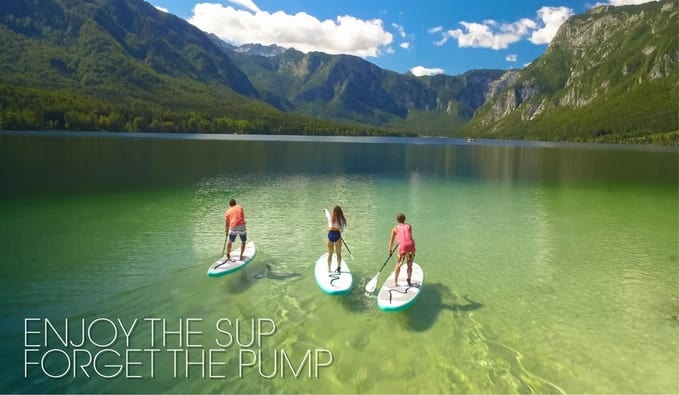 Why Is This Revolutionary? 
SUP works out your whole body, especially core muscles and your cardiovascular system, and it's tons of fun to go paddling with friends in the great outdoors. Now wonder that paddleboarding is one of the fastest-growing sports in the world.
Pumping, though, in a word: SUCKS! The SipaBoards air saves you the time and energy you'd rather be spending on the water. 
That's all the benefits of inflatable SUP (iSUP) technology with none of the downsides.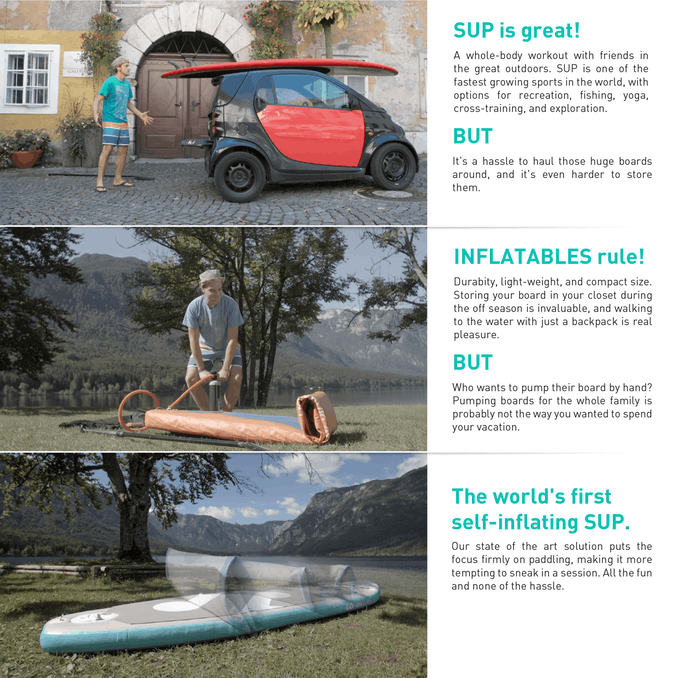 The Cast of Characters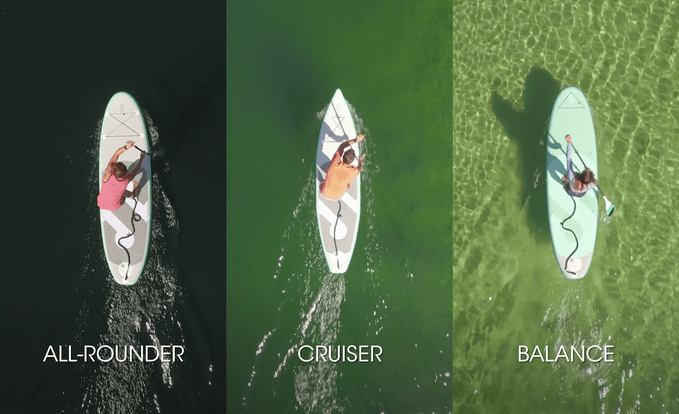 You can get your SipaBoards Air in
4 beautiful varieties
so your SUP experience is a true expression of your goals and desires as a paddleboarder. All models are made of the same
ultra-durable drop-stitch technology:
 dual layer on the premium boards and single layer on the Neo, with reinforced rail sides. Of course they all feature SipaBoards' patented, fully-integrated
SipaAir compressor
. The only difference between them is size, shape, and volume, depending entirely on your interests and paddling style: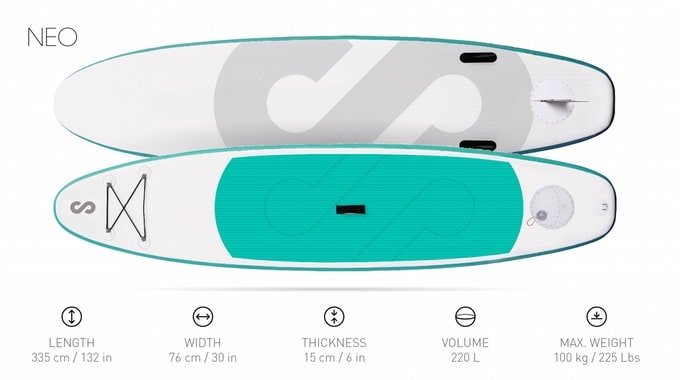 The SipaBoards Neo is a fun and stylish entry-level board for lighter paddlers (up to 225lbs), with the absolute best deal on the market. It has a narrower shape and slimmer profile, making for a straighter line in the water with tons of maneuverability. The Neo is a world-class quality for every pocket.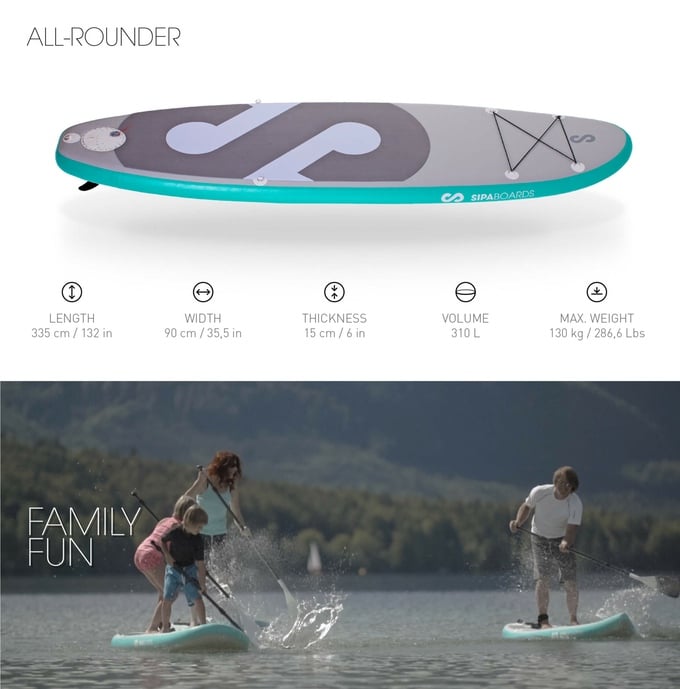 Our All-Rounder is for paddlers of all ages and ability levels, as it's sturdy as a ship. Families and those who are into SUP for the fun of it will love this model, which works as well as a SUP as it does as a mobile diving board - endless summer fun.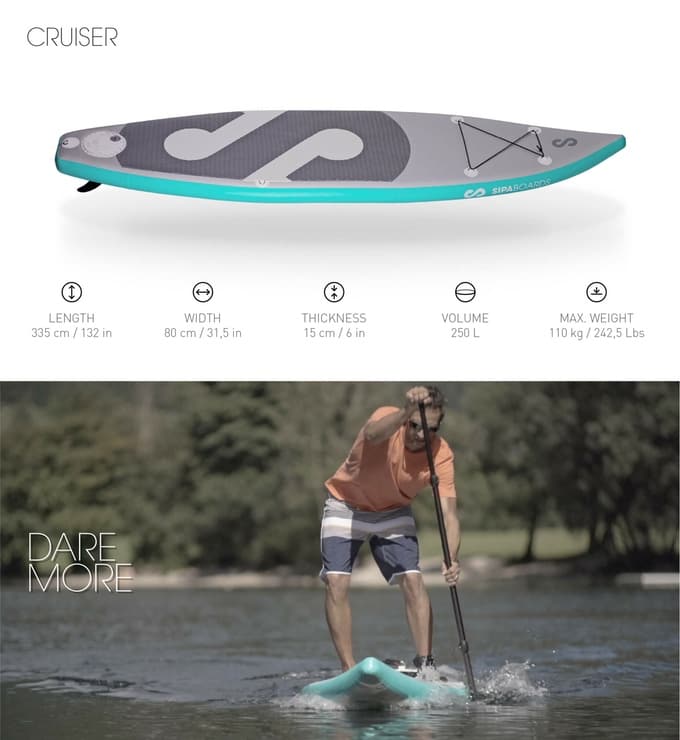 The Cruiser is a faster model, based on the same shape as the original SipaBoards Drive line, for the adventurer who wants to get out on the water in minutes and keep paddling for hours. You will enjoy its straight lines and sleek shape, which cut through the chop and take you wherever your body powers you.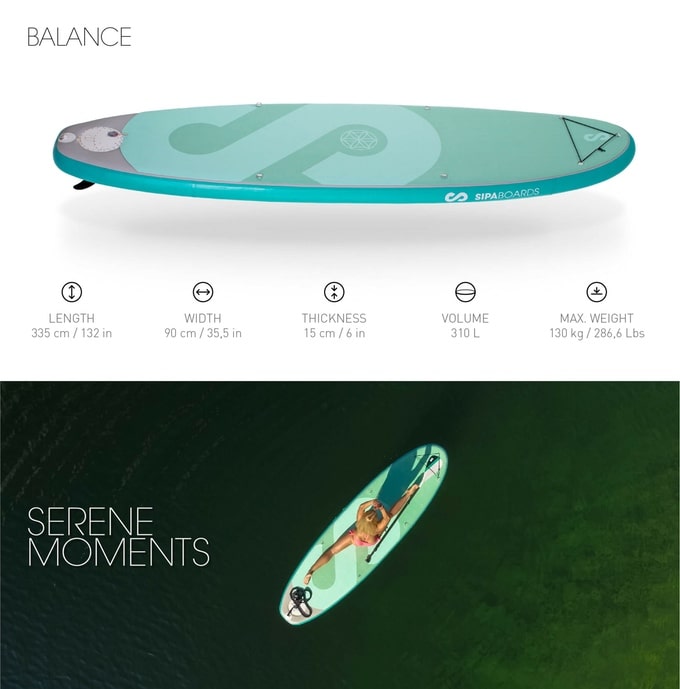 Our Balance model is in perfect harmony and comes outfitted with an anchor and dedicated hook rings. You will take this board to find your favorite hidden spot and enjoy a moment of serenity, relying on its stability to support you as you do yoga or train your core muscles. 
All boards feature a 12-month warranty.
What's in the Box?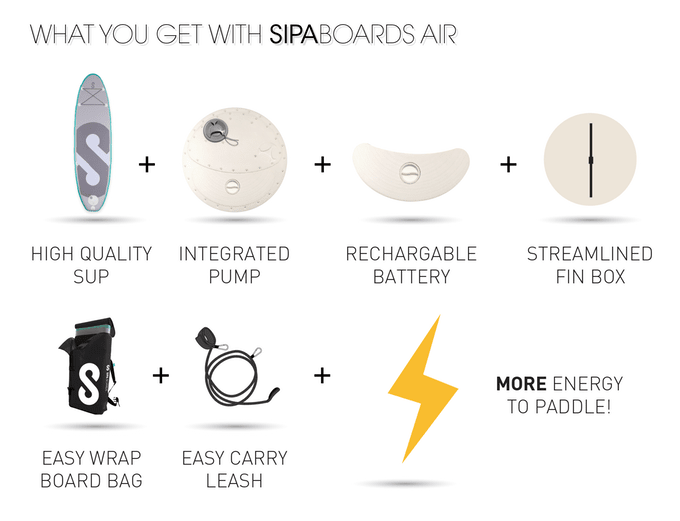 Tech Specs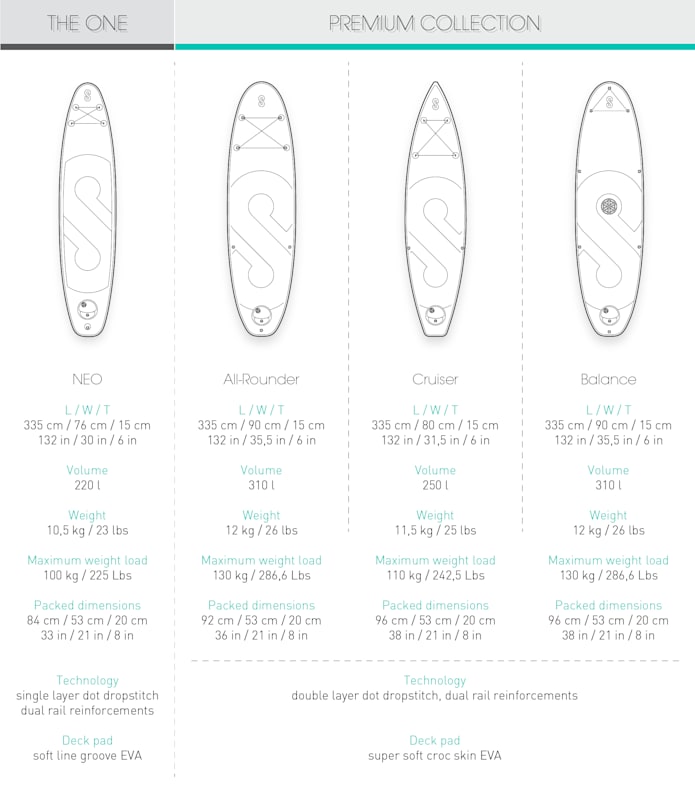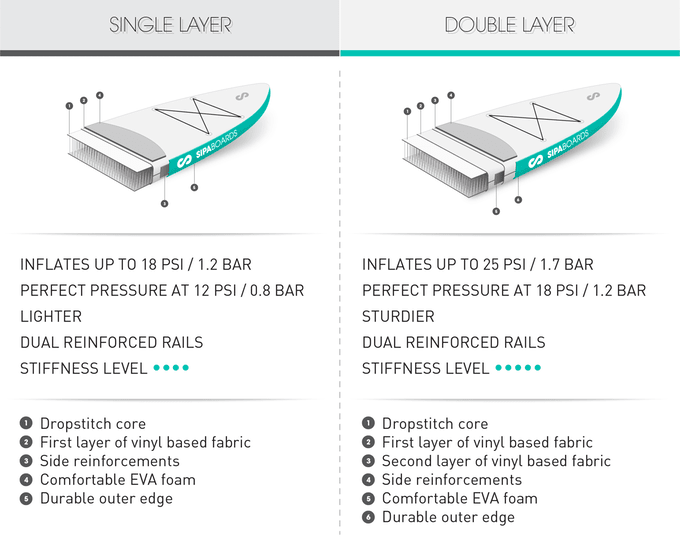 Features

Self-Inflation 
The heart of every SipaBoards Air is the SipaAir compressor, powered by a removable and rechargeable battery that slides right into its slot.  
App 
The compressor is connected to our existing SipaApp via Bluetooth technology. It can display a pressure gauge on the paddleboarder's smartphone, and you can also track your paddling sessions. We're still developing the compressor's smart functions and we are hoping to introduce an anti-theft alarm and board finder.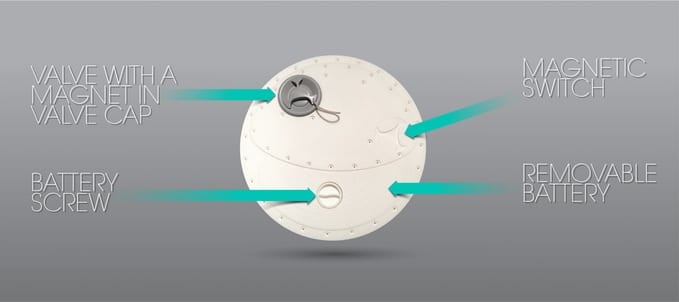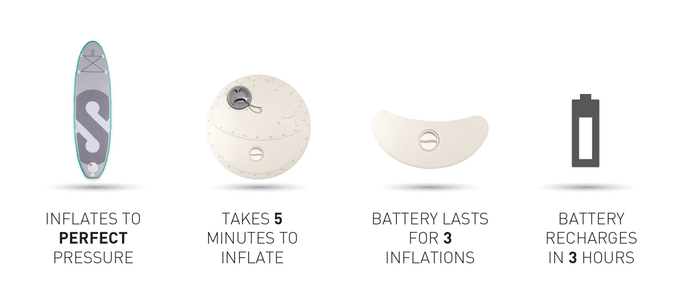 Simply activate the switch to start self-inflation. Our switch is magnetic so that the SipaAir compressor stays waterproof, with no external contacts.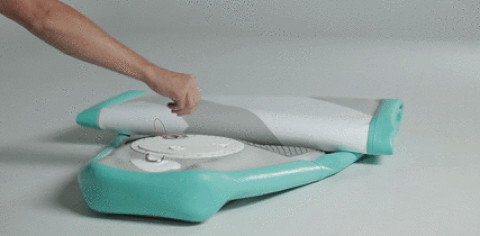 Board Bag 
Our awesome board bag not only your SipaBoard, but also a collapsible paddle and fin, as well as whatever else you need for your session. Toss it on your back and off you'll go.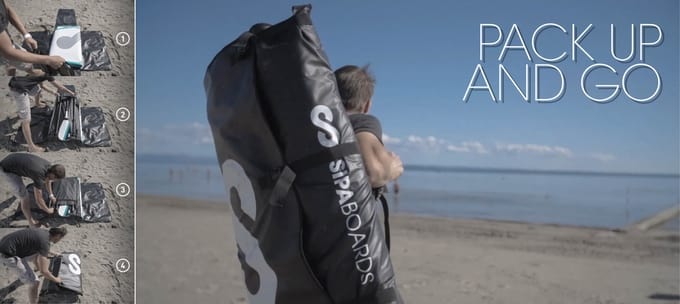 The board bag feels so comfortable on your shoulders that you can even throw it on your back when biking to your favorite body of water.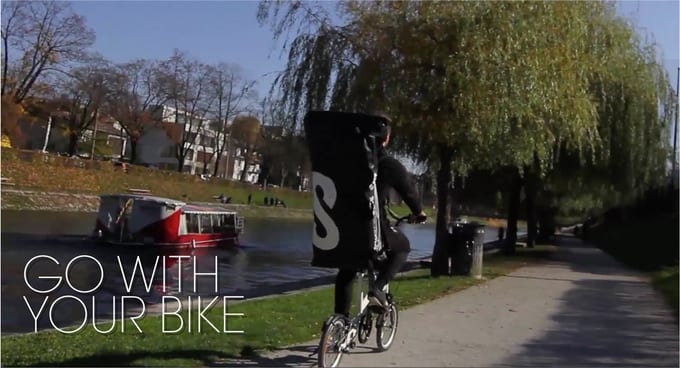 Safety Leash
One more innovation will ease your few steps into the surf. Our safety leash has a dual purpose: to keep you and your board together on the water, but also as a shoulder strap for easy transport.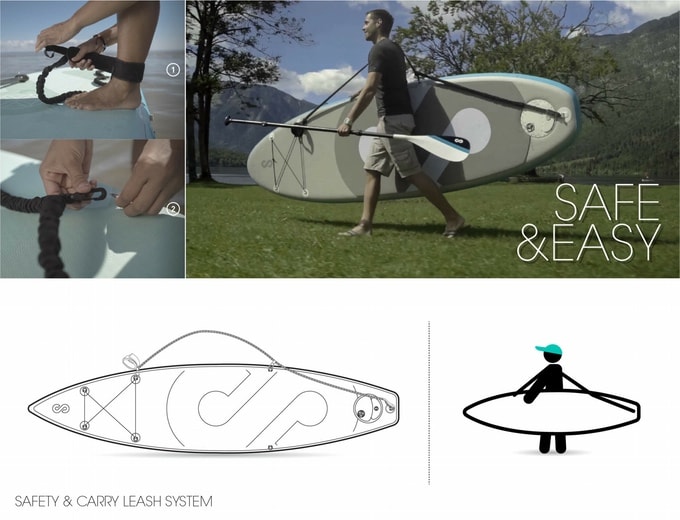 All our features are designed to streamline and speed up the pre-paddling process, to remove anything that would stop you from paddling, and to make paddleboarding exactly what it was meant to be: pure fun. Get out on the water faster, longer, and more often. 
Paddle
Don't have a paddle? Want one? Just add $150 to your perk. Our three-piece carbon-fiber paddle is light as a feather, sturdy as a rock, and fits right into the board bag. 

Timeline
Boards are already in production and will ship in August.
Development 
We came out in 2015 with a SUP that set the industry on fire, even winning the Red Dot Best of the Best award! You can check it out here. The SipaBoards Air is just a natural evolution of the R&D we've been up to for over 2 years now.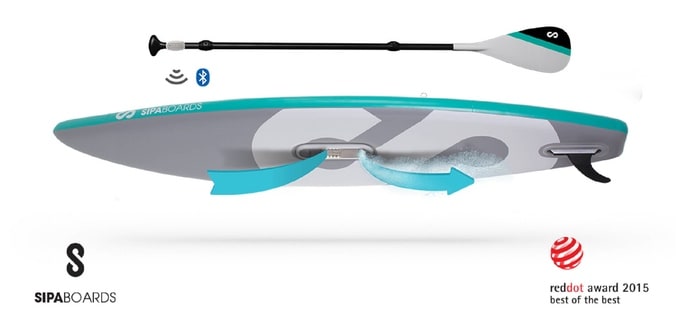 Check out a collage of pictures from our first year of testing and touring. 
Our solution is (obviously) water-tight, salt-water friendly, lightweight but extremely durable, easily rechargeable, and most of all - fun: a high-power compressor built right into your SUP with an integrated finbox. Killing all the birds with one stone!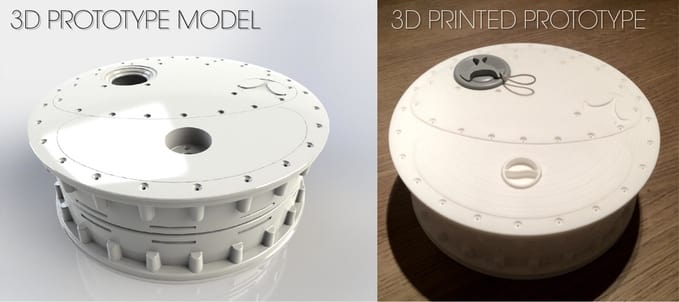 When demoed our innovation at trade fairs like ISPO and Paddle Expo, the response was humbled amazement, as people shouted that we are, without a doubt, the future of inflatable stand up paddleboards (iSUP). 

We gained a ton of experience setting up production from our first crowdfunding campaign last year. Our product is made of hundreds of pieces developed in-house. Naturally we went through all sorts of teething problems to deliver an awesome product to our backers. We mastered tooling, molds, the manufacturing process, assembly, packaging, and shipping logistics.

Now that the boards from our second round of crowdsourcing are in production, we can't wait to send you your board.

So be one of the first people in the world to get your hands on a SipaBoards Air - the self-inflating iSUP of the future.
SipaBoards Team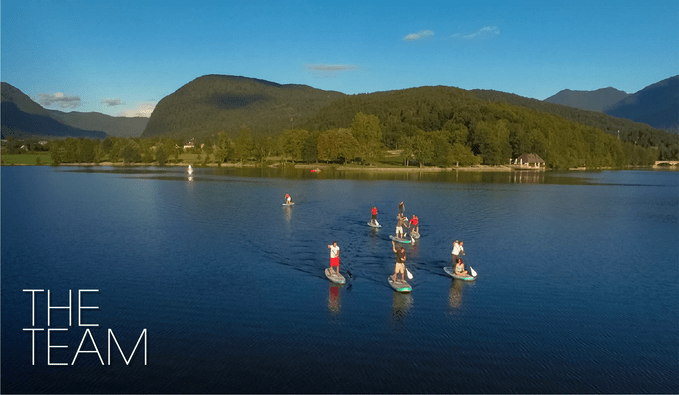 The team of paddlers, designers, developers, and outdoor enthusiasts that brought you the first generation of SipaBoards is back. Our new innovation is the next step in our mission to bring SUP to as many people as possible. As lovers of physical activity and the outdoors, our goal is not necessarily to make SUPing easier, but to make it easier to SUP.
Sebastjan Sitar - Founder, product development
Saša Droljc - Founder, logistics 
Žiga Božič - Product research and development
Uroš Brojan - Product design and business development
Jaro Jelovac - Industrial and graphic design
Andrej Podbevšek - Visuals, content development
Josh Rocchio - Copywriting, Social Media
Marja Feldin - Marketing and Sales
Matej Praprotnik - Social media
Nina Čavž - Media, PR
Domen Sitar - Manufacturing
Nicola Conte - Sales
Rok Jarc - Mobile development
Miha Kerle - Web development
Special thanks to Samo Vidic, Uroš Podlogar, and Marko Ocepek for awesome photography; Luka Leskovšek for polishing our video; Tadej Droljc and Mirko Medved for sound editing; Joe Steiner for taking care our boards are top notch, and of course our families for all their support.