The Probability Probe is coming to Burningman to collect your messages and transmit them around the universe.  We have embedded systems connected to Blackrock Castle Observatory in Co. Cork Ireland. The structure (including antennas) now stands 32 feet tall.  The Probe is highly interactive and has several key technologies built into it. These include a highly-sophisticated lighting system and the ability to send targeted messages directly to a library of over 3,000 exoplanets around the universe. The initial vision for the structure came from a recurring dream that the lead artist has had since childhood. It is hoped that Participants who encounter the Probability Probe will not only ponder the possibilities of where the Probe has come from but also question where they themselves have come from and what are the different possibilities for their own lives.
What We Need & What You Get
The Probability Probe is an independently funded art and technology project.  The project has not received any grants. The cost to build, transport and run the probe on the playa is $47,500. So far, our team has contributed over 2,500 hours of work free of charge along with the first $20,000.  Now we are asking you to help fund the balance and share in our dream of having the Probability Probe on the playa at Burningman.            
In short, the money raised will enable the Probability Probe team to:
Finish off the structure
Ship two forty-foot containers to Reno
Install a state of the art lighting and laser system
Transport to the playa at Black Rock City
Our team is personally covering all its own expenses.  All the money raised will go toward the project.  If the full amount is not funded we will have to cut back on some aspects of the lighting and laser systems.  This project deserves to be shown on the Playa in its full glory and we hope you will contribute and become a part of the Probability Probes history. 
In return for helping us fund the remainder of the project, we offer you a chance to experience the Probability Probe at three stories high, it is one of the largest, most elaborate recycled steel sculptures to have even been constructed.  To make it a little more interesting and interactive our team have added the ability to send Burner Cosmic Messages i.e. targeted messages into outer space and what better place to do this than on the Playa at this year's Burn.  For those of you who are unable to attend Burningman this year, we have designed and completed a web portal that can be accessed from anywhere in the world and will enable you to still experience the excitement of sending your message into space and having your voice heard throughout the universe. The message to space portal allows you to pick a date and time that is suitable for you and is suitable for all ages.        
Other Ways You Can Help
As well as contributing (if you can) please take the time to share this campaign with friends, family and on your social media networks. Like and share our Facebook, Instagram and Twitter accounts.
Who are we?
The Probability Alchemists are collective of artists, engineers, astronomers, scientists, technologists, and entrepreneurs. Our team has come together through a remarkable set of coincidences all centered around a man that burns in the desert. We are dreamers, explorers, time and inter-dimensional travelers. We share a common mission to engage citizens of Black Rock City by taking concepts and ideas from our reality and other planes of existence mixing them with playa magic to create compelling works of art.  
Main Structure Build Coordinator
Piyanuch Chanphet: Co-Founder of RoboSteel, Model, and Actress 
Lead Artist
Brendan RoboSteel who has over 14 years' experience building large-scale sculptures from recycled steel. Brendan has completed commissions for many individuals and brands across the world and had been featured in Wired Magazine and Ripley's Believe it or Not.  
Lead Designer 
Wolf Reicherter: Named as one of the 25 iconic artists of our time. Illustrator - Concept / Character, Theme Park Ride Designer and world class Bodypainter
Cheif Technology Officer 
Alan Giltinan: MSc, Applied Physics & Instrumentation, Chief Technology Officer at Blackrock Castle Observatory.
Motion Graphics / Lighting Designer 
Daniel Staines:  Motion Graphics and Lighting designer. Programing & technical production for LEDs, stage lighting & projection mapping. Experience in live festivals and events. Member of the Slipdraft VJ Duo. BA Degree in Animation.

Content Animator & Videographer 
Kevin Freeney: Motion graphic content designer and animator. Videographer & Film Editor.
Experience in live festivals and events. Member of CLU Audio Visual Duo.  BA Degree in Fine Art.
Mission Specialist and Ground Station Manager 
Claire McSweeney: Facilities Manager at Black Rock Castle Observatory, Co. Cork, Ireland
Message to Space Portal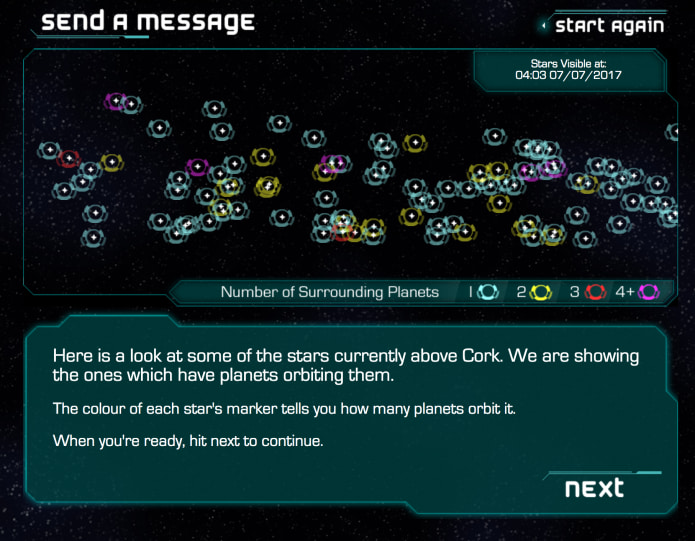 The Probability Probe message to space portal provides users with the ability to directly target an exoplanet from a database of over 3,000 that have been discovered and have the conditions necessary to support life and send a personalized message directly to this planet. This web-based portal can be accessed from anywhere in the world including Black Rock City at Burningman.  In effect, we are linking Black Rock City with Black Rock Castle Observatory in Co. Cork Ireland in real time.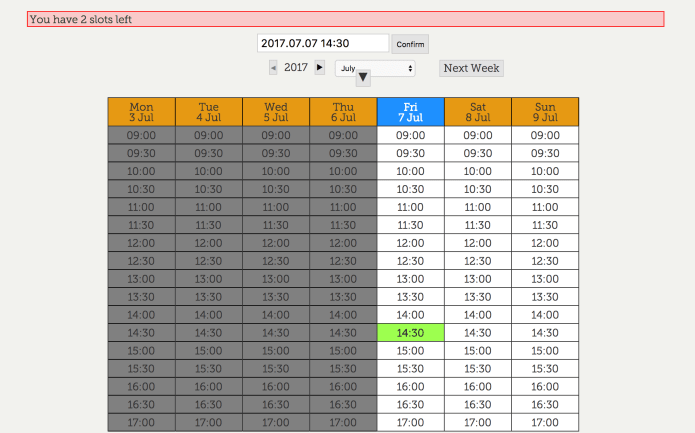 Simply scroll down to the Scheduler and pick a date and time which is good for you. Click on Confirm to add it to your schedule. You can also delete any previously reserved slots so you can free up space for others.
Once you have a slot reserved, a counter will show you how much time you have to wait for your experience.
To send a message to space, you must first pick a star.
Before you make your choice it's a good idea to take a couple of factors into consideration including its distance from the Earth and its angle above the horizon.  First, consider its distance: a message becomes weaker the further it must travel. The closer the star is, the better the message has of arriving in one piece.
Second, consider its angle above the earth Our atmosphere has a big effect on how weak or how strong the signal will be.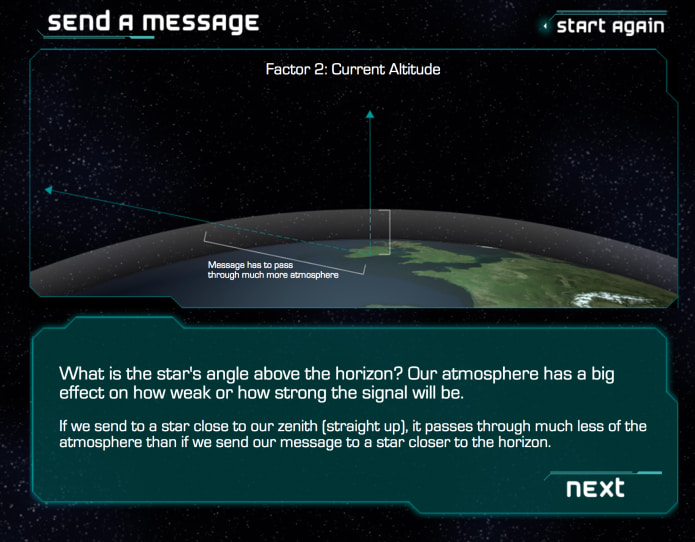 If we send to a star close to our zenith (straight up), it passes through much less of the atmosphere than if we send our message to a star closer to the horizon.  The Stars altitude depends on the time of day and year.  Some stars can only be seen for a short space of time and others are only visible from the Southern Hemisphere.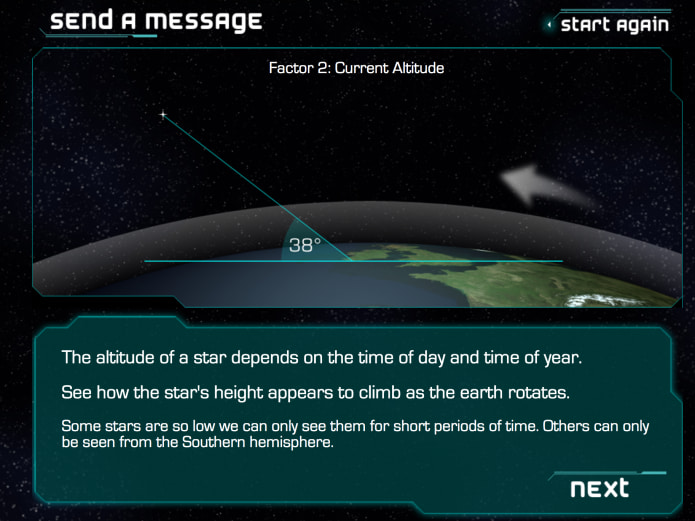 Now it's time to choose your target star.  Use what you have learned to pick the best target.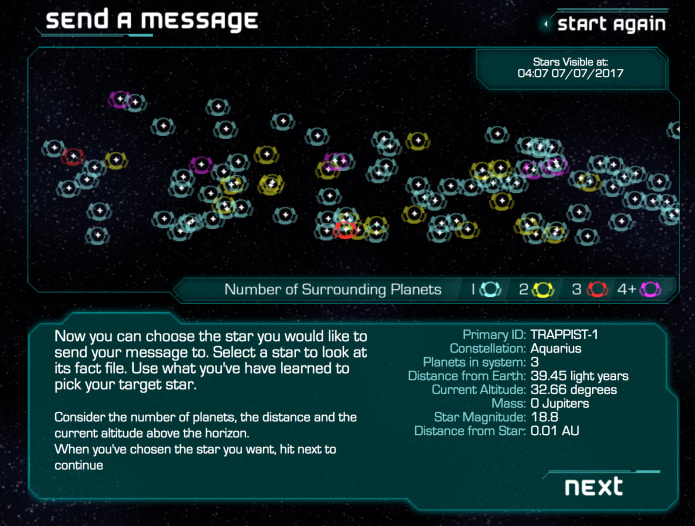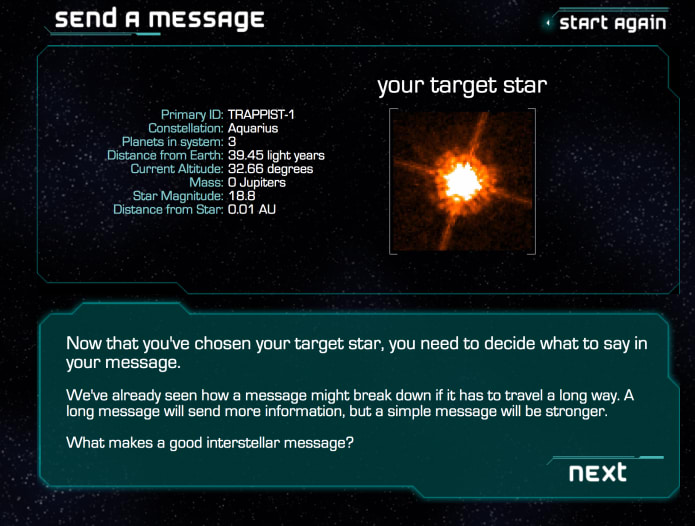 Once you have chosen your target star it's time to think about what you will say in your message. Here are some previous famous messages that have been sent.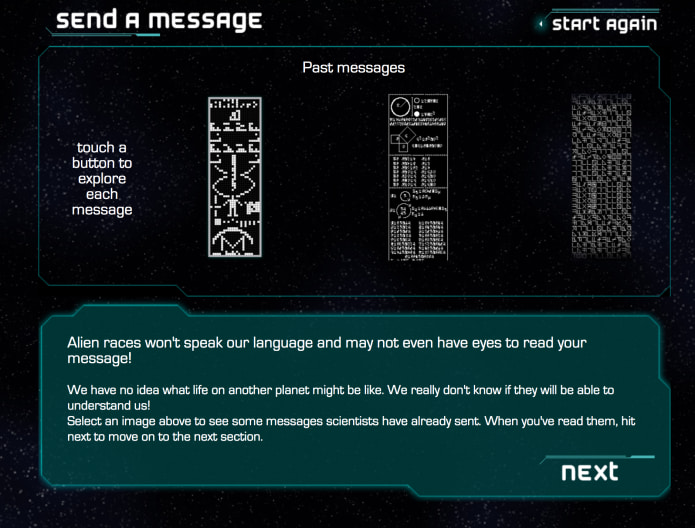 This message was sent in 2003 from the Evpatoria telescope in the Ukraine.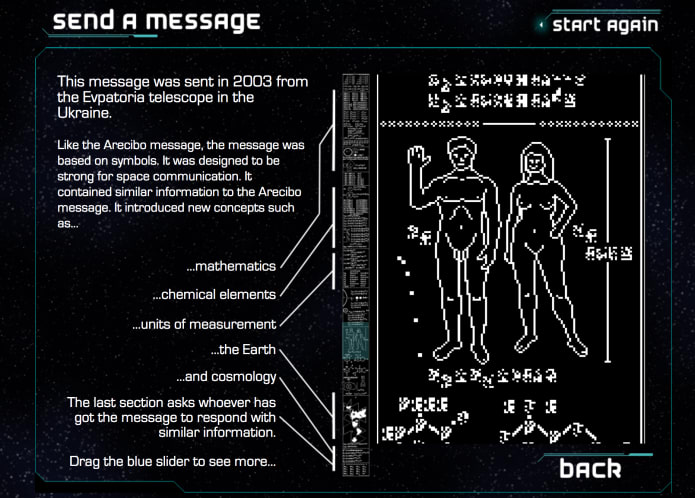 Like the Arecibo message, the message was based on symbols. It was designed to be strong for space communication. It contained similar information to the Arecibo message. However, it introduced new concepts such as
mathematics
chemical elements
units of measurement
the Earth
and cosmology
The last section asks whoever has got the message to respond with similar information.
The most recent message as actually computer programs.
Ok along with your personal message we will attach one of these previous famous messages to your interstellar communication. Please choose one.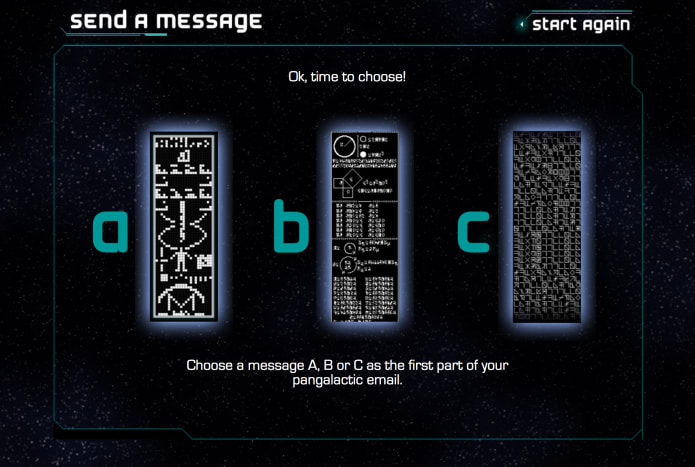 Now it's time to type your personal message, take your time and when you are ready to send hit send the message!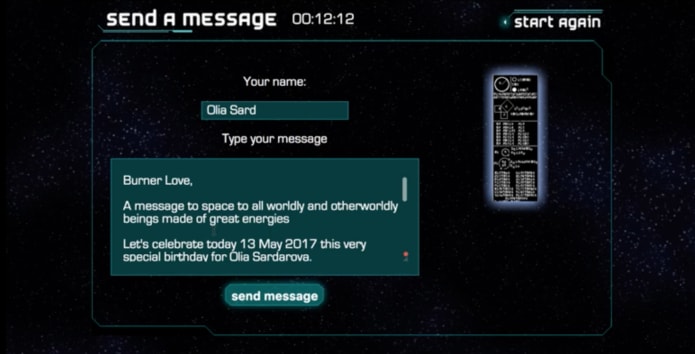 Congratulations you have now completed your mission to send a personalized message into space all you have to do now is wait for a response!