TheOneRing.net was founded in 1999 by a group of like-minded Tolkien fans so anxious for the coming Peter Jackson Lord of the Rings films, they were gathering up every scrap of production information to be found. Today, TheOneRing.net continues to be dedicated to bringing fans the latest news on the beloved people involved in the making of the wildly popular Lord of the Rings and Hobbit movies, as well as hosting very popular Tolkien-centered events and fan gatherings. Who can forget the famous Oscar parties that hosted the cast and crew after each Oscar-night victory, culminating in an incredible eleven-Oscar sweep for The Return of the King?
As we get ready for the release for the final film in the Hobbit Trilogy, we couldn't let Peter Jackson's Middle-earth movies sail into the West without one final, big celebration!  So we're planning to hold a Party of Special Magnificence next February — a final toast to all SIX movies, both The Lord of the Rings trilogy and The Hobbit trilogy.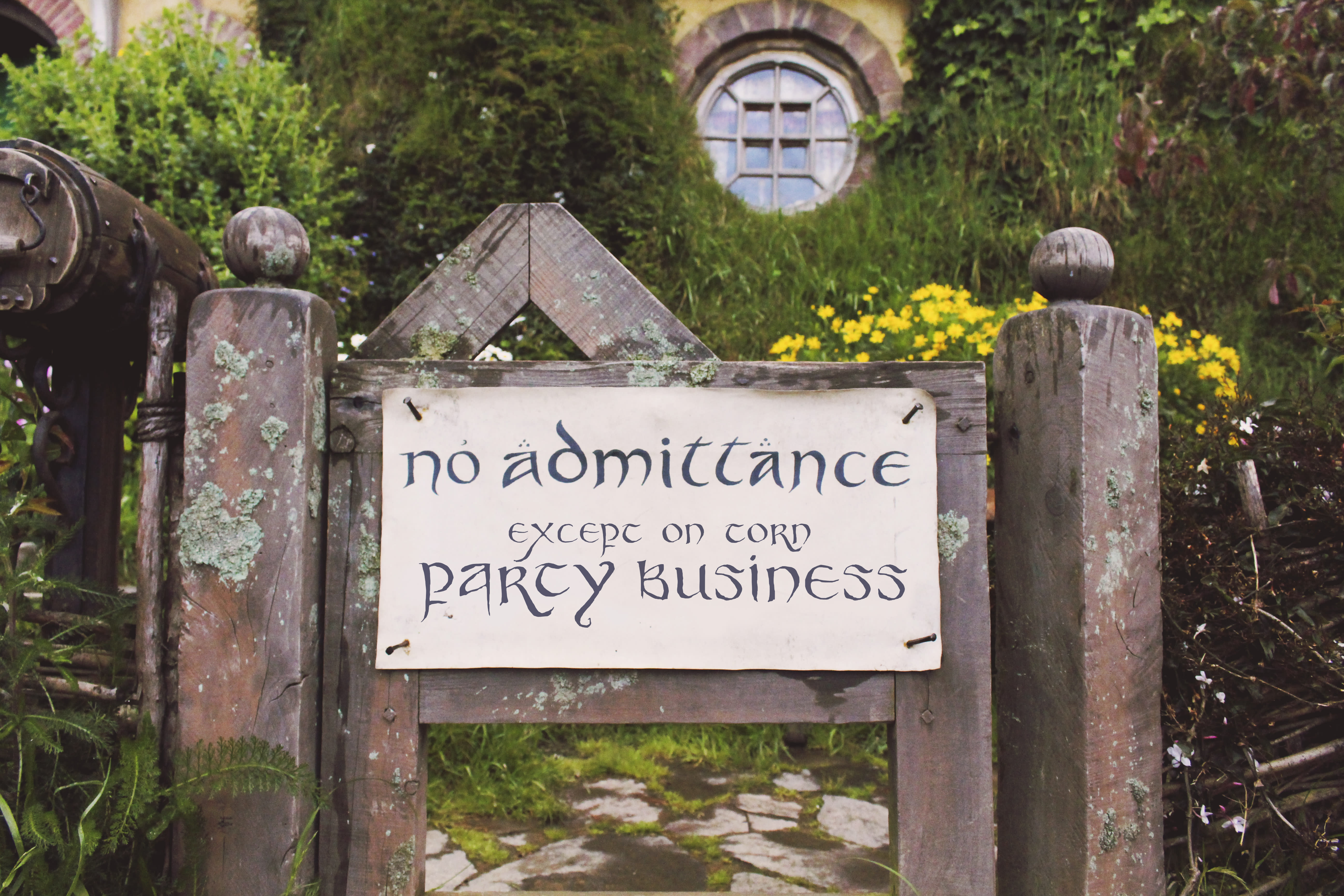 This will be on Saturday 21st Feb 2015 – the day BEFORE the Oscars – at a venue in Los Angeles, TBA. There will be music, food, drink, entertainment and all kinds of fun! William Kircher's (Bifur) band The California Dreamers are all set to come and perform, and TORn's good friends Celtic musicians Emerald Rose will be there too, so we'll all be able to get up on our Proud Foots (Proud FEET!) and dance the night away.
Actors Richard Armitage (Thorin), John Bell (Bain), Manu Bennett (Azog), Billy Boyd (Pippin), Jed Brophy (Nori), Adam Brown (Ori) and Graham McTavish (Dwalin) have all already said they'll be there (schedules permitting). Billy is keen to sing for us - maybe our own live version of The Last Goodbye! And of course all cast and crew are invited.
All that is needed is YOU!
But here's the thing…
We cannot hold this event unless we raise much of the cost in advance. Hence the Indiegogo campaign! If you, the fans, would like there to be a special celebration of Peter Jackson's Middle-earth movies, then now's the chance to make it happen!
We wanted to be sure that EVERYONE can be involved with this celebration. Through this campaign, even those who aren't able to join us in person for the party can be part of the 'thank you' we will send to the filmmakers, and can have special souvenirs of the occasion.
We also know how much the fans love exclusive, signed items – so we have some amazing perks signed by different cast members (and even by Christopher Tolkien himself!) in return for your pledges.
This will be the last big chance to celebrate Peter Jackson's Middle-earth with TORn and fellow fans (and, we hope, some very special guests). Don't miss the last boat to leave the Grey Havens — this will be a night to remember, and you can help make it happen!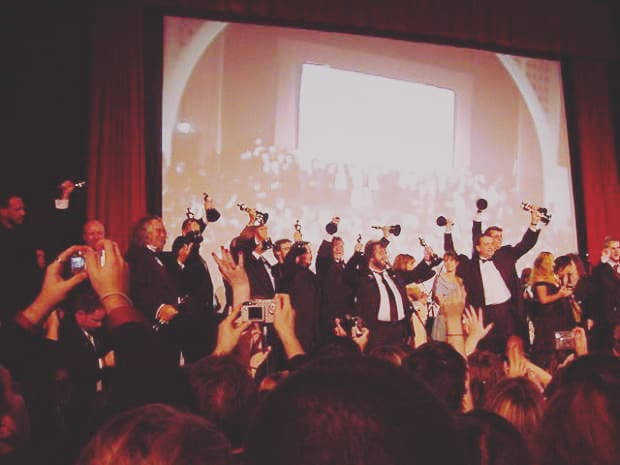 The Return of the One Party, 2004 - PJ et al on stage at TORn's special event.

To hold a party of this kind costs BIG money. Hiring a private venue, laying on a buffet, putting on a show, etc., just isn't possible for less than about $180,000.  We've tried!  To give you an idea, for 2013's 'The One Expected Party', JUST the hire of lights, amps, microphones, etc needed for the live show cost $55,000!
Alas, volunteer-run TheOneRing.net just doesn't have access to that kind of money; hence the Indiegogo campaign!
It's also a convenient way to sell tickets in advance. Using Indiegogo's 'fixed funding' goal, we don't receive your money unless the goal is met. So, you can happily support the campaign safe in the knowledge that if our goal isn't met and we can't hold this party of Special Magnificence, your money comes back to you! Your money only comes to us IF the goal is met and the party will happen.
You can pledge at a variety of levels:
Can't be there but want a cool memento of the occasion? You might want to be one of the 'Men of Lake-town', and get a great 'Supporter's' t-shirt and button for $35. 

Just want to buy your ticket? Pledge as an 'Expected Party Goer', for $200. That gets you your ticket to the event – simple as that!

Want something special in addition to the party ticket? Maybe the 'Thror', 'Thrain' or 'Thorin' levels are for you, with exciting autographed items to be had.

Really want to show just how much you want to celebrate with TheOneRing.net and fellow fans? You might just be a 'TORn star'…

'Expected Party Goer' is the level for a basic ticket – full details in the 'Perks' section show what that ticket includes.  If you'd also like a souvenir t-shirt and button with your ticket, you're a 'Rivendell Reveller'.
Each pledge made is recorded as a separate contribution, good for ONE admission to the party. (Per Indiegogo's own guidelines: 'Each contribution made is recorded as a separate contribution with a separate perk. If you would like to receive a new perk, you can do this in a separate contribution.') If you'd like more than one admission, simply pledge at that level more than once! Want three tickets? Pledge three times!
Please let us know the name of the attendee for each pledge you make. partyadmins@theonering.net And if you'd like to upgrade your existing perk or select a different perk, please just contact us.
The party is open to anyone aged 14 and over; those under 18 must be accompanied by a guardian.
NB: Tickets are transferable, as long as we know the name of the attendee using the ticket 48 hours in advance of the event. So, if you buy a ticket and then can't use it,  you can transfer the ticket to a friend.
DON'T WAIT to get your ticket - we will NOT be selling tickets outside of this campaign! So don't think you'll buy 'after' we raise the funding - it's now or never, folks!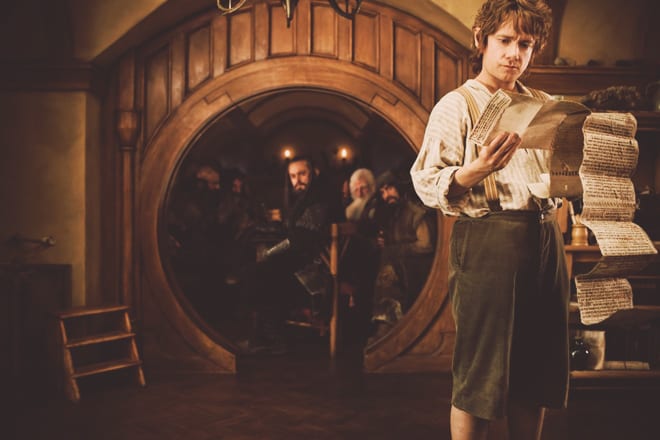 If we don't raise enough money to hold the party, we don't get a penny of your pledge. Everything comes back to you unless we reach our goal! So the only risk is that we aren't able to throw the celebration we'd like – but we'll all just go to the pub together instead!
For those pledging for the special signed items: if the goal is not met, we'll contact you to arrange a way to get those items to you in return for a donation direct to TORn.

A party by fans, for fans, just like TheOneRing.net itself – that's what we're hoping to hold, so we can all celebrate in a memorable way the epic journey of these films, and the friendships we've made through our fandom. We hope you want to do that too, and will give this campaign your support.
If you aren't able to pledge at this time, you can still show your support by helping us get the word out:
Hanon le, mellon nin!
Questions? Email partyadmins@theonering.net