Our great supporters have now funded our initial goal of $20,000, but as you will know if you read on—we need $45,000 to finish this inspiring documentary. So now, we are adding a S-t-r-e-t-c-h Goal to the campaign. If we reach $27,500, we will also be able to fund:
Completing the animated shadow puppet sequences (est $2,500)·
Creating all titling and credits (est $1,000)
Color correcting the film (est $4,000)
The $20K we have already raised will enable us to get to a rough cut—a critical point in the genesis of a documentary film, and perhaps to the picture lock. Help us secure this next vital $7,500 and move a step closer to releasing the film. And, here at the year's end, all donations are tax-deductible in the USA!
Holley is hotter than pancakes on Sunday...
For Holley, 2017 began with a solo show at the Atlanta Center for Contemporary Art, followed by two solo shows at N.Y's Fuentes Gallery, a two-person show at the Massachusetts Museum of Contemporary Art (with Dawn DeDeaux), and a group show at San Francisco's deYoung Museum. All the while he was recording a new album scheduled for release in 2018. Also, in case you missed it, Lonnie's art is now in the collection of the world-renowned Metropolitan Museum of Art in New York.
If you already are acquainted with Lonnie, you probably know what a remarkable artist he is. If this is your first encounter, prepare to be amazed. Even those closest to Holley will discover new aspects of his life and art in this film. We have been filming Lonnie and his family for 21 years. During that time Holley has been beaten-up by police, shot at by neighbors, and jailed and evicted from the land homesteaded by his grandfather. His famed "art environment" was bulldozed under, his art stolen and destroyed. Yet somehow, Holley has outwitted history, circumstance, and the ignorance of others to emerge as a twinkling star in the firmament of American culture.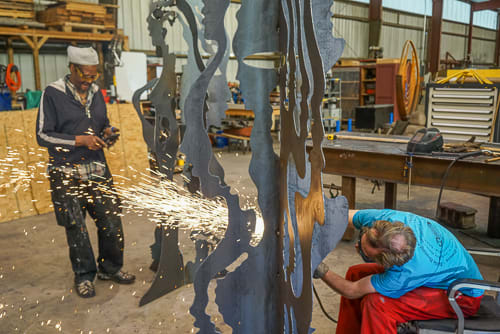 After 21 years, it's time to wrap up this documentary observation of one of America's greatest living artists! Join us as we raise funds to bring The Lonnie Holley Story to communities around the world and share his courageous journey.
What we have…
Over the years we have gathered a unique archive of Lonnie making art, including the first recording of his making music in 1997. The Lonnie Holley Story extensively chronicles long-significant themes in his work, particularly his commitment to recycling discarded materials and stewardship of the environment. We documented family events including reunions, parties, funerals and births. Then there are the stories told by and about Lonnie, which will simultaneously horrify, astonish and inspire awe. We have acquired the rights to additional footage shot by other filmmakers in the 1980s, as well as still images from the Souls Grown Deep Foundation and some of America's finest photographers. We have footage of Holley performing his unique music with kindred spirits, including indie-rockers The Black Lips and Deerhunter, cellist Dave Eggar, Daniel Lanois and Brian Blade.
Who are we?
Producer/Director George King, a British documentary filmmaker based in Atlanta, Georgia, is a Peabody award-winner with prime time U.S. TV and radio credits as an independent producer. The rest of the team have national EMMYs, major festival awards and at least two Oscar nominations between them, so you can expect a terrific film!
What we need…
Since our first Indiegogo campaign three and a half years ago, we have raised $135,000, including an award from the National Endowment for the Arts. Since then, we have cut over 200 hours of footage into a two-hour edit. To finish the film, we need to raise approximately $45,000: the funds will be used to shoot a final interview with Holley, create 10 minutes of animated sequences, license music and other media, finish the edit, hit the festival circuit and get the film out to audiences. With that amount of funding in place, we will have the resources to complete the film within three months.
Why, then are we asking for $20,000 here? It's a strategic move. Indiegogo adds 4% to their fee if a campaign does not reach its target and we want to be sure that we will meet our goal. Assuming that we are successful in raising $20,000 (or more!) with this campaign, we can then leverage the funds to complete the project and bring Lonnie's story to the world.
What you get…
In exchange for helping us reach our goals, you will receive some unique and interesting perks. Among the fabulous offerings are original artworks, never before heard recordings of Lonnie's music, clips from the film, consultations, autographed merchandise, credits in the film, personal visits, art swag -- even opportunities to meet Lonnie in person.
So ideally, we would like to raise much more than $20,000 through this campaign. Consider a couple of options to get this film finished: As a backer, adding 15% to your contribution covers our campaign expenses. To forego a perk, simply hit "Back It" and enter the amount you wish to give. It all helps!
And even if you can't give at this time, read on...
These days, some incomes are stretched to the limit. Even if you cannot donate money at this time, you can still help by getting the word out. Tell your friends about the campaign on social media. Indiegogo has 'share tools' built into the program. Use Facebook, Twitter, or Instagram to pass on messages from the campaign. Make some NOISE!