This campaign has ended!  Please follow us at  http://igg.me/at/bk/x/981588

Brainier Kids company a division of Wealth Navigator University is a brand new, soon to be released, hilarious, engaging, entertaining and educational web program.
We empower and entertain children with interactive readers about money, manners, character and safety - these books are very fun, full of humour, and helpful tools.
The Krystie and Thomas Learning series started with a passion. A passion to see children be their best and live their best. Children are our future generation and the best gifts that we can give them are solid training and education in a fun, interactive and nurturing fashion.
Over the past six years we have gathered much information from parents, caregivers and educators who feel that the education system and most television programs have not been adequate enough in instilling and equipping children to lead fully productive lives in the future.  Children are like sponges - you can either have them soak up a lot of garbage and useless information that will provide no benefit to them later in life.  Or, we can give them fun, useful information, important tools, skills, morals and character training that will consequently lead to children that are winners in life, succeeding at all they do, such as in personal finance, in the community, and for some, on a much larger scale.
We had originally set out to be an online web community that would provide valuable information to both children and adults in the areas of personal finance, life lesson programs and character building, etc.
Due to the unexpected and overwhelming response of demand for the children series (ages 5 and up), the volume of books required to print, and put in audio is beyond what we anticipated. Also, due to such large demand from parents and caregivers alike, we have also expanded the number of book titles in the character series!
This project is designed to satisfy the demand and volume of book and audio requests.
ALL PURCHASES WILL BE PRE-ORDERS, THE BOOKS WILL BE AVAILABLE JULY 2013.
$1 from every book will be donated to a charity of your choice below:
1) Child Find of America
2) Prevent Child Abuse America
3) Save the Children
4) World Vision
Here is a breakdown of what we need:
1) Book printing for 48 hardcover books, plus the bonus comic book, (the cost is $5400 to print 1000 books for one book title)
2) Illustrating, complete and refine illustrations for all books
3) Audio production for 48 CD's.
4) Packaging for 48 CD's
Our exciting rewards include: T-shirts, a tote bag, books, stickers, CD's, and colouring books.
Please take a look at the various rewards that are available for different pledge amounts. Even if you don't have children, they serve as excellent gifts for the children in your life. They can be used for birthdays, Christmas, community and church programs, etc.  These series are well loved by children as they make what would have been boring topics into fun, engaging and educational resources that not only serve as a gift in the form of a book, CD, etc., but also helps to mold and shape their lives through valuable information and learning -- that's absolutely priceless!
Stickers:
5 different motivational/positive stickers per series, you will have the opportunity to choose which series you want the stickers from. The stickers are 2.5 X 2.5 inches.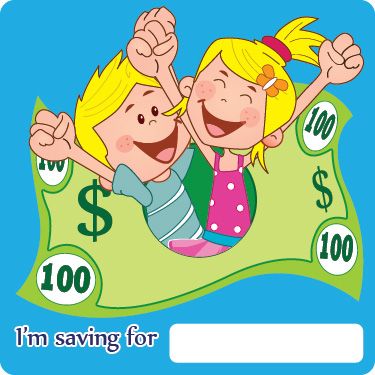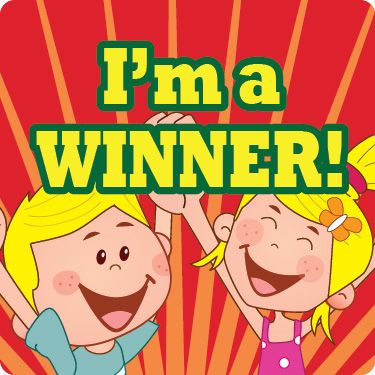 Coloring books:
As your child is concentrating on the colouring, they are imprinting vivid visuals, learning lessons that will stay with them forever. This is one way to make them passionate about what they are learning.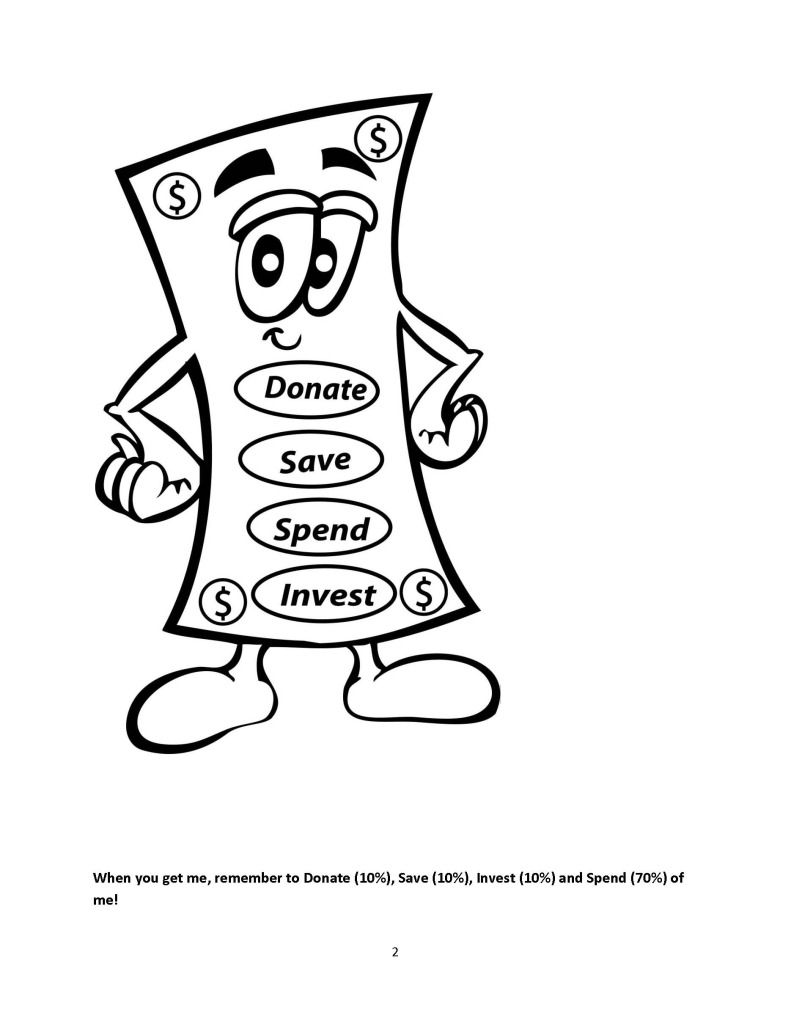 A couple of pages from the money series colouring/activity book!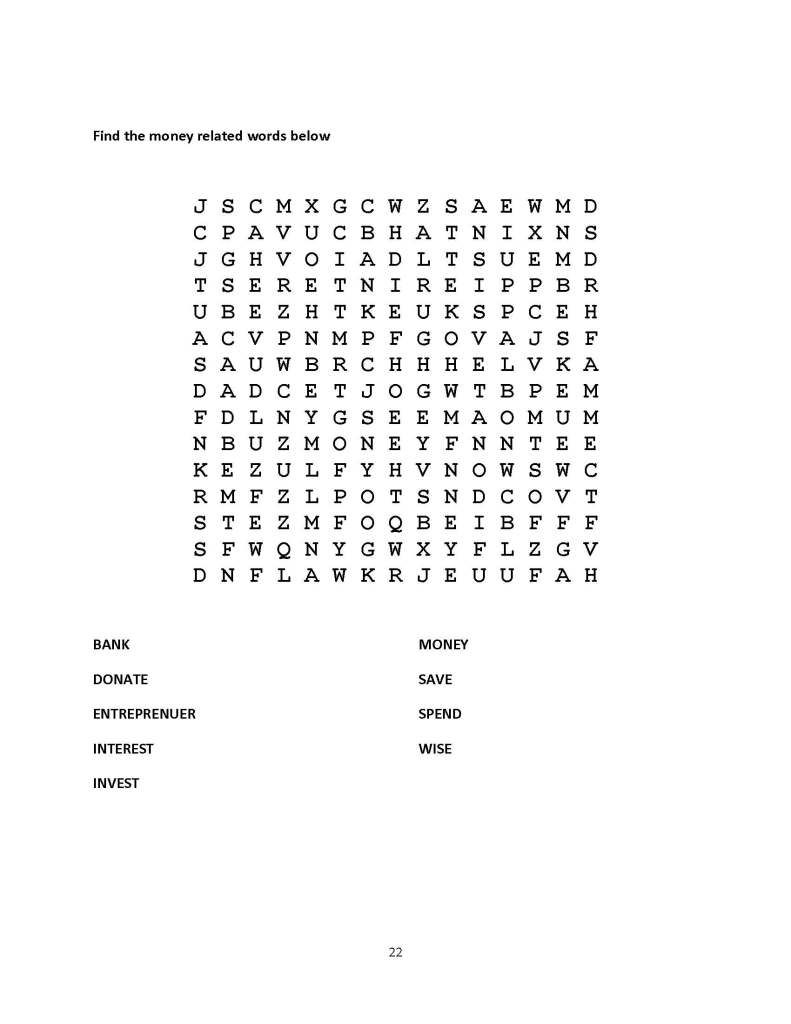 Books and CD's: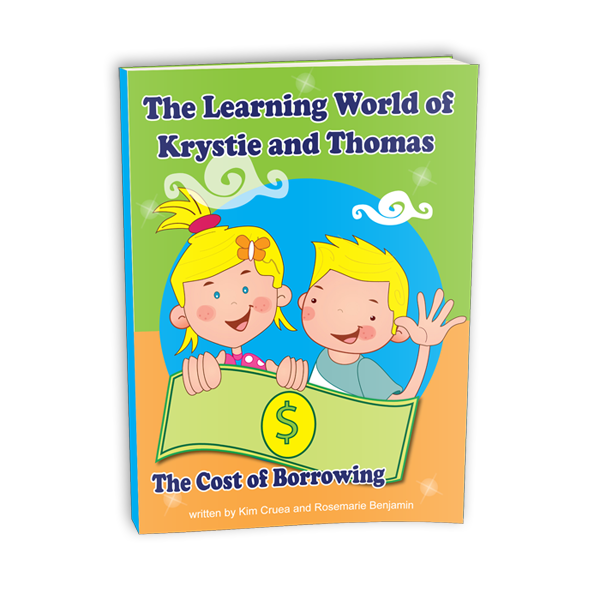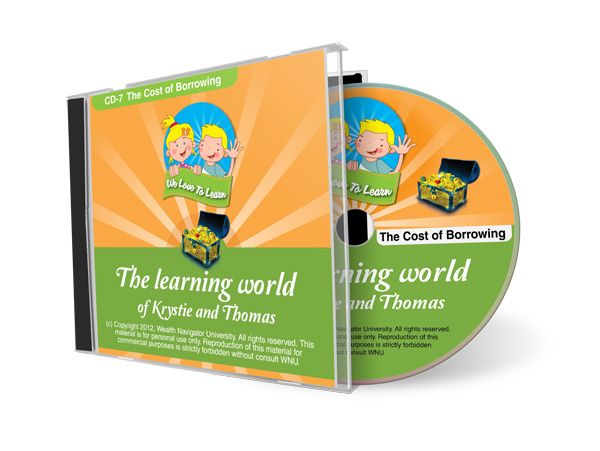 Special Incentives!!!!

In honour and appreciation for your support, we want to have our fans and supporters involved in this project, and, therefore, we are extending the opportunity for you to comment, provide suggestions,  have your name as an author on a book and included in the jingle in the CD, title a book, vote on a book and provide a storyline for a book.  Please read the guidelines below:

The Backer Privilege:
Be a part of history and become involved in improving the lives of others!
Name that book contest! All backers contributing $25 or more will be able to have the chance to have their name mentioned on the book cover with the co-authors, and special mention of their contribution to one of three choosen books in the character series only, (unless you are participating in a reward level, that gets you involved in the bonus book).
The book topics in this contest are:
1) Courage-Confidence that what I have to say or do is true, right, and just. (Opposite characteristic is Fearfulness)
2) Respect-Honouring those in leadership because of the higher authorities they represent. (Opposite characteristc is Disrespect)
3) Wisdom-Seeing and responding to life situations from a perspective that transcend my current circumstances. (Opposite charactistic is Foolishness)
Send us the character book topic that is your favorite, (you may suggest up to two titles for that book), and also suggest a scene/storyline for the book. Only one winner will be chosen for each book. You will be notified if you are the winner, 45-60 days after the campaign ends successfully. We can still do this as these books are just about to enter the editing phase and there is still room to tweak the books here and there. If your suggested story theme is better suited for another title and its existing storyline, we will inform you and you will still receive special mention of your contribution in that book. You will also be listed on the book cover with the co-authors, and your name will be included in the introduction jingle of the CD that corresponds to the book that you title and provide ideas for storyline.
Please meet the characters!

Mrs. Sparks is the teacher
Mr. and Mrs. Goldenberg are the parents of Krystie and Thomas.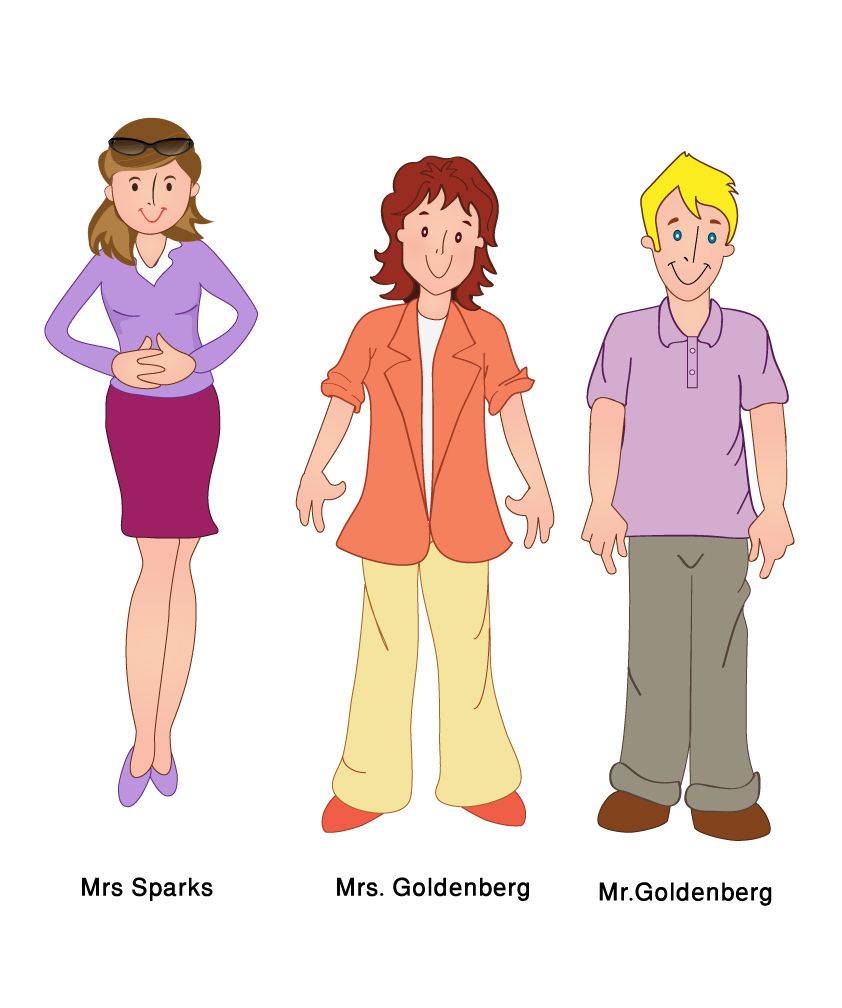 Krystie, Thomas and their friends!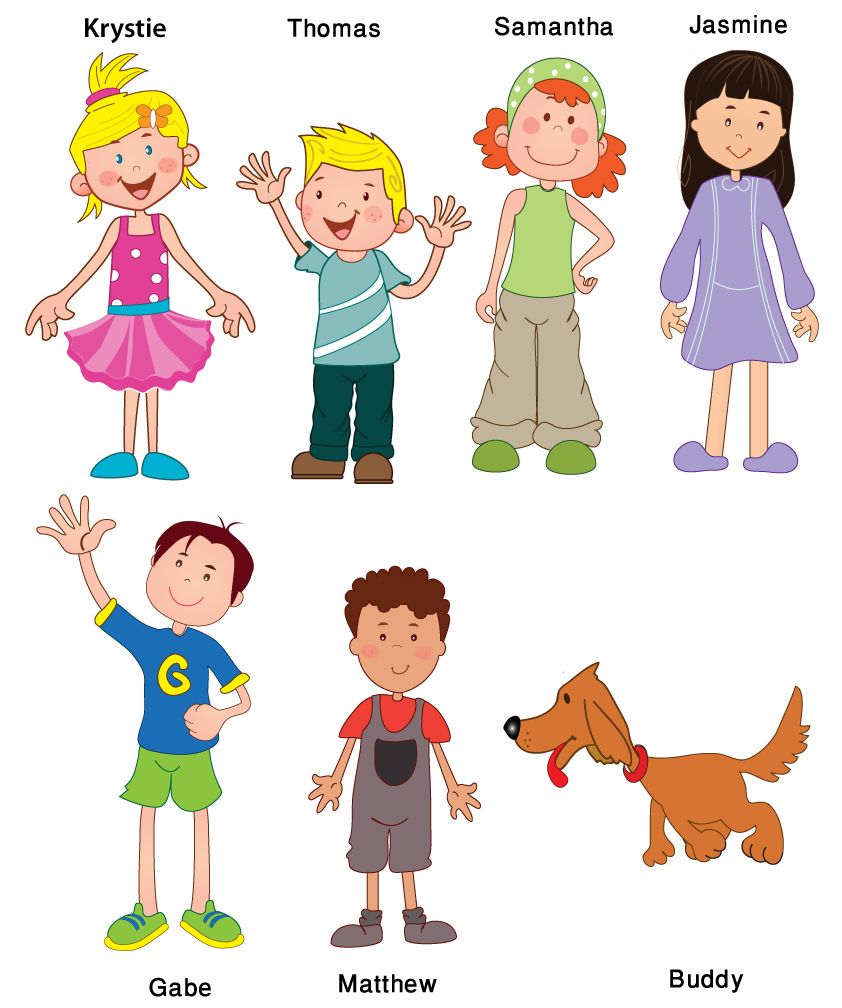 Vote! Comic Book!:
You will have the opportunity to vote for 1 out of 2 bonus comic book topics to be published. Book topics are 1) Bullying and how to effectively deal with it. 2) Self-Esteem: The problem behind all problems. You will have the opportunity to suggest a title for the book, the winner's title will have special mention that he/she chose the book title, noted in the book.
You Send it!:
For your generous support, we will donate all four series of books to a business, community center or church anywhere in the world on your behalf.
Tshirts:  T-shirt sizes range from children to adult sizes, (YXS-6XL).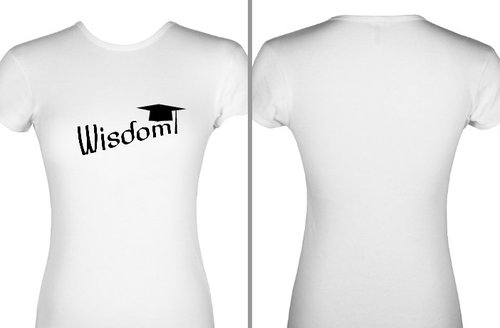 Tote Bag:
NOTE: FOLLOWING YOUR PURCHASE ON INDIEGOGO, YOU WILL RECEIVE A NOTIFICATION FROM US REQUESTING YOUR BOOK/CD, STICKER, AND COLOURING/ACTIVITY BOOK CHOICE, TOTE BAG SELECTION, T-SHIRT SELECTION AND SIZE(S), COLOUR CHOICE(S) AND SHIPPING INFORMATION.
IF YOU ARE PARTICIPATING IN THE BACKERS' PRIVILEGE, VOTING FOR THE COMIC OR DONATING THE FOUR SERIES TO AN ORGANIZATION, THE APPROPRIATE QUESTIONAIRES WILL ALSO BE SENT TO YOU UPON CAMPAIGN COMPLETION.
THANKS EVERYONE FOR YOUR REMARKABLE SUPPORT!

Why a Children's Money Series?
The weak state of financial literacy in many parts of the world is well documented. Climbing personal debt and declining savings levels show that many people spend more than they earn, and most live paycheque to paycheque. Recent research tells us that a majority of workers, at all income levels, lack the basic financial knowledge and confidence needed to deal with complex financial issues and make sound financial decisions.
 All of this adds up to financial stress that has a direct impact on the workplace, family, the community and the nation. Only 11 percent of individuals are putting enough money away to meet their retirement needs.  One in four North Americans have no savings at all. Student loan debt has surged above one trillion dollars, surpassing credit card and auto loan debt. These frightening statistics illustrate the consequences of not equipping our children with basic personal finance tools and concepts.
Through the Krystie and Thomas Learning Series we provide sound financial education, as children learn how to save, budget, avoid scams, and much more!                                                                             
Many parents say they feel uncomfortable teaching their children about money, because they did not receive financial education, the good news is that this series offers comprehensive educational content. The skills gained will last a lifetime and affect your child's life profoundly for the better.
 So, Indiegogo community, parents, educators, caregivers and leaders it's up to you to help us provide today's children with the financial skills they need to make it in today's society.
Why a character series?
Abraham Lincoln said, "Reputation is the shadow. Character is the tree." We are not born with good character, it must be taught.
The Krystie and Thomas World of Learning Series brings to you 20 books that are in an entertaining, storybook format that contain key ingredients for a functioning society of self-controlled, respectful individuals, who think before they act and consider the consequences of their actions before deciding what direction those actions will take.  These individuals will then consequently, make the right positive choices.
It is never too late to start teaching character. No matter what the circumstances, the age of the individual or who is involved, everyone can benefit from character education.
Character Education is more important today than ever. We live in a society that has not been taught basic moral values, they have little regard for the  importance of the value of life and property, and the value of respect and honesty. We constantly see in the news that character is set aside for the feeling of the moment and anger, jealousy, hatred, and selfishness are instead placed center stage and acted upon.**
 The time has come to bring character to the forefront again and raise the moral values we have as a society, and as individuals.
"To educate a person in mind and not in morals is to educate a menace to society."  - Theodore Roosevelt
"Most people say that it is the intellect which makes a great scientist. They are wrong: it is character." – Albert Einstein
Why a Manners Series?
Good manners are the grease that keeps the wheels of society turning smoothly. It offers a lifetime of benefits, the rewards are too numerous to articulate and the cost is negligible.
How many investments boast such a considerable return?
Good manners and common courtesy seem overlooked these days as the lack of manners is the No. 1 complaint of experienced executives trying to help younger workers seeking to climb that ever-steeper corporate ladder.
Give children around the world the gift of good manners in a humour filled, engaging and interactive format. Invest in the Krystie and Thomas World of Learning, manner series.
Why a safety series?
The Learning World of Krystie and Thomas safety series was created to lead and inspire a culture of safety across the world in order to reduce unintentional injuries, the leading cause of death among children and youth in many parts of the world.
As parents and caregivers we all try our best to keep children safe by telling them the obvious basics such as to look both ways before crossing the street, etc.  But we often times forget about the other dangers such as the dangers online. 
We go over the common and not so common dangers, and the proper safety implementation and behaviours.
This project has been over 3 years in the making, we have put many months, and thousands of thousands of hours, into the Krystie and Thomas Learning series and have shown our ability to produce original, engaging, fun, well sought after and in demand children's material. These books, audios and even the stickers have proven to be extremely popular!
 Much of the work was completed through money saved up for this project, but do to the extreme high demand for these materials and resources, the needs of this project have well exceeded our goals, most of the team has dedicated nearly all of their time to date with very little to no pay just to try and fulfill the needs and requests of what parents want for these series.
 So, we are calling on those who want to see a world where children, adults, schools, churches, citizens, communities, families, and businesses function well due to the impartation of good morals and characters, manners and courtesy, good financial management and more safe practices. This project starts with one person at a time, one household at a time, one school and community at a time and it starts with this team and it starts with you, our supporters.
 We place great value in The Learning World of Krystie and Thomas, as it is not just entertainment, (which it has a lot of), but it will increase the value of everyone's life that will get a hold of these series, many of our fans can attest to this!
Jocelyn Ahlf—Narrator for audio series
Tomas Brabec—Producer, sound design, mixing and mastering for audio series
Rosemarie Benjamin—Founder and co-author
Kim Cruea—Co-author
Tim Pipher—Wealth Navigator University correspondent    
Saima Riaz—Illustrator
Can we gain access to the online children's membership program once we purchase books?
You will gain lifetime access to our exclusive children's online membership which will have all of the books from every series, and loaded with
 games, videos, activities, and more, once you purchase 6 books or more from any series.  We highly recommend the children's membership program because it is a great complement to the information in the books; it really goes above and beyond!
This is our indiegogo rate, once the campaign ends the online program will be available to anyone who purchases 7 books or more.
What are the book titles in the Manners Series?
The books in the manners series are listed below:
Please and Thank You   
Children learn how to ask politely for things. How to say please and thank-you.
Excuse Me         
When to say "Excuse Me" (burping, when to talk, moving past people in a crowd etc.)
Knocking and Talking
Learning to knock before bursting into a room. Using polite manners when talking on the phone. Being polite when company comes over.
Coughing and Sneezing
Knowing how to sneeze and cough politely.  Not wiping noses on sleeves. Coughing into arms.  Washing hands.
Table Manners 
This will cover table mans at home, when visiting another person's home, at restaurants.
Patience and Waiting    
Learning to be patient, in the car, waiting in line in public places, waiting for mommy to finish doing dishes to tell you a story.
Squeaky Clean
Keeping yourself clean. Good hygiene is a sign of good manners. 
Courtesy and Respect   
Letting seniors take the seat on the bus. Holding doors for people with their hands full. Being nice, not a bully. Accepting differences.
Win or Lose       
Good sportsmanship.  Learning how to win and lose in games. 
Good Neighbours 
Covering things like destruction of property, helping an elderly neighbour with their snow, etc.
What are the book titles in the money series?
Learning to Earn
Krystie's quest to acquire the perfect dream dollhouse and Thomas' desire to obtain the right bicycle, land the Goldenberg children on a journey to earn money. How will they get the money to pay for the items they want? This is a new concept for them as in the past; they have always relied on their parents for money.
Learning to Save
Krystie and Thomas get a quick lesson on how to save for their much anticipated family vacation.  Joined by their friends, Samantha and Mathew, the children learn all about saving and the importance of setting goals to achieve their objectives.
The Cost of Caring
Inspired by the giving of their parents, Mr. and Mrs. Goldenberg. Krystie, Thomas and their friends set out on a mission to give to others.
Learning to Spend
Krystie, Thomas and their two friends, Gabe and Jasmine get a valuable lesson on the importance of developing a spending plan. Mrs. Goldenberg then takes the four children with her on a shopping trip. Did they manage to stick to the plan?
Investing Starts Early
After a very brief discussion with her teacher on investing, Krystie goes on a quest to invest her money.
Becoming Entrepreneurs
Inspired by their school project, Krystie, Samantha and their friends start businesses.
The Cost of Borrowing
Krystie decides to borrow money; however, matters become more complicated as time passes by.
The One and Only You
Frightened about his parent's discussion about identity theft, Matthew runs to his friend's house for comfort.
What are the titles in the safety series?
Street Safety     
Including bicycles, walking, playing
Sports and Hobbies        
Learning to use equipment properly to stay safe
Stranger Danger              
Knowing how to be safe around people you don't know. Where to find help if you're concerned.
Around the House          
Learn how things around the house can cause harm and how you can prevent injuries
Fire Safety         
In the home and outdoors. (BBQ's/Campfires)
Numbers to Know          
Children create a contact list of people to call in emergency and how to properly use 9-1-1
All Alone            
How to protect yourself when home alone or walking somewhere by yourself.
Online Danger  
Learn how to be safe on the internet
 What are the topics in the character series?
1. Caring, 2. Courage, 3. Empathy, 4. Honesty, 5. Inclusiveness, 6. Gratitude, 7. Respect, 8. Optimism, 9. Cooperation, 10. Responsibility, 11. Diligence, 12. Problem solving, 13. Forgiveness, 14. Emotion Management, 15. Initiative, 16. Integrity, 17. Loyalty, 18. Orderliness, 19. Self-Control, 20. Wisdom.
The Learning World of Krystie and Thomas: Book and CD Series campaign is not an investment or charity. It is an exchange: funds from backers, supporters and fans for rewards.