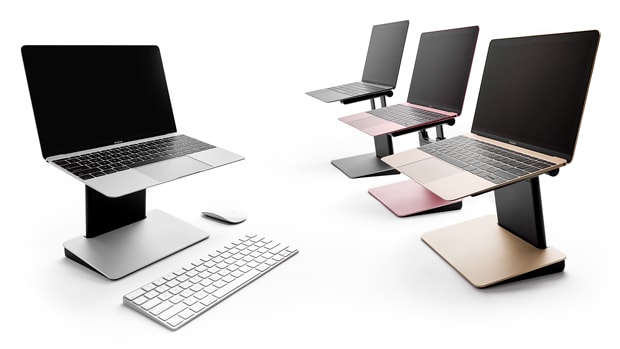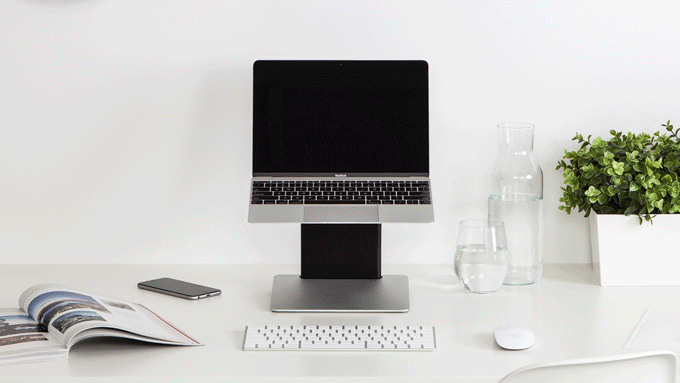 Laptops are extremely versatile but ergonomically they're not ideal. The longer we spend on them, the more we hunch over them, causing pain in our neck, shoulders and back.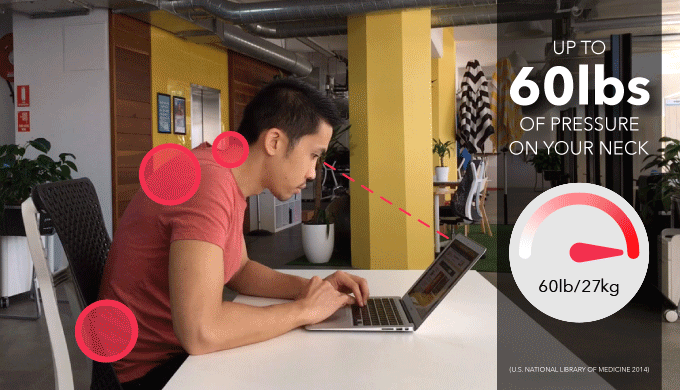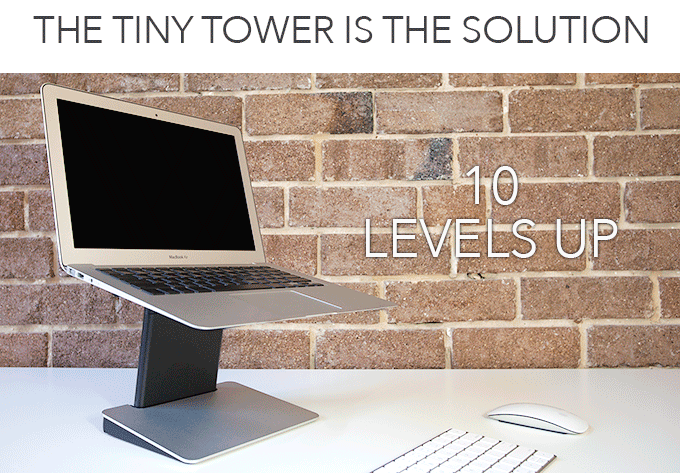 EU-friendly! See FAQ at the bottom for more details.

 
The Tiny Tower is a beautifully crafted, portable and height adjustable laptop stand that can be used to create a really comfortable setup .. in the café, in the office, at home or wherever you are.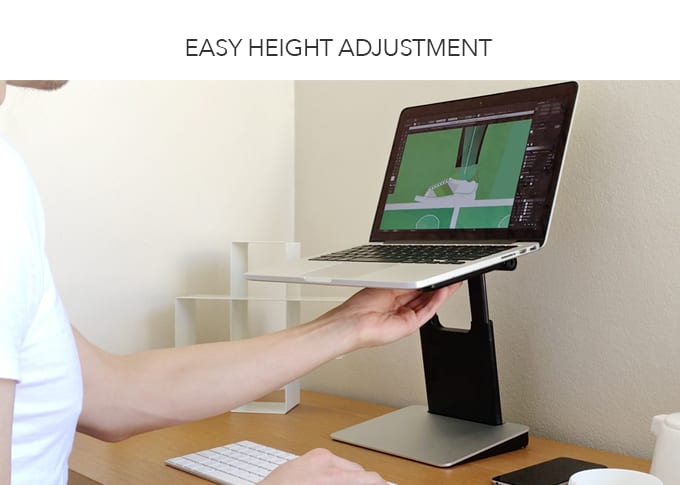 We know that everybody is different, so the Tiny Tower adjusts your screen quickly and easily to the right height for you to work comfortably. Simply change the height at the push of a button. Over 3" (8cm) of adjustment is available through 10 different height settings.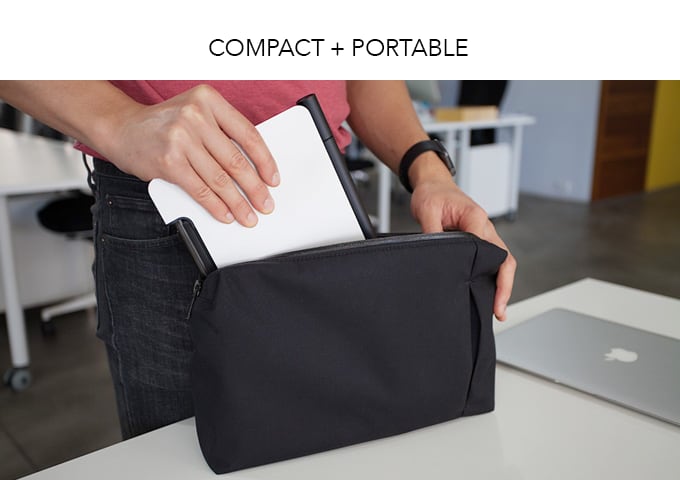 The Tiny Tower folds down in under 10 seconds into a compact unit that's easy to carry with you. To create the ultimate mobile workstation, use it with the Tiny Tote — our high quality zipped nylon pouch that carries your Tiny Tower, keyboard and mouse.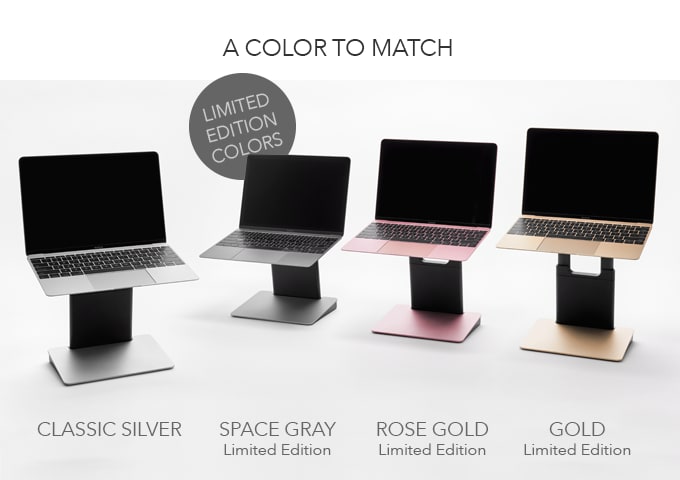 Own a Tiny Tower in a colour that matches your laptop .. or your style! As a crowdfunding only special, you can buy a Tiny Tower in Classic Silver, Space Grey, Rose Gold and Gold. We don't intend to make to multiple colours available when the Tiny Tower hits retail shelves .. so make sure you get one now.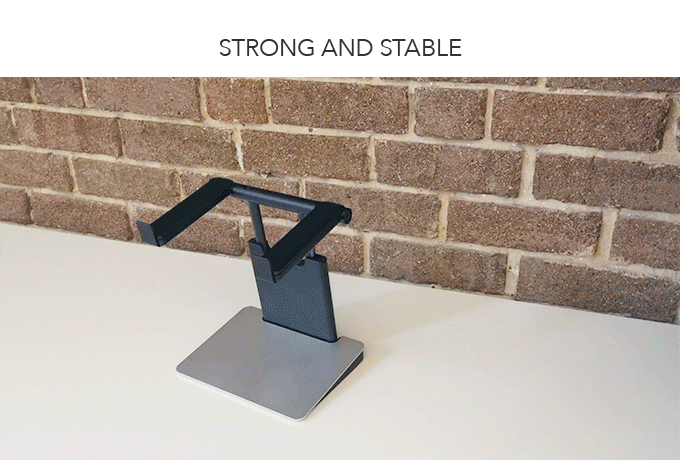 Aluminum is the main material used in the Tiny Tower because it's both lightweight and strong, making the Tiny Tower very stable. Your laptop will sit on a special non-slip polymer made by 3M to firmly secure your laptop. We've sweated the details like this to make sure you have a lasting product. The Tiny Tower feels great in your hands and even better on your desk.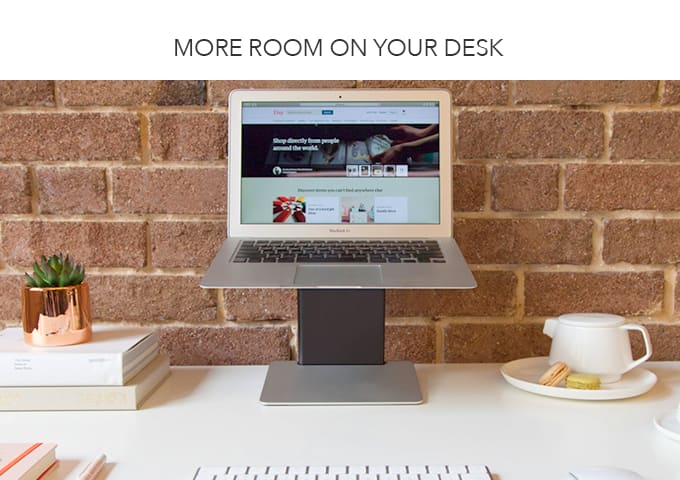 The Tiny Tower has a smaller footprint than your laptop, freeing up more desk space.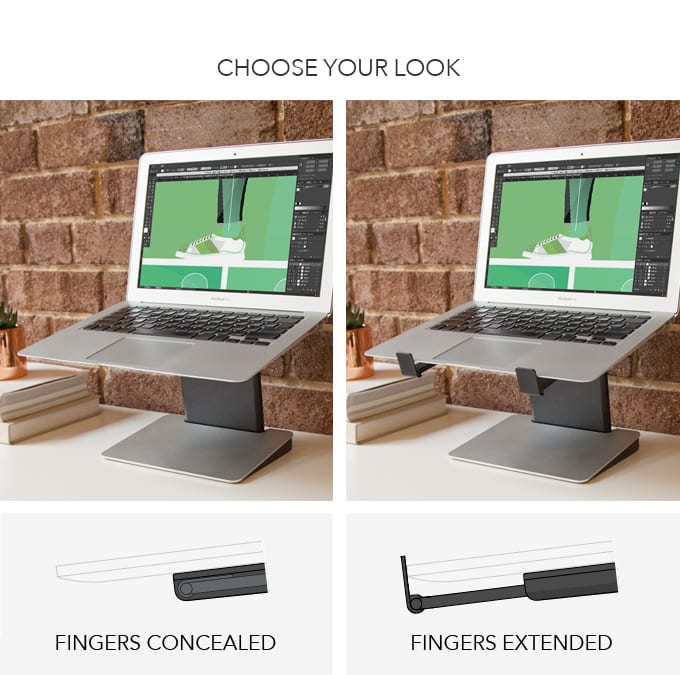 Your laptop will sit on a special non-slip polymer made by 3M to firmly secure your laptop. The Tiny Tower can be used with the fingers concealed inside the arms or extended for added security. It's your choice.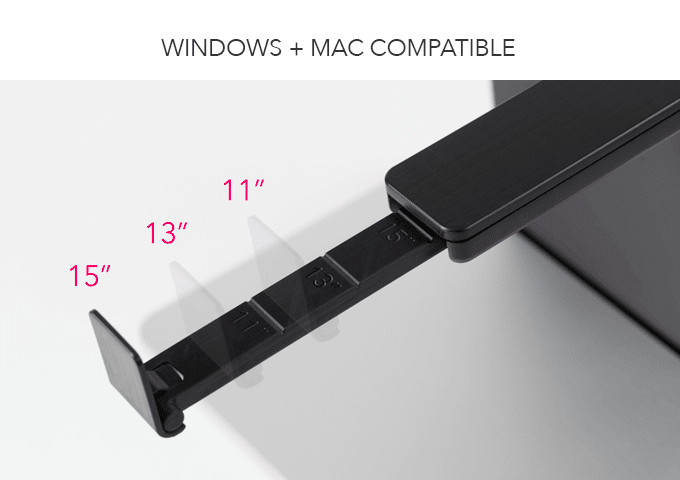 The Tiny Tower will reliably support both Windows and Mac laptops 11" up to and including 15". It will even support the Microsoft Surface and Surface Pro.
The Tiny Tower is truly versatile.
It can be used at a standing desk (please note that it's not designed to replace a standing desk or worksurface).
The Tiny Tower supports Microsoft Surface natively and other tablets including the iPad provided they come with a self supporting stand.
Each Tiny Tower comes with a quality slide on protective sleeve.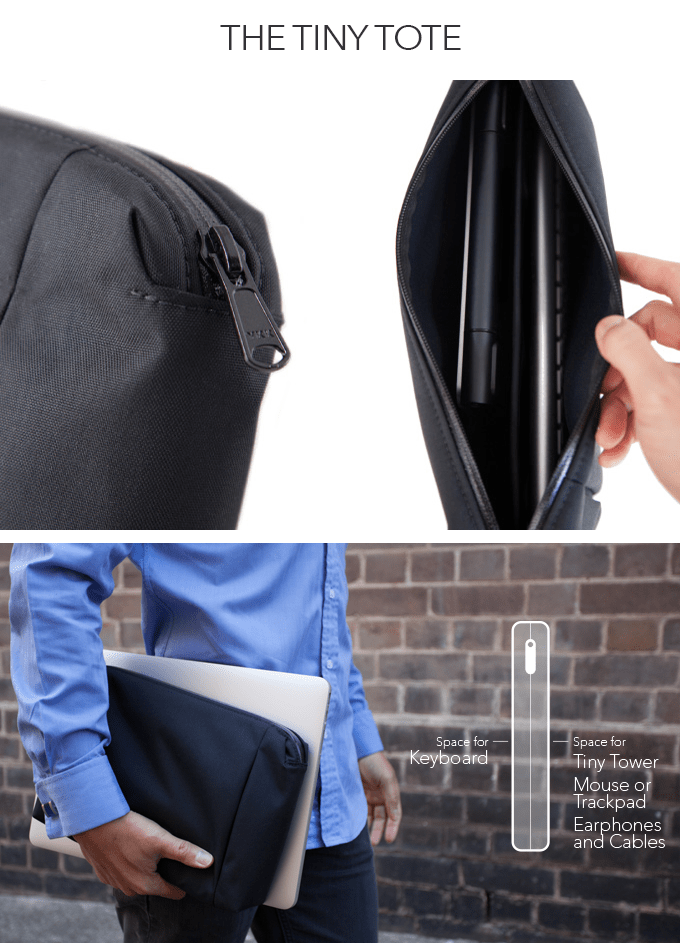 The Tiny Tote is a custom designed carry pouch made to hold your Tiny Tower, wireless keyboard and mouse. There's also room for other items like your headphones and spare batteries. The Tiny Tote is constructed with a quality nylon outer shell and has a lined and padded inner divider to ensure that nothing gets damaged. The Tiny Tote is available separately.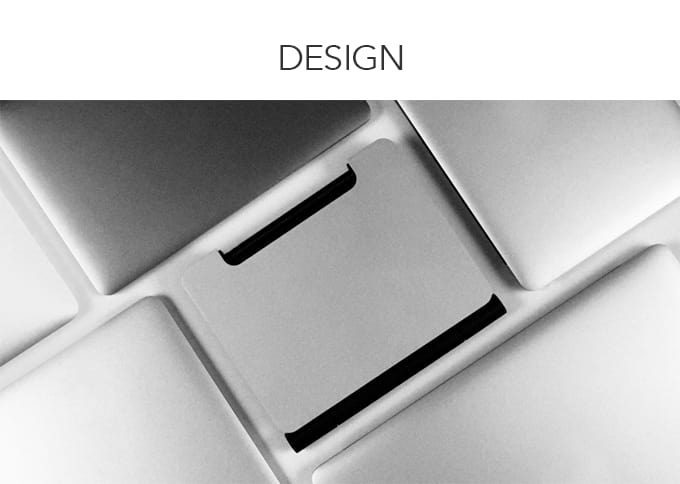 The Tiny Tower comes in a beautiful bead-blasted and anodised aluminum finish in silver and black. Plastic components are made from quality engineering grade composites that are strong yet light at the same time.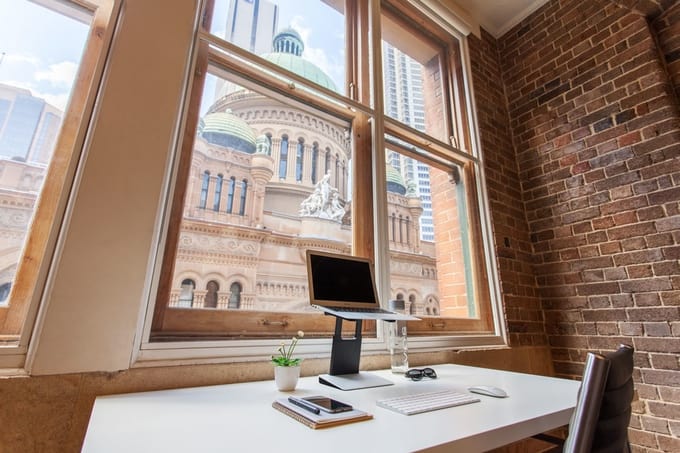 When we designed the Tiny Tower, we wanted to create something that would provide superior ergonomics and also look great in any workspace.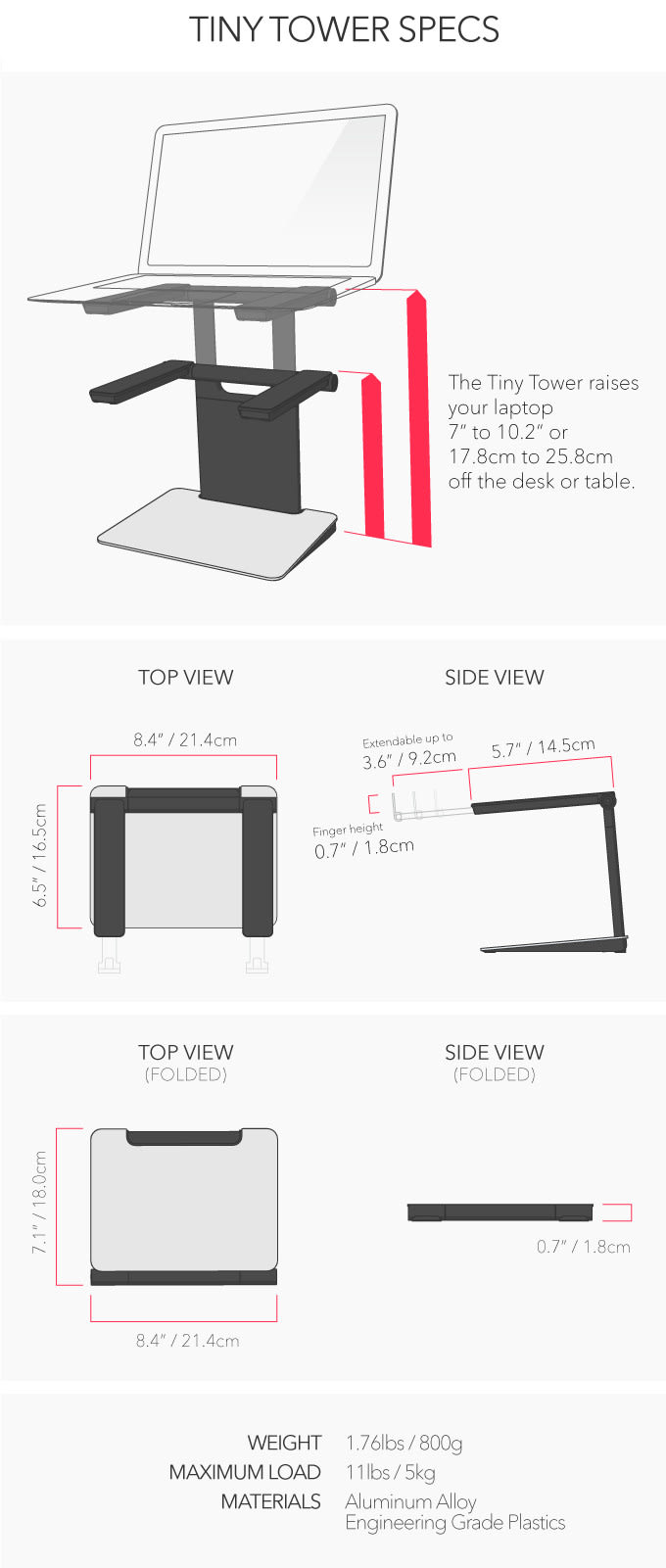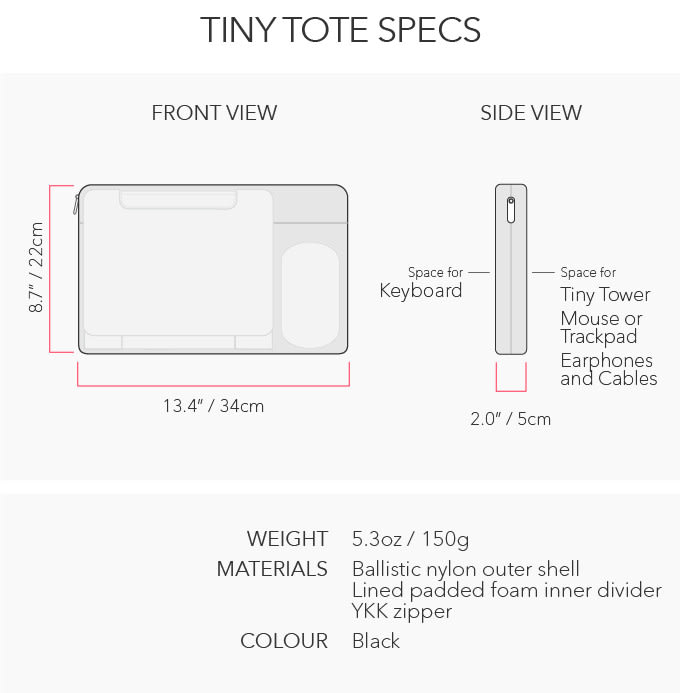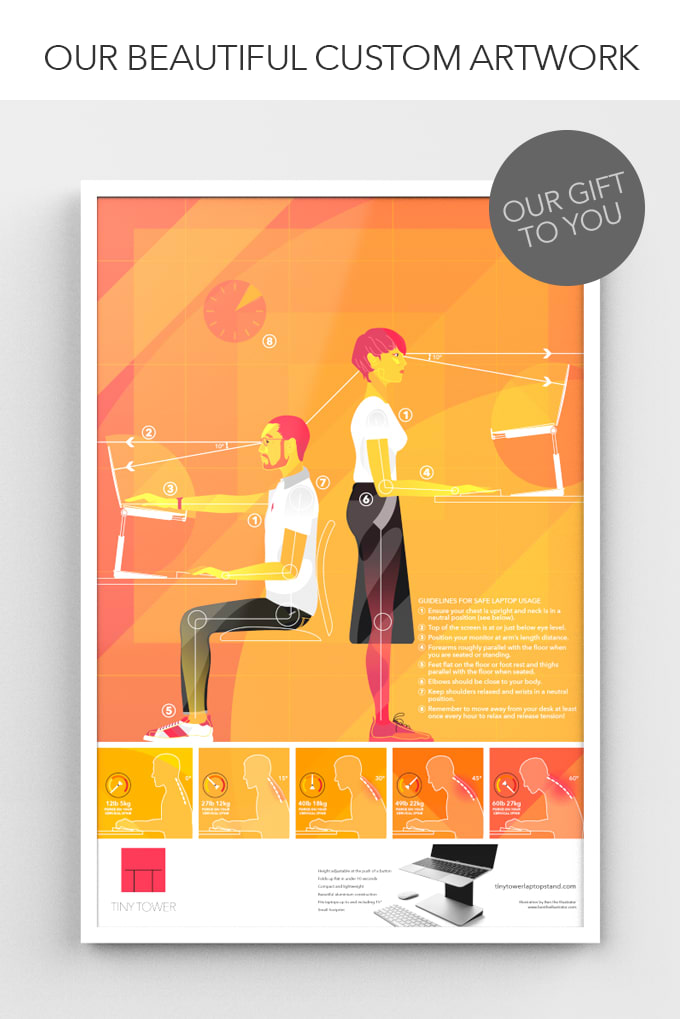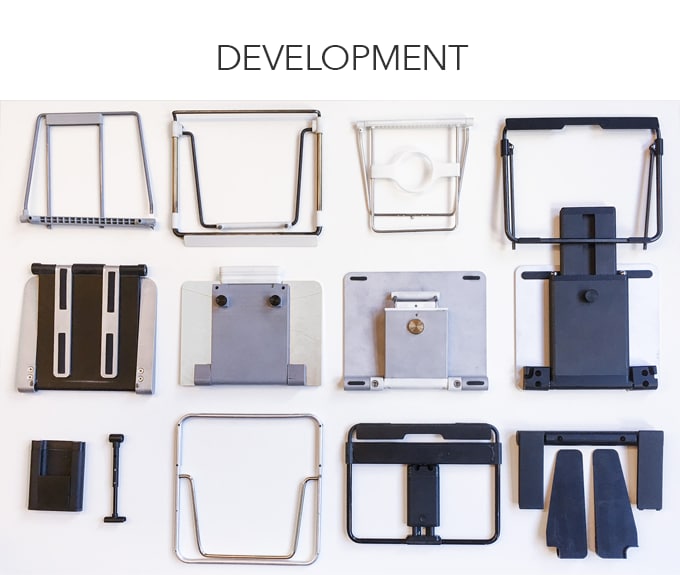 Over the past 18 months, we have constructed seven fully working prototypes. Each time we built a new one, we aimed to remove complexity whilst improving functionality and ease of use. We worked hard to ensure The Tiny Tower offers super simple height adjustment. It works just like the extendable handle on checked travel luggage. We also knew that to have it fold into a compact and lightweight unit is important, allowing you to take it with you and protect your posture whenever you work.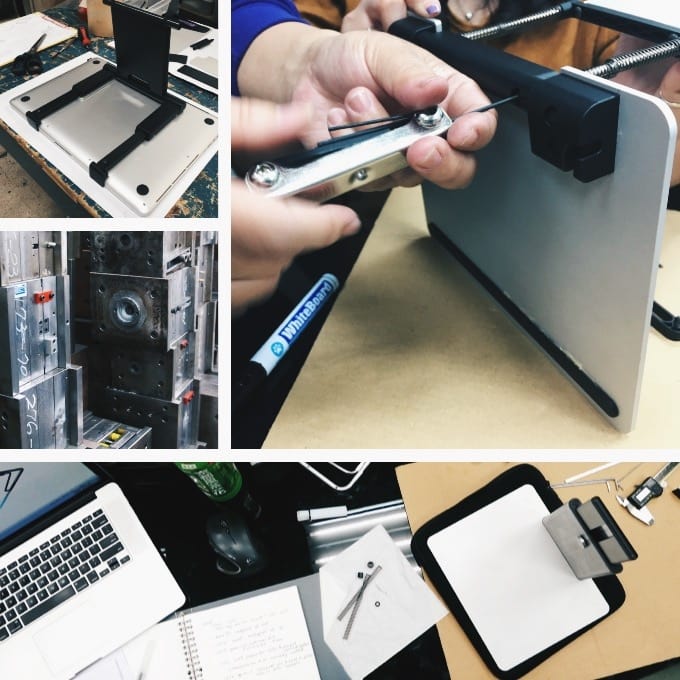 We've travelled to Asia several times and collaborated with multiple suppliers to finalise our manufacturing plans. We are ready to build the tooling required for large volume manufacturing. We are confident and excited. We believe we're further down the development path than most hardware projects that launch on Indiegogo.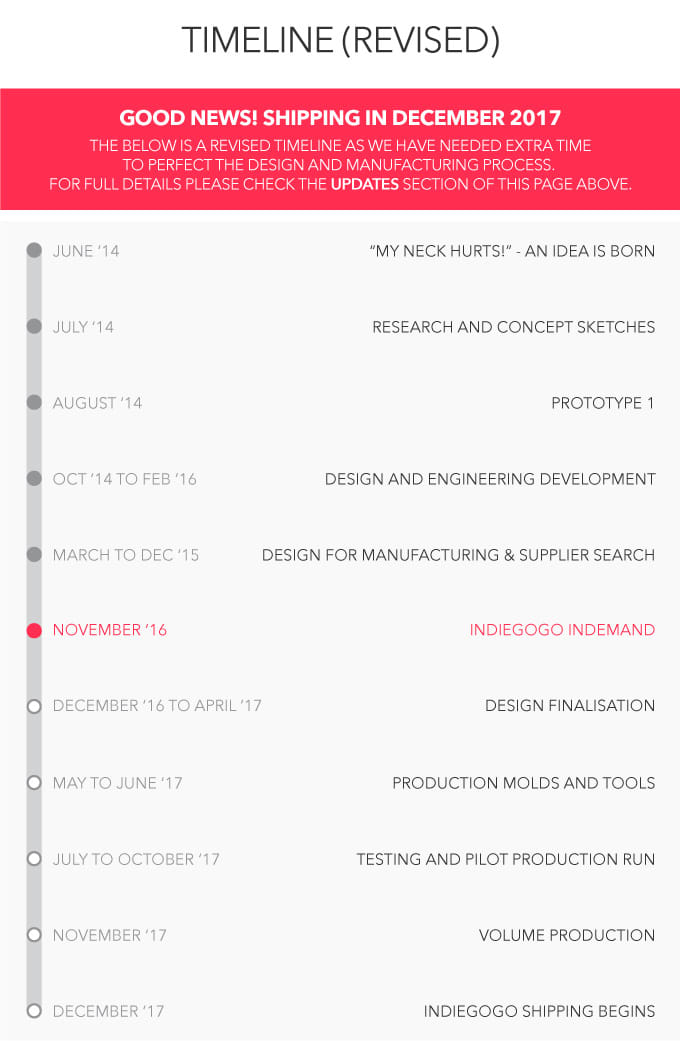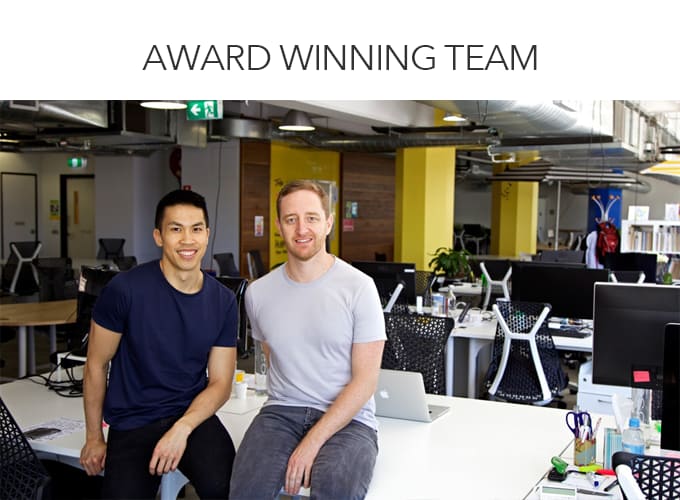 The Big Tiny Co is a Sydney-based hardware company led by Matt Cramsie (right) and Anhtai Anhtuan (left). We're passionate about beautiful design, flexible working, and health and wellbeing. We believe that superior ergonomics and great design should go together.
Matt has over 15 years experience designing products for Australia's leading furniture companies. His products have earned him an Australian Design Award and several design awards overseas. The Tiny Tower is his most personal product and he is very proud to launch it on Indiegogo.
Anhtai has built a 12 year career in product management and technology. He has a Masters in Management and is responsible for operations, making sure that quality made Tiny Towers roll off the production line and get delivered safely to your doorstep.
Origin of the Tiny Tower
The original idea of the Tiny Tower came about when Matt suffered a serious disc herniation in his neck combined with numbness down his right arm in 2014. At the time, Matt was constantly hunching over his laptop, which added a significant load on his neck.
Many existing solutions to raise the height of your laptop don't offer the trifecta of functionality that is needed: height adjustment, portability and an attractive design you'd be proud to use. So being an award-winning industrial designer who is obsessive about ergonomics, Matt decided to create the Tiny Tower to fill that gap.
FAQ
1. EU-friendly: what does this mean?  

For EU backers in selected countries, you will not need to pay extra customs, duties or taxes. Your pledge is final. No nasty surprises!
The selected countries are Austria, Belgium, Bulgaria, Cyprus, Czech Republic, Denmark, Estonia, Finland, France, Germany, Greece, Hungary, Ireland, Italy, Latvia, Lithuania, Luxembourg, Malta, Netherlands, Poland, Portugal, Romania, Slovakia, Slovenia, Spain, Sweden and United Kingdom.