We are proud to introduce two large collections of watches produced with the highest degree of Swiss craftsmanship, catering to the desires and needs of every serious watch enthusiast. The collections are called DWISS RC1, a classic looking model with a centralized hour disc at the 12 o'clock mark, and DWISS RS1, a sporty collection that uses the DWISS signature time reading system.
In these collections, we are introducing for the first time in crowdfunding history a highly complicated Swiss-made watch, with the Tourbillon models . Our talking piece and the greatest watch ever presented to crowdfunding.
In addition to the Tourbillon models, we also have automatic versions and quartz models. Each and every one is an original Swiss-made, limited edition timepiece, with an exclusive, innovative and award-winning time display system, which has become DWISS' signature.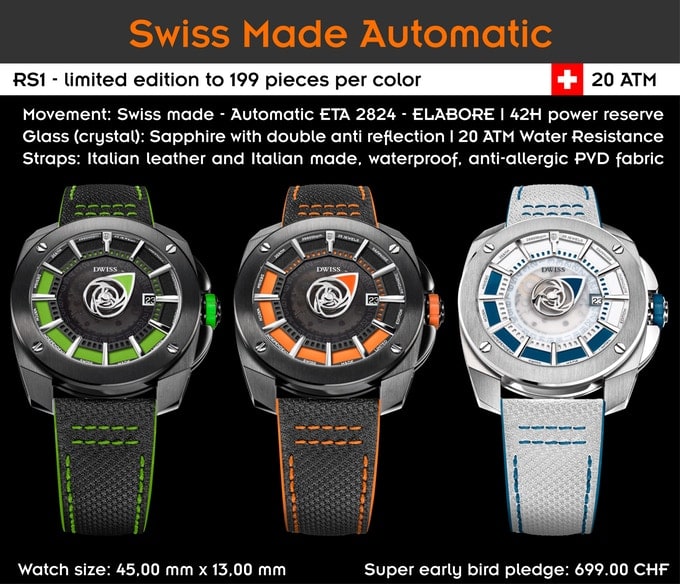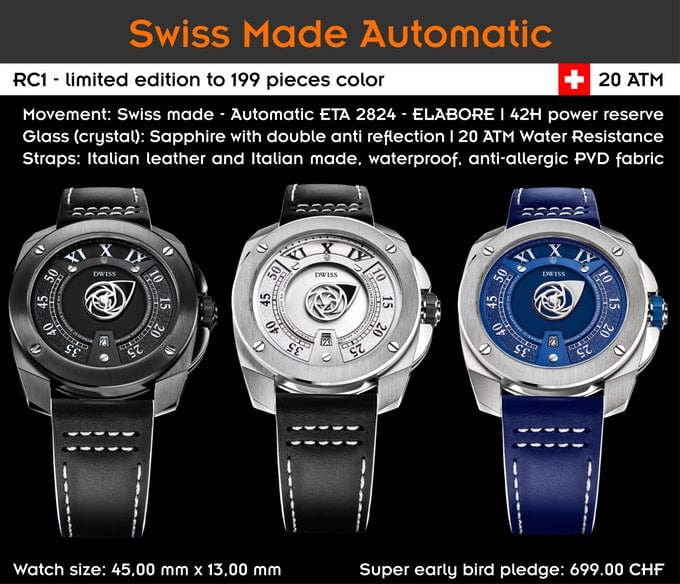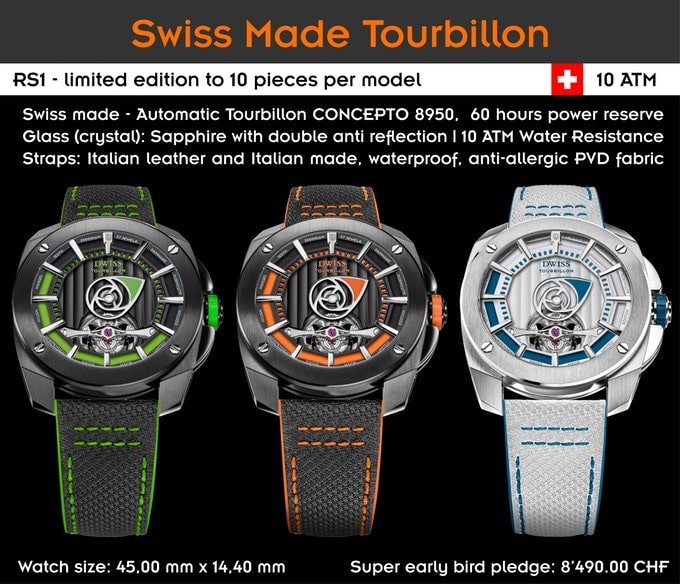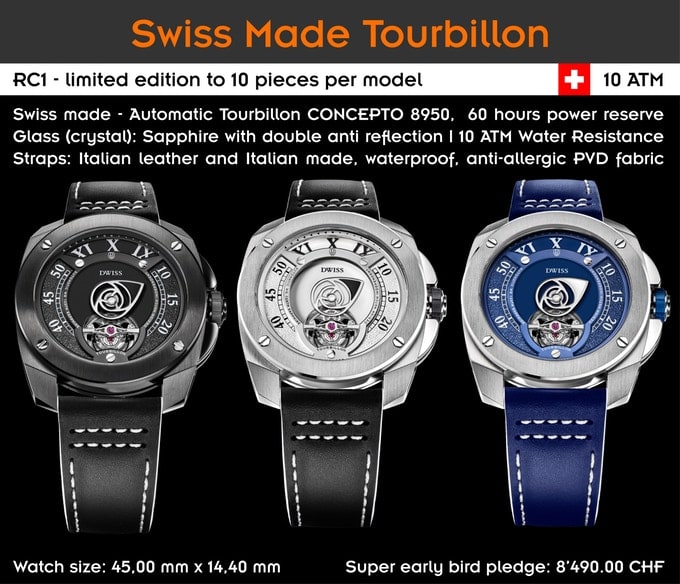 One of the most challenging-to-make watch mechanisms, the tourbillon is a complicated movement that makes the escapement turn around its own axis, designed to counter the effects of gravity. By continuously rotating the entire balance wheel/escapement, the tourbillon averages out positional errors. Developed around 1795 and patented in 1801 by master watch-maker Abraham-Louis Breguet, the tourbillon is included in expensive watches made today by the most luxurious and traditional brands and is one of the most valued features for a collector in premium timepieces. The most virtuoso and desirable function in a watch mechanism that would once cost you 5 to 6 figures is offered for the first time in a crowdfunding campaign much much less.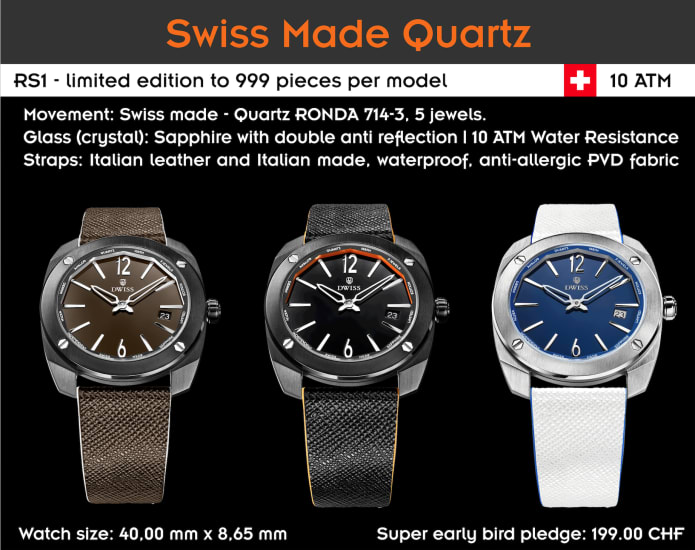 All our straps are 100% Italian made, respecting Italy's tradition for leather goods, handcrafted by artisans in an authentic leather workshop. Produced by the same manufacturer that supplies the most renowned Italian luxury brands. Equipped with quick-release pins, the straps are easily interchangeable. 


"Vacchetta": The cowhide is treated using vegetable tanning, an ancient process that certain tanneries are rediscovering. Vegetable means that metals such as chromium and other environmentally damaging substances are not used to treat the leather. In their place, tanning powders obtained from leaves, fruits, flowers and the roots of plants are used. Giving the skin an incredibly soft touch and the classic scent of leather.
- Pit Stop: The Pit Stop technical fabric is made of PVC. Thanks to its properties it is waterproof and resistant to scratches.
- "Saffiano": Saffiano printing is made by embossing the typical cross-stitch pattern on the calfskin. After printing, the skin is treated with wax, making it resistant to scratches and giving a soft touch to the material.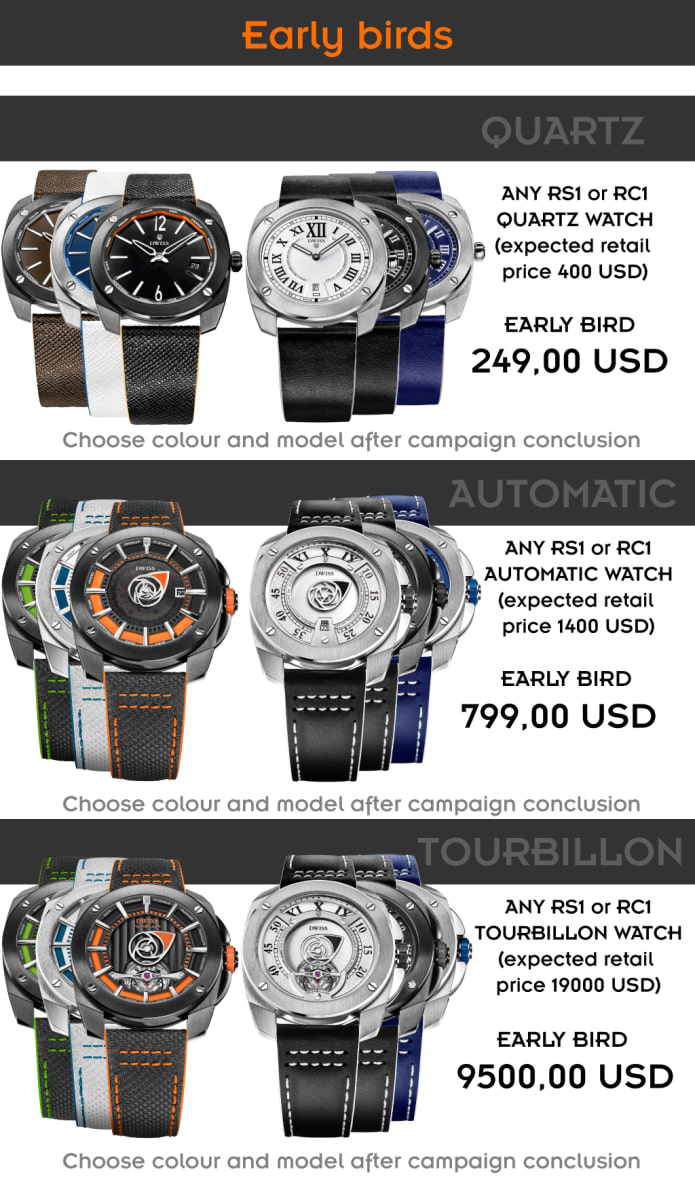 Do you want to test the watch before pledging one? You can do so virtually by downloading the free APP, available for android and iOS. You can also make nice wrist shots like ours and be awarded. HAVE FUN!!!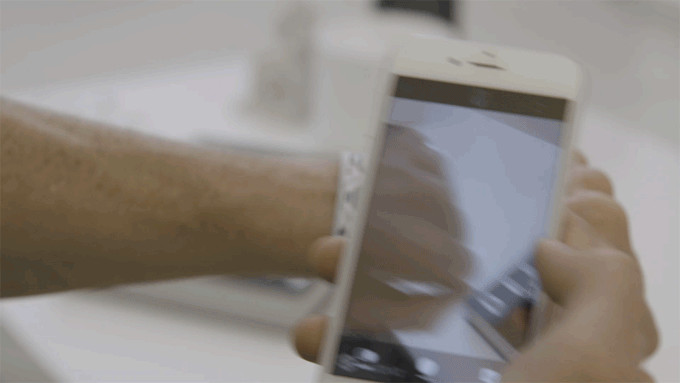 DWISS is a multi award-winning company founded in Switzerland in 2011. The company creates limited-edition Swiss-made timepieces with unique time display systems, selling them for fair prices. We are proud to combine our avant-garde design with the tradition of Swiss watchmaking.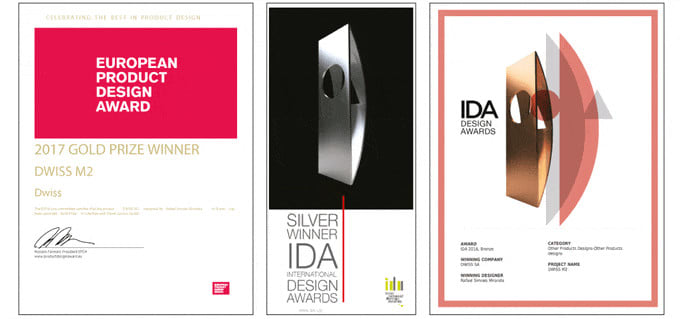 Last year, with the help of our backers, we created the most innovative Swiss-made watch in crowdfunding history. The timepiece was awarded with the International Design Award, and Gold Award in the luxury category by the European Product Design AwardTM, awarded at a ceremony held at the European Parliament in Brussels.

Todays' watchword in watchmaking is micro brand. Small-scale brands that are sought after by collectors, connoisseurs and watch lovers in search of uniqueness and value for their money.
Why? The traditional way of selling watches has all but been eliminated by the internet. The highly margined watch industry and the common, standard look of the timepieces; counterfeit watches all over the market; new brands being born every day selling fake luxury items; all these factors have contributed to the crisis in which the luxury watch market finds itself today.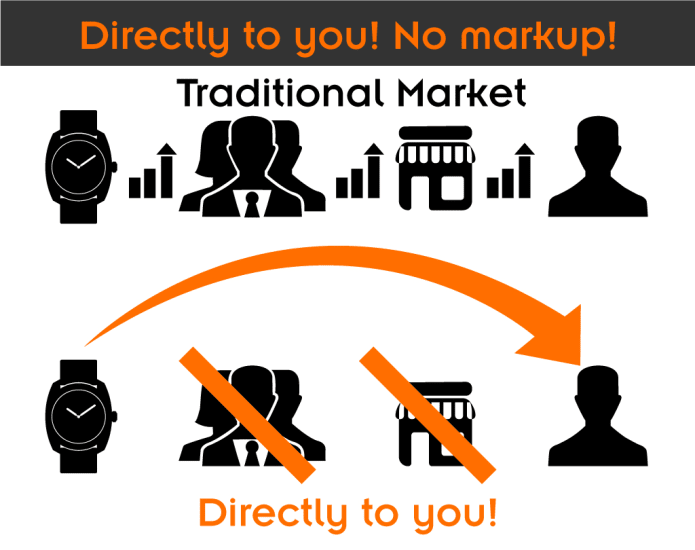 We cut out the middlemen and sell our watches directly to you. With our direct sale strategy, cutting out retailers and distributors, we can price our watches at half the price of the traditional market.
And on Kickstarter, we start pricing our timepieces at half of our online prices. This means that by pledging an award here you pay ¼ of the traditional market price.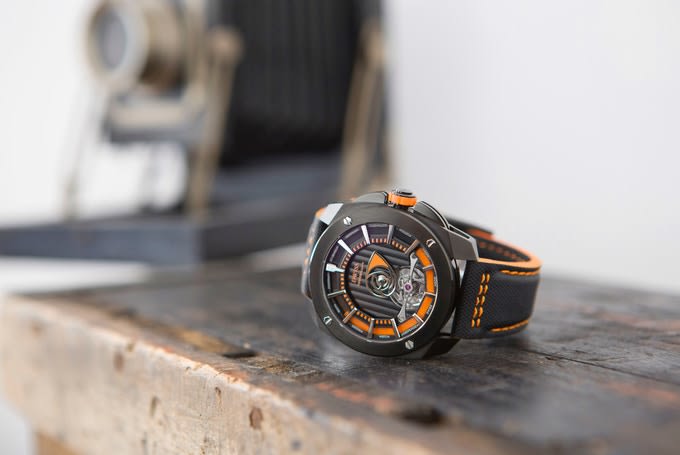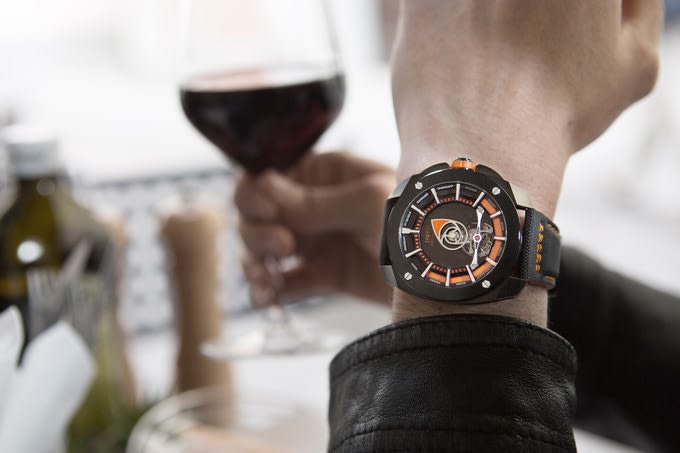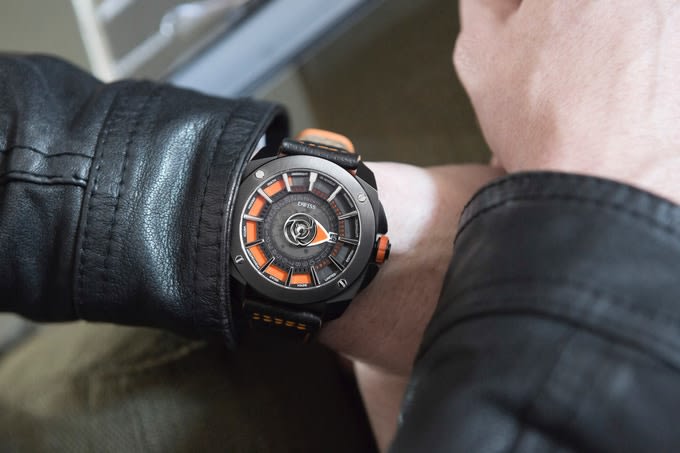 Here some testimonials of our 2016 backers. Sorry for the ones not included, but if we mention all of you, the page will be endless ; ) We took the testimonials randomly. Thank you all for having written to us. Cheers!
Mr Zamora: @Rafael and the DWISS team, 
Congratulations on receiving this award. It's a recognition of your hard work and creativity. As one of your backers, I am very pleased to own the M2 knowing the quality of the watch and it's award-winning design. For the price we paid for this watch, it's a steal. I hope this award will inspire you to continue to create great watches and will give us the opportunity to be part of your next project. You can always count on my support. Thank you. 
 
Shrink: I can't tell you how much I am enjoying wearing your watch. It is such a remarkable creation.
Yuk C. P.
: Watch received.... awesome and happy to the max.. are you going to make more? I don't mind owning same one... it is sooooooooo cool and I am wearing it to a gathering tonight... Panerai put to rest while dwiss on my wrist.. 
 
 
Harsh B.
: I just received the watch and as expected looks amazing. I think it will really stand out amongst all the other watches in the room in any social gathering. So happy I decided to get this watch. 
 Thank you for such a great product. 
 
 
Richard A.: On a more upbeat note, I am thoroughly pleased with this watch. Deciding which watch to wear in the morning has just become 10 times harder now :D 

Leonard F says: Hey Dwiss,  I have gotten my watch today. Overall I am very impressed with the watch! The build quality and packaging of the watch is superb not to mention a really friendly and helpful customer service here :) . Besides that this watch is totally a fantastic watch and I will utterly recommend it to all my watch enthusiast friends. Cheers,  Leo 

Simon D.: Well.... on my wrist sits a very robust looking Dwiss watch. Beautifully packaged, love the colour (orange) and a very very stunning looking watch! Very pleased - thanks Dwiss. The watch tho.... seriously impressed - I was so nervous about funding the sort of money (always wanted a Tag) and this was the money put away for one... it's going to be hard to not wear it everyday! 
 
Steve B.:  Hi Rafael. My watch arrived today and I have posted it on instagram. The movement is visually stunning and looks just as detailed as the Tag Carrera 16 I have. For those still waiting you will be happy with the details and the finish. The wait is worth it. 
 
Thomas K.: received my watch today, better than my tag heuer .
 Boon H.:  Thank you once again and I have to say that I'm a proud owner of Dwiss Emme watch.  
 
 
Frankie said: Just received my ABO and it's a fantastic watch. 
 
Julien G. said: Eric, that's MINE!!!! Looks absolutely gorgeous. 
 
Daniel said: @Dwiss I just got my watch. Took 3 days to ship which is amazing. The watch looks ten times better in person. Thank you
 Shrink: @Rafael, My sincerest congratulations on receiving the award. It is well deserved for the unique and beautiful design of the watch. 
 
Julien G. said: To all future owners of SSW, Guys hold tight, the watch is a perfection!!!! I have 15 watches now, and this one has THE something special that makes it my favourite. Raphael, DWISS team, you rock!!!!!!!! 
 
Chian wei said: Received the watches. IT'S AWESOME ! 

 






The campaign video in high resolution:
 Video credits: Area2 Visual Media area2media.it vimeo.com/area2