------------------------------------------------------------------------------------------------------
HELLO DEAR FRIENDS
Sure you know the situation of stray animals roaming the streets, same ones that are daily subjected to abuse and mistreatment.
Probably you question just as I questioned, "¿What can I do about it?"
A dangerous ghetto (and we don't mean to use the word "ghetto" in a derogatory way) is certainly no place for an animal to live in. Especially not for one that needs RERERERE (rehabilitation, recovery, rest and retirement).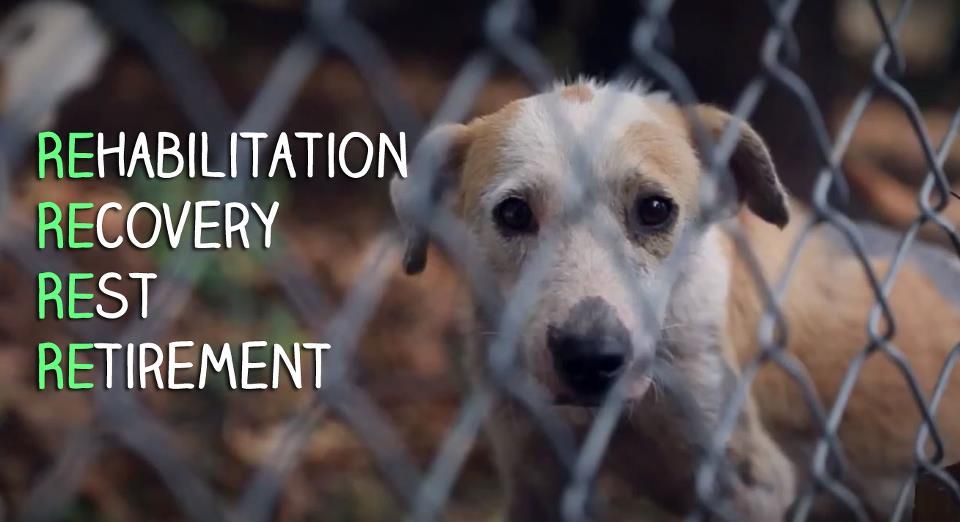 We (Tomas De Santis and friends) take care of dogs with limited adoption potential, the deformed, the blind, the unwanted, the elderly and the terminal cases. For more than 3 years now we've been rescuing animals from the streets and at the moment we have 50 dogs and 10 cats with the aforementioned qualities.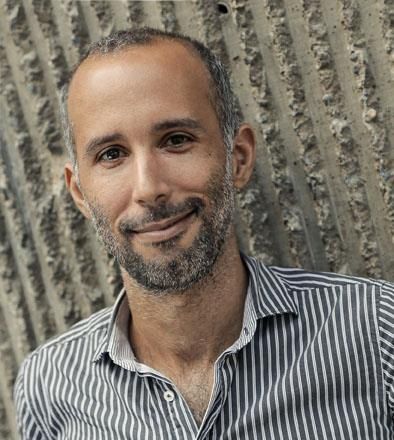 Some of these animals survive and are happy, but have mild neurological damage. Many more of our dogs and cats have had sad stories, such as sexual abuse, dogs fights, used as bait, distemper and poisoning survivors, hit and runs, eyes gauged out, ears cut off, and the list goes on and on. These champions have all amazing spirits and have overcome against all odds some of the most heinous crimes against animals. They are currently all spayed and neutered, well fed, clean, taken care of and today they are full of joy due to all the attention they receive.
THE CURVE BALL
The challenge we are facing is the shelter itself. We are located in the middle of one of Dominican Republic's harshest "barrios" or ghettos within the city of Santo Domingo (the capital).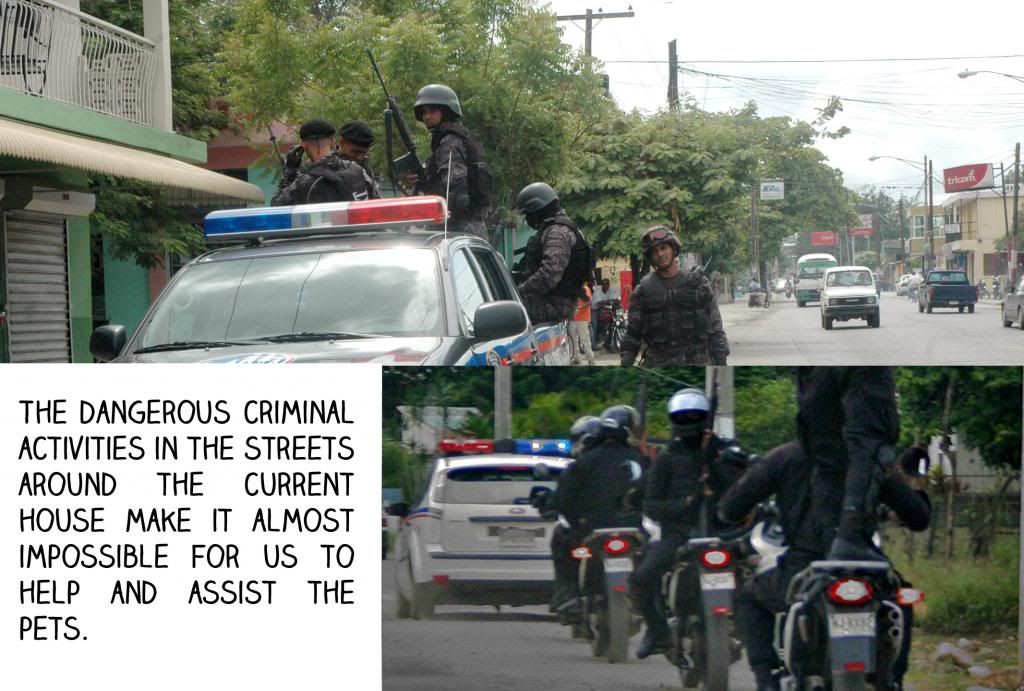 We have had to endure robberies at gun point (the dogs saved the care taker that day), we have had gangs fight on our front door, bullets have hit windows, we even had to keep the dogs on the back side of the property (away from the neighbors and their poisoning habits), many threats for noise complaints, and constant harassment by some of the locals.
Sadly, our government and authorities do not have shelters, provide land, or help in any way, either monetary or medical. What we do have is wonderful vets, and volunteers who are willing to help out, but many are afraid to visit us, except in large numbers, because of the extremely high criminal activity in the area.
This is no way for these animals to live, they have endured too much already, and it breaks our hearts to know the dangers that lurk every day. We just don't know when the next attack will strike, and we need to get them out of this place ASAP! We can't alter the property because it is rented and the fences and other materials can't be properly set without serious structural changes to the property. For this we need your help! 
As of now we have recently acquired a new lot, with funds raised in a first Ghetto2Garden campaign on IndieGoGo, and the rest from our pockets, but still we do not have sufficient funds to carry out the construction of the project.
THE MIRACLE
This is the miracle you can help create. We need to raise $ 98,000.00 dollars to initiate and achieve the Ghetto2Garden project construction. Months ago we were approached by the generous local institution Colectivo Revark, who expressed interest in helping, and have developed the entire architectural and graphic shelter proposal that these animals need, but they didn't just design any shelter, the project has special features, it will be a self-sustainable animal asylum, made from a good amount of recycled materials combined with the use of appropriate technologies to help the animals and be responsible to the environment at the same time.

[Colectivo Revark, is a nongovernmental organization that brings together a multidisciplinary group of professionals interested in promoting experimental architectural development, applied research and social development by building collaborative networks. Based in the Dominican Republic.]
THE PROJECT
Much better if the group explains the project in their own words:
"We have designed a self-sustainable shelter (which will be built mostly from recycled materials such as plastic cubic tanks, wooden pallets, car tires, etc.., Including rainwater harvesting systems, wind power generation, a biodigester for organic waste recycling and permaculture systems for fruits and vegetables production), with appropriate location, size and structure for dogs and cats. Also 2 home/offices made from containers are contemplated in the project (for the owner and his employee), which will have green roofs, and also a public reception area and a security booth, as well as a common bathroom with a composting toilet and a shower that uses recycled water. Located in a rural or semi-rural area ideal for recovery and relaxation, far from an urban center of high population density, the project will have water and electricity, drainage and sewage system, and a controlled access for vehicles.
We will start the project with a total of 40 cubic plastic tanks that will become homes for the animals, and such tanks will be cleaned, conditioned and furnished for the animal's comfort, and also will remain covered by metal pitched roofs that redirect rainwater and simultaneously protect the houses from the sunrays and high temperatures. In this project pets will be separated by categories such as size, physical condition, level of aggressiveness, rank in the pack and many other conditions to avoid fighting, and therefore, medical emergencies and reduce veterinary costs. Paved areas as separation walls require an extremely smooth flat finish for maximum performance and controlling hygiene pests and parasites. There will also be areas for medical quarantine, food and medicine storage, recreation area, walking and exercise and other areas vital to a functional shelter for animals.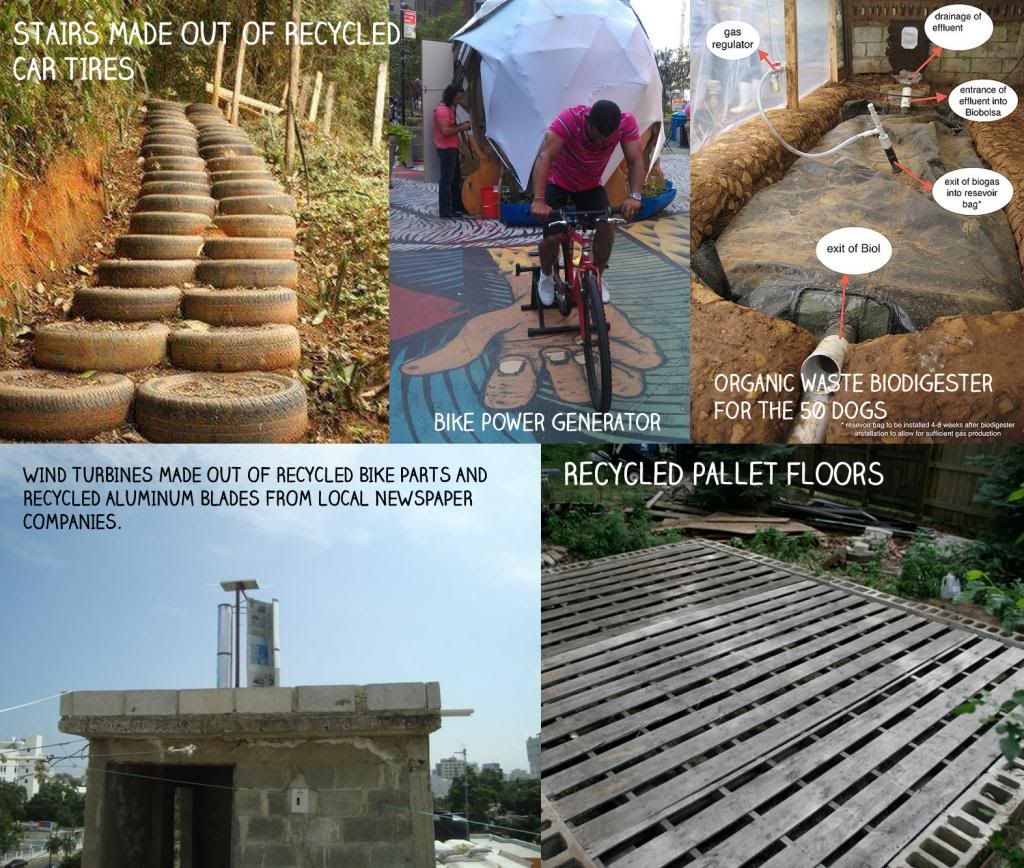 The project will have approximately 500 m2 of development, built on a lot of 6.919 m2 and is located in a mountainous area in the municipality of West Santo Domingo. In a later stage the project will remain in constant expansion since it was contemplated to add more tanks as pet homes as more animals will be brought to the shelter and these will gradually replace those animals who are adopted or who, unfortunately and due to their deteriorated physical conditions, could not survive, making the project a rehabilitation center for homeless animals."
The final outcome will be a shelter with the adequate space, safety and structure required for these brave little creatures to spend the rest of their days, happy, safe and away from danger.
Future of the Ghetto2Garden Project
In order for this project to function in a proper way financially speaking, we will build a small commercial wing of 10 dog hotel runs. This low-cost service will provide enough revenue to cover the shelter's basic expenses.
Initiative's Total Value
As you may know, all projects involving construction, land acquisition and state taxes represent significant and important expenses, but by trying to optimize the cost we have reached such a great budget to carry out a project with the minimum of costs and still be responsible to the environment and comfortable enough for our rescued dogs.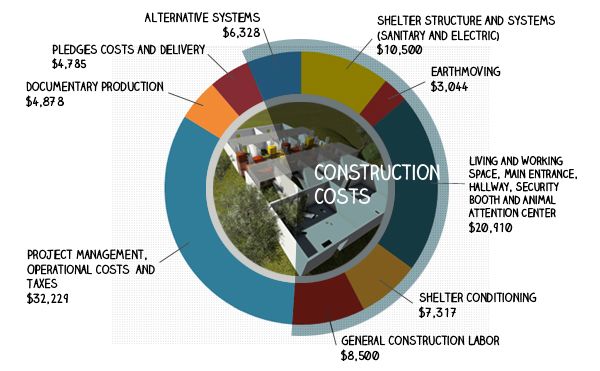 Media Coverage
Our project was recently posted in the world-renowed design and sustainability weblog INHABITAT, and by the dominican ecology and sustainability weblog CULTURA GREEN.
HOW TO COLLABORATE
We are living in exciting times where more and more people are stepping up and channeling their energy, time and resources towards rebuilding our beautiful earth and caring for its inhabitants regardless of species. If your heart feels inclined to help us, you can collaborate starting from sharing or commenting on our project to donating the monetary amount that's within your reach and you will receive a fun gift (which you can find on our Pledges Chart), and something to show our gratitude towards your generosity and compassion. Most of the gifts are accumulative, depending on donation amount. 
Others Ways To Help
Share our cause with your friends and acquaintances. You can make friends with us on Facebook or Twitter, so you can see the project's progress as we move into this beautiful journey to freedom.
Comment or "Like" us.
Donate construction materials for the project and/or food for the shelter's pets (if you are in the Dominican Republic) by contacting Keila Ulloa for more details: colectivorevark@gmail.com
The amazing video was produced/directed/filmed/edited by our great friend Dario A. Scapellatto, owner of MatecocidoFilms. It's also important to mention that a much larger and elaborated documentary will be created during the project's construction with the intention to further spread it in every media thanking our donators. See Pledges section! 
We greatly appreciate any kind of collaboration you can make and look forward to sharing more positive stories of canine and feline superheroes!
Attentively,
Tomás De Santis and Colectivo Revark.
------------------------------------------------------------------------------------------------------
HOLA QUERIDOS AMIGOS
Seguro ya conocen la situación de los animales que deambulan en las calles, los mismos que son diariamente sometidos a abusos y maltratos.
Probablemente se cuestionan lo mismo que me cuestionaba, "¿Qué puedo hacer al respecto?"
Un barrio peligroso no es un lugar adecuado para un animal. Especialmente para aquellos que requieren de RERERERE (rehabilitación, recuperación, reposo y retiro).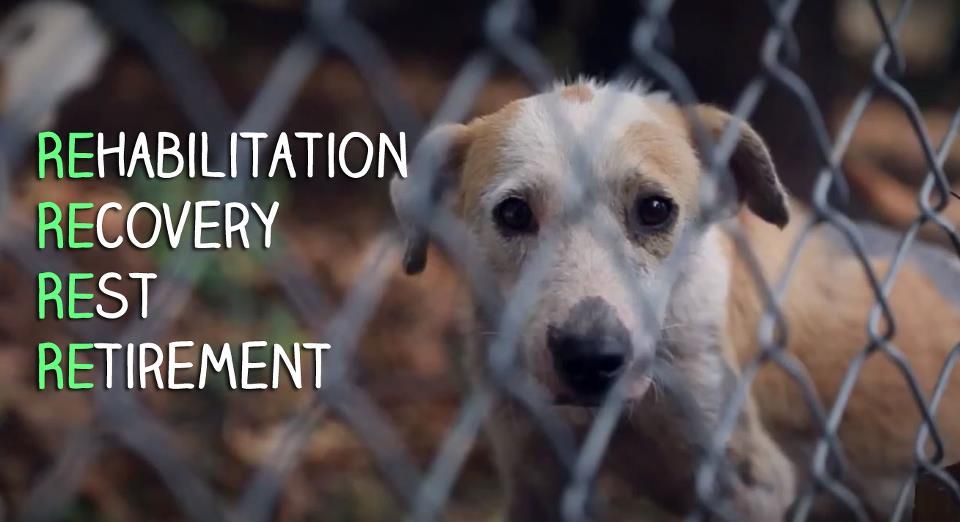 Nosotros (Tomás De Santis y amigos) nos encargamos de perros y gatos con potencial reducido de adopción, los deformes, los ciegos, los no queridos, los viejitos y los casos terminales. Desde hace más de 3 años hemos ido rescatando animales de la calle y en la actualidad contamos con 50 perros y 10 gatos con dichas características.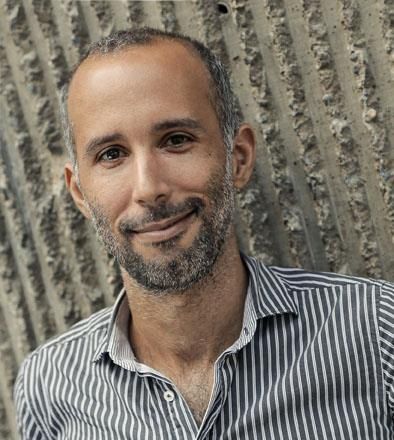 Muchos de estos animales sobrevivieron y son felices, pero tienen ligeros problemas neurológicos. Muchos de nuestros perros y gatos han tenido un triste pasado que cuenta desde abuso sexual, usados como carnadas de peleas, sobrevivientes de envenenamientos y distemper, tuertos, ciegos y la lista sigue y sigue. Estos campeones todos tienen un increíble espíritu y han logrado vencer los más horribles crímenes que jamás hayamos visto. Actualmente todos ellos han sido castrados, esterilizados, alimentados, limpiados, cuidados y al día de hoy sienten alegría debido a las nuevas atenciones que reciben.
LA PARTE DIFÍCIL
La dificultad está en el refugio. Estamos localizados en el centro de un sector bastante peligroso en la ciudad de Santo Domingo. Específicamente en un área del Café de Herrera, conocida por su alta delincuencia.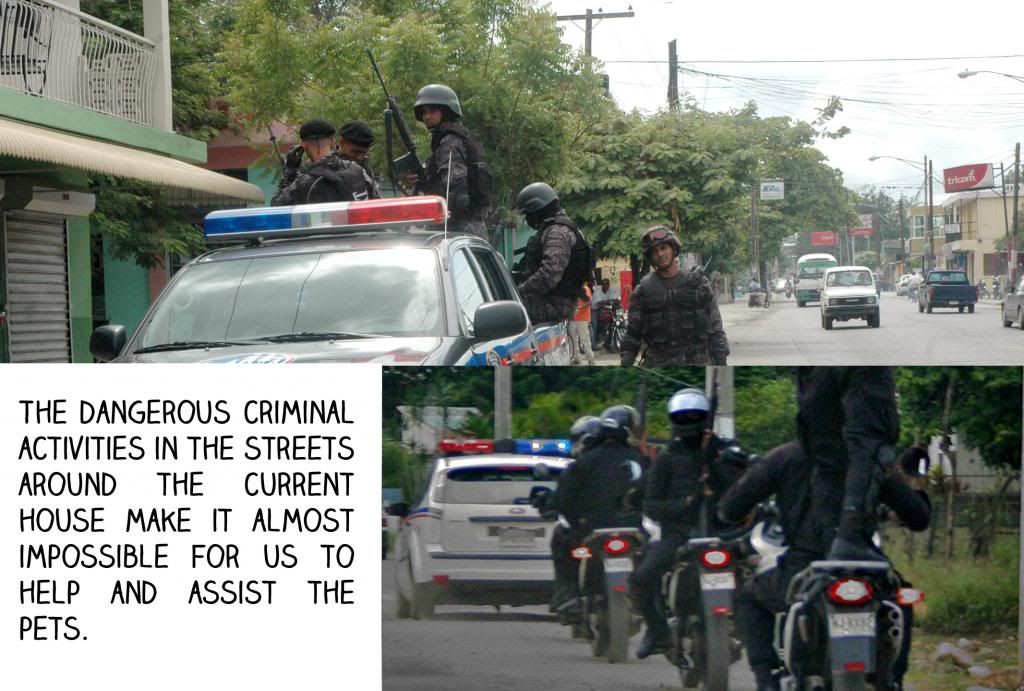 Hemos tenido que soportar robos a mano armada (los perros salvaron al involucrado), hemos visto peleas de pandillas rivales en la puerta principal, balas han roto ventanas y paredes, hasta colocamos los perros en la parte trasera (para que los vecinos no los envenenen), hemos recibido muchas amenazas por ruidos y los vecinos se quejan constantemente.
Desafortunadamente, el gobierno y las autoridades locales no proveen refugios, tierras o ayuda económica o medica. Lo que si tenemos es la ayuda de increíbles veterinarios y amigos que ayudan y quieren ayudar, pero muchos temen visitarnos por la peligrosidad del área y la criminalidad.
Estas no son condiciones para que estos animales vivan, y nos atemoriza el potencial peligro que nos amenaza cada día. Simplemente no sabemos cuando la próxima tragedia puede ocurrir. No podemos mejorar el refugio porque es una propiedad alquilada y las verjas y materiales no se pueden colocar de forma permanente sin cambiar la estructura de la propiedad. Para esto necesitamos tu ayuda!
Hasta el momento contamos con un nuevo terreno recién adquirido, con fondos captados en una primera campaña Ghetto2Garden en IndieGoGo, y la otra parte de nuestros propios recursos, pero todavía no contamos con los suficientes fondos para llevar a cabo la construcción del proyecto.
EL MILAGRO
Este es el milagro que puedes ayudar a crear. Necesitamos reunir $ 98,000.00 dólares para iniciar y concretar la construcción del proyecto Ghetto2Garden. Hace meses se nos acercó la generosa institución local, Colectivo Revark, quienes mostraron su interés en ayudar, y han desarrollado toda la propuesta arquitectónica y gráfica del refugio que necesitan estos animales, pero no es cualquier propuesta, el proyecto que han desarrollado tiene características especiales, será un asilo autosustentable hecho con una buena parte de materiales reciclados combinados con el uso de tecnologías apropiadas para además de ayudar a los animales, ser responsables con el medio ambiente.

[El Colectivo Revark, es una organización no-gubernamental que reúne a un grupo de profesionales multidisciplinares interesados en promover el desarrollo arquitectónico experimental, la investigación aplicada y la construcción social sostenible mediante las redes de colaboración. Basados en la República Dominicana.]
EL PROYECTO
Mucho mejor si el colectivo explica el proyecto con sus propias palabras:
"Hemos diseñado un albergue propio y autosuficiente especialmente diseñado para perros y gatos (que será construido mayormente a base de materiales reciclados como tanques plásticos, pallets de madera, gomas de vehículos, etc., incluyendo sistemas de captación de agua lluvia, sistemas de generación de energía eólica para aprovechar la altura sobre el nivel del mar del terreno, un biodigestor para el aprovechamiento de  los  desechos orgánicos de los mismos perros, y sistemas de permacultura para la producción de frutas y vegetales para los cultivos de quienes cuidaran de los perros. También se contemplan 2 casas/oficinas insertadas en la ladera de la montana (para el propietario y su empleado), las cuales contarán con techos verdes, además un área de recibimiento al público y caseta de seguridad, al igual que un baño común con un inodoro de composta y una ducha que utilizará el agua reciclada. Ubicado en una zona rural o semi-rural ideal para recuperación y descanso, lejos de un centro urbano de alta densidad poblacional, el proyecto contará con agua, electricidad y sistemas de drenaje de aguas negras.
Utilizaremos al inicio un total de 40 tanques plásticos cúbicos que se convertirán en viviendas para los animales. Estos serán desinfectados, acondicionados y amueblados para su comodidad, y además quedarán cubiertos bajo techos inclinados de aluzinc que redirigirán el agua de lluvia y al mismo tiempo protegerán los habitáculos de los perros de los rayos del sol y las altas temperaturas. En este proyecto los animales serán separados por categorías como tamaño, condición física, nivel de agresividad, rango en la manada y muchas otras condiciones para evitar las peleas, y por consiguiente, las emergencias médicas y así reducir costos veterinarios. Las áreas pavimentadas al igual que las paredes de separación requieren de una terminación de piso extremadamente liso para un máximo rendimiento de higiene y control de plagas y parásitos. Contará además con área de cuarentena médica, almacén de alimentos y de medicamentos, área de recreación, paseo y ejercicio y demás áreas vitales para un albergue funcional para animales.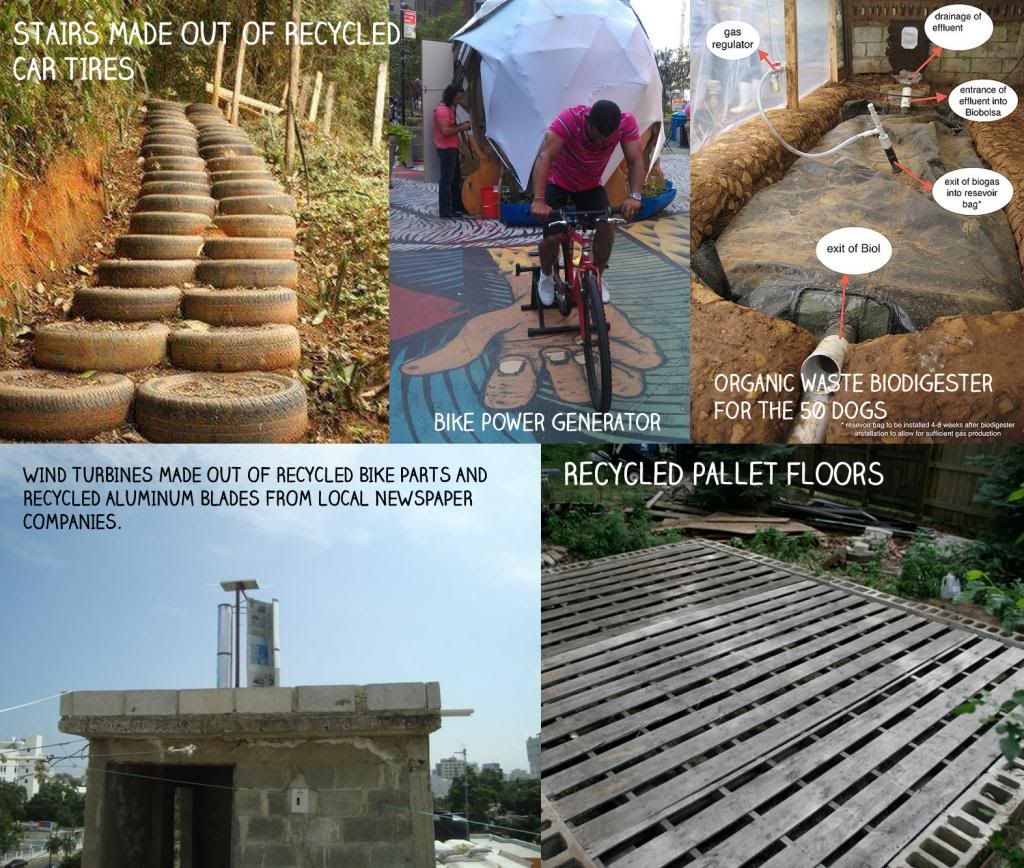 El proyecto tendrá aproximadamente 500 mts2 de desarrollo, construido en un terreno de 6,919 mts2 y estará ubicado en un área montañosa del municipio de Santo Domingo Oeste. En una etapa futura el proyecto se mantendrá en constante ampliación debido a que fue contemplada la adición de mas tanques como viviendas ya que llegarán mas animales al albergue y estos irán sustituyendo a aquellos animales que sean adoptados o a aquellos que, desafortunadamente y debido a sus deterioradas condiciones físicas, no hayan podido sobrevivir, convirtiendo el proyecto en un centro de rehabilitación para mas animales desamparados de la calle."
El resultado final será un refugio con el espacio adecuado para que estas criaturas puedan pasar el resto de sus días, felices, seguros y lejos del peligro.
Futuro del Proyecto Ghetto2Garden
Para que este proyecto funcione de manera adecuada financieramente hablando, vamos a construir una pequeña ala comercial de 10 pensiones hoteleras para perros. Este servicio de bajo costo proporcionará suficientes ingresos para cubrir los gastos básicos del refugio.
Valor Total de la Iniciativa
Como sabrán, todo proyecto que involucre construcción, compra de terrenos y pago de impuestos al estado representa muchos gastos considerables e importantes, pero en nuestra labor de optimizar el costo hemos llegado a un excelente presupuesto con tal de llevar acabo un proyecto con el mínimo de los costos y que aun así sea responsable con el medio ambiente y lo suficientemente cómodo para nuestros perros rescatados.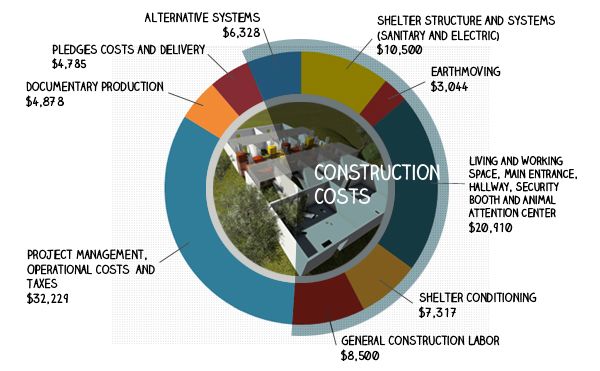 Covertura de Medios
Nuestro proyecto fue recientemente presentado en la revista digital mundialmente conocida sobre diseño y sostenibilidad INHABITAT, y en la revista digital dominicana sobre ecología y sostenibilidad CULTURA GREEN.
COMO COLABORAR
Estamos viviendo en tiempos muy excitantes donde más y mas personas están canalizando sus energías, tiempo y recursos para reconstruir nuestra hermosa naturaleza y sus habitantes sin importar la especie. Si tu corazón se siente inclinado, puedes colaborar desde compartir y comentar en nuestro proyecto hasta donar la cantidad monetaria que esté dentro de tus posibilidades y recibirás un regalito simbólico (que puedes encontrar en nuestro Pledges Chart), y un pequeño gesto de agradecimiento por tu gran generosidad y misericordia. La mayoría de los regalos son acumulativos, dependiendo del tamaño de la donación.
Otras Maneras de Colaborar
Comparte nuestra causa con tus amigos y conocidos. Puedes hacerte amigo de nosotros en Facebook o Twitter, de esta manera puedes ver el progreso del proyecto mientras nos encaminamos en este lindo viaje hacia la libertad.
Comenta o regálanos un "Like".
Dona materiales constructivos para el proyecto y/o alimentos para animales del refugio (si estás en República Dominicana) contactando a Keila Ulloa para mas detalles: colectivorevark@gmail.com
El increíble video fue producido/dirigido/filmado/editado por nuestro gran amigo Dario A. Scapellatto, propietario de MatecocidoFilms. Es importante mencionar que un documental mucho más grande y elaborado se creará durante la construcción del proyecto con la intención de difundir en todos los medios agradeciendo a nuestros donadores. Vea la sección Pledges!
Agradecemos grandemente cualquier tipo de colaboración que puedas realizar y esperamos poder seguir compartiendo historias positivas de caninos y felinos superhéroes!
Atentamente,
Tomás De Santis y Colectivo Revark.