This campaign is raising funds on behalf of Shunpike Arts Collective, a verified nonprofit. The campaign does not necessarily reflect the views of the nonprofit or have any formal association with it. All contributions are considered unrestricted gifts and can't be specified for any particular purpose.
Who We Are
The BareFoot Collective (tBFC) is a community-based organization dedicated to creating opportunities for dance and related arts in the Greater Tacoma Area. We accomplish this by providing access to dance through educational opportunities, community-based performances, audience experiences and artist collaborations. The Collective's goal is to foster a creative community through service projects, creative connections and a collaborative spirit. The BareFoot Collective emerged out of the Barefoot Studios in 2008 and is run by enthusiastic co-directors who are proud to call BareFoot their creative home. The BareFoot Collective is an associated partner of Shunpike.
Ides of May & You
The Ides of May project spans 3 months and includes a free dance workshop for high school students on three consecutive weekends prior to performance, ongoing rehearsals and a professionally-produced contemporary dance concert all in the heart of downtown Tacoma, at the Broadway Center for the Performing Arts (BCPA).  The performance will take place on May 11th with a matinee at 2:00pm followed by an evening performance at 7:30pm.
Dance education for youth is one of our highest priorities as a community organization and we are excited to once again include high school students from both Tacoma and Gig Harbor in Ides of May 2013.  The weekend workshops and performance experience provide participants with an invaluable opportunity to engage in movement creativity and express their artistic sensibilities, while also gaining insight into the rigors and benefits of the professional dance world.
tBFC has performed throughout Tacoma in a variety of likely and unlikely venues, from the Museum of Glass and the Tacoma Public Library to local businesses: King's Books, Indochine, The Mix, and Cork Wine Bar.  This year, for the first time, tBFC plans to go big!  In celebration of our fourth Ides of May show we are pleased to announce we will perform at the BCPA's Theatre on the Square! 
Going big also means funding big.  While a more traditional theatrical venue offers a larger stage, a larger house, and other amenities, which make the experience more enjoyable for our audience, it also entails extra costs.  That's why we need your support; every donation will go towards paying for theatre/floor rental, BCPA box office services, technical staff support, and rehearsal time in the BCPA studios.
Partnering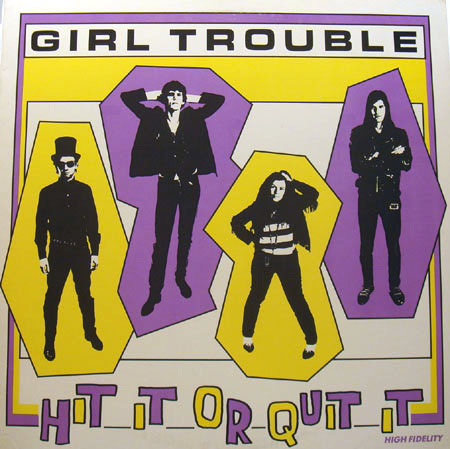 tBFC is excited to work with local music groups and other dance organizations in the Puget Sound area(s).  Michael Hoover, co-director of tBFC, is creating a dance piece inspired by his love of punk music, and in particular Tacoma's own Girl Trouble.  "I like the challenge of doing something different, something that challenges what is expected and what is 'normal'" reports Hoover.  Established in 1984, Girl Trouble are a main stay in Tacoma, self producing and creating music their own way.  They are celebrating their 30th anniversary with the launch of a retrospective film documentary and book. 
This year's concert will also include the music of Julia Massey and the Five Finger Discount, a talented trio branded as "cosmic-folk-rock".  "It is amazing to find music that inspires you to move and create.  How lucky to have such a talented group of musicians in the Pacific Northwest that want to support dance and local organizations through the sharing of their art" says Stephanie Pederson, co-director of tBFC.
This diverse show also features the live music of Nathaniel Dybevik, original work from Serendip Dance Brigade, the choreography of Carla Baragan of BQDanza, Serena River, and dancers from Pacific Lutheran University (PLU).
Upcoming Performances: Dance of the Kaleidescope

When you donate to tBFC campaign, you are also supporting future shows, namely Dance of the Kaleidescope, which will take place July 6, 2013.
"BareFoot is continuing to fulfill our mission to form partnerships in our community by pooling our creative talents with those of The Warehouse and MLKBallet," says newly appointed BareFoot Intern, Dana Livermore. 
Together, tBFC and MLKBallet will perform side by side with Lemolo, hailed by City Arts Magazine as "Best New Band," and premiere new choreography set to this electrifying duo's debut album "Kaleidescope".  The performance will take place at Urban Grace in Tacoma, WA.  For more information on this exciting new project and how to purchase tickets visit:
http://us1.campaign-archive2.com/?u=b0e5604fa1c...
Perks
tBFC is committed to delivering highly provocative and exciting dance performances to our community; whether it's in a theatre or in a book store, our sponsors can be assured tBFC's fourth Ides of May will be our most diverse yet!  
Remember, donations to tBFC Ides of May campaign assists us in both our youth outreach initiatives and future creative endeavors. 
The more you give the more you receive!  We are pleased to offer various perks at each donation level including personalized Thank You cards, a signed photograph of the collective, your own BareFoot t-shirt, and even free tickets to Ides of May 2013!  Because we are a 501(c)(3) organization under Shunpike, your donation is tax deductible with the exclusion of the market value of the gift(s) you receive. 
The Impact
Full funding of Ides of May will allow the BareFoot Collective to continue to build a platform for Tacoma's dance community and youth to explore, learn, rehearse and present dance works in a secure, high-quality, professional setting.  Bringing tBFC and BCPA together for Ides of May works to fulfill initiatives for both organizations as well as feed the creative spirit of Tacoma's dance community.
Love always,
tBFC