Thank you to our supporters -- we have hit our goal but we are STILL GOING! 
The press is taking notice: 
Wired | Recode | NPR | TechCrunch | Quartz
Are you tired of losing elections and feeling helpless? So are we.
Democrats have all the right ideas—but they're spending their money in all the wrong places. Meanwhile, Republicans are crushing us online. Tech for Campaigns can fix that.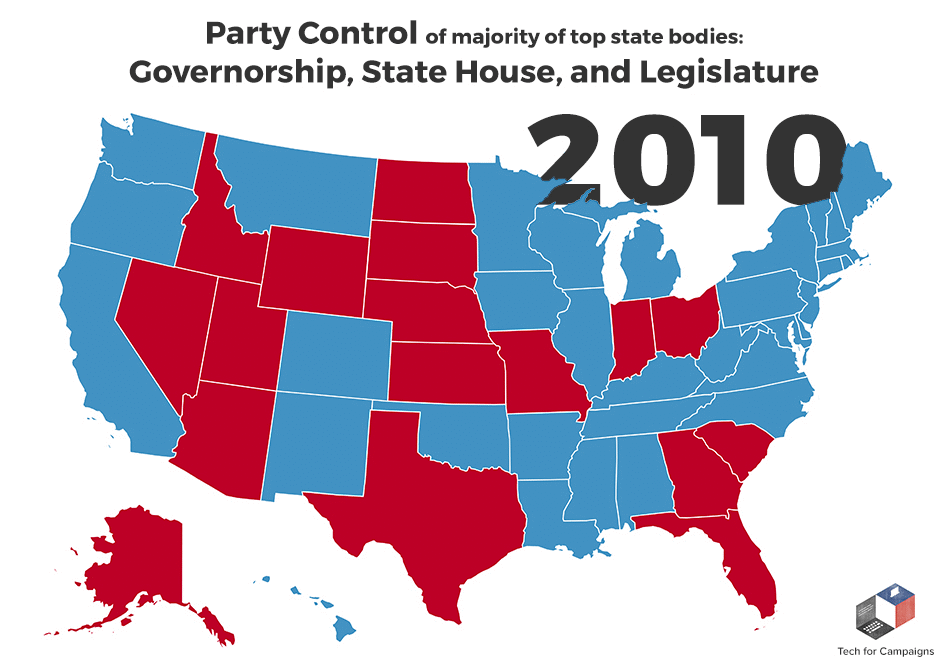 With your help, Tech for Campaigns (TFC) can build a digital arm for the Left. Our community of 3,000 skilled volunteers will supercharge campaigns with digital expertise—like building email programs, running social media advertising, and analyzing voter data—and software tools we're building. In short: we give political campaigns a digital makeover. For free.
Our goal: complete 500 digital campaign projects by the end of 2018. For free.
With your contribution, you'll help real candidates across the country win their elections—and join a new dialogue about how tech and politics can work together.
Get access to our fireside chats with tech and political leaders for real dialogues about how tech and politics should work together—and how they shouldn't. What would you ask former Twitter CEO Dick Costolo or former Michigan governor Jennifer Granholm if you had the chance?
To change politics in America, we need a different solution—and the conversation starts with you.
What is the problem?
Democrats are spending their money in all the wrong places—and Republicans are outspending & outmaneuvering us online.
Today's voters get most of their information online. According to AdWeek, we spend 5.6 hours online every single day. In 2016, more money was spent on Internet ads than television ads in the US.
And yet, Democrats only spend 5-10% of their campaign funds on digital channels!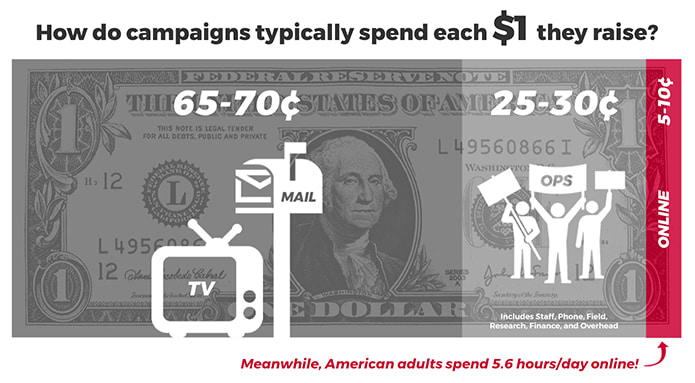 Meanwhile, the Republicans have prioritized digital: they spend more money, for longer periods of time—in smarter ways.
On average in the 2016 Senate races, Republicans outspent Democrats on Google digital channels (like YouTube) by 3 to 1. It got even worse from January to June, to the tune of  20 to 1.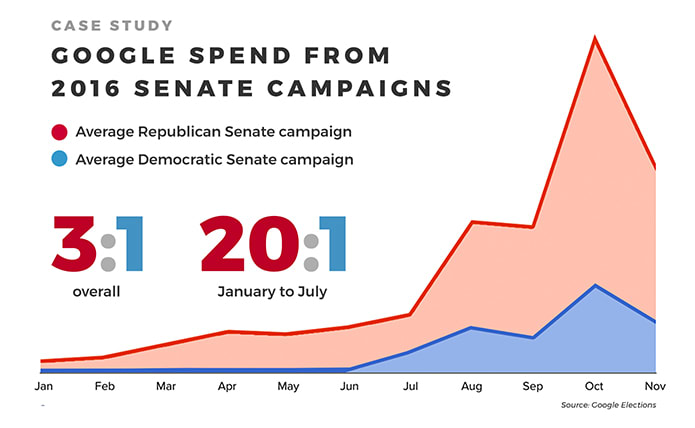 This hurts us everywhere. But it's been most devastating at the state level—where races are won and lost by just hundreds or thousands of votes.
You probably know Democrats lost Congress in the last 2 elections. But did you know we've been crushed at the state level too?

Why do state elections matter so much?
In most states the legislatures decide how federal and state districts are drawn—AKA, they are really important!
State governments also make decisions on major issues like health care, gun control, and environmental protections. You hear a lot about "taking back Congress" or "flipping the house"—but we can't do that in a meaningful way without changing how the districts are drawn.
And that starts with the state legislatures.
So, how can we fix it?
Tech for Campaigns helps progressives & centrists by matching them with best-in-class talent and technology they need to win state elections.
Our mission: activate our network of 3,000 volunteers to build tech tools and strategies that candidates can use for years to come. We're not just helping one campaign; we're changing the way campaigns are run. All over the country.
Today's voters get most of their information online. And winning online requires better advertising and targeting, smoother websites, and smarter data. But Democrats haven't caught up—and keep spending their campaign funds in all the wrong places.

We match talented experts from our community of 3,000 volunteers to campaign teams—and take on their biggest digital challenges.
Whether it's running social media advertising programs, analyzing complex voter data, or building tools for automating fundraising research, we're writing a digital campaign playbook that actually works.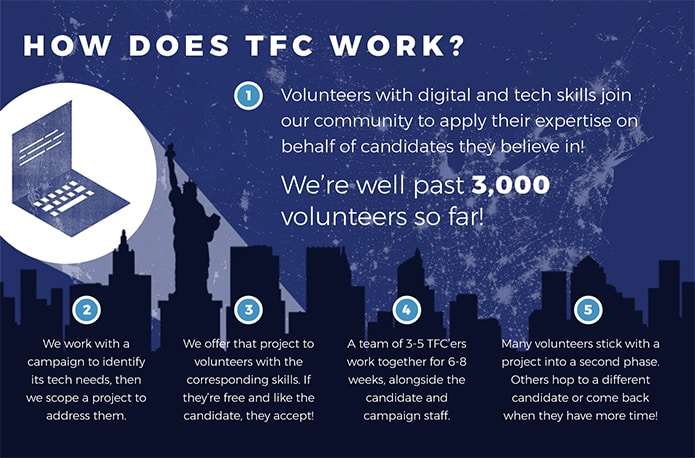 How you can help—and what's in it for you?
It all starts by bridging the gap between technology and politics. With a contribution of $100 or more, you'll get access to an online fireside chat with a notable pair of leaders: one from tech, and the other from politics. Like Jason Kander and Sam Altman—or Jennifer Granholm and Dick Costolo!
You have a right to be involved in the conversation about the role of technology in politics. How can they work together—and where should we draw the line? It's not a backroom conversation. It's something people like you should be able to lead.

With your help, we'll tackle 500 digital projects:
We've already proven that TFC works. By next month, we'll have completed 50 successful campaign projects.


Next, we'll build technical infrastructure and software tools 
Shared best practice guides, templates and toolkits to optimize online spending
Data models to help states understand which districts are most competitive—and where to focus their efforts
Employ full-time staff to build these products—and manage 500+ teams of skilled volunteers
Our north star goals:
Achieve better political results in 2018 and beyond
Widen access to politics and empower long-term volunteerism
Teach pro campaigners how to leverage technology to win elections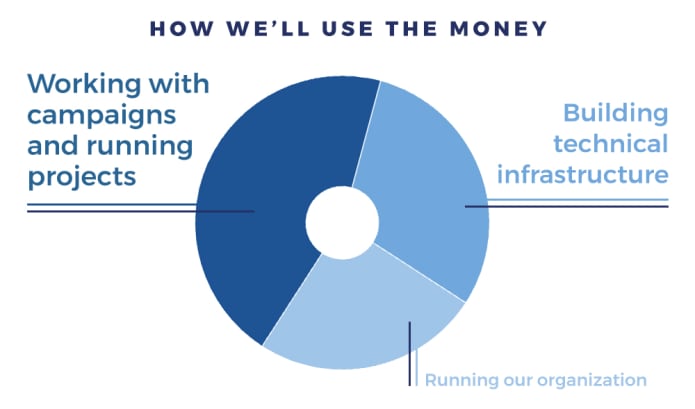 CASE STUDIES
Here's how the campaigns we work with feel about TFC.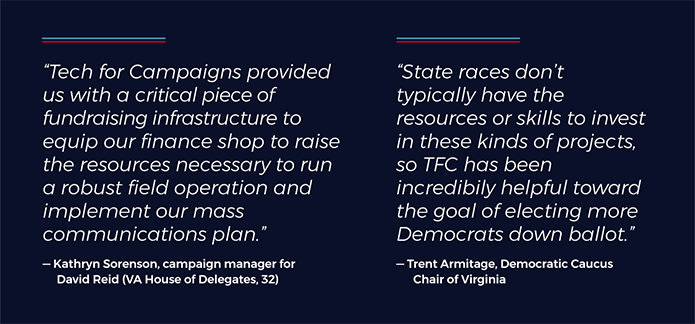 For James Thompson's special Election race in April 2017, we ran their paid social media program. Including their targeting, creative assets, copy and reporting. In under 2 months, our TFC team started their paid programs from scratch, taking them from: 
 1,300 to 10,000 followers 
20 to 600 likes per post
Engagement levels 15x higher than their opponent's
Meet the TFC Team
Our founders & volunteers hail from all over—but are proven tech experts who want to change how politics works.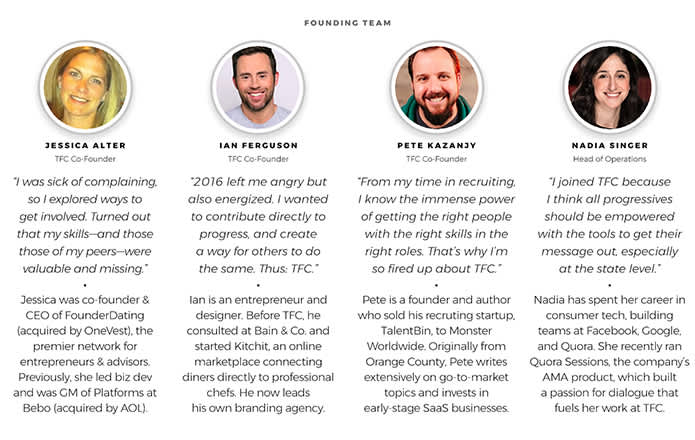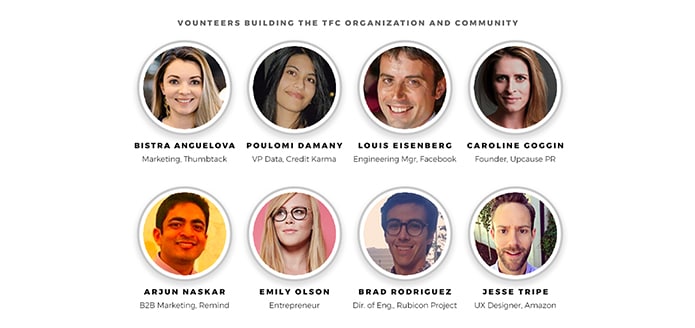 With so many races in 2018, how do you choose which ones to focus on?
National elections get all the attention, but state-level elections are secretly the center of political power.
Fun fact: State-level politicians control how much your vote matters—locally, and nationally. Yep. You read that right.
We know, we know: you probably don't pay attention to state elections. They're like the Minor Leagues. But your local state officials control how much your votes matter—because they control redistricting at the state and national level.
That's right: in most states, your state legislature gets to redraw the boundary lines of Congressional districts. And for years, Republicans have been doing this in a way that is ridiculously favorable to their candidates—while totally disenfranchising Democratic voters.
This is called gerrymandering.
Should you care about gerrymandering? Yes—if you ever want Congress back.
Gerrymandering is secretly the worst problem in American democracy. The Republicans are rigging the game, and we need to take action now.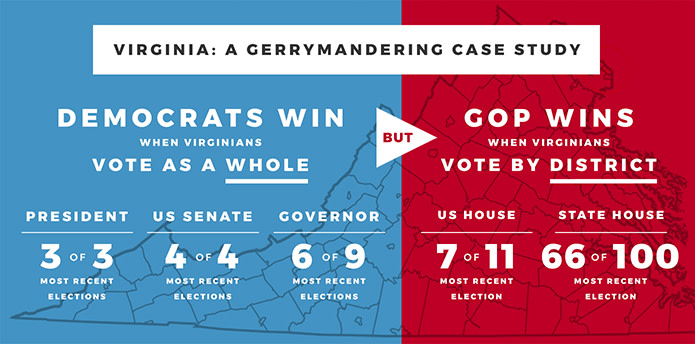 Republicans use gerrymandering to suppress the impact of your vote. And the votes of women, minorities, and other groups that tend to support Democrats.
In 2020, your elected state officials will redraw their districts—and we'll be stuck with those lines for another ten years.
So, the people we elect next year matter. A lot. We need to start taking back the states now to even have a chance of taking back Congress in 2020.
It's 2017. All campaigns should get best-in-class digital help.
Let's bridge the gap between tech & politics - and start winning again. 
TFC in the News
We've been lucky enough to have our work featured in leading publications like:

Read more: Recode| Quartz | NPR | Next Gen Dem Podcast 
FAQs
Q: Are the fireside chats in person or online?
A: A bit of both. The virtual fireside chats will be hosted as a private online video-chat. Only backers will receive a unique link to access the fireside chat(s) they sign-up for, and will have a chance to submit questions both ahead of time and during the chat through a moderator.
The Chamath/McFaul/Ghonim chat is in-person in the Bay Area.
Q: When will I get my perks?
A: Shirts will be shipped by December, 2017. The fireside chats will take place between November 2017 and February 2018. Each fireside chat will be scheduled separately.
Q: Will any perks go out before the campaign is completed?
A: No, perks will not go out before the campaign is completed.
Q: How do I tell you what t-shirt size I need?
A: You will be asked to indicate the size and style of your t-shirt when you are checking out in Indiegogo.
Q: What if I want more than one perk?
A: You can make multiple gifts on Indiegogo using a single account. Just make sure you use the same email address and login, so we'll know that all of your perks are meant to go to the same person. Many of our backer levels offer access to multiple fireside chats, so if you give $750 or more, you will be able to choose multiple. We will follow up after the campaign is completed to find out which fireside chats you want to attend -- including any surprise perks that we release mid-way through the campaign. 
Q: Can I donate at one backer level and attend a digital fireside chat for a different backer level?
A: Each backer level comes with its own fireside chat, and you will only be able to attend the fireside chat(s) that are associated with your level. Some backer levels give you the option to choose from a set of fireside chats. For example, if you donate $750, you will be able to choose any 2 of the fireside chats available up to the $500 level.
You can also earn access to additional fireside chats by referring your friends to contribute to the campaign. The top referrer will win access to every fireside chat! The top 10 referrers will all get access to multiple fireside chats as well. Donate to join the referral program. Learn more about the prizes here!
Q: How much is shipping? What if I'm an international donor?
A: Shipping is $4, regardless of your location. Unfortunately we cannot ship t-shirts internationally. However, if you purchase a t-shirt and live internationally, we are happy to ship it to an alternative domestic address.
Note that we cannot accept donations from any international donors, unless you are a United States Citizen living abroad.  
Q: I'm not a U.S. citizen. Can I donate?
No. Legally, only United States citizens or Permanent US Residents can donate to Tech for Campaigns.  
Q: How will I get my perk?
A:  The virtual fireside chats will be hosted as a private online video-chat. We will send you more details on the fireside chat once the campaign has ended, including a link to register and get your unique access code that will let you into the fireside chat on the day of. You will be able to submit questions for the fireside chat participants in advance of the session. The fireside chats will be scheduled following the close of the Indiegogo campaign.  
T-Shirts will be shipped domestically to the address you give when you make your donation.
Q: What if I want one of the perks and it is sold out?
A: Some perks are only available in limited quantities because of their special nature. So get these perks while they're hot and contribute now!
Q: What happens if I can't make the scheduled time for my fireside chat?
A: If you are unable to attend at the scheduled time, we will make the recording available to you after the fireside chat is completed. If you are unable to attend at your scheduled time, please email us at ighelp@techforcampaigns.org.
Q: Will the chats be recorded?
A: Yes, the fireside chats will be recorded and made available to participants.
Q: How will I participate in the chat?
A: You will be asked to submit your questions for your fireside chat through a virtual form at the close of the campaign. You will also be able to submit additional questions to a moderator while the fireside chat is live. Your questions will contribute to making these fireside chats a rich discussion - this is your time to engage directly with tech and political leaders!
Q: Is TFC a non-profit?
A: Yes, TFC is a registered 527 non-profit organization.
Q: Are you a PAC?
A: We are actually something called a Hybrid PAC, a political committee that is both able to make contributions to political candidates and able to make independent expenditures.  
Q: Are contributions tax deductible?
A: It turns out that no contributions to political organizations are tax deductible, sorry about that. Hopefully, you feel good about what you're doing for democracy ;).
Q: What are the contribution rules?
To contribute to Tech for Campaigns, you must agree that the following are true: 
I am a U.S. citizen or lawfully admitted permanent resident (i.e., green card holder).
This contribution is made from my own funds, and funds are not being provided to me by another person or entity for the purpose of making this contribution.
I am making this contribution with my own personal credit card and not with a corporate or business credit card or a card issued to another person.
I am at least eighteen years old.
I am not a federal contractor.
Q: I have another question. How can I ask you?
A: If you don't see your questions answered above, give us a shout by emailing ighelp@techforcampaigns.org. We'll be happy to help you out!
Contribution Rules
By contributing this campaign you certify to that you meet the legal requirements stated in the contribution rules below.
Contribution rules
1.      I am a U.S. citizen or lawfully admitted permanent resident (i.e., green card holder).
2.      This contribution is made from my own funds, and funds are not being provided to me by another person or entity for the purpose of making this contribution.
3.      I am making this contribution with my own personal credit card and not with a corporate or business credit card or a card issued to another person.
4.      I am at least eighteen years old.
5.      I am not a federal contractor.
Tech for Campaigns is a 527 non-profit organization and federal political committee registered with the Federal Election Commission.
Contributions or gifts to Tech for Campaigns are not deductible as charitable contributions for Federal income tax purposes.
Federal law requires Tech for Campaigns to request and disclose the name, address, occupation and employer of contributors who contribute, in the aggregate, in excess of $200 in a calendar year.
Paid for by Tech for Campaigns, www.techforcampaigns.org, not authorized by any candidate or candidate's committee.
Contributions for the fireside chat program are limited to $5,000 per calendar year from federally permissible sources.  No corporate contributions will be accepted in connection with this program.