This campaign is raising funds on behalf of Software In The Public Interest Inc, a verified nonprofit. The campaign does not necessarily reflect the views of the nonprofit or have any formal association with it. All contributions are considered unrestricted gifts and can't be specified for any particular purpose.
From Wildfire Games, the studio that brought you the highly acclaimed Age of Empires II: Age of Kings full-conversion mod Rome At War...

Comes a highly anticipated open-source real-time strategy game, inspired by the classic games of the genre, such as Age of Empires, Rise of Nations, Starcraft, Command & Conquer, and Battle for Middle Earth: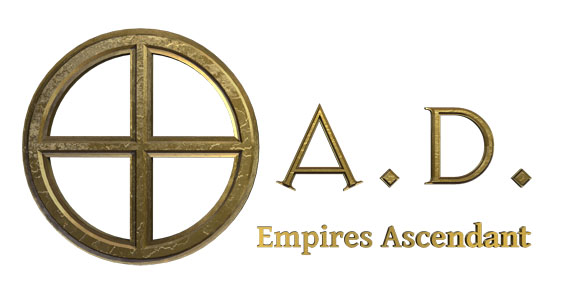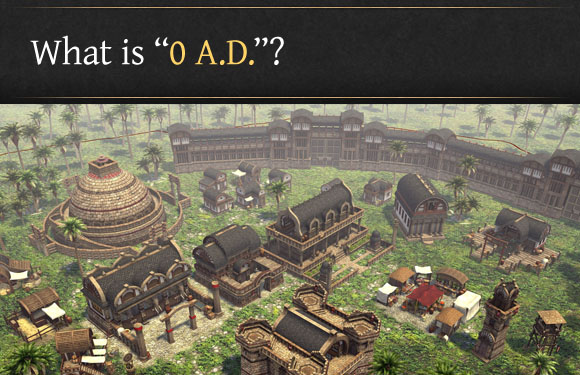 It's a real-time strategy game based on the years 500 B.C. through 1 B.C., when the Roman Republic saw its meteoric rise, Alexander the Great's epic empire was built and crumbled into competing kingdoms, the Celts menaced Italy and Greece from the North, and Hannibal crossed the Alps with his corps of elephants.

"0 A.D." is a time that never was: A time when the civilizations of antiquity were all at the peak of their development.

We take the classic elements of real-time strategy gaming, where you build a civilization from scratch, recruit an army, then go massacre your enemies, and update them for the 21st century with exciting new features, a dozen fully-realized civilizations, and modern graphics powered by our custom-built open-source engine Pyrogenesis.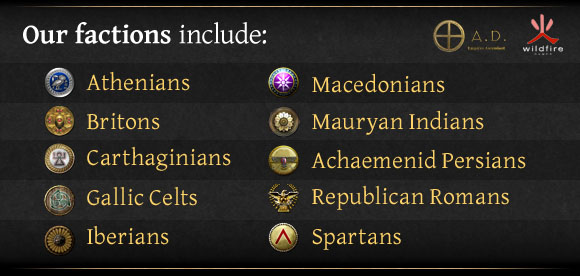 And those are already completed! We have two more on the way: The Ptolemaic Egyptians and the Seleucid Empire. Each of our 12 factions has unique art, unique unit rosters, historical heroes, and technology trees customized for historical authenticity and cool factor.


This is what we've always wanted in a real-time strategy game.






We're building 0 A.D. – Empires Ascendant because we love strategy gaming and we think the current state of the strategy genre is abysmal. While there have been some great strategy games released recently, we feel like the essence of old-school Real-Time Strategy has been lost. We'd like to recapture that.

We're taking the old-school conventions of the genre and updating them. 0 A.D. – Empires Ascendant is inspired by Age of Empires, but also takes cues from games like Battle for Middle Earth II, Rome: Total War, Starcraft, Age of Kings and others. We've honed the game's design into a coherent, unique whole, that delivers an authentic experience.

Over the years (development went open-source in 2009), the game's design has evolved considerably, but our hearts have always been set on recreating that feeling we had when we played our first real-time strategy game all those years ago.



Classic base building mechanics.
Up to 20 different buildings for each and every faction: Forts, Blacksmiths, Houses, Barracks, City Walls, you name it.
Each building has a very specific purpose and function, with a whole tree of common and unique technologies.
Grab exclusive territory on the map with our dynamic territory system, so you can expand your empire and deprive your enemies of land and resources.

Up to a dozen different unique soldiers for each faction! Spartan Hoplites, Persian Immortals, Iberian Devotio, Macedonian Companions, Roman Hastati.
A multi-layered counter system that adds more depth than the old rock-paper-scissors mechanic.
Formations, like the classic Greek Phalanx, the Roman Testudo, and Cavalry Wedge.

Each faction comes with a unique navy - Triremes, Quinqueremes, Pentakonters, fire ships, and more!
Garrison units aboard your warships to add to their firepower and abilities.
Transport your troops across the sea in warships for amphibious assaults and invasions.
Ramming will be a feature so that you can reenact or rewrite classic naval battles, like the Battle of Actium or Battle of Salamis.
All of that, and not only is 0 A.D. - Empires Ascendant open-source, but...



Our code is GPL 2.
Our art and sound are CC-BY-SA 3.0.
Our game is cross-platform: Windows, Linux, OSX.
Our game is single player - slaughter the AI.
Our game is multiplayer - slaughter your friends.
Our game is educational - learn from it.
Our game has a 100% all-original soundtrack. Yes, really.
Our game is awesome.
Our game is FREE. No cost. No pay-to-play. No pay-to-win. No DRM junk. Share it. Mod it. Live it. Love it.
You can even demo the game right now! Warning: Alpha release, may contain bugs, lag, and general warfare.







You care about good strategy gaming. You're a fan of history (and you like to trample Romans with war elephants).

You care about software freedom. You care about modding.

You care about the future of Linux gaming. You care about cross-platform games.





People are spending more money, time and attention on playing computer games than ever before, and games are constantly evolving into a more nuanced medium of expression and a greater part of our culture. But so much of it is dominated by large, for-profit corporations. The options to mod the games are so limited. And so few high-quality games are developed for free platforms such as GNU/Linux.
0 A.D. is different. It is free (as in "freedom"), open-source software.

We think gamers should be allowed to learn how their games work, change them, share them and redistribute their works. This freedom to tinker is what free, open-source software is all about and so we hope a lot of people tinker with 0 A.D. Just imagine what wonderful things might come out of it.

We've seen triumphs of similarly free, open-source software from Mozilla Firefox to the 3d graphics program Blender. Now it's high time for a free, open-source game to shine. Moreover, 0 A.D. runs on Windows, GNU/Linux and the Mac. So it spreads freedom everywhere.

0 A.D. is an associated project of Software in the Public Interest, Inc. (SPI). SPI is a non-profit organization based in the USA, that acts as a fiscal sponsor to many open source projects, including Debian, Drupal and LibreOffice, and since December 2012, also 0 A.D. This means SPI can accept donations and hold funds for the development of 0 A.D., and we are using it for the purposes of this fundraiser.

Importantly, SPI is a tax-exempt public charity described under section 501©(3) of the US Internal Revenue Code. This means that for many US taxpayers, some or all of your donation towards this fundraiser may be tax deductible. For details, please consult your tax advisor. (For tax purposes, you will get full acknowledgments of the values of the perks you received.)





Awards:


Performance
Right now, performance is not where it needs to be. Bottlenecks include pathfinding, the range manager, AI scripting, garbage collection, and memory allocation. A focused programming effort can help improve on all of these areas.

Gameplay
While the 0 A.D. - Empires Ascendant is already playable, there are many features still missing from the game that will be essential in defining what "0 A.D." gameplay is all about. They include formations, unique technology implementations, hero auras, building capturing, and intense naval combat. We also plan on including what we call "Skirmish Maps" to augment scenarios and random map scripts. Skirmish maps are essentially hand-crafted scenarios with the functionality of random maps.

Content
The art department is still working on adding to the rich cache of content players expect in a AAA RTS game. The Egyptians (of the Ptolemaic dynasty) are being worked on as you read this. We also need dozens of new animations. We've started remodeling and replacing our old unit meshes to remain Blender-compatible and facilitate new animations.

Stable, Feature-Rich Multiplayer
There is a multiplayer lobby patch already submitted, but will require testing and changes in order to make it ready for our fans. Functionality we want includes NAT migration (so the game doesn't crash when the host quits), user lobby creation, and transferring user-created content between players (scenarios, skirmish maps, random maps, mods).

Single-Player Campaign(s)
We would like to include a single-player campaign for 0 A.D. - Empires Ascendant if we reach our stretch goals. Either a narrative campaign with a storyline written by Michael [Mythos_Ruler] or a real-time strategic campaign, akin to something you would see from Total War or Rise of Nations.

With your help, we can successfully meet these challenges and give you a game worth obsessing over.


Read on to find out about who we'd like to hire to help us finish this beast.




My name is Jorma Rebane [aka RedFox], and I'm a college student at the University of Tartu, Estonia, majoring in Computer Engineering and Robotics. I'm already working full-time on the game with the funds raised from previous, smaller fundraisers.

With your help, I hope to continue programming 0 A.D. full-time as a contractor for at least a year.


I have around 7 years of experience in a variety of programming languages and projects. Starting with mods like 'Diadochi - Total War' and ending with commercial Robotics R&D projects at University of Tartu, Institute of Technology. As a hobby, I also give short courses in x86 Assembly programming every year for second year graduates.

Strategy games have been my small passion ever since the first Age of Empires; and has grown stronger yet after gems like StarCraft - Brood War and Rome - Total War.
In 2007, I released a total-conversion mod for Rome:TW, called Diadochi - Total War and soon after I reached the limitations of the Rome engine. At that point I started working on my own game engine called 'Legacy' with little to no prior knowledge of C++, which proved to be a huge learning curve to me. Even though the game project didn't succeed, I used my gained knowledge and experience to land a job in robotics R&D.

Now after a long break from game development, I'm back on track and burning with passion to help finish 0 A.D.

There are few main areas that I will focus on:
Overall Code Quality
Good Game Performance so the game won't lag
Fun Game Features
Open-source Patch Review (add new things to the game faster)
Development Blog to let our fans in on my progress



I'm Michael Hafer [aka Mythos_Ruler], from Indiana, USA, and I'm the project leader for 0 A.D.

I joined the Wildfire Games team in October 2003 as a concept artist, sketching buildings in my sketchbook and scanning them with my old Memorex scanner. Later, I learned Photoshop and how to create textures. Then I learned how to edit models. Soon, I was creating all new content for the game and helping to manage the art department, creating public relations graphics, helping recruit new team members, and moderating the forums. I was doing all of this in a hobbyist capacity, as were the rest of my teammates.


Eventually, I became the art department leader and I helped guide the release of 0 A.D.'s many Alpha releases. In early 2013, 0 A.D.'s project leader Erik Johansson (erik_feneur) stepped down from his post after shepherding the project for many years, and I assumed his role.
I believed that we needed a new plan for developing 0 A.D. I worked out some general plans looking forward to the next few years and after much internal discussion with the entire Wildfire Games team, we decided the project has grown so large, it needs a couple of full-time developers to work on it.

There are four main areas that I will focus on:
Project Management to keep development moving at a good pace
Outreach and Recruitment to get the word out about 0 A.D. and recruit new team members
Fun Game Design, Good Balance, and Documentation
Art Design and Cool Game Assets
The above is only a small part of what I'll do. I can't wait to get started and I can't wait to work with Jorma and the rest of the development community on making 0 A.D. – Empires Ascendant into the game we've always wanted to play.





Any amount you donate helps the cause! But let's talk about these exclusive goodies:











These are lofty goals indeed. Can you help us achieve them?




There are tons of other ways to help us develop the game!
Do you have programming skills?
Do you have modeling or animating experience?
Spread the word about our project!
Read more about 0 A.D.'s development on our Wikipedia page or on the official 0 A.D. website!







In short order, Wildfire Studios developed and released a widely acclaimed mod for Age of Kings, titled Rome At War, and began planning a full-conversion of the Age of Kings engine to create a whole new strategy game based on antiquity.

When the team reached the limits of modding, we decided to create a brand new engine, Pyrogenesis, powerful enough and flexible enough to fulfill Wildfire's ambitious goal. "Wildfire Studios" was no longer a modding team, but an independent game developer, made up of a community of volunteers from all over the world. Wildfire Games was born, and we've been at this ever since.

We've had nearly 100 contributors over the years, in art, programming, website development, sound, music, and many other areas, but the core conviction remains the same. The development of 0 A.D. is truly a global effort of folks who are fanatical about ancient history and strategy gaming, and who are dedicated to seeing development through to the end.