Remember
Steel Storm: Burning Retribution
? The top-down arcade shooter developed by Kot-in-Action Creative Artel? Apparently it was pretty good. Now try to imagine a sequel set within the same universe, but adapted into a first person shooter with old school gunplay in the spirit of Doom and Quake with added adventure elements and a rewarding story.
Yes, unlike the original game, Steel Storm 2 will combine vehicle and on-foot action so that players will experience a more engaging and diverse tale from behind the eyes of its protagonist. With your gun facing forward, prepare to head into an action-packed shooting frenzy with discoveries that will send emotions running high.
WTF Is Steel Storm 2?
Steel Storm 2 is a multi-faceted FPS experience. Imagine the breadth of Rage's gameplay - the vehicular exploration and enemy extermination - but add a storyline that actually rewards you; something more in line with Halo and Darksiders. Now let's sprinkle in some of the classic features of older shooters: carrying all weapons, no cover, lots of ammo, fast movement, and so on. The visual style is inspired by Ghost in the Shell anime,
with a blend of Blood+, Afrosamurai and Appleseed to a degree
.
Steel Storm 2 will utilize the mighty idTech 4 GPL engine (the engine behind Doom 3 / Quake 4 / Prey / Wolfenstein / Brink ) and will be available for Linux and Windows, with a Mac release possible if enough funding is received. A release on Valve's PC distribution store, Steam, has already been secured. A Fall 2013 release is planned.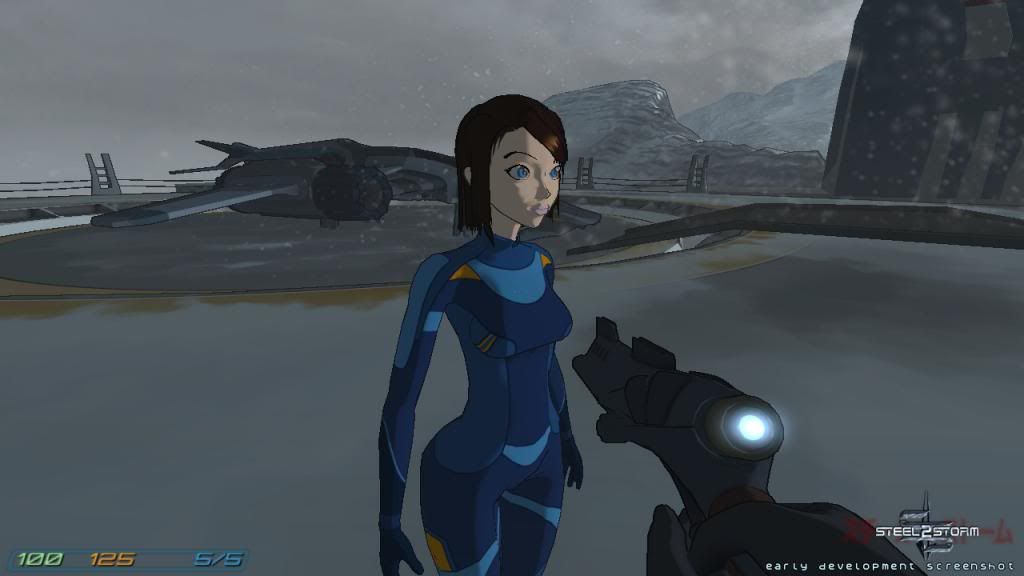 Fast flowing FPS:
Infused with the ferocious pace of old school shooters, the meat of Steel Storm 2 is a chapter-based campaign across sprawling terrain accompanied by a harsh climate. Enemies come with various skills and need to be dealt with correctly and upon doing so you'll witness the satisfaction of gibs! Big bosses, quests, key hunts, vehicular combat and plenty of weapons will keep you entertained from moment to moment.
Rich storyline:
Taking on the role of Aurora, a former hovertank pilot turned natural resource scout, your calling for adventure sends you to a remote corner of the Warbird galaxy, on a remote ancient planet. During your journey you will discover many wonderful places, cool weapons, awaken an ancient alien race and face separatist Union's General Bova with his ruthless minions. The story is told with cutscenes, NPC interaction and through finding relics from Aurora's past that have a profound effect on her.
Chapter-based adventure:
In order to mold the game as we hope and to ensure it appears on your monitors as soon as possible, we're releasing the game in four chapters. Think back to how Quake was separated into episodes and you'll understand how this will function within the game. Releasing content in chapters also allows us to address feedback and tailor the game accordingly.
Manga-influenced artstyle:
Being fans of so many manga and their distinctive artstyle, it's understandably making it across into Steel Storm 2. Specifically, we're looking at Ghost in the Shell, Blood+, Afrosamurai, Appleseed and many other prominent animes for the majority of our art direction. These epics of their time serve as a great reference point for the game's story too; which is charged high with emotion at times and is always action-packed.
Modding support:
Dedicating themselves to the project is a team of experienced Doom 3 modders using the idTech 4 GPL game engine. We're keen to support the community and will do this by distributing the source code with the game as a part of the modding SDK, including all improvements to the game engine. This will allow much better modding capabilities than the previous Steel Storm game.
4 player online co-op:
Beat the game with up to four friends due to the online and LAN co-op capabilities. The aforementioned mod support is fully integrated with the co-op experience so when you've exhausted the campaign you can tweak gameplay to your liking, make your own levels and share new experiences with the global community.
Release on Steam:
As with Steel Storm: Burning Retribution, the sequel will be available to purchase on Steam across all three supporting platforms if the funding comes in. Of course, this carries all the usual benefits of releasing a game through Steam - playing with your friends with ease and the update system making it easy to add the content we've got planned for the game as well.
Why IndieGoGo?
Steel Storm 2 is an ambitious project and we are only mortals living in this world as you are. It's the game we've always dreamed about making and so we're determined to ensure it comes to fruition as best as we can make it. I've personally been working on the game by myself for 6 months and that includes a meticulous 3 months of switching engines, from Darkplaces to idTech 4. At last, the game is starting to come together and so a number of collaborators have been brought in to supply art, additional programming and music. All of these people need to be paid for their fantastic work and there are a number of other costs that need to be met for the game to truly come to life.
So far I've funded Steel Storm 2 with the money made from Steel Storm: Burning Retribution but that pot has since become empty. Undoubtedly there's still a while to go, which is why it's high time to get stuck into development so we can share it with players as soon as possible! Ideally we would need some extra members to collaborate on the game and software to boost productivity, but primarily the funding will be used to create plenty of art assets and all of the levels required for the game.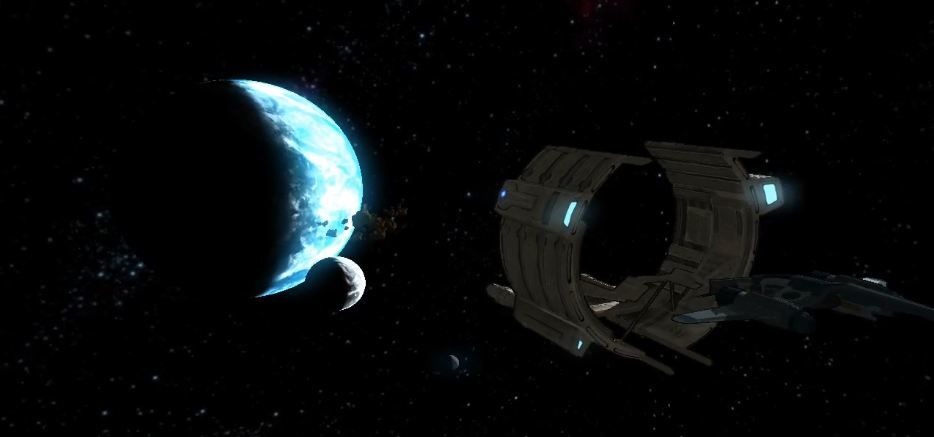 This is why we've come to IndieGoGo, with hopes that those interested will fund the game's further progression and get involved as part of its surrounding community. To wrap it up more succinctly, here's a quick breakdown as to how any money will be used:
Expanding the core team: 
Having the people already lined up to work on the game able to put their focus into it will make a huge difference to the quality and the speed at which we can get it on to your monitors. This includes:
2 game logic programmers
an engine programmer
2 artists
marketing/ PR
Contributing freelancers: 
As well as having a core team to work on the game, we'll need to hire a few freelancers to fill in other parts of this audiovisual project. As in, we'll be needing:
Listen to the one of the music tracks from the Steel Storm 2 OST by Sven right here:
https://soundcloud.com/steel-storm-2/steel-storm-2-title-track
Software and Hardware: 
While we utilize various open source tools in production, some tasks require proprietary software and additional hardware to achieve desireable results in timely fashion.
Stretch Goals
If we manage to accumulate extra funds, we will channel them to achieve the following goals:
$105,000 - Apple Mac OSX Release
Unfortunately we don't have the capabilities at the current moment in time to create a Mac version of Steel Storm 2 due to a lack of Apple's hardware and license. We definitely don't want to leave a whole player base out though, so are hoping to gain enough funds to make a Mac version possible.
$115,000 - Steamworks support
Bringing up Steel Storm 2's magnitude is a challenge in itself. Adding comprehensive support for Steamworks to the GPL engine without violating the terms of the GPL license and Valve's SDA is also a challenge. Thankfully we have developed a way so solve this issue. However it will require the work of a programmer who has a deep knowledge of Steamworks.
Rewards

$1 - Limited Edition Wallpaper
Thank you so much for funding the development of Steel Storm 2: Chapter 1. In return you will receive a Steel Storm 2 desktop wallpaper and our many thanks.
$5 - Steel Storm 2: Chapter 1 on Steam (limited to 200)
For those of you who are quick off the mark, you're able to grab a copy of Steel Storm 2: Chapter 1 on Steam at half price. Thanks for showing an early interest in our game!
$5 - Steel Storm 2: Prelude text adventure + mystery prize
To further immerse you in the Steel Storm universe and the main character in Steel Storm 2, Aurora Riley, we have a small text adventure for you to play. Once you get through it you'll be eligible for a mystery prize to be revealed some time in the future! Desktop wallpaper is included.
$10 - Steel Storm 2: Chapter 1 on Steam
Looking to grab yourself a copy of Steel Storm 2: Chapter 1 on Steam? Then this is the tier for you. You'll receive a Steam key when the game is released in Fall 2013. The text adventure and the desktop wallpaper are included.
$30 - Beta access + digital OST + previous non-limited tiers
Upping the ante a bit now are we? Well, we're going to make sure you're well looked after by giving you early access to the game during its beta phase and you'll also receive the game's full soundtrack when it is released. Obviously you'll get the full game on Steam when it's released, as well as the text adventure and the desktop wallpaper.
$50 - Digital art book + alpha access + previous non-limited tiers
One of the rewards we're most excited about is the digital art book. This will consist of all art materials produced for the game - from concept to final design. We'll make sure it's really pretty, promise! You'll also be among the first people to play Steel Storm 2 as you'll be invited to test out the alpha version. All previous tiers that aren't limited are included.
$100 - Extra copy of Steel Storm 2: Chapter 1 + pre-order of all four chapters + tag/picture in a room in the game + previous non-limited tiers
Wow! Thanks for being so generous! For this you'll receive an extra copy of the game on Steam that you can gift to a friend so that you can play co-op together. You'll also receive all four chapters of Steel Storm 2 as they are released at no extra cost. On top of that you'll be able to leave your mark on the game with your own tag or picture which we'll place in a special room in the game. All previous non-limited tiers are included.
$250 - Design a weapon or a vehicle for Steel Storm 2 (limited to 4) + previous non-limited tiers
This is one of the most exciting tiers for us as we want to work with you on designing a weapon or a vehicle that will make it into the final game! All previous non-limited tiers are included.

$400 - previous tiers (except $400 tier) +  3D action figure (20cm high, full color) + previous non-limited tiers
Bring a piece of Steel Storm 2 into the real world with your very own action figure. This is a 20cm high model of Aurora in an action pose in full color. We'll send this out to you with a great big hug! All previous non-limited tiers included.
$650 - Lend your voice to an NPC with your name (limited to 5) + previous non-limited tiers
Always wanted to be in a game? Now's your chance as we're offering those who are this generous to do some voice acting for us. Your voice and name will be attached to an NPC inside the final version of Steel Storm 2. That's something to show the grandchildren! All previous non-limited tiers included.
$10000 - Unique Steel Storm 2 collectible katana, hand-forged according to ancient methods + Associate Producer in credits + previous non-limited tiers
Woah! You're a superstar and probably the best person in the world. For such an extraordinary amount of money you can become Aurora with your own unique hand-forged Steel Storm 2 collectible katana. This is a restricted prize that is only valid to those in countries where sword ownership is legal. You'll also be listed as an Associate Producer in the game's credits and receive all of the previous non-limited tiers. You've blown our minds!
Help Spread The Word!
If you want to help us out then please tell as many people as you can about Steel Storm 2!
Use the Indiegogo sharing tools to get the word out on all the social media you use
Tell all of your friends, colleagues and family about the game
Ask us questions about the game for further information - we're happy to answer
Come talk to us and other players in our forums