You love listening to music and speaking cord-free on your phone.  Unfortunately, if you live in a city with cold winters, this proves to be a challenge.
After one too many commutes in Chicago and New York and experiencing earaches and freezing ears, we decided to come up with a solution.
And that's why we created Sound Huggle.


The World's Coziest Hi-Fidelity Headphones
Our patented headphones are built to be the world's most comfortable, durable headphones that deliver premium studio sound quality.  Unlock your next bold adventure with these premium bluetooth headphone earmuffs that make cold listening possible.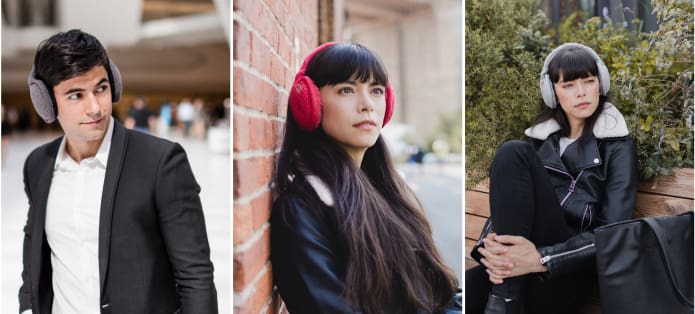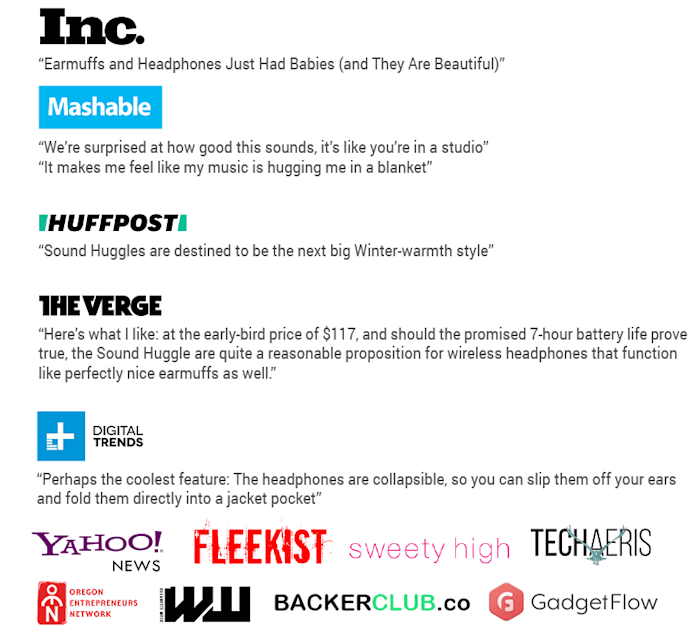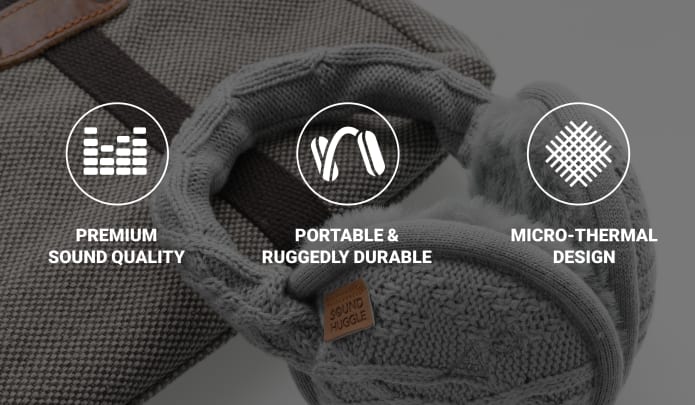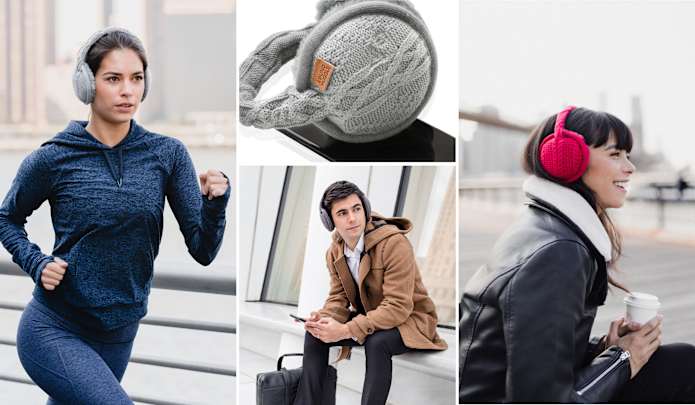 Inspired​ ​by​ ​our​ ​DJ​ ​experience​ ​over​ ​the​ ​last​ ​decade,​ ​the​ ​acoustical​ ​nature​ ​of​ ​our​ ​design​ ​creates a​ ​self-enclosed​ ​studio​ ​sound​ ​box​ ​around​ ​your​ ​ear​ ​that​ ​delivers​ ​high​ ​fidelity​ ​sound​ ​with​ ​deep​ ​rich bass,​ ​balanced​ ​midrange,​ ​and​ ​crisp,​ ​clear​ ​highs.  
Sound Huggles offer excellent full-range performance with deep, punchy bass that is filling and not over exaggerated. The mid-range is perfectly balanced with excellent voice and horn reproduction. The high frequencies are crisp and clean, not overly bright or piercing.
The headphones deliver an expansive sound stage with impressive depth and excellent stereo separation. On well mixed tracks, it sounds as if the audio experience is coming from a space much wider than the confines of the headphones.
Hi-Fi​ ​sound​ ​with​ ​crystal​ ​clear​ ​audio
Speaker​ ​Size:​ ​1.6​ ​in.​ ​+/-​ ​0.01​ ​in.​ ​x​ ​0.3​ ​in.​ ​+/-​ ​0.01​ ​in.
​Impedance:​ ​32​ ​ohms​ ​(at​ ​1kHz)​ ​+/-​ ​15%
Speaker Frequency Range: 20-20 kHz
Input Sound Level 115 db +/- 3dB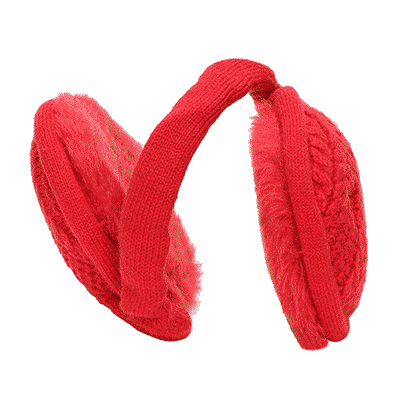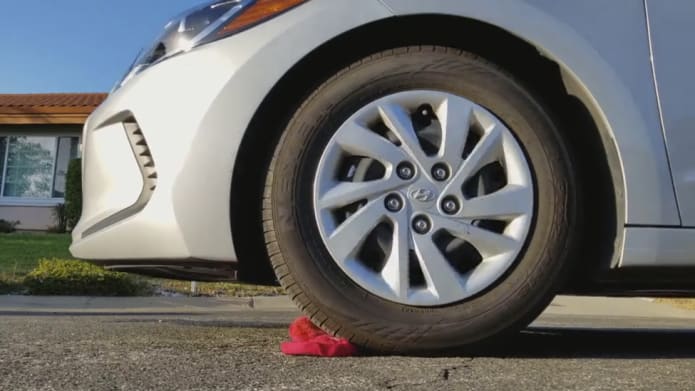 At​ ​Sound​ ​Huggle,​ ​we​ ​believe​ ​in​ ​building​ ​high​ ​quality,​ ​lifelong​ ​products​ ​that​ ​enable​ ​you​ ​to embrace​ ​any​ ​adventure.​ ​Our​ ​headphones​ ​are​ ​engineered​ ​to​ ​be​ ​unstoppable​ ​and​ ​hide world-class​ ​sound​ ​inside​ ​a​ ​winter-inspired​ ​minimalist​ ​design. 
Instant​ ​accessibility​ ​with​ ​unique​ ​foldable​ ​design
Impossibly​ ​durable​ ​and​ ​can​ ​survive​ ​being​ ​run​ ​over​ ​by​ ​an​ ​3,010​ ​lb​ ​car
Withstands​ ​up​ ​to​ ​-5C/​ ​23F​ ​degrees​ ​thanks​ ​to​ ​a​ ​specially​ ​formulated,​ ​industrial​ ​strength engineered​ ​Polyoxymethlyene​ ​(POM),​ ​a​ ​material​ ​often​ ​used​ ​in​ ​precision​ ​parts​ ​for​ ​its​ ​high strength​ ​and​ ​rigidity
Patented​ ​one-size-fits-all​ ​design​ ​and​ ​360​ ​degree​ ​expandability​ ​to​ ​match​ ​any​ ​way​ ​you want​ ​to​ ​wear​ ​it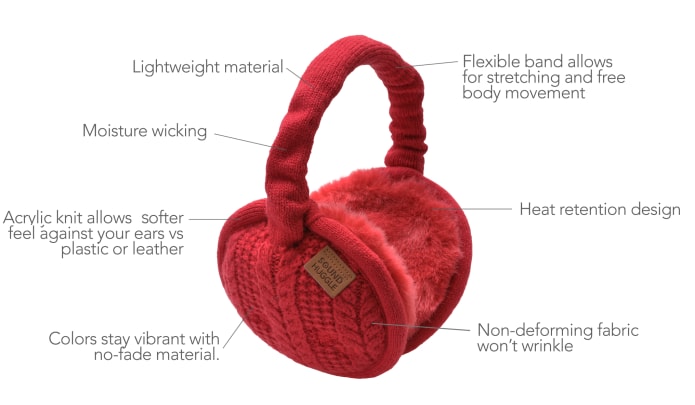 Our​ ​knit​ ​and​ ​fleece​ ​headphones​ ​bring​ ​ultimate​ ​warmth​ ​and​ ​comfort​ ​by​ ​building​ ​a​ ​microclimate around​ ​your​ ​ear.​ ​In​ ​addition​ ​to​ ​its​ ​knit​ ​and​ ​furry​ ​exterior,​ ​Sound​ ​Huggle​ ​encloses​ ​its​ ​speakers with​ ​layers​ ​of​ ​thermal​ ​foam​ ​and​ ​nano-foam​ ​composites​ ​for​ ​added​ ​cushioning,​ ​comfort,​ ​and optimal​ ​acoustics.​ ​​
​For​ ​added​ ​tactile​ ​softness,​ ​our​ ​custom-cable​ ​knit​ ​design​ ​is​ ​made​ ​possible​ ​by a​ ​central​ ​braid,​ ​which​ ​forms​ ​a​ ​unique​ ​interwoven​ ​cable-crossing​ ​design,​ ​set​ ​against​ ​a background​ ​of​ ​purl​ ​stitches.  
Lightweight​ ​material
Non-deforming​ ​fabric,​ ​won't​ ​wrinkle
Heat​ ​retention​ ​design
Moisture​ ​wicking
Color​ ​stays​ ​vibrant​ ​with​ ​no-fade​ ​material
Acrylic​ ​knit​ ​allows​ ​for​ ​softer​ ​feel​ ​against​ ​your​ ​ears​ ​vs​ ​plastic​ ​or​ ​leather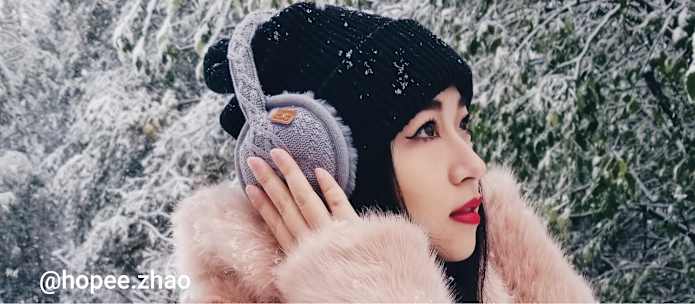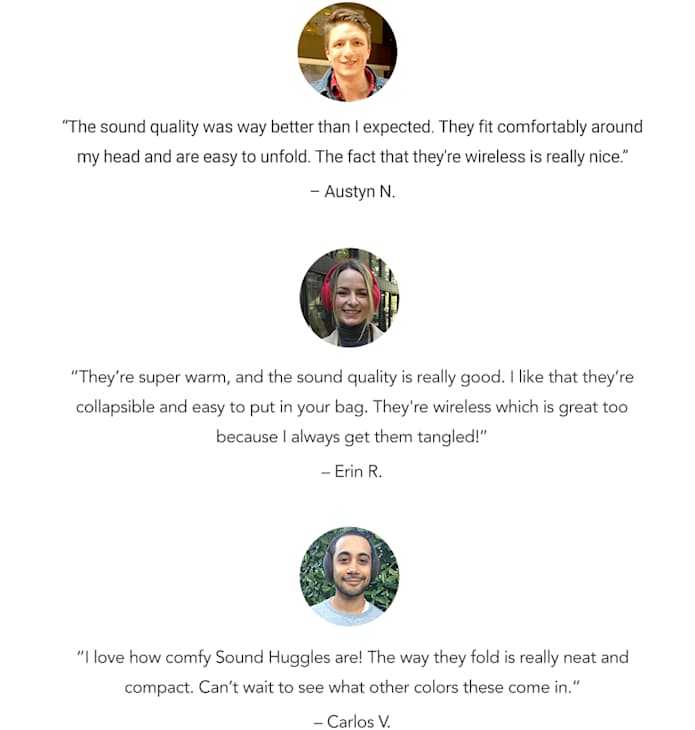 WHY INDIEGOGO?
 
We're starting our journey with Indiegogo because we believe the backer community will play an integral role in Sound Huggle's development and release of new innovations. Through Indiegogo, we're not just pre-selling our headphones to early adopters, but rather, forging relationships with a passionate community of creative and fashion-tech conscious individuals.  
Indiegogo, your feedback will enable us to bring the latest fashion audio-tech gear to market, and your support will enable us to continue to pour our blood, sweat, and tears to build a product that you'll absolutely love.
HOW WILL WE USE THESE FUNDS?
 
We will be using these funds to create our first production orders of Sound Huggle headphone earmuffs, including all the tooling, molds and components that these complex designs need across knit patterns and designs.
TO OUR INTERNATIONAL BACKERS
This project isn't just for backers in the United States. We'll be shipping Sound Huggles worldwide.
Please note that shipping to any country outside the United States and Canada may be delayed or canceled depending on the feasibility of local product approval requirements or local import regulations.
In case of cancellation, we will refund your pledge. Additional taxes and duties may apply to your international order, as designated by the authorities in your country. You may need to take care of them yourself when receiving the shipment.
Please note that there is no way for us to charge an additional amount on our end for any applicable VAT/duties that may be a result of a specific country's local tax code. Therefore, these fees may be incurred upon receipt of your reward.
These fees are the responsibility of each backer, and additional information regarding VAT/duties can be found in our FAQ below.
RISKS AND CHALLENGES
​
Our team is excited to launch the world's most durable, comfortable headphones that deliver studio sound quality. However, we know that the most important part of our process is that we fulfill our promise to you.
Though we have preliminary agreements with manufacturers, we want to mitigate risks for any potential road bumps along the way. Now that we have a working prototype, we will face the new challenge of managing production, packaging, and shipping worldwide. We are certainly up for this challenge with us forging relationships with advisors skilled in these departments and we're confident we can deliver on our conservative timeline.
FREQUENTLY ASKED QUESTIONS
Q: What is included with your Sound Huggle?
A: One micro-USB charging cable so you can charge through your laptop or wall outlet charger.
Q: Does the volume control on the Sound Huggle control the phone volume directly or an internal amplifier?
A: You only need to adjust one volume. The volume on your Sound Huggle and your phone will be synced.
Q: How long is the warranty?
A: One year and it covers any manufacturer issues. This warranty covers the repair and replacement of any defective material or component.
Q: How about the Bluetooth range?
A: Bluetooth range is 30-45 feet (10-15 meters) depending on your surrounding environment.
Q: Can I use Sound Huggle with devices other than my mobile phone?
A: Yes. They can be used with all devices that support Bluetooth.
Q: How long is the charging cable?
A: The charging cable is about 12 inches (30 cm.)  
Q:  Can you do firmware updates?  Or is there a way to update the software inside?
A:  Unfortunately not.  
Q:  What kind of chip sets are we using?
A:  ISSC Micro-Chip.
Q: How can I get free shipping?
A: We offer free shipping Worldwide. 
Q: I live outside the United States. Will I have to pay duties/VAT to receive my reward?
A: This depends on your local tax code. Any applicable duties/VAT are the sole responsibility of the backer, and not our team. We have absolutely no control over charging each backer additional duties/VAT at the time the pledge is made, and so these fees (if applicable) may be imposed at the time of receiving the package. If you are unsure whether or not you will be charged duties/VAT at the time of receiving your reward, please get in touch with your local post office.
Q: What is the dimension and weight of a Sound Huggle?
A: A Sound Huggle weighs approximately b/n 10-12 ounces.  When extended, the dimensions are approximately 7 inches by 6 inches and when collapsed, the dimensions are 4.5 inches x 2.8 inches.
Q: When do I choose which color(s) I want?
A: Similar to getting your shipping information, we'll ask for your color choice(s) when we send out our backer survey, which will be emailed to you after the project ends and shortly before we ship.
Q: What is your return policy?
A: Unfortunately we cannot accept returns from Indiegogo purchases. We will, however, repair or replace a defective unit at no cost. Thank you for your understanding.
We designed Sound Huggle around simplicity, snugness, and sound, and wanted the rest of the world to enjoy them too! Please share our product with your family and friends.