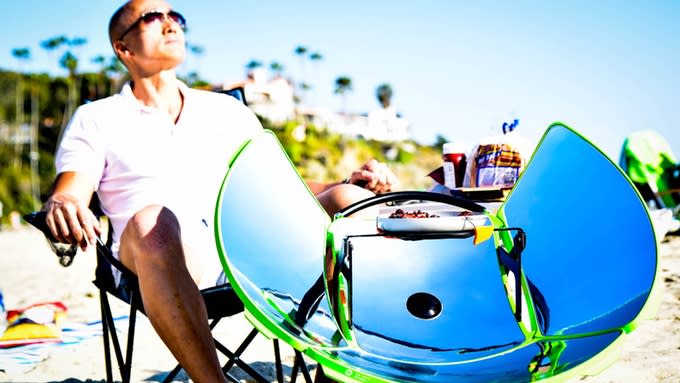 Meet SolSource Sport. This super easy to use, compact, portable and 100% solar-powered stove is made for truly pollution free outdoor cooking, anywhere.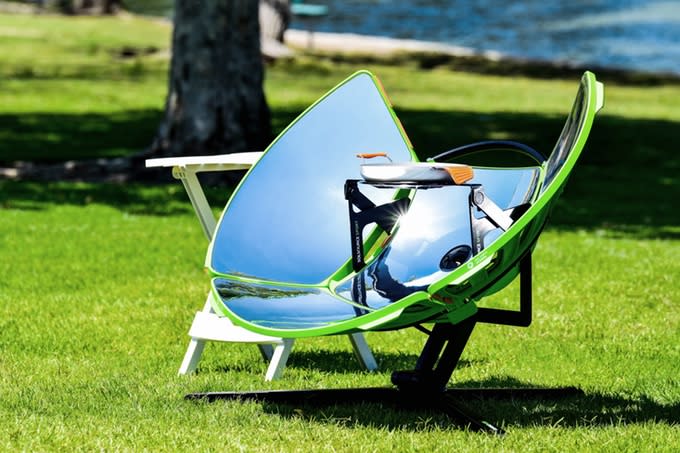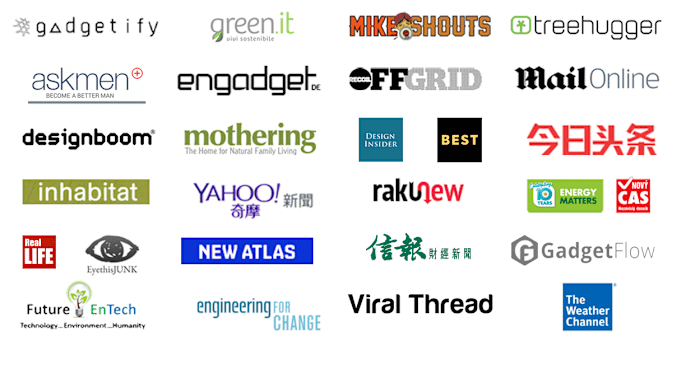 SolSource Sport is an evolution of our SolSource solar cooker. Never experienced the power of a solar stove? See for yourself the solar sizzle on our current product SolSource.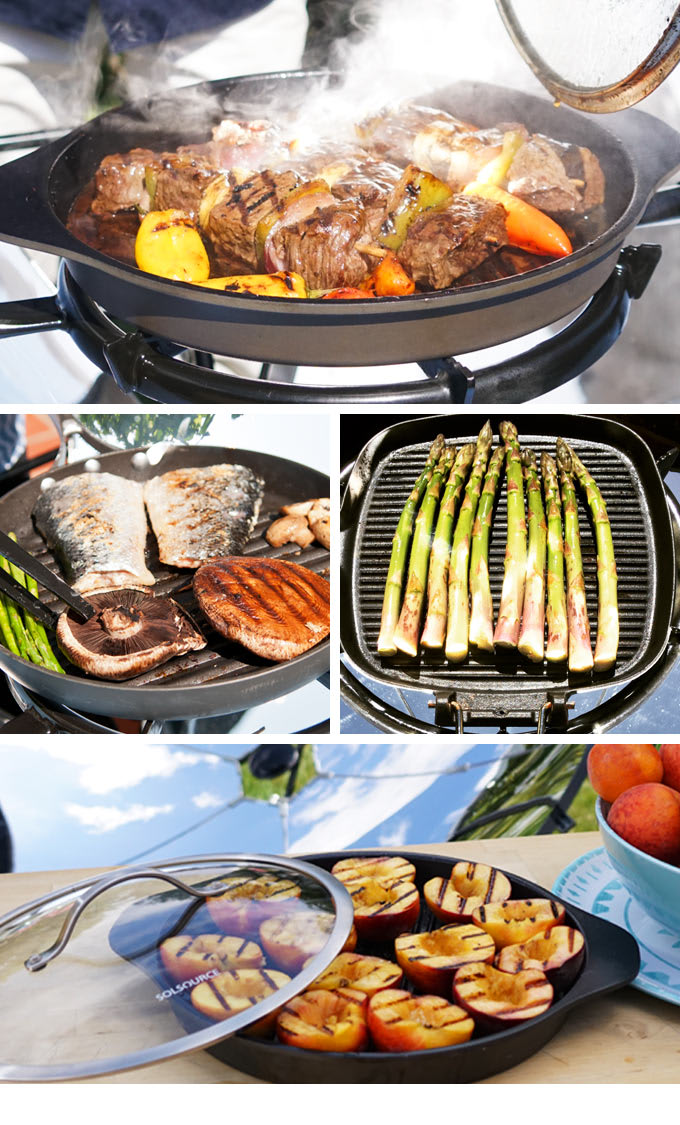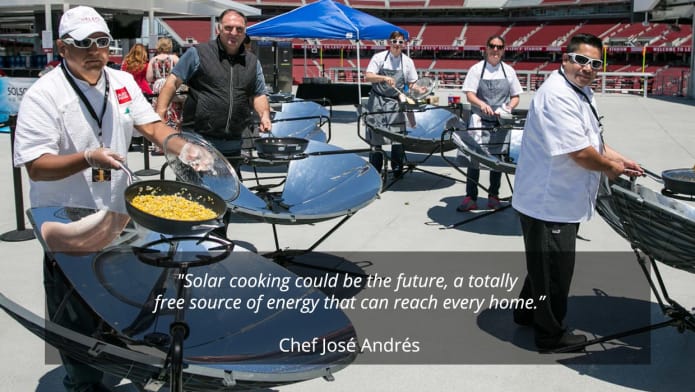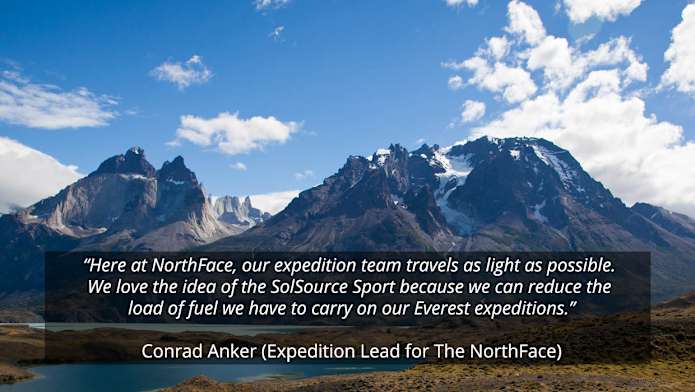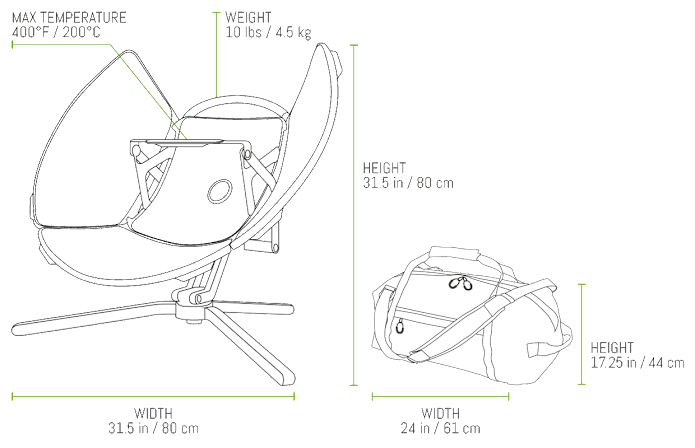 Whether it is your neighbor's backyard, a long weekend at a national park, or a day out on the beach, take SolSource Sport with you wherever you go. It is light. It is compact. It is easy to use. Just point at the sun and start cooking right away!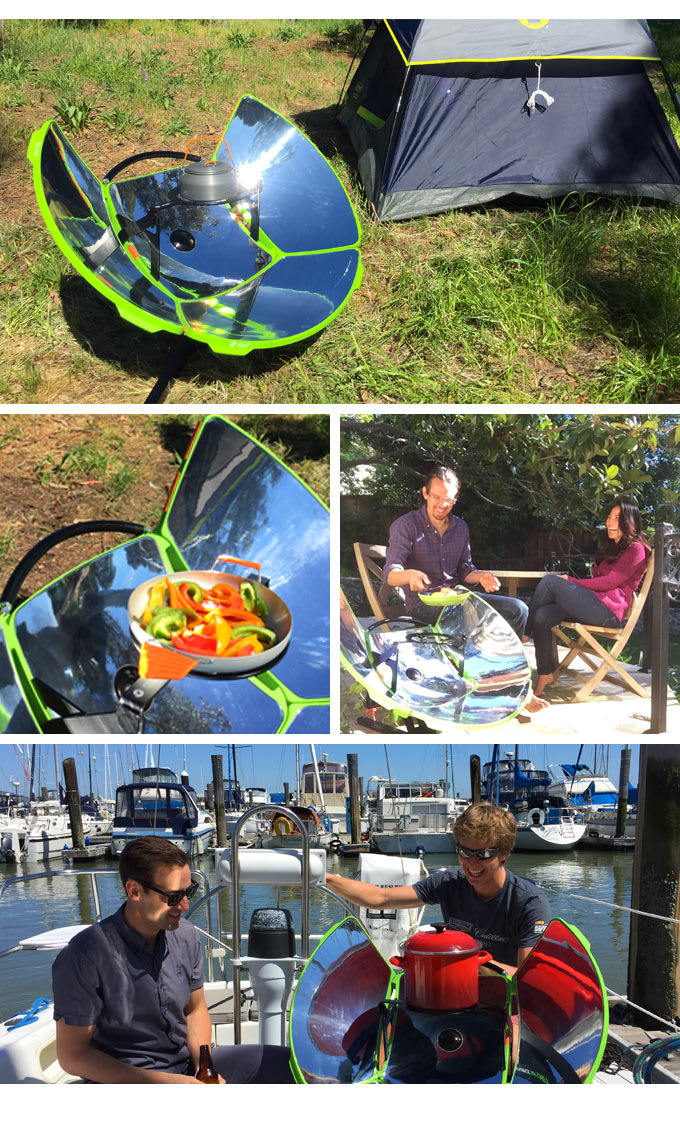 Backyard and Balcony Grilling: Enjoy a lazy solar meal with SolSource Sport on your balcony or backyard. Or extend your outdoor kitchen with this additional stove.
Camping/RV: Tuck SolSource Sport in your trunk or RV, and start cooking when you get to your new destination. It takes only minutes to set up and it's ready to boil water and cook simple meals with direct sun light. Better still - no fuel is required so you can travel light.
Beach BBQ and Picnicking: Power your family beach outing. Start toasting your buns and grilling your sausages in no time as SolSource Sport heats up in minutes.
Tailgating: Set your SolSource Sport on the back of a truck, and add some solar sizzle to your tailgating party. Don't just grill sausages and burgers - pop some solar popcorn and make some noise!
Boating: Dropped anchor in a secluded cove and ready to cook your catch of the day? Just point SolSource Sport at the sun and start cooking. SolSource Sport works even in the wind.
Preparedness: Preparing for emergencies and the unexpected? SolSource Sport is your indispensable tool: you can boil water for drinking and cook quick meals. 

SolSource Sport is super easy to use - just point at the sun and start cooking! You can grill, boil, pan fry, reheat and stir fry. Because it heats up quickly, you can get your solar sizzle going in no time.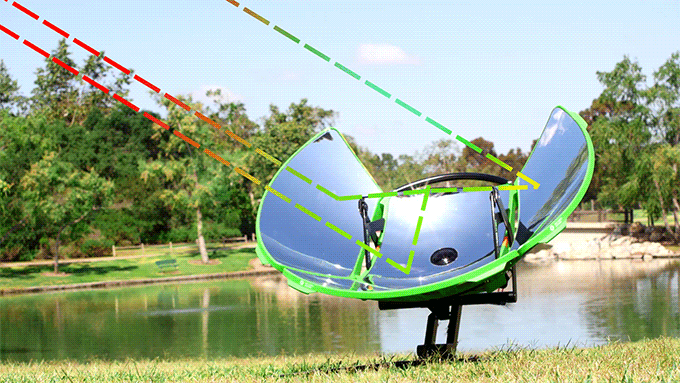 No special cookware is required - SolSource Sport is compatible with a wide range of camping and outdoor cookware. We have written an article to help you choose the right cookware.
And for packing SolSource Sport away? It takes no time - about 180 seconds. And the Basic Carrying Case will fit easily in the trunk or back of the truck. So you can cook anywhere!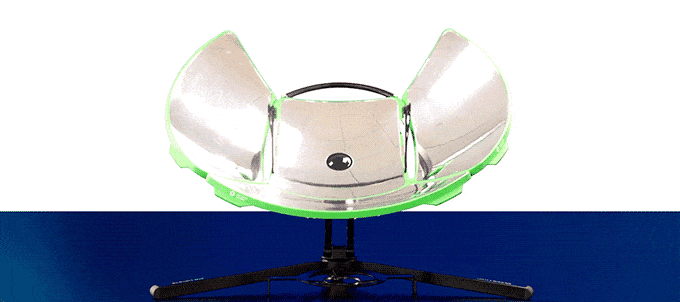 Yes you can! Our original SolSource was tested in the Himalayas under cold and windy conditions. We have already tested SolSource Sport on a hill, in a valley, and at the quayside. The low profile and slick design of SolSource Sport helps it withstand windy conditions. Be sure to send us pictures if you take SolSource Sport to Everest Base Camp!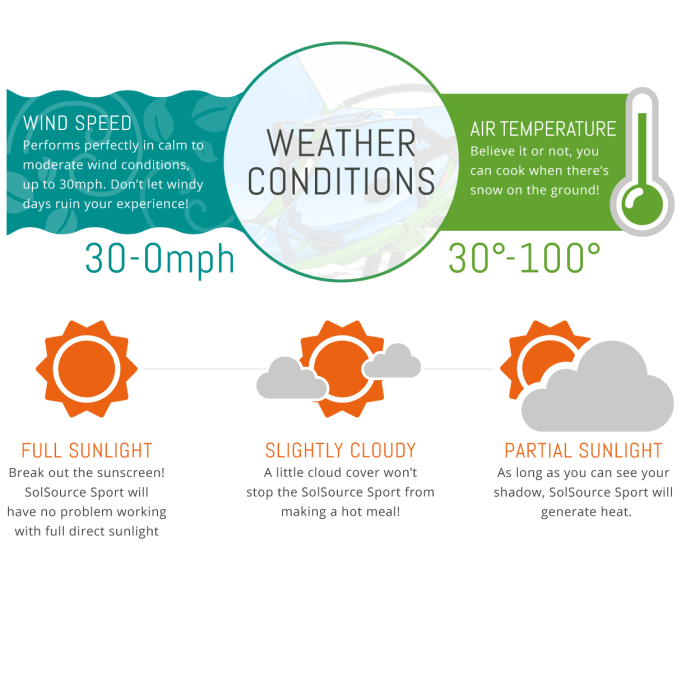 Summer time is prime time for solar cooking. With those long summer days come long solar cooking hours. But you can also use SolSource Sport in autumn and winter, depending on your location. You'd be surprised how early you can start brewing your coffee in the morning, and how late you can cook your evening meal with SolSource Sport.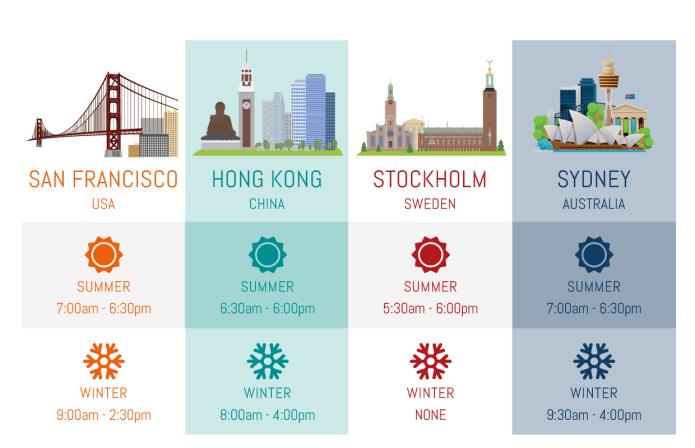 We've worked hard to identify outstanding manufacturing partners that align with our values. We manage our supply chain directly to ensure quality and timely delivery. We've already worked with our partners to produce prototypes of SolSource for Himalayan families. Make your pre-order and join us as we manufacture SolSource Sport. You'll receive photo and video updates throughout this project.
Here is the timeline we anticipate for bringing SolSource to life – and shipping yours to you! 
April / May: Finalize SolSource Sport design and open molds 
June: Setup manufacturing and conduct quality control checks 
July: SolSource Sport comes off the line and starts shipping 
August: SolSource Sport arrives at your home in time for Summer grilling!


Our shipping cost to "anywhere in the world" is set at $50 per unit. We believe it is fair and necessary for us to deliver SolSource Sport to our supporters and customers - whether they live in a big city, or in a remote rural area. It is our intention to use the most expedient way to get SolSource Sport to you as soon as they come off the production belt.
Shipping and customs charges are the backers responsibility outside the continental USA.

Our mission
Our mission is to design products that help people thrive within the resources of our one Earth. We believe that, by harnessing small daily activities for good, we can make meaningful change. As both a legal and certified B Corp, we seek to create design solutions that integrate social, environmental, and financial sustainability.
Since 2013, One Earth Designs has been setting a new standard for global business as one of the top ranked responsible businesses on B Corp's Best for the World List. Our founders developed SolSource – as seen on Kickstarter here! – as a solution for energy poverty while working with nomads in the Himalayas. Today, our revolutionary solar-powered stoves are used by customers in over 60 countries.
Our Team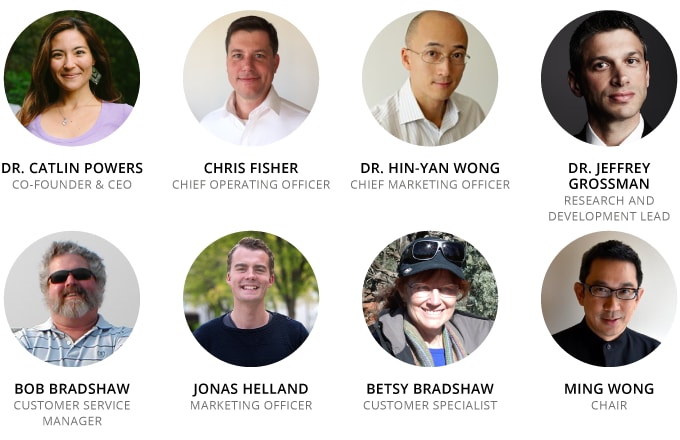 You can find out more about our team, innovation and humanitarian work at:
Ecommerce website: www.oneearthdesigns.com for information about our current SolSource solar cooker, recipes and inspirational stories.  
Nonprofit website: www.oneearthdesigns.org for our humanitarian and education work around the world. 

How hot does my food get on SolSource Sport?
The SolSource Sport reaches 400°F / 200°C! This means you can pan fry eggs, bacon and sausages, boil water to make coffee and tea, or reheat food that you have prepared earlier.
As with any form of cooking, we recommend checking to ensure all meat is thoroughly cooked through before consumption.
How quickly can I cook a meal using SolSource Sport?
With SolSource Sport you can grill a delicious meal in 10-15 minutes in good weather conditions.
Can I still get the charcoal and smoke flavor with SolSource Sport?
Temperature is the key to the perfect steak. Grill between 285-325 F to achieve browning without burning, and you will get that seared meat flavor without the actual charcoal or carcinogens getting into your food. Learn more about the science of the perfect sear.
How do I clean my SolSource Sport?
SolSource Sport is easy to clean, just wipe the reflector with a sponge or rinse it down with water. If you've gotten grease splatters on it, just use a bit of soap or vinegar to remove them. We recommend using warm, mildly soapy water and then wiping dry with a soft cloth.
Is it safe to leave SolSource Sport unattended?
SolSource Sport is designed to keep the focal point of energy beneath the pot stand at all times. That said, if left in the sun, SolSource Sport will continue to collect solar energy. We recommend either covering it or removing it from the sun when not in use to make sure that the system is fully off.
Can you get burned or blinded from the reflection?
While the convergence point of the sun's rays is extremely hot, a grill with no flame and no fuel is much safer for you and the environment than other options. The reflective mirrors are cool to the touch, so it'd be pretty hard to burn your fingers. Furthermore, while we always recommend wearing sunglasses while exposed to sunlight, the SolSource Sport won't blind you, especially when there's a pot or pan on the metal stand.
How is SolSource Sport different from other solar cookers on the market?
The SolSource Sport is different than most other solar cookers because of its size, portability, and efficiency, and provides a completely new and much improved solar cooking experience for anyone that enjoys cooking outdoors.
How does SolSource Sport compare to the original SolSource?
The original SolSource was developed with communities in the Himalayas for everyday use, so the reflector is relatively large and the base is made of heavier material to withstand strong wind. SolSource Sport is inspired by outdoor activities, so it is made of much lighter material with a smaller reflector for portability and compactness.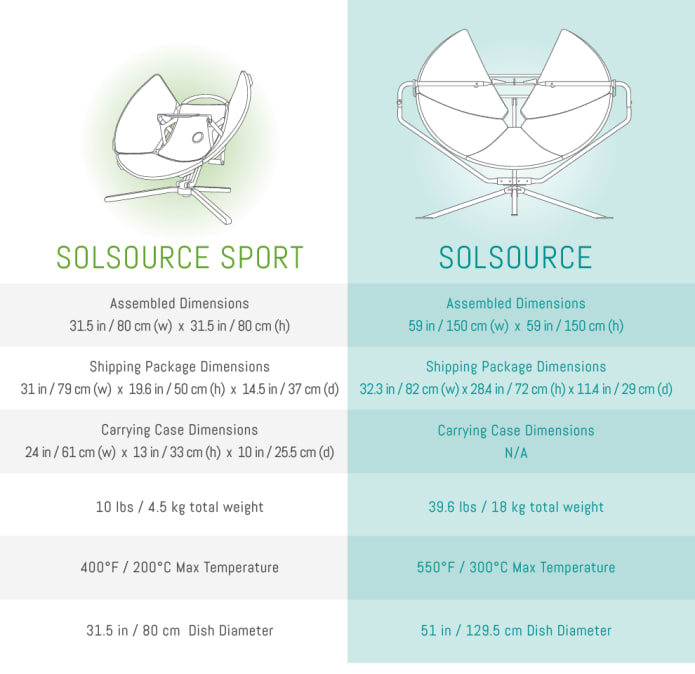 Can SolSource Sport be used in national parks where charcoal or gas grills aren't allowed?
The reason charcoal and gas grills is prohibited in national parks is the use of open flame, which is prohibited. As SolSource Sport don't use any flame, we are certain SolSource Sport will be allowed in all national parks. However, we are still waiting to get this confirmed.
How durable is SolSource Sport?
With normal use, you can expect SolSource Sport to have a similar durability as other high-end durable sporting products.
All our products are designed for durability. To give you an example of how much we care about durability, our reflectors withstand 10 years of accelerated weather testing with <1% decline in performance. The rest of SolSource Sport is made from materials used in other high-end, durable outdoor sporting products.