Enjoy, you deserve it. It will be a pleasure to make these belts, at the highest level of quality possible, this is what we are about, and you all made it happen. The most technically advanced belt with super luxury leather, thanks to you.
INDESTRUCTIBLE
KEVLAR & LEATHER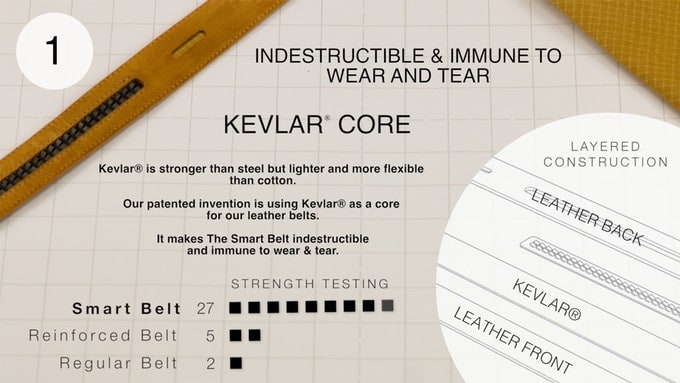 In 2016 we launched "The Indestructible" Kevlar® & Leather Belt and it was a major success with almost 2000 backers. This year our Smart Belt has raised more than 1 Million Dollars  with almost 12.000 backers.
Our signature invention is the addition of a Kevlar® Core to classic belt construction. This material is the strongest textile ever made, stronger than steel but flexible and light. Most of the wear you see on a belt is due to the constant stretching that it is subjected under the pressure of daily wear. Because of it's special construction, our belt is much less prone to wear and tear. The leather we use for the exterior is top grain Italian Leather, sourced from one of Italy's best tanneries. In stress testing, our belt has proven to be 13 times stronger than the weakest belt tested and 5 times stronger than the most rugged reinforced belt. Be sure, our Smart Belt will last many many years and retain it's beauty.  
 UNPARALLELED COMFORT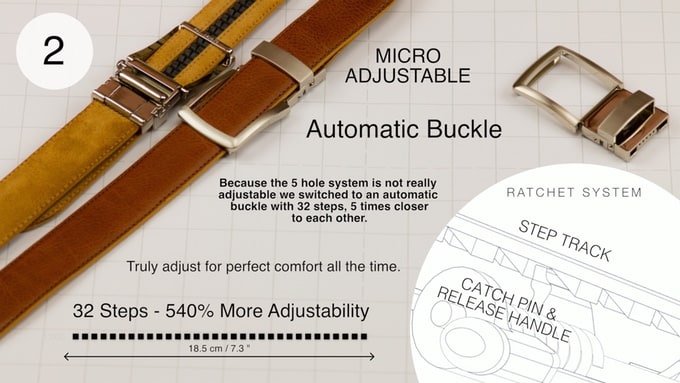 For 2017 we're back with much more. This time our belt is the best product possible from all angles. One major innovation is the Automatic Track System that eliminates the 5 hole system. A classic belt is not really adjustable because holes are 1" ( 2.5 cm ) apart.  Say you had a hefty lunch or lost a bit of weight. Adjusting by one hole up or one hole down is a big leap and usually improper for small modifications in waist size. Our track system has 1/5" ( 5 mm ) increments that are well suited for waist size modifications that occur naturally throughout the day so as to be adjusted for Perfect Comfort at any time, truly adjust. If you've never owned this type of belt before, the level of comfort will blow you away, it really changes the way you feel. 
NO SIZES - JUST A PERFECT DIY FIT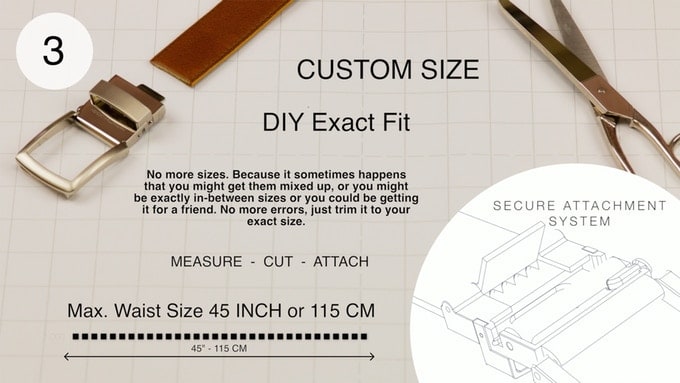 No more sizes. Having sizes means you can get them wrong and makes it hard to order a belt for someone else. Sizes also mean that if you are exactly in between you will be wearing your classic belt at one end of the 5 holes or at the other, not really elegant.
  Because we are an on-line company we believe that our strap attachment type buckle is the best way to go in order to have very happy customers. It's also perfect for elegance. No more short or too long belt ends and no more wrong sizes. We have tested our belts over the last 6 months and these buckles are as dependable as  they are beautiful.   You will receive the maximum length of strap, you will  be able to measure the actual belt around your hips, mark, cut and attach for a perfect tailored fit. The max. waist size is 45" or 115 cm.
ELEGANT LEATHER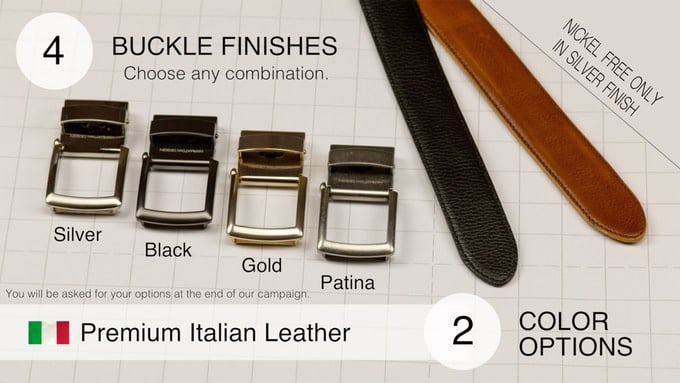 We use the best Top Grain Italian Leather Vegetable Tanned. made to our custom specifications by one the few tanneries that use vegetable tanning, a process that is eco-friendly and produces the strongest and most beautiful  Grade A Luxury Leather. We believe that beauty and quality are as important as functionality and that an indestructible and perfectly comfortable belt should also be the most elegant belt you own. We have prepared two color options for the straps and 4 buckle finishes. We have undergone a lengthy process of trials and prototyping to arrive at the highest level of quality and aesthetic performance. After becoming a backer of our Campaign, at the end of our crowdfunding period, you will be asked to pick the finishes and colors of your belts.
DELIVERED ON TIME
STARTING END OF SEPTEMBER
    We are Crowdfunding Veterans, our last Belt Campaign "The indestructible" was a huge success, a large order and we managed to start shipping on time. With that experience on our resume we are confident we will start shipping on time for this one regardless of size. To that end, we will begin production halfway through our campaign. Be sure, we have become efficient professionals with 3 Campaigns over the last 3 years, all of which started to ship on time.
"DuPontTM and Kevlar® are trademarks or registered trademarks of E.I. du Pont de Nemours and Company."
We welcome third party sharing of our product in graphic form and text but only if in accordance and in full respect of trademark and copyright use guidelines concerning Kevlar® and Nomex® issued by it's respective owner, E.I. du Pont de Nemours and Company.
For more information on using these trademarks linked to the materials we use in manufacturing THE INDESTRUCTIBLE belt, please visit:
A CLOSER LOOK