UPDATE NOTE:
 
This project has been delayed, next estimated completion date is Q1 2018. Please, before participating on this campaign, take into account that this is an estimated date and not a guaranteed delivery date.
 
We have changed the ODM company in charge of hardware development. SMACH Z will keep all the features promised except Rhomb technology. It will still be possible to upgrade the SoC, RAM and storage as before. We're working on our own solution for the SoC upgrades, following M.2 standards for the SSD, and using laptop DDR4 RAM.
 
To compensate backers for the delays and to offer an updated device, we're working on introducing improvements in the console hardware to make SMACH Z the most powerful handheld console in the market.
 
All the project updates are post in the private forums. Once you become a backer you receive an invitation to join it: https://forum.smachz.com
NOTE: The final market price of the console will be much higher than the prices in this campaign.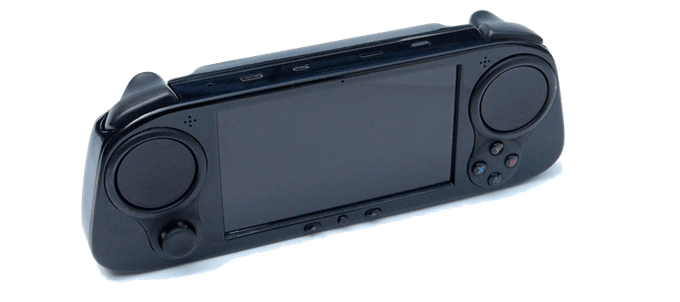 With more than 10,000 games out of the box, and you don't need to purchase them again. Just load and play any game from your Steam™ Library.
More than 5 hours of battery life.
Powerful enough to play almost any game on Steam: Portal 2, DOTA, Left 4 Dead 2, Team Fortress 2, SOMA, Civilization V, Metro: Last Light Redux, Borderlands 2, The Witcher 2, etc.
Haptic touchpad controls: The evolution of the mouse! And if you are a more old-school gamer, you can configure your own control scheme using the Z-Pads!

All your favorite games: AAA, indies, strategy, RTS, action, FPS, adventure, MMO, mods, etc. The Steam™ catalog is bigger and better than ever and great new games are arriving every day. 
Or the Windows compatible Steam™ games list here: http://store.steampowered.com/search/?tags=-1&a...
You can also play games outside of Steam™. SMACH Z is a handheld PC and you can install any game or program that you want. You can also play web games, MMOs, emulators or anything else that you can do on your PC.

CPU: AMD Merlin Falcon RX-421BD (12-15w) SoC at 2.1 GHz 
Cores: 4/4 
iGPU: Radeon R7 at 800 MHz 
RAM: 4GB (SMACH Z) || 8GB (SMACH Z PRO) DDR4 2133 MHz 
HD: 64GB (SMACH Z) || 128GB (SMACH Z PRO) 
Screen: 6" FULL HD (1920x1080). Capacitive touch-screen.
Battery: 5 hours of gaming. 
MicroSD Card Slot. 
USB 3.0 type C. 
HDMI video output connection. 
Wi-Fi connectivity 5.0 Ghz. 4G LTE mobile network connectivity (PRO model only) 
Bluetooth connectivity. 
Front-camera 5-megapixels (PRO model only)
 
These are the technical specifications of the AMD SoC model that will be used in SMACH Z: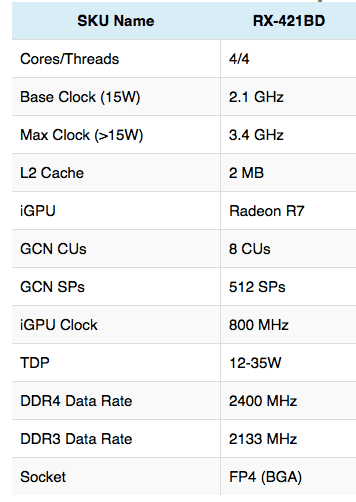 Explore the SMACH Z's epic final look on this 3D simulation.

In SMACH Z you can install Windows 10 or Linux.
Windows 10:  With Windows you have more compatible games and programs. However we won't be able to adapt the OS to our console, so it may not be as easy to use as the Linux based system.
Linux (SMACH Z OS): We're able to modify and adapt the OS to SMACH Z creating a better interface and experience. We recommend choosing Linux for better performance. More and more games are becoming compatible with Linux with time; now there are about 2,500. 

The button layout will use two haptic touch pads, a joystick (clickable), 4 action face buttons, 4 trigger buttons and 2 additional action buttons in the rear-back.
Anyone will be able to create their own custom control schemes. The touch pads are also buttons with different areas of detection, so they can be used in many ways.
If you are a "classic" gamer, and you prefer more traditional controls... you can use the Z-Pads add-ons. They are adapters to configure the SMACH Z controls by attaching them to either touchpad.

If you are a "classic" gamer, and you prefer more traditional controls... you can use the Z-Pads add-ons. They are adapters to configure the SMACH Z controls by attaching them to either touchpad.
https://ksr-ugc.imgix.net/assets/014/107/213/cf2f03785b7d232abe30313de139bcfc_original.gif?w=680&fit=max&v=1476439214&q=92&s=27faf5644bd79c0f8a4820a8dc41bcb8
This simple yet magic solution will permit you to play with a real D-Pad on your SMACH Z, add a second stick or add more buttons. There are plenty of combinations!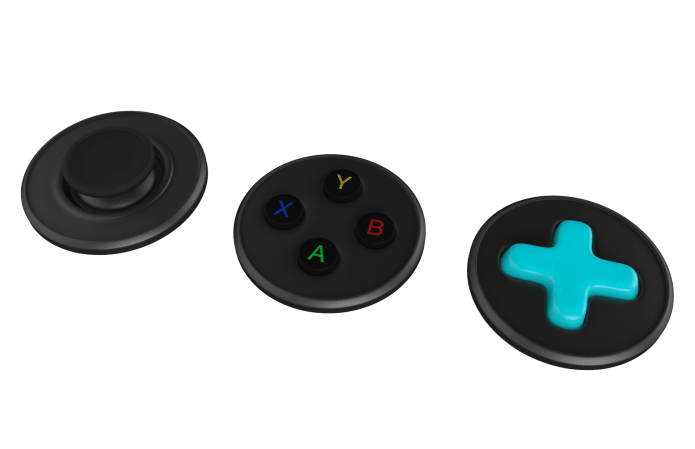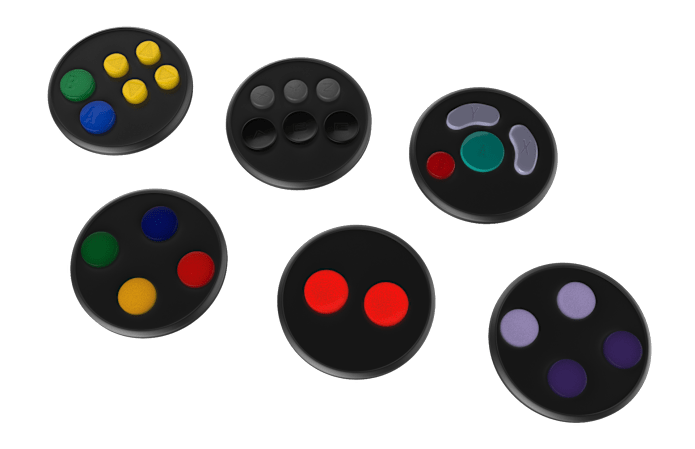 More powerful, more storage, front-camera and 4G connection. Recommended if you are going to play demanding games, for youtubers or for MMO players that need to always play online.
Versions specs comparison:
SZ PRO: 8GB RAM vs SZ: 4GB RAM. 
SZ PRO: 128GB HD vs SZ: 64 GB HD. 
SZ PRO: Front-camera vs SZ: No camera. 
SZ PRO: 4G connectivity vs SZ: Only WIFI.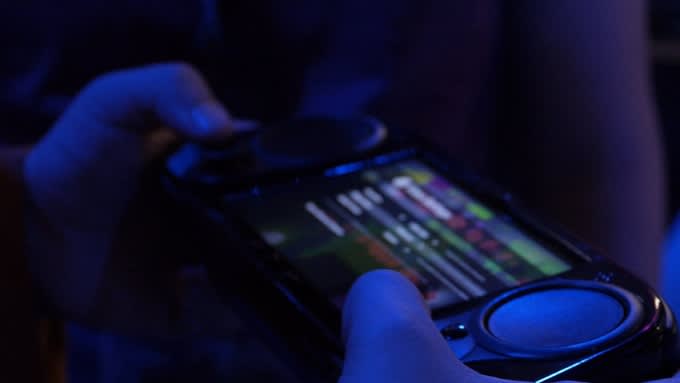 The following benchmarks have been run on the final hardware of the SMACH Z PRO: Merlin Falcon RX-421BD (12-15w) SoC at 2.1 GHz with Radeon R7 at 800 MHz and 8 RAM, running on Windows 10.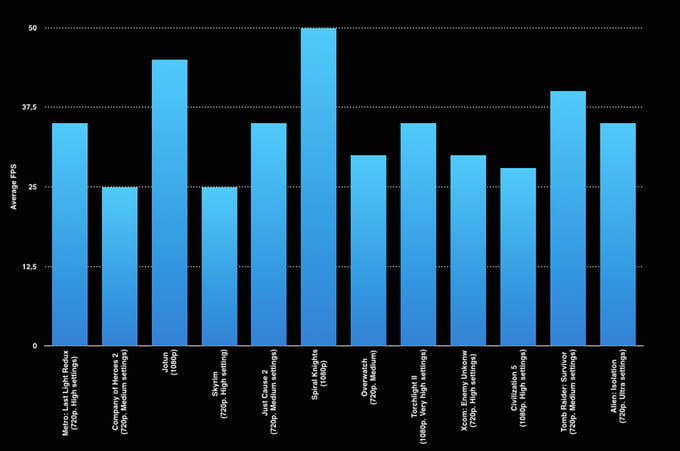 More testing:
GTA V: 800x600. Medium Quality. ~30 FPS  
Borderlands 2: 1024x768. High Quality. ~38 FPS  
Doom: 1024x600. Low Quality. ~28 FPS  
Fallout 4: 1152x648. Low Quality. ~25 FPS
Dota 2: 1920x1080. Medium-High Quality. ~42 FPS
Alien Isolation: 1280X720. Ultra Quality. ~ 30 FPS
League of Legends: 1920x1080. Very High Quality. ~40 FPS.
Overwatch: 1280X720. Low Quality. ~35 FPS.  
Street Fighter V: 800x480. Low Quality. ~45 FPS.   
Rocket League: 1920X1080. Low Quality. ~60 FPS.  
Shadow of Mordor: 960x540. Low Quality. ~30 FPS.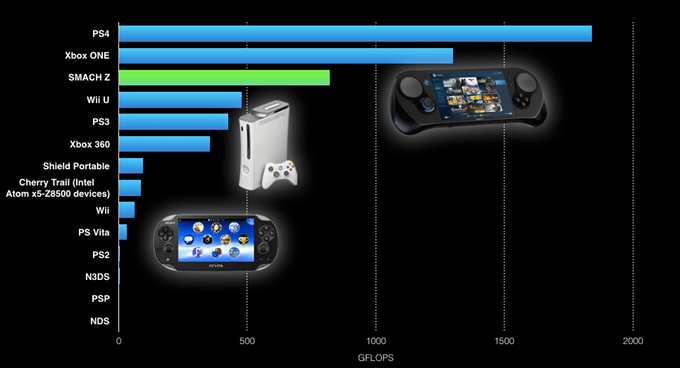 We hope this gives you an idea of the kind of games and power that you can expect from SMACH Z. We will continue testing with more games and publish new videos on updates. Please don't hesitate to ask for your favorite games.
* Remember that these benchmarks are being run on the AMD development board with the final hardware, and not directly on the current cased prototype, which have weaker hardware. Check the prototypes section for more information.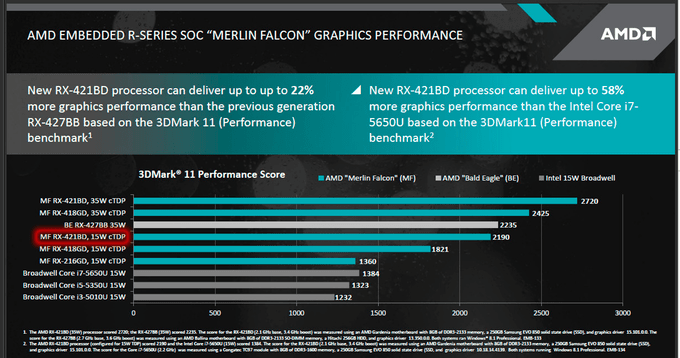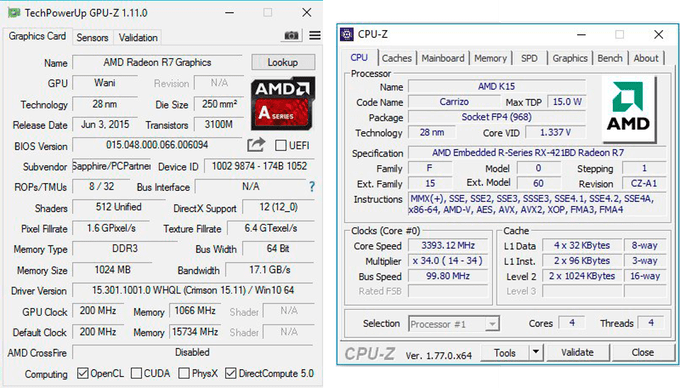 SMACH Z is a handheld PC with plenty of other possibilities. Some examples: 
Streaming. SMACH Z has been designed to be an stand-alone handheld, but If you are using SZ in your house, you can also stream games from your PC or Playstation 4 via WIFI. This allows you to play games that aren't supported by Steam OS or use the power of your PC to play more demanding games. Just lay down on your couch or bed, with your PC with Steam open, and load any game you want directly from your SMACH Z.
 
Play on the TV via HDMI. You can connect SMACH Z to a TV and use it as a home console, that you can bring everywhere. You can even connect another gamepad and play multiplayer! 
 
Emulators. SMACH Z will be the best handheld device for emulation, and Retro Z-Pads will bring your fingers back to the past. NES, SuperNintendo, Megadrive, Playstation 1 and 2, Nintendo64, GameCube or even Wii games will be in your hands. 
 
Multimedia Center. We plan to integrate KODI, an open source software for playing videos, music, podcasts, and other digital media files. 
 
Browse internet and use programs. SMACH Z is a portable PC, so you can install anything on it.
 
Portable PC. Connect a keyboard and mouse and plug it to a monitor and you will have a PC that you can bring with you easily.
 
Gamepad: Use SMACH Z as a gamepad controller for your PC too.
 
Twitch and Skype: With the SMACH Z PRO you can make videos of yourself playing games from the beach or do Skype calls.
 
Open Platform: We want to keep SMACH Z an open console. If you prefer to install another OS, you are free to do whatever you want with it. We will give the community all the info and code needed to support another OS or develop additional features. 
 
Attachable extra battery: Add a second battery in the back of SMACH Z for +5 hours of additional gameplay outdoors. 
 
Accelerometer & Gyroscope: A cool way to control racing or airship games. 
 
4K Video: SMACH Z SoC has hardware-accelerated High Efficiency Video Coding (HEVC) decode of 4K video playback.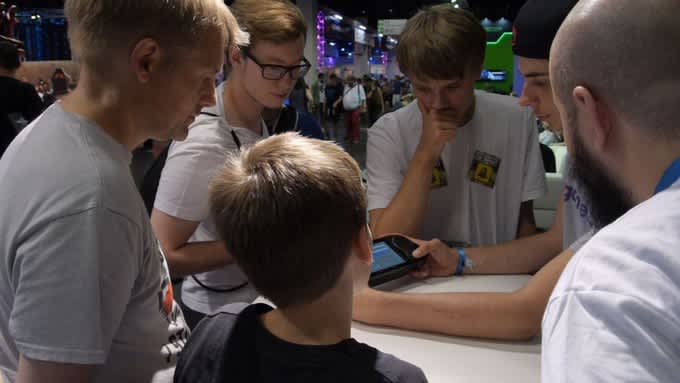 The prototype will not be the final form of the console. We're updating the look and form of SMACH Z to make it more comfortable to handle with the new 6" screen size. The main modifications include:
Made more prominent grips, to make it more comfortable 
Moved the option buttons to the top, to access easier 
Adjusted positions of buttons and other aesthetic changes. 
The final version will also be much thinner and compact with an estimated weight of approximately 400 grams.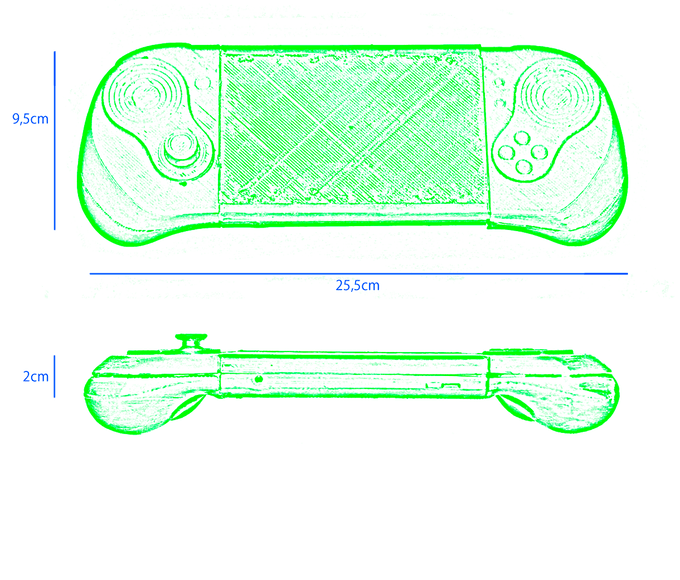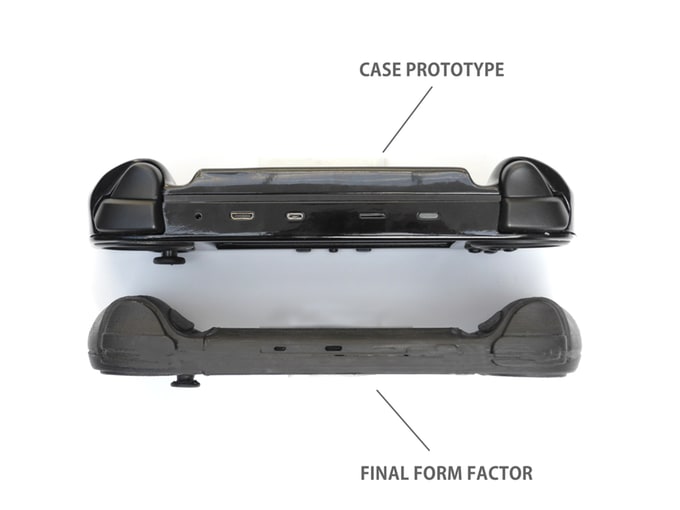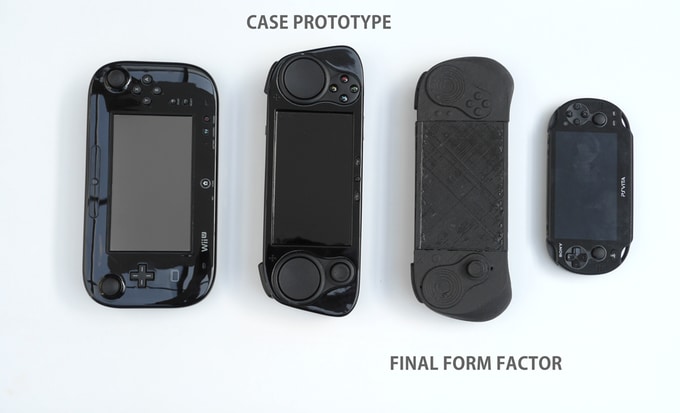 SMACH Z Deep Black is the basic edition. But you can also get it in other different colors: Pearl White, Red Fire, Radioactive Green and Indigo. Plus, another 2 new color editions will be decided by the backers in the development forums.
You can choose any color combination when you pre-order your SMACH Z in Kickstarter without additional cost. Also, if you change your mind, you can decide the color late

SMACH Z will open a new window for game developers to distribute their games. Even if all PC games will be compatible, we're willing to work with developers to help to adapt the games to SMACH Z.
Additionally, we'd also love to have games designed specifically for our platform too. Every SMACH Z is a dev kit, and you don't need to purchase a license or SDK. But if you are a developer willing to develop for SMACH Z, take a look to the Developer's Perk: It grants access to full development support, in the technical side as well as on the marketing for gaining visibility on our platform.
We really hope SMACH Z will bring more opportunities for Indies, to innovate and experiment with new ideas.
"That thing looks great! I hope it works out!" - Terry Cavanagh - VVVVVV developer
"SMACH Z looks interesting and you seem to have found a space in the gaming world to fill." - Vishnu Vijayakumar - Tale Worlds - Mount&Blade developer
"The concept sounds fantastic!" - Andy Schatz - Pocketwatch Games - Monaco developer.
"Smach Z's portability and power really bring something to the table that other Steam Machines don't. Can't wait to have one of these in my hands". - Enrique Corts - Super Mega Team - Rise&Shine developer.
"This looks awesome!" - Alex Nichiporchik - TinyBuild Games - Party Hard developer.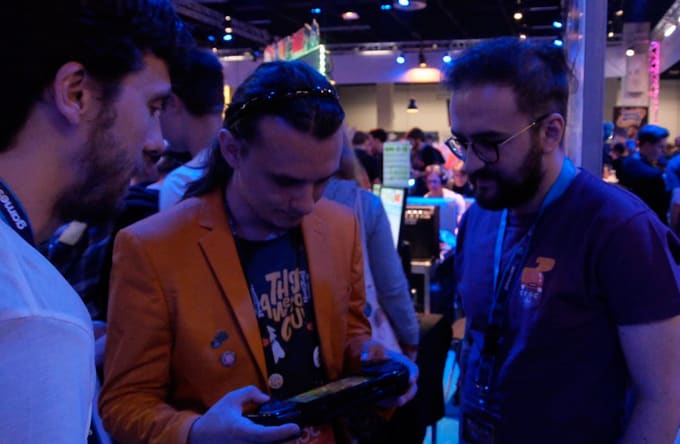 Case Prototype: The current cased prototype is fully functional and has a similar look, but it's not the final form factor and it doesn't have the final hardware:
It uses a Bay Trail SoC with 2GB RAM.
It's bulkier and heavier than the final form.
All controls and functionality works.
It runs Windows. 
It's capable to run old 3D games such as Left4Dead 2 and Half-Life 2 at 15 FPS natively. 
During the Gamescom the cased prototype was not 100% complete and had problems with power. Because of that it only ran some small games.
Here you can see some images of the "making off":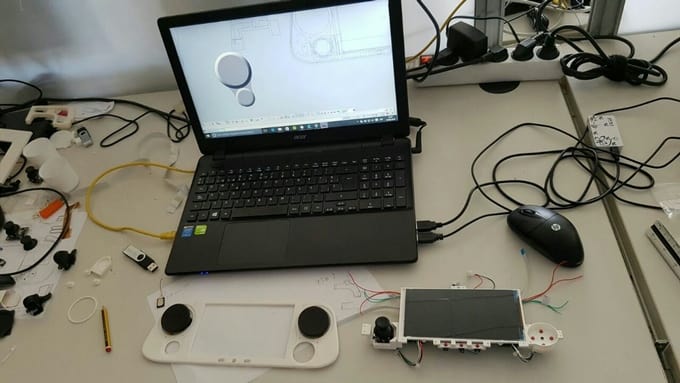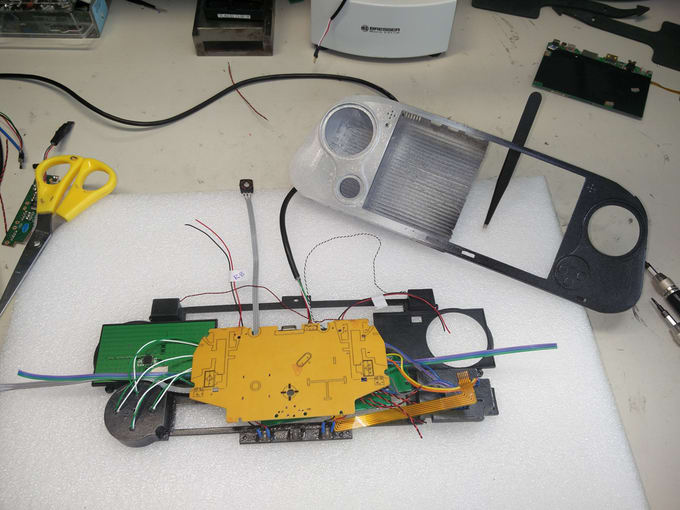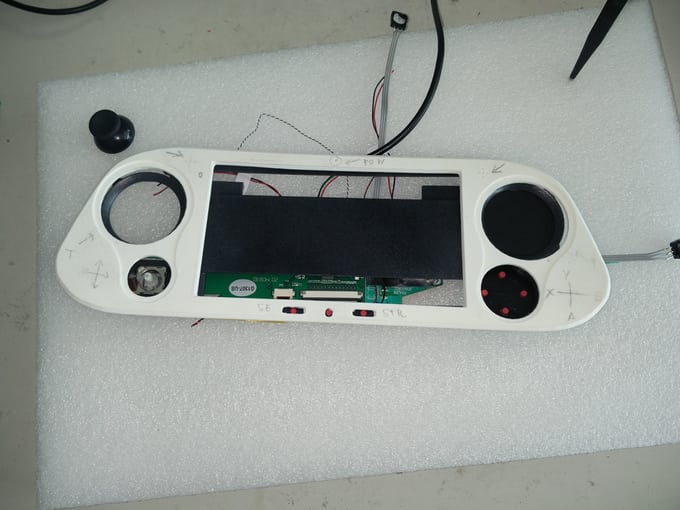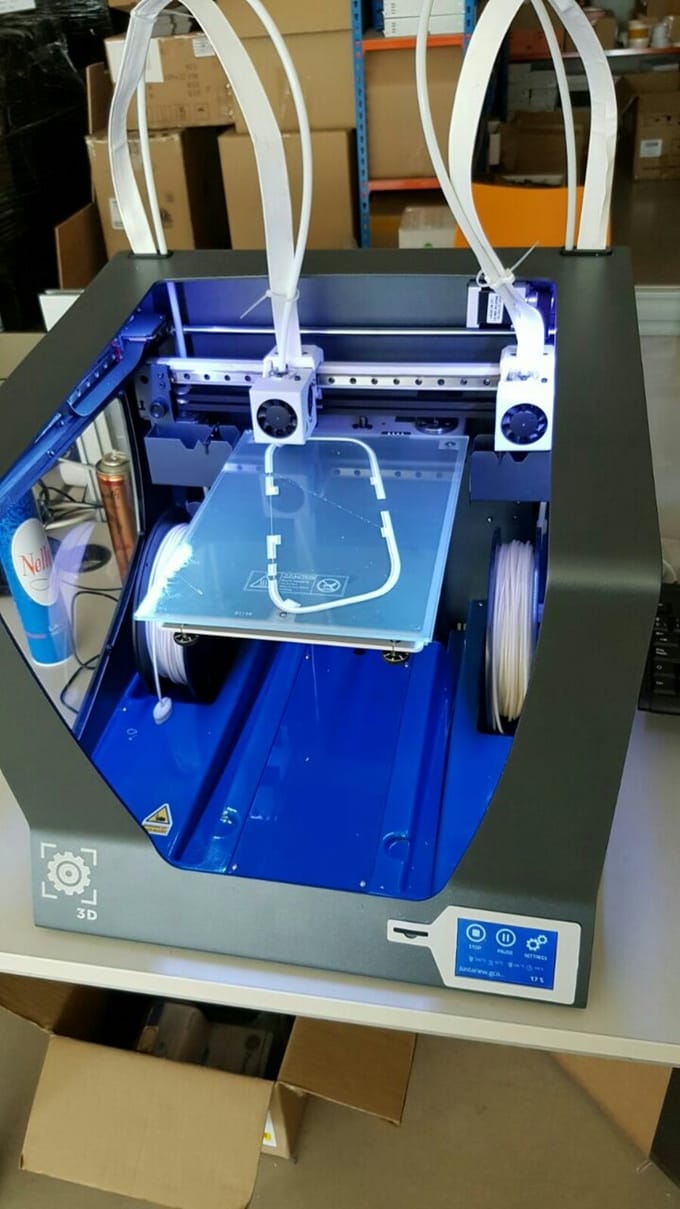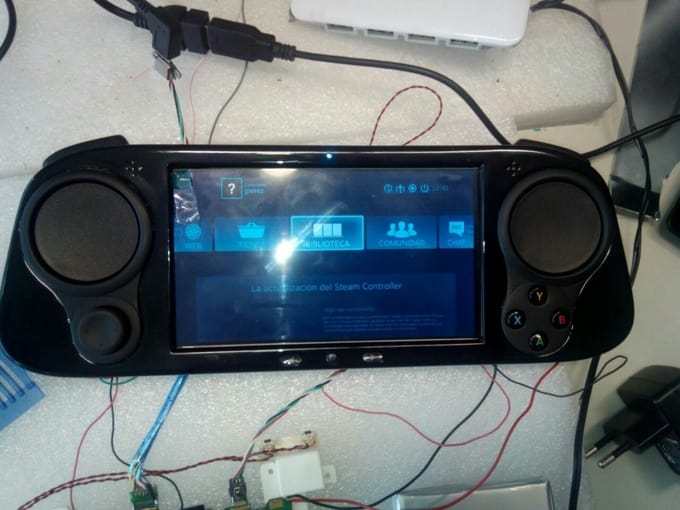 And here finally working:
AMD Merlin Falcon development board: This is a different prototype that demonstrates the power of the final hardware. It's not cased, it's a board with the final SoC configured with the same settings, and RAM as the final console will have.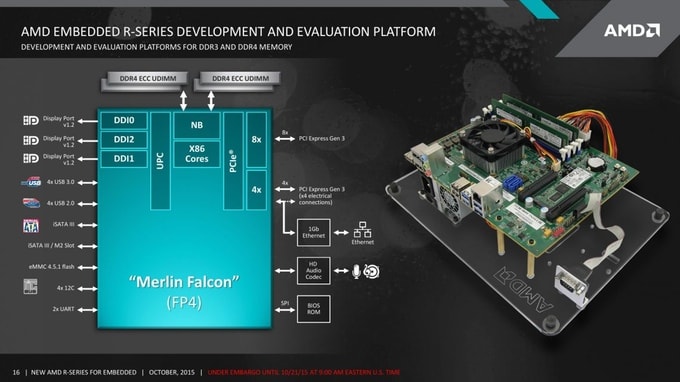 Note: When testing framerate and performance we're using the AMD board. If in the videos show the cased prototype, it is because we're streaming from the AMD board. 

Since the first announcement of the project a year and a half ago, we've been listening to all your suggestion to improve SMACH Z:
6" Screen. We run a poll and the results where very clear. You prefer a larger screen and that's the biggest change from the original design. 

1080p screen: 720p is more than enough for a 6" but with a little bit more we can go full HD. 
64GB storage capacity: 32GB is quite small for a lot of awesome games. This one is a priority for us. 
Windows 10: You want all your Windows only games on your SMACH Z and we will work on supporting it too.
Battery Life: 5h are great, but extra batteries are your only salvation on a long trip. 
D-Pad: Classic controls has been one of the most demanded features. We are confident that with the Z-Pads everybody will be happy, and we plan to continue listening to your feedback. All the backers will be invited to participate in the development forum to give feedback and vote for SMACH Z features. For example, choosing the colors of certain models.
Lower the campaign goal: We've been looking for private investors to reach the goal and be able to go on.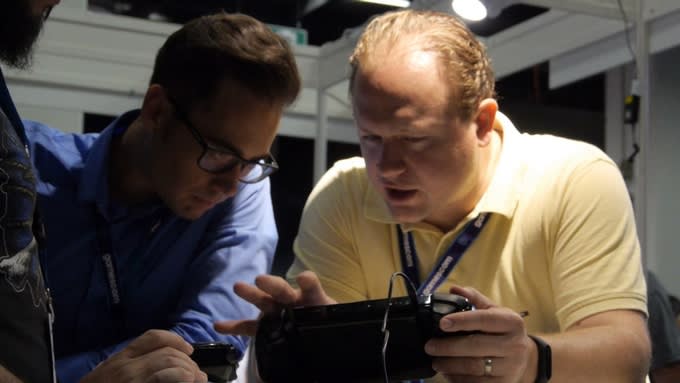 We still need to work on the final version of the console, integrating the final hardware and implementing the final cooling system.
Prototype production: April-August 2016 
Final unit production: September 2016-December 2017
Shipment to backers: Q1 2018
Launch to market: Q3 2018

Any reward has to add 5€ shipping to United States and European Union or 10€ for the rest of the world. However, if we get to the Stretch Goal shipments will be free for everyone! If you have any doubt related to shipment to your country send us a message at support@smachz.com


SMACH Z will fulfill European standards. We stand firmly behind our product. SMACH Z includes a 2 year limited warranty. For more information, please see:

If you need help, during or after the campaign has closed, you can reach us at support@smachz.com

SMACH Z is being developed by a team of experienced video game industry developers, in association with a hardware manufacturer (OnTesting), with a very experienced team of senior engineers with more than 15 years of experience each, working on companies such as General Electric, UTC, RENFE, ALSTOM, JBC or FICOSA. OnTesting is expert in designing and manufacturing electronic devices and hardware. We're excited to work together building a new console that will revolutionize the way people play Steam games.
The investors backing SMACH Z are Mola Factory and other undisclosed private investors. Mola is a tech venture holding focused on the Internet and technology companies to give them financial support and know-how. For more information: www.mola.com
You are also part of the SMACH Team. Join us in the project to bring PC games out of the house! The more we raise, the more we can do! Help us to make it REAL!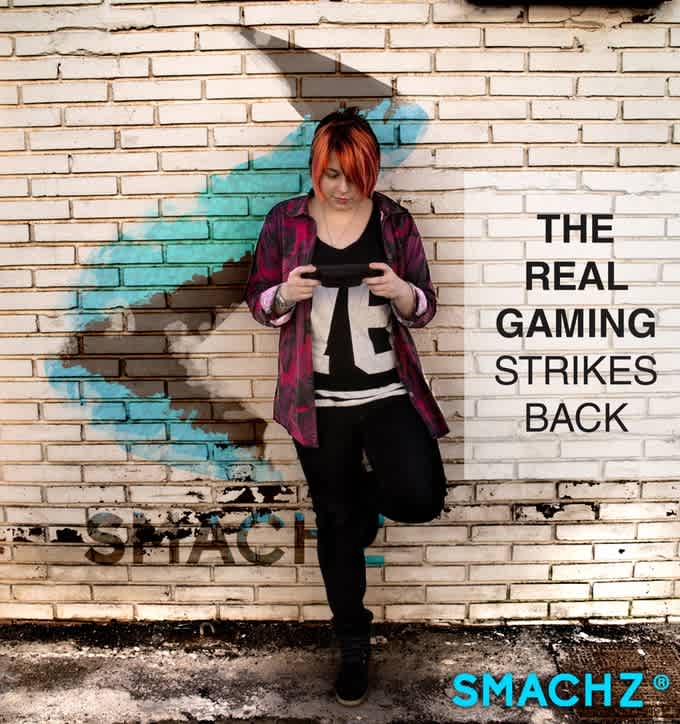 ©2016 SMACH Team S.L
Steam™ name and logo are property of Valve® Corporation. All trademarks are property of their respective owners. Liability disclaimer: SMACH Z project is not being developed by Valve® Corporation. SMACH Z project doesn't have any connection to Valve® or Steam™. SMACH Z is not a official Steam Machine™.