Our crowdfunding campaign is ended, to buy SIGMO please sign up here: SIGMO.CO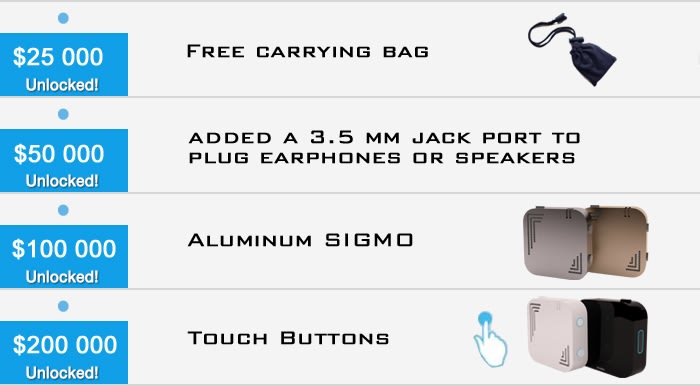 As Featured In:
Meet SIGMO
SIGMO – is a voice translating device that will revolutionise the way you are able to communicate and understand other languages.
Would you like to communicate with foreigners without any problems during vacations, business trips or wherever you are?
All these things become possible with the help of SIGMO!
Forget about bulky dictionaries and awkward, slow translations on your mobile. Now with SIGMO at the touch of a button you can instantly translate the words you need into any chosen language and hear the results of your translation instantly! Contemporary design, intuitive and portable SIGMO will be a must have for any traveler.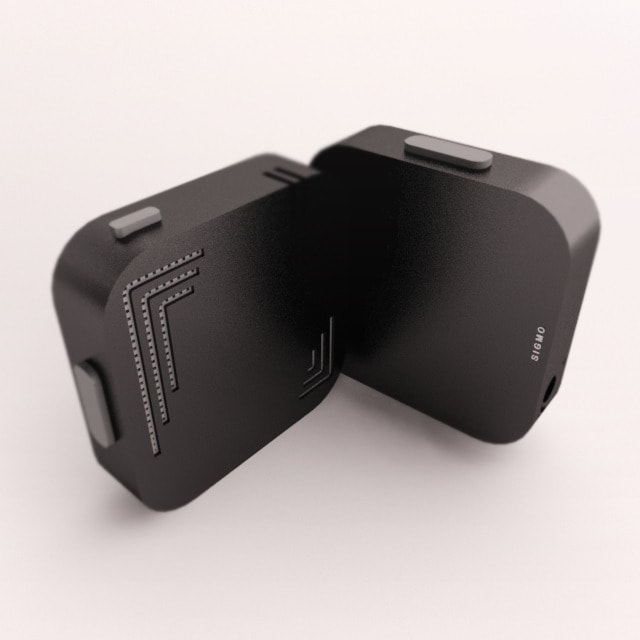 Aluminum Sigmo: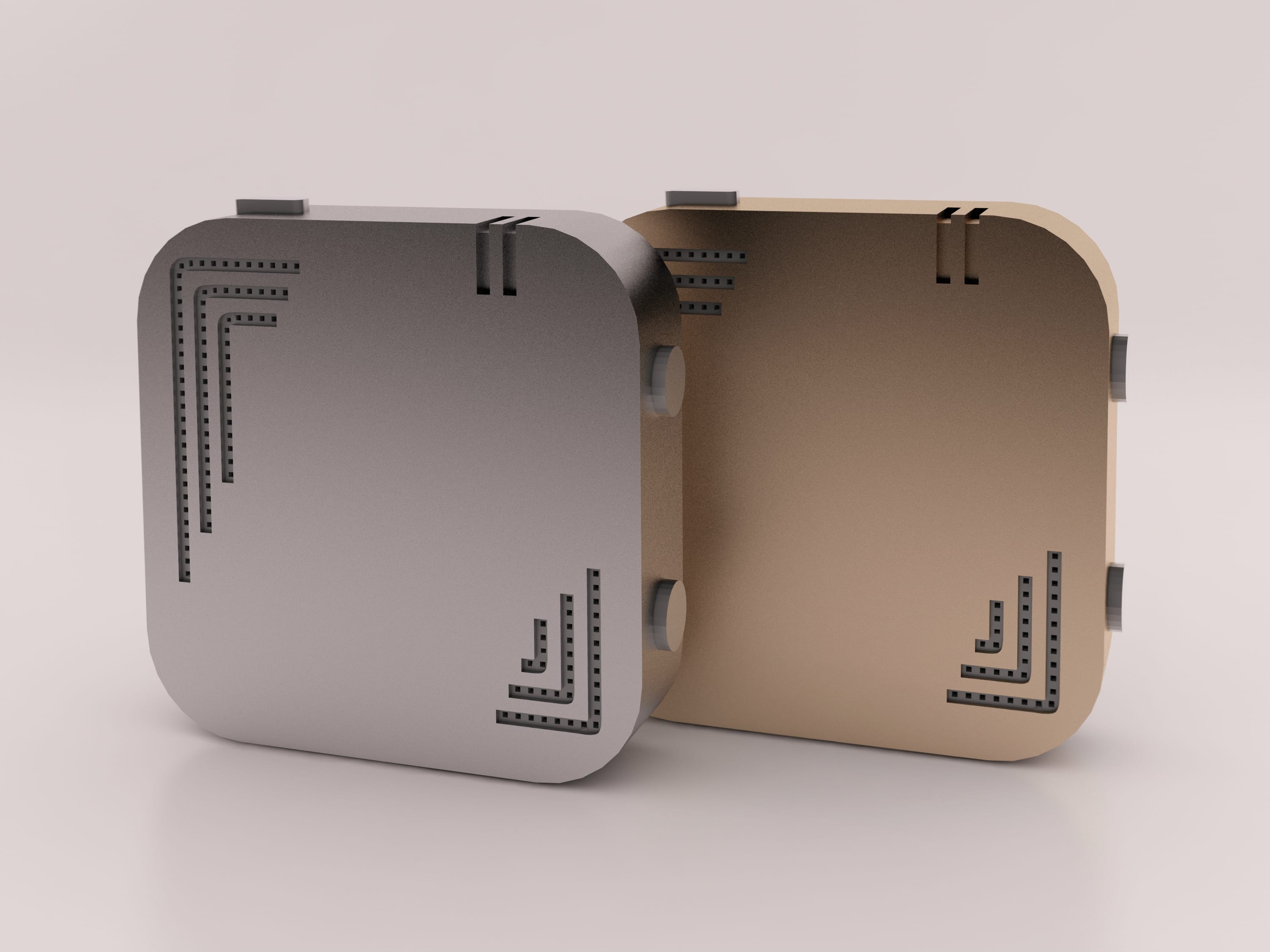 Touch Buttons Stretch Goal $200 000: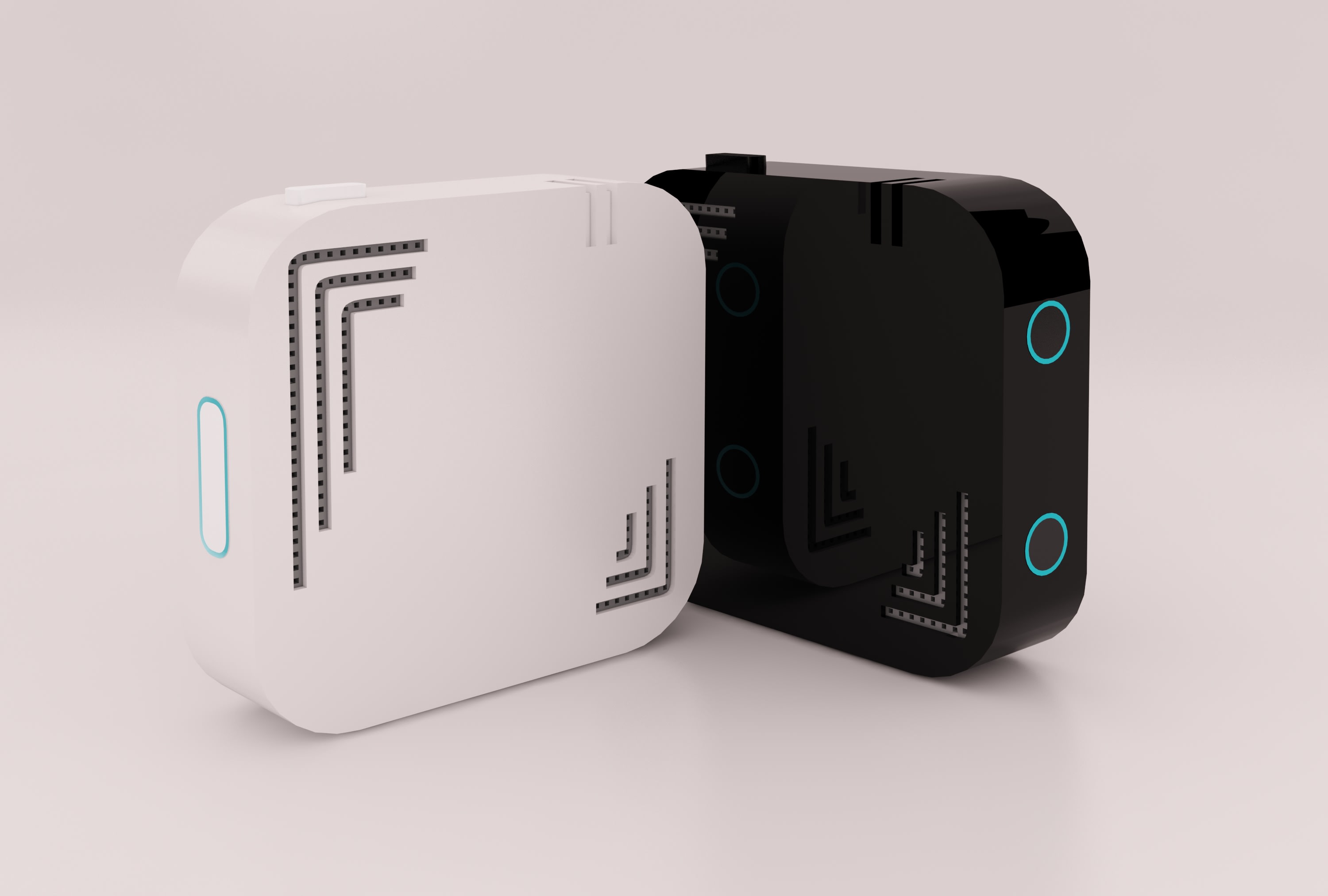 Sigmo I
nnovative Technologies
Beside the development of our translation device that allows people to communicate we also have 2 important aims that we're working on:
1. Offline Translation. We are working on offline translation service that will give people an ability to download vocabularies into mobile and to communicate with others without internet connection. No one can do that right now and we want to be first among the others who will provide such function to our consumers.
2. Smart Translating Technology. It will allow to get not just an ordinary translation, but to translate the meaning the phrase you said. That is a unique technology that will make a huge step in translating and international communication. 
All updates, improvements and innovative technologies that will be introduced overtime will be absolutely free of charge for all Sigmo users. All you will need is just to update the App in mobile.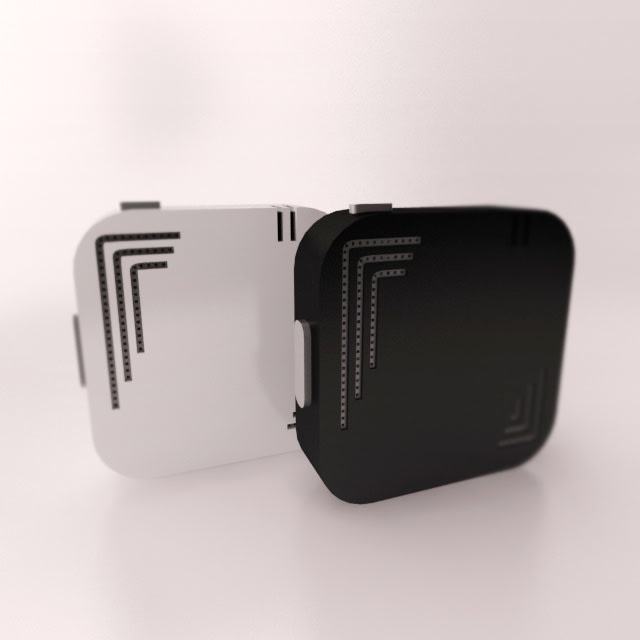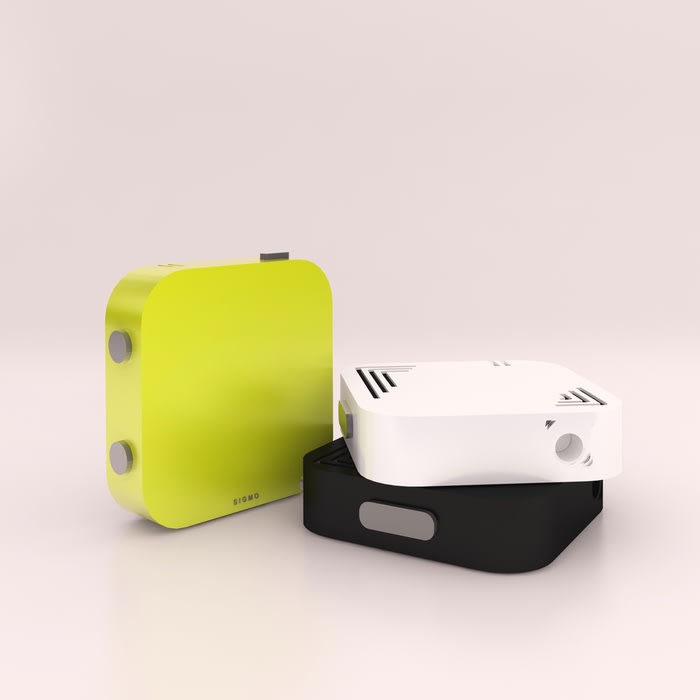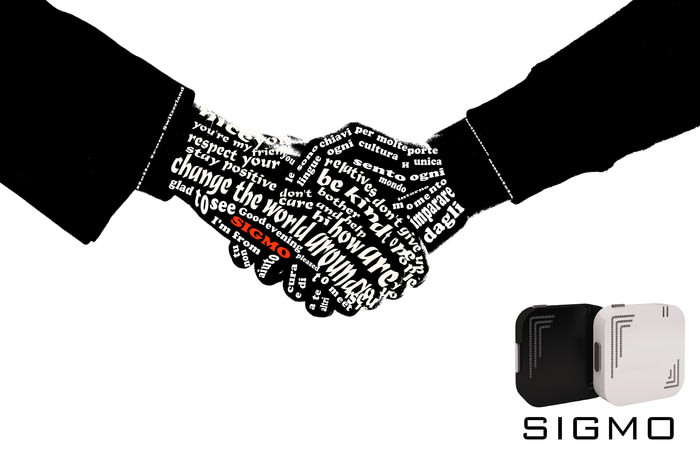 You need SIGMO
Forget about the language barrier
SIGMO allows real-time translating of 25 languages. It has two modes of voice translation. You just simply set your native language, then the language to translate to. By pressing the first button and speaking your phrase SIGMO in turn will instantly translate and pronounce it in a language you have selected. By pressing second button, SIGMO will translate speech from the foreign language, then instantly speak in your native language! All at the press of a button!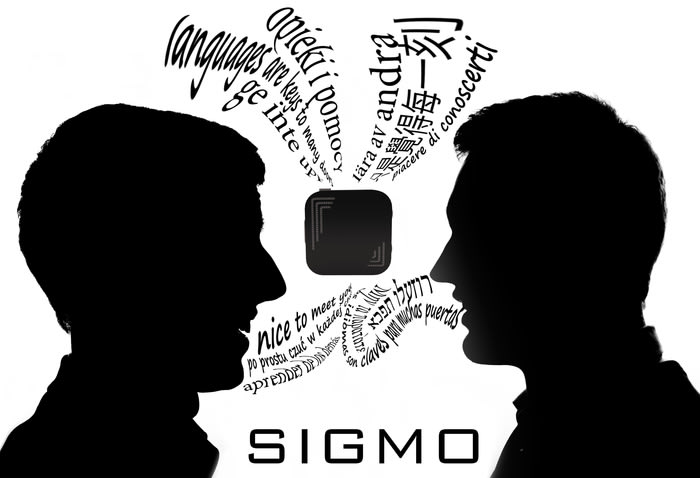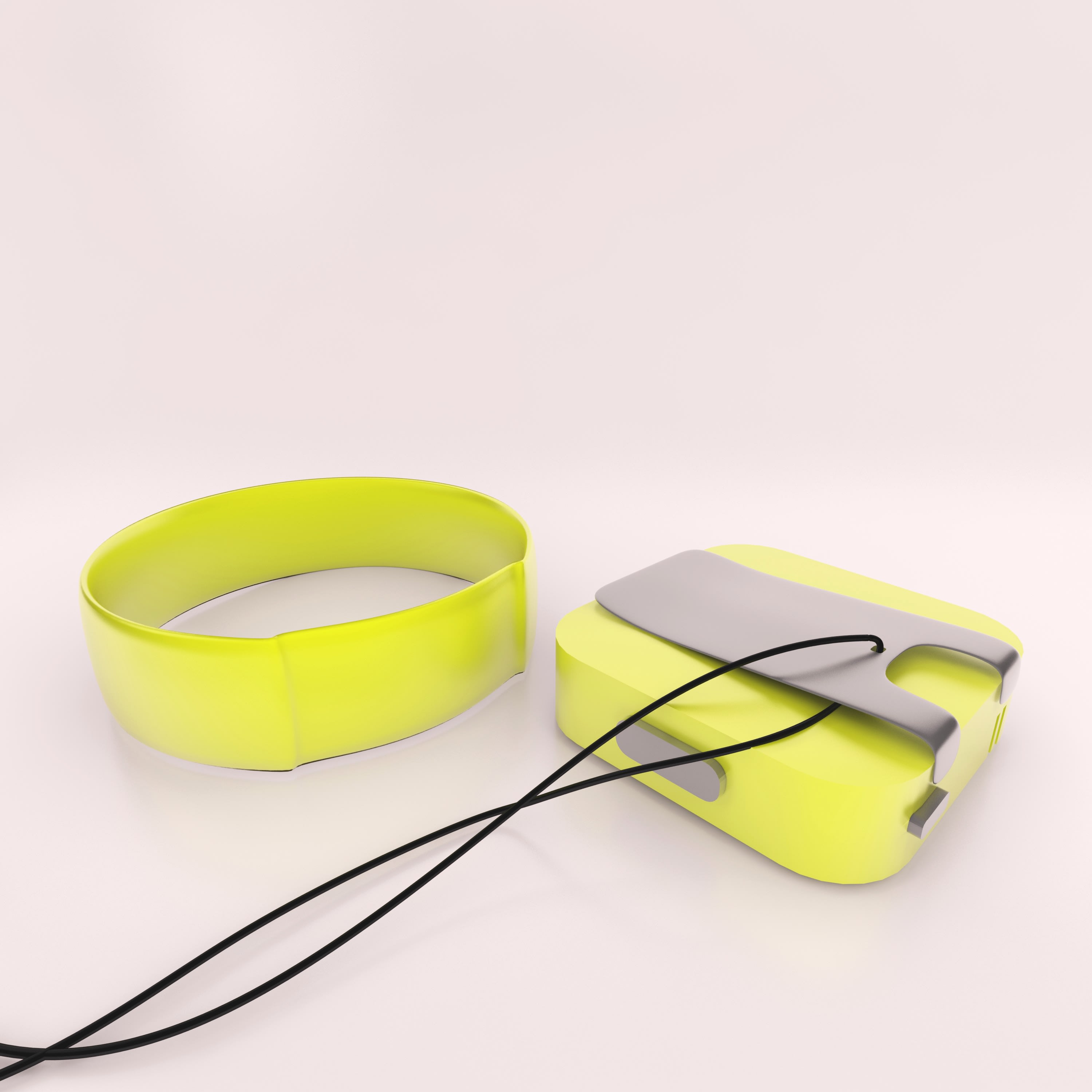 Because of its small, light size, you will be able to take "SIGMO" without any problems on any trip, hanging it around your neck, attaching it to your clothes, belt or strap on your arm with its own special attachment.
Ideal for:
Vacations abroad
Business negotiations with foreigners
Personal meetings
Business trips
Foreign language learning 
Any other situation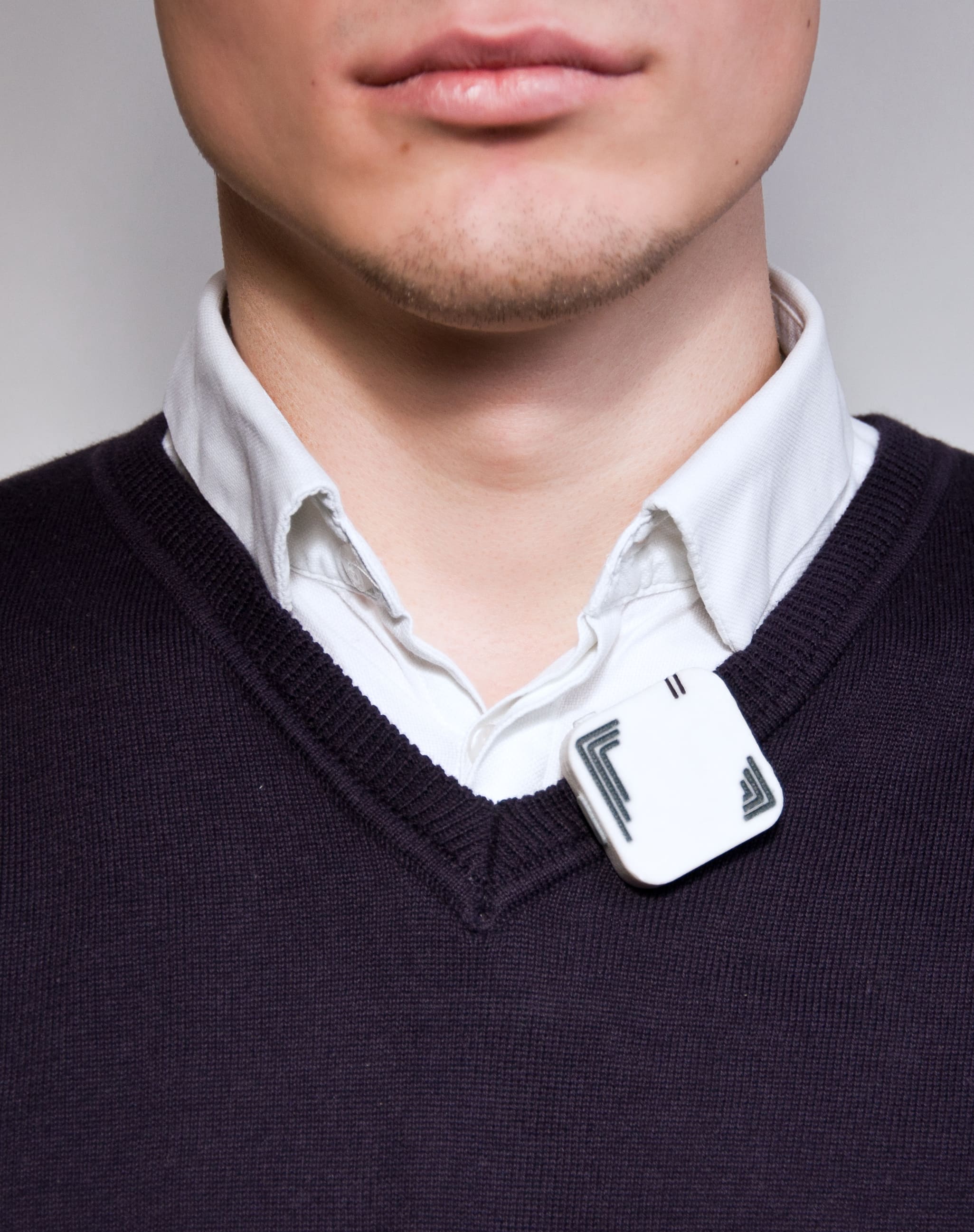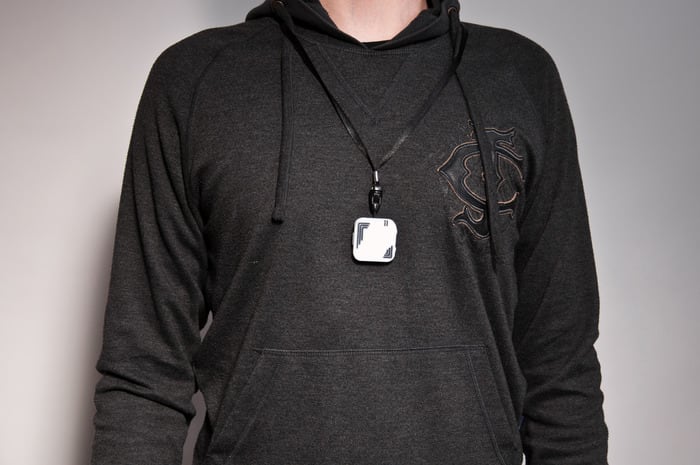 Additional Sigmo features:
1. You can use Sigmo as handsfree. As it has the microphone and the speaker you can set incoming calls to Sigmo. It's so easy as using an ordinary bluetooth garniture.
2. Siri Voice Assistant. You can activate Siri on your iPhone or iPad for managing, making calls, writing sms and using other additional Siri functions. For activating Siri you just need to hold the repeat button on Sigmo device.
For more information about Siri services visit: http://www.apple.com/ios/siri/
3. Sigmo has 3.5 mm minijack port for earphones and speakers. Now, with the help of earphones you'll be able to learn foreign languages or listen to the foreign speech without disturbing anyone. Plug Sigmo to the speakers and communicate in foreign languages with the big audience. (Will be available after reaching #2 Stretch Goal $50000).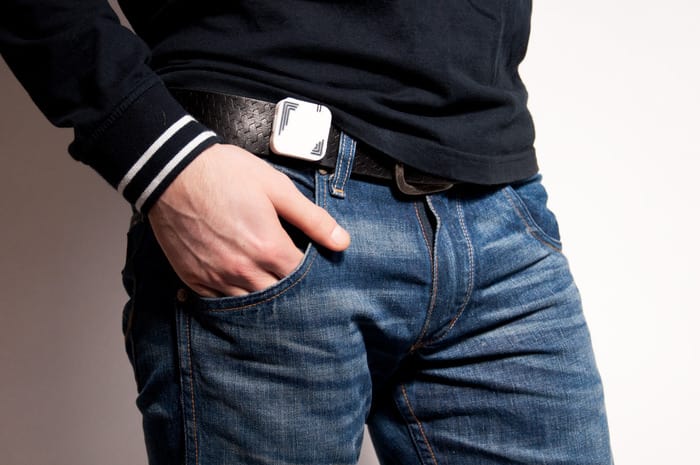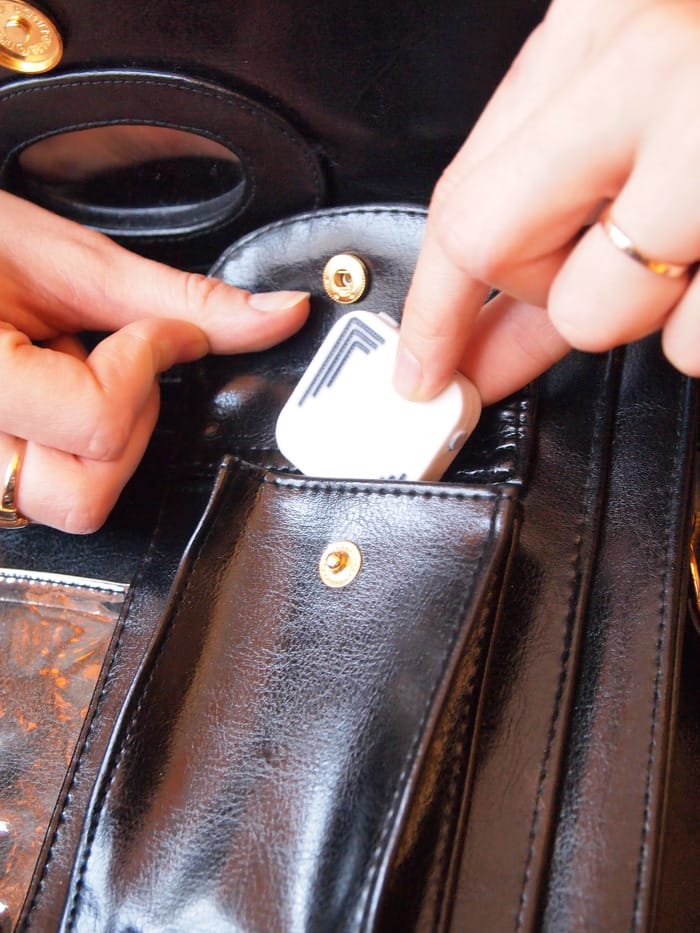 How does it work?
 Speech translation process
SIGMO operates utilizing your existing mobile phone running Android or IOS operating system (We are planning to add other operating systems). SIGMO connects to the phone with Bluetooth. The translation itself is made through already existing voice translator services (like Google translate). With the help of our free of charge app on your phone, you will be able to change languages for SIGMO. Adjust the volume via app to suit your location, ambient noise levels.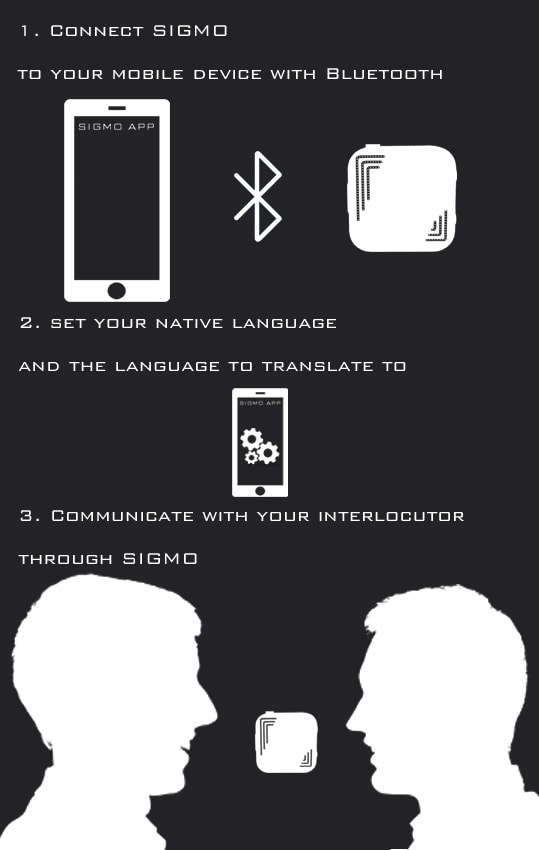 English (US), English (UK), English (Australia), English (Canada), Spanish (Spain), Spanish (United States), Spanish (Mexico), French (France), French (Canada), Finish, German, Italian, Japanese, Chinese (China), Mandarin and Cantonese(Taiwan / Hong Kong), Catalan, Korean, Dutch, Norwegian, Swedish, Danish, Portuguese (Portugal), Portuguese (Brazil), Polish, Russian, Arabic, Indonesian, Hebrew, Czech, Turkish, African, Malay, Croatian, Thai, Greek, Bulgarian, Turkish, Slovak, Hungarian, Ukranian, Hindi.  
Voice translating services are always updating, so the list of languages in SIGMO App will update automatically for free.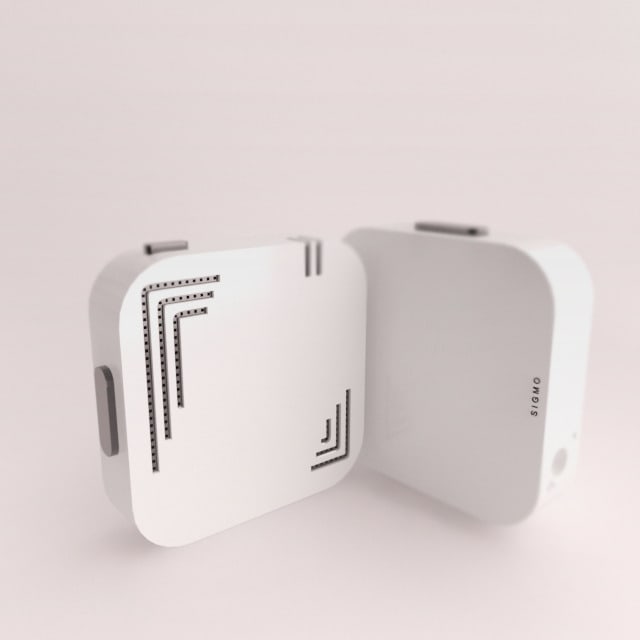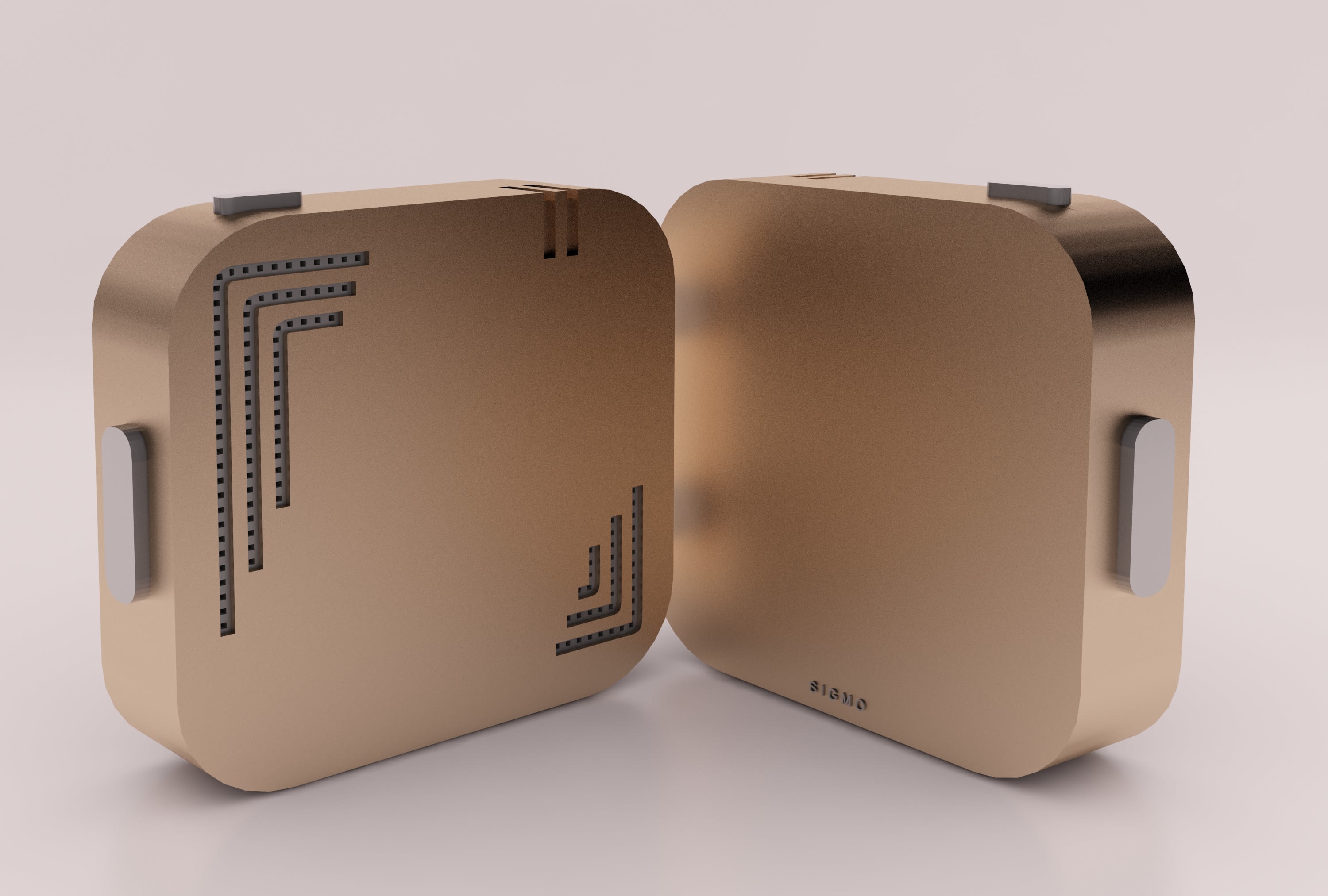 All you need is a data connection for "SIGMO" on you mobile phone. "SIGMO" does not require a high speed data connection. Utilising mobile internet with minimal use of traffic. Currently we are working on our biggest barrier - ensuring a possibility of downloading a voice vocabulary and using it in off-line mode.
!!!We believe that our biggest aim is ensuring a possibility of downloading a voice vocabulary and using it in off-line mode!!!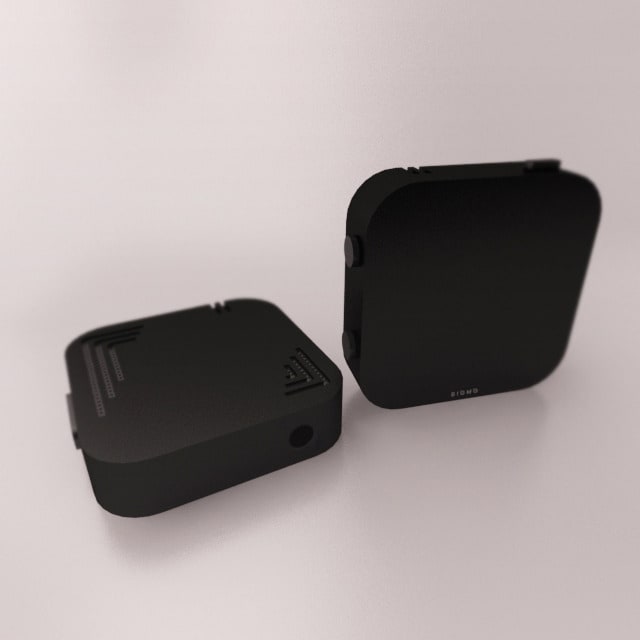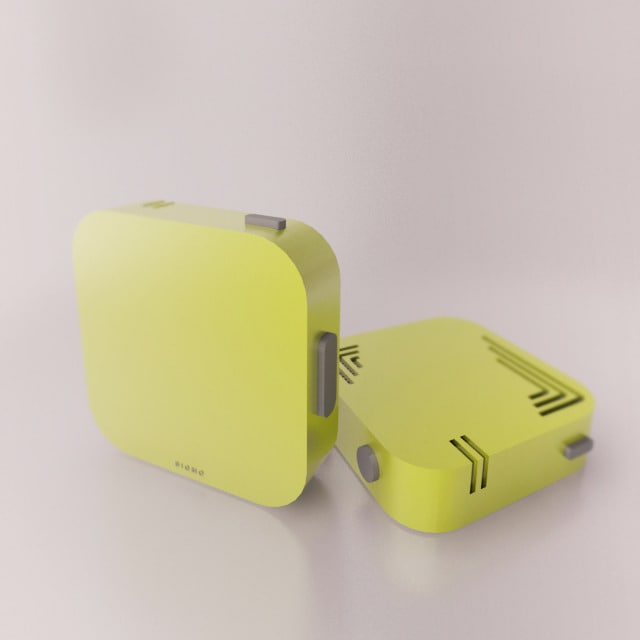 As SIGMO is connected to your mobile phone via Bluetooth which can drain a mobile phones limited battery, so SIGMO app will run in the background mode greatly increasing the batteries life. Battery consumption of your mobile is very low. We estimate the battery life of SIGMO operates 300 hours in stand-by mode and 8 hours in conversation mode. Specifications are not finalised. Technical characteristics may vary during production testing of the final prototype.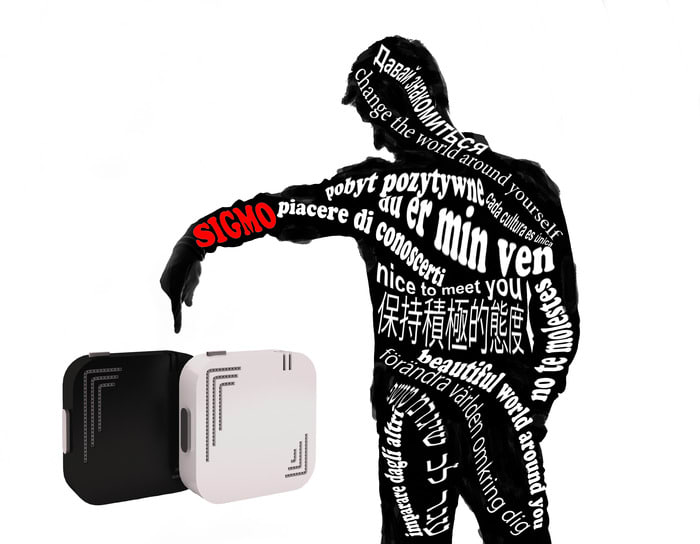 SIGMO's case is made from eco-friendly and safe materials.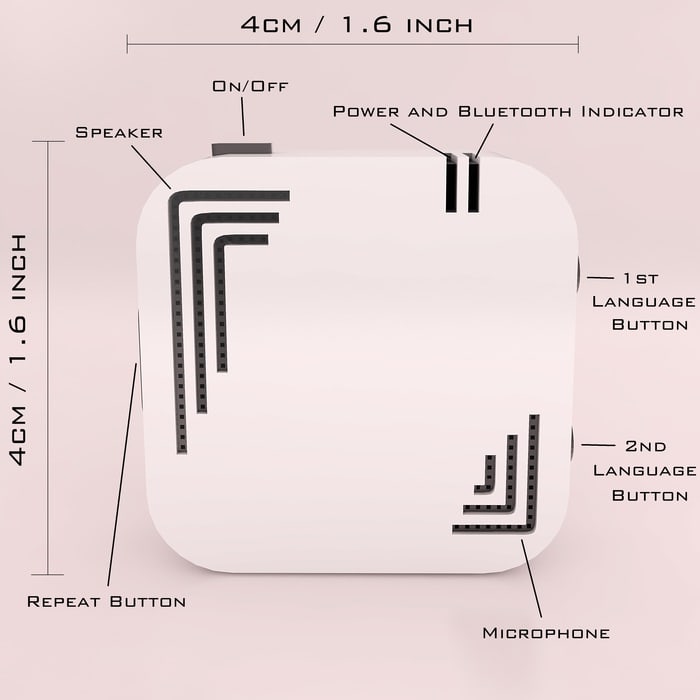 Since voice translators are not always perfect with many accents, they are continually striving to perfect speak recognition software which is constantly improving with every language. But even in this case, though with mistakes, but the meaning of translated speech will remain clear.
REWARDS
Sigmo Set in Black/White/Green: Includes - Black/White/Green Sigmo, Stainless Steel Clip, Neck Strap, Wrist Bracelet, Carrying Bag.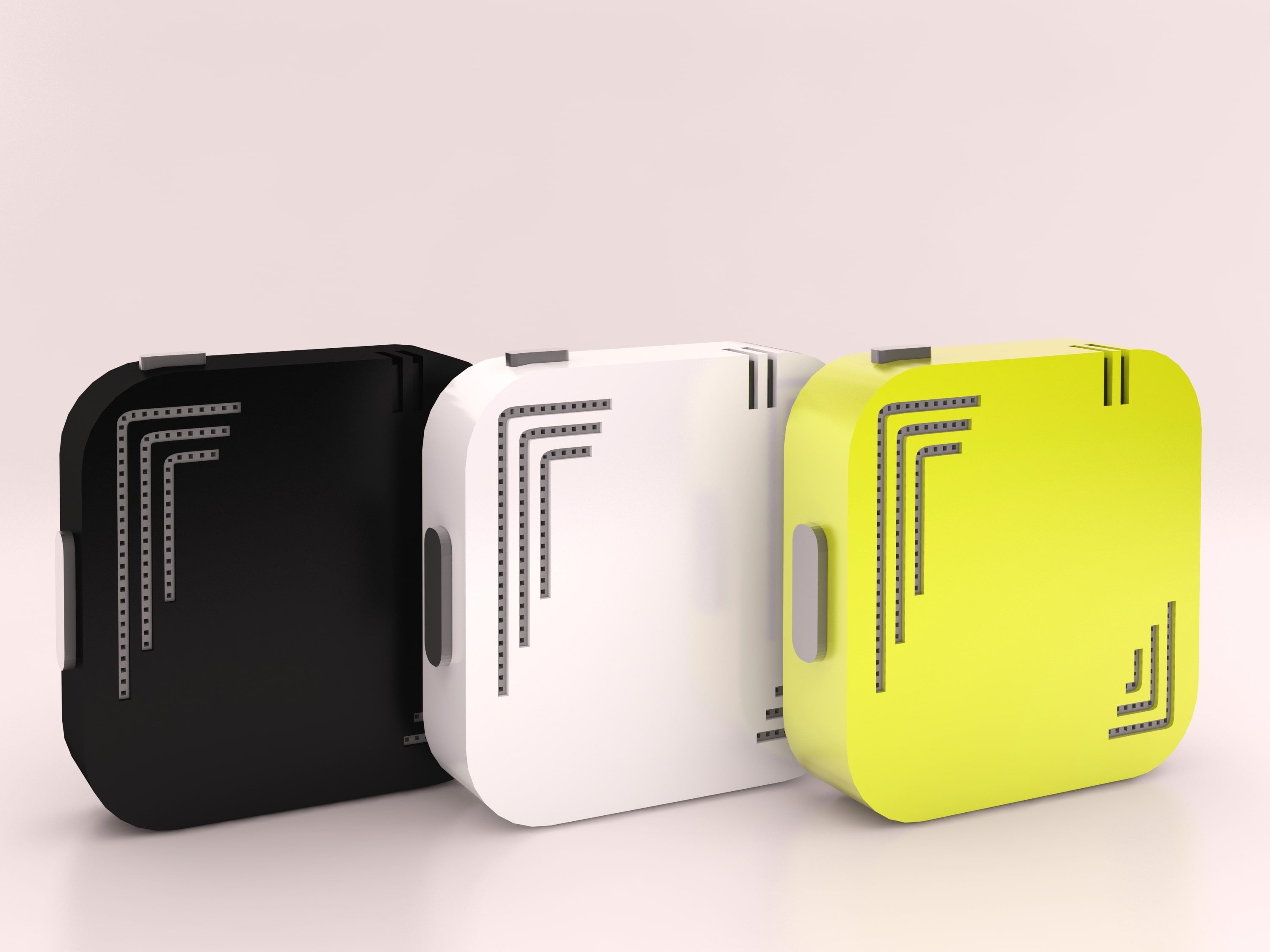 Aluminum Sigmo Set in Silver/Gold: Includes - Silver or Gold Aluminum Sigmo, Stainless Steel Clip, Neck Strap, Wrist Bracelet, Carrying Bag.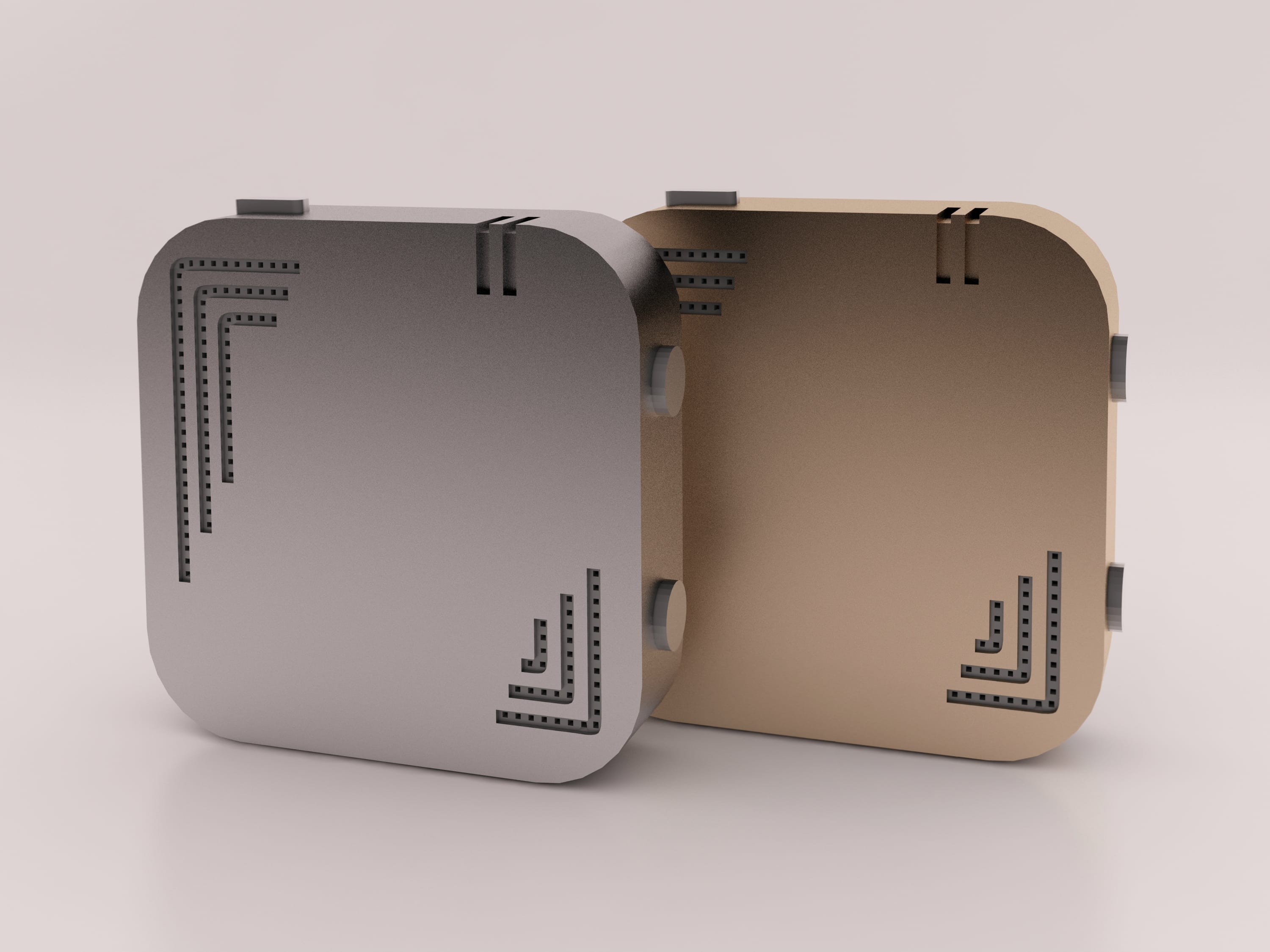 To order more than 1 Aluminum Set :
Choose the Perk with multiple Sigmo Sets.




Add $15 for every Aluminum version.



For example: You've ordered 5 Sigmo Sets and your pledge is $180. You want to get 2 ordinary Sigmo sets and 3 Aluminum Sigmo sets. So you have to add 3*$15 = $45 to your existing pledge.

How we invented SIGMO?
We travel a lot and understand frequent language barriers. It is very inconvenient to carry a large translation books and type out constant words to communicate. Therefore we have developed such voice translation device that becomes more useful! No need for expensive translation services anymore. Portable, intuitive to use and functional. We just need your assistance now in realising our idea and getting SIGMO into production and profitability!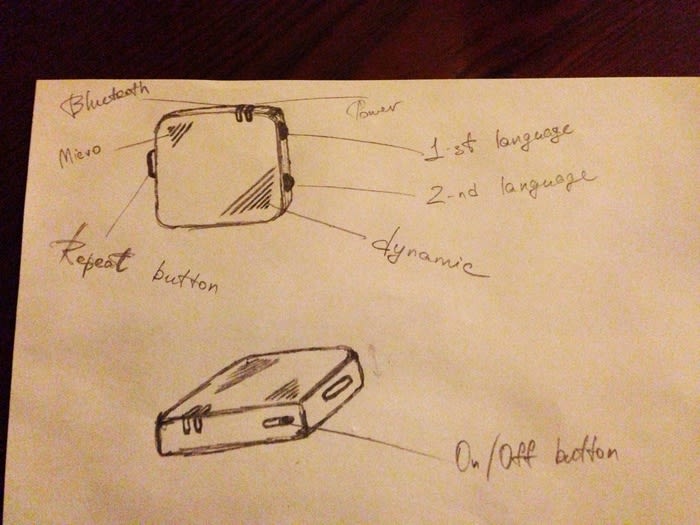 First sketches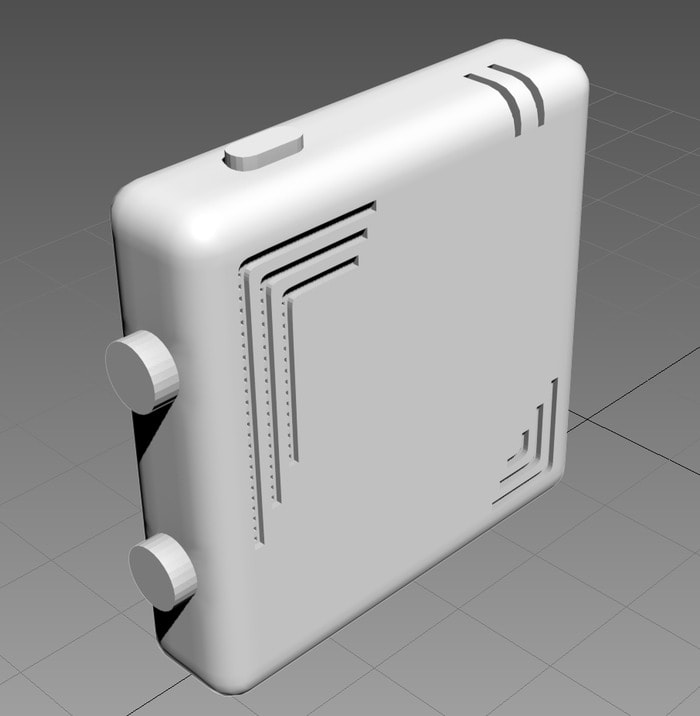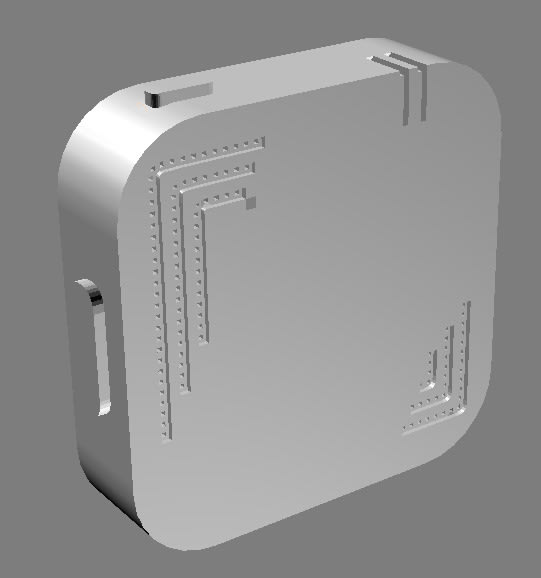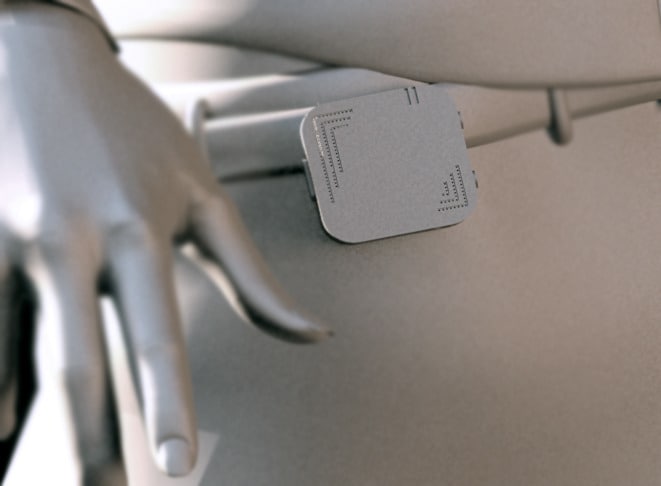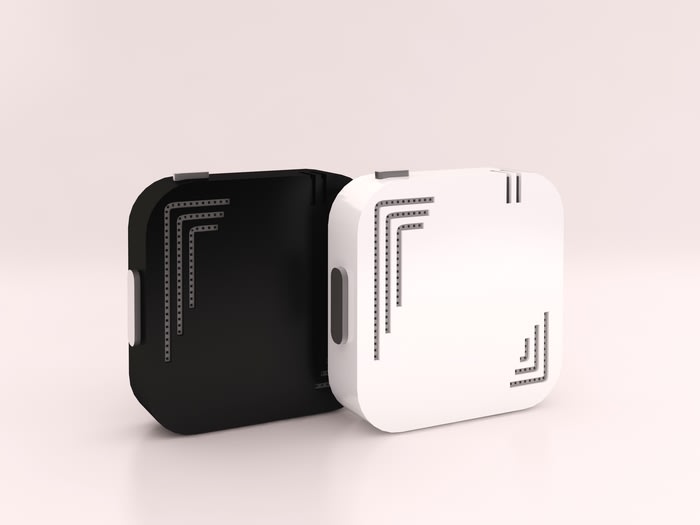 Our final design
What do we need funds for? 
Today we have developed several options, prototypes and promotional videos to present the latest version of our working prototype. We still have to improve an application through which SIGMO will operate with your mobile device and finalize the model of SIGMO in order to put it into mass production.
Schedule of execution phase (if our project will succeed):
1st month – finalizing the phone application, integration testing of final prototype versions
2nd month – development/testing of first production versions.
3rd month – final tests and product certification
4th month – manufacture the first batch for mass production.
5th month – delivery of SIGMO to you our backers.
Schedule of execution phase is set with reserve, because we do not want to let down our backers and eliminate possibility of delay on every stage.
We expect to launch SIGMO into mass production and our backers will be able to get new device much earlier and cheaper than those who will want to buy it in future.
Our functional prototype does everything the final SIGMO version will do.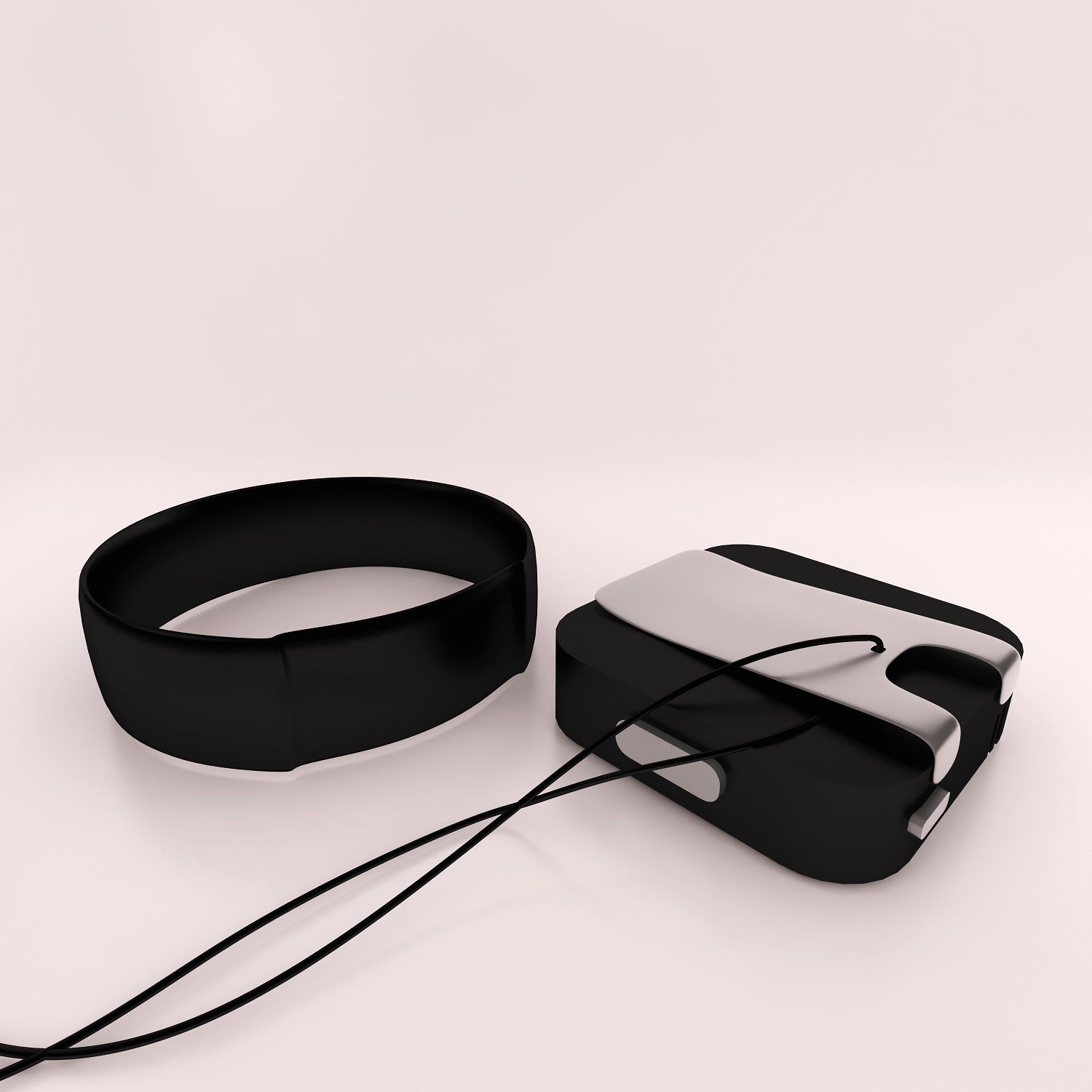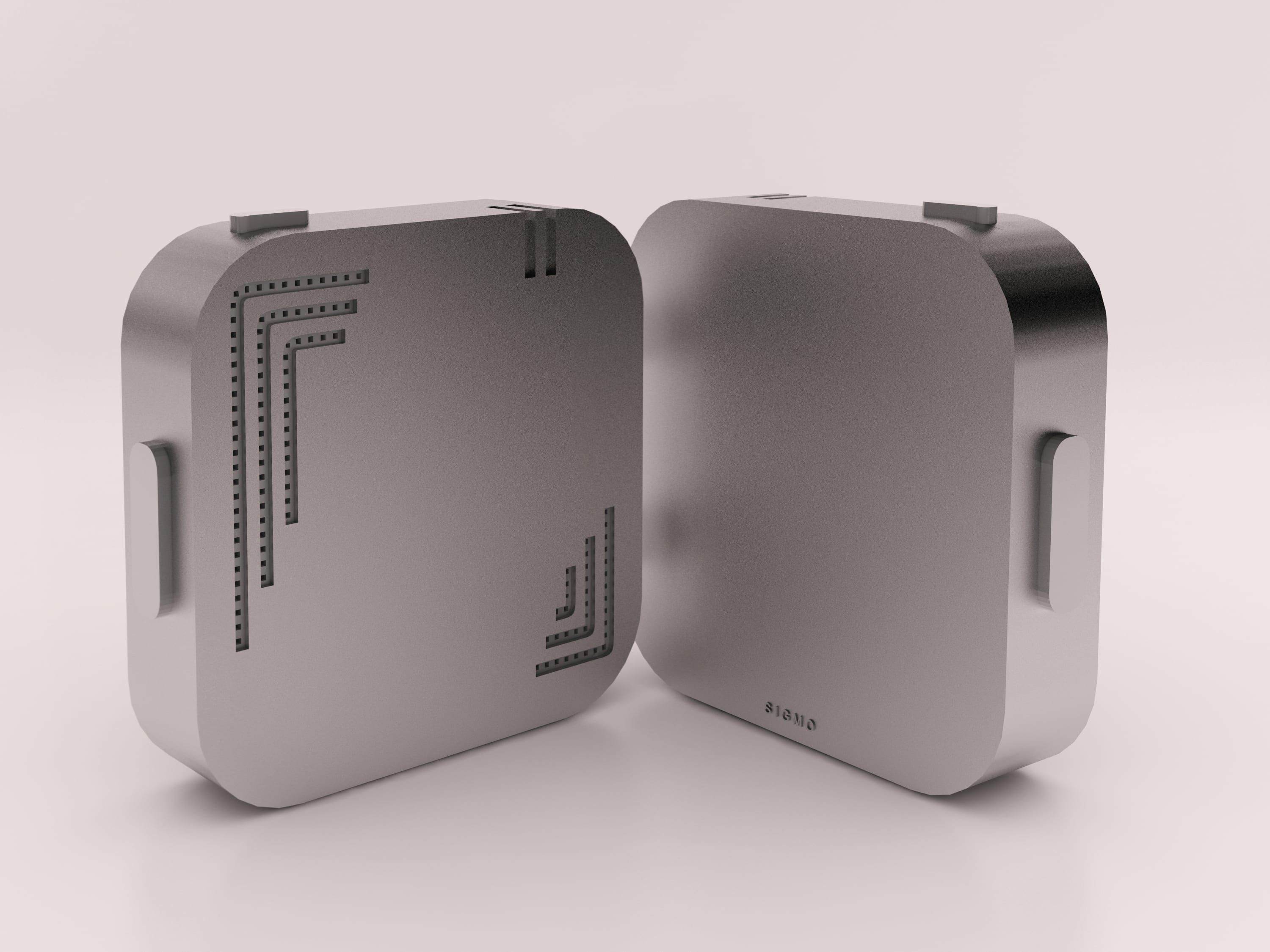 Who we are?
David Barnett and Marti Karrer are friends from childhood. Whilst on vacation, we got an idea to create SIGMO. So now we are working full time on this project after resigning our jobs to commit our entire time to our business.
Marti – is a technology design-engineer who has already created some key advances in electronics and software engineering. Constantly involved in development and innovation over the past 3 years. David – is an entrepreneur with the experience in international trade and development. We have united our efforts to create a product, which will really assist people quickly, cheaply and accurately. Katarina Rauche – is a person full of creativity and inexhaustible energy. She is the one who designed SIGMO's case and was engaged in our video and photo production.
Risks and Challenges
While working in the field of international trade, design and engineering, beside experience in managing business, we have also established close relations with suppliers and manufacturers whom we will need for implementation of our project. During cooperation with them, we became sure about their competence and professionalism. They, as well as we, will do everything to ensure timely development and delivery of "SIGMO".
We have relations with a company involved in global deliveries and having storage facilities all over the world, which will make it possible for us deliver "SIGMO" to our backers to any place in the world within established time.
We believe that the biggest barrier is ensuring a possibility of downloading a voice vocabulary and using it in off-line mode. We want to be as open to our backers as possible and we will inform them about each step on the way towards realization of the project.
THANK YOU!
We would like to thank every backer for any contribution and any assistance in the realization of our project. Share our concept of translation of SIGMO amongst friends and relatives in Facebook and Twitter and together we will bring SIGMO to life!
If you have any questions or you just want to say hello, be sure to contact us at info@buysigmo.com 
If you have problems with payments, please contact payments@buysigmo.com

For Press Inquiries contact press@buysigmo.com