The Scanadu Scout™ has not been cleared or approved by FDA. The following content is Scanadu's vision of the final design that will be subject to FDA clearance  prior to marketing. As a contributor to this Indiegogo crowdfunding campaign, you are supporting Scanadu's intent to develop the first Medical Tricorder®.
FAQ about shipment
Our campaign is over but click here for future updates.

---
In the Press:
CNBC: Star Trek's Tricorder to Become Reality [video]
Forbes: Scanadu's Scout: The Sensor With Heart
GigaOM: Scanadu's medical 'tricorder' sets record for fastest funding velocity on Indiegogo
TIME: A Star Trek Tricorder? 'Scanadu Scout' Health Monitor Surges Past Indiegogo Funding Goal
Mashable: Star Trek's Tricorder Becomes Reality With Scanadu's Scout
Fast Company: A Real-Life Tricorder Is Now Available For You To Buy And Scan Yourself
TechCrunch: Hands-On With The Scanadu Scout, The Health Gadget That's Crowdfunding Its Way To FDA Approval
Engadget: Scanadu finalizes Scout tricorder design, wants user feedback to help it get FDA approval
USA TODAY: Medical tricorder Scanadu approaches launch
---
Sapere Aude. Dare to know.
Your body's information where it belongs: in your hands. Share it with your doctor and others to take health conversations – and discoveries – to a new level. Learn ways that different people, locations, activities, foods and beverages affects your body.Discover connections. Watch trends.Catch changes early. And track them. Get healthier.
What is the Scanadu Scout™?
Scanadu Scout™ is designed to be a medical grade Tricorder® using your smartphone and Bluetooth LE to emulate an Emergency Room in your pocket. Our first iteration of the Scanadu Scout™ does not perform all the actions necessary for the Tricorder® X-prize, but we are well on our way.
It will measure your: 
Whether you're a Quantified Selfer, life-logger, Maker, medical student, techie, MD, parent with kids, parent with parents, teacher, educator, baby boomer, data scientist, pilot, mountaineer, athlete or mathlete...
Scanadu Scout™ is being designed to empower you. Who's the "first responder" when your vital signs are in flux? You!can call your doctor and already be informed and knowledgeable about your health. 
Yes! With Scanadu, we are going to be the last generation to know so little about our health.
Simple.
You will simply place the Scanadu Scout™ on your forehead for 10 seconds and in a snap, your stats are displayed on your smartphone.
Scanadu Scout™ will give you access to valuable data which your body provides every day. Don't let your precious information get lost; use Scanadu Scout™ to analyze, track, and trend your vitals with unprecedented simplicity.
And very powerful.
Scanadu Scout™ will use a 32-bit RTOS Micrium platform, NASA's choice for SAM (Sample Analysis at Mars) on the Rover Curiosity (uC/OS-II Kernel Drives Extraterrestrial Scientific Investigations).
The Scanadu app will come in Android and iOS versions. It will support Bluetooth 4.0, more specifically Bluetooth 4.0 Smart Low Energy (LE).
The Scanadu Scout™ uses a micro-USB adapter that you can hook up to a USB port. It will take less than an hour to get fully charged from low battery. When using it a few times a day, it will last for about a week.
A damp towelette or disinfecting wipe can be used to wipe down the Scanadu Scout™ after use but it is not waterproof.
Where are we in the development?
We have a prototype device that is designed to measure vital signs. However, to bring the Scanadu Scout™ to the vast consumer market, we still have to file with the FDA. Right now we are giving eligible subjects access to our first version of the device as a part of a research study, where you will part of the research!
By helping us collect data, we can support  our FDA application for market clearance as an over-the-counter consumer-grade diagnostic tool.Our study protocol will be reviewed and approved by an IRB prior to initiating the study.The product will not pose any significant risk to users and can be used to collect, store and display all your information, but without making specific disease diagnosis. By contributing to our campaign and participating in our study, you will help us refine the Scanadu Scout™ and get us ready for a formal clinical study.
The Journey.
We are creating a medical-grade device, which is not yet fully accurate and not cleared by FDA. Hence this is not a medical device. Via this campaign, you may contribute and your input may affect the final design and characteristics of this revolutionary tool.  
The exploratory version of the Scanadu Scout™ is not a medical device and makes no medical claims.  It is still in development and can only be used as part of an investigation. As an investigational product, it can be used to collect certain data and must be used in accordance with the study's protocol.
Before Scanadu Scout™ can become a medical device it will have to go through the  FDA (Food and Drug Administration) premarket notification process and this is where your help comes in. With the Scanadu Scout™ eligible participants will help us by Scouting yourself as part of a research study and giving us feedback to refine the Scanadu Scout™.
This will happen in the framework of official clinical studies in which you will be invited to partake, ONLY IF YOU OPT-IN. For each study, you will be contacted and will have to sign an Informed Consent form. With your help we can put Scanadu Scout™ through FDA to become an over-the-counter consumer-grade diagnostic tool.
When will I be invited to participate? Before you are eligible to receive your Scanadu Scout™, you will also be receive information about the study and the Informed Consent document at which time you will be free to decide towill enable participate in our study, and help us define the final properties of the device.
You may also opt-in during the course of subsequently specific clinical studies in which you might might be invited to take part.
The Team
It is true what they say about us: we are an odd bunch of scientists. Scanadu Inc. is a Singularity University startup based at NASA Research Park in Moffett Field (CA-USA) comprised of MDs, data scientists, mathematicians, coders, molecular biologists, mechanical, electrical engineers and biophysicists. Don't worry; we gave the artistic imagination to Yves Behar, the designer of Jawbone, one of the best designers in the world.
How will I receive the investigational version.
It is MADE IN AMERICA. We will also deliver to participnts outside the U.S. with an added shipping cost.
We are aiming to ship the Scanadu Scout™ investigational units in March 2014. 
At the manufacturing plant.
---
The Global Body Map
We have developed something very special for our Indiegogo contributors. After supporting the Scanadu Scout™ you will be invited via e-mail to select the measurements which are the most important to you. 
We want to know more about what makes you excited about the Scanadu Scout™. 

Your inputs will be mapped, completely anonymously, on the Global Body Map where everyone will be able to track the most popular features of Scanadu Scout™ by country and globally, in real time.
Global Body Map: global-body.scanadu.com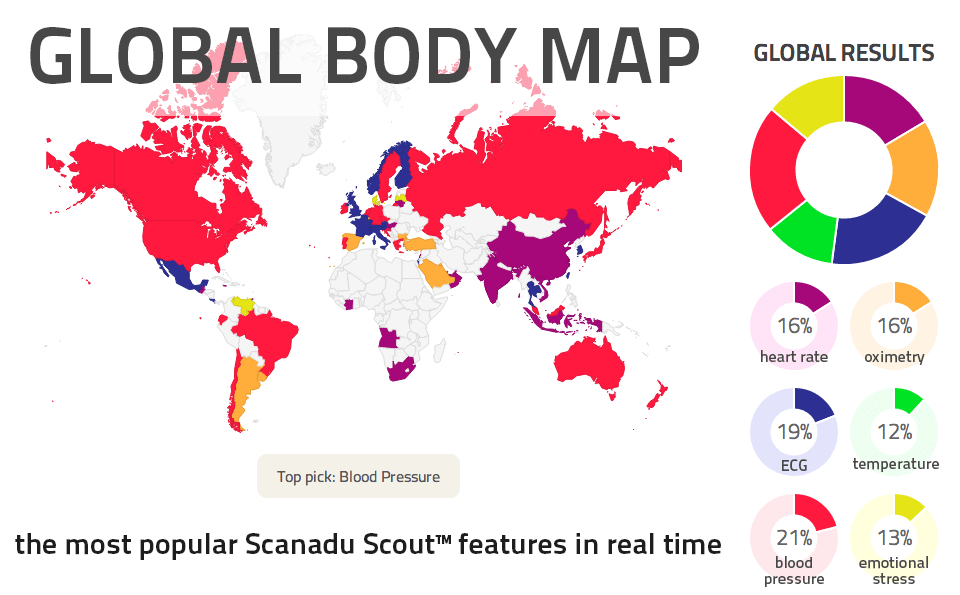 And Together We Will Build our Total Respect Data Policy.
The most recent data will be stored on your phone. But you will help us define the way data is stored for the long term. It is anonymized and encrypted. It is your data. What ever we'll do - it will always be opt-in.
You are the only person that has access to your data. You do however have the ability to share the data with doctors or even your friends and only if you want to.
Our platform will ensure our Total Respect Data Policy. Total Respect is warranted given the intimate and personal nature of the data. Respect keeps the basic tenet of Medicine: Primum Non Nocere.
It has to be total or it does not exist. Total Respect can be translated as the privacy of all users, data fidelity for medical, regulatory and legal needs, and compliance with the best medical practices.
Users will own their records in safe and protected/encrypted formats, they will be put in control and may decide to opt into sharing some of their data in an anonymized manner to enhance the quality of health care delivery and monitoring for society as a whole. Users may also decide to opt-out.
Health is Us All.
Stay Hungry, Stay Foolish, Stay Healthy. Sapere Aude. Dare to Know.
STAR TREK, TRICORDER® and related marks and logos are trademarks of CBS Studios Inc. used under license by the Qualcomm X-Prize Foundation of which Scanadu is a member in the competition for the Medical Tricorder®.
---
---
More Press coverage:
WIRED: Medical 'Tricorder' Scanadu Scout launches on Indiegogo
Gizmodo: Scanadu Updates Its Tricorder, Gets One Step Closer to Reality
USA TODAY: Change Agents: Walter De Brouwer's magical tricorder
FAST COMPANY: Want A Personal Doctor On Call 24/7? Scanadu Will Turn Your Smartphone Into A Diagnostic Clinic
GIZMODO: Holy Spock! The Star Trek Medical Tricorder Is Real, And It's Only $150
WIRED: X Prize: making the Tricorder a reality
THE NEXT WEB: 5 personal data tracking innovations to watch
THE ECONOMIST: Scanadu's Tricorder, the Scout [video] 
THE WALL STREET JOURNAL: New Medical Devices Get Smart
THE VERGE: New smartphone accessories analyze your body to keep the doctor away
TIME: Scanadu Aims to Turn Smartphones into Healthcare Helpers
---
FAQ:
SHIPPING COSTS
You can add your shipping cost on top of the amount of your perk. If you do not add the shipping costs to your payment, we will send you an email post campaign to do this payment.We know that it is not included in the Indiegogo platform.We keep track.
WHEN CAN I CHOOSE MY COLOR, BLACK OR WHITE?
Before the end of the campaign, we will simply send you an individual email to ask you the color of your choice. 
MULTIPLE USER PROFILES
Though multiple users with separate profiles brings data fidelity issues we will have to solve with the FDA, it will be technically possible on the Scanadu Scout™.
WHAT IS THE TECHNOLOGY BEHIND THE SCANADU SCOUT™?
The device uses passive sensors (electrodes, visible and IR light sensors, accelerometers, thermistors, gyroscopes, microphones etc.) to acquire your vitals. The only energy being delivered to the body is in the form of low-power LED light pulses.  To acquire your data, just place the device on the forehead.
WILL YOU BE ABLE TO ACCESS RAW DATA?
Due to the logistics of having to do FDA studies with a novel device, there are 2 phases in our process.
PHASE 1 is usability. PHASE 2 is clinical studies.
During both phases, measurements (not raw data) will be available to the users but in phase 1 those measurements stay on the device only, and Scanadu will not access them.
As soon as we enter the clinical studies, the measurements relative to each study are collected to be part of the study data. This happens within the framework of a well defined Institutional Review Board - approved clinical protocol.
It is our intention in a later stage to work with 3rd-party developers (both for-profit and non-profit), expanding the breath of what can be done with Scanadu Scout™.
---
Questions or comments...
For anything you may want to know about Scanadu Scout™ or if you wish to get in touch with us, you can contact us at bodyhackers@scanadu.com