Summary
For sailboats of all sizes and ages, mobile apps are making advanced navigation functions easy and accessible.  The SailTimer charting app (below right) provides a quick and easy display of your optimal tacks and Tacking Time to Destination (TTD ®).  Unfortunately, apps are difficult to navigate with if you can't see the screen out on the water where the sun is bright and reflecting.  Wearing sunglasses makes it even worse.  And if you turn up the screen brightness, your tablet/phone runs out of battery power and gets warmer.  
All sailors need wind information, so that's why SailTimer Inc. started making the first-ever masthead anemometer that could transmit to tablets and smartphones back in 2012.  The newest 5th-generation SailTimer Wind Instrument™ is shown below (left).   The SailTimer charting app uses wireless wind data and tacking distances to calculate your optimal tacks.  But there is no sense displaying a wind gauge or your optimal tacks if you can't see the screen.  It is time to set a new standard for sailboat navigation, with Audio Tacking.  No more squinting at screens out in the sun. 
This is quick and easy, so you can sail the boat.  Keeps your hands free.  No more screen;  the app just tells you the boat speed, tacking results and wind conditions in pre-set intervals.  That could be anytime conditions change more than a certain amount, or just when you tap the screen.  Amazingly simple.

What We Need & What You Get
We would like to make an Android charting app for the SailTimer tacking results, and build to the next generation audio interface (for both Android and iOS), but we need your help.  You'll be able to use the SailTimer tacking results in a free SailTimer charting app on iOS and now on Android too.  And as a backer, you'll get discounts on the new Audio Tacking for Android or iOS and on the wireless Wind Instrument.
We already used a voice interface in the SailTimer Wind Gauge app on Android (above center).  Now we are ready to go to the next level, with full navigation and optimal tacks on Android.  We need funds (flexible amount) to build a brand-new free app on Android with the SailTimer tacking results overlaid on Google Maps and aerial photos worldwide.  That will allow you to see waypoints and tacking results on Android.  But on both iOS and this new Android version, Audio Tacking will now be available.  
Perks:  Audio Tacking is an ongoing service where you'll be getting free updates with these AI functions continuing to evolve. As a backer, you can get Audio Tacking at increasing discounts depending on whether you get a 1-year, 3-year or lifetime subscription.  We expect it to be available in the SailTimer charting apps on iOS and Android by March 2018.  As sailors ourselves, we know that the tacking results work best with live wind data coming in to your tablet/smartphone.  So the perks also include an option to get the wireless, solar-powered SailTimer Wind Instrument™ at a discount with Audio Tacking.  The Wind Instrument is already in stock, so will ship to you immediately.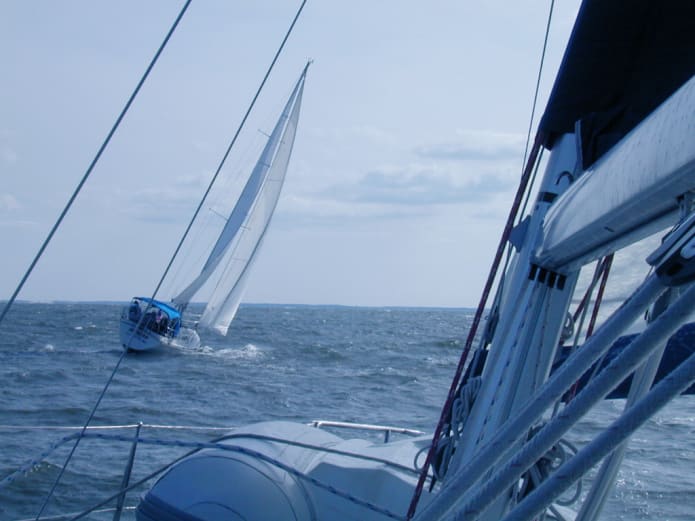 Audio Changes Everything
HOW IT WORKS:  You can put your screen to sleep to save power and reduce heat, and put the tablet someplace safe so you don't have to worry about it.  Keep your hands free for sailing.  Very simple;  if you want to hear Audio Tacking at any time, just tap on the screen (even if it is off).   You can also ask for automatic updates if wind and GPS conditions change a certain amount.  Like Alexa, Siri and OK Google, but also very practical for navigating. 
Simple and easy:
1. Connect tablet/phone to wireless SailTimer Wind Instrument on Bluetooth.
2. Enter waypoint with a tap (or paste in a list).
3. That's it;  optimal tacks update automatically.
WHAT YOU HEAR:  "Wind speed 7.8 knots.  Boat speed 4.2 knots.  Heading 192 degrees.  Bearing starboard 17 degrees would save 1 hour 12 minutes."
This is a simple message.  But it is actually very sophisticated data.  
You can set how much of a change you want before an audio notification.  You can also choose if you want to hear:  Apparent/True wind, heading, wind angle/direction, TTD, tacking distance, bearing of optimal tack, and how long until the next tack (time and/or distance).
This is a totally different approach.  GPS chartplotters are waterproof and can be seen out on the water, but they are expensive and don't provide your optimal tacks and Tacking Time to Destination (TTD®).  A lot more people have marine navigation apps, but those are hard to see.  Problem solved.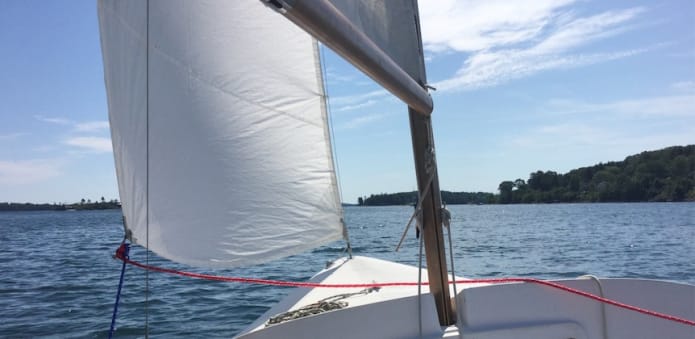 This even works great on small boats, where there are no instrument displays or 12-volt battery.
Risks & Challenges
Out of all of the GPS chartplotters and apps out there, the SailTimer app is the only product that uses tacking distance to determine optimal tacks and Tacking Time to Destination (TTD®).  It was the first app with polar plot learning, and set a new standard for sailboat navigation with a different approach than the ETA and VMG on most GPS chartplotters.  Our goal will be to move the same functions from the highly-respected SailTimer app on iOS into an Android version.  And then to add Audio Tacking to both.
The wireless, solar-powered SailTimer Wind Instrument™ is in stock now for delivery to you.  We will provide access codes for the subscriptions when Audio Tacking is available.  There is little technical risk involved, since we have been using the patented SailTimer tacking results for over 10 years.  The innovative SailTimer products have been covered in pretty much all of the sailing media over the years, as shown in the examples below.  We also already have the tacking results in the widely-respected SailTimer app on iOS, and the SailTimer Wind Gauge app on Android already has some audio capabilities. 

Other Ways You Can Help
We need your help to cover the costs of making an Android app to overlay the SailTimer tacking results on maps, and to build the Audio Tacking for iOS and Android.  This is a whole new approach to navigating out in the sun with wireless devices and mobile apps.  You'll still need marine charts in unfamiliar waters.  But now you can simply hear key navigation information like wind angle, wind speed, boat speed and optimal tacks.  Keep your hands free, with no squinting at a tablet/smartphone out in the sun.  No more screen at all.
Please spread the word.  Backing this project also lets us know about customer interest in this innovative new audio interface. 
All sailors need good wind and tacking information, at low cost, without a screen that is hard to see outside.  Help us fix this problem.