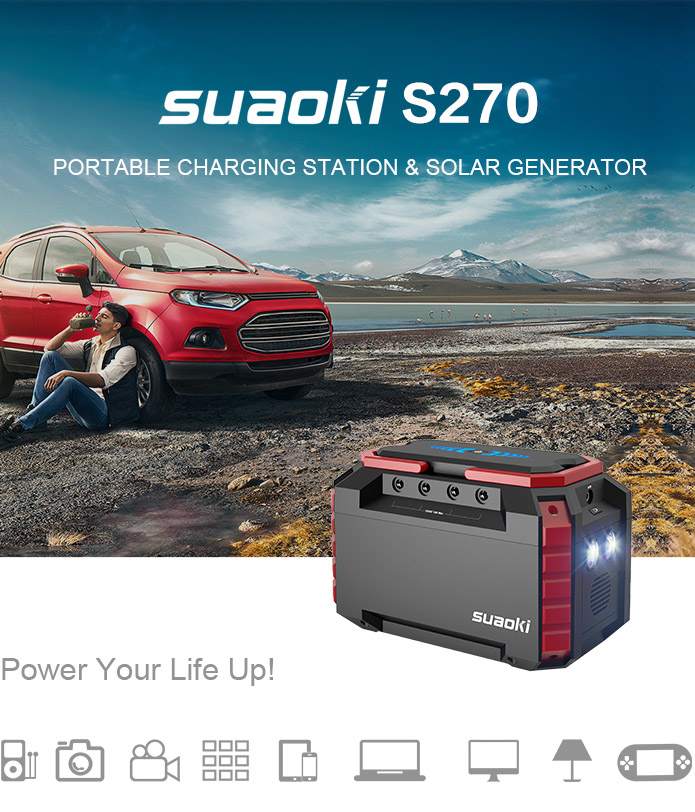 Designed and engineered by battery experts, S270 is a stylish and compact power bank with AC/DC/USB outlets. It has cutting-edge features like the latest Qualcomm Quick Charge 3.0 technology and MPPT (Maximum Power Point Tracking) technology that optimizes the match between the solar array (PV panels) and the battery bank. With this tiny yet incredible power bank, you can charge or power a wide range of devices from small home appliance to personal electronics. We all need power, and you deserve better!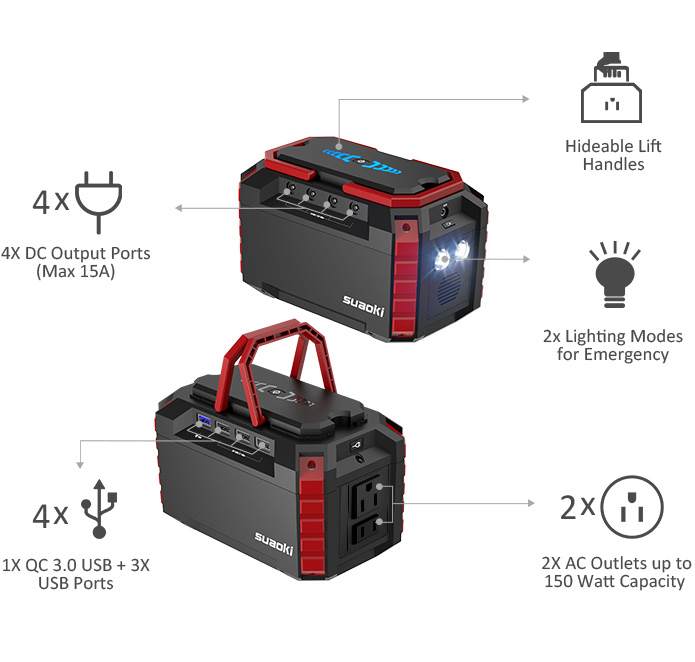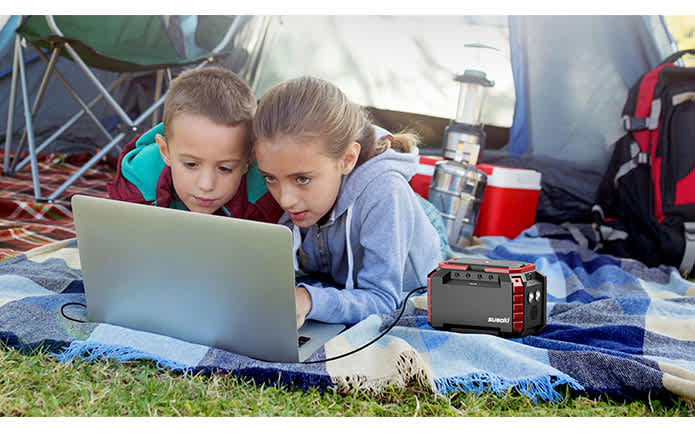 A revolutionary power bank that can charge 4 DC devices with a maximum total output of 180W/15A. As a bonus, we include a DC female cigarette lighter adapter in the package, so you can use it to connect S270 and your car charge to charge even more devices.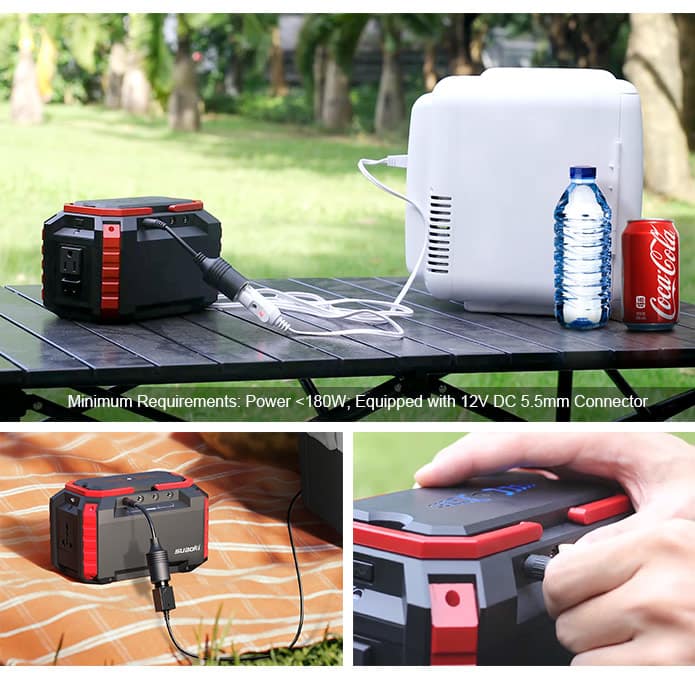 When paired with a solar panel (not included), S270 can be your powerful solar charger. Equipped with a DC 3.5X2.1 to MC4 connector, S270 is able to convert and store clean solar energy. With built-in MPPT controller, it adapts to optimal voltage levels to recharge itself with sunlight!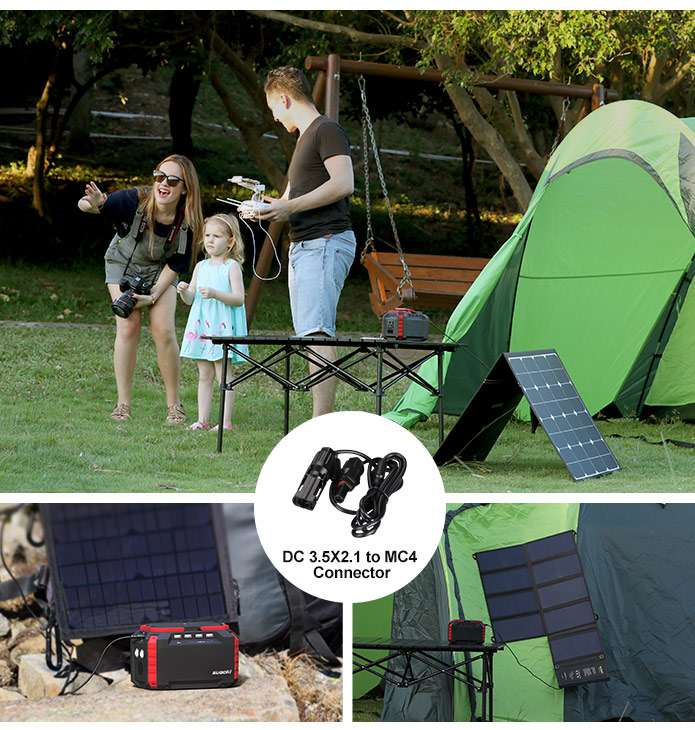 Do you find your phone battery often dies while you're enjoying traveling? you can keep it pumped up with S270 while on the go. Comes with 4 USB ports in total, one QC3.0 port for rapid charging with latest Qualcomm Quick Charge 3.0 technology (up to 18W), the other three ports have 10.5W output for each. You can power multiple USB devices simultaneously.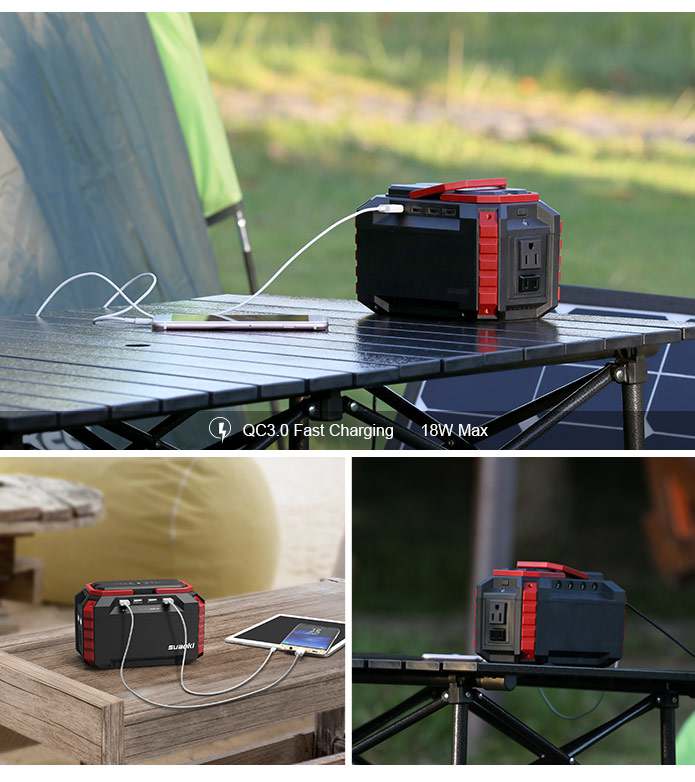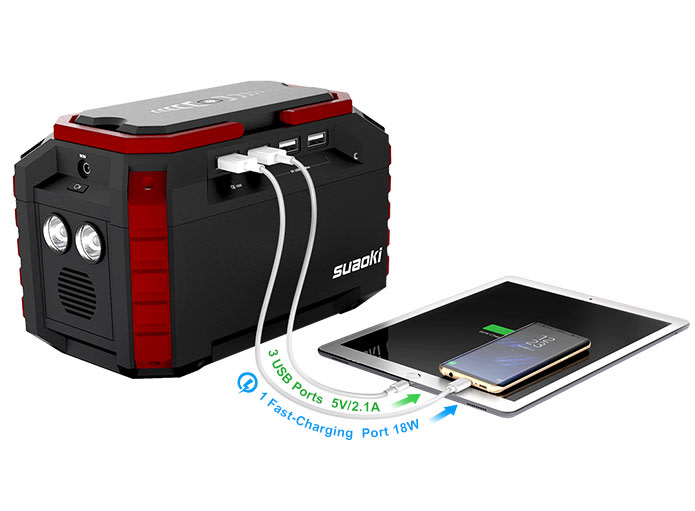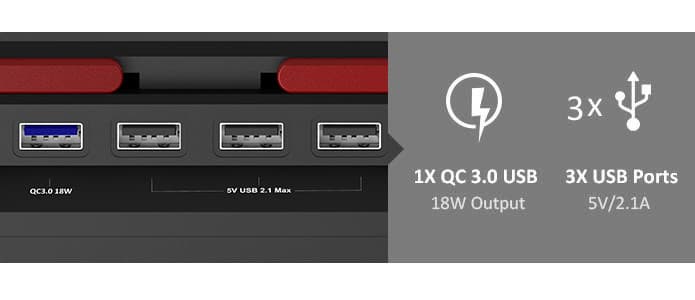 Normally, a quality power bank can be a little heavy. The fact that they don't have lift handles makes it hard to grab hold of. S270 instead has stylish lift handles for easy transport! You can easily carry it around with one hand.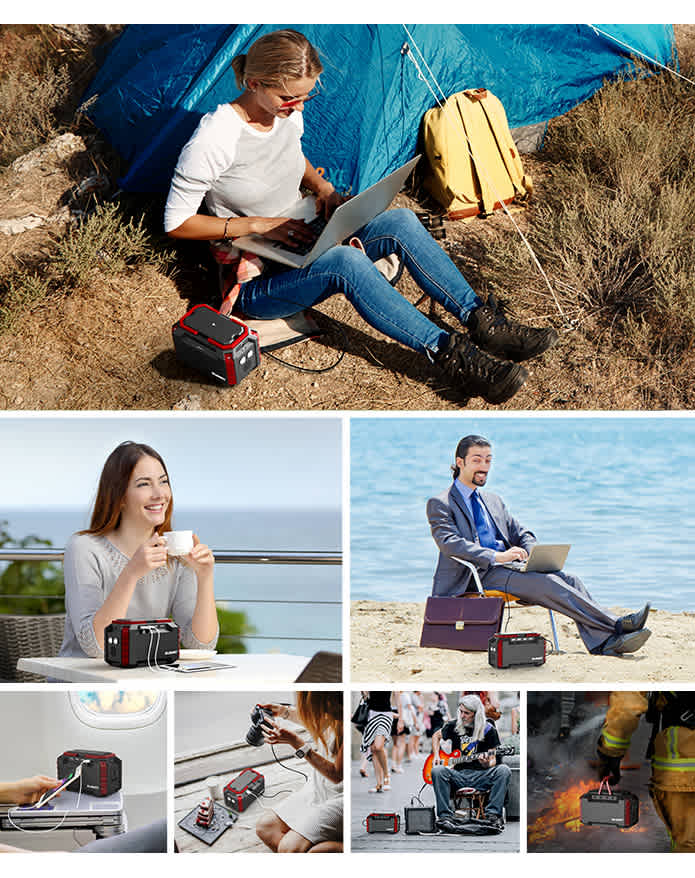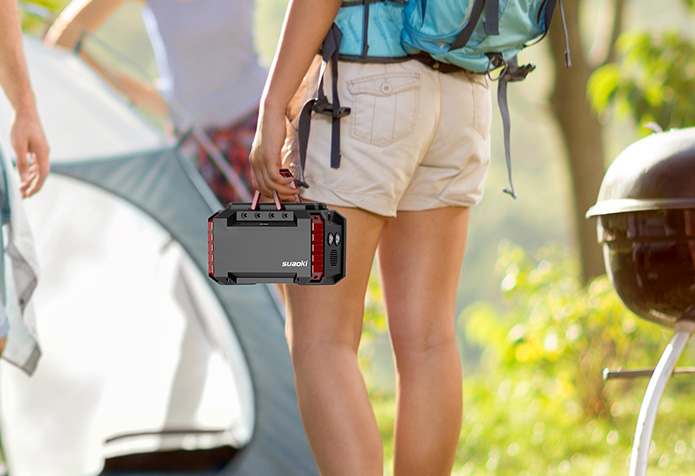 Wouldn't it be nice to take the wall outlet anywhere? Well, S270 made it happen already! It has 100W AC output (max: 150W) with modified sine wave. There're two outputs to choose: 110V and 220V. Please note the difference when you place an order.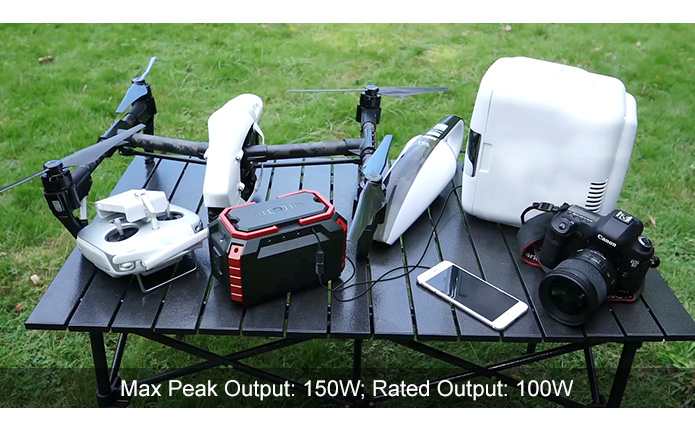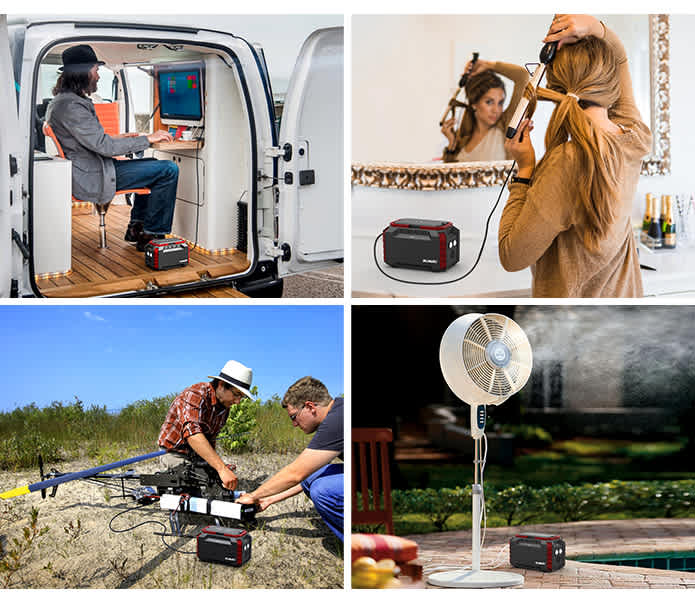 When emergency happens, S270 can be your backup power supply that fulfills your basic electricity needs. It is a USB power bank, DC output power station, emergency torch, as well as a portable wall outlet. With its large battery capacity (150Wh), versatile functions, and ultra portability, S270 can be your perfect emergency survival tool.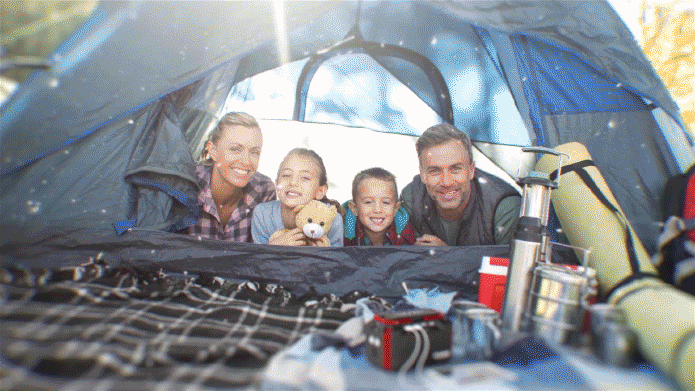 Integrated with a bright torch, S270 also can be used to provide emergency lighting. It has 2 modes: you can keep the light on for illumination or use flashing light to send signals.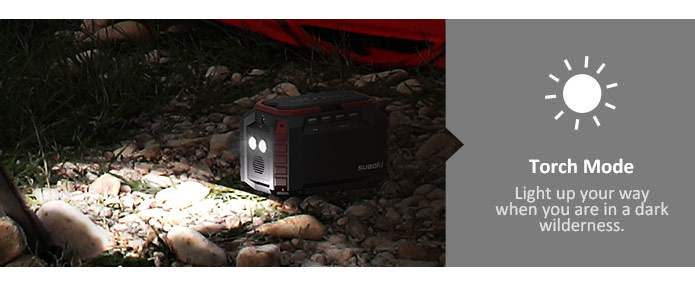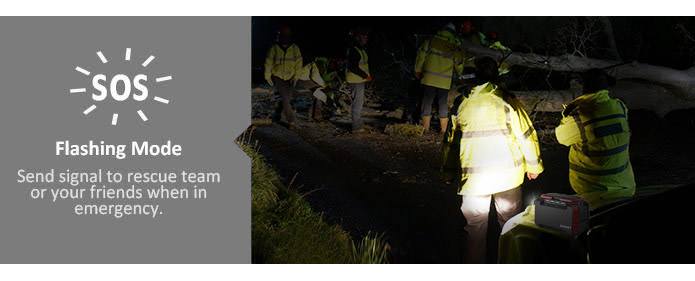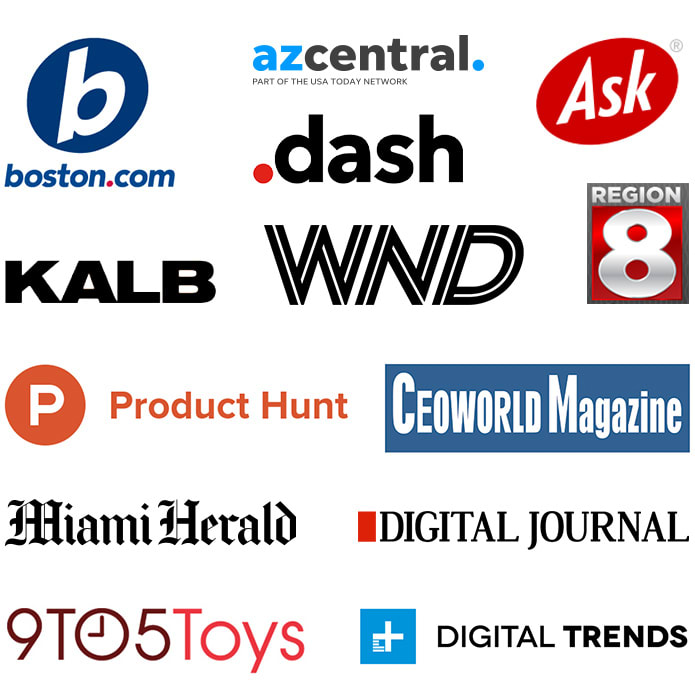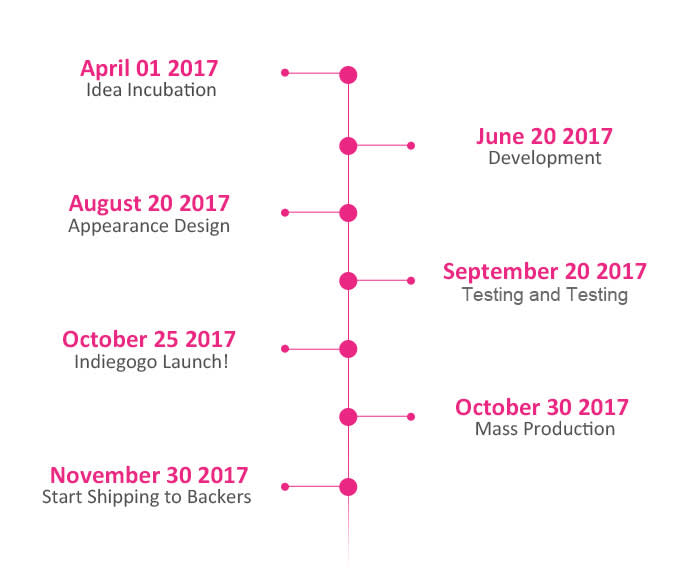 Q: How to power DC 12V appliances such as lamp or fan?
A: S270 works with devices with 5.5mm 12-volt DC plug. Simply plug and play. Please note that if your device doesn't have 5.5mm 12-volt DC plug, please contact the supplier and buy a proper adapter to make it work.
The output voltage ranges from 9 to 12.6 volt, and the maximum output current is 15A. As you using the power bank, the power is also dropping, which will make it produce a lower output voltage. If your device does not have built-in voltage stabilizer, it might turn off as the voltage is too low. You then need disconnect it and recharge S270.
Q: Does the AC socket work in my country?
A: Currently S270 has two types of output - 110V/60Hz (for USA and Japan) and 220V/50Hz (parts of Europe and Asia). Please choose the right type before you place an order. We'll also include an AC adapter for US, EU, JP standards respectively to charge S270.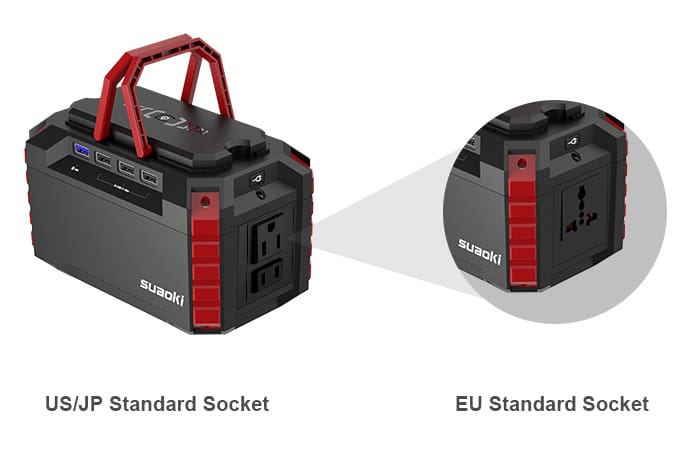 Q: What are the ports of S270?
S270 is equipped with 4 USB ports (1 Quick-Charge 3.0), 4 DC output ports, 1 DC input port, 1 AC output. There are 10 ports in total.
Q: What's included in the package?
A: For S270, you'll get:
1) S270 portable charging station, of course;
2) DC car charger adapter cable (to charge S270 while driving);
3) MC4 cable (to charge S270 via solar panels);
4) AC adapter (to charge S270 via wall outlet);
5) DC female cigarette lighter adapter (to charge in-car DC devices);
6) User manual for S270.
For the Suaoki 60W solar panel, you'll get:
1) 60W solar panel;
2) Car Battery Charger (to charge your car);
3) 10-in-1 Connector Cable (to charge laptops);
4) SAE-to-Clamp (to charge 12V storage battery);
5) 2 DC-to-DC Cables;
6) DC-to-SAE;
7) User manual for solar panel.
We recommend selecting the "S270 + Solar Panel" Perk to get S270 and the 60W Solar Panel. This will get you everything you need!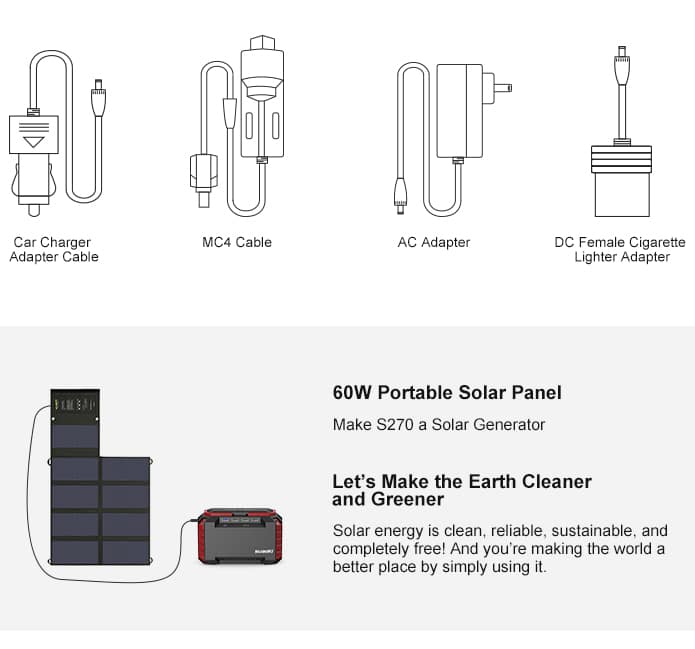 Q: When will we start shipping?
A: We'll start shipping on November 30 2017. And no extra shipping fee needed!
Q: What is the warranty?
A: 12 months from the date you receive S270.
Q: If I have other questions, who should I contact?
A: We're happy to respond to any further questions you might have about Suaoki S270. Visit our official website: www.suaoki.com or email us at support@suaoki.com