What We Are About
Right Proper Brewing Company will be a locally owned neighborhood brewpub in a Washington, DC neighborhood. We'll take an innovative approach to small scale, "yeast-forward" craft brewing to produce artisanal ales and lagers in a comfortable, expertly designed casual old-world tavern.  Serving fresh beer and affordable, high-quality American food, Right Proper will be a focus of pride for its neighborhood.
What Sets Us Apart?
We know beer (our team has worked in the beer industry for years)
We know restaurants (Right Proper partner John Snedden has run a successful DC-based restaurant group for more than 20 years)
We love to serve and grow (customers, neighborhoods and staff)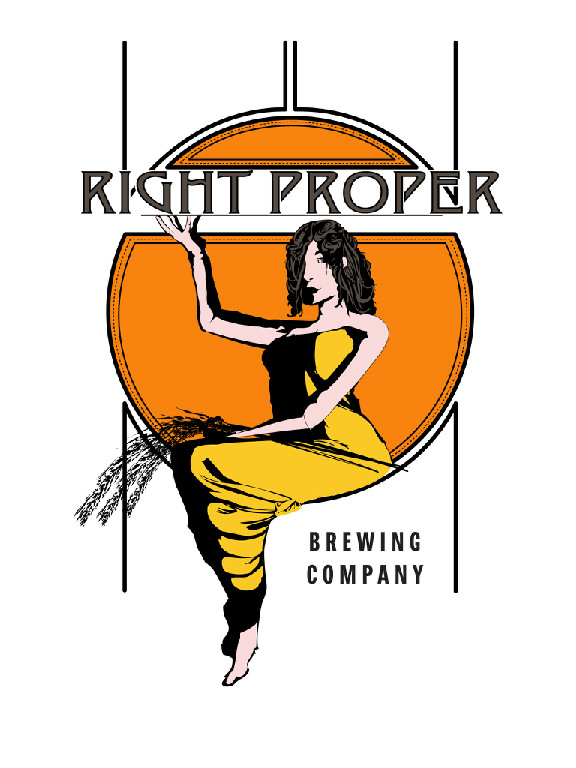 So Tell Us More About The "Who"…
Hello, my name is Thor Cheston.  I was born and raised in Washington, DC, and I'm a graduate of Georgetown University. While working towards a post-baccalaureate pre-medical degree at Georgetown in 2004 I realized that I would much prefer a career in the beer/restaurant industry to one in medicine. For the past eight years I've been honing my skills, readying to pursue my dream of opening my own brewpub here in DC.   
I started in the business by working at Pizzeria Paradiso in downtown DC to gain experience, during which I worked with owner Ruth Gresser to open Birreria Paradiso, the craft beer bar underneath Pizzeria Paradiso in Georgetown.  The bar was an overnight success and in 2007 was rated as one of the best beer bars in the world by Beer Advocate. 
Following a brief stint as the Beer Director for Eulogy Belgian Tavern in Philadelphia, I went to work for Robert Wiedmaier at his new Belgian-inspired bistro Brasserie Beck.  After a year I was both Beer Director -- presiding over their massive beer list -- and General Manager in charge of all operations. Robert and I then opened Mussel Bar, a casual beer destination in Bethesda, where I served as managing partner.
In 2009 I was knighted by the Belgian Brewers Guild in Brussels, Belgium, a great honor of which I am very proud. 
For the past year I have been working with my business partner, John Snedden, owner of Rocklands Barbeque and Grilling Company, developing the business plan for a neighborhood brewery and restaurant to be situated in one of Washington, DC's burgeoning communities. 
"Thor is one of the most respected beer professionals in this city. He earned that title through years of sudsy self education and hard work. 

The Right Proper concept is something this town is missing and would be greatly appreciated…This project could complete DC's status as a world class beer city!"
- Brandon Skall
CEO
DC Brau Brewing Company
"Thor and Nathan are going to bring something very distinct and innovative to the DC brewing scene with their Right Proper Brewpub concept, and I think that their niche market will be a great addition to our already growing and diversifying landscape. The brewing experience and years in the bar industry give this dynamic duo a strong set of skills which will no doubt help them to navigate the waters of a start-up business in the brewing industry. We, 

3

 Stars Brewing Company, are excited to watch their progress and eager to have them join us in continuing to grow creative brewing practices here in Washington, DC.  Cheers."
- Dave Coleman
Co-Owner
3 Stars Brewing Company
Our Mission
Washington, DC, needs at least two things: more affordable neighborhood restaurants, and at least one locally owned brewpub.
Our objective is three-fold: We want to create a neighborhood gathering place that makes and serves well-priced delicious food and amazing fresh beer; we want to help our neighborhood thrive by investing in the community and its residents; and we want to anchor Washington, DC on the map as a destination for craft beer. Our business will invest in the growth and development of our employees as well as of our community.
Our Beers: The Short Version
The most important ingredient in beer is the yeast used for fermentation: No other ingredient has more influence on the aromas and flavors of the finished beer.  Our brewmaster will source a wide range of yeasts from around the world as well as cultivate "house strains" unique to Right Proper.  
Using mixed fermentation techniques as well as secondary and tertiary fermentation cycles, we'll produce unique beers with complex flavor profiles.  Our guests will taste beers that are bitter, beers that are sweet or even distinctly sour.  Certain beers will be offered on cask to be served from a hand-pulled beer engine. 
We'll have a two-part beer program, standards and baroques.  The standards will consist of beers that can be categorized into definitive historical beer styles.  Any lover of craft beer will recognize these brews.  The brewmaster will use his talents to put a unique twist on the different styles while still remaining true to the age-old brewing traditions that gave birth to them. 
The baroques will consist entirely of barrel aged or barrel fermented beers.  Beers of different flavor and aroma profiles will be blended to create unique products.  Customers can also expect to find different versions of the same beer dry hopped, blended with fruit or with added herbs and spices.
So Why Do We Need Your Help?
The total cost of our project is more than $2 million. John and I have spent the better part of a year raising money to supplement our business loan but none of that money is available to us UNTIL we reach the $2 million mark (the dreaded "escrow").  We are closing in on our goal, but our fear is that by the time we finish our overall fundraising, we will be far behind our planned opening of next summer.
We need to place the order NOW for our brewing equipment, a 10-barrel system manufactured by Newlands (http://www.nsibrew.com/). That system will cost close to $300,000, and – just as importantly -- takes seven months to manufacture.  All funds raised will go to the purchase of our brewing equipment. 
We want to thank all those who donate to our Newlands system and we are going to bend over backwards to see that you are rewarded with great beer!
What You Get
In addition to all the perks you see on the right => everyone who donates to our brew house will have their name engraved on a brass plaque - much nicer than the one you see below - and displayed outside of the brew house door so everyone who visits Right Proper will know who made this happen
Other Ways You Can Help
We know that not everyone can contribute monetarily but that does not mean you can't make an impact.  Please share this with your friends.  Like us on Facebook and Tweet baby Tweet!
Our beers: A lot more info
Below is an example of beers that will be featured on the six-tap standard draft list.
Kolsch/Helles -- 4.5%, 20 IBU's, Saaz hops. Straw colored, soft and light, tastes of grain/cereally/bready, light fruit, mineral and spice
Ruby Mild -- 3.8%, 15 IBU's.  Dark red/claret colored, caramel and some roast/toast, some chew in the mouth
Aromatic Pale -- 5%, 50 IBU's, Amarillo, Columbus, Centennial, Simcoe, Citra hops.  Golden colored, light biscuity body, super pungent with aromatic and mouth-full of hops, tropical, without too much bitterness, heavy dry-hopping 
Porter -- 5.5%, 30 IBU's.  Deep black, robust and round, full mouth, coffee, chocolate and a hint of smoke
Belgian Pale/Strong Golden -- 6.5%, 40 IBU's, Sterling and Hallertau hops., yeasty-spicy-hoppy, dry-hopped
Rotating: farmhouse variations, weizens, Scandinavian beers, smoke beers, baltic porters, imperial stout (partially or fully barrel aged), scottish ales, Czech Pils, hoppy German Pils, historic recipes, berliner weisse, gruits, IPA's, coffee beers, trappist
The baroque beers program will consist entirely of barrel aged or barrel fermented beers.  Many of these beers will have mixed fermentation cycles.  The finished products will be described by the yeasts that are used to ferment the beers as well as the origin of the barrels.  Beers of different flavor and aroma profiles will be blended to create unique products.  A guest can also expect to find different versions of the same beer dry hopped, blended with fruit or with added herbs and spices.
In addition to the house made beers Right Proper will offer two rotating "guest" taps.  These will be beers made by artisanal breweries from around the world that I have long standing relationships with as well as our friends from DC Brau, 3 Stars and Chocolate City.  There will be a concise, thoughtfully selected menu of bottled beers from small production, artisanal breweries in Belgium, Germany, the UK, Canada and the United States.