Renegade's Story
We often use 3D printing for our projects and one day we finally got fed up with highly overpriced filaments. The plastic pellets used by manufacturers reach a maximum price of $0.6 per kg while the filaments they sell on to us can reach $200-250 per kg. After paying $100 for a 3D pen and being obliged to buy its filaments for $10 per 50 gram pack i.e. $200 per kg, we couldn't help but think this is crazy!
At the same time we've all witnessed the mountains of used plastic bottles and bags that continue to critically pollute our environment... and that plastic is practically the same as that which is widely used for filament production! That's how Renegade was born. The perfect solid tool to eliminate overpriced filaments and to save the environment by directly recycling and reusing household plastic waste for 3D printing.
We're excited to be here on Indiegogo's InDemand program after a successful opening on KickStarter where 900+ backers helped us raise over £82,000 or $110,000. While we continue working on making Renegade the best it can be we've decided to give more people a chance to get involved.
What makes Renegade unique?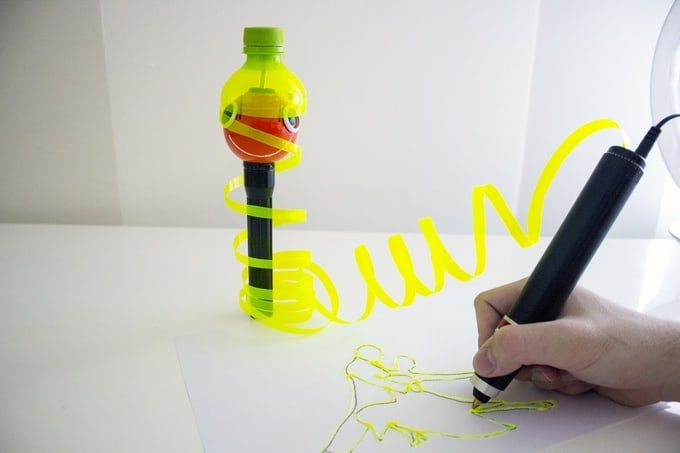 Renegade is not the smallest, thinnest, lightest or cheapest 3D pen in the world. It doesn't weld wires, burn wood, or cut through foam. And, it's not in the Cloud.
Renegade specialises in one thing, and one thing only - it prints 3D models by recycling your plastic bottles, files, and bags. It's reliable, and it does it like a pro.
Renegade is here to provide you with a great 3D printing experience with no compromises. So stop spending on overpriced proprietary filaments, start saving money, and start saving the environment.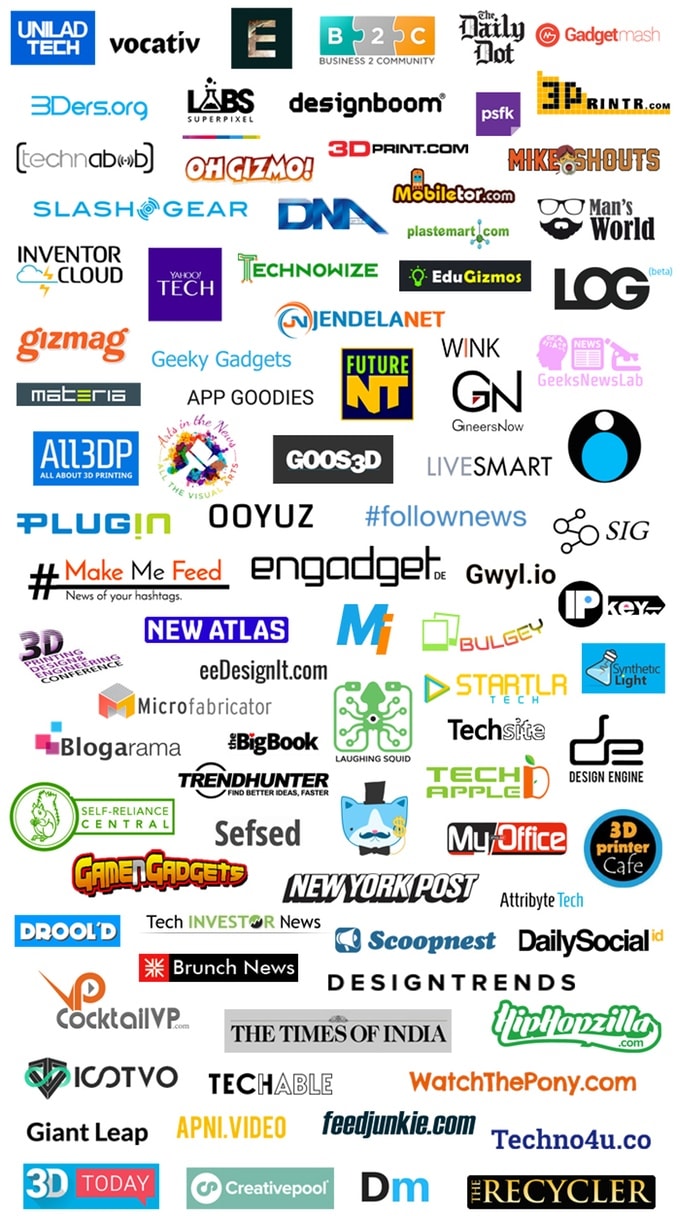 How does it work?
Renegade uses a robust and powerful extruder that includes a screw-feeder mechanism and heating system. These combine to transport, destruct, and melt the plastic tape produced by the ChupaCut plastic bottle shredder or even standard filaments. The rotating screw forces the heated plastic to move forward evenly and extrudes it from the nozzle. The molten plastic then cools down rapidly into a solid and stable spatial structure.
There are practically no material limitations, and the possibilities are limited only by your imagination. Become the ultimate creator; simply plug in your Renegade and start creating in minutes.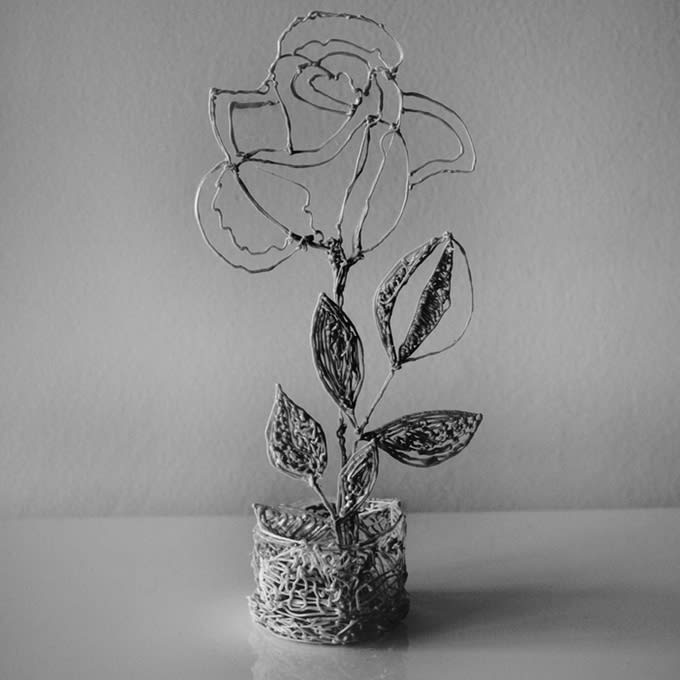 Top Tip: Wall Art from Silhouettes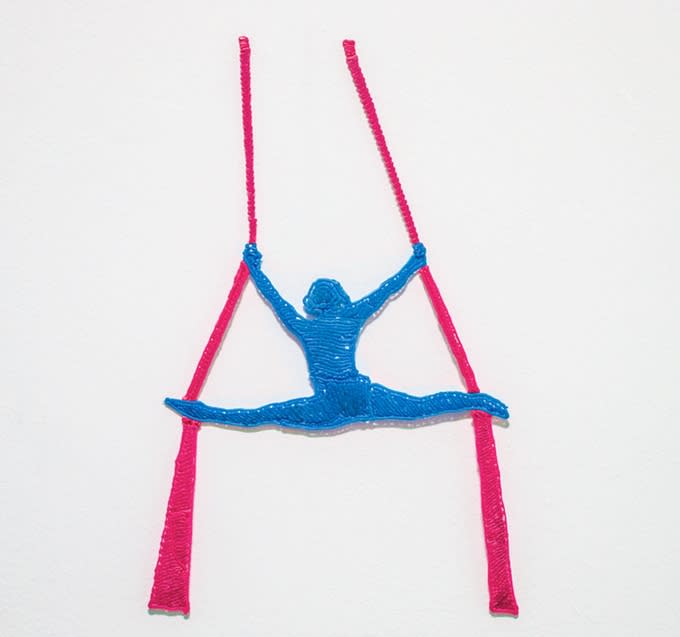 Print out silhouettes and trace them with your Renegade to create exciting sculptures. The silhouettes can be simple or intricate, depending on your level of comfort, and you can use some string or fishing line to hang your works up for display.
Tell me more about Renegade!
Renegade uses a powerful drive motor and gearbox, eliminating well-known issues in plastic material feeding that most 3D pens currently face. The temperature is adjustable from 50°C to 320°C using a single controller and the speed is also controlled by a single button.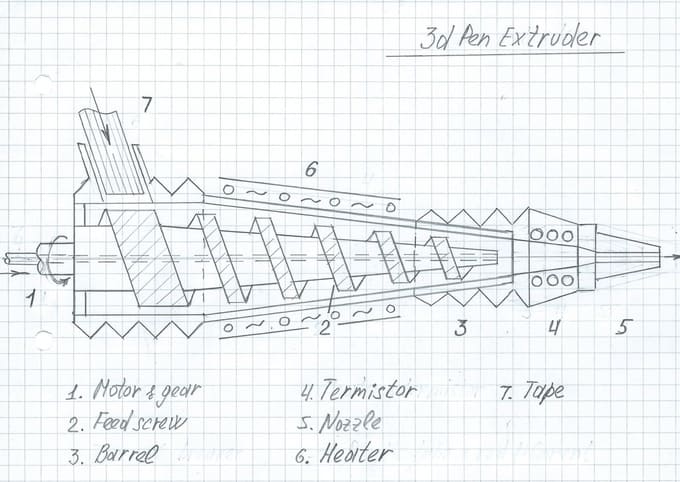 Renegade can use 5 to 7 mm strips cut from PET plastic bottles, plastic bags, or plastic files with a thickness of 0.14 to 0.35mm. It can also use standard PLA, ABS, nylon, TPE, HIPS, wood and other types of filament with a diameter of 1,75 mm.
Renegade features a strong and durable aluminium structure, sturdy mechanism drive, and electrical system, all designed for extensive work with a wide spectrum of materials.
Renegade comes with a removable attachment and with a colorful spool for plastic tapes. It is available in Obsidian Black, Glacier White, La Vie en Rose, Titanium Silver, and Reclaimed Gold.

Renegade 3D Stencil Converter
Have you just taken a cool picture or captured a rare Pokémon? Want to materialise them to show off to your friends and family? Our online 3D converter transforms your 2D image into a 3D stencil, which you can then use with Renegade to easily create 3D masterpieces. It's great, simple, and free for all Renegade 3D Pen backers!
Now, Make a Monster!
For 3D Printer Users
The Renegade PRO edition features a built-in LCD screen which displays the precise temperature regimes, materials used, and printing speed.
It also contains an integrated Control Port, which will provide you with remote control capabilities for the pen, including the plastic extruding process.
You will be able to connect the Renegade PRO Pen to act as a head for your 3D printer, CNC machine, or other devices, to effectively make use of the Renegade's capabilities for your innovative projects.
What about ChupaCut?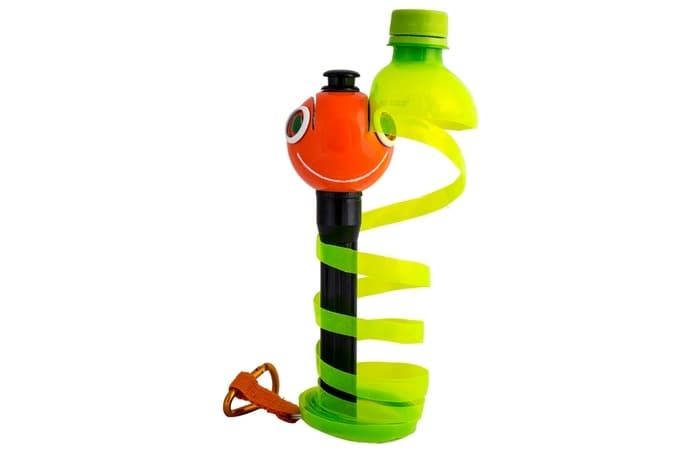 ChupaCut is a manual plastic bottle shredder which produces the perfect plastic strips for use with Renegade. ChupaCut's spherical shape allows it to create 3, 6, 9, or 12mm plastic strips without ever having to change the setup.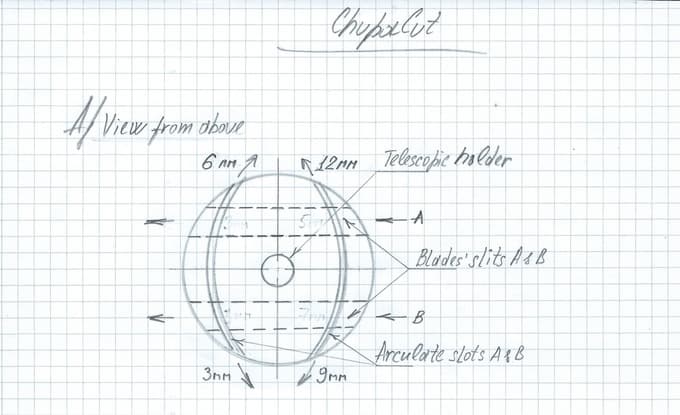 Unlike previously patented competitors, ChupaCut has curved slots that significantly reduce friction force and provide a very efficient rotation of the bottle, keeping it at an acute angle with the blade as it's being cut. This also keeps the blade sharp for longer, and results in an easier, faster, and more stable cutting process.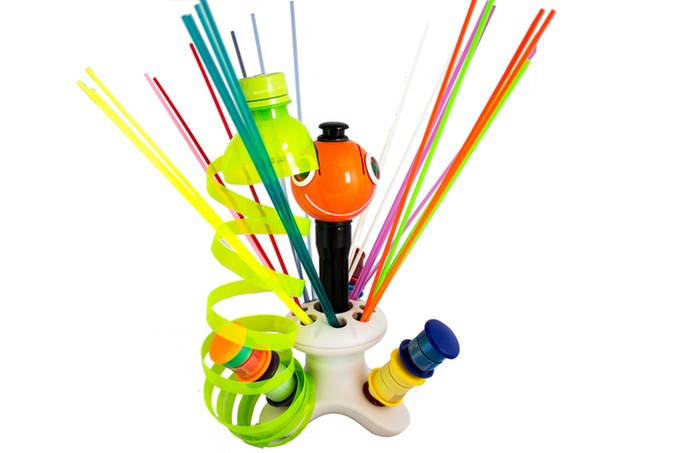 Our new design ensures that the blade is completely enclosed within ChupaCut. After installation, the blade can only be removed by using another similar-sized blade so it is 100% safe.
ChupaCut's telescopic holder keeps even large bottles very stable – in any position. A stable bottle means a more reliable cutting process that yields the smoothest plastic strips. We also chose to create an adjustable hollow handle with a screw cap, allowing you to safely store spare blades or any other accessories.
ChupaCut can also be used for many DIY projects and creative artworks. Handymen will be happy to know that it can even help to create sturdy ropes for a wide range of uses. Not to mention, its playful and colorful design will surely brighten up your day! ChupaCut comes in orange, yellow, blue, green, or red colors, all with a black handle.
3D Bottle Strips: Ready for Use!
If you don't use plastic bottles in your day to day life, or if you're afraid you won't find be able to the colours you need in your area, we have an environmentally friendly solution waiting for you.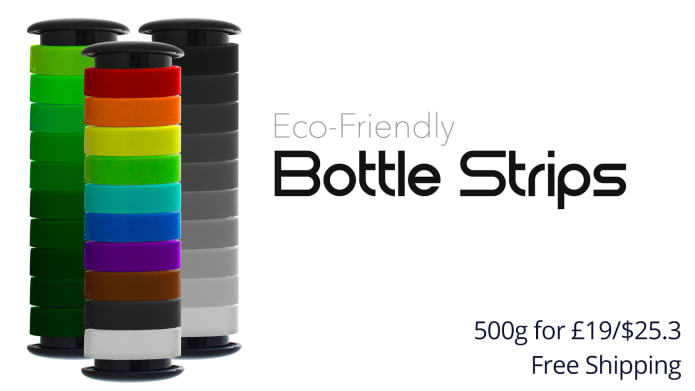 We will be providing 3D bottle strips ready for use with Renegade. You'll be able to buy a spool of 500 grams (305m/1000ft) for just £19 or $25.3. This means you get to feel good about helping the environment while saving more than 5 times in comparison with industry leading competitors.
You can choose between a mix pack (50g per colour), or 500g of a specific colour (red, orange, yellow, green, light blue, dark blue, violet, brown, black and white). We aim to expand our range and provide you with a seamless online shopping experience in the future.
The Stand
To go with your new 3D companions, we've created the Stand. Its minimal design makes it a nice addition to any desk. It's a compact and convenient home for your pen and all your 3D printing supplies.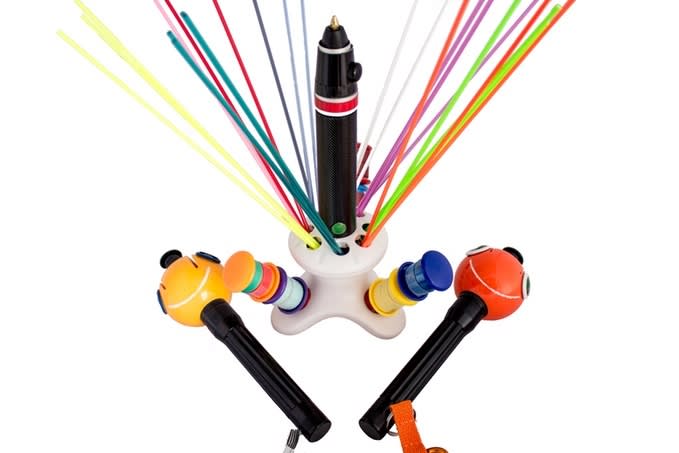 The Stand houses 6 cartridge spools for plastic strips, and can also provide additional storage for standard filament strands. Alternatively, you can use it to store and show off your ChupaCut to the world. The Stand comes in matte black and matte white.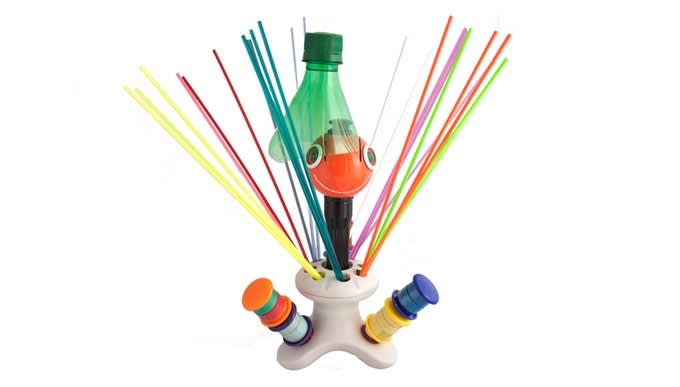 What else?
Renegade and ChupaCut bring you a green printing solution that enables the recycling and upcycling of household plastic waste.
Extras
3D Bottle Strips, 500g - £19
ChupaCut Bottle Shreddder - £24
Stand + 6 Colorful Spools for Plastic Strips - £14
Nozzle Set 0.5mm, 1mm, and ribbon - £9
Renegade - Reclaim, Save, & Create!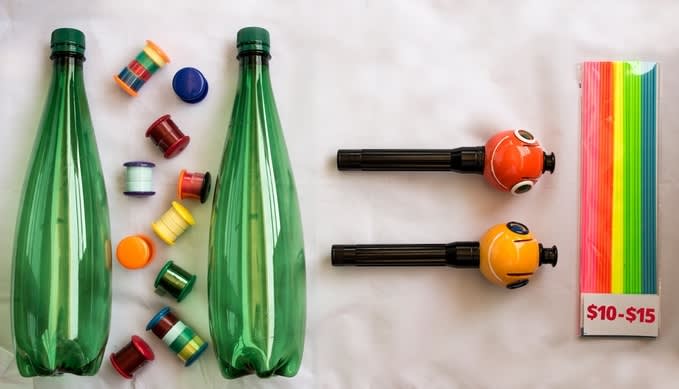 Two 1.5L bottles or 12 plastic bags replace 25 standard filaments and you save $10 to $15 each time. An average 3D pen user can easily save more than $100 per month.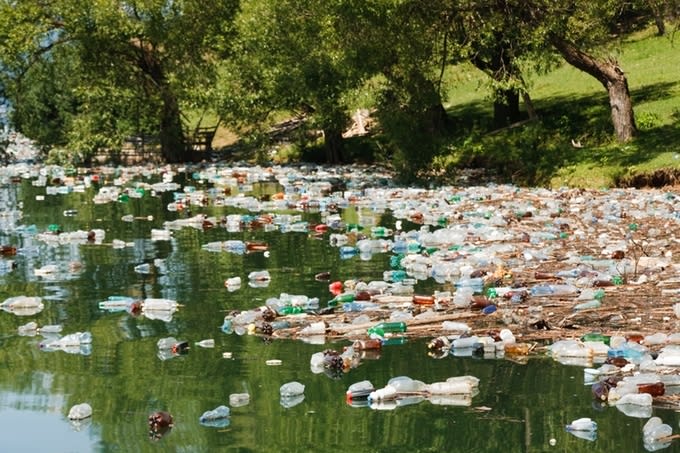 Approximately a trillion plastic bags and bottles are used worldwide annually, and currently we can only recover around 5%. It can take up to 1000 years for plastic to degrade, whilst every year a million sea birds and 100,000 marine mammals die from the plastic in our oceans.
Using a single Renegade pen, you can help protect the environment by preventing around 200 acres of plastic bag and bottle waste. When you choose not to use standard filaments you also save about 120 litres of crude oil every year, thus minimising the negative impact we all have on nature.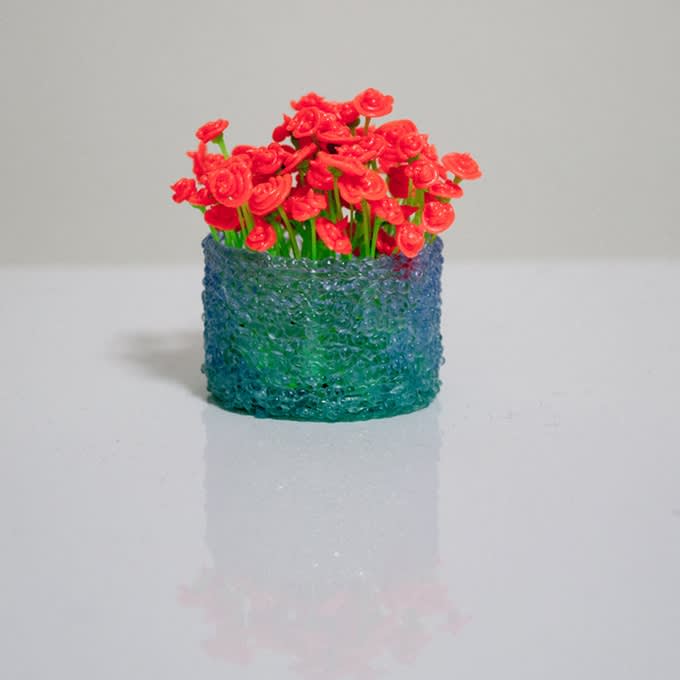 Through this, Renegade can be effectively used for many projects, from education and engineering to the creation of award-winning art and design. While saving you a significant amount of money and having a positive environmental impact.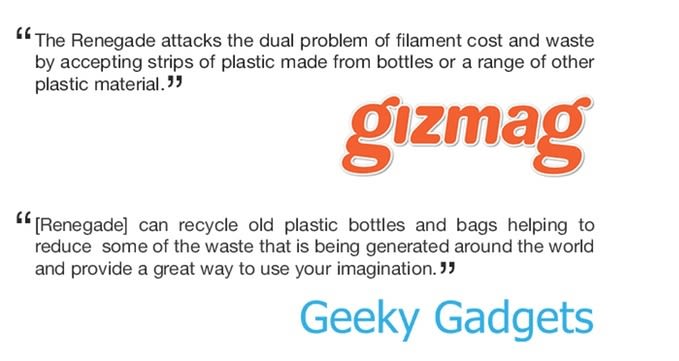 Risks and challenges
We have been working on Renegade for almost a year and a half before launch. We have already built and tested a working prototype of Renegade and its accessories. We've also completed testing on a powerful new extruder which enables recycling of household plastics for 3D printing. At present we are ready to finalise production tooling and assemble the list of suppliers and manufacturers with which we will begin full production.
To avoid potential risks we have developed an appropriate risk evaluation and quality control program. However, as with any project, there are challenges to success and there is always the possibility of delays. Sometimes, due to factors outside of developer's control, such as supply chain performance, product certification, and the shipping process.
With your support, we can bring Renegade's green 3D printing solution to the world. While we're close to entering production, your contribution will help fund critical stages in our immediate future such as production tooling, large component manufacturing, and obtaining FCC and CE certification.
FAQ
Q: I want more than one Renegade product, what do I need to do?
A: Just pledge the appropriate amount, for the number of products you would like and send us a note. If you would like to order ten or more Renegade sets, contact us directly as we can offer discounts.
Q: Does Renegade come with a warranty?
A: Yes, we're happy to announce that Renegade comes with a one year limited warranty.
Q: How can I make long plastic tape for 3D printing from several short strips?
A: You can easily join them together by using glue, an iron, or a plastic bag sealer.
Q: What are Renegade's technical specifications?
A: Weight: 110g
Dimensions: D= 32mm, L= 195mm
Working Temperature: adjustable, from 50°C up to 320°C 
Warm-up Period: 25-40 seconds 
Nozzle Diameter: 0.6mm 
Number of Speeds: 3 (slow+fast+reverse) 
Power Supply: 110-240V
*some parameters may vary slightly
Q: I'm worried I won't be able to find all the colours I need for my 3D art!
A: Remember, you're not just limited to plastic bottles! You can recycle used plastic bags and files as well. If you can't find the right shade you're looking for, or if perhaps you don't consume much plastic in your day to day life (good for you!) then we have an environmentally friendly solution waiting for you.
We will be providing 3D bottle strips ready for use with Renegade. You'll be able to buy a spool of 500 grams (305m/1000ft) for just £15 or $20. This means you get to feel good about helping the environment while saving more than 5 times in comparison with industry leading competitors. You can find more info on this and other extras above!
Q: Is Renegade safe in my home or office?
A: Yes, we have done our research and the use of PET bottles and PE bags is identical to the use of preexisting standard PET, Polyethylene, or Polylactic acid (PLA) filaments so there won't be any bad fumes in your home or office. You're safe with Renegade.
Q: What about plastic bottles with ridges or bumps?
A: Most ridges are easily eliminated by heating the bottle for 1 to 2 minutes. During the heating process the plastic gets slightly softer and the internal pressure (as the cap should remain closed) straightens and rectifies the bottle's surface, automatically eliminating ridges.
You'll be able to see this process performed on a ridged bottle by a heat gun on this video:
Please feel free to perform this test with your stove on low heat and any bottle. In a couple of minutes you will see that your bottle will be smooth and ready for cutting.
Q: I have heard that 3D pens emit a bad odour, will this happen with Renegade?
A: The main cause behind the odour issues others are experiencing with 3D pens is the type of filaments used. ABS is the biggest problem. When you're using a plastic bottle with Renegade, it's just like you're using a standard PET (Polyethylene Terephthalate) filament, likewise, when you're using a plastic file, it's exactly as if you're using a regular PP (Polypropylene) filament. There are no odour issues with either of these; we performed over 100 tests. The only time we experienced any odour at all was when using ABS filaments.
Q: Will Renegade come with a plug to fit my country's sockets?
A: Yes, you will be able to use Renegade in any region with both 110V and 240V voltage. We'll send out a survey at the end of the campaign, where you'll be asked to choose the plug type that suits your country's electrical sockets.
Q: Will the Renegade PRO work with my 3D printer?
A: The main requisite for using the Renegade PRO as a 3D Printer Head is the available space for the pen's installation. There needs to be sufficient space over the printing head so that the pen does not collide with the top of your 3D printer as it operates. As we've mentioned, we are working on a 3D printer that will be powered by the same green technology. Our main partner in this endeavour has tested Renegade's capabilities as a 3D printer head replacement on Prusa and delta style printers like Kossel. If you have any doubts, send us a direct message.