About
Renegade is our first board to feature DDR4 technology, USB 3.0 capability, and Gigabit Ethernet. This modern and powerful platform shares the same form factor as the Raspberry Pi 3 Model B* minus one USB port. It features both mainline Linux and Android 7.1 Nougat Support. Like all of our boards, it is designed completely with open-market components in collaboration with the Firefly team. 
* while hardware form factor is shared, boot and Linux kernel compatibility are not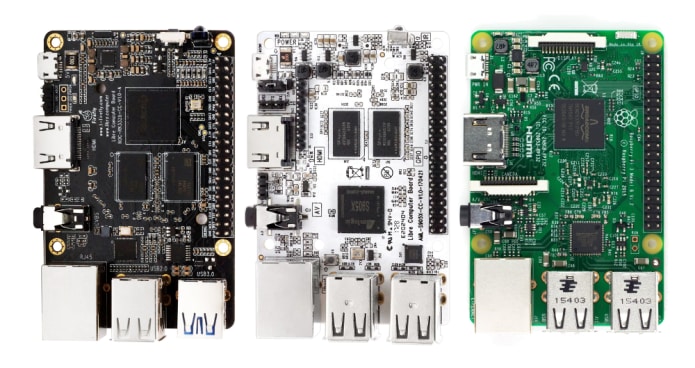 --- ROC-RK3328-CC (Renegade) --- AML-S905X-CC (Le Potato) --- Raspberry Pi 3 Model B ---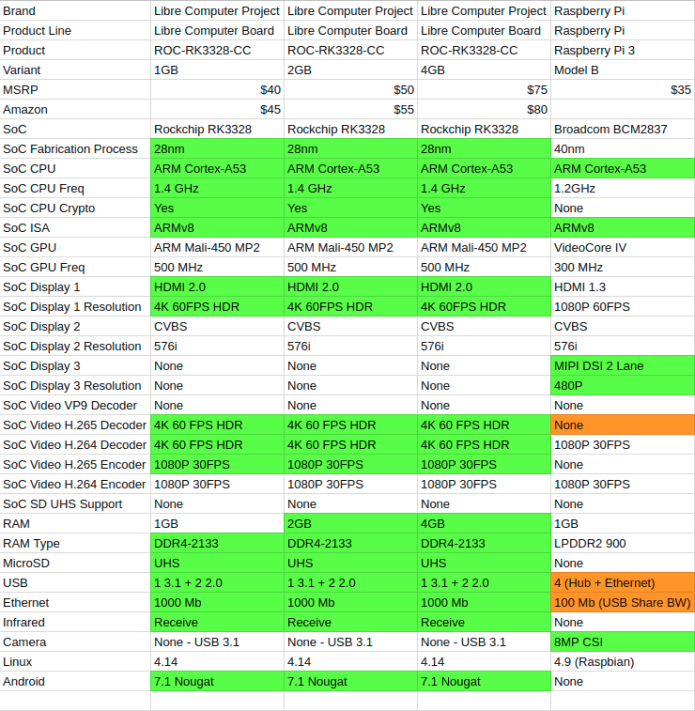 Why is this project important?
The Libre Computer Project is a brand rather than a manufacturer. We carefully select manufacturing partners and designs to make sure that the platform as a whole will meet our requirements for open-source support and maintenance. We shy away from proprietary interfaces, vendor lock-in, and "secret saucy" magic because we feel strongly that those things are only redundancies hindering progress.
The Firefly team has extensive design experience with Rockchip's family of high performance SoCs. Prior to this board, they designed the powerful and highly regarded Firefly RK3399 in both board and SoM form factors. We have partnered with them to expand our lineup to cover popular solutions in use today. Together, we want to continue to simplify education, accelerate product development, and facilitate the inception of other technologies. Reducing barriers to entry is part of our mission.
It is our goal to provide reliable and long-term supported platforms that you can depend on to create even more innovative products and services. We are open to cooperative ventures with companies willing to offer the same level of care and attention to their products throughout its lifecycle.
What operating systems and software images will you have?
Rockchip has done an amazing job upstreaming support for their chips in mainline Linux. Most of the SoC features work out of the box. However, packaging distributions for specific applications is still a lot of work. We are teaming up with the Firefly team and BayLibre to bridge the gap with additional software support. There are so many boards that people buy that end up in a box somewhere unused due to the lack of software support. We are letting you know now that this will not be one of those. We will be bringing software support for Media Center, Retro Gaming, Desktop Computing, and many other use cases.
Where can I find the complete specifications?
You can find the complete specifications for this board on our website www.libre.computer.
How far along is this project?
The product design, initial software support, and testing have been completed by our internal teams. Your contributions will be used towards the manufacturing and distribution of the boards. The boards will be available for delivery at the end of December.
We will be providing the following:
Schematic Diagram
Android 7.1 Nougat
Ubuntu 16.04 with Rockchip's Linux 4.4 Kernel and Mainline Linux 4.14 LTS Kernel
Can I get multiple rewards?
Based on our previous crowdfunding experiences, letting people get multiple rewards results in a logistical nightmare. To reduce the headache and frustration for everyone, we will not allow for multiple rewards.