Eight sensors in the T8 work together beautifully to allow you to play most scales, songs, and samples with great precision.
Create note-sets, personalise your gesture control movements through Air Modulation, enable/disable sensors or assign chords to control an infinite combination of notes and sounds.

Sizes: Small (from 7 to 8 inch),Medium (from 8 to 9 inch) & Large(from 9 to 10 inch)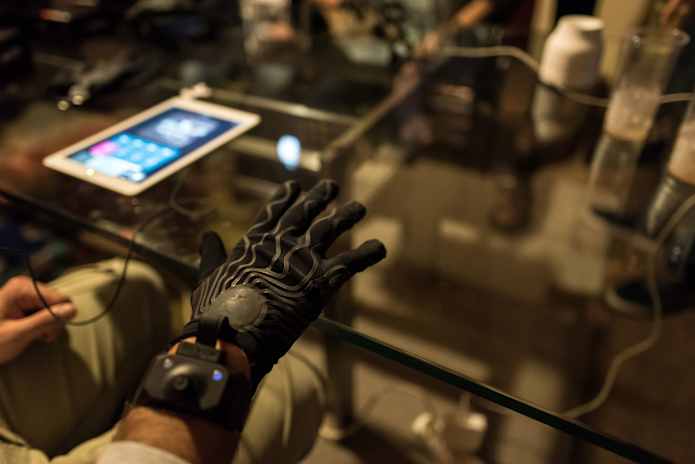 Technical Specs
Battery life: 5 to 10 hours , 110 mAh
Bluetooth: Standard 4.0, 2.4 Ghz, Ultra-Low-Energy
USB: Micro USB standard
Measurements
Wristband: 10.5 inches x 1.3 inches x 0.8 inches ; 1.8 lb
Glove: ≈ 8 x 10 inches ; ≈ 1.4 lb (depending on size)
Materials
Wristband: ABS ultra-light plastique
Glove: ultra-light Spandex + Smart Textiles
Wristband - Glove connection with connector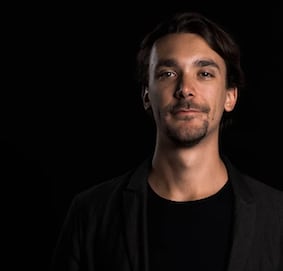 DEVELOPMENT OF THE T8
The road to T8 wasn't without it's challenges. We first tackled wearability, which we solved thanks to research and advances in the medical sector and the world of smart-textiles, where wearable technology is fast becoming part of true fashion products.
Next, the design. We wanted to create a product with three qualities: useful, ergonomic and beautiful. In this phase we decided to separate the wristband from the glove: this way it's lighter, more mechanically durable, and the glove doesn't have any "cyborgish" technology on the back of the hand, making the goal of beauty harder to achieve.
Once we had our first prototypes working we tested it on our friends and collaborators in the music industry. We saw first-hand how fast they gained confidence with the prototype and for the first time the potential of our dream became real to us. Not only did it become a great new way to create and perform music, but it could be the easiest way to approach music creation.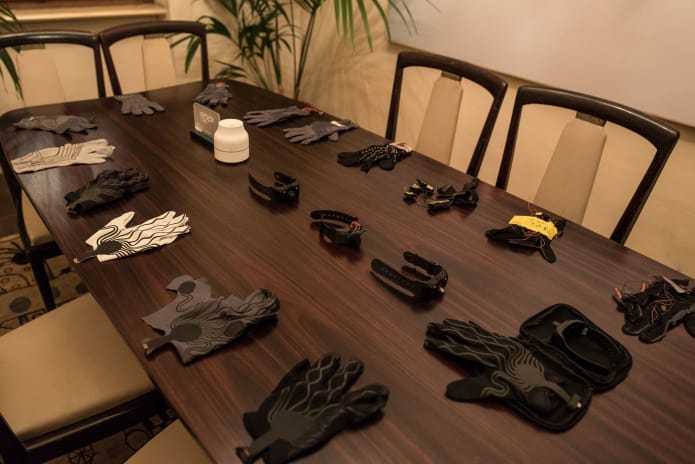 Finally, we focused on integration and user experience. We imagined our users and their relationship with the T8 and wanted to create something people would instantly fall in love with, the same way we did when we tried the first prototype. We set out to create the most intuitive app for smartphones and tablets. All along we worked on the integration with music software as a top priority. Thanks to our background in music production and DJing, we knew what was needed for easy integration and personalization possibilities.
Over the months of work we began to realize the potential of our idea, and we saw how many people all over the world were asking where they could buy it online. We decided the time had come to bring T8 to the market!
Why selling on InDemand?
We have fully developed the Remidi T8 over the last 2 years and now, as we're gearing up to penetrate the market and bring Remidi to the next level, we have found in InDemand the right platform to gain visibility.
Also, although we have raised a good amount of money through Kickstarter and IndieGogo last year, the budget hasn't been enough for us to complete the international certification process. For this reason we thought: what's the best way to bring our product to the people and to get the money to finish the certification process? Well, certainly InDemand.
Risks and challenges
As of now, there aren't really any big risk or challenges because the product is already fully developed. The only remaining risks are related to the certification: actually, the T8 is a very "light product" technologically speaking and it doesn't require any crazy test before being approved by authorities: Bluetooth module is already certified, batteries are already certified, fabrics are already certified... The reason why we need a certification for the product as a whole is because we're starting to have several conversations with big distributors: they need to see that before committing to a big order so, here we are on IndieGogo!