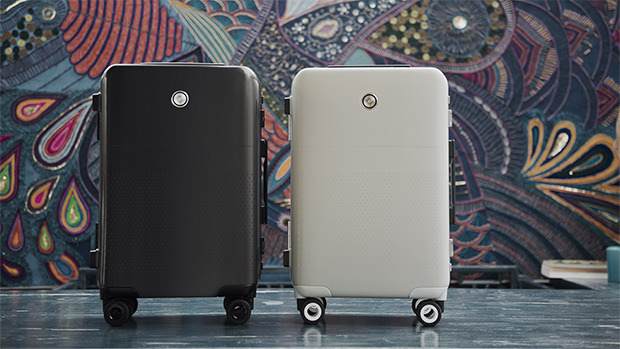 Battery Charger
Bluetooth Scale
Spacious
Water resistant
TSA approved
Lifetime warranty
Free shipping worldwide

Tooling has been started! We are testing the aluminium frame and polycarbonate hard shell.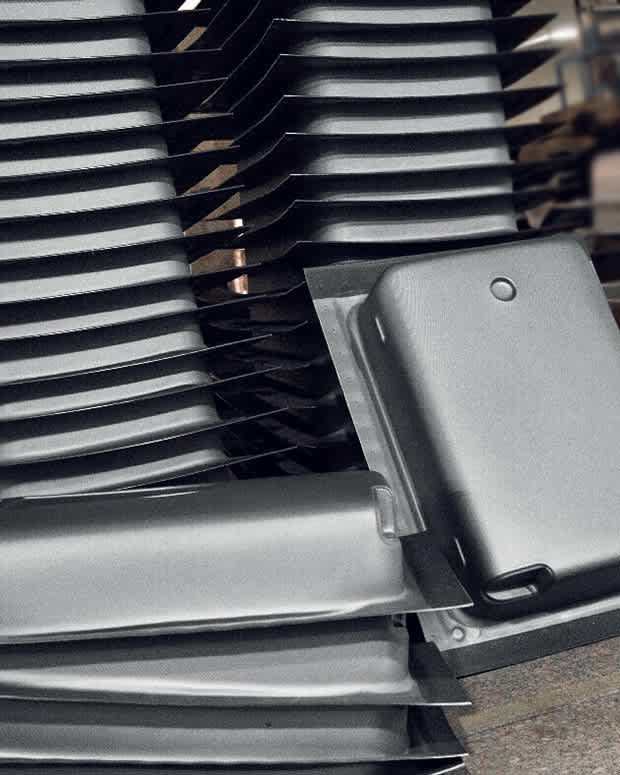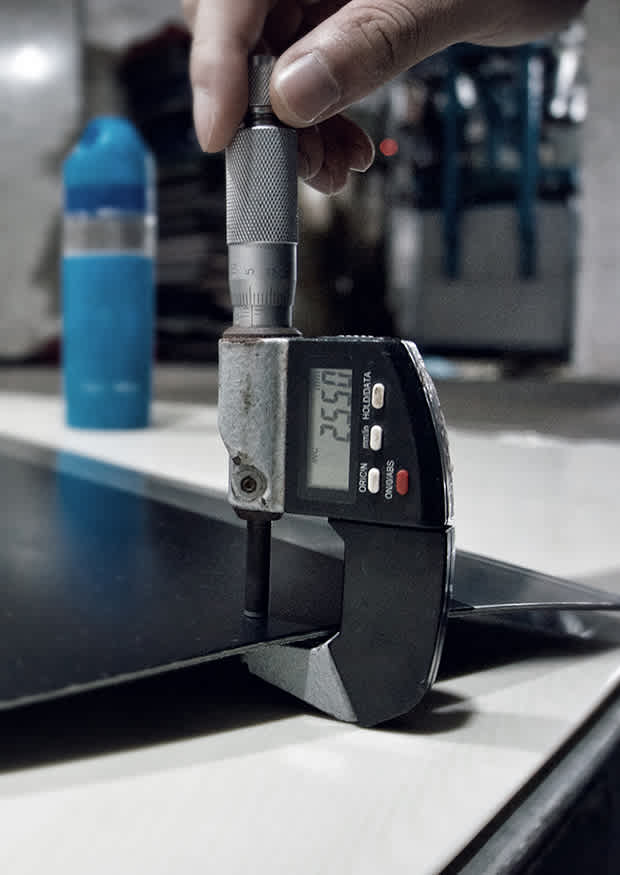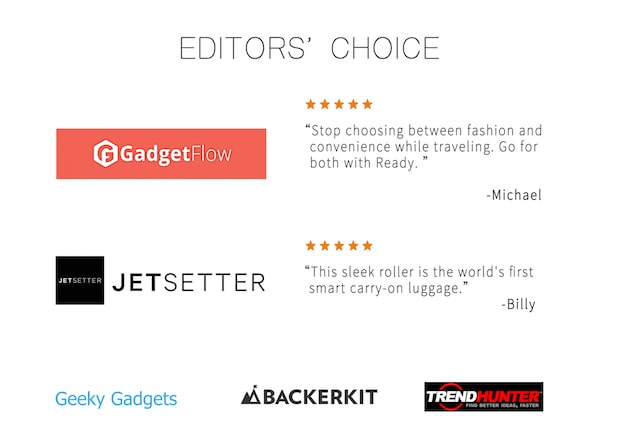 No one likes to pay for the overweight luggage. There is a weight sensor in the suitcase's handle that lets you weigh your luggage. You just lift up and look at the companion app for the measurement and repack the bag in last minutes.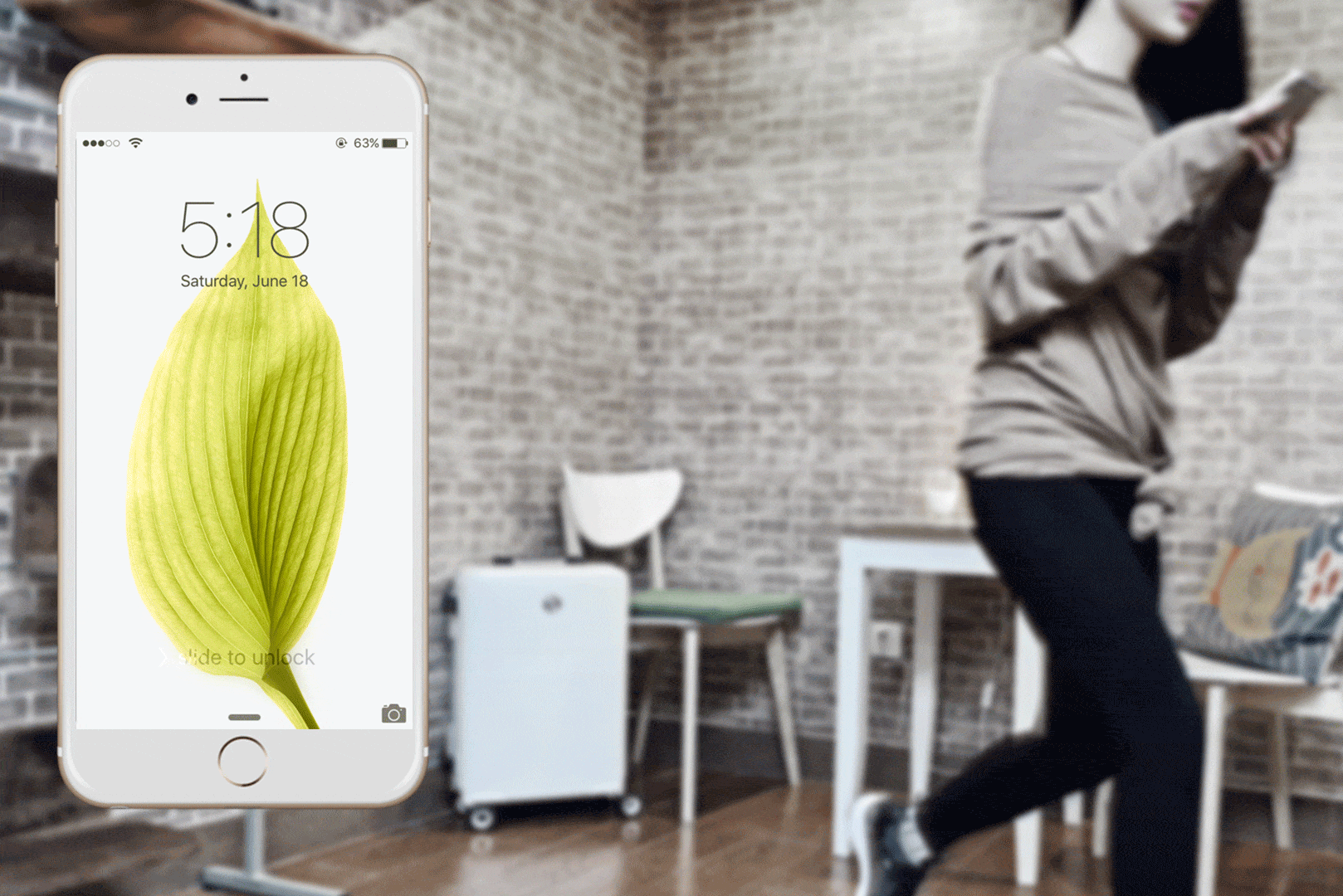 This is a great feature for the more forgetful among us, especially if you are in a rush to a gate and leaving your bag behind.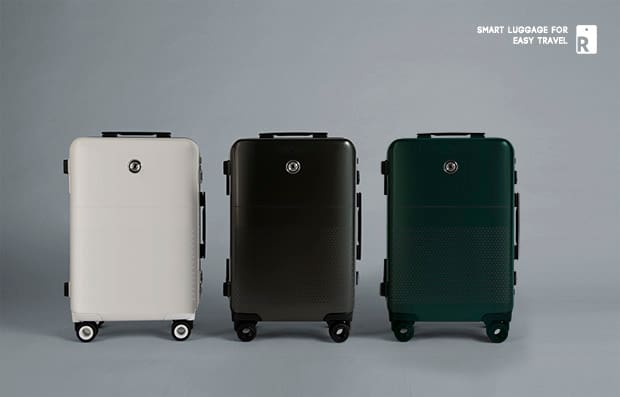 Reserve your Ready luggage today and get hands on it before others.
Order Now and get the FREE SHIPPING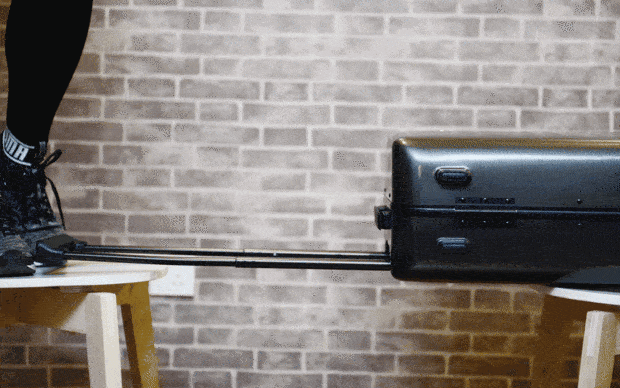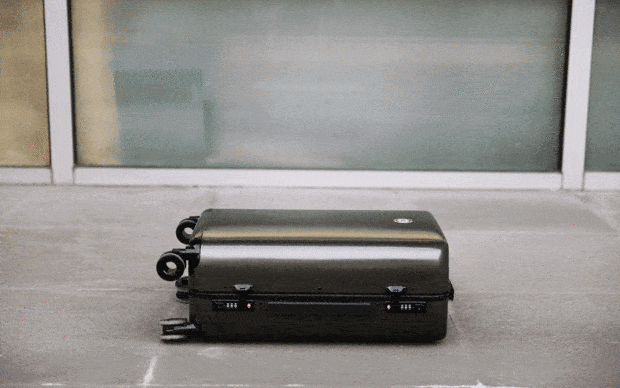 The hard shell exterior is made of 100% Bayer Makrolon polycarbonate, a material unrivaled in strength and impact resistance. If you put weight on it, it bends rather than cracks.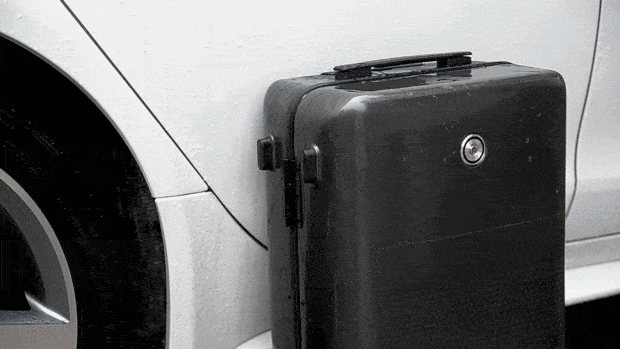 Ready also has rubber gasket seals protecting contents from the harshest weather conditions. The exterior is completely water-resistant, capable of protecting my stuff from wet grass, dirty floors, and sudden summer showers.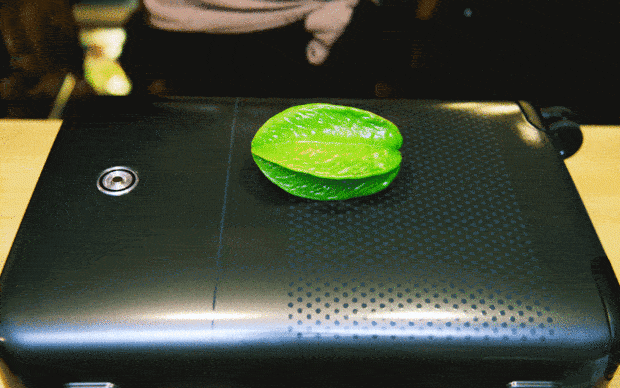 Ready is built with advanced technology to keep it always looking good, so you don't have to worry too much about the dents (again using it as a chopping board is not recommended).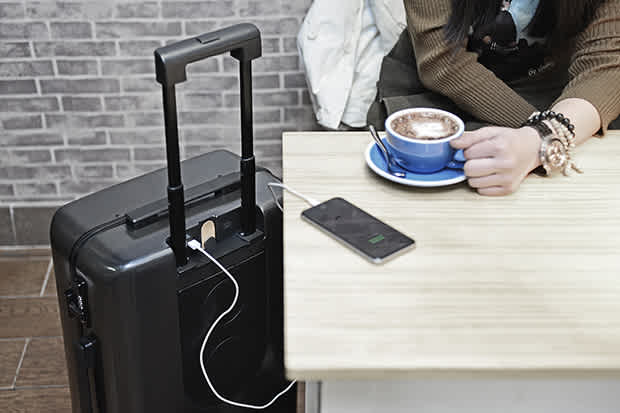 Ready can charge any USB device, so you can find a seat, park Ready next to you, and charge your phone before boarding your flight. You'll always be able to check your email or take a call.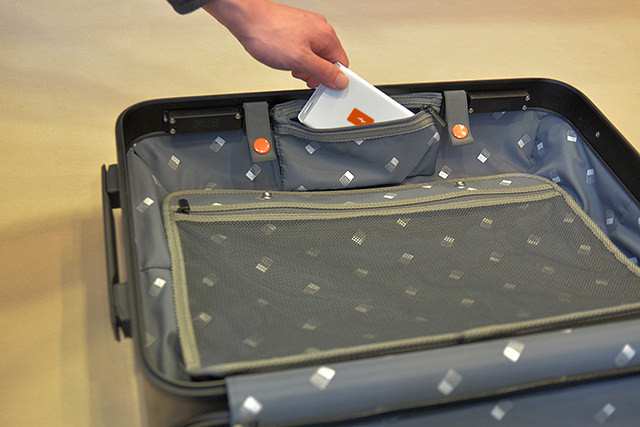 Battery being removable means you can get through the security without problems. It also means you can use the power bank you already have, so you don't have to pay extra for a new one.
For those who don't have an extra power bank, we also offer a 10,000mAh one, please choose the battery perk and place the order.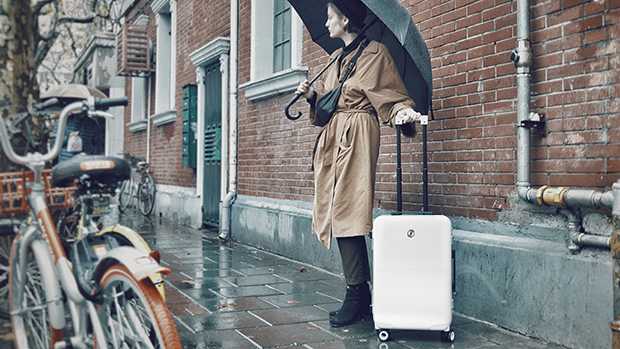 Ready carry-on will be delivered (Free Shipping) to you in June, perfect for your summer break! Time to plan a new journey with Ready luggage.
Ready, Go.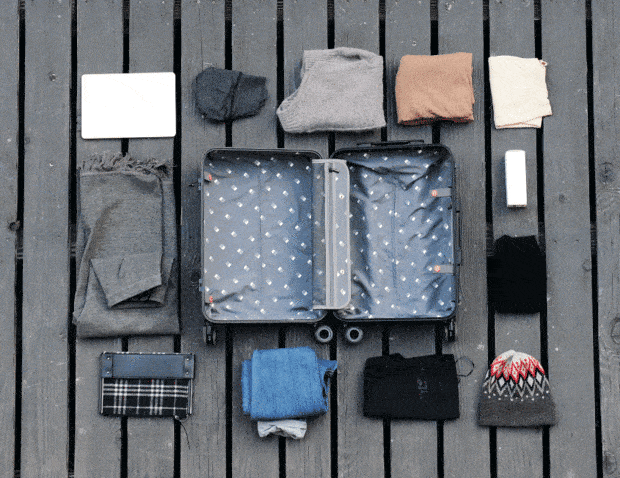 Ready carry-on's body is spacious enough for a week's stuff.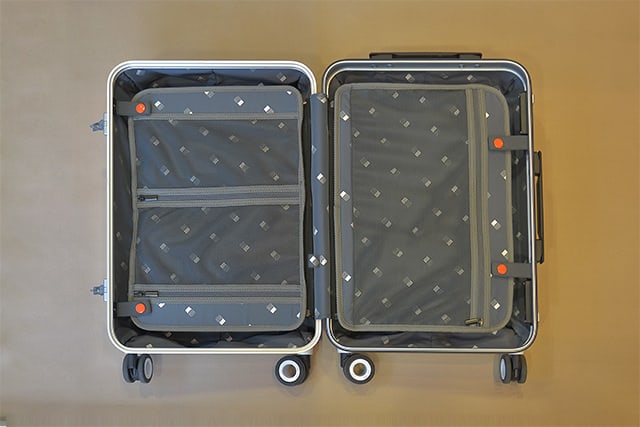 Ready pouches can create protective compartments for your belongings and keeping them tidy and organized throughout your trip. Get one pouch set at discouted price.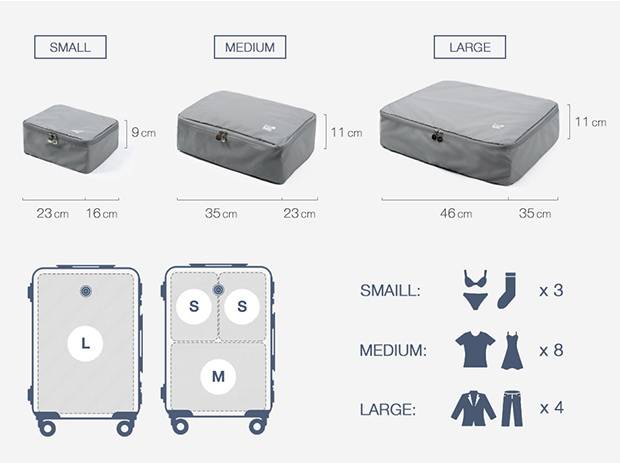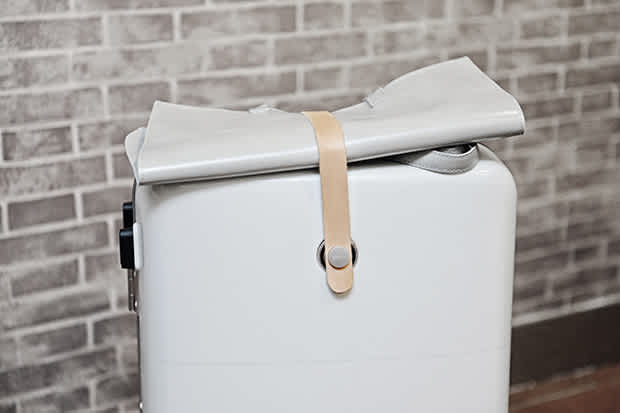 A helpful strap to fasten your handbag, backpack or briefcase securely on top.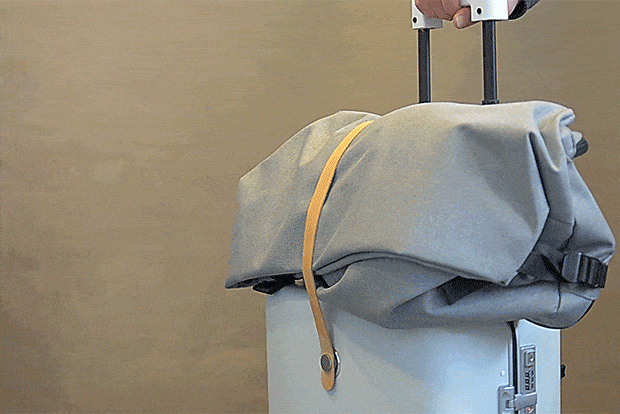 After trying several alternatives, we find out one simple and elegant solution to avoid the bag falling off.



Travel could be the beginning of future, the story of present and the memory of past.
Ready shares many design elements of Bauhaus-style electronic products, together with the cross-border material crafting, Ready carry-on stands out through unique design.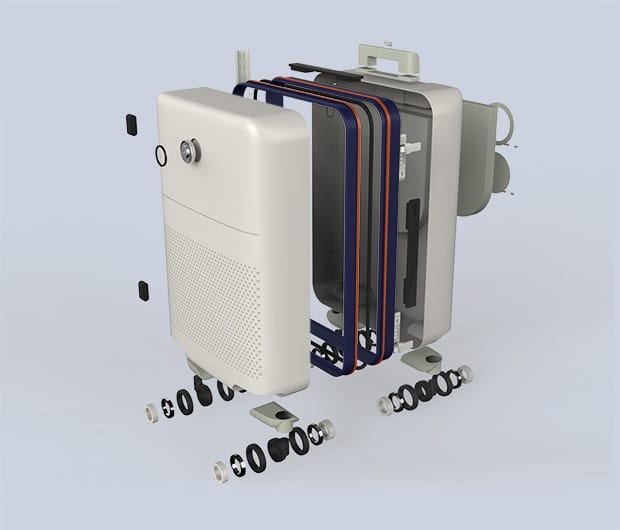 The frame is made of aircraft grade aluminum and can absorbs impact from the outside, thus better protecting your items.
In addition, Ready is produced by molds, then secured together with screws and rivets, which makes Ready more durable and you do not have to worry about annoying zipper failures.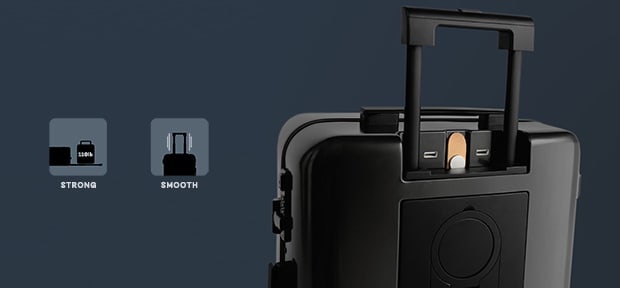 Ready luggage has a multi-stage handle made of Aluminum, it is strong enough to stand on top of it (we won't recommend doing this though).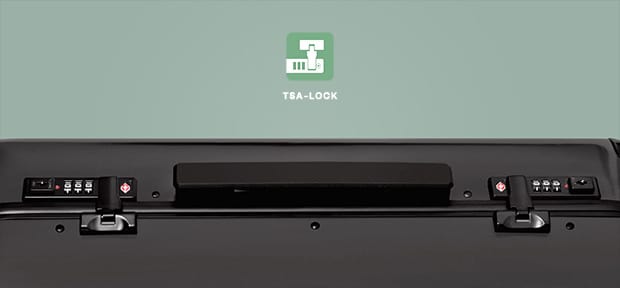 Ready luggage has no zippers, instead there is an integrated TSA combination lock that provides peace of mind when checking cases through security.

Its four 360° spinner wheels make moving around the airport a breeze. The wheels glide extremely smoothly on both carpeted and smooth floor.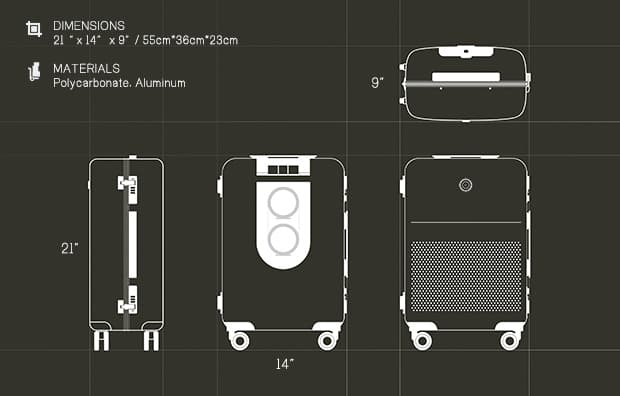 Ready fits within the TSA size regulations and with a hard exterior shell, it will stay within those regulations no matter how much you pack.


Available in Black, White and Green.

We are a team aiming to deliver products that can bring you the best travel experience. Our work on Ready started a year and half ago and now we are already in the mass production stage. Below are some videos taken from the factory.
Polyurethane tires make for one smooth 360 degree ride.
Strong top handle bar is strong enough to hold 30kg weight.
Smooth aluminum handle is undergoing testing.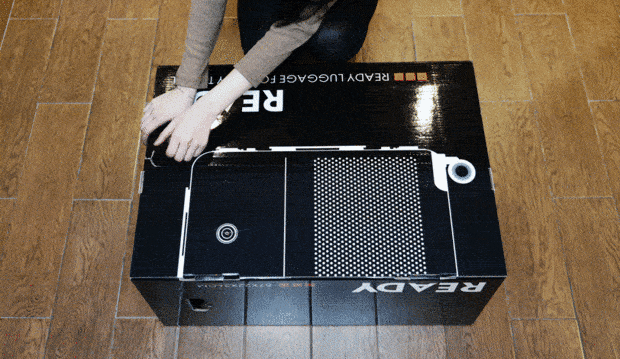 Ready was thoughtful about its design. The luggage is packed in an easily opened cardboard box. The carry-on suitcase arrives in a high quality bag that you can keep for storage when you're not traveling.

By backing now you'll get to own one of the very first Ready Carry-On off the line plus exclusive access to prices only available during the Indiegogo campaign.
And we offer FREE SHIPPING WORLDWIDE during the campaign. There is no surprise when you checkout.

Pre-orders for all Ready Carry-On now will be delivered for Mid June. We will keep you up to date on our progress and the expected delivery date of your order.    
*Actual ship dates may vary. We will keep you notified of your product ship date.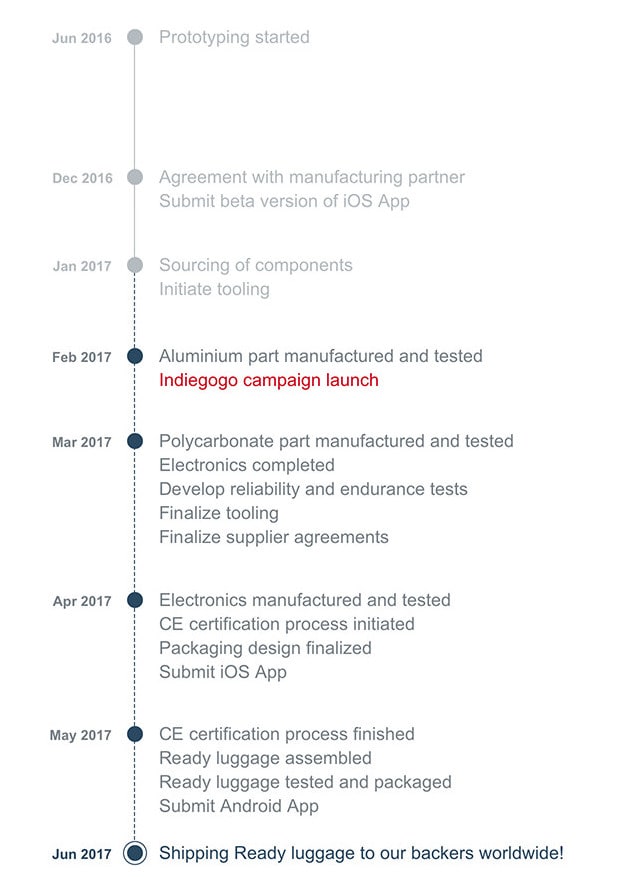 Have a friend who needs this? Want to share? Just 30 seconds of your time could make the difference in growing the community. Hit one of the buttons below and tag a friend or coworker who needs this!
The more people who know about us, the larger our community will become.
Let's do this.



We designed and build Ready to last a lifetime and we stand behind the quality and durability of our products. If your bag ever breaks down, just ship it back to us. We'll either repair it or replace it, and return it to you. It's our lifetime guarantee to you.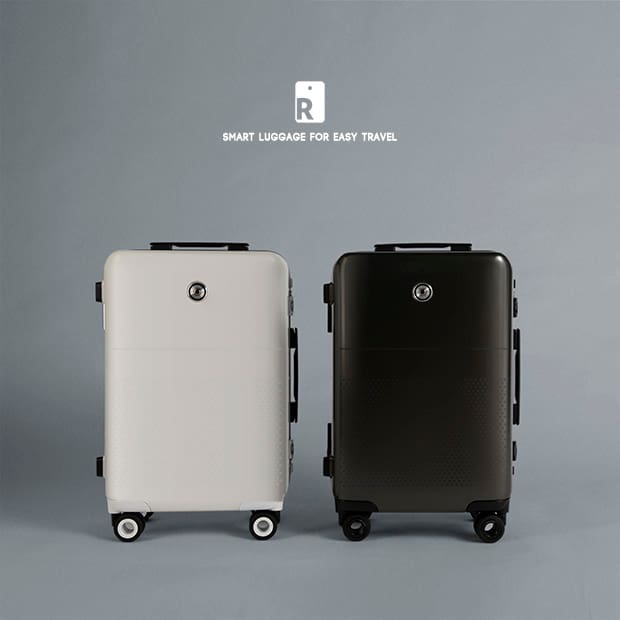 What would a suitcase be like? Before started, I cleared my perception of the conventional suitcase, simply start form "LESS BUT MORE", follow the train of thinking to seek the true meaning of travel, and then redefine the suitcase. It should be more than just a simple box, just as the radio carries the music, the suitcase should save your feeling when travel. It will have witnessed the journey you have share with it for a certain period of time. Since it shared many design elements of Bauhaus-style electronic products, together with the cross-border material crafting, Ready carry-on stands out through unique design.


| | |
| --- | --- |
| What is it? | Ready is a stylish and smart Carry-On that makes your trip as convenient as possible. It has a built-in charger and weight scale. Made from aircraft grade aluminium and 100% polycarbonate, it can protect your items better. With a TSA-lock it provides peace of mind when checking cases through security. Carry-On approved. |
| Who created it? | We're a team of 5 who come from a variety of backgrounds including engineering, design and commercial manufacturing. Our brand, Ready, is a fashion brand that specializes in truly innovative travel accessories. |
| Why should we use it? | Stylish, Smart and Strong, Ready luggage will be a personal travel companion for your future trips. We aimed higher to ensure Ready is a perfect balance of form, function and fashion. |
| How much does it cost? | IndieGoGo backers can get Ready Carry-On at $199 - up to 40% off the retail price of $339. And FREE Shipping! |
| Where can we buy it? | Right here on Indiegogo! Pre-order yours today to be one of the first people to get these bags. |
| What do we get when we order? | One Ready carry on of your choice. |
| Why are you crowdfunding? | We love crowdfunding! For us, it's a perfect solution to ensure we meet minimum order quantities for the first production batch - our tooling is done and we're ready to scale up our manufacturing. |

| | |
| --- | --- |
| Which airlines does it work with? | Ready Carry-On is sized to fit official airline regulations at 55cm x 36cm x 23cm (21" x 13" x 9"). It flies on (almost) any plane, anywhere, anytime. |
| How do I charge my phone? | The USB ports are located on the back and near the handle of your suitcase. You can plug in charge cable the USB port no matter the handle is lifted on not. |
| How do I recharge the battery in the luggage? | Ready Carry-On comes with a micro-USB cord for charging the suitcase. Or you can take out the battery and charge it like a normal power bank. Because the Ready battery has such a high capacity, it can take up to 12 hours to fully charge—we recommend plugging it in overnight before your trip. |
| Is the battery removable? | Yes! To remove the battery, open the zipper under the side handle of Ready Carry-On. Then just slide it out. |
| Is the battery legally allowed in a Carry-On bag? | Your suitcase battery is compliant with FAA, TSA, and DOT regulations and meets UN/DOT 38.3 requirements. It can be carried onto any flights. If you need to take out the battery for any reason, simply open the zip for quick removal. |
| What colors do you offer? | White, Green, Black. |
| Why should I choose a hard shell luggage? | Durability is a high priority for travelers, especially considering that most people will use laptops, iPads, cameras and other sophisticated electronics. Hard shell suitcases have obvious advantages in protecting electronic products.  The same is true for keeping the luggage clean. Softer cases can absorb water, and are more susceptible to stains and smells. |
| What's aluminum frame?  | The aluminum frame absorbs most of the impact from the outside, thus better protecting your items. In addition, the suitcases are made by molds, then secured together with screws and rivets, which makes them more durable and you do not have to worry about annoying zipper failures. |

| | |
| --- | --- |
| When does shipping begin? | Shipping for the first batch of Ready Carry-On will begin in June 2017. |
| When can we expect it to reach our doorsteps? | All orders are expected to be delivered to your doorsteps for mid June 2017. |
| Where does it ship? | We're proud to ship Ready Carry-On worldwide. There is no shipping cost for all the orders during campaign. |
| How much is shipping? | We offer FREE Shipping worldwide! No hidden cost! |
| I'm interested in a distribution partnership. | Please contact support@readytravel.co and include in your email the region(s) you distribute to. |
| What are the risks and challenges of getting the device today? | There are risks with production at every step of the way, but luckily for you, we've done all the hard work of getting a product through the tooling process and getting ready for scale. We are using Indiegogo as a way to validate our product. All of the numbers are real, and the backers are real. We want your help to keep us and our team accountable at every step of the way. Now, we just want your help to scale the production process and get all units ready to ship. If there is anything you need to change or update, just reach out to us! |

Is there a warranty?
Yes. Ready Carry-On comes with a Lifetime Warranty. Our luggage, excluding the electronic components, is guaranteed by a lifetime warranty which covers any damage to the shell, wheels, handles, zippers, or anything else that functionally impairs the luggage. If anything breaks, we will fix or replace it for you. It does not cover gradual wear and tear throughout it's lifetime that is to be expected from normal use.
The electronic components themselves are guaranteed by a two-year warranty. We will offer replacement batteries for purchase in the future and will make sure they improve with technology advancements.
How do I order an extra Ready Carry-On?
Ready Carry-On is quite expensive for us to make and ship. We've tried to keep the pricing to a bare minimum and offered  FREE Shipping. 
What is your refund policy during the Indiegogo campaign?
See these steps on How to Request a Refund. During the Indiegogo campaign, you can process the refund at any time by contacting crowdfund@indiegogo.com or searching their help center. Refunds are processed on a case-by-case basis; at some point we will need to lock refunds in order to go into production & shipment. We will not be able to refund orders once they've shipped.
What is your return / exchange policy?​
If you received your product and you aren't satisfied, you may exchange it for a new one within 30 days, with extra shipping & handling fees. Indiegogo does process refunds during the campaign. If you would like a refund, we're sorry to see you go. Please see here for How to Request a Refund. 
How do I choose more than one reward?
To get more than one perk, please make a new contribution for each perk.
How can I check the status of my pre-order?
By pre-ordering through Indiegogo, you automatically have an account created. Log back into Indiegogo using the email you pre-ordered, to verify your information.
If I have other questions, who should I contact?

Support: support@readytravel.co