Rains In LA tells the cute love story depicted in the song of the same name by British pop band Scouting For Girls (This Aint A Long Song, She's So Lovely, Heartbeat).

"After finally being offered the job of her dreams, the girl has to break it to the boy that she's leaving him for LA." 
Our short film will be a 10 minute narrative love story, combining the song to drive the plot forward and the film and dialogue sections to explore the different moments of the story on a much deeper level.
We are a group of three experienced and passionate young British film makers based in and around London who want to create a visual layer to the journey Rains In LA takes you on. For this to be possible, we need to raise £5000 for production costs ($8000+Indiegogo's fee).
The film is much more than a typical music video; by blending the art forms of film and music we will create a small piece of cinema with a relatable plot and a lot of heart.
Rains In LA, once finished, will be used by the band as an official short film and will be a part of a future record of theirs. 

This is an idea we have been developing together for a long time and we have finally completed a script that we have great confidence in. So much in fact, that we want to ensure it stands higher than any other film we have produced to date.
We aim to film using quality lenses on consumer DSLR cameras and professional film equipment such as a steadicam and a dolly track in the Kensington area of London and downtown Hollywood in California. 
With your help we can bring the story to life in the beautiful, upbeat style conveyed through listening to Rains In LA. This means creating a professional looking piece of cinema, set in beautiful real life locations with believable characters and an engaging narrative.
Because this is an official piece of work for Scouting For Girls we have to do everything legally and safely which, sadly, means a higher cost.
We want to produce the best film possible to compliment the lyrics of this song and, for this to be achieved, £5000 ($8000) will just cover it.
With your generous pledges, and the dedication the entire crew will donate to this, we will deliver something completely different and new in pop music.
All three film makers are only 18 years old but are hugely experienced, having all attended The BRIT School and making achievements in their own respective sectors. 
Director/Producer/Writer - Liam Hooper, 18 from Brighton, is an award winning horror film director. His first feature length horror comedy, Darkwood Manor (2011) which he produced by the time he was 17, was screened in Leicester square in the British Horror Film Festival where it won the "BEST STUDENT FILM" award. Various short films of his have also picked up various awards at The BRIT School.
http://vimeo.com/liamrnr - http://twitter.com/liamrnr
Cinematographer/Producer/Writer - Mark Stewart, 18 from London, has shot a huge variety of film styles, from single camera dramas to music videos for hot new talent in the South London music scene. Mark is currently studying Film Production at The Arts University College Bournemouth.
http://vimeo.com/mrkstewartmedia - http://twitter.com/mrkstewartmedia
Editor/Producer/Writer - Mikey Fendick, 18 from Leatherhead, is a massively experienced narrative short editor, his most recent work was screened at the 2012 London Olympics. Mikey s currently studying Editing and Post Production at Ravensbourne University. 
http://youtube.com/mikey3610 - http://twitter.com/mikeyfendicktv 
If you fancy helping three guys achieve their goals it really would be so appreciated, even the smallest donations can make a HUGE contribution to this video! These are the different perks you can receieve: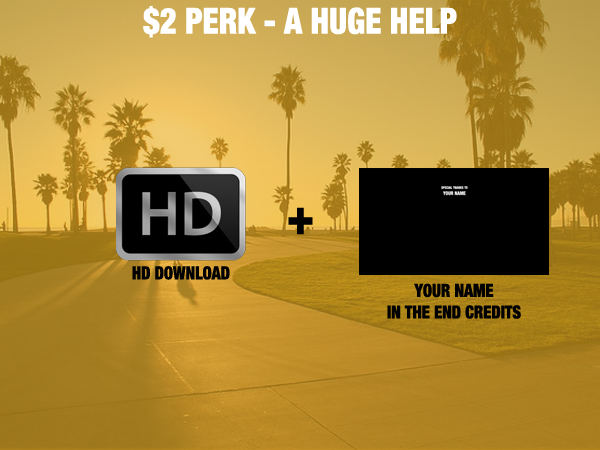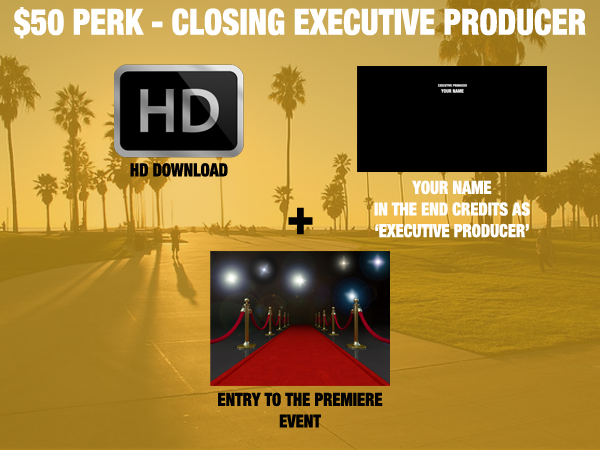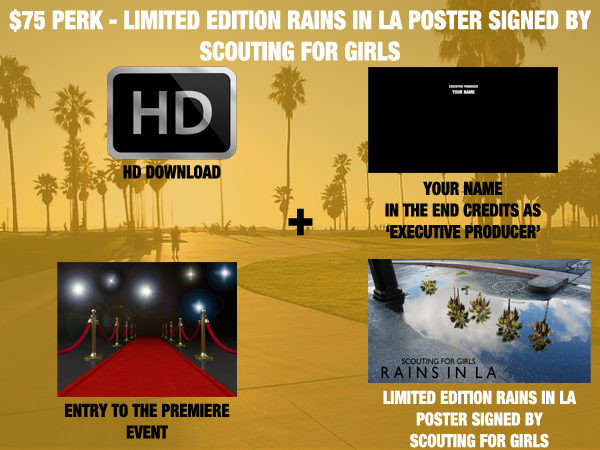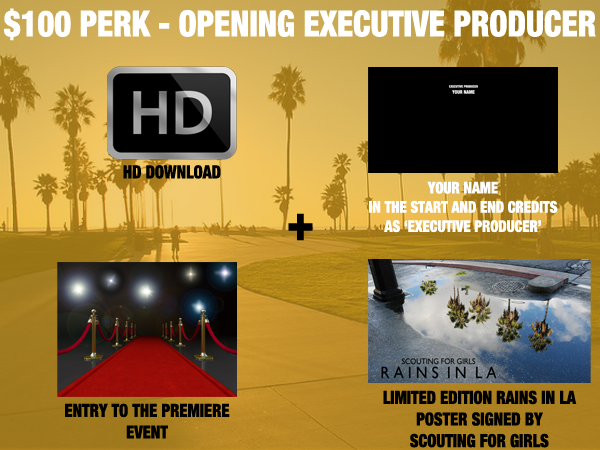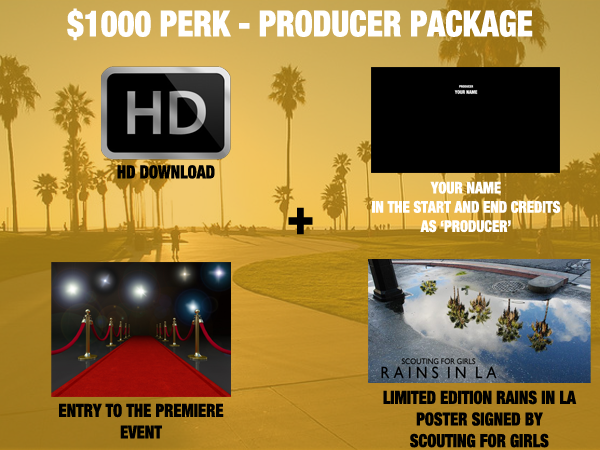 If we do not receive the full budget we will spend what we do receive on the necessities first (actors fees).
Everyone who donates will still receive their perks, regardless of the outcome.
So maybe you're a Scouting For Girls fan? Or a fellow filmmaker? Or even someone who can just appreciate a good piece of film making when you see it, YOU can all make the difference!
By producing a video of this quality and ambition at a young age will help to prove that anything is possible and will hopefully open all kinds of new doors for all involved.
If you can't contribute financially, this doesn't mean that you can't still help.
By clicking SHARE you can help spread the word about Rains In LA over social networks and see this great vision unfold.