Who We Are
Growing up, our families were uniquely aware that we could lose one of our loved ones in the utility lineman industry. In fact, linemen have a 1 in 50 chance of dying on the job throughout their career. We didn't like those odds, so we created Safeguard Equipment to develop products to keep our loved ones safe. 
Fast forward to today. Puerto Rico, Florida, and the Virgin Islands were ravaged during this last hurricane season. More than 80% of the electrical grid in Puerto Rico is still non-functioning. In order to help rebuild the island's infrastructure, there has been an influx of electrical professionals working tirelessly. Unfortunately, 6 journeyman linemen have already died in this restoration effort. With your help, we can give them a sixth sense to make them aware of unseen high voltage.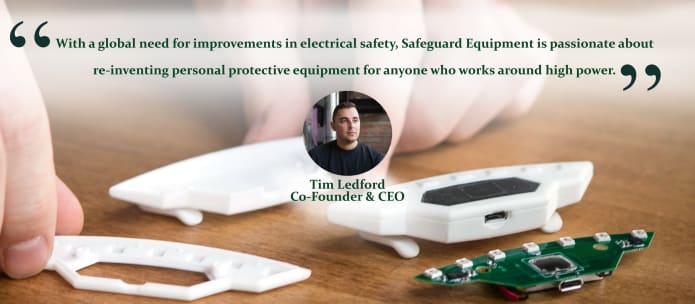 We Need Your Help
Linemen, first responders, and other disaster relief efforts are working to aid in hurricane relief, putting themselves at risk of electrocution due to down power lines, faulty transformers, and malfunctioning equipment. We want to protect them so they can continue serving others effectively. Our device, Compass, will alert these heroes before they approach dangerous high voltage. Our initial push is to provide a Compass device to all the workers in Puerto Rico, but there's a need in developing countries as well. We need your help to cover the additional manufacturing costs and product adjustments to take our product (initially developed for the utility industry) to heroes around the world.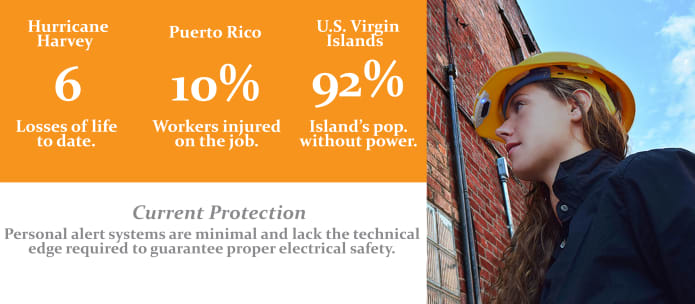 There is a global need for higher safety standards, and that need is readily apparent in the electrical industry. In some developing countries, 1 out of 4 linemen will die during their career simply because they weren't given access to proper training standards. And with their limited access to protective equipment, these individuals must risk their lives simply to bring electricity to their families. When you fund our efforts to provide Compass to disaster-ravaged and developing communities, you're providing a new layer of safety - a sixth sense for dangerous voltage in the area - to trained professionals and self-taught community members alike.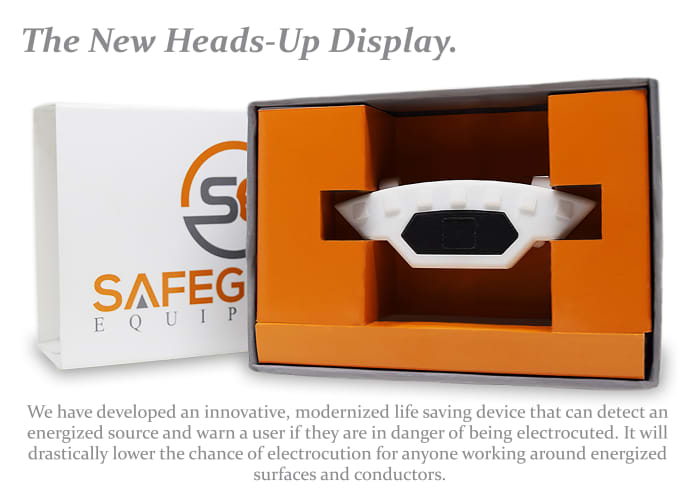 It's an innovative, life-saving device that will detect an energized source and warn a user if they are in danger of being electrocuted. It will drastically lower the chance of electrocution for anyone working around energized surfaces and conductors.
Compass™, has been applied to a helmet clip that acts as a heads-up-display for easy use and functionality. In this form factor, it brings 360-degree electrical detection, providing notifications of proximity and approximate direction of an electrically charged source. Once detected, Compass™ provides the user with both audible and visual notifications.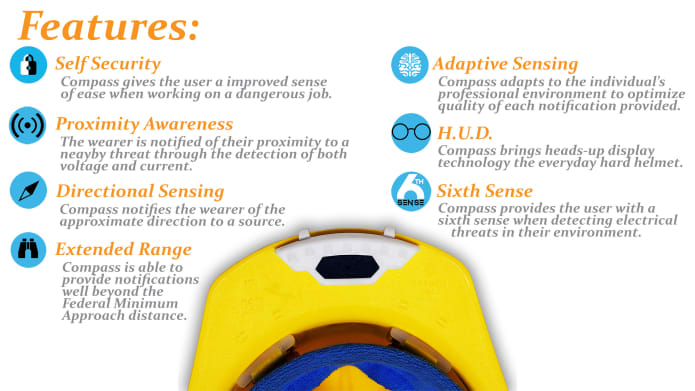 What We Need & How You Can Help
Let's break it down in more detail:
    •    Compass™ is production ready! Your funding in this campaign will go directly towards completing production while providing us with funds to provide Compass™ to Puerto Rico lineman. Once our goal has been met, we'll not only continue providing aid to Puerto Rico, we'll also work on expanding our program to other hurricane areas with heroes in need.
    •    Help us get people excited! We need your help creating awareness, and letting people know that they can provide LIFE-SAVING protection for disaster relief workers. 
    •    Share our story on social media. Even in the US, many families have loved ones who risk their lives on a daily basis to maintain our infrastructure. As our friend, Brady (Journeyman Lineman), puts it, "This device is the cries of widows and orphans. This will save lives." Please share this cause, and help save lives at home and abroad.