You can pair two Poppins together with any phone, laptop or tablet. With one click of a button, you can 'bond' your Poppins together with your friend's and enjoy the same music, movie or even dance to the same groove at the same time - all from one phone or computer!
Make your classic speaker or boombox wireless! Simply connect your Poppins to the audio jack (Aux In) of your speaker and wirelessly play music from your phone, laptop or tablet straight out of the speakers. It's Magic. It's Freedom.
Poppins works with both Siri and Google Assistant. Just speak into your headphones mic and let your phone do all the talking. Poppins smart audio management technology makes it great to use outdoors with any digital assistant. You can Accept/Reject phone calls, Control the volume and talk away handsfree, with your phone in your pocket.
Poppins works with Apps like Skype, WeChat, WhatsApp, Facetime and Viber. You can receive Voice/Video Calls on our Poppins. If you wish to switch to speaker mode, simply click on the 'speaker' icon on your smart device. Simply press the power button on your Poppins to accept the call and talk away.
Poppins comes with an optimised power management system which allows you to stream your favorite playlists for hours. Whether it is stepping up your game in cardio or doing a marathon run on Netflix, Poppins will stay by your side, providing you lossless quality sound experience, zero latency.
You have spent a lot of money on getting the best audio quality from your headphones! We believe that the most important aspect of audio is retaining the quality and authenticity of the artist to provide listeners with a beautiful sonic experience. Poppins micro-controllers are engineered to mirror the exact sound it receives directly to the listener's ears, without creating any time lag or drop in quality in between. Get high quality sound across the room straight into your brain, zero latency.
Compatibility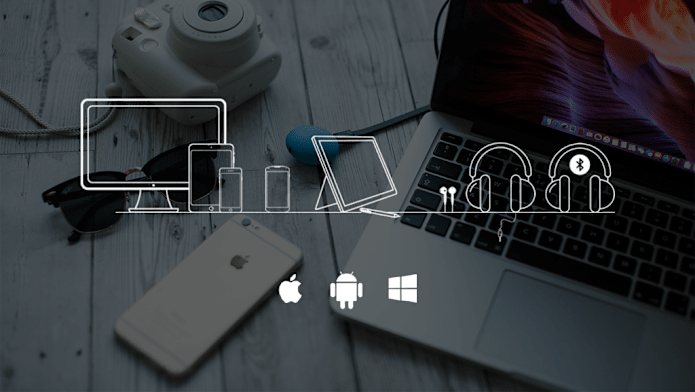 Poppins works with Apple, Android and Windows Devices!
Poppins is designed to seamlessly pair with your Bluetooth device (BLE 2.1 and above) - be it your phone, your laptop or your tablet. It is also tuned to support all popular headphones and earphones in the world (no counterfeits please.) Poppins is calibrated to adjust to any headphone type - be it In-ear Monitors, On-Ear or Over-Ear Headphones. 
All Poppins requires is a headphone jack and its ready to go! We have made it so simple that you require only 1 minute of your time - Plug-in, Pair and Play. No Downloads, No Apps or Software Required.
*Cheaper substandard headphones may not get optimal use.
Certifications

Poppins is certified for Conformité Européenne (CE), Federal Communications Commission (FCC) and Restriction of Hazardous Substances (RoHS). This means that Poppins is FREE from hazardous materials found in electrical and electronic products and does not radiate harmful emissions. Most crowd fund platforms do not require products to be certified, but with Poppins we are going the extra mile for our backers.
Specifications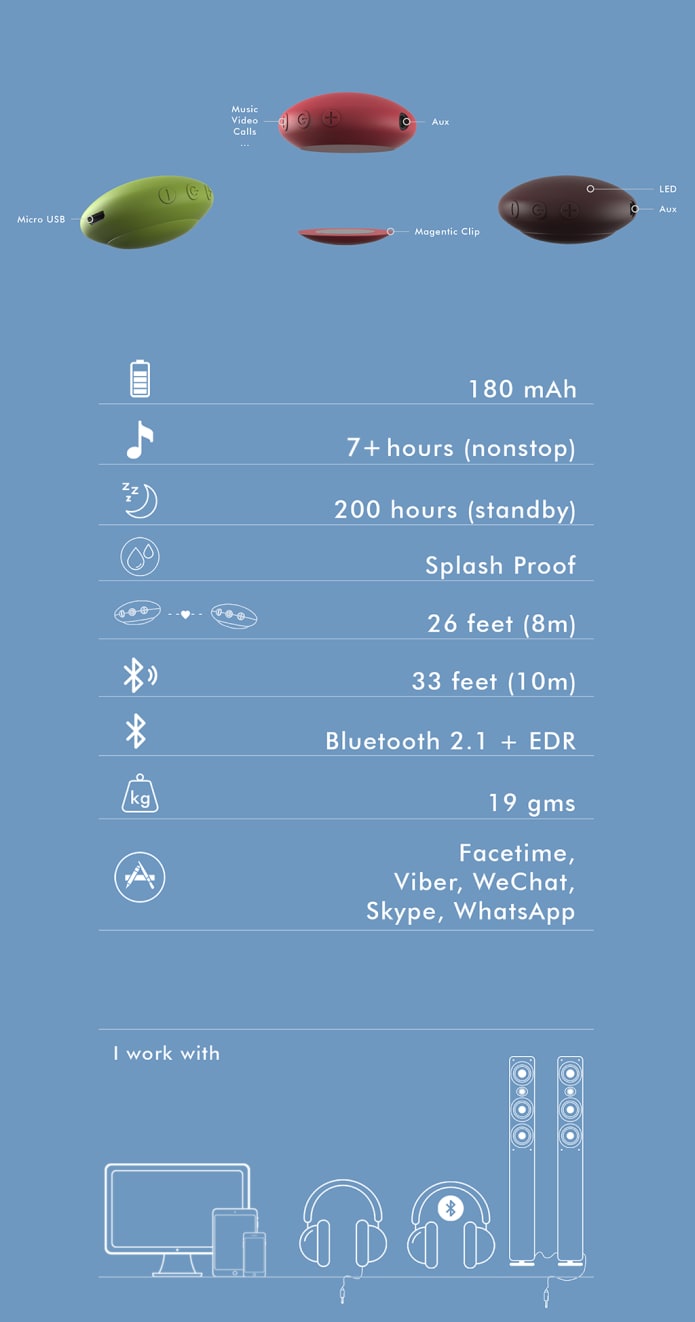 We will begin shipping to all our backers within 60 days from the end of our campaign. With invaluable lessons learnt during the logistical phase of our last 'Smart Buckle' Campaign we are fully confident of meeting this shipping goal.
We believe in the best of crowdfunding where a community of innovators and thinkers supports exciting new ideas that DELIVER. We proved this with Smart Buckle, shipping a fully certified product to over a thousand backers within a couple of months of closing our campaign. We had a few lessons through that process and it has honed us to be even more precise and relentlessly focussed on quality and execution. That is why you can feel confident that when we say Guaranteed Shipping with 60 days of Poppins campaign close, we mean it!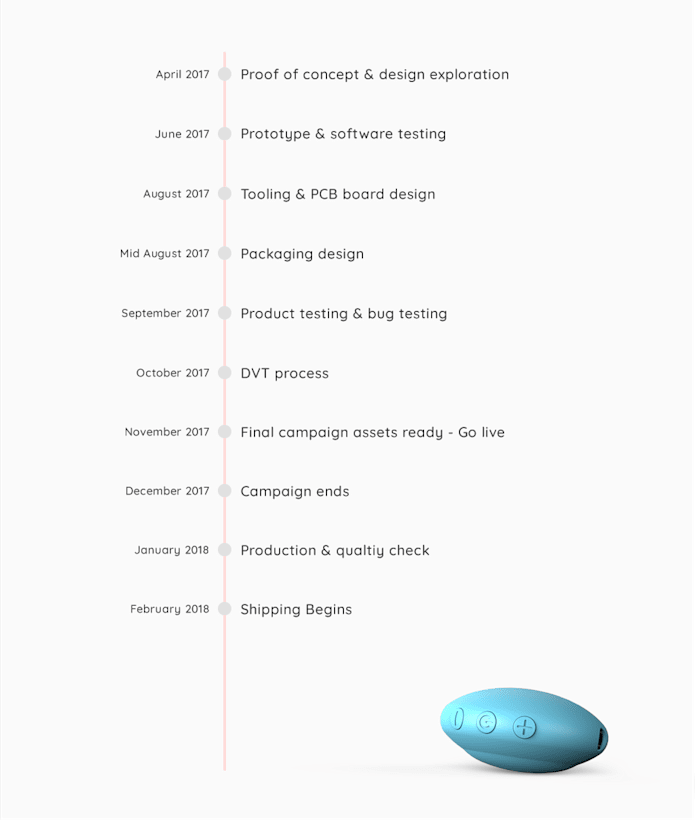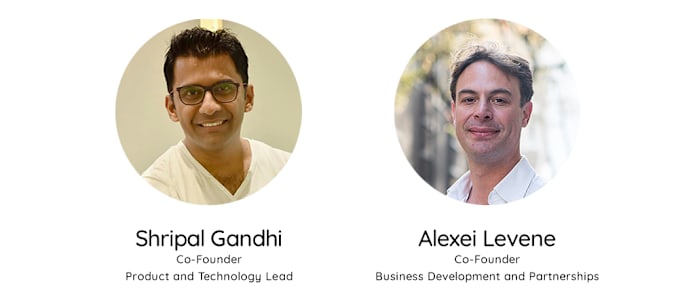 About the Team
Shripal Gandhi | Co Founder
National Award Winner and recognized as the "Top 50 Inspiring Entrepreneurs of India" by Economic Times.
Passionate for over 15 years about innovation and creation of human centric products, reflecting the idea of simplicity and mindfulness. With over eleven (11) global patents to his name he brings deep product and technology expertise, he also has deep hand-on operational knowledge of large scale electronics manufacturing of global consumer products. When searching for inspiration he spends time teaching science to community children and help open their creative and mindful self.
Alexei Levene | Co Founder
A serial entrepreneur who believes in the concept of 'business as a force for good'
With a background in consumer products, business consulting, and sustainable technologies. Alexei is a globetrotter who has lived in UK, US, Poland, India and France contributing to Fortune 500 corporations and innovative start-ups. Loves philosophy, disruptive technologies and adventure. Dreams of a world without waste, with access to clean water, food and education for all.
Our Track Record 
This Poppins crowdfund comes on the back of a successful crowdfunding campaign we ran for our first product, Smart Buckle. We launched Smart Buckle on Kickstarter during the summer and had nearly a thousand backers pre-ordering the product from over 30 countries. We are proud not only to have shipped 100% of Smart Buckles to our backers but also to have won distribution agreements across the world. In less that 120 days since launch we have shipped over 7,000 units all over the world. 
Proof is in the facts, check here. You can also visit us here.
Why we built Poppins?
We found over the last several months with the onslaught of wireless headphones emerging into the market that all our current devices will be obsolete and be put away into our desk drawers. That is not too cool for the planet. We looked around and found that the wireless adaptors for headphones were either poorly designed or just another crowdfunding promise which never got delivered by large funded projects. It took us less than 9 months to get here with a real product that we use everyday in our offices and in our homes. We made it for our own use and decided that we can make it for all those who fell in love with it. It is round cookie like device. The way it is designed, the magnet just clips on to you like a little force of gravity. It is seamless with your fashion and a really cool fidgety toy to play with - we promise, once you play with it, you will keep playing. And of course, we wanted hi-def sound quality with the best quality transmission of audio, when we made Poppins. We enjoy it daily, and we bring you the same.
Simple. With Purpose.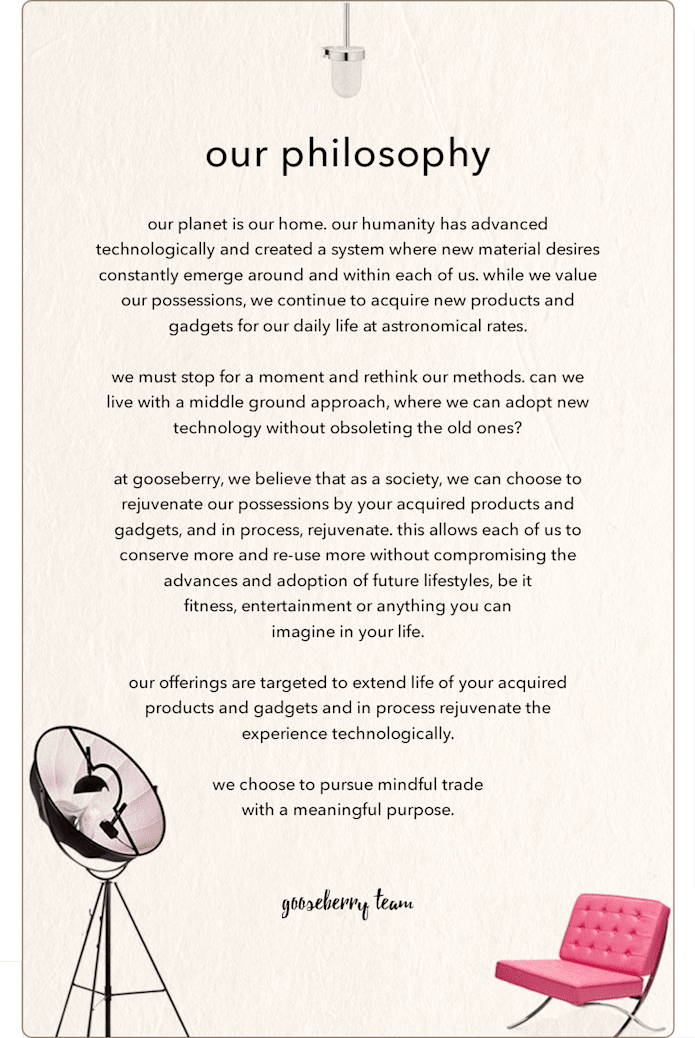 Contact Us
We are a small inspired team spread globally. If you have questions or need additional information, please feel free to write to us.
hello@gooseberry.store
We would love to hear your feedback, ideas or interest in partnerships.
Thank you for supporting us.



Frequently Asked Questions
Check out our FAQ's (here) for commonly asked questions.
Technical
~BATTERY~
How long does the battery last?
Poppins will last upto 8 hours whether you are listening to music, taking calls or watching movies, all from a 30 minute charge.
How do I charge my Poppins?
You can charge your Poppins by connecting it to a reliable USB power source with the Micro USB Cable provided in the packaging.
What is the charge time? 
The charge time of the Poppins is estimated at 30 minutes.
What is the standby time of Poppins? 
The Standby time is about 200 hours.
~BLUETOOTH~
How many Bluetooth devices can connect to Poppins in pairing mode?
You can connect two Poppins together, where the 'parent' will connect with your phone, laptop or tablet, so you and your friend can hear the same tracks at the same time.
Is Poppins compatible with the latest Bluetooth version 4.2?
Yes, Poppins supports all Bluetooth versions above 2.1
How do I connect my Poppins with my phone?
You can connect your Poppins with your phone via Bluetooth.
Will it have controls for answering the phone and for volume/track selection?
If your headphone has a microphone then you will be able to accept/reject phone calls and control the volume with your Poppins.
How far away can I be from my phone when using this device to listen to music?
You can get 20-25 feet away from the device before it disconnects. You might get 30 feet if there isn't much interfering between you and your Poppins.
~COMPATIBILITY~
Will this work with my Phone?
Yes, Poppins works with all the devices which have Bluetooth 2.1 or above.
Which OS is Poppins compatible with?
Poppins works with iOS, Android and Windows.
What all headphones/earphones does Poppins work with?
Poppins works with quality In-Ear, On-Ear and Over-Ear headphones.
~FEATURES~
If I have headphones without a mic, will Poppins pick up my voice? Does it have an inbuilt mic?
You need to have headphones with a mic to answer telephone calls, as Poppins currently does not have an inbuilt microphone. You can press the power button on the Poppins or play/pause button on your headphones to answer the call. Poppins does not have an inbuilt mic.
What are the functions that I can control with Poppins?
• Play/Pause Music
• Change Tracks 
• Adjust Volume Tracks
• Answer Calls
• Supports Siri and Google Assistant
Is Poppins Splash Proof?
Yes, Poppins is Splash Proof

Shipping Details 
We believe shipping is an integral part of online shopping experience. At Gooseberry we stand behind your shipping experience. We make sure that the shipping cost; shipping time, shipping quality, and communication around shipping are world-class. Please be absolutely certain that your shipping address is entered correctly when ordering. Once your order is shipped, we no longer have the ability to change the address. In the event of an error, you may make changes to your shipping information as long as your order has not been processed and shipped.
What is the Poppins Shipping timeline?
We will ship Poppins towards the end of Feb 2018.  It will take about 90 days from close of the campaign to support manufacturing, quality assurance and logistics setup. Post that point, it will take between 5 to 10 working days for the product to reach most countries, except a few countries which usually take longer due to their customs process which can be as long as 15 working days.
We believe all backers packages will be shipped no later than the second week of March 2018 depending on the volume of 5000 units.
Do you ship to the USA as well as international locations across the globe?
Yes, we do support International Shipping. The shipping charges may vary from location to location. The shipping charges are borne by the customer.
How is shipping handled?
Shipping is handled through a quality 3rd party logistic partner we have engaged.
Is Duty included in the shipping cost?
Yes, Duty is included in the shipping cost.
Do I need to worry about customs?
Every Country has a different customs laws, we suggest to please enquire with your nearest customs office for details regarding international shipping and import charges.
Is there any shipping cost to deliver it to my location, if yes then how is shipping calculated for International orders?
Shipping cost will be calculated based on the unit price and the geography we are shipping to, this is calculated at the time of your purchase 
What is the general turn around time to deliver the product? Do we ship to PO Box addresses?
The general turn around time would be 15 - 20 working days. Again this solely depends on the shipping carrier about the direct PO Box Address Delivery.
Is there any way I can expedite the shipping process?
No, Shipping time is fixed with the shipping partner.

Refund & Return Policy 
We deeply appreciate your support for Gooseberry and have taken thorough care to craft the Gooseberry experience for you. If in any case you receive a defective product from our side you can exchange the product either for repair or replacement within the 90 days warranty period.
When can I exchange my defective product received from Gooseberry?
You can ship us the product through FedEx or other shipping services available to you. Please choose the right shipping service that can quickly deliver the product back to Gooseberry within 90 days from the date of purchase.
If I have purchased a product of Gooseberry from a local store or from gooseberry.store where should I return the product?
You can return the product to the original point of purchase. In case you have purchased in a local store you can return it to them or if you have purchased it online on gooseberry.store you can send us and email at hello@gooseberry.store
Who will pay the shipping cost if I want to Ship the product back to Gooseberry?
In case of return of the product the customer will have to pay the shipping cost. We would also like to inform that it is in best interest to insure the product from the logistics or shipping company, as we cannot be held responsible for the package if we don't receive it. Our review team will first inspect the product on arrival for any sign of use or damage, it should be unused, unaltered, unsoiled on clearing the review the refund will be processed.
Return / Replacement Criteria
Eligible
You received a faulty/defective product
You received a physically damaged product
The product is different from description on the website
Not Eligible
Products that have been worn/washed/soiled
In case the original packaging is lost or damaged
In case the original payment information documents are not available

Terms & Conditions
Products must be in their original condition with full packaging intact.
Only unused, unaltered, unsoiled items with their original tags will be accepted.
Replacements will be made basis availability of that item on the website.
This return policy is only applicable to the products purchased from this website.
For products purchased from outside this website, the return policy of the point of purchase will be applied.

Risks and Challenges 
Our team has self funded the development of Poppins to date and as such we have completed all tooling and arrived at a PVT (Product Validated) stage of development. This means that we have a working prototype that is performing exceptionally well.
With that we do not see any risks on production, however we are holding ourselves to a high standard by promising our crowd fund backers that we WILL SHIP YOUR PRODUCT WITHIN 60 DAYS from the close of the campaign. Whilst there is a risk that we might miss this deadline we have done everything to ensure that this is both achievable and a milestone that we live up to - that is our commitment to you.
The key challenge for us now is to run an effective campaign that brings awareness of this incredible product to a mainstream audience who value their timepiece and who agree with our philosophy that rejuvenating your existing product is a better way to live than simply buying new products all the time.