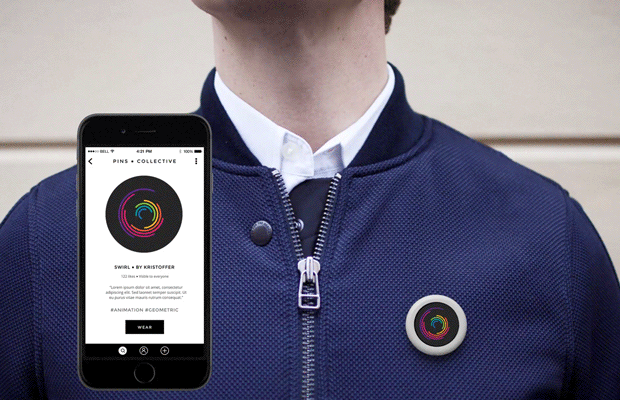 MEET THE WORLD'S
FIRST DIGITAL GIF PIN.

We wanted to transform the classic round shaped pin into a modern wearable. We have created a digital gif pin that lets you voice any opinion, express love to your favourite artist or support the cause you are engaged in – and to change between these with just a few clicks. 
This wearable doesn't measure your heartbeat, it won't track your position and we most definitely won't count any calories! The pin does one thing – it enhances your personality. It's an accessory that lets you wear any of your favourite artists, designer or illustrator on your collar, clothes or bag. Based on the mood you are currently in.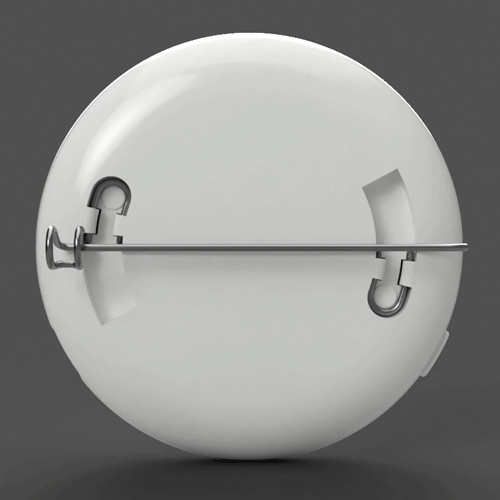 GET FREE PINS - BECOME A REFERRER 
By referring our campaign to friends and followers you can get exclusive artworks and free pins! You need to be logged in to your IndieGoGo account and use the share tools on this page to get credits for your referrals. Read more about referral contests and how they work here.
In short here is how you do it: 
1. Make sure you are logged in on IndieGoGo.
2. Use the share buttons on the top of our campaign page
3. Every person that follows your link and buys a perk adds to your referral value.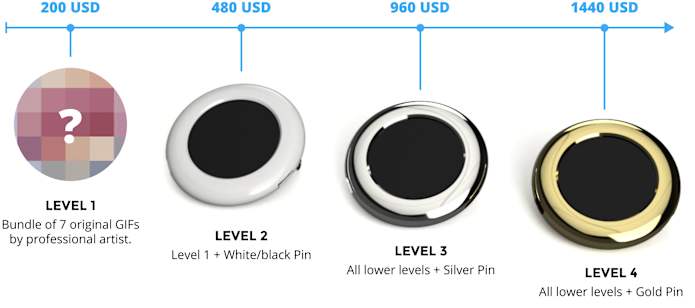 CREATE, UPLOAD AND WEAR
Wear Ready-made Designs
Our user-friendly iOS and Android app makes it really simple to change the content on the pin. The easiest way is to use a design someone else has created. Click on a design you like and then use the button "Wear on pin" and it will be uploaded to the pin in less than a second.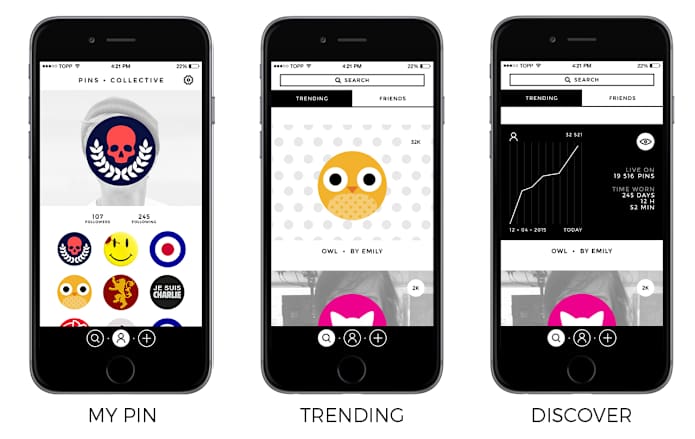 Create or Upload your own Designs!
It's really easy to make your own designs with our in-app creator, regardless of your artistic skills. You can write any text, use background patterns and colours based on your current state of mind. If you prefer you can take a picture and upload to your pin or combine it all with a sweet gif you've created!
A SOCIAL AND CREATIVE COMMUNITY
The Community
We are starting a creative community for people who want to design, share and express themselves through illustrations, pictures, logos or gifs. Find others that are passionate about the same band, artist or causes as you and collaborate with them to get the word out!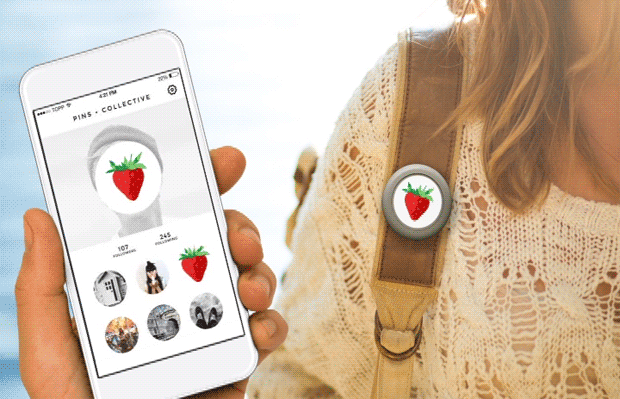 You can follow friends, family or your favourite people or brand! In an instant you and your friend can wear any design you have created or downloaded.
For Artists, Brands and Designers
The idea of creating a creative community offline as well as online is what is most important to us! We are already building a network with some really awesome designers, illustrators and street artists who have started to contribute with their work to the community!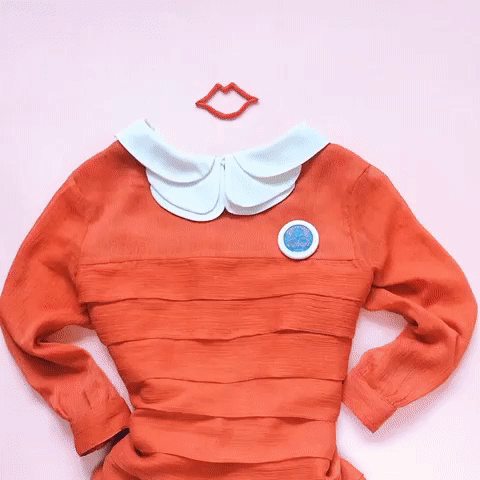 We have teamed up with Come Alive Images, a stock agency for gifs, and other brilliant artists who have contributed to this campaign: Karl Striker, About:Blank, Sketchonista , Mia Wiking, Steve Wolf

Key Features
Production Video
SPECIFICATION
The Reflexive LCD Screen – for Outdoor and Indoor Use
The round 1.34 inch screen is semi reflective and semi backlit. This makes the screen very versatile as the image gets sharper when sunlight hits it. But, as it is backlit it works really well indoors as well. The technology used is also very energy efficient and has a low energy consumption.
Here is a clip of our Engineering Board where we have run a series of gif on the reflective LCD for you to see how different artworks looks like.
Breakdown of the pin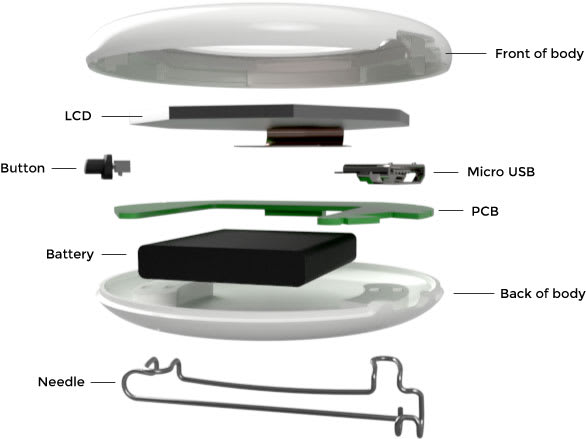 Dimensions
Diameter: 1.96 in / 5 cm
Weight: 0,56 oz. / 14 grams
Thickness: 0,2 in / 0,5 cm
Screen
Diameter: 1.34 in / 3,40 cm
Dots: 77 782
Colors: 262K
Battery (expected):
Still Picture: 74 hrs
Moving Picture (22hz): 5,5 hrs
Charging: Mirco USB
Compatibility
iOS and Android
THE PROJECT
Since day one of the prototyping phase, Pins Collective have worked closely with a manufacturer that has a well established reputation of moving projects like ours from the current prototype phase through the industrialization process and in to full scale production. This company have helped us with the sourcing of components and done all the CAD-work needed to design and create the final pin. They have also delivered the board prototype that we needed in order to show how the overall experience would be and how the reflective LCD works. We are very confident that we, with their assistance, have created a solid project plan for our coming stages.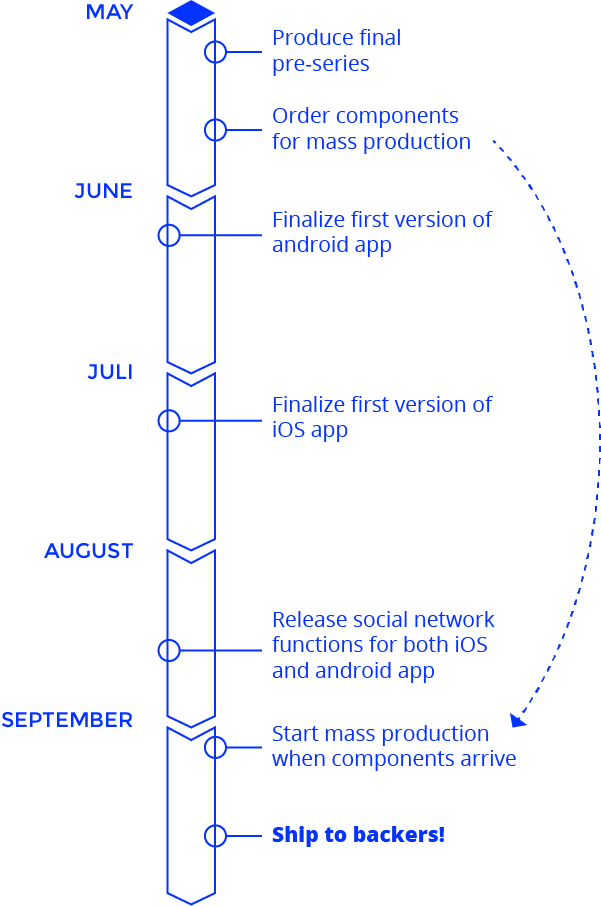 Up until now we have put a lot of emphasis on finding the right screen, perfected the design and user experience. The design work is completed, we have a functional board prototype, and the appearance models have been manufactured to perfection based on the 3D CAD models. We've also put a lot of effort into the app prototype, as we think it is key to the experience.
Our upcoming challenges are now on the technical side. In the current phase we are miniaturizing the prototype and putting the components within its final form factor. As this is something we at Pins Collective haven't worked on before we rely on our technical partner for this to be made. Our resources have gotten us this far but in order to take the next step towards production, we need your help.
Risks and challenges
Pins Collective is a unique product with some new components that leaves us dependent on our suppliers and partners. However, most of the technology we use is well known and common in other products. The fact that we have teamed up with a well-established technology partner that has over 20 years of experience in taking products from a prototype phase like ours into full production.
We also teamed up with Swedish industrial design company People People on this project. They have an in-depth experience working with new concept and ideas - especially within the wearable industry. Any design issues that might arise going into production are in the hands of some the most talented designers out there.
Our main priority is to ensure the overall product quality of our sub component. We'll reduce this risk by visiting our suppliers and be present during assembly and testing.