We're proud to announce that we're back to produce a "NEW FILM"! - But we need your help!
REFERENCE - Our previous film Somewhere Else Tomorrow: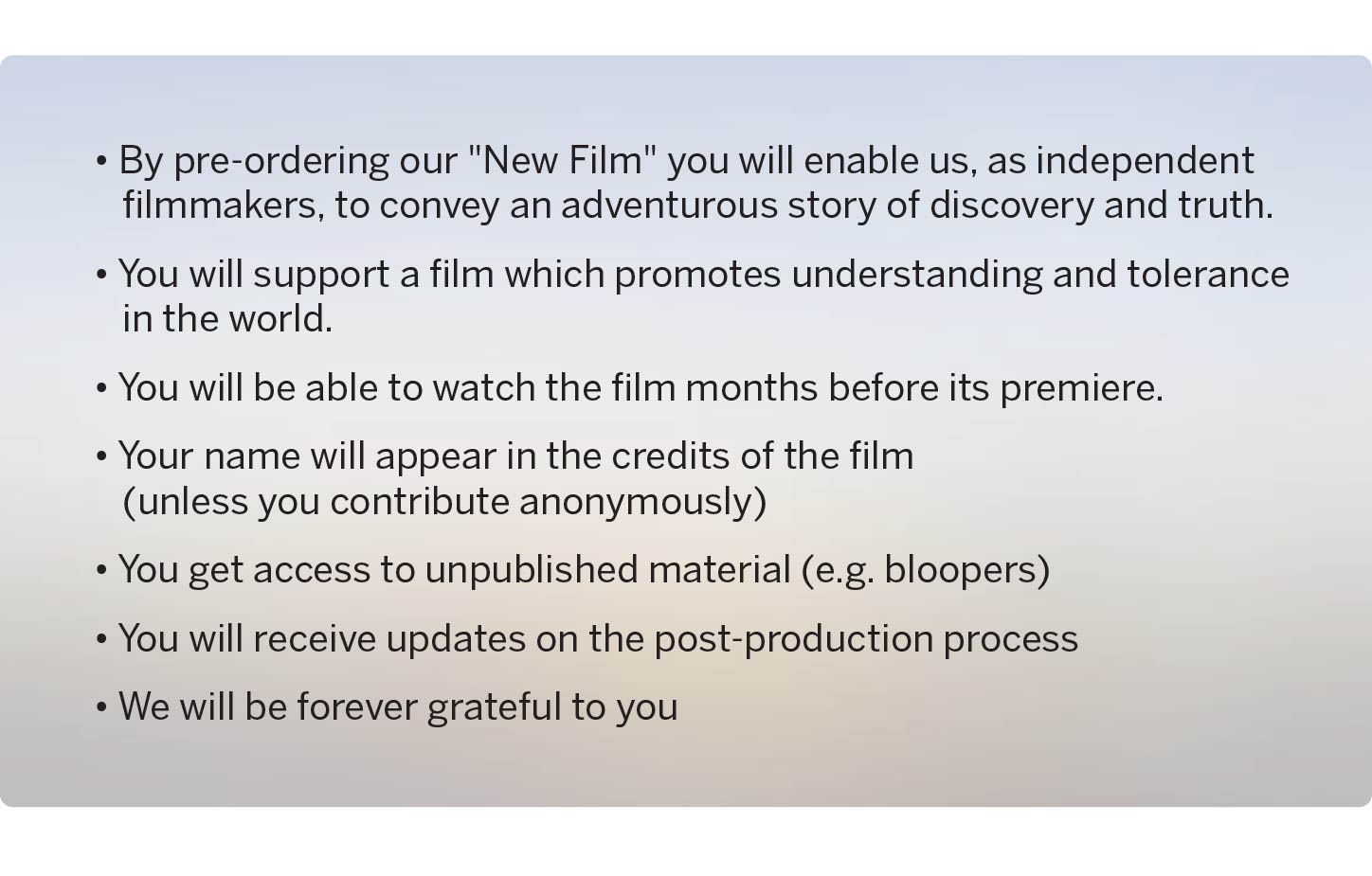 Josephine and Daniel have just returned after another three years on the road traveling the Americas and Africa! This journey concludes Daniel's attempt to circumnavigate the world by motorcycle - only making money for the trip along the way!!
Oct 30th - We have reached 100%
Thank you all so much for your interest in our film project, our journey and your trust. We very much appreciate your contribution and will continue to work hard to make the best film we can.
Nov 12th - The campaign has ended at 132%
We will put the extra 32% in hiring up-and-coming live musicians to help create an even more powerful soundtrack for the new film. We will also professionally master the soundtrack and gift it to all those contributors who pledged before the campaign's deadline.
Continuation
To stay true to all backers who contributed before November 12th, all except two perks have been made unavailable. If you still like to supporting our project, you are welcome to pre-purchase a download link or a DVD. Every extra bit of cash will go directly into making the film better. Thank you.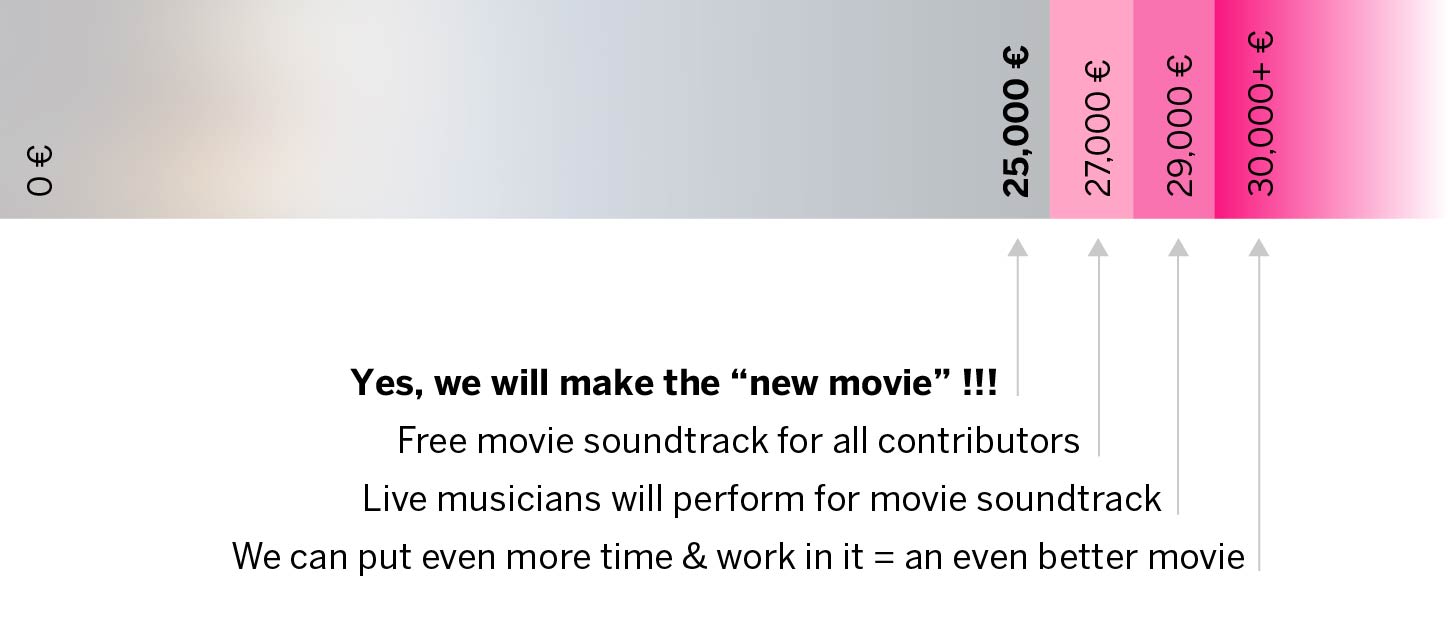 CHECK OUT OUR PERKS
5€ - Thank you note

We will send you a personal thank-you email, write about what making this film was like and attach some photos for you to have a look behind the scenes.
15€ - Movie Download

We will send you a full HD, high resolution movie package download link so you can enjoy the film from the comfort of your home. This option will even allow you to watch the movie offline so you can take it with you and watch it with friends. We will collaborate with dreamracer.tv / Shift72 (for Android and iOS) to make sure you have the best viewing experience.
25€ - Movie Download + Multitool

(1) can opener
(2) knife edge
(3) srewdriver
(4) ruler
(5) bottle opener
(6) four position wrenches

(7) butterfly wrench
(8) saw blade
(9) direction ancillary indication
(10) two position wrench
(11) lanyard hole
(12) CODE engraved + your email = movie
We will send you a full HD, high resolution movie package download link and this very cool multitool that fits in your wallet, next to your credit card. This multitool has a code engraved which will enable you to login and watch our new movie where you go. How's that for survival? We will send the multitool after the campaign ends and the download link when we've finished working on the film.
30€ - DVD + Download

We will send you a nicely designed DVD package, so you can place it on your shelf, next to your other adventure movies. This includes a download link so you can log in and watch it when you're away from your DVD player.
40€ - Blu-ray + Download

We will send you a nicely designed Blu-Ray Disc package, so you can watch it in stunning HD over and over and place it on your shelf next to your other adventure movies! This includes a download link so you can log in and watch it when you're away from your Blu-ray player.
50€ - Movie Bundle

This includes both, our previous movie "Somewhere Else Tomorrow" and "the new movie" (as yet untitled). We will send you DVDs or Blu-ray discs - it's your choice. This also includes the download option. You will receive a download link for "Somewhere Else Tomorrow" right after the campaign has ended. So you only have to wait for "the new movie"!!
75€ - Calendar + Movie

This includes a beautiful calendar for 2018 featuring our best photos. We'll get the calendar to you in time for Christmas this year!! The movie download will follow later.
150€ - Book + Movie

This is a big one! We have never offered anything like this before. We experienced many mind-blowing adventures that we never had the chance to capture on video. We have been sitting on these stories for too long. We are writing a beautiful coffee table book filled with these adventures and packed with our very best photographs. Inside you'll also find both films in either DVD or Blu-ray format - your choice which. Download links to our films are also included. We want to make this as beautiful as possible, therefore we will focus on making the book after the film is finished. We appreciate your patience, we think it'll be worth the wait.
200€ - Movie + Charity

In this package you can chose from a download link, a DVD or a Blu-ray of our new movie, and half of your contribution will go to those who need it most. Throughout our six-year journey around the world we have met many who are fighting for their lives every day. In some cases we've helped by donating money, other times by helping repair or create something. In three particular cases we've stayed involved over the years. These include a small minority group in Pakistan, The CYF orphanage in Nepal and Integral Heart Foundation in Guatemala. A couple of times the noise our adventure made in the media helped channel funds in their direction (e.g. earth quake disaster in Nepal, 2014). We will send you photos and information about how your donation makes an impact.
250€ - ADV Consulting + Movie Download
Are you planning an epic trip? Do you have questions, doubts or fears about how to tackle life on the road? Take advantage of Daniel and Josephine's travel experience (almost 20 years combined)!! We will sit down with you and chat over Skype, Whatsapp, Facebook Messenger, Facetime or similar technology (up to 2hrs) to help you through your planning phase. We will send you a PDF including all the topics discussed so you're best prepared and knowledgeable about: Navigation, Border crossings, Packing, Route planning, Cultural idiosyncrasies, Traveling solo vs. with a buddy vs. as a couple, Money, Accommodation, Photography, Videography, Blogging, Health, Safety, Shipping vehicles, Staying in touch, Traveling as a woman and much more. A must for the adventurous traveler!! This perk also includes a movie download of course.
500€ - Movie Night

Do you want a personal screening of the new film? With this perk Daniel (and possibly Josephine, if her work schedule allows) will come to your home and host a screening of the film for you and your friends! And we will answer all your question you may have about travelling the world or our movie.
I will travel world-wide, pay for my accommodation and food, but I will need you to cover travel cost. Depending on where you are, this could only a few bucks for gas money, or a flight ticket. Feel free to get in touch with us for more info. This perk is only available ten times.
Do you want to impress your clients or employees? Are you running a cool cinema, a company, a travel agency or similar – with this perk I will screen the film and inspire your audience with an motivational talk. Choose the "Movie Night business" perk = 900€
1.000€ - The lot + Associate Producer

Want to put your name on our new movie? You'll be listed in the credits, up at the top with our production team and also on IMDB. Wouldn't that be a nice way of immortalizing your name? You'll also get the following perks: multitool, DVD, Blu-ray, calendar and book!
CURIOUS WHERE THE FUNDS ARE GOING?

35% - Production of Perks

This will cover the cost of producing all the DVDs, Blu-rays, calendars, books and so on..

18% - Film Music

We are happy to have the very talented composer Sascha Knorr on our side again. He is working on this project way under his regular rate, but he can't work for free.

10% - Motion Graphics

A good adventure movie has to have some beautifully animated maps, right? And some cool titles too. Our good friend Tim Jockel will be creating these stunning graphics, but we can't ask him to work for free!

7% - Voice Over Artists

I already contacted the fantastic narrators we used in our previous film and they're in. Yes, more than one voice!! We have a German and an English narrator, one for each version of the film.

6% - Transactions

Credit Card transactions take a cut. Unfortunately Indiegogo does not offer a PayPal or Debit Cards option. Please contact me if you have any trouble with the payment process.

6% - Indiegogo Fee

Indiegogo is a great platform, but it costs money to run their services so they take a cut too.

5% - Taxes

Daniel is self-employed and the Indiegogo funds will count as an income. Subsequently, the government takes its cut

4% - Facebook

Our project needs to get heard and seen in order to reach the funding goal. So we're putting a little ad money into Facebook. You can help us spread the word too by posting about it on social media. Thanks for sharing!

3% - Marketing

We're filmmakers. We don't know anything about marketing, so we hired a person who can help us get the word out. He's good, but not free.

3% - Legal Fees

A lawyer needs to go over the film's content and make sure we don't infringe any laws - because that would cost us a LOT more money!

0% - The filmmakers - us!

Why are we doing this for free? Read on.
This is what Daniel and team are contributing
Neither Daniel nor Josephine will get paid by this campaign! Daniel will live off freelance jobs he's doing on the side. And Josephine will help keeping the lights on by working a full-time job. However both will be contributing their time, expertise and skills as filmmakers to this campaign. They will:
Edit the movie (we estimate for about 9 to 12 months)
Work with the composer and motion graphics artist to merge the story, sound and imagery to something meaningful
Transcribe, select and edit interviews
Create artwork for your perks and getting them manufactured
Sort, package and send all the perks to you, the backers
Why are we doing this for free?
We hope to be able to make some money back when the film is released but there is no guarantee that we will. We feel very fortunate to have had the chance to travel the world the way we wanted to. So we feel compelled to share our experiences with those who are unable to do the same. Also, we love making fun movies!
Please help us share our stories in the hopes of spreading a little peace and understanding. We live in a fascinating and multicultural world and by having a more honest look at each other hopefully we can build more trust, patience and acceptance between each other.
Thanks for your support!
Josephine, Daniel and the Open Explorers Team
MEET THE TEAM:

| Daniel Rintz & Josephine Flohr | Kristian Bruun | Sascha Knorr | Tim Jockel | DieFilmagentur |
| --- | --- | --- | --- | --- |
| adventurers, directors, producers, writers, editors | co-producer, co-writer, advisor | music composer, advisor | motion-graphics-artist, advisor | co-producers, consultants, creative advisors, support |