They say you can never go home again, Once You Leave.
We're looking for home.  Our home is a community to share Once You Leave with because we believe you will fall in love with this uncompromising and personal  story about the indomitable human spirit.  We hope it will change the way you feel about online content.


Hi. We're the filmmakers of Once You Leave, the media project
.
We are a small group of independent filmmakers and actors in Austin, Texas.  The majority of our crew and some of the cast either currently is or were former students of Austin Community College in Texas.  Producer/Director, Nate Locklear loves working with students because they are always eager to learn, are hard workers and it gives them a chance to attain some "real world" experience.  

  Y

ou might recognize Nate and fellow producer, Kayla Olson from the hit Texas PBS show, The Daytripper™.

 

Nate was the Emmy® winning cinematographer and co-producer for the show and Kayla worked as the intern.

  

Inspired by being out on the road during the The Daytripper™ they decided to take a break from informative travel comedy to create a 12 part dramatic series for the web about a woman that hits the road to find a home, loses everything and instead has to find herself.  Principle photography is wrapped and we have now entered into post-production but the cost of production was high, as you can imagine and we're still incurring costs everyday, we need your help. 

We need to raise $7,777 
to cover the cost of production & post production expenses including:
- more media storage (we had one crash recently)
- music creation for the series, 
- marketing efforts including hiring a publicist and PR professional, 
- hosting a Once You Leave premiere event, 
- web series festival submission fees and travel
- and getting some "deferred" pay to our crew, some of which worked for free for over a year.  
Without this funding 

Once You Leave (and its media components) won't be able to fully make it to the web as it should and therefore not reach the audience that so deserves it.  Not only will you be entertained by this series but we feel many of you will identify and connect with the characters and like we mentioned above, fall in love.  So we're turning to our strongest supporters to ask for contributions. In exchange, we're offering Sponsorship and Executive Producer credits to be added to each episode and contained on our site, a Skype™ session with Nate and Kayla, a personal invite to the premiere event, a digital download of the entire series and a gift package full of photos, trailers, behind-the-scenes material and more!!! Your contribution will help us get a foot-hold on our expenses and really "do it up right" in post production and marketing, oh and feed some starving artists that busted it for over a year on this intense project.  Furthermore, it will help bring Once You Leave online and show audiences that the web can be about serious and meaningful work too. 
Thanks!
Ways You Can Help
1. You can make a financial donation. If 150 people donate $50 we would practically reach our goal.  And even with the lowest donation amount you become part of this project with your name in the credits.

2. You can donate on the Supporters section in our web site.   There are several other ways to donate and/or contribute such as catering a Once You Leave premiere party, sponsor an individual episode or buy advertising space on our site. 


3. You can help spread the word. If this isn't the right time for you to contribute don't worry, you can still support Once You Leave by telling your friends about this campaign. Just emailing this video to 10 friends, reposting on your Facebook page, or Tweeting about it could make a significant difference.
-------------------------------------------------------------------------------------------
More Info

Once You Leave is not only a series but an entire
online multimedia experience
.  The story is divided into
MULTIPLE
 COMPONENTS
(or Phases).
a blog or journal from the point of view of a crucial character in the
Once You Leave
story detailing her day-to-day life leading up to the first episode.  The blog will give useful back story for Rachel and our main character, Kayla, foreshadow upcoming events, contain links to relevant videos, songs and other material like inspirations and funny clips. And it is all presented in an artistic way with photographs (from our set photographer L.A. LeJeune Photography) and video from the series specially designed for the blog.
Phase II:
 episode 0.1: "before I come home to you" (online comic book)  (coming Fall 2011).
A one shot comic book detailing Kayla's return from the Peace Corp up until she walks up to her mom's house in episode 1.  The story is by Nate Locklear, illustrated by Karla Moya.
Phase III:
Once you Leave
a 12 part series (coming Fall 2011)
Lost and alone, Kayla must contemplate her next move. Where do you go when the road has run out? How did she get here? She retraces her steps, haunted by shadows of her past and confronted by demons in her present. On the road she must face the reality of lost, unrequited love, the dark hearts of men and dream-shattering disappointment. Will Kayla find the strength to go on, to find herself, to find her home?
They say you can never go home again, once you leave.
Phase IV: Behind Once You Leave (coming Fall 2011)

Short webisodes (online episodes) showcasing the making-of Once You Leave.  All the drama, the laughs, the sweat, the tears and the magic that went into making this intense project will be revealed.  These videos were shot and produced by team member Kevin Harris.
There is also the online photo gallery (coming soon) of the behind-the-scenes stills taken by L.A. LeJeune Photography.  Many of the photos are already available for viewing on our FaceBook page.
And finally,a For Now Productions blog (coming soon) will reveal more info into the making of the series along with the photos and video not contained in the webisodes and a personal recount of the project directly from Nate Locklear.  
So we hope that if you fall in love with the series you will then investigate the entire multimedia experience (but you don't have to wait till the series comes out) and have tons more material to digest and fully understand the world that is Once You Leave.


Still Not Sold, Need Even More Info?
(a personal note from Producer/Director, Nate Locklear)
Creating art is tough work...

 Creating art that is also popular, influential, relevant, timeless and marketable is a feat of indescribable dedication, talent and sheer will.  They say to write about what you know and write about what scares you.  Loss, loneliness, regret and missed opportunities are subjects we all know too well.  But we keep fighting because we all have the hope that it will get better, we hope that we will find where we fit in, our home.  
I love films and media and more importantly filmmaking.  I truly feel this is my life's calling.  Nothing else compares to directing two energetic actors, or working through a hard lighting set up with a gaffer or constantly questioning and contemplating the "right" edit for a scene but then finding the "perfect" cut.  I was never in this for the money and fame of Hollywood but in it because I quite often absolutely fall in love with a film and grab everything I can from it.  I watch it in the theatre, I tell everyone I know about it, I buy the soundtrack, the poster, then the DVD when it releases.  I go to the website and read the bios, watch the trailers and the behind-the-scenes material.  I completely absorb all that a film has to offer and I love it.  My goal as a filmmaker is to just have one person who, like me for other films, completely becomes enamored with one of my films/projects.  That's all it would take for me to feel like I had done my job, one dedicated fan.

 

We have a handful of talented filmmakers helping with this project.  And, like we mentioned above, most of which are current or former Austin Community College students.  Some of our crew:

Kayla Olson- our star, co-creator and producer.  Kayla has been a student at ACC and now works as a TA for the RTF department.  Kayla is a talented actress appearing in commercials and short films.  She is also a film student that is now shooting her own projects.  She is very dedicated to all things film and always tried to laugh and make others laugh on set.  I love it when Kayla gets excited about a project because her big eyes sparkle and she gets all giddy.  Kayla and I are best buds and will be for a long time.  

Jason Massey- Producer, Asst. Dir, Web Designer.  Where would I be with out Jason?  Well, we would not  have this series to start.  Jason was new to being an Asst. Director but caught on very quickly and became the best AD I have ever worked with.  He was always the first to arrive and last to leave and kept a great attitude throughout, even when we were dog tired after a 15 hour day.  He often contributed his own money to the shoots and of course his time to practically everything and he has developed an awesome web site. 

Lyndsey LeJeune- Associate Producer, Still Photographer, Additional Writing.  Lyndsey is an artist in every sense of the word.  She has been a writer and photographer for many, many years.  I love her photography.  We had been friends for a couple years before we started this project, we actually met because she was wanting to get more involved with filmmaking.  And that she did... She did an amazing job on set capturing the magic and also was always helping in other tasks on set.  She has many ideas of her own and I can't wait to see them captured.  And she is a mother to a very talented six year old who has a huge role in an episode of our series.  

Kevin Harris- Producer, BTS Producer, B-Camera- Kevin used to work with me at ACC in the film department.  He is a truly great collaborator.  He has been making films for several years and also runs a pretty successful videographer business.  Not only is he a hard worker but he is also always cracking jokes on set which kept  everyone in high spirits.  I can't wait to see what Kevin does with all the BTS footage.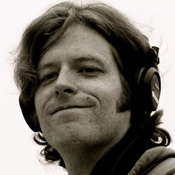 Ken Dvorak- Audio Technician, Additional Craft Services- Ken is an interesting guy.  He's often very quiet and calm but you can tell he's working something out.  Ken strikes me as a jack-of-all-trades able to work in various positions on sets.  He has been shooting and working on several documentary projects and industrial videos lately and always ready to work.  As our audio guy he shined.  His calm demeanor always kept me at ease during stressful shoots.  It was nice knowing that everything on the audio side of the project was taken care of. 

Cody Johnson- Asst. Camera, Gaffer/Grip- whenever anybody mentions Cody they always say the same thing, "I love Cody."  And he deserves that.  He is a great guy to have on set.  I refer to him as "Code Red".  He has been working with me for many years, a For Now Productions veteran.  Another person with a calm demeanor, Cody has really grown to understand not only how to light a set but how to light a mood.  Cody is also a very accomplished filmmaker with several short films under his belt.  I can't imagine doing a film without his expertise and I hope I never have to.

Eric Anschutz- Grip, Production Asst., Actor- when Eric played "Tim" in our first episode I nearly split a seam at the end of each take.  He was hilarious.  He never did a take quite the same way but stayed with the original intent.  All while holding a box of greasy fried chicken.  Besides being a great actor, Eric is also a filmmaker.  He often competes in the 48 hour film project competitions, has made several short films and is currently in development of a TV show.  His ambitions are high and I know he will succeed in whatever he sets his mind to.

Laura Johnson- Asst. Music Producer- Not only is Laura a life-long learner and filmmaker but also a mother of two teenage girls.  One of which, Stirling is a tremendously talented singer/songwriter who is doing some of the music for Once You Leave (trust me when you hear her music you won't believe she's a teenager).  Laura is usually in high spirits and always remains extremely enthusiastic about the project.  She even helped pass out flyers and put up posters during the SXSW Film Fest this year.  She has been working hard to find music for the series and it's not an easy job, especially when you have little to no money to offer musicians and hope that credit is enough.  Plus she is new to the job of Music Producing but she loves it and always busts it to find the right fit.  She's been invaluable.    
We had several other people helping out not to mention all the "significant others" putting up with our long weekends and tight schedules.  Plus we had a tremendous cast.  
I am grateful to all the amazing people that contributed to the making of this project.  It took us about eight months off and on, mostly on weekends with long 15 hour shoots and a very small crew.  We survived through weather changes, break-ups, deaths in the family, some actors canceling at the last minute (none of the ones that made it into the series though, they were great), lost locations, losing jobs, poison ivy, freezing water and just plain drama but we all remained close friends and made something special.  
We can't wait to share it with you...  See you soon.