For those who speak french: Si vous voulez accéder à la version française, il vous suffit de descendre un peu plus bas. 
Introduction
Since 2008, the non-profit organization Olympe provides its more than 90,000 users with efficient free web hosting services without ads. Individuals, organizations, companies and public administrations are able to quickly and easily publish their corporate websites, blogs, forums and business apps. The Olympe team is made up of hard-working and highly skilled volunteers that take part in a  large community whose core activities are website creation, development and free softwares.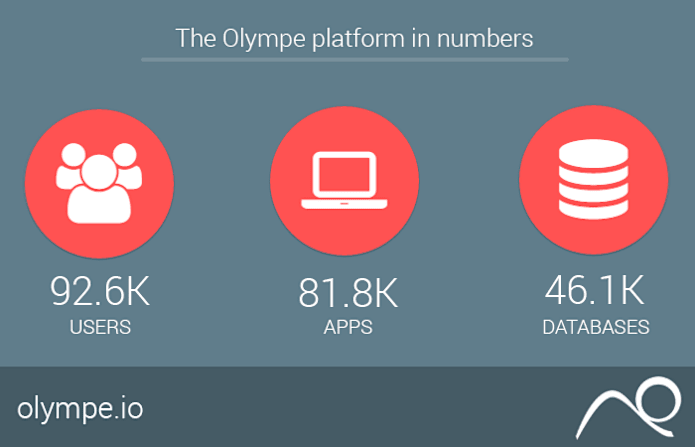 hroughout these last years, the Olympe web hosting service and its community has evolved, particularly to meet the ever increasing demand for innovation and quality. With the arrival of new users with extremely diverse profiles,
our association had adapted not only its offer but also its communication tools and its way of providing assistance to webmasters and developers
using its services.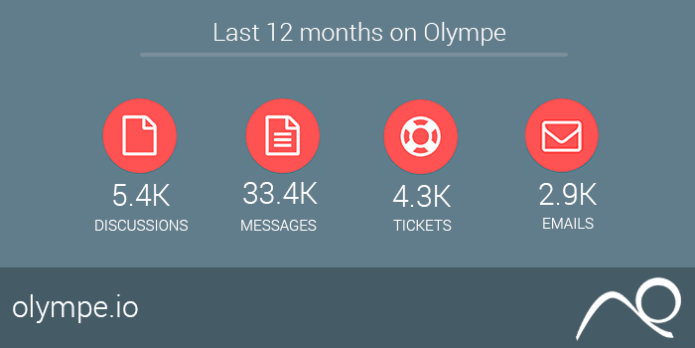 Funding goals
Self-funded by partners and team members, our association is undoubtedly in a difficult financial situation since the takeover of our main sponsor by a company that no longer wishes to contribute to financing our services. Our team has worked on solutions allowing Olympe to gain genuine autonomy and guarantee the longevity of this project.
The purpose of this crowdfunding is simple: save the association by giving life to a realistic future project. Investing in the quality of service, innovate on features and find a new business model to ensure stability while respecting our values ​​and what made the success of our services.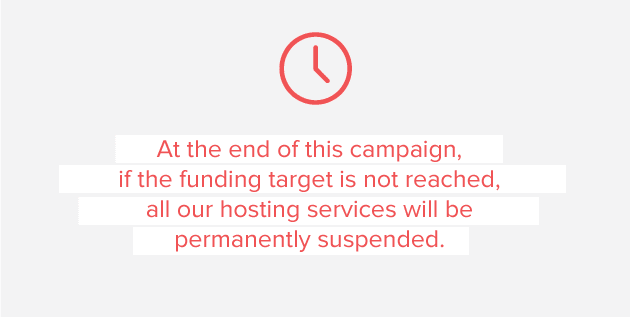 Offers

The free offer Olympe.io
Only
one free offer open to everyone
will be available on the Olympe.io launching, it will include (non- exhaustive list):
Languages: PHP, Python, Ruby, NodeJS, Java et PERL
Databases: MySQL, PostgreSQL, MongoDB, SQLite, CouchDB, Neo4J
Unlimited disk space (reasonable, minimum 2Gb)
Access: SSH, SFTP, Git, SVN, Mercurial, Dropbox, Drive
Buy domain names, certificates and manage DNS
Mailboxes POP/IMAP/SMTP, antivirus/antispam et filters
Detailed statistics and cloud services (messaging, calendars, contacts)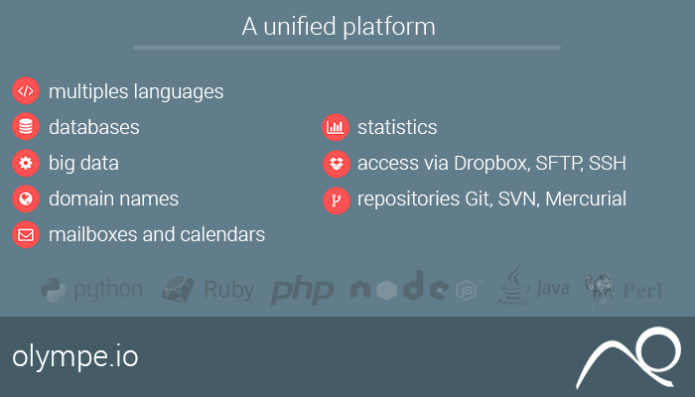 The other offers
Because the association has to rebound and ensure that the services will be maintained after three years (the budget of this crowdfunding), Olympe must find a model allowing it to self-finance its infrastructure. This model is simple, for each application deployed on Olympe you will have 4 levels of service,  whose the first one only will be free. You will be completely free to activate the level of service that suits you best.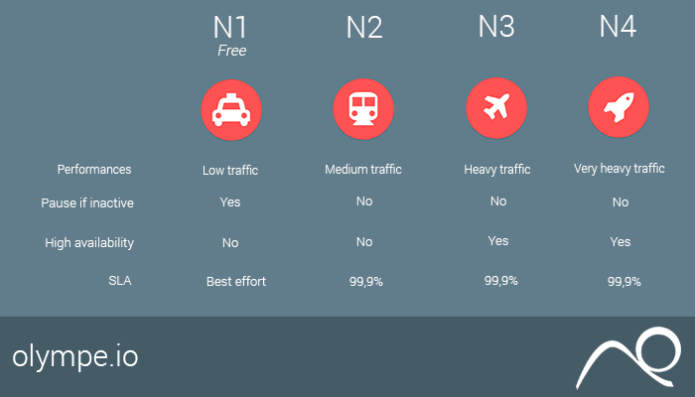 Service
Introduction
By definition, Olympe is a platform open to very different audiences (developers, webmasters, beginners etc.), the original idea of ​​Olympe.io is the segmentation of the user interface according to the needs of each type of user. Even if the offers and the features remain similar for everyone, the way of presenting resources and capabilities will fit for your goals.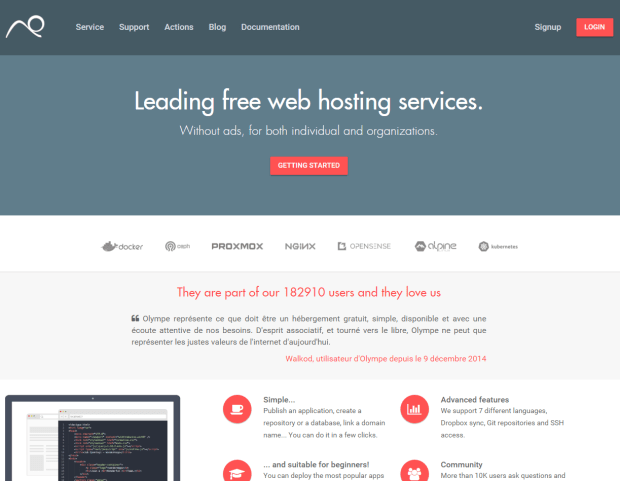 The services provided by Olympe.io will be innovative and intuitive, guided by a rich roadmap and by our well-experienced team members. The purpose is quiet clear: to provide one of the best web hosting services in the world, for free and without advertising.

Main features
Olympe allows you to deploy many different applications in multiple languages. With a custom source code or pre-packaged, you are free to choose what you want to do.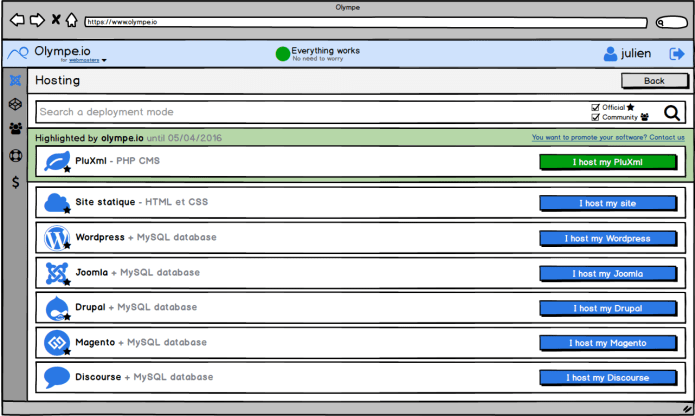 This is a "mockup", it shows only the functional part and does not reflect the design of the page as it will be developed.
The platform allows you to manage your application, its deployment, its resources and check in real time its status.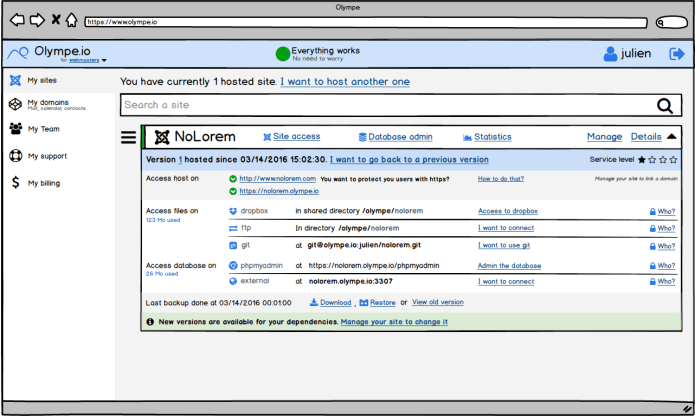 This is a "mockup", it shows only the functional part and does not reflect the design of the page as it will be developed.
Olympe allows you to buy and easily manage your domain names and certificates. You can set your DNS records, your POP/IMAP mailboxes and your professional services like shared calendars, synchronized address books and files storage.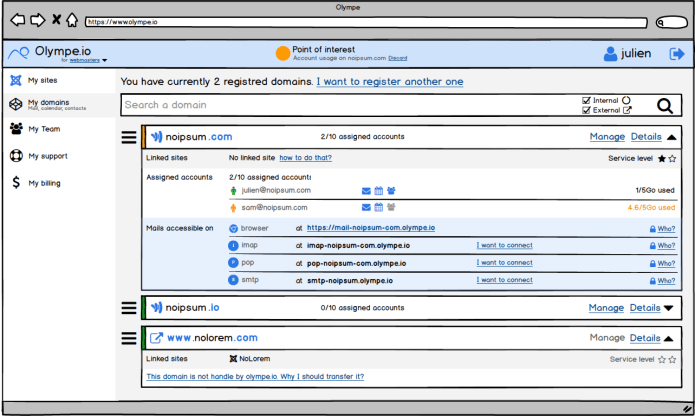 This is a "mockup", it shows only the functional part and does not reflect the design of the page as it will be developed.
Many other features will be developped and are scheduled in our roadmap, in order to make Olympe an essential free web hosting provider.
Infrastructure
We have fully reviewed our network and system architecture.  Spread across several datacenters located in Europe, it complies with the safety requirement regarding security of redundancy. 

We will only use Open Source technologies to build our own infrastructure. Among them, proven softwares such as Ceph, Proxmox, KVM, Docker, Kubernetes, Pfsense, Nginx and so on.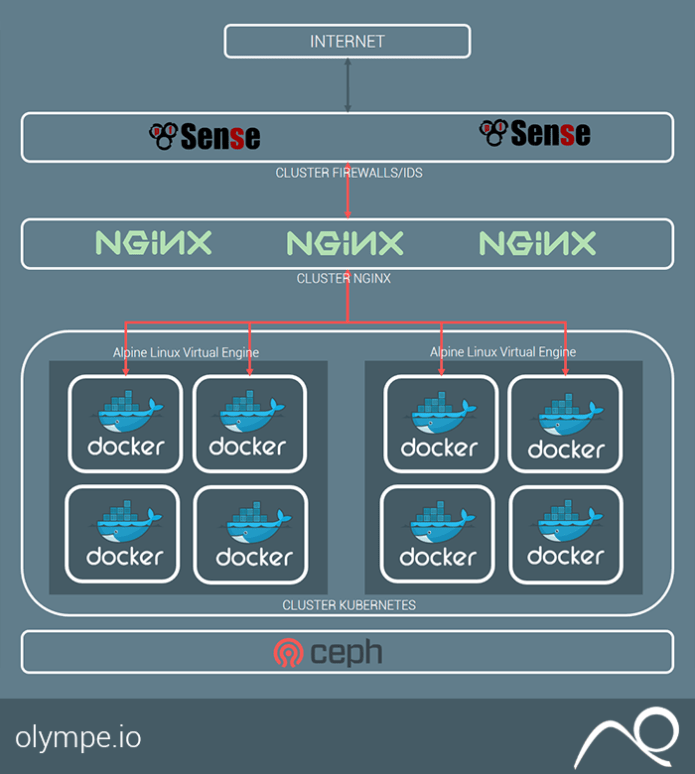 Openness
All our productions and business application are distributed under Open Source licences. We will document the whole creation process of the infrastructure and the development of the user interface and the REST API. Since 2011, Olympe participates in each world free software meetings (RMLL) and in many Open Source shows, so that it shares and discusses with the users and promotes the multiple actions of the organization.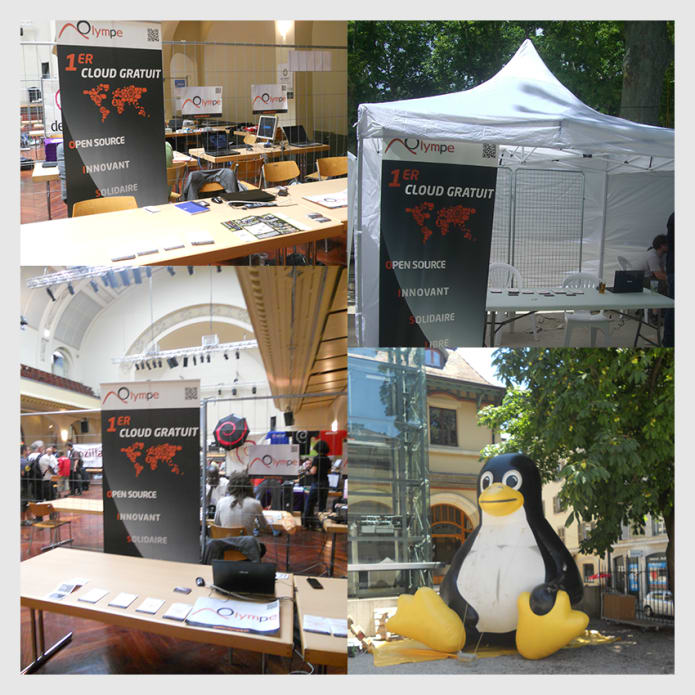 Roadmap
The roadmap of the association is planned over 3 years, including a gradual ramp-up of our activities. Some key elements:
June 2016: Migrations of the current users
September 2016: End of migrations, Olympe.io release for everyone
2016 T3: Professional platforms & Ruy & Python
2017 T1: JAVA & NodeJS platforms
2017 T2: Educational services
2017 T4: Secured and encrypted services (messaging, TOR hosting etc.)
2018 T1: Machine learning services (big data, analysis etc.)
2018 T2: Self-funded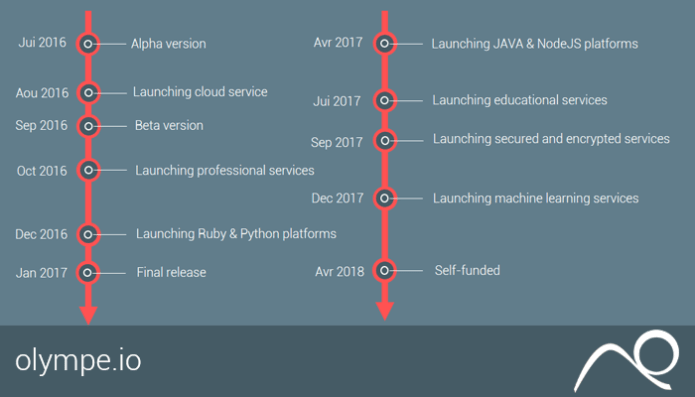 The budget
Partners
Our costs are greatly reduced thanks to our longstanding partner Interxion France, who graciously provides us with space and bandwidth in Paris and Marseille datacenters. A huge thanks to them!



Forecasts
With the savings achieved thanks to Interxion, we established a simplified balanced budget for the next 4 years. We will publish in complete transparency every three months a regular report on the financial situation of the association.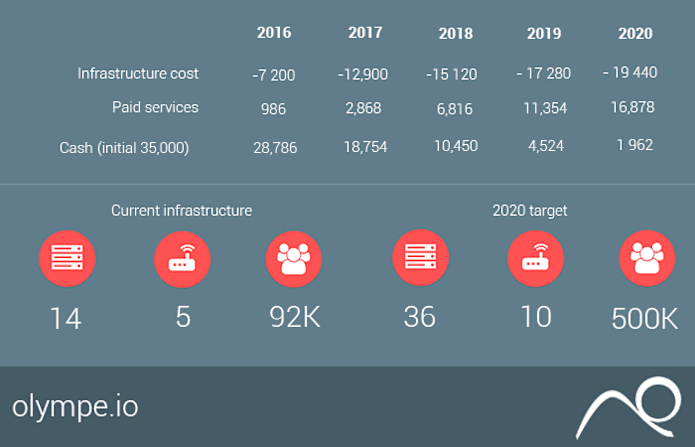 Steps
Depending on the funding level of this campaign, the team will deploy more innovating services and offer more guarantees. The steps are used to accelerate our general roadmap because we can focus on the development of certain services without the risk of pushing the break-even point.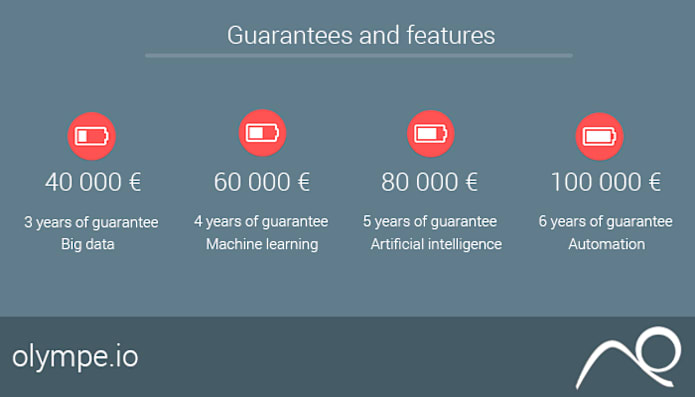 The team
The non-profit organization Olympe has a team composed of very talented volunteers. Come and join us!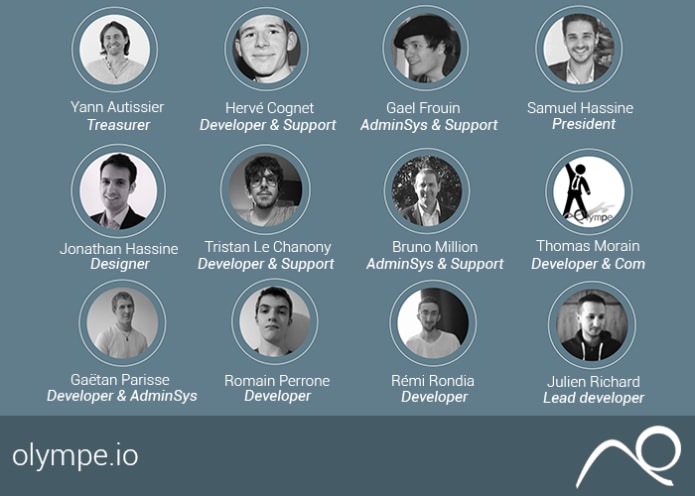 Conclusion
All the Olympe team is determined to carry on the platform development and to keep providing a high-quality web hosting service. We wish to remain alongside our users to offer them the best support we can in the creation and deployment of their websites and applications. Help us make it a reality by contributing to this crowdfunding campaign. Many thanks to all of you!
Frequent questions
1)  What will happen if the goal of this crowdfunding campaign is not reached? All contributors will be automatically refunded and the Olympe web hosting services will be permanently suspended.

2) How will unfold the transition between current Olympe and the new Olympe.io? If the campaign is successful, the current service will be maintained during a gradual transition, allowing the team to develop the new architecture and development tools . The goal is that all ebsites will be migrated before the end of summer 2016.
3) How the delivery of the perks will be done? For each perk, an estimated delivery date is available in the description. In all cases, you will be contacted by email so we could give you all the information about the perks and collect essential data for their delivery (size for t- shirts, delivery addresses etc.).
4) This fundraising allows you to ensure the infrastructure availability during three years , and after? The aim of the funding is to save the association and its services. But the goal is also to build a long-term project based on solid foundations to self-finance our infrastructure thanks to levels of paid services, whose quality ensures users equivalent reliability to most important web hosting services.
5) I asked a question. Do I have an answer? We receive many questions every day and we do our best to reply as soon as possible. Do not worry, we will answer all of your questions. 
6) I tried to make a contribution, but it did not work. There are several reasons that may explain why you did not succeed to contribute. The following link  https://support.indiegogo.com/hc/en-us/articles/... provides answers to common problems. If despite this your problem is not solved  contact us and we will do our best to help you.
7)  What will you do with my email address? We do not receive contact information as the campaign is not over. During the campaign, we can only communicate with you using Indiegogo. When this crowdfunding will come to its end, we will receive from Indiegogo the contributors email addresses. We will use it only to send you information about your perk and about the project status.


Now here is the french version.

Voici le projet présenté en français:
Introduction
Depuis plus de 8 ans, l'association à but non lucratif Olympe fournit à plus de
90 000 utilisateurs
des
services d'hébergement performants entièrement gratuits et sans publicité
. Particuliers, associations, entreprises et administrations publiques ont ainsi la possibilité de publier simplement et rapidement sites institutionnels, blogs, forums et applications métiers. Forte d'une équipe de bénévoles déterminés aux compétences variées, l'association a, tout au long de ces années, animé une large communauté d'entraide autour de la création, du développement et du logiciel libre.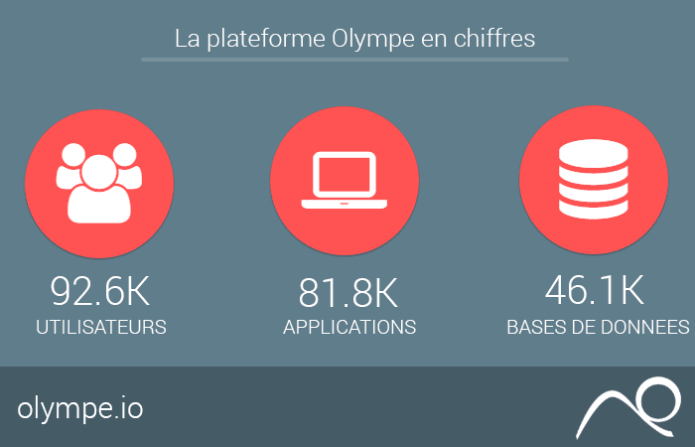 Depuis sa création, les services d'hébergement Olympe ainsi que sa communauté ont grandement évolué, notamment pour répondre à la demande toujours croissante d'innovation et de qualité. Avec l'arrivée de nouveaux utilisateurs aux profils extrêmement variés,
l'association a dû adapter son offre mais également sa manière de communiquer et d'apporter son assistance aux webmasters et développeurs
utilisant ses services.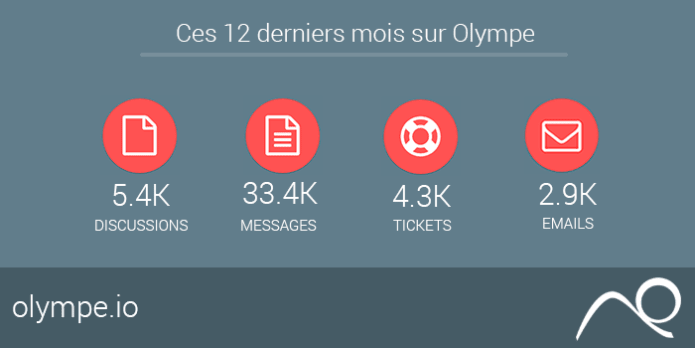 Objectifs du financement
Auto-financée par les partenaires et les membres de l'équipe, l'association se trouve dans une situation financière difficile depuis le rachat de notre principal mécène par une société ne souhaitant plus contribuer au financement de ces services. L'équipe a donc planché sur des solutions permettant d'acquérir une véritable autonomie et d'assurer la pérennité du projet à long terme.
Le but de ce financement participatif est simple : sauver l'association en donnant vie à un projet d'avenir réaliste. Investir sur la qualité de service, innover sur les fonctionnalités et faire évoluer notre modèle économique de façon à assurer une stabilité sur le long terme tout en respectant nos valeurs et ce qui a fait le succès de nos services.
Offres
L'offre gratuite Olympe.io
Une seule offre gratuite ouverte à tous sera proposée au lancement d'Olympe.io, elle comprend  (liste non exhaustive) :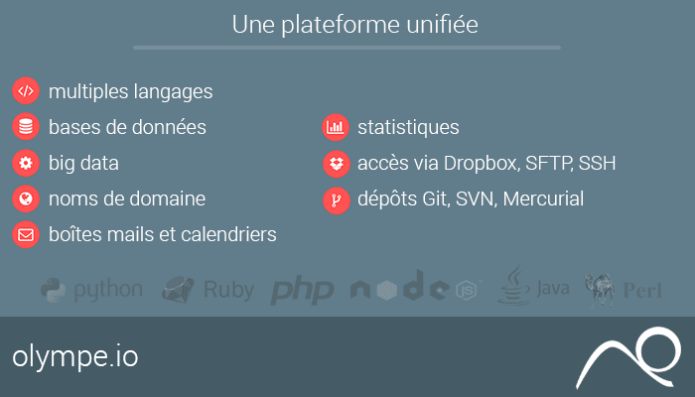 Les autres offres
Pour que l'association puisse rebondir mais surtout garantir qu'après les trois années de fonctionnement prévues par le budget nous soyons à même de poursuivre notre activité, Olympe doit trouver un modèle lui permettant d'auto-financer son infrastructure. Ce modèle est simple, sur chaque application déployée sur Olympe, vous disposez de 4 niveaux de service. Le premier est gratuit et les autres sont payants. Vous êtes libres d'activer ou non le niveau de service qui vous convient le mieux.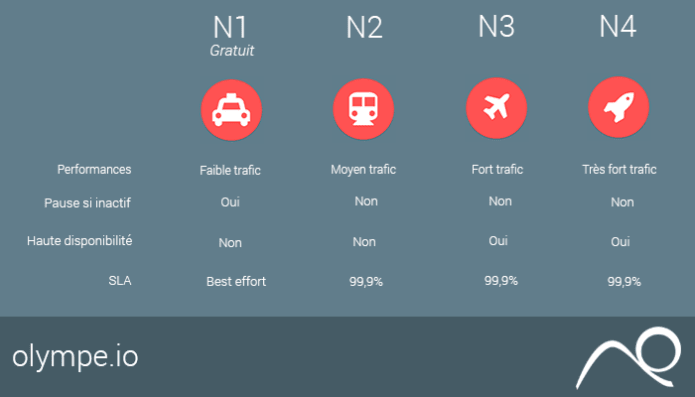 Par définition, Olympe est une plateforme qui s'adresse à des publics très différents (développeurs, webmasters, débutants etc.), l'idée originale d'Olympe.io est donc la segmentation de l'interface utilisateur en fonction des usages et des besoins de chacun. Même si les offres restent les mêmes, la manière de présenter les ressources et les fonctionnalités sera donc adaptée à l'objectif de l'utilisateur.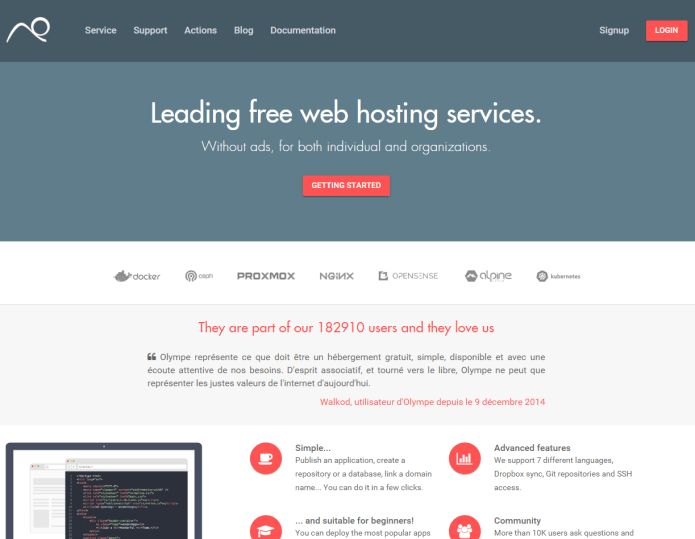 Les services proposés par Olympe.io seront innovants et intuitifs, guidés par une feuille de route riche de l'ensemble des compétences et expériences des membres de l'équipe. L'objectif est clair : offrir l'un des meilleurs services d'hébergement au monde, gratuitement et sans aucune publicité.

Olympe propose le déploiement d'applications variées dans de multiples langages: PHP, NodeJs, Python, ... Sur mesure ou préfabriquées, vous êtes libres de choisir ce qui vous convient le mieux.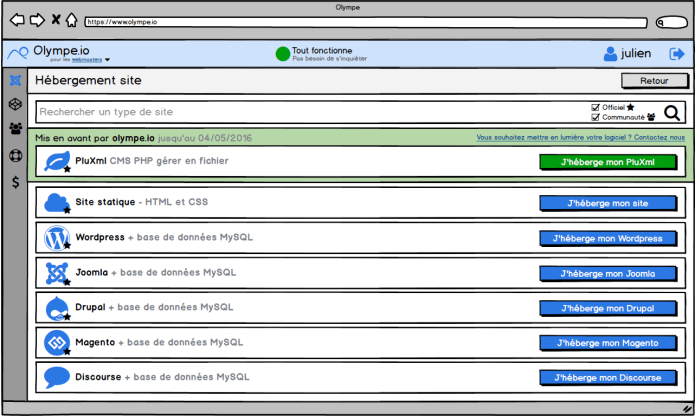 Ceci est un "mock", il reflète uniquement la partie fonctionnelle et ne représente pas le design de la page tel qu'il sera développé par la suite.
La plateforme vous permet de gérer très finement votre application, la manière dont vous la mettez à jour et de vérifier en temps réel son état général.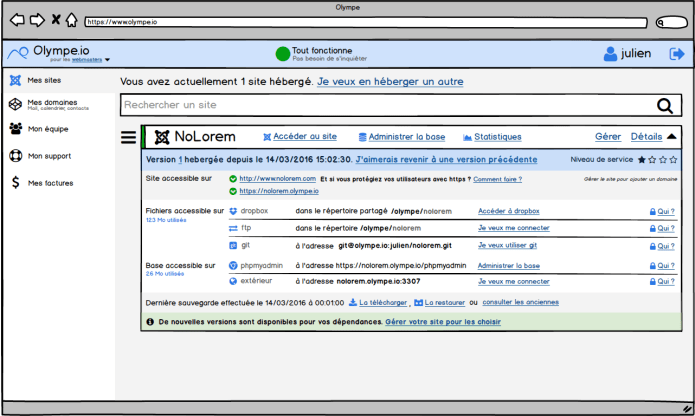 Ceci est un "mock", il reflète uniquement la partie fonctionnelle et ne représente pas le design de la page tel qu'il sera développé par la suite.
Olympe permet d'acheter et de gérer ses noms de domaine et certificats facilement. Vous pouvez gérer vos enregistrements DNS, vos boîtes mails POP/IMAP et vos services professionnels tels que les calendriers partagés, les contacts synchronisés et le stockage de fichiers.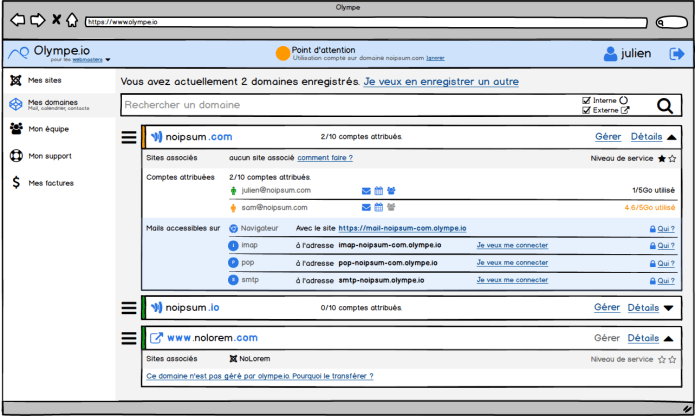 Ceci est un "mock", il reflète uniquement la partie fonctionnelle et ne représente pas le design de la page tel qu'il sera développé par la suite.
De nombreuses autres fonctionnalités sont prévues dans notre feuille de route, pour que le service d'hébergement gratuit Olympe devienne incontournable.
Nous avons entièrement redessiné notre architecture système et réseau. Répartie entre plusieurs centres de données situés en Europe, elle répond à des objectifs de sécurité et de redondance stricts.

Nous n'utiliserons que des technologies Open Source pour construire les briques de notre infrastructure. Parmi elles, des logiciels reconnus tels que Ceph, Proxmox, KVM, Docker, Kubernetes, Pfsense, Nginx et bien d'autres.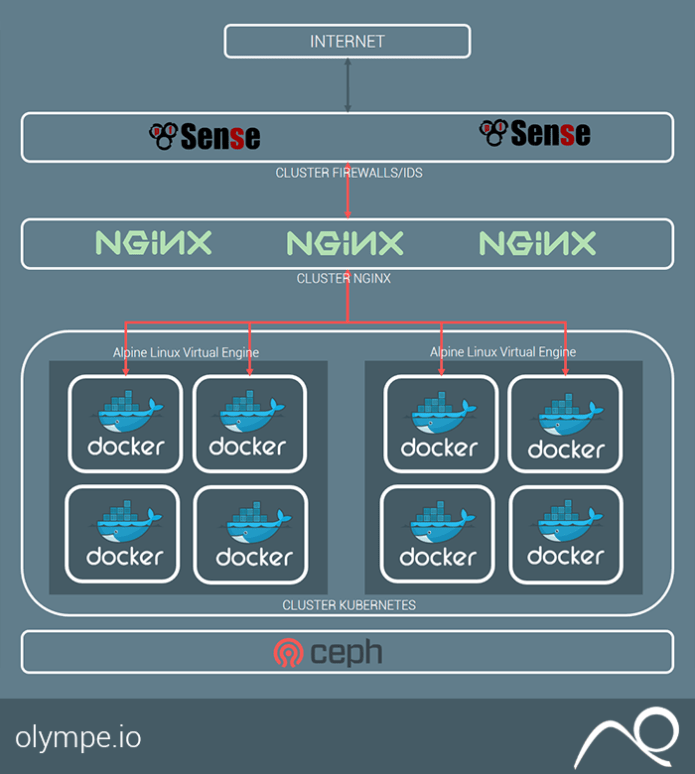 Ouverture
L'ensemble de nos productions et de nos applications métiers sont
distribuées sous licence Open Source
. Nous allons documenter l'ensemble de la création de l'infrastructure et du développement de l'interface et de l'API. 
Depuis cinq ans, Olympe se rend à chaque édition des Rencontres Mondiales du Logiciel Libre (RMLL) et participe à de nombreux salons du logiciel libre, l'occasion pour l'équipe de discuter avec des utilisateurs et de promouvoir les actions de l'association.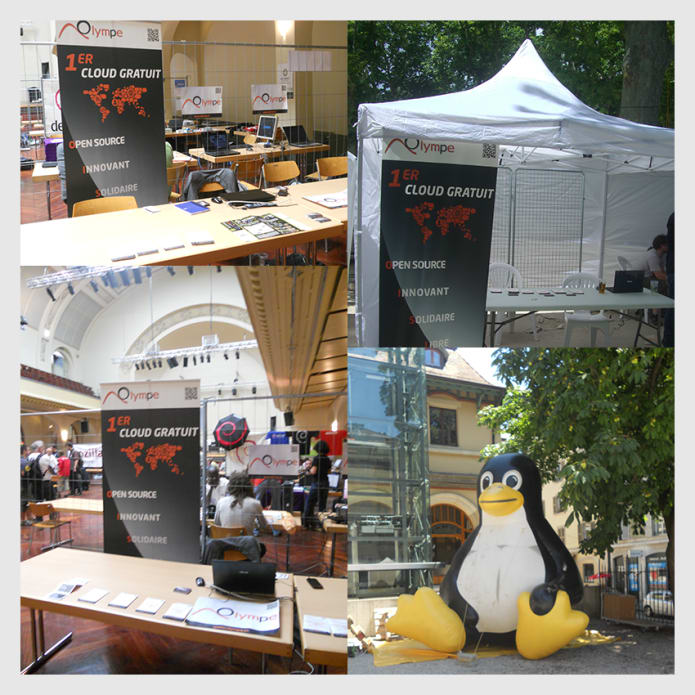 Feuille de route
La feuille de route de l'association est prévue sur trois ans, avec une montée en puissance progressive de nos développements. Quelques éléments essentiels :
Juin 2016 : Migrations progressives des utilisateurs actuels
Septembre 2016 : Fin des migrations, ouverture d'Olympe.io au public
T3 2016 : Plateformes professionnelles & Ruby & Python
T1 2017 : Plateformes Java & NodeJS
T2 2017 : Services éducatifs
T4 2017 : Services chiffrés et sécurisés (messagerie, hébergement TOR etc.)
T1 2018 : Services de machine learning as a service (big data, analysis etc.)
T2 2018 : Auto-financé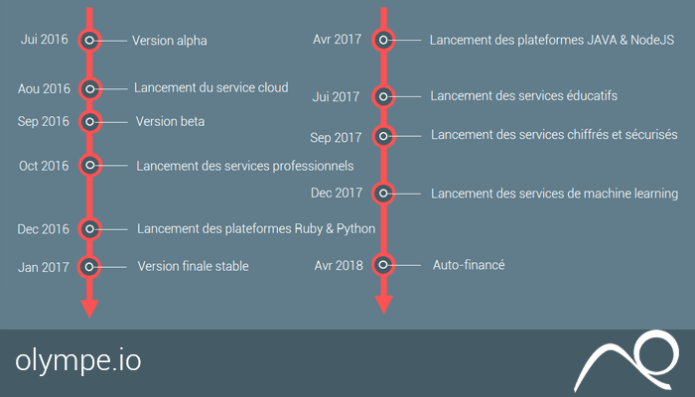 Le budget
Partenaires
Nos coûts sont considérablement réduits grâce à notre partenaire historique Interxion France
, nous fournissant gracieusement plusieurs baies ainsi que de la bande passante dans des centres de données parisiens et marseillais. Merci à eux !

Les prévisions
Avec les économies réalisées grâce à Interxion, nous avons pu établir un budget prévisionnel simplifié équilibré. Nous publierons en toute transparence tous les trois mois un rapport régulier sur la situation financière de l'association.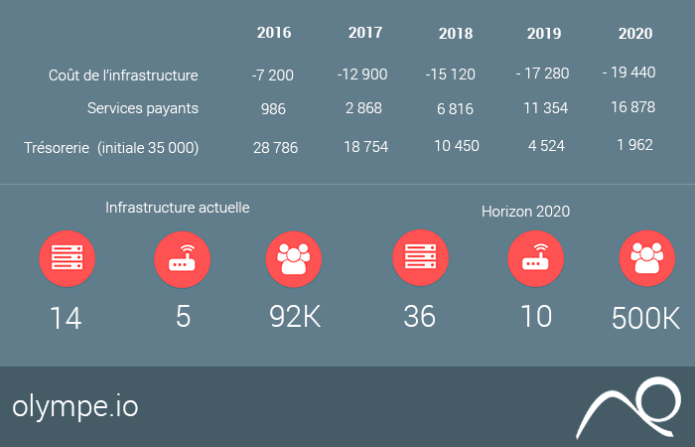 Paliers
En fonction du niveau de financement de cette campagne, l'équipe mettra tout en oeuvre pour déployer des services toujours plus innovants et offrir plus de garanties. Les paliers servent à accélérer notre feuille de route de manière générale car ils permettent de se concentrer sur le développement de certains services sans prendre le risque de repousser le point d'équilibre financier.
L'équipe
L'association Olympe est constituée d'une équipe de bénévoles aux compétences variées. N'hésitez pas à nous rejoindre !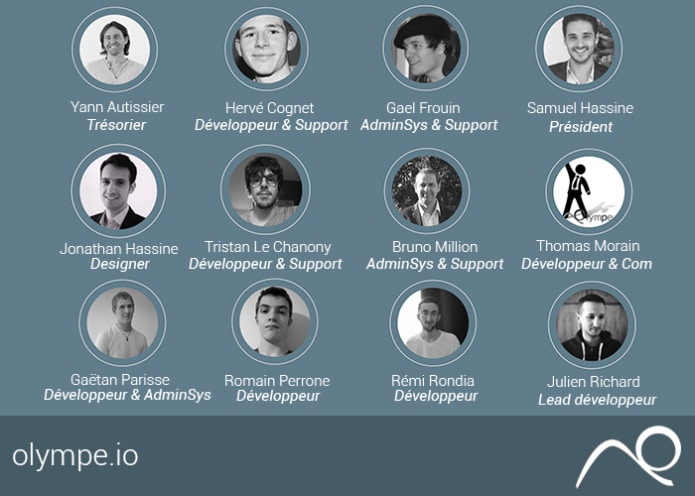 Conclusion
Toute l'équipe Olympe est déterminée à poursuivre les travaux de développement de la plateforme et continuer à fournir un service d'hébergement de qualité. Nous souhaitons demeurer aux côtés de nos utilisateurs pour les accompagner au mieux dans la création et le déploiement de leurs sites et applications.
Aidez-nous à rendre cela possible en contribuant à ce financement participatif
. Merci à vous tous 
!
Questions fréquentes
1)  Que se passera-t'il si l'objectif de cette campagne de financement n'est pas atteint ? L'ensemble des contributeurs seront automatiquement remboursés et les services d'hébergement Olympe seront définitivement stoppés.
2) Comment va se dérouler la transition entre Olympe actuel et le nouvel Olympe.io ? Si la campagne réussit, le service actuel sera maintenu le temps d'une transition progressive, permettant à l'équipe de mettre en place la nouvelle architecture et de développer les outils. L'objectif est que l'ensemble des sites soient migrés avant la fin de l'été 2016.
3) Comment va se passer la livraison des contreparties ? Pour chaque contrepartie, une date de livraison estimée est disponible dans la description. Dans tous les cas, vous serez contacté individuellement par email à la fois pour avoir toutes les informations relatives à votre contrepartie et pour recueillir les données indispensables à leur livraison (taille pour les t-shirts, adresses de livraison etc.).

4) Cette levée de fonds vous permet de tenir trois ans, et après ? L'objectif de ce financement est en effet de sauver l'association et ses services, mais également de construire un projet à long terme sur des bases saines qui nous permettra d'auto-financer notre infrastructure grâce à des niveaux de services payants, dont la qualité assurera aux utilisateurs une fiabilité équivalente aux grands hébergeurs du marché.
5) J'ai posé une question. Est-ce que j'aurai une réponse? Nous recevons de nombreuses questions chaque jour, et nous faisons de notre mieux pour répondre dans les plus brefs délais. Ne vous inquiétez pas, nous répondrons à toutes vos questions.
6) J'ai essayé de faire une contribution, mais cela n'a pas marché. Il y a plusieurs raison qui peuvent expliquer pourquoi vous n'avez pas pu aller jusqu'au bout de votre contribution. Le lien suivant https://support.indiegogo.com/hc/en-us/articles/... apporte des réponses aux problèmes les plus courants. Si malgré cela votre problème n'est pas résolu, contactez-nous et nous ferons le nécessaire.
7) Qu'allez-vous faire de mon adresse email ? Nous ne recevons pas d'informations de contact tant que la campagne n'est pas terminée. Au cours de la campagne, nous pouvons seulement communiquer avec vous en utilisant Indiegogo. Lorsque la campagne sera terminée, nous recevrons de la part d'Indiegogo les adresses emails des participants. Nous l'utiliserons uniquement pour vous envoyer le questionnaire, les informations relatives à votre contrepartie et l'état d'avancement du projet.