What We Are About
A good beer and a good story go together like barley and water, and we want to provide quality beer so you can share your story with the world.  When you take that first sip of refreshing beer, wipe the foam away from your upper lip, and swallow that delicious beverage--at that moment, an imaginary light turns green, and your lips start moving before your mind can shut the flood gate.  You are free to tell your story.  
Novel Brewing Company is owned by a husband and wife team who live in the Golden Gate District of Oakland, CA and are excited for the opportunity to open a brewery and tasting room in their neighborhood.  Their passion for the craft is reflected in their product, and they can't wait to share it with you.  When their doors open, and the first pint sized page turner is poured, will you be there to help write the first chapter?  
The Beer
You can expect a wide variety of beers to be made by Novel Brewing Company. We are a small brewery that will have the flexibility to experiment and keep things fresh. Some styles to look forward to are the Gose, IPA, English-style Porter, Pils, Dry Stout, English-style Bitter, American Brown Ale, Wheatwine, Black Rye IPA, American Pale Ale, Belgian-style Pale Ale, Belgian-style Dubbel, and Belgian-style Tripel.  
The Perks
Local Pickup and Shipping Options
We plan on hosting a Perk pickup party for those who are local and would like to hangout, have a few beers, and pickup their perks.  Otherwise, we will reach out to you via email to arrange for shipping.  Note: We will only ship within the United States.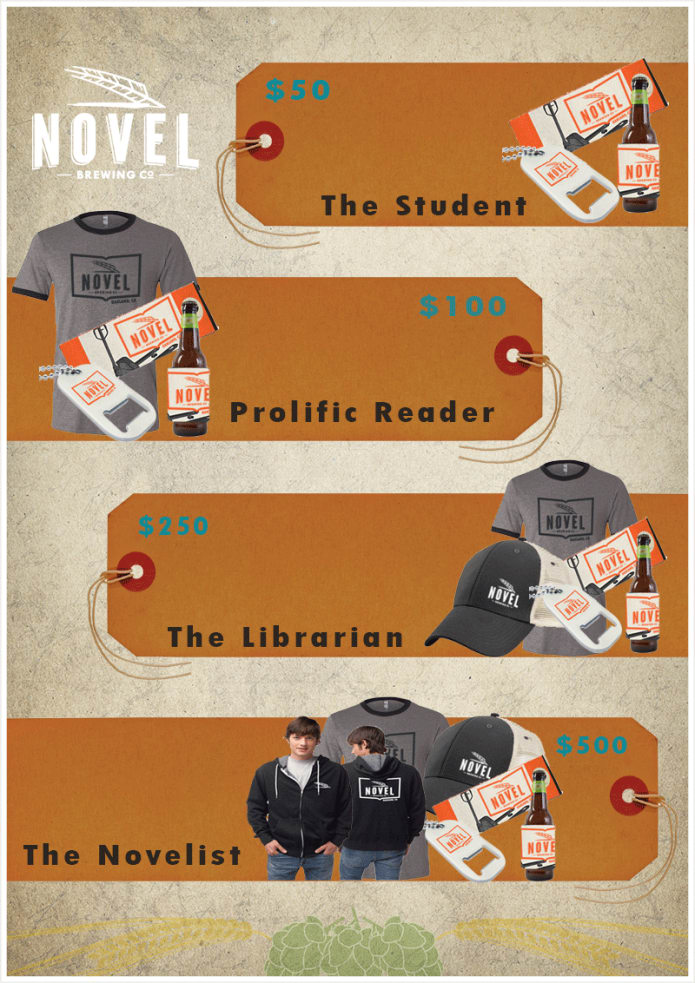 Why We Need Money
You may be asking why you should donate your hard earned dough to another crowdfunding campaign?  As it turns out, opening a brewery and tasting room is really freaking expensive!  We need your help.  We've drawn the sap from as many of our currency producing oaks as possible, and we are now only months away from brewing our first batch of beer.  The $25,000 raised through this campaign will allow Novel Brewing Company to finish what we have started.  Your donation will go a long way towards putting our glycol chiller on the roof, pouring a new slab of concrete in the cellar and brewery, and to create a welcoming space to exchange your wild yarns and novel ideas. 
The Plan
In September of 2015, we signed a lease at 6510 San Pablo Ave in Oakland, CA. Since then we have accomplished the following: 
Conditional use plan approval from the city of Oakland 

Alameda County Environmental Health plan check approval

SBA Loan approval

Submitted application to CA Dept. of Alcohol Beverage Control

Submitted application to Alcohol and Tobacco Tax & Trade Bureau

Designed Architectural, Mechanical, Electrical, Plumbing, and Structural Plans

Submitted drawings to Oakland building department plan check

Established hop contracts 

Worked with General Contractor to bid project

Ordered a custom manufactured brewhouse and fermenters
And that is only the large items.  We continue to be on target for completing construction in April/May 2016 and for opening our tasting room in May/June 2016. In the mean time, we will work on making great beer, and hope to see you around the neighborhood.
Mission
Novel Brewing Company is a narrative told through the art and science of brewing beer for our local community. Within the pages of Novel Brewing Company are chapters that will be written by our tasting room patrons. These chapters will provide nourishment for new stories and the development of new characters. The scenes will extend beyond the boundaries of the brewery and spill into the surrounding neighborhoods, quenching the thirsts of long time friends, sidekicks, and newly discovered cohorts. It is the mission of Novel Brewing Company to help sustain a sense of connectedness through beer and community.