All-weather & ultralight. Integrated silicon light guides visible at 450 feet. Powered by a half ounce USB charged battery the size of your thumb.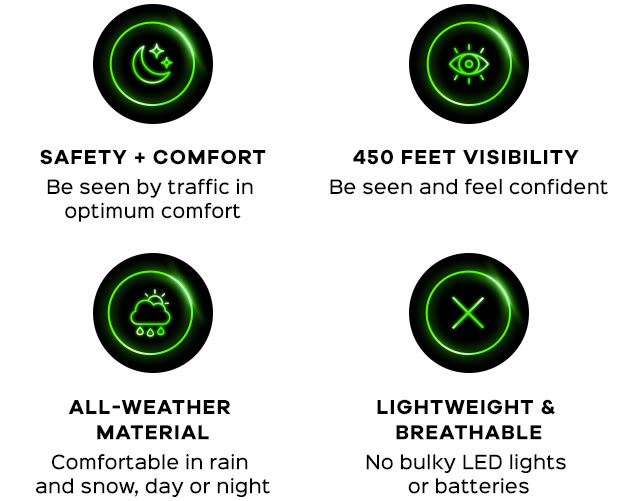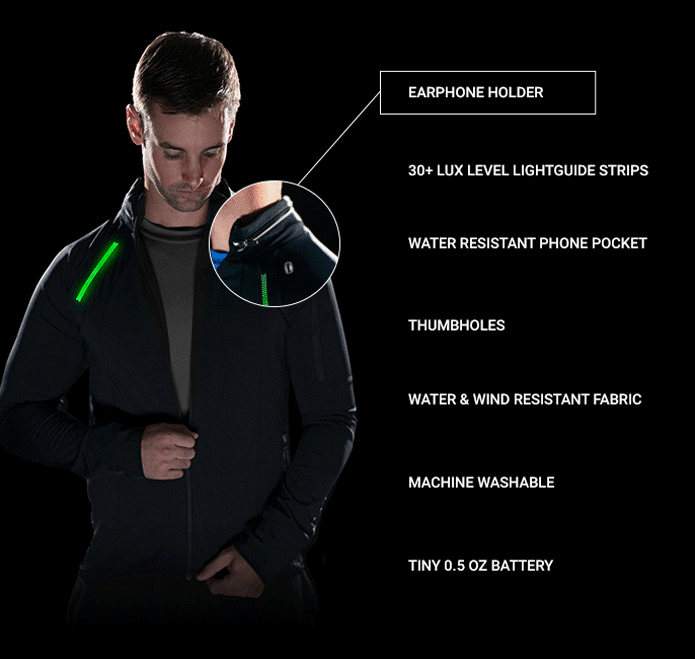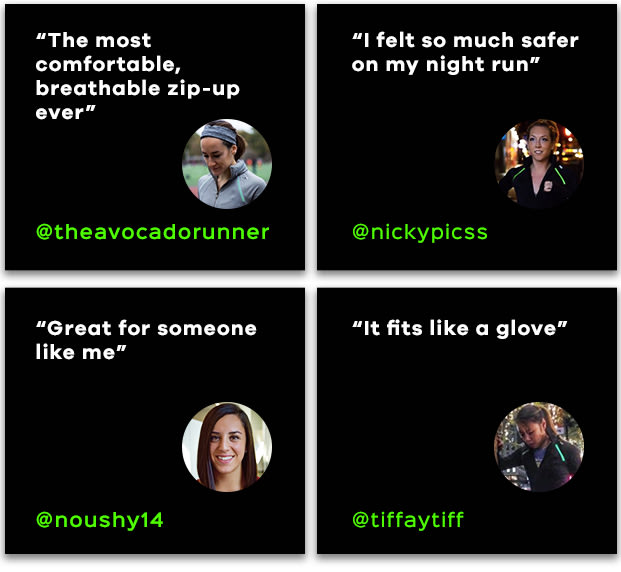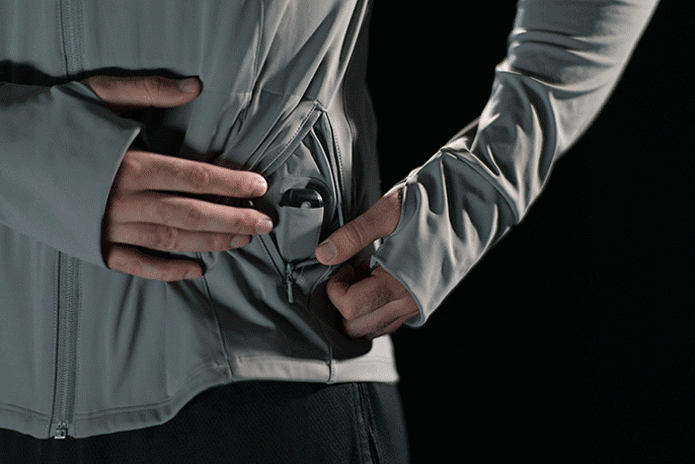 Nova uses a thin, stretchable & flexible, silicon-based material to guide light from one end to another.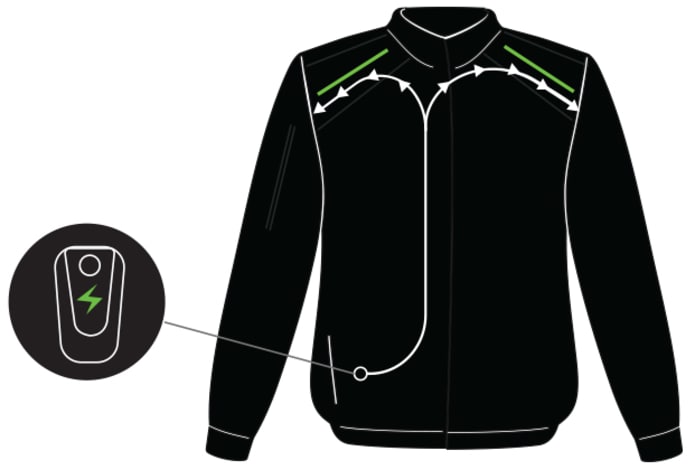 The silicon guides redistribute light from two LEDs, spreading the light across a much larger area, making you much more visible.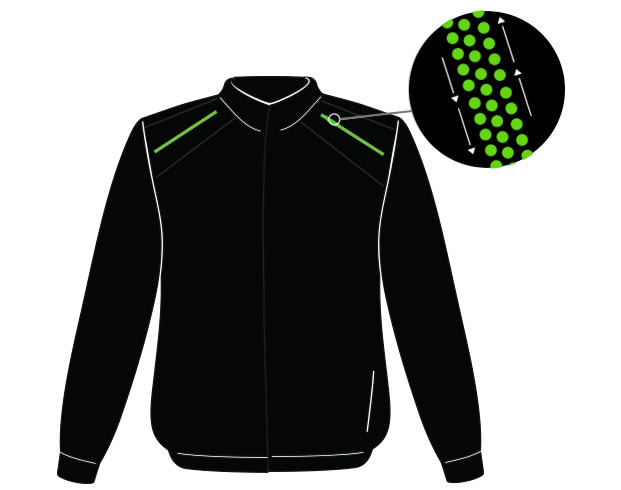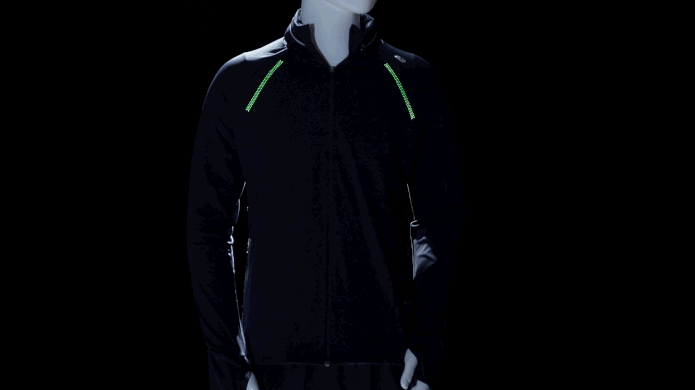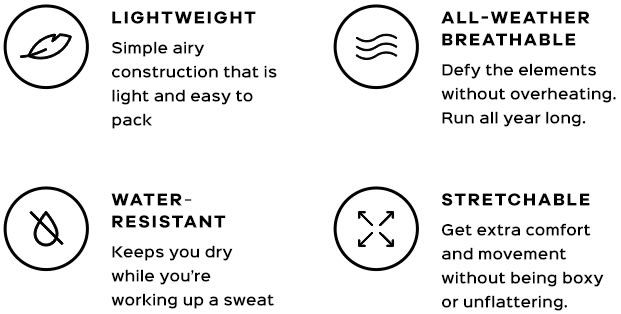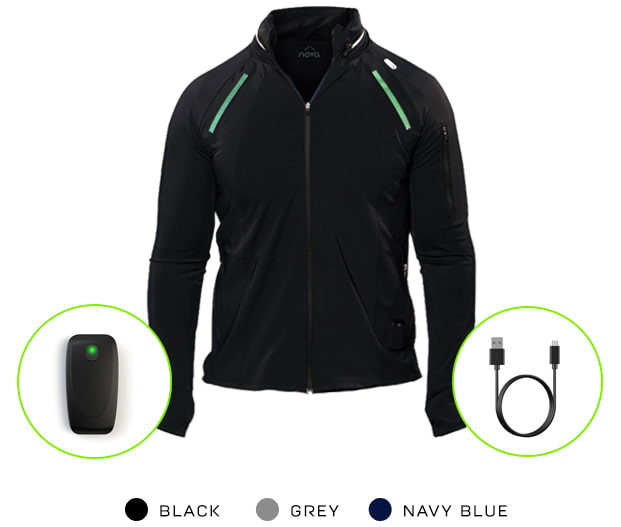 Or get one of these: 
Nova 5 pack - Super Early Bird

By ordering now, you're avoiding the middleman.



Sizes & color options will be selected via checkout at perk selection.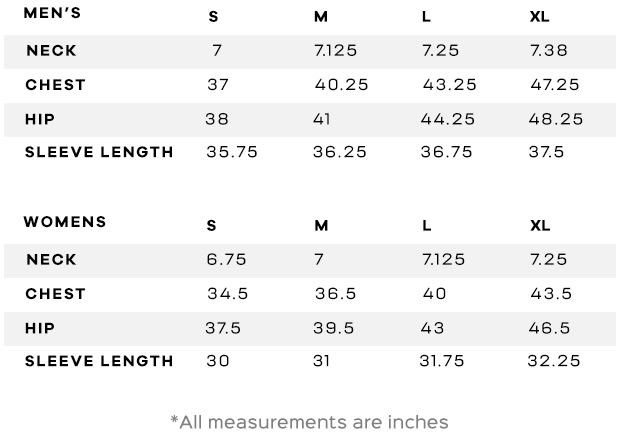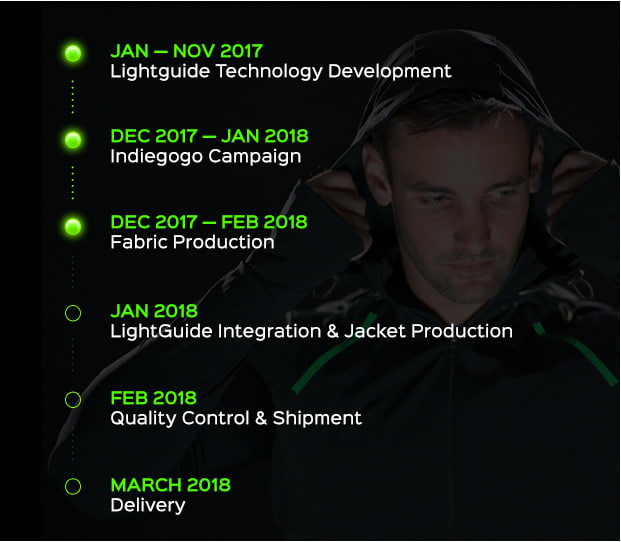 Nova is brought to you by the same company manufacturing your favorite sportswear brands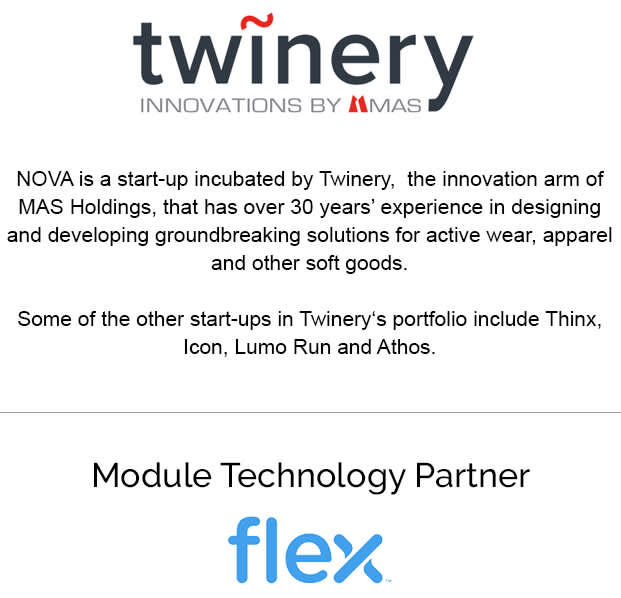 ABOUT           
Why should we use Nova?
Nova is a game-changing jacket for runners, cyclists and other outdoor enthusiasts. It's a pain to carry a flashlight or to attach the appropriate reflective gear when heading for a night run. Nova allows people to run freely in any weather condition – which means no excuses. Not only does Nova have excellent safety features, it's comfortable and stylish.
Who created it?
Having closely worked with community of runners and athletes for over 2 years, NOVA was developed by Twinery, the innovation arm of MAS Holdings, one of the largest sports apparel manufacturers globally
Why are you crowdfunding?
We want to take this product to the next level by bringing it to early adopters who would like to experience the product first hand and co-create with us further. And of course, crowdfunding will help us validate and fund our production.
PRODUCT FEATURES
What features are available?
The jacket is seamlessly integrated with four Lightguides, thumbholes, a hideaway hoodie, and a weatherproof phone pocket. 
What colors do you offer?
 The jacket is available in 3 colour options - Black, Grey and Navy Blue
 Is it comfortable / attractive / discreet?
The jacket is lightweight with an airy construction that makes it all weather breathable. The form fit design offers extra comfort and movement with a sleek look. The jacket is styled to be versatile for day as well as night wear. 
 TECH SPECS
What makes Nova unique?
This is the first time ever that LEDs have been seamlessly integrated into your jacket to make them washable and wearable. Powered by a tiny half ounce battery, the LED LightGuide strips illuminate on demand with a click of a button.  
What is the battery life? How easy is it to charge?
The Battery Module will last between 2 and 8 hours on a full charge. The Nova jacket comes with a USB cable that can be used to charge the Battery Module. It takes between 30 and 60 mins to reach full charge.
Is it waterproof?
The Jacket is water-resistant thanks to a DWR finish. The DWR finish prevents rain from saturating the jacket's exterior.
Where is it manufactured?
Nova has partnered with MAS Holdings and Flex. MAS Holdings, is a premier apparel manufacturing company with over 30 years' experience in designing and developing active-wear solutions. We trust our partners at MAS, to manufacture your Nova jacket, to the highest ethical and quality standards. Flex, a leading electronics manufacturer in US, will produce the certified Battery Module.
SETUP & MAINTENANCE
How do I turn it on and off?
Simply slip the Battery Module into the magnetic Landing Pad. Press the button on the Battery Module to turn the lights on
How do I take care of it?
The NOVA Jacket should be cold washed (86degree F) and hang/line dried. The battery module must be removed from the jacket before it is washed. To clean the Battery Module, use a soft damp cloth or tissue. 
Is it machine washable?
Absolutely! The Nova jacket is machine washable. Simply remove the Battery Module once you are done with your run and it's safe to machine wash. 
SAFETY AND REGULATION
Is it safe? What certifications do you have?
The Nova jacket is safe and machine washable. Just like any other electronic device you would carry in your pocket, the Nova Battery Module, complies with the following industry safety standards:
FCC
CE
UL 1642
UN38.3 + 967
IEC 62133
REACH report
WEEE
California Prop 65
California CEC
SHIPPING
When does shipping begin?
The first batch of orders will be shipped out as early as March 2018. Orders will be fulfilled in roughly the sequence that they were purchased on Indiegogo.
When can we expect it to reach our doorsteps?
The orders will be delivered by March and latest by May 2018.
Where does it ship?
We will ship only to the US, Canada, UK, Europe and Australia for this Indiegogo campaign. In the future, we hope to make Nova available worldwide.
How much is shipping?
We offer free shipping within the United States.
What are the risks & challenges of getting the device today?
Our team is comprised of seasoned entrepreneurs, tech innovators, supply chain experts & fashion designers with nearly 30+ years of combined experience, so rest assured the jackets will exceed your expectations.

We have done our homework, so the risks are minimal. We have also partnered with the best apparel and technology manufacturers in the industry. Our production lines are scheduled, and we will be able to ship out within 90 days of successful project funding.

What you are seeing in our videos and pictures are working prototypes, so expect the final product to be more polished and of supreme quality. 
CUSTOMER SERVICE        
What is your refund policy?
While the Indiegogo campaign is live, all refunds can be rewarded directly Indiegogo. Once the campaign has concluded, refunds will be processed on a case-by-case basis; and we will need to lock refunds to go into production & shipment. We will not be able to refund orders once they've shipped. 
What is your return / exchange policy?
If you received your product and you experience any type of defect with either the Jacket or the Battery Module, you may exchange it for a new one within 30 days, less shipping & handling fees.
Why do I have to wait longer than usual?
This is not just pre-orders: You're helping to build the device, and we need to know how many to make before we can start production. This is the first of its kind, and you'll be glad you waited. We will send you updates while we work to produce the first batch.
If I have other questions, who should I contact?
Press: Lauren Cozza <LCozza@uproarpr.com>
Support: Siddharth Amalean hello@wearnova.co
-------
What you are seeing are prototypes, so expect the final product to be more polished and of superior quality.