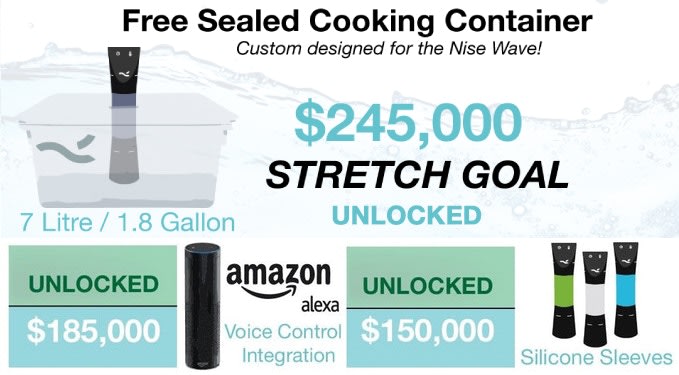 ARE YOU SOMEONE WHO LOVES EATING DELICIOUS MEALS? 
How often has a lack of time (or even experience) gotten in the way of making your own? 
Making high quality food at home is tedious… and eating out gets expensive fast!
Wouldn't it be amazing if you could come home to perfectly cooked meals like tender pesto chicken, juicy duck breast, asparagus, cheesecake, perfect crème brûlée and hundreds more…?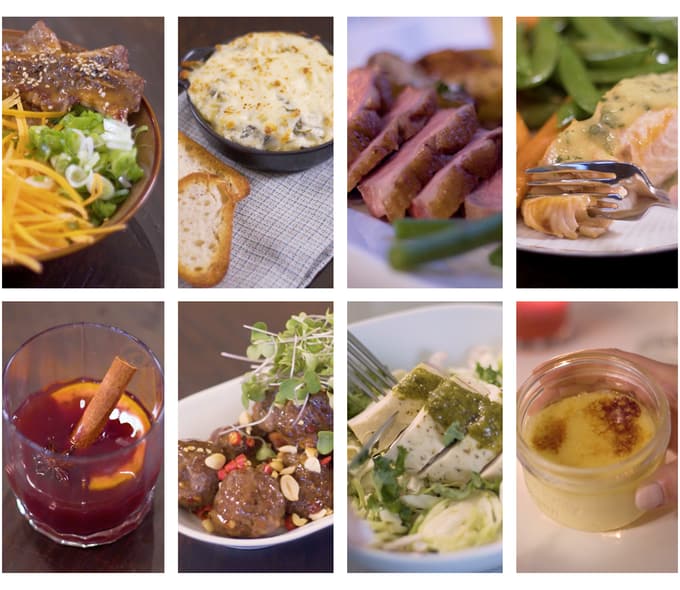 Sous Vide Cooking That Adapts To You
Chefs around the world trust the sous vide cooking method, known for it's ability to cook food perfectly to your desired doneness, with no risk of under- or over-cooking.
The Nise Wave takes sous vide a step further. It is the ONLY sous vide cooker that lets you have your meal not only how you want, but exactly when you want
Imagine - leaving the house for hours, knowing your meal will be taken care of, cooked to be ready when you want it.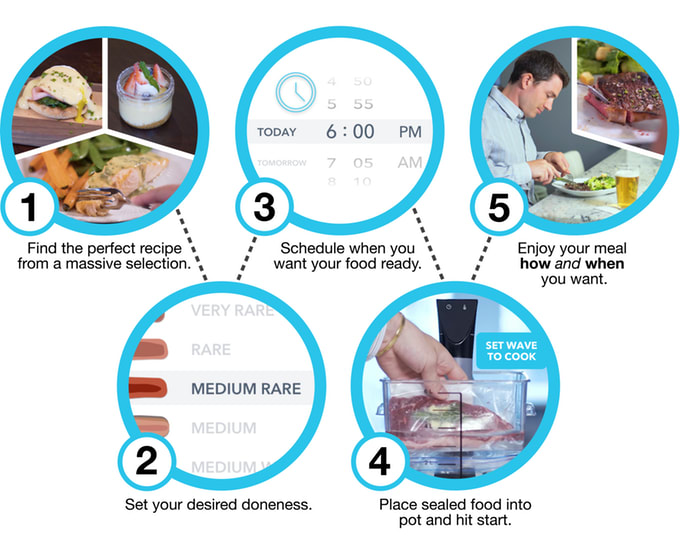 While you are away, the patented adaptive temperature system automatically controls the cooking process. It creates a unique temperature curve for the recipe you select in the Nise mobile app, based on your desired doneness, ideal tenderness, and exactly when you want your food to finish cooking.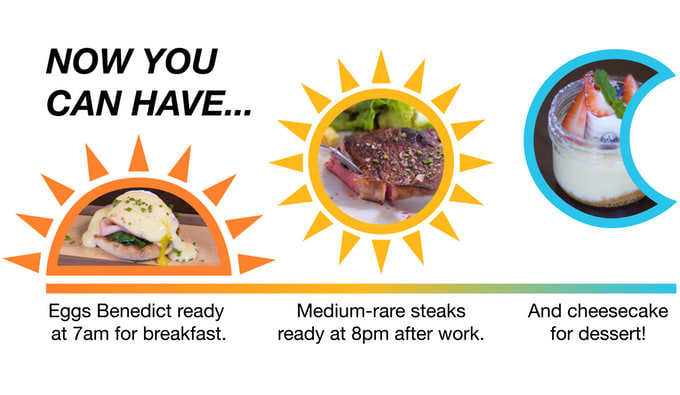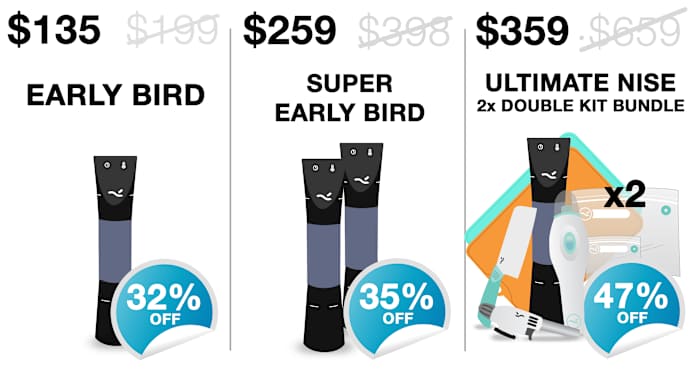 The Nise Ecosystem combines the tech of silicon valley and the precision of sous-vide cooking.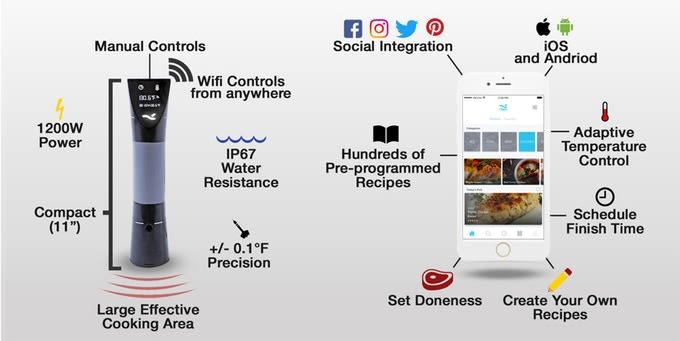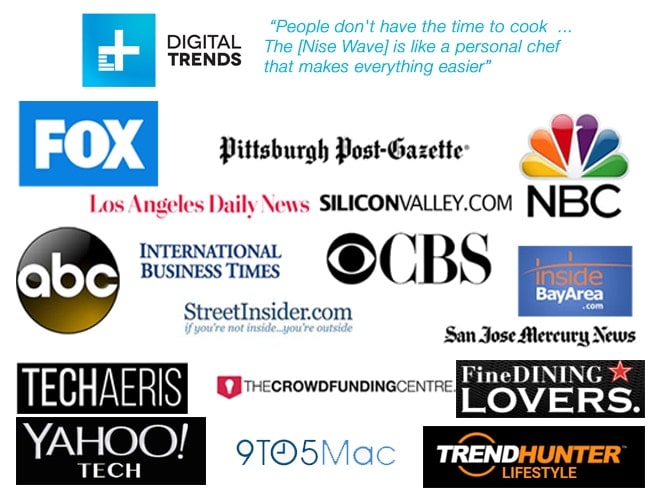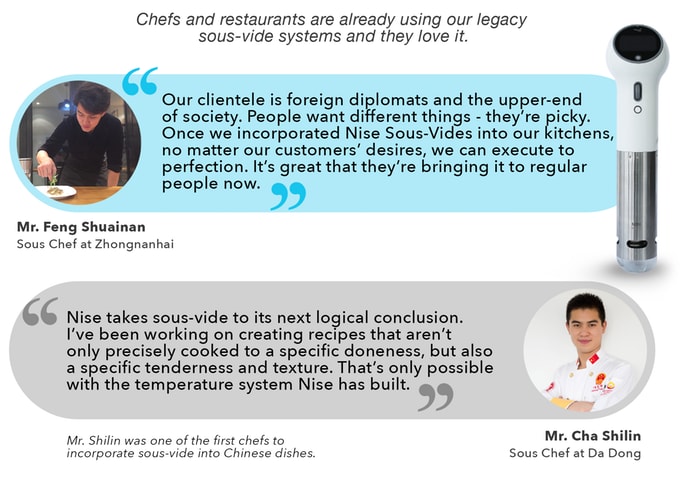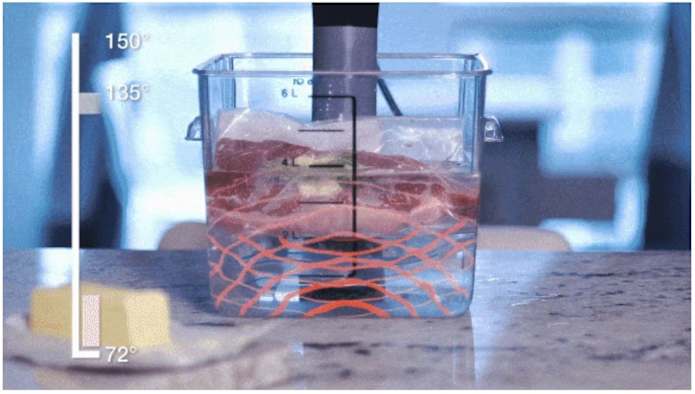 Food is put into any food-grade bag and placed into a pot of water. Then the Nise Wave circulates and heats water to a precise temperature, which is defined by your chosen doneness. 
For example: a medium-rare steak needs to heat to 135°F; for a chicken breast to be juicy and tender it needs to reach 144°F.  
Over time, your food will be perfectly cooked from edge-to-edge, and will never be over- or under- cooked. 
Sous Vide Fact: Starbucks has added sous vide eggs and steaks to their menus. 
Cooking with the Adaptive Temperature System (ATS)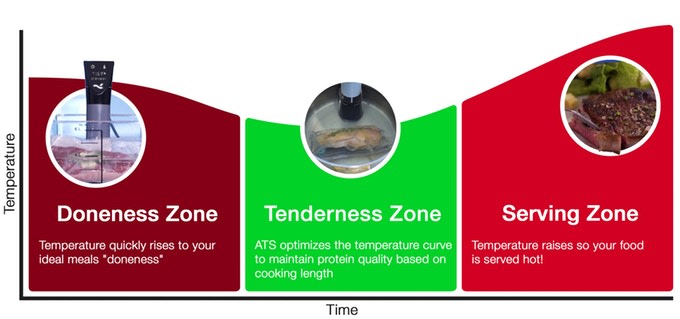 Traditional sous vide cooking heats to one precise temperature to optimize for one variable, doneness. 
Since the patented ATS heats to different temperatures throughout the cooking cycle, it can control for multiple variables, including doneness, tenderness and scheduled finish time while maintaining protein quality. (Patent - PCT/CN2016/075744)
Would you like more information on how the ATS works or the science behind it? Please visit the FAQ section
Clarification - The ATS is optional. You can still use the Wave to cook sous vide the traditional way.

We didn't just want to create a great ecosystem, but also a great physical product.
We set out to create a product that doesn't compromise on what matters to sous vide enthusiasts ... at the price point of an entry level sous vide solution.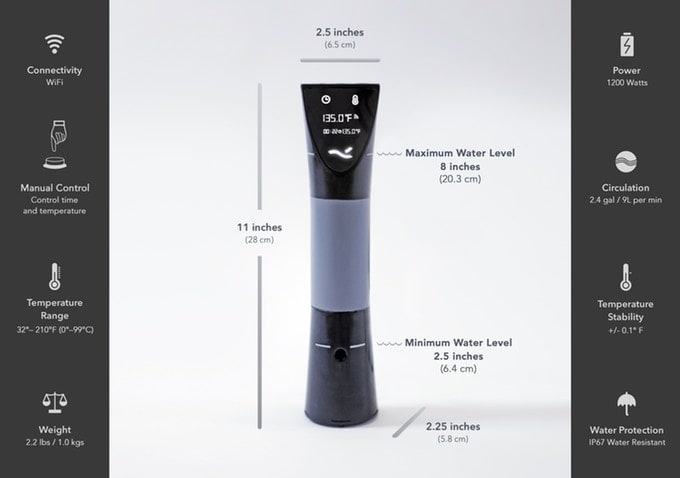 How We Stack Up Against The Competition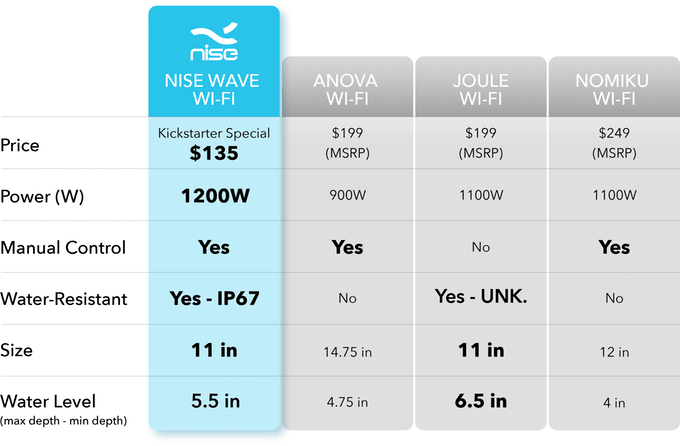 1200W of Power in a Compact Size
Higher power means you can heat larger pots of water very quickly, and easily maintain the temperature to pin-point precision.    
Bonus - This combined with our recommended maximum volume of 10 Gallons (38L) means you can cook at least 15 regular sized meals simultaneously or a large rack of lamb!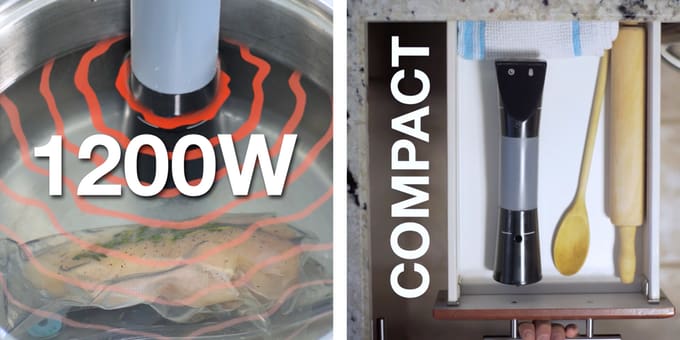 Control The Way You Want To Cook - WiFi Or Manual
While the Wave's WiFi control is simple and intuitive, we appreciate that sometimes you want to physically control your sous-vide. 
Clarification -
WiFi doesn't mean your phone and the Wave need to be on the same WiFi. As long as the Wave is connected to your home wireless network, you can control it from anywhere. 
Bonus - Our display screen shows target temperature, current temperature, and remaining time all at a glance. (Also we're Canadian so we had to add in the option to switch to °C)    
Water-Resistance Because Accidents Happen
Water-Resistance to IP67 specifications means, you can comfortably rinse your Wave or submerge it for 30 minutes without fear of failure. 
Bonus - Because more of the product is submersible, the Wave has a larger effective cooking area than much bigger sous-vide cookers.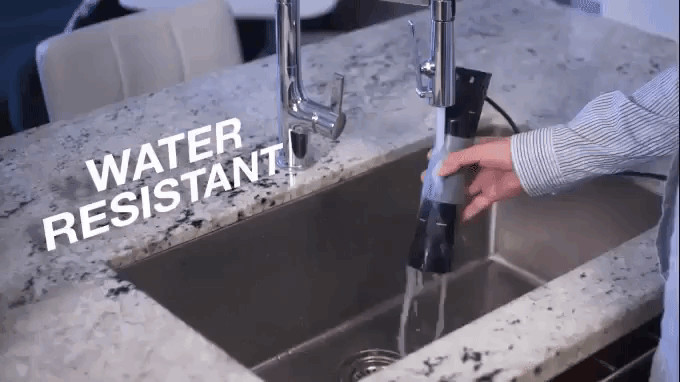 More than just a recipe book, or a means to control the Wave.
The mobile app has something for everyone to love; whether you just want to cook sous-vide for precision or the convenience, find cool recipes, learn how to create culinary masterpieces, show off your cooking abilities, or make friends. 
Amazing Recipes - Easy Steps
Simple or complex, every recipe is broken down into easy to follow steps.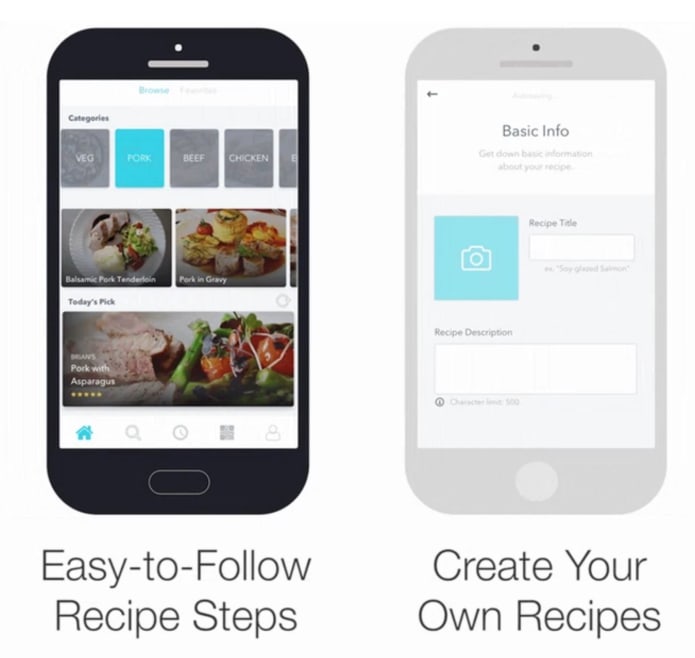 Of course, we are going to put out our own recipes. But we want you in on the fun too! 
Users will be able to rate, like, and follow your unique profile to see your cooks and creations!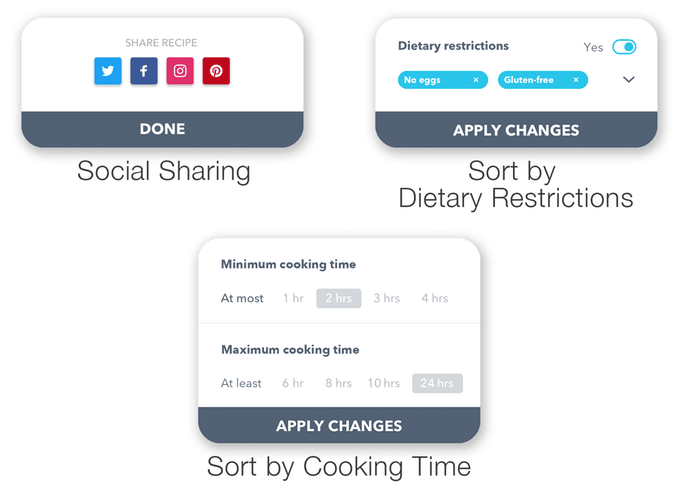 We wanted to provide the base Nise Wave at the lowest price possible -while providing you with everything you need to sous vide! 
Do you need these kits to start sous viding? No. 
Do we think you'll love using them with your new Nise Wave? 100%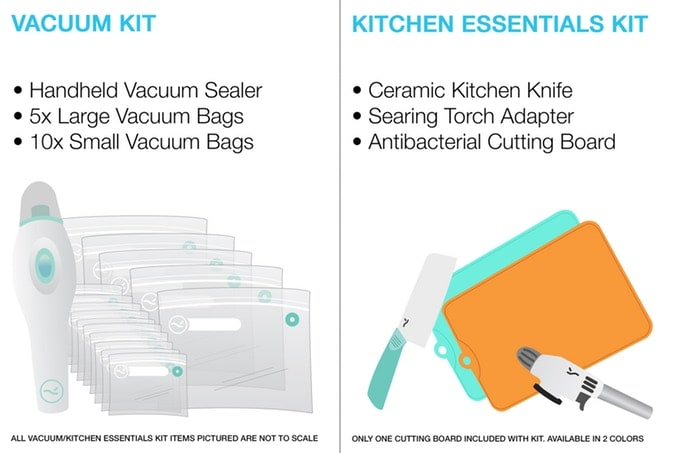 Vacuum Kit -   
By vacuum sealing these bags - heated water is able to more precisely cook your food due to the lack of air between your food and the water. HDPE bags are food-grade, perfect for sous-vide cooking.

Kitchen Essentials Kit -  
The kitchen essentials kits comes with a searing torch adapter which converts any butane canister into a pro-chef torch, an anti bacterial cutting board, and a ceramic knife (9.5 hardness on Mohs scale, vs. 6.5 for steel knives),  
All of these items are deeply discounted and prices will never be this low again! So show us some support and get a few kits :)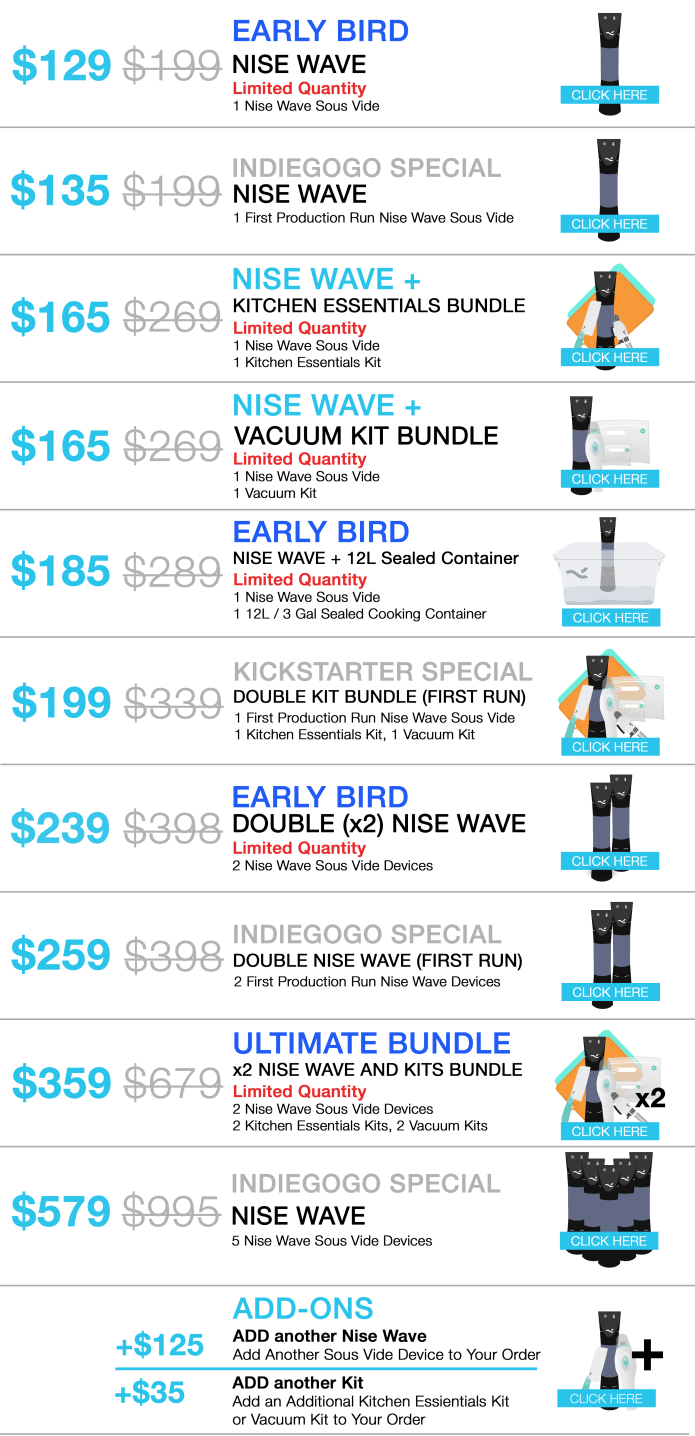 Video - How The Vacuum Sealer Works
LOOKING TO THE FUTURE - NISE PACKS
While we won't be shipping these out at launch, we will be releasing a series of spice and marinade packs so you can add a bit more convenience to your life.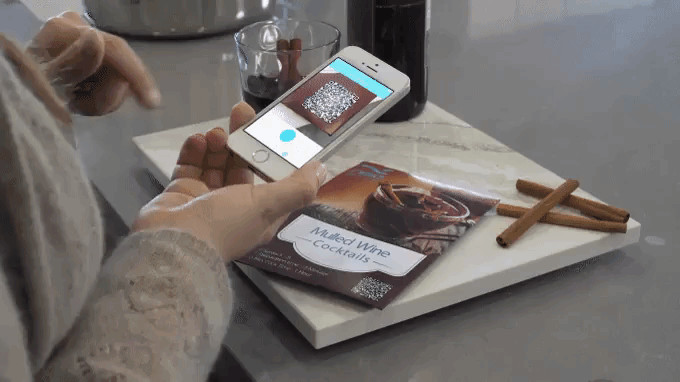 Never worry about finding the ingredients you need at the grocery store, or prepping complex meals for hours. Just …. 

Save Money By Cooking The Nise Way
The average American eats out approximately 20 times per month...
Home-cooked meals are actually less expensive than most fast food, but its not convenient for many people to cook for themselves... 
Think you are saving time by eating out? You still have to wait to be seated at a table, or get stuck waiting in a drive-thru during your commute home!
If you cook using the Nise Wave and cut down on your eating-out frequency, then you would save $2000+ and with Nise Packs up to 102 hours every single year.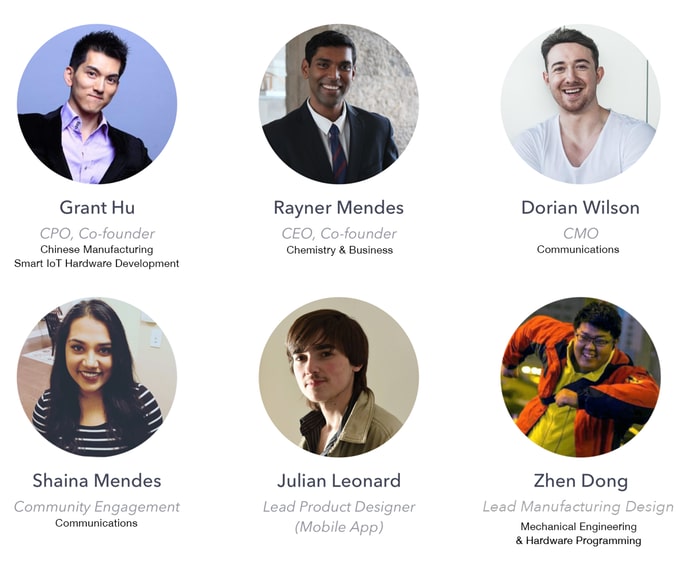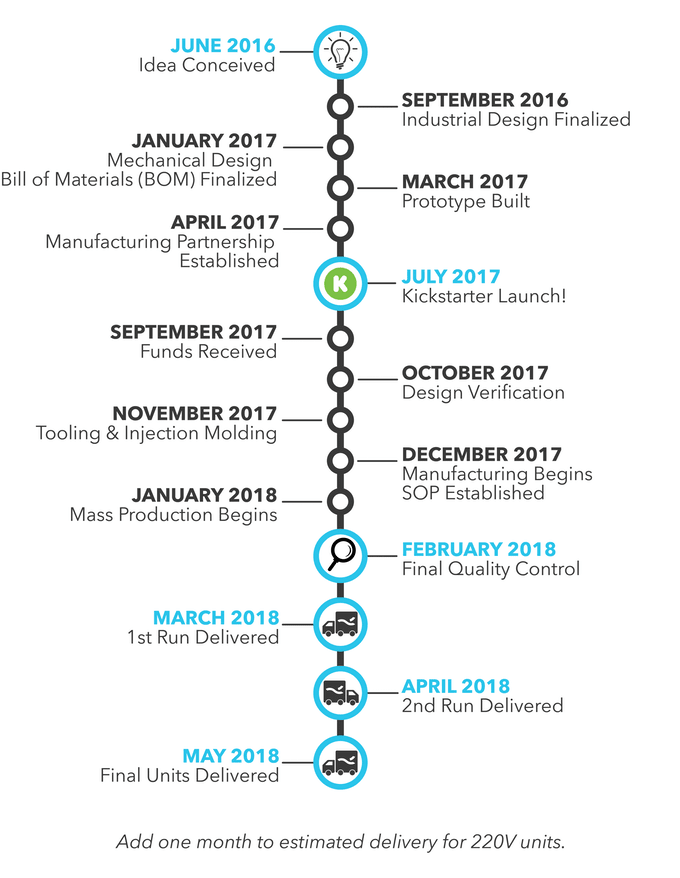 SHIPPING, CUSTOMS & DUTIES INFORMATION
Cost of shipping/freight will be paid for by us for the continental USA.
Reduced Shipping for International Backers -
For our international backers - we cover the cost of shipping from our manufacturing facility to a nearby distribution center. The location of the distribution center is based by regional demand. 
Our prices do not include VAT, country, or sales tax.    
It is impossible to build in the various duties into our price for every country we are selling to.
All international backers will be delivered their rewards FOB destination; that means you pay freight/shipping from our distribution site, duties, and taxes. 
It is illegal to mark a shipment as a gift. 
THANKS TO FRESCAFILMS - VIDEO AND GRAPHIC DESIGN