Für mehr Information auf Deutsch folge diesem Link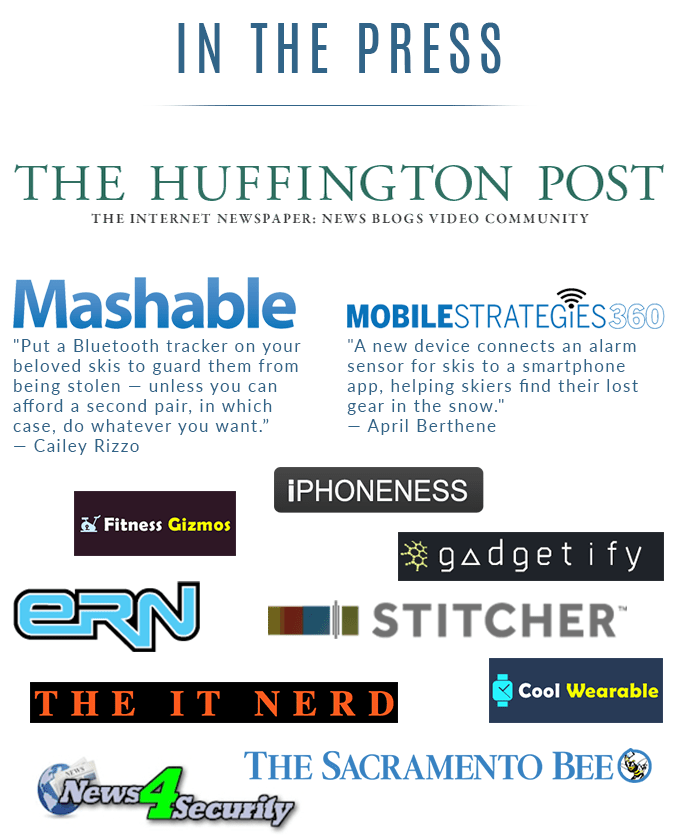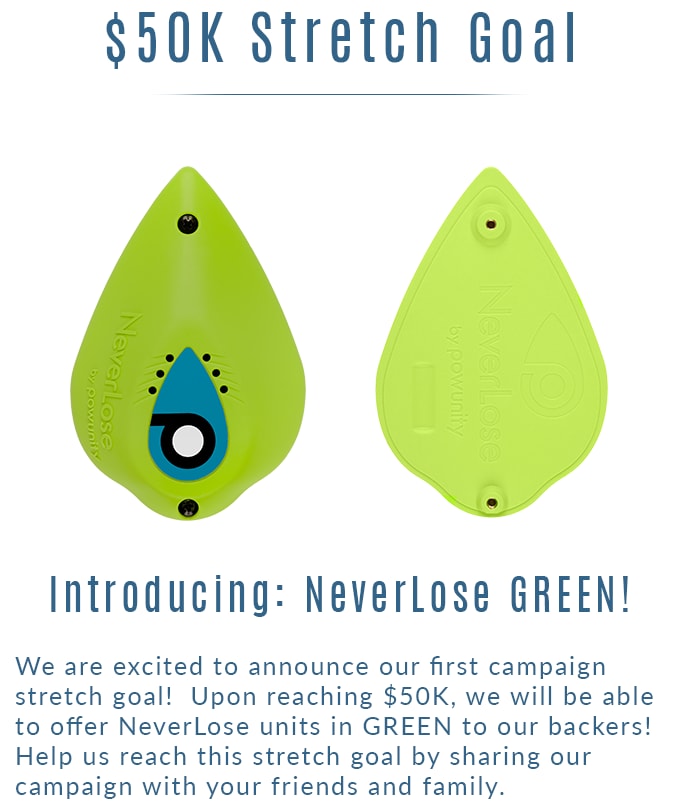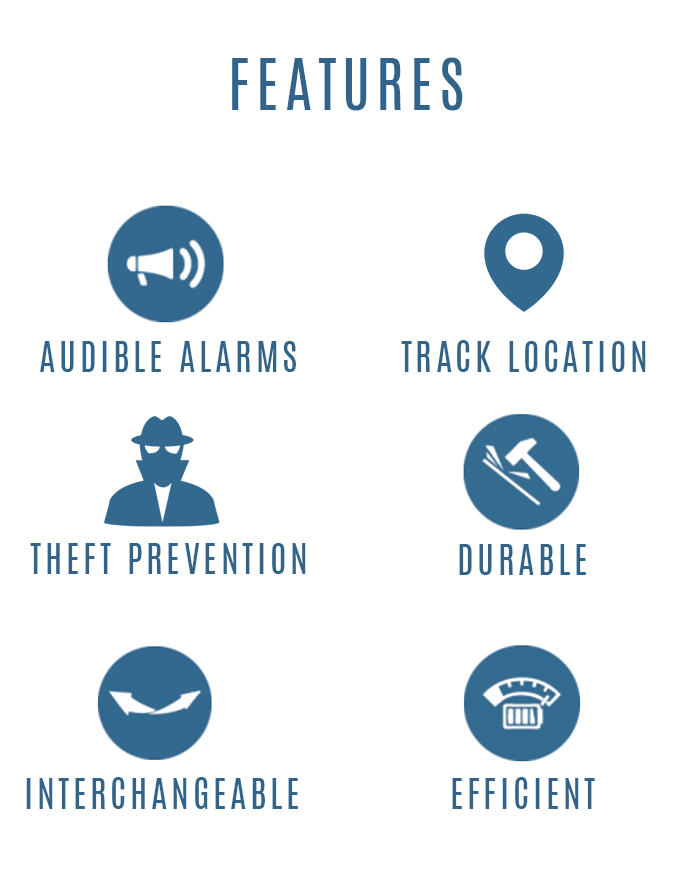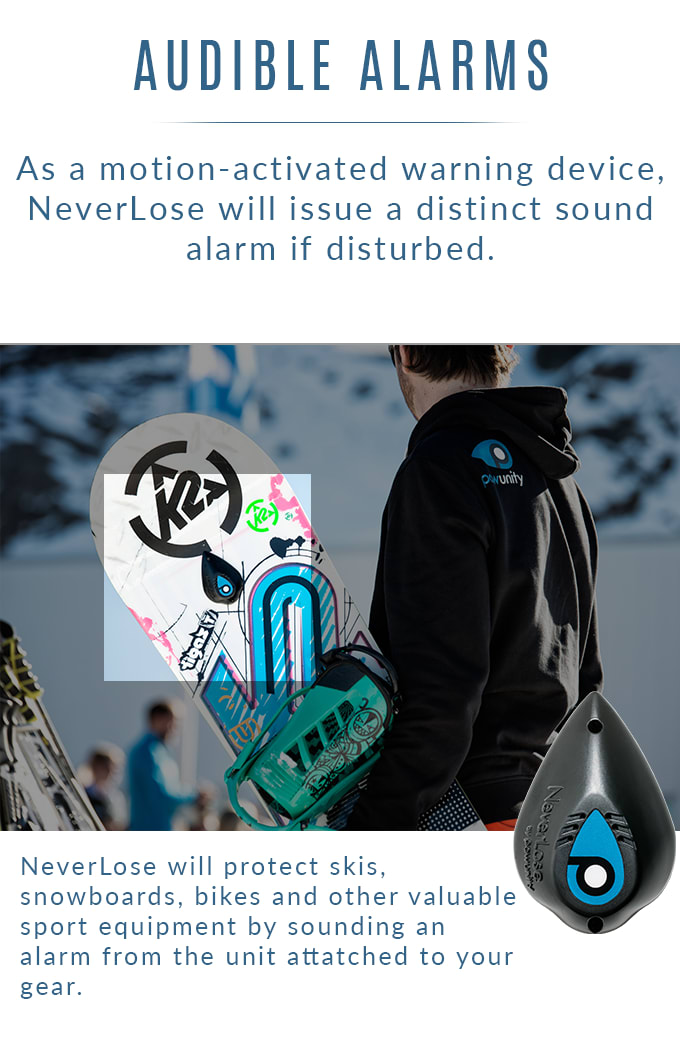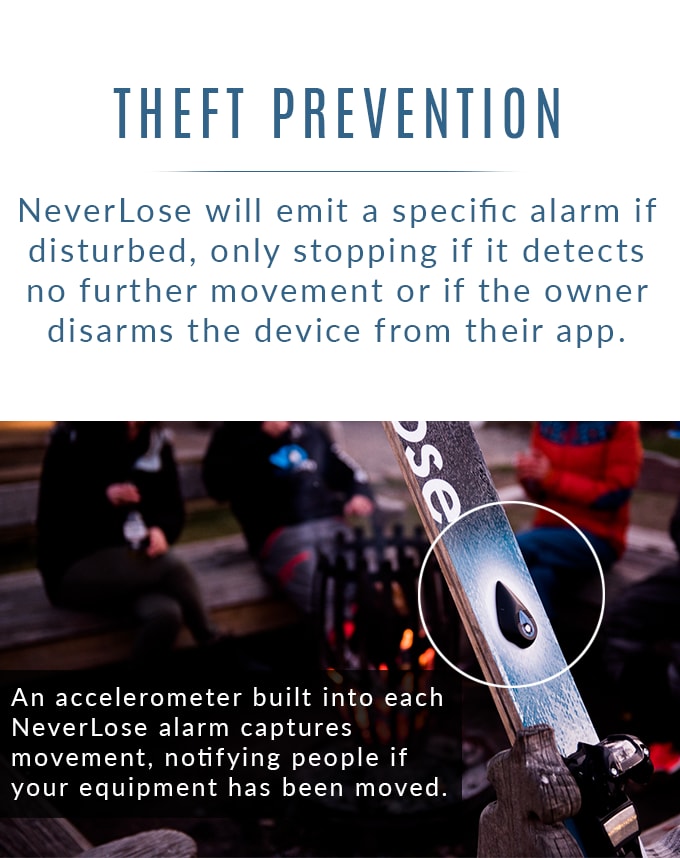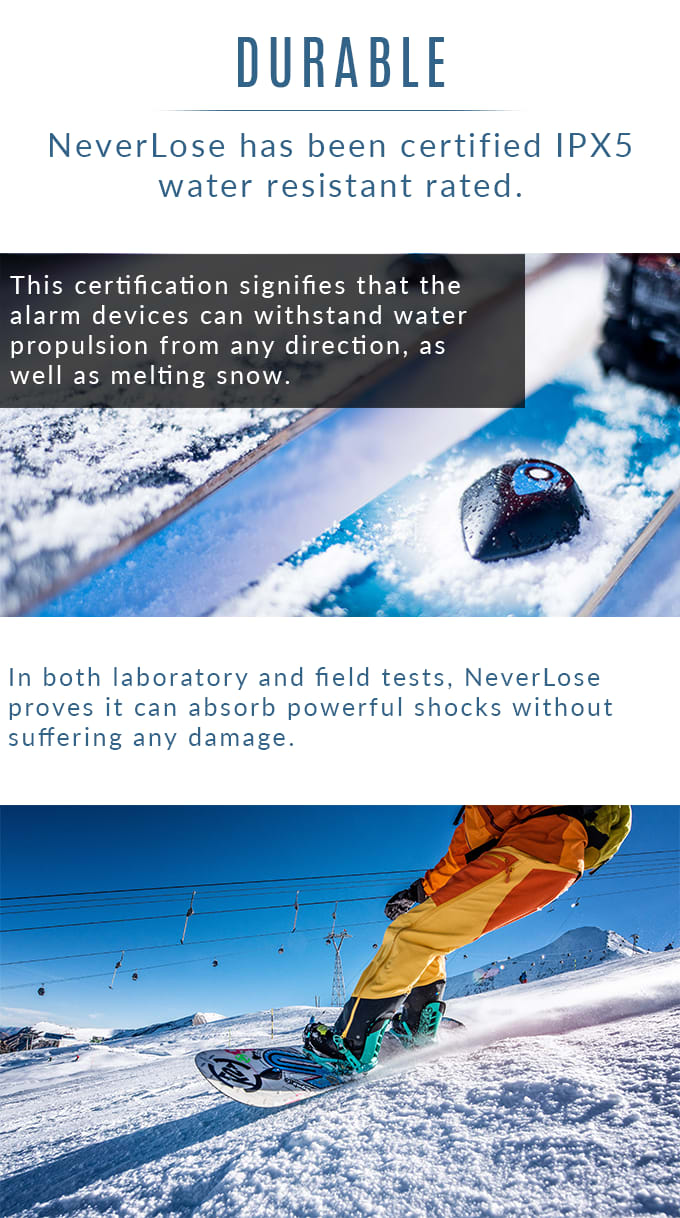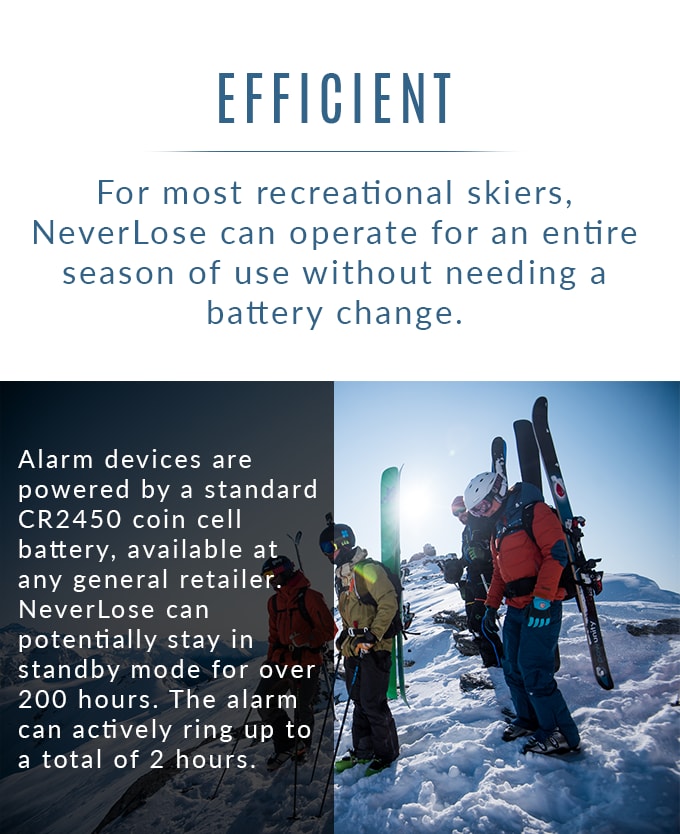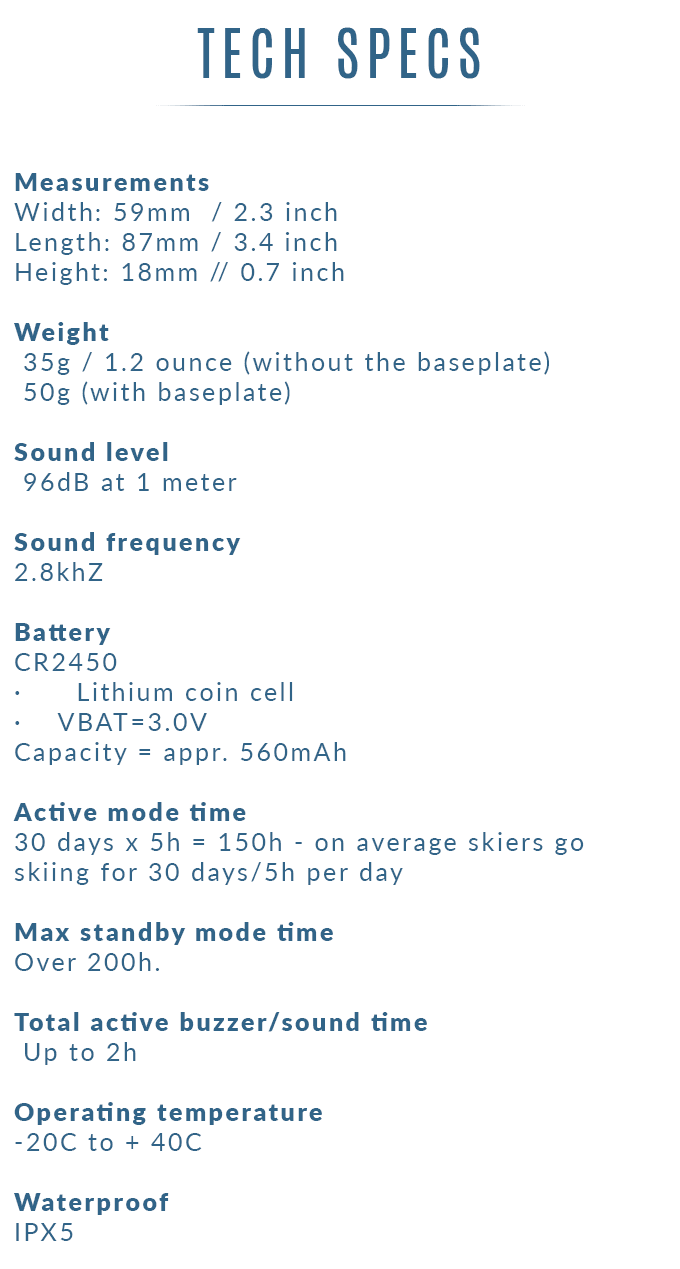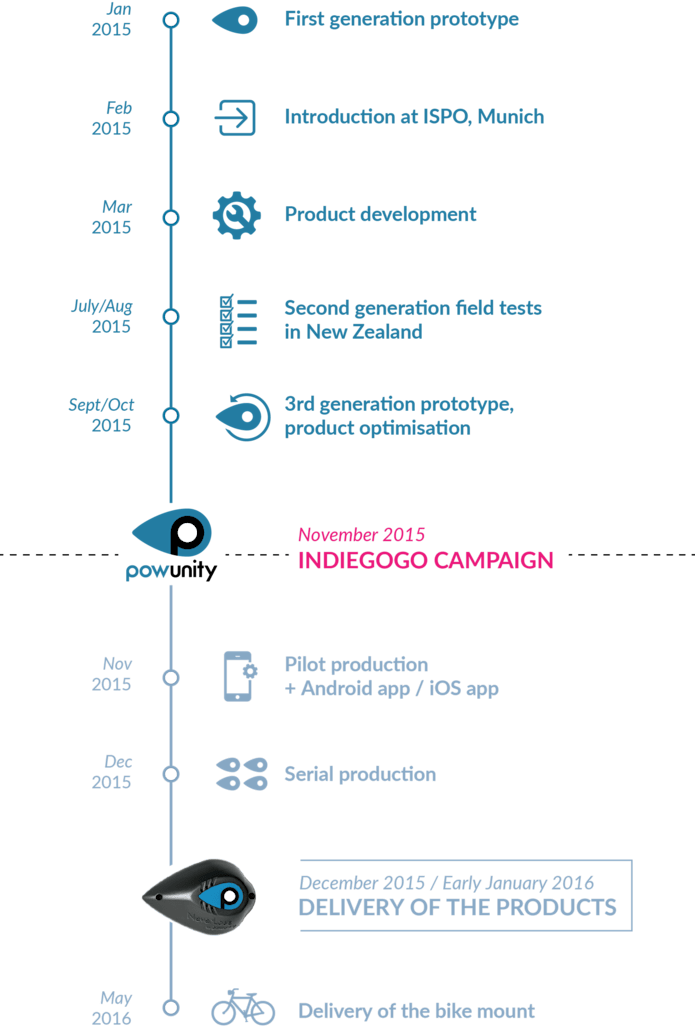 1. WHAT IS NEVERLOSE AND WHAT IS POWUNITY?
NeverLose is the name of our product, an automated alarm system using Bluetooth technology. PowUnity is our brand and short for Powerful Community.
2. HOW EASY IS IT TO MOUNT NEVERLOSE ON SKIS AND SNOWBOARDS?
Mounting is so simple, it takes less than a minute! First you attach the baseplate to your skis or snowboard with an adhesive tape, provided in your NeverLose kit. Then you screw the alarm device onto the baseplate with the included torx wrench. Once activating NeverLose through a downloadable app on your smartphone (available from the Apple Store and Google Play) you are ready to go!
3. HOW WELL DOES NEVERLOSE WORK IN SNOW?
NeverLose has been designed to work in extreme winter conditions. It works flawlessly in temperatures ranging from -20°C to 40°C (-4°F - 104°F) and is certified IPX5 water resistant – this includes forceful impacts of snow.
4. HOW LOUD IS NEVERLOSE?
In Ski Finder mode, the NeverLose alarm makes a steady beeping sound at one second intervals to enable gear retrieval, audible even when hidden under snow. The Guard alarm was designed to attract others with a piercingly rapid ring. Measured from one meter in distance, this alarm reaches up to 96 dB at a frequency of 2.8 kHz. 
5. WHEN WILL I RECEIVE MY NEVERLOSE?
If you have pre-ordered NeverLose, the first round of deliveries are expected to be made in December 2015/January 2016, just as ski season ramps up in the Northern Hemisphere.
6. HOW LONG WILL THE BATTERY LAST?
For most recreational skiers, NeverLose can operate for an entire season of use without needing a battery change. Bluetooth Smart version 4.1 is a power-conservative technology that uses the Bluetooth Low Energy standard. Each alarm device is powered by a standard CR2450 coin cell battery, available at any general retailer. NeverLose can stay in standby mode for potentially over 200 hours and the alarm can actively ring up to a total of 2 hours.
7. WILL THE GUARD ALARM START IF SOMEONE ACCIDENTALLY HITS MY SKIS AND THEY FALL OVER?
No, the Guard alarm will ring only if there is sustained movement for more than 5 seconds.
8. WHAT HAPPENS IF THE BATTERY ON MY SMARTPHONE DIES WHILE NEVERLOSE IS ACTIVATED?
NeverLose has a 'knock' feature to disable the Ski Finder alarm in case your cell phone battery dies. Users can preemptively use the app to generate a customized knocking pattern that will shut off the alarm devices once physically knocked on.
9. CAN I TRANSFER NEVERLOSE BETWEEN DIFFERENT SETS OF SKIS?
Of course, you just have to attach a new pair of baseplates onto the other set of skis and screw the NeverLose alarms on. You are ready to shred powder.
10. CAN I REMOVE THE BASEPLATE AFTER IT HAS BEEN ATTACHED TO MY SKIS?
You can remove the baseplate adhesive by applying concentrated heat to the area. Otherwise it takes an exceptionally extreme force at an unusual angle to remove.
11. DO I GET A NOTIFICATION ON MY SMARTPHONE IF THE ALARM GOES OFF?
As soon as the alarm starts ringing, you will receive a notification on your smartphone if you are in range (up to 40 meters away from the alarm itself). If you are not in range, the alarm will still work as described to deter unauthorized access.
12. WHERE HAS NEVERLOSE BEEN DEVELOPED?
Most of the product development for NeverLose has been done in Sweden, where Bluetooth technology was invented. We work together with Swedish designers, tech gurus and consultant companies to develop the highest quality product possible!
13. IS NEVERLOSE WATERPROOF?
PowUnity is always expanding the product research and development of NeverLose, pushing its versatility to new limits. NeverLose has been certified IPX5 water resistant rating. This designation signifies that the alarm devices can withstand water propulsion from any direction, as well as melting snow.
14. WILL THE DEVICE INFLUENCE THE PERFORMANCE OF MY SKIS?
The compact and physically discreet construction of NeverLose provides minimal interference and versatile placement choice. Each physical alarm device measures in at 8.7 cm long (3.4″), 5.9 cm wide (2.3″) and 1.8 cm high (0.7″). Weighing only 35 grams (1.2 oz) without the detachable baseplate, the device can discreetly mount in many places of a user's choosing on the deck of skis, snowboards and other sports equipment.
15. SHIPPING COSTS
Shipping costs – FREE shipping in USA, Canada, EU, Norway, Switzerland. Add 10$ for shipping to other countries. 
16. HOW SECURE IS THE BIKE LOCK?
The accompanying bike lock for NeverLose is currently being tested and our goal is to develop an ultimate solution with a high protection standards.
17. IS IT POSSIBLE TO ONLY USE THE NEVERLOSE ALARM WITHOUT THE ADDITIONAL MECHANICAL BIKE LOCK?
Definitely! If you want ultimate protection, use both solutions. If you need to protect your bike for a shorter period of time, then you can feel secure solely relying on the NeverLose alarm feature.

18. DOES NEVERLOSE INTERFERE WITH AVALANCHE TRANSCEIVERS?
No, it does not since it is using completely different frequency. 

19. WHERE ARE YOUR HEADQUARTERS?
Our HQ is in Innsbruck, Austria, nestled in the heart of the Alps. You are always welcome to stop by!
20. HOW CAN I CONTACT THE POWUNITY TEAM?
We have two support email contacts that you can reach out to at anytime:

neverlose@powunity.com (for English speaking people) and service@powunity.com (for German speaking people)