Nek´ se daleko čuje!
*(scroll down for English, please)*
**Ako postoji problem sa kartičnim plaćanjem, dostavom, shippingom i sl., molimo Vas javite nam na mail crowdfunding@radiostudent.hr i odgovorit ćemo Vam u najkraćem mogućem roku. Hvala!
***UPDATE***
RADIO STUDENT IMA ZA NOVI ODAŠILJAČ!
Ohrabreni, odlučili smo proširiti naše ciljeve!
 
Kada smo pokretali kampanju, bili smo prilično skeptični, jer 10.000,00 USD nije mala svota novca, stoga nas je uistinu iznenadila ova ogromna podrška, koja je pokazala da osim angažiranih novinara i novinarki, imamo i nevjerojatno predane slušatelje i slušateljice.
U prvom danu uspjeli smo doći do 50% ciljanog iznosa. U  manje od tjedan dana kampanje stigli smo do našeg cilja - nabave novog odašiljača!
Time ohrabreni, odlučili smo proširiti naše ciljeve i pokušati osim tehničke, podići i organizacijsku razinu našeg radija.
Ne znamo jeste li znali, ali donedavno je naša organizacijska struktura brojala samo jednu stalno zaposlenu osobu – glavnog urednika. Radio s jednim zaposlenim i 147 volontera zaista je jedinstvena pojava u medijskom prostoru, jer iako program uglavnom počiva na radu volontera, netko sve to treba organizirati i obavljati kontinuirano, neovisno o konstantnoj fluktuaciji studenata-volontera.
Stoga smo odlučili pokušati prikupiti sredstva kako bismo platili još jednog zaposlenika – multimedijalnog specijalista, barem na 6 mjeseci.
Ako ispunimo i ovaj cilj, za narednih 5.000,00 USD, uspjet ćemo nabaviti opremu za proizvodnju programa, koja je na radiju izložena najčešćoj upotrebi – poput slušalica, mikrofona, diktafona, računala i servera.
Što to znači za vas?
Da će zvuk Radio Studenta biti bolji i jasniji, da će web streaming biti brži, da ćemo imati još bolje jinglove, reportaže, emisije, priloge, a u konačnici – zvučni potpis Radio Studenta bit će još kvalitetniji.
Što to znači za nas?
Da ćemo imati puno bolje uvjete nego što smo ih imali dosad, da ćemo biti brži, produktivniji i svakim danom uspješnije ispisivati buduće stranice ove lijepe priče naše radijske postaje.

Zahvaljujemo svima koji su podržali našu kampanju i pozivamo vas da nas podržite još malo :)
Nek´se daleko čuje!
Radio Student ne vidite na velikim plakatima, ne čujete na autocesti niti na TV reklamama, no unatoč tome što imamo samo lokalnu frekvenciju, osvojili smo srca slušatelja diljem Hrvatske, a i šire.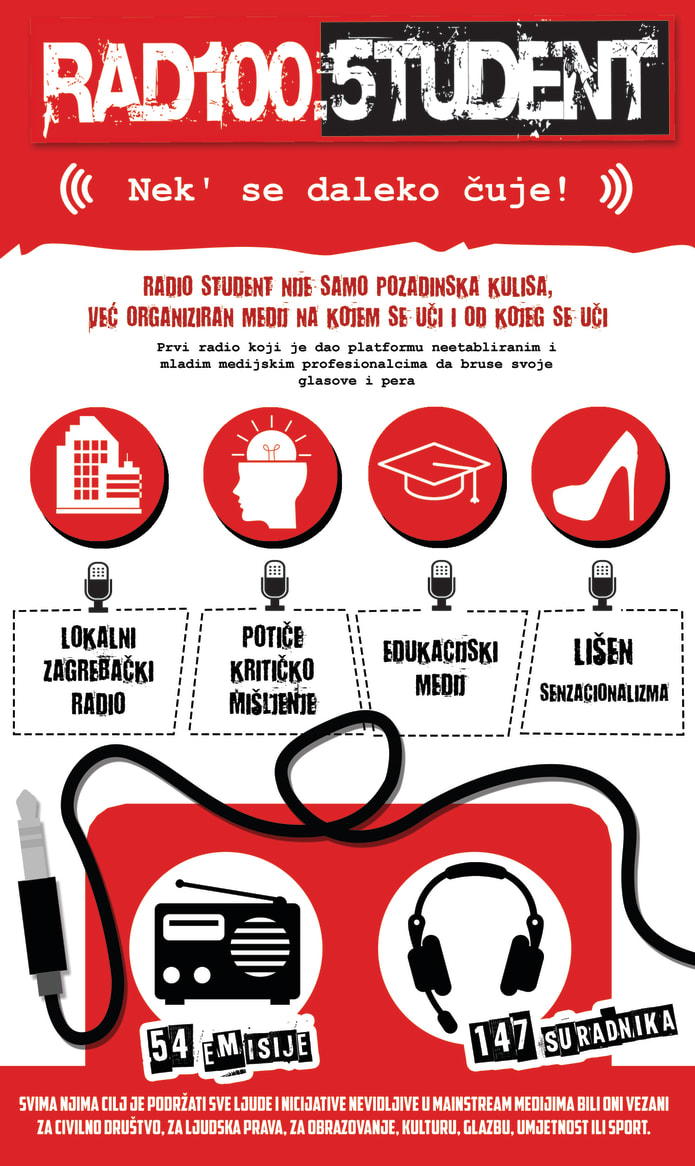 ...s novog odašiljača!
Iako puni entuzijazma za stvaranje pametnog, odgovornog i kvalitetnog radijskog programa, nalazimo se u problemima. Naime, naš odašiljač broji 21 godinu, kao i mi. Iako su ljudi u svojoj 21. puni zanosa, bunta, ideala, prkosa i snage, isto ne vrijedi za radijsku opremu.
Naš 21 godinu star odašiljač je pred odlaskom, a to će nas dovesti u ozbiljan problem - prekid emitiranja.
Nek´ se daleko čuje sretan rođendan Radio Studentu...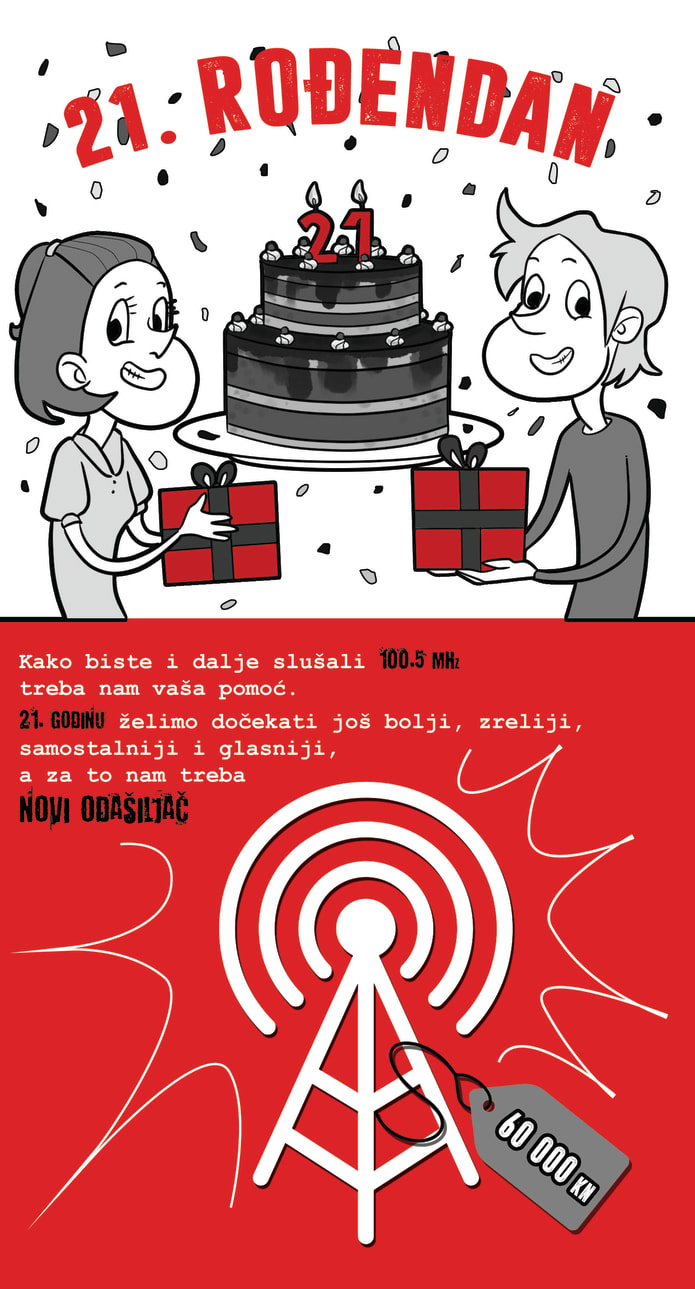 Nov odašiljač daleko je iznad našeg studentskog budžeta, stoga nam treba pomoć naših slušatelja i slušateljica!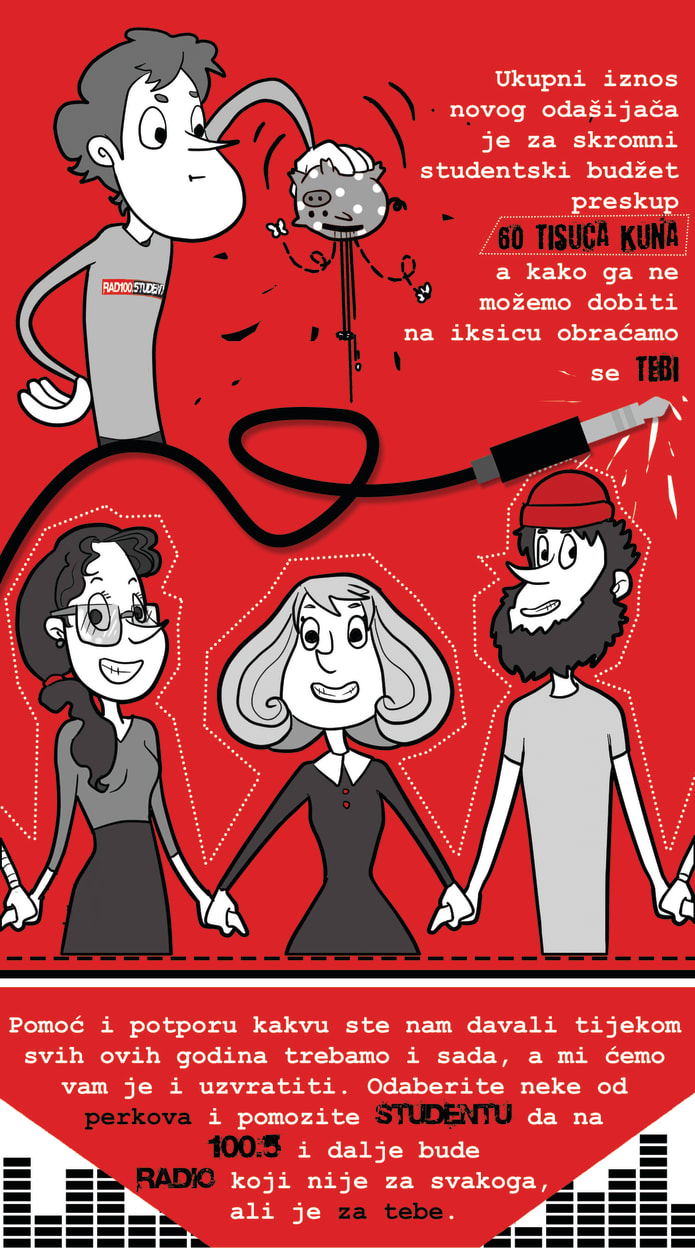 Podržite našu kampanju, sudjelujte i dalje s nama u stvaranju pametnog, odvažnog, hrabrog i odgovornog radijskog programa!
*Ako postoji problem sa kartičnim plaćanjem, dostavom, shippingom i sl., molimo Vas javite nam na mail crowdfunding@radiostudent.hr i odgovorit ćemo Vam u najkraćem mogućem roku. Hvala!
MAJICE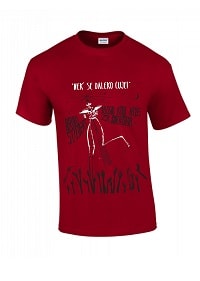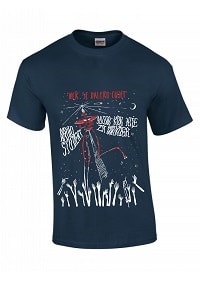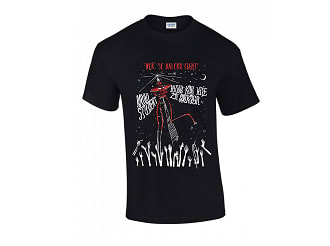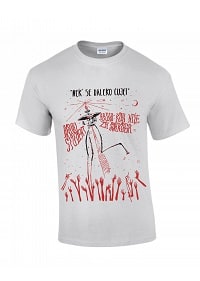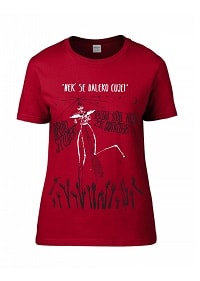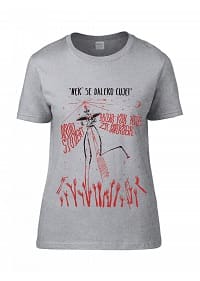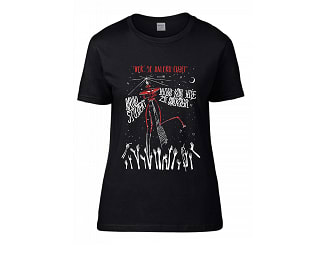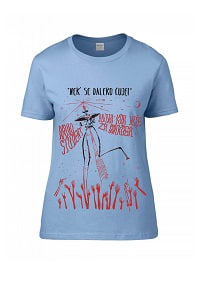 PLATNENI RUKSACI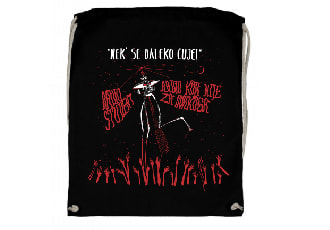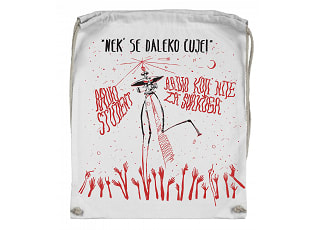 ***
A sada malo o nama!
 
Znakovitog 31. listopada 1996. s emitiranjem je započeo Radio Student. Tada smo bili prvi i jedini studentski radio u Hrvatskoj, a signal smo puštali s malog odašiljača postavljenog na 5. katu Fakulteta političkih znanosti. Na FPZG-u još uvijek stanujemo, s time da su naša vrata otvorena svima - a ne samo studentima i studenticama!
Upravo zato, ponosimo se brojkom od 147 suradnika koji volontiraju na 54 emisije. Svima nama cilj je podržati sve one teme i inicijative nevidljive u medijskom prostoru, bili oni vezani za civilno društvo, kulturu, glazbu, ljudska prava, umjetnost, sport, obrazovanje. Ono najvažnije, Radio Student potiče kritičko mišljenje i medijsku pismenost kako publike, tako i svojih novinara/ki, koji će, kad jednom odu u veliki svijet masovnih medija, zadržati vlastitu etiku, istraživački duh, svjesni opasnosti klevete i neobjektivnog izvještavanja.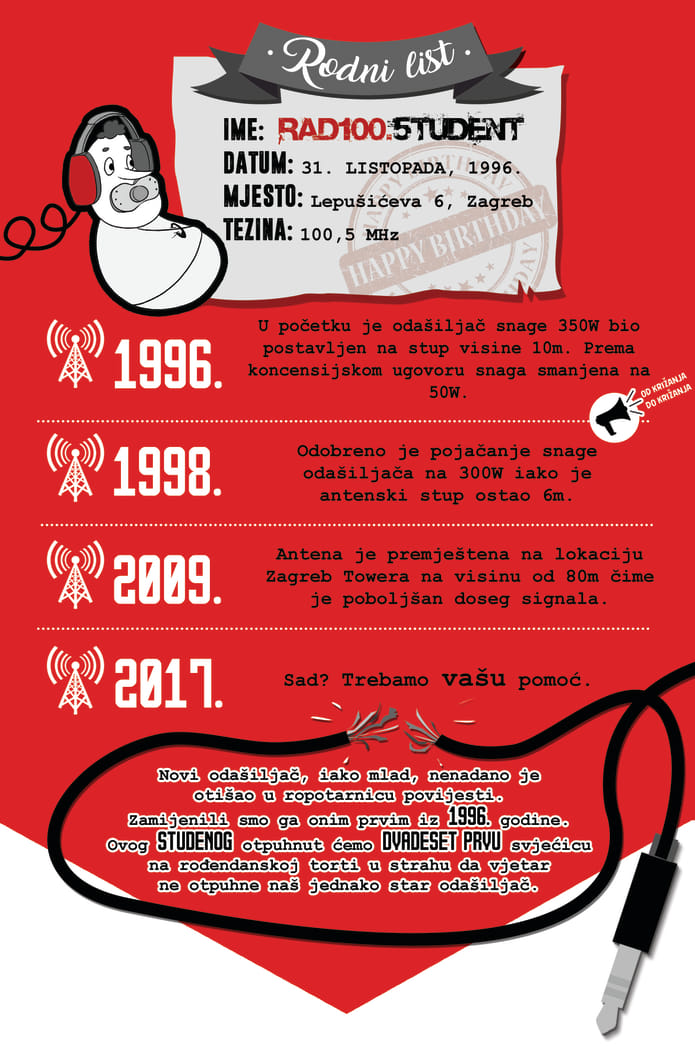 ***
"Od križanja do križanja"
Da studentski glas vrijedi čuti i da je studentima/cama novinarstva potrebno omogućiti praktičnu izobrazbu, prepoznalo se prije 21 godinu kada je s odašiljača na 5. katu Fakulteta političkih znanosti u Zagrebu na 100.5 MHz svoj program počeo emitirati Radio Student. Svojim odabirom tema i pristupom glazbi, ubrzo je zavrijedio moto "radio koji nije za svakoga".
 
U samom početku zbog slabe snage i neodgovarajuće lokacije odašiljača čuli smo se "od križanja do križanja." Nešto kasnije je snaga odašiljača povećana, ali tek 2009. kada je odašiljač premješten na povoljniju lokaciju, signal Radio Studenta se mogao čuti po cijelom gradu Zagrebu. Trenutno emitiramo putem odašiljača postavljenog prije 21 (!) godinu i kojem je odavno istekao čak i zagrobni rok trajanja i pitanje je dana kad će magija koja ga drži u funkciji nestati, a mi ostati bez signala.
***
Neprofitni radio!
 
Razmjena znanja, građanski aktivizam i uključivanje u društveni život smjernice su kojima se vodimo, te pronalazimo partnere za zajedničko djelovanje. 
Posebno se ponosimo SWORD asocijacijom odnosno HEARme mrežom studentskih postaja iz regije. Zajednički djelujemo s drugim radijskim postajama na razmjeni produciranog sadržaja, ostvarujemo partnerstvo na Europskim projektima, te aktivno razgovaramo, promišljamo i djelujemo izvan lokalne sredine.
Aktivni smo i kao članice Mreže mladih Hrvatske, Mreže emancipacije E-net, Euranet, a rado se povezujemo i s drugim medijima. U posljednjoj godini realizirali smo projekte poput emisije Abecede nezavisne kulture, Balkanske rute u kojoj se pratio tijek događanja za vrijeme izbjegličke krize, Radio borbu u kojoj nastojimo educirati o antifašističkom nasljeđu, Hodalice namijenjenu studentima i studenticama s invaliditetom i ekološke emisije A, gdje su kitovi?.
Obrazovanje naših volontera nam je na prvom mjestu, stoga smo unaprijedili i naš kurikulum. Praktična naobrazba studenata/ica traje cijelu godinu u programu RADIOnica i uključuje 6 modula: uređivanje i pisanje vijesti, uređivanje radijske emisije, realizacija programa, montaža zvuka, govorne vježbe te uređivanje web stranice.     
RADIO STUDENT 100.5 MHz
*IN ENGLISH*
LET US BE HEARD!
Our Radio Student needs a new transmitter for its 21st birthday, or else we will be facing the end of broadcasting.

We need the help and support you´ve provided us all of these  years  and we will return the favor. Choose some of our perks and help Radio Student on 100.5 MHz to continue being the radio that is not for everyone, but it is for you.
 
You can´t see Radio Student on billboards, or even hear us on the highway, but despite our limited concession, we have caputred the hearts of our listeners all through Croatia, and beyond.
In these past few years, we have managed to get inside and stay in the hearts of our listeners, not just because of our taste in music, but also because we are an engaged broadcasting station that educates their listeners and their young reporters.
...from a new transmitter!
Although full of enthusiasm for creating a smart, responsible and high quality radio program, we are in trouble. Namely, our transmitter is 21 years old, as old as we are. Though people in their twenties are full of ideas, defiance, bravery and strength, the same cannot be said for the radio equipment. The 21-year-old transmitter is in the process of dying, which will lead us to a serious problem – the end of broadcasting.
A happy birthday to Radio Student from a new transmitter...
To help our community to keep listening to 100.5 MHz, we need your help. We want to celebrate our 21 years even better, more mature, more independent and louder, and we need a new transmitter to do it.
The total amount of the new transmitter is too much for a modest student budget - 10 thousand dollars, and as we cannot buy it on a student discount, we turned to you!
Select some of the perks and help us continue a smart, reckless, brave, and responsible radio program!
***
And now a little about us!
On October 31st, 1996, Radio Student started broadcasting. At that time, we were the first and only student radio in Croatia, and the signal was emitted from a small transmitter placed on the 5th floor of the Faculty of Political Science. We still live at the Faculty, with our door open to all people, not just students!
That is why we are proud of the number of 147 associates who volunteer on 54 shows. All of us aim to support people and initiatives invisible to mass media, whether they are related to civil society, culture, music, human rights, arts, sports, education. Most importantly, Radio Student encourages critical opinion of both the public and our journalists, who will one day participate in the media and will keep their ethics, research spirit and be conscious of the danger that is defamation and non-objective reporting.
Non-profit radio!
 
Exchange of knowledge, activism and inclusion in the social life of the community are the determinants of Radio Student which we are especially proud of it. 
We are active as members of various networks and associations, so we will mention the Croatian Youth Network, Mreža emancijapcije E-net, Euranet, and we are especially special about the SWORD Association or HearMe Network of student radio stations from the region.
The education of our volunteers is in the first place therefore we have also improved our curriculum. Practical education of students throughout the year in the RADIOnica program includes 6 modules: editing and writing news, editing radio shows, program realisation, sound editing, speech exercises, and editing the web site.
We also connect with other media, so we have broadcasted shows such as the Abeceda nezavisne kulture, the ABC´s of independent culture, Balkanska ruta, which followed the events during the refugee crisis, Radio Borba in which we educate about our anti-fascist heritage, Hodalica for students with disability and a show about environment and eco-friendly initiatives A, gdje su kitovi?.
"From intersection to intersection"
21 years ago Radio Student started emmiting from the 5th floor of the Faculty of political science and it instantly became clear the it´s important to hear the students voice and that the students need practical education. And from then on 100.5 MHz has become radio that is not for everyone.
Then we started emitting from a 300 W transmitter and as it was said, we were heard "from intersection to intersection." A little later, our transmitter was dropped to 6 meters, but the power of the transmitter amplified us to 350 W, so we were heard in the larger part of Zagreb.
In 2009, we covered the whole of Zagreb because the transmitter has a new home at the Zagreb Tower at an altitude of 80 meters. As you are reading this, the young transmitter is no longer in operation, and now we are broadcasting through the one that is 21 years old.
And in what direction we will continue to write history, we need to decide this together!
***
Veliko hvala našim prijateljima koji su pomogli realizirati ovu kampanju!
A big thank you to our friends who helped carry out this campaign!
*FAKULTET POLITIČKIH ZNANOSTI
*LIGO
*VENO MUŠINOVIĆ
*STIPAN TADIĆ
*PETAR STARČEVIĆ
*ŽEN