Following the overwhelming generosity and success of our first crowdfunding campaign, we know just how much you want to see more of Miss Fisher.
Due to the high volume of messages from those of you who just missed out on donating in our first campaign, we are opening up our Indiegogo to widen the backer family and provide more opportunities for our Phryne fans to receive updates on the progress of Miss Fisher & the Crypt of Tears!
We have new rewards exclusive to our Indiegogo backers including a signed cast photo and the books that started it all.
Your support will allow us to bring Miss Fisher to the big screen in the way she should - with her distinctive flair. Indiegogo funds will play an important role in allowing us to produce a high concept, cinematic and visually arresting film that will stay true to the glamour of the honourable Phryne.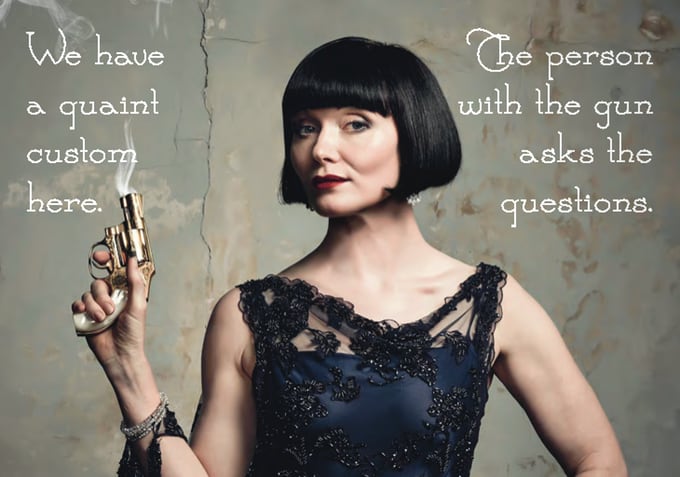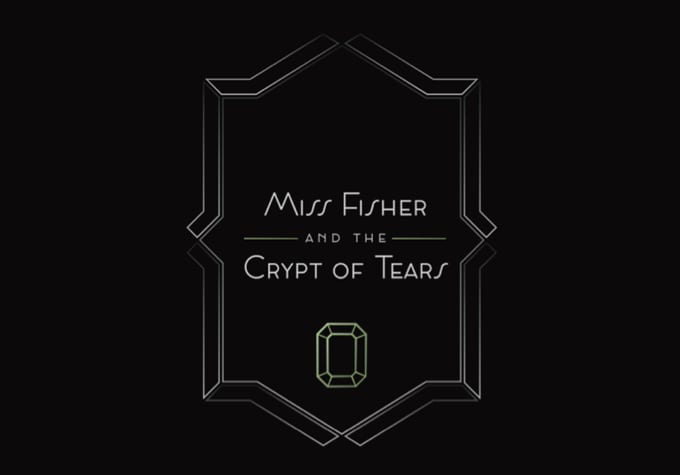 Project Overview
Every Cloud Productions is proposing to produce a feature film building on the successful Miss Fisher Murder Mysteries television series, and is undertaking this crowdfunding campaign to raise a portion of the production budget for the film and to bring our beloved fans on this journey with us.
Set in the late 1920's, Miss Fisher & the Crypt of Tears honors the heightened exoticisms of the murder mystery genre as the Honourable Miss Phryne Fisher, lady detective, escapes the small screen and takes off on a global adventure - via romantic wayside stops in the Far East, glamorous sojourns in the mansions of London, and a battle to survive the rolling sands of the Arabian Desert long enough to find the missing treasure, solve numerous murders and break all aviation records as she wings her way home again!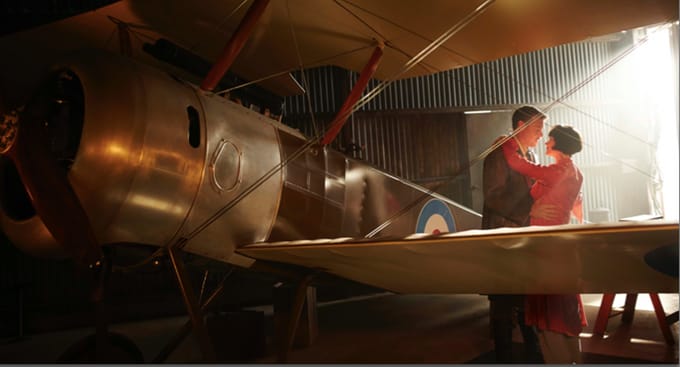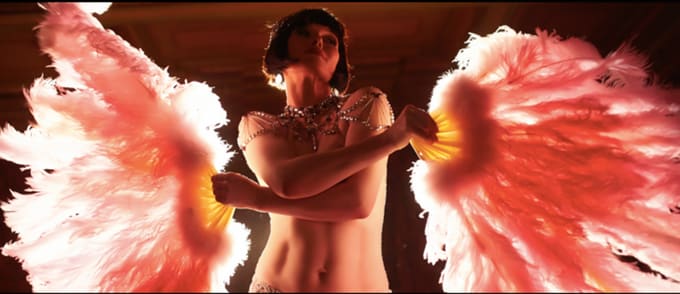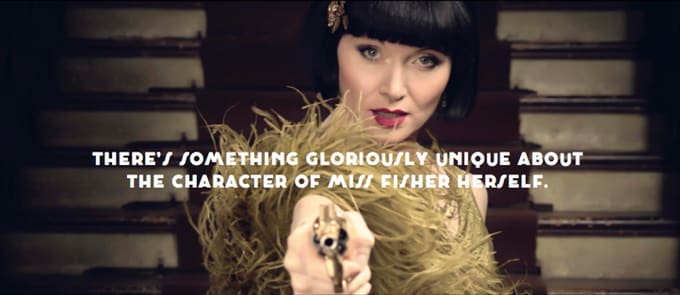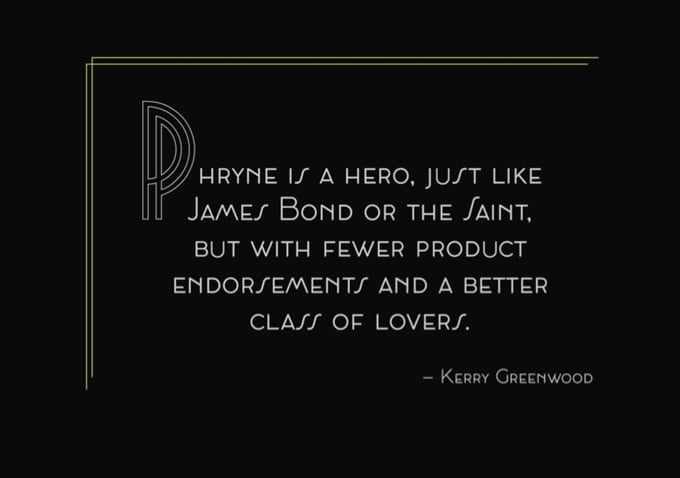 Background
Miss Fisher's Murder Mysteries is based on the novels of Australian author Kerry Greenwood. The stylish and Honourable Miss Phryne Fisher solves crimes with derring-do and continues her playful frisson with Detective Inspector Jack Robinson.
Our lady sleuth sashays through the back lanes and jazz clubs of late 1920's Melbourne, fighting injustice with her pearl handled pistol and her dagger sharp wit. Leaving a trail of admirers in her wake, our thoroughly modern heroine makes sure she enjoys every moment of her lucky life.
The televsion series of Miss Fisher's Murder Mysteries ran for 3 seasons and a total of 34 episodes across it's run. The series premiered on ABC TV in Australia, and has sold to 247 territories in 179 countries (we don't know how that works either).
It screens or has screened on platforms including ABC (Aus), Netflix, Acorn Online, Foxtel (Aus), Channel 5 (UK), UKTV's Alibi Channel (UK), France3 (France) – titled "Miss Fisher Enquête", Rai (Italy), Knowledge Network (Canada), Kanal 5 (Sweden), PBS (USA), Sony Germany (Germany), Globosat (Brazil) – titled "Os mistérios de Miss Fisher", as well as other territories including Norway, Denmark, Singapore, Hungry, Poland, Malaysia, Austria, and various pan territory deals including Asia and Latin America.
We always had grand plans to bring Miss Fisher to the big screen. She's a natural action hero - the female version of James Bond or Indiana Jones. After season 3 premiered in Australia 2 years ago, the desire for Miss Fisher didn't die down, and as our cast and crew went off to do different parts of the world, all the while we continued to develop the idea of turning Miss Fisher into a movie.
After much scripting and development later we're finally here, but to make the leap to the big screen we need your support to prove to our investors that we have a strong fan-base that will come out and watch the film. We see crowdfunding as a great way to engage further with you - the incredible Miss Fisher fans around the world. We want to share this experience with you all and take you along for the ride.
How will the funds will be used?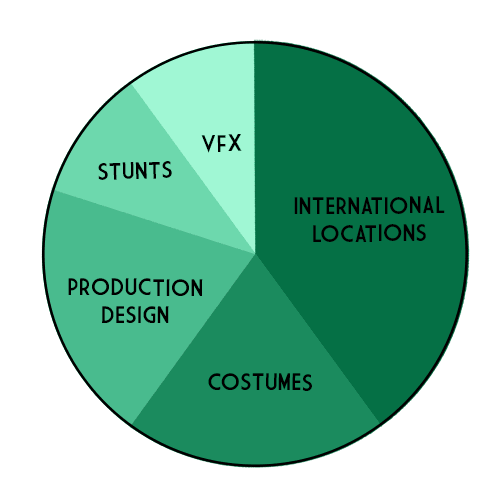 Miss Fisher & the Crypt of Tears will be a stand-alone theatrical release, and promises audiences exotic locations, sumptuous interiors and glamorous costumes as the world of Miss Fisher takes the leap from the small screen.
We need your support to bring Miss Fisher to the big screen. Indiegogo funds will be an important component of the film budget and the funds raised will be used to elevate Miss Fisher to the cinematic experience she deserves, including international locations, visual effects, production design, and of course more glamorous costumes.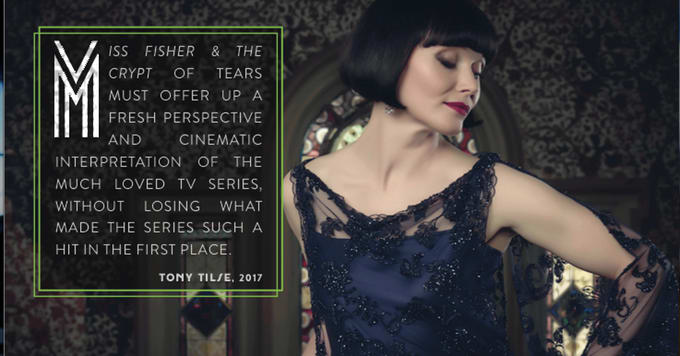 International Locations
Phryne has got to be able to fly beyond Australian shores to cement her position as a bona fide international action hero. To do justice to Miss Fisher's global adventure outlined in the script, we hope to film in countries around the world such as  Israel, and London which are all under consideration.