---
Press Coverage
Gizmodo: Watch Out Fitbit, This Badass New Activity Tracker Is Out to Eat Your Lunch
ABC News: Misfit Shine: A Fitness Gadget Backed by Former Apple CEO Aims to be Different
TechCrunch: Meet Shine: The Elegant Activity Tracker That Has A Neat Trick For Syncing
Forbes: Misfit Adds Shine to Wearable Health
NEW - BBC News: Wearables tech gains momentum at CES
NEW - The Wall Street Journal: The Latest Fitness Gadgets to Gauge and Goad
More press coverage below...
---
Specs
Size: 27.5mm (diameter), 3.3mm (edge)
Weight: Under 10g
Battery: Coin cell; lasts about 4 months
Compatibility: iOS and Android
Accessories: Comes with a clasp to clip onto clothing easily
---
Simple
Misfit Shine is an elegant, all-metal activity tracker that you can sync with your smartphone just by placing it on your phone screen. Find out how active you are every day, and set goals to become more active. Wear it how you want, wherever you want.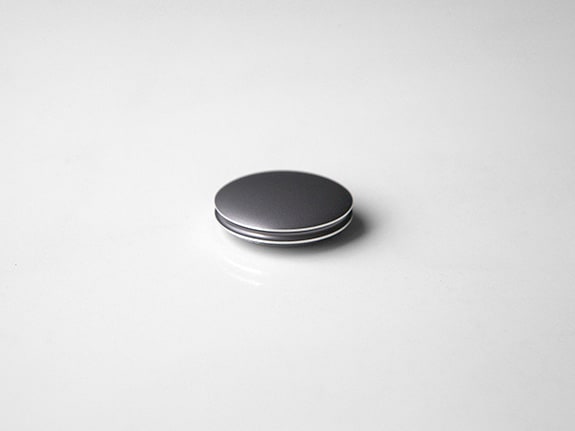 French macaroon? No, it's Misfit Shine
Smart
Misfit Shine's proprietary sensor algorithms can track cycling and swimming in addition to just steps so you'll get more credit where credit is due. To see how active you've been throughout the day, simply tap Shine and a halo of lights shines through invisible micro-holes, laser drilled into the metal casing.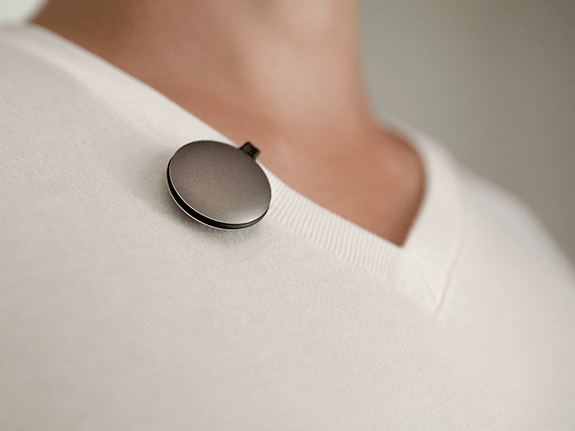 Simply tap to view your activity progress for the day. Go full circle and you're done!
Timeless
Misfit Shine was made to last a lifetime and designed to complement any fashion statement. Carved out of a solid block of aircraft-grade aluminum, it is super strong and waterproof.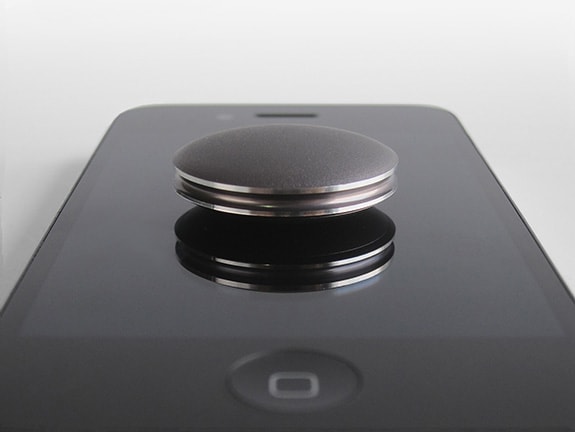 Just place on your smartphone to sync
Wearable
It's tiny, and at just several millimeters thick, is one of the world's thinnest wireless activity trackers so it can be worn just about anywhere, even when wearing next to nothing. Clip it on your pants, bra, shirt, or shoes. Or use the wristband and wear it on your wrist where it can function as a watch too.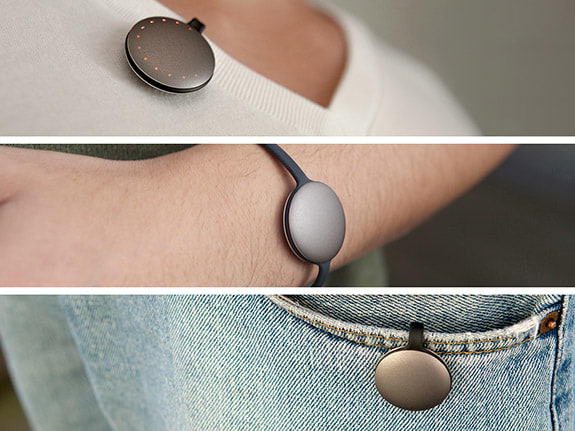 ---
Key Features
Elegant:

a tiny all-metal disc with a beautiful halo of lights

Precious:

precision crafted like jewelry to be worn on any occasion

Smart:

more than just steps - tracks swimming and biking too

Goal-driven:

tap to see progress towards your daily activity goal

Bold design:

no buttons, no cables, no recharging

Amazing sync:

just place it on your smartphone and it syncs, even in airplane mode

Wearable:

on your wrist, shoe, ankle, bra, hip, as a brooch, wherever you want

Super-strong:

carved out of a solid block of aircraft grade aluminum and is waterproof

Timeless:

built to last a lifetime, designed to complement any fashion statement

Personal

: set your own goals, visualize data, and get insights tailored for you
---
Size Comparison
Misfit Shine is just slightly larger than a quarter and weighs less than two of them.
---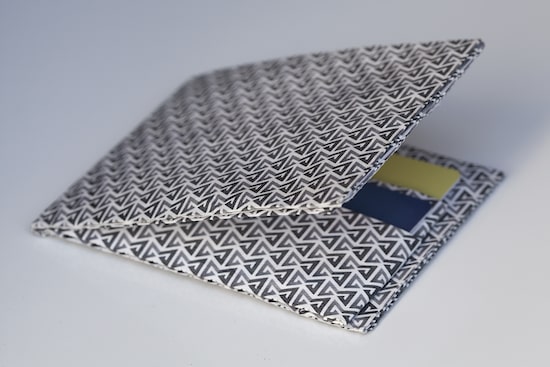 ---
Metal & Leather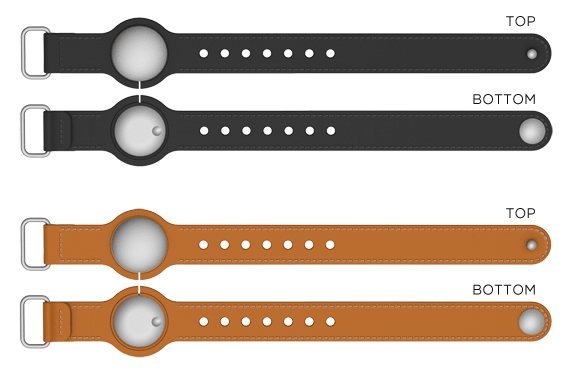 Formal or business casual. Misfit Shine with the leather band. Natural or Black, take your pick.
---
Gorgeous Metal Card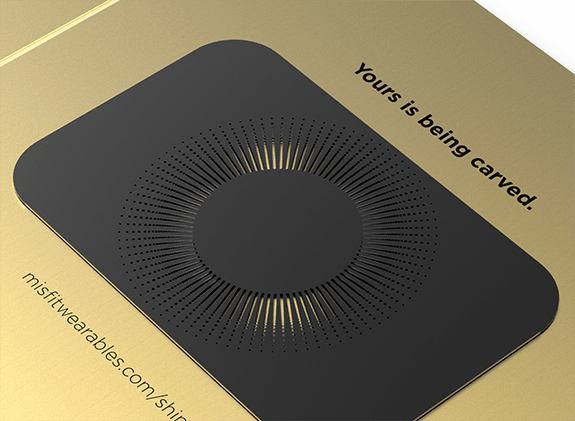 ---
Who We Are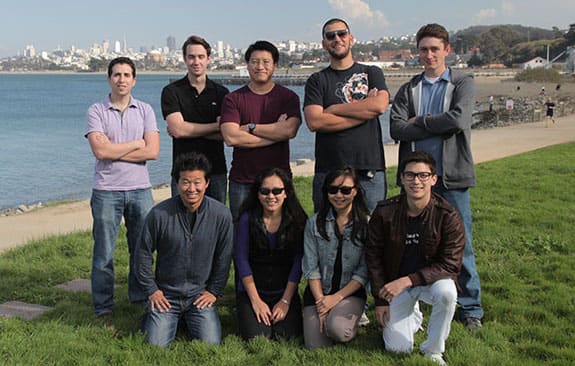 Our San Francisco crew - Wallace, Rachel, Patrick and Mai missing from picture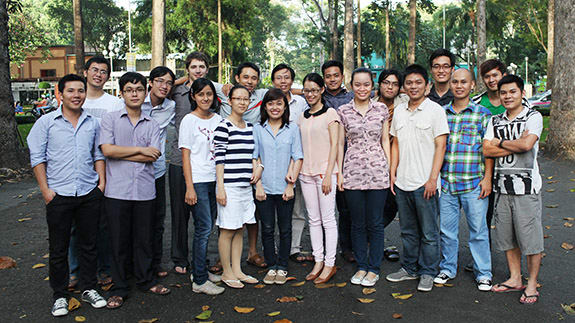 Our Vietnam crew - Huy, Loc, Chi and Thanh missing from picture
We're focused on developing great wearable products: things that a lot of people would wear all the time for a long time. Like jeans and t-shirts. We aim to pioneer the emerging world of wearables, by making products and services in the consumer health and fitness space to inspire people be more active and develop healthy habits. We were founded in 2011, and Misfit Shine is our first product.
Why Indiegogo?
Part of the idea behind the lean startup is to prove demand, and build products in a rapid, user-centered design cycle. By reaching out on Indiegogo, we can assess our demand, build a stronger relationship with our early adopters, and use feedback to make our product as amazing as possible.
Use of Funds
We've built our prototypes. We've figured out our supply chain. We need your help to take the next step. We're looking for funds to put Misfit Shine into production. We know what we're doing; we've led the development and manufacturing of more than a dozen hardware products in previous companies, including the first ever iPhone-compatible hardware medical device - so we know exactly what's required to pull this off. You are getting in early, and getting a premium product ahead of everyone else.

We're asking you to help us make Misfit Shine a reality.
---
More Press Coverage
NEW - Examiner: Misfit Shine, your new year resolution for health in size of two quarters
NEW - Last Gadget Standing: The MisFit Shine is Taking LGS by Storm
NEW - All Things D: Activity-Tracking Tech Moves From Wrist to Neck, With Sculley's New Shine Necklace
NEW - The Doctor's Channel: The Misfit "Shine" – Next Generation Activity Monitoring
NEW - Starpulse: Misfit Wearables CEO on why you should back the Misfit Shine Wireless Tracker
NEW - MedCity News: How a sleek, quarter-sized activity tracker hit its $100,000 crowdfunding goal in under a day
NEW - Wired: Rejected Kickstarter Projects Build Their Own Success Stories
NEW - Uncrate: "Why should you have to wear your activity tracker on your wrist?"
NEW - The Gadgeteer: Misfit Shine – Is it the coolest pedometer, activity tracker yet?
NEW - Cool Things: Misfit Shine Is A Coin-Sized Fitness Tracker
NEW - ALIST: Misfit Shine aims for FitBit, confirms Asian Americans rule fitness tracking
Lightpublic:  The Misfit Shine Activity Tracker – A Little Gem with Big Convenience
iMedicalApps: Misfit Wearables debuts first wearable sensor Shine using IndieGoGo
Fast Company: The Shine: A Self-Tracking Device That You'd Wear Even If It Didn't Do Anything
Mashable: Tiny Metal Fitness Tracker Is Sleek Enough for Any Occasion
SlashGear: Misfit Shine is an all metal activity tracker for those looking to get fit
MIT Technology Review: Misfit Wearables' First Product is a Fitness Tracker
MobiHealthNews: Misfit Wearables launches Shine, an elegant but rugged activity tracker
SmartPlanet: Misfit Shine: Adding a sexy sheen to wearable health
MSN: Misfit Shine: monitor de atividade física em forma de pedrinha pesa só 10g
Medgadget: Misfit Wearables Announces Shine, a Shiny New Wireless Fitness Tracker
Health 2.0: Misfit Wearables Launches Its First Tracking Device
Fashioning Tech: Misfit's Shine Outshines the Fuelband
IEEE Spectrum: Start-up Unveils a Shiny New Activity Tracker
The Dish Daily: Cool Ingiegogo campaigns: Misfit Wearables' Wireless Activity Tracker
Geeky Gadgets: Misfit Shine is a high-tech and rugged fitness tracking device
Gotta Be Mobile: Shine Fitness Tracker Is Small, Sexy and Syncs With Grace
Technabob: Misfit Shine Activity Tracker: Beautiful Design, Weird Name
Ubergizmo: Misfit Shine Wireless Physical Activity Tracker
Yahoo! Taiwan: Misfit 推出世界首款全金屬無線健康設備 Shine
cnBeta: [视频]全金属运动追踪器Misfit Shine明年3月上市
MIT Technology Review: Wearing a Computer is Good for You
MobiHealthNews: Former Apple exec invests in Misfit Wearables
Boston.com: Former Apple chief executive backs Misfit Wearables, new health sensor start-up 
---
Comments, Questions, Ideas?
Ask on the comment thread here or email troublemakers@misfitwearables.com