SPECIFICATIONS

CHOOSE YOUR REWARD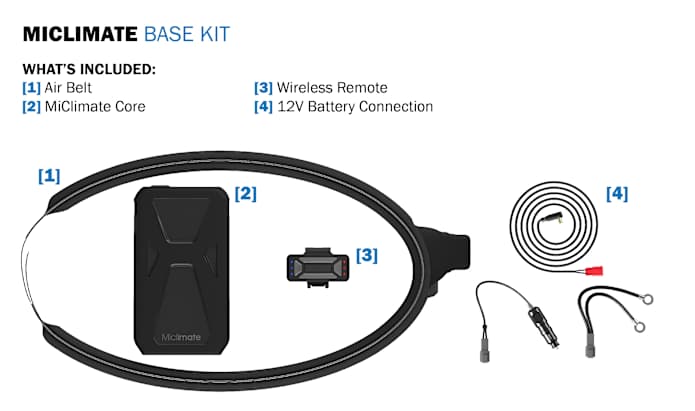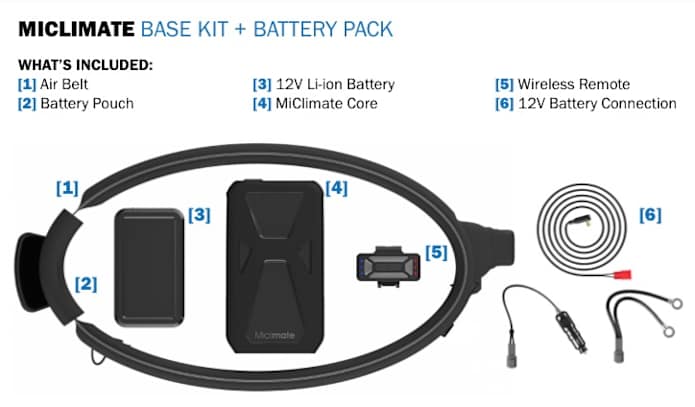 The cooling system consumes approximately 30W power which can be powered by a motorcycle battery.  The auxiliary battery power is a 12V Li-ion battery with 72Whr capacity. It can provide comfort for up to 4 hours, of course battery life depends on the use pattern.
MICLIMATE FOR EVERYONE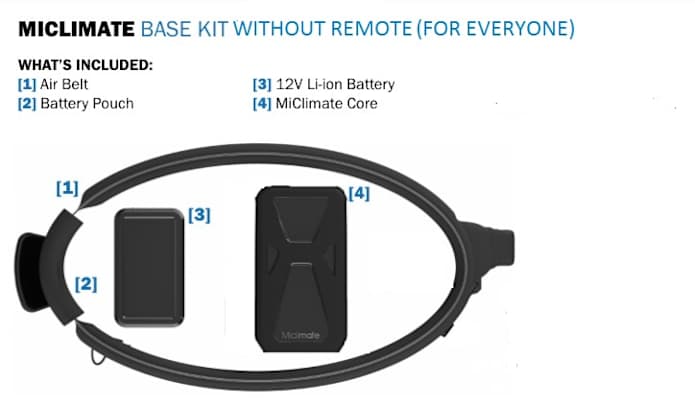 Although this campaign is targeted to motorcyclists, the device with BATTERY PACK can be used in many other situations.  For uses where vehicle power is available such as disability scooters, cruising in a golf cart, you could buy the BASIC PACK, For other uses like walking, cycling or working outdoors where battery power is not available, please purchase BASE KIT+BATTERY PACK.  And then enjoy wherever you go.  Have fun!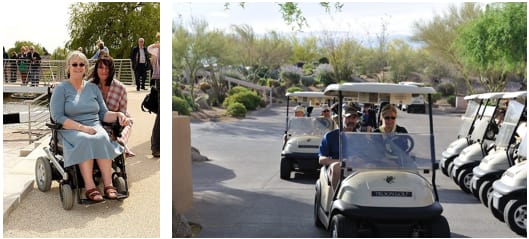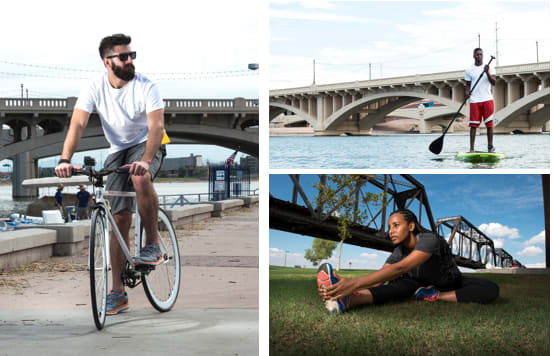 Please share with us how you used MiClimate and how it has made your life more enjoyable.
WE NEED YOUR SUPPORT
Pre-orders will help us jump start the production process.  The larger the volumes, the faster the price will come down and we can offer more reward per stretch goals
With our small start-up team we have created one design that fits many uses. However, a single design will not be sufficient for all potential uses.  We could use your help in sharing with us your ideal feature list and we will add to our roadmap for future designs.
STRETCH GOAL
Over $1,250,000 in pledges unlock volume discounts from our manufacturing partner and component suppliers.  We will include extras such as larger capacity battery packs or additional battery packs or extra belts for our valuable early backers.

At the $5,000,000 mark we will offer an option to include phone apps to all backers (offered as an option because this feature may require additional development and testing which could delay shipment).  
Raising $10,000,000, will add skin temperature and accelerometer (fall detection and notification to first responders) sensors for real time feedback.
TIMELINE
After this campaign concludes and the remaining engineering tasks are completed we expect to start production in September 2016, Our goal is to ship to you between October and the Christmas holiday season.  We have high confidence we will deliver on time. However, if we run into any delay we will update you with a recovery plan as soon as possible.  
Consider MiClimate as a Christmas gift this season.
FAQ
Have you contacted the National Multiple Sclerosis Society to market to them? 
Thank you for your valuable input.  I hope MiClimate can help change lives of our backers suffering from MS.  We have not contacted NMSS yet.  But, once we complete our obligation to our backers, we will contact them. In the meantime, your inputs on the effects of MiClimate on your lifestyle can help us make a case to NMSS. 
Is the technology ready?
MiClimate was developed by shrinking and redesigning a US Navy technology.  We have tested and verified that our design performed better than the original design -WE ARE PROUD OF THIS ACCOMPLISHMENT!  And, all this was achieved within the short span of six months. So, yes, the technology is ready.
When will it be available in retail stores?
We plan to offer internet sales first.  At this point we have not planned a retail sales channel.
Will you be designing something for pets?
There are many other cooling solutions available for pets.  It is on our roadmap but no timeline has been defined.
Do you plan to offer small enough device so it can fit in a lady's purse?
Absolutely!  We will continue to shrink the device like any other electronics device and make it more efficient as well as add more cool features.  A few years from now we plan to develop apparel made from thermoelectric fabric, connected to communication network.  It will adapt to your lifestyle and will adjust temperature automatically as you move around from one environment to another.  It will have significantly more features.  So, much more to come - this launch is just tip of the iceberg. Stay tuned.
I don't see battery charger and connectors.  Will those be included in the package?
Yes, we did not want to clutter the images with too many items. But the package will come with a companion charger and a cable.
I can think of many uses - how could we provide inputs to you?
Thank you!  We welcome your input.  Feel free to email us at info@miclimate.net.